This article may contain
affiliate links
. If you make a purchase through these links, I will earn a commission at no extra cost to you. Thanks!
Planning a trip to Peru? Like most, you'll probably be kicking off your journey in this incredible country in the big, bustling metropolis of Lima. When you look at a map of the city, the sheer size of the place creates a lot of confusion about where to stay in Lima, especially for first-time visitors.
While there are 43 districts across Lima, there are only a few districts that most foreigners tend to stay in, often for good reason. There are definitely certain neighborhoods in Lima that hold more appeal to foreign travelers whether for the dining and nightlife, their proximity to some of the best things to do in Lima, or for the increased safety and security they afford.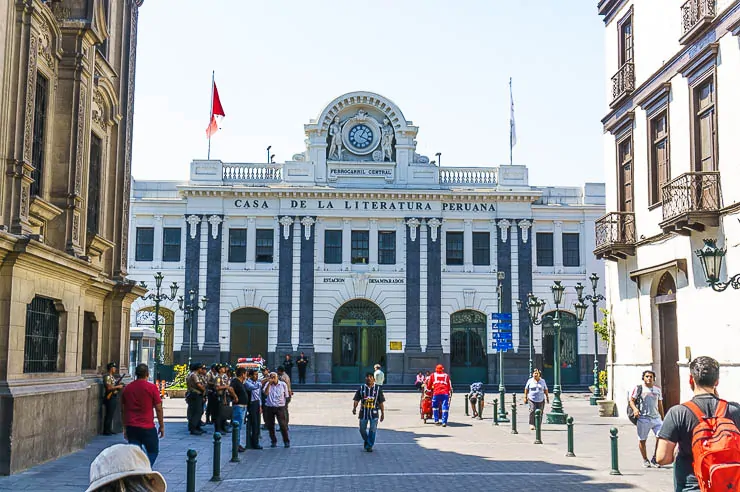 We're going to be looking at five of the best neighborhoods which should give you a much better idea of where to stay in Lima, or what area is most appropriate for you. While the considerations for short-term visitors and long-term expats can be different, they also have much in common in terms of what they are looking for in a place — considerations which I will address in some cases.
Alright, let's get on to our overview of where to stay in Lima, and at the end of the article, I will give a summary of what I personally consider the best neighborhoods in Lima, ranked in order of preference.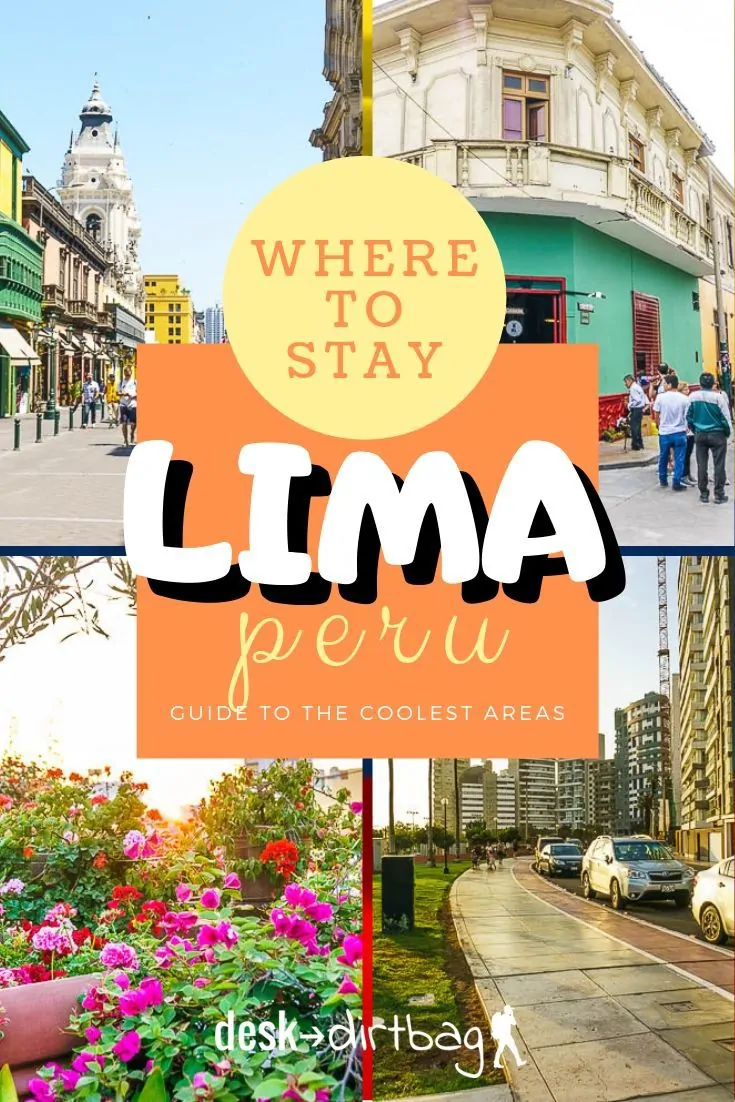 Centro Historico
Lima's Centro Historico, aka Lima Central, is a beautiful, colorful, lively place which is a must-visit destination for any visitor to town, no matter where they choose to stay. The downtown core is a UNESCO World Heritage site and is undeniably an amazing place, but like most big cities in Latin America, the historic downtown also doesn't have the greatest reputation for safety.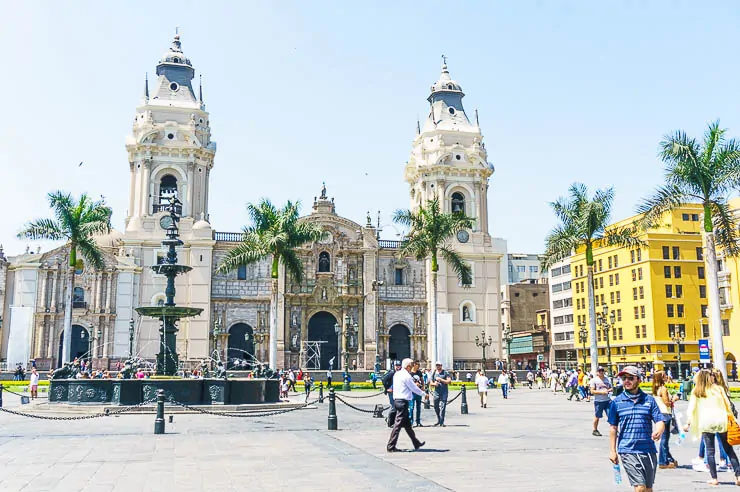 Indeed, the Centro Historico lies within close proximity to a number of rougher and more economically disadvantaged communities, primarily those to the north across the Rimac River and to the east in Barrios Altos. Statistically, this is also one of the least safe areas in Lima, although that comes with an asterisk because the core of the Centro Historico near and around the Plaza de Armas is actually quite safe with a high police presence. The statistical insecurity here is mostly due to high crime in districts in the Centro that most travelers would have no interest in visiting.
All-in-all we felt very safe here in the heart of downtown, both in the daytime and at night, although at night you'd be best to stick to the high traffic areas and not wander too far into unfamiliar territory.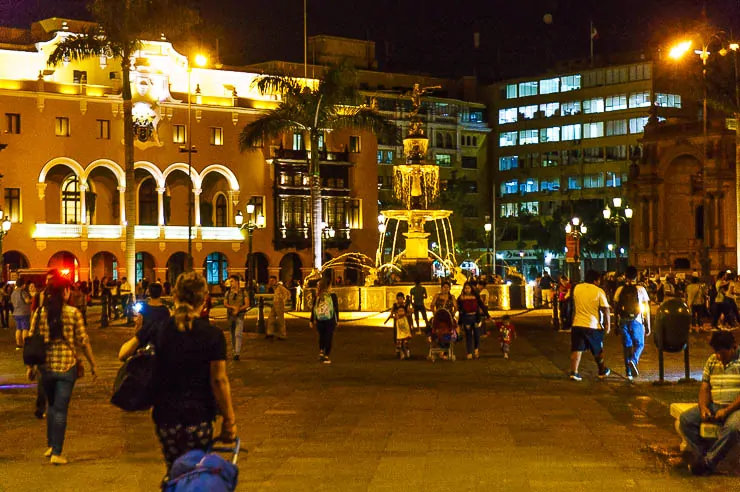 So, given the fact that it is actually quite safe here, and the area is filled with some of the most important tourist attractions and a number of great lodging opportunities, I do think it is actually a pretty good place to base yourself, particularly for those who are only planning to visit Lima for a night or two, putting you in close proximity to the heart of it all without having to fight the Lima traffic or brave the Metropolitana bus system (it's a Bus Rapid Transit system or BRT).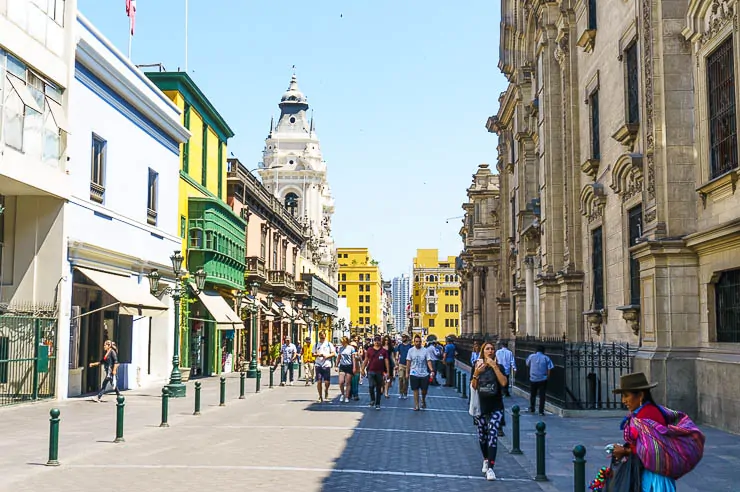 The Centro Historico is somewhat isolated from other areas of interest to travelers, however, and as you get further away from the coast, the temperatures rise quickly — or so it seems. Being closer to the coast offers cooling ocean breezes, whereas you can head to the Centro Historico on the same day and feel like you're being roasted.
In terms of expats, I don't think the area holds much long-term interest but is best suited to visitors on a very tight schedule. Either way, you'll find some great Lima hostels in this zone as well as budget hotels here.
#1 Hostel in Lima's Centro Historico: 1900 Hostel
(See more in my guide to the best Lima hostels)
Best Things to Do in Lima Central:
Hang out in the Plaza de Armas
Go up the tower at Santo Domingo
Visit the catacombs under San Francisco
Grab a Pisco Sour at the Gran Hotel Bolivar
Hang out in the Parque de la Muralla
Walk along Jiron de la Union pedestrian street
Wander through Chinatown and go to a Chifa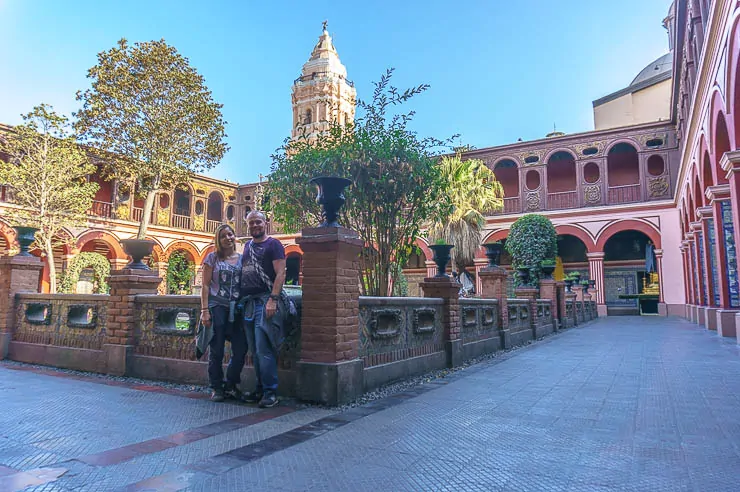 Pueblo Libre
Southwest of Lima Central is the expansive residential neighborhood of Pueblo Libre. Here you'll find a more laidback area, especially compared to the Centro Historico, where you'll find plenty of typical Peruvian food, and some great restaurants, like the notable Taverna Quierolo, which opened way back in 1880, which is great for Pisco Sours.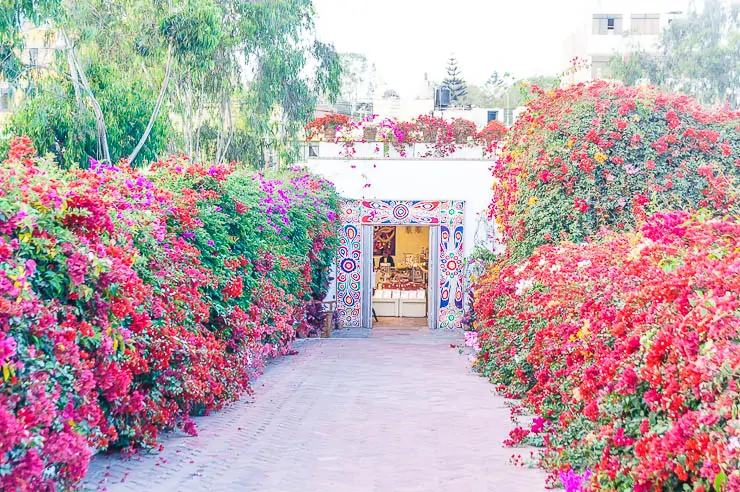 Pueblo Libre is also home to two very important Lima museums: the most popular would be the Larco Museum which houses its infamous collection of pre-Columbian pottery porn, along with the Museum of Archeology, Anthropology, and History which is housed in Simon Bolivar's old mansion. Both museums are located within 30 minutes walk of one another, the Archeology Museum is on Plaza Bolivar, which is basically the center of the district, although this neighborhood has parks/plazas almost every two blocks it seems.
Pueblo Libre is a pleasant place with a lot to offer, but it is better suited, in my opinion, to long-term visitors or expats, rather than tourists or travelers coming to Lima for a few days. The fact is that Pueblo Libre is just somewhat isolated from the top Lima activities and isn't as well served by hostels or hotels (although Airbnb is a good choice here).
Top Things to Do in Pueblo Libre:
Browse through the pre-Columbian Museo Larco, including their pottery porn
Museum of Archeology, Anthropology, and History for a great overview
Hang out in Plaza Bolivar
Go to Taverna Quierolo for drinks and food
Eat some of Lima's best criollo food in this neighborhood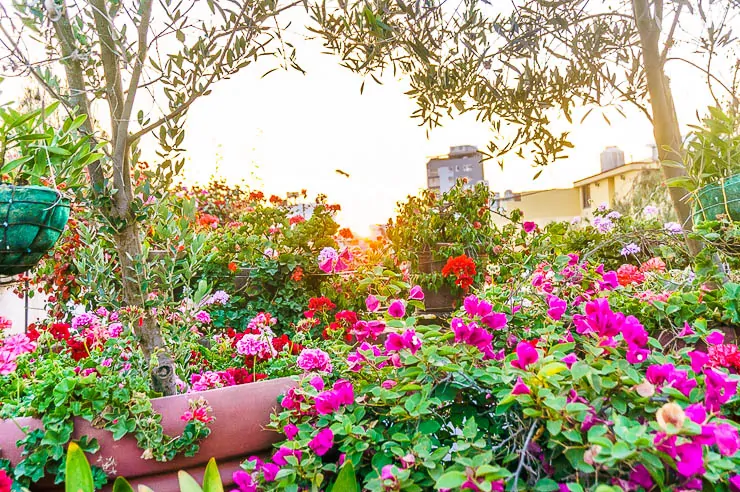 San Isidro
Southeast of Pueblo Libre, or directly due south of the Centro Historico, you'll find the San Isidro neighborhood. San Isidro is the financial district and one of Lima's most upscale neighborhoods.
Here is not the place you want to be if you are a budget traveler, as you won't find much in the way of hostels or affordable hotels, but you will find plenty of options if you've got a bigger budget.
Here you will find modern glass towers and even a golf course — probably not the things you came to Peru to see unless you're here on a business trip. It is, however, considered Lima's safest neighborhood thanks to its upscale nature and concentration of business and financial services.
Personally, I found this to be kind of a dry neighborhood, one that would be better suited to long-term visitors, particularly those here on business, rather than the traveler here to see the sights and experience the best that Lima has to offer.
Top Things to Do in San Isidro:
Visit the ruins of Huaca Huallamarca
Explore the olive groves at Parque El Olivar
Visit some of the city's best restaurants, art galleries, and cafes.
Eat at Astrid y Gaston, not only one of the best restaurants in Lima, but one of the world's best restaurants! Gaston Acurio is the godfather of the Novoandino food movement in Peru and this restaurant is what put Lima on the map. Alternatively, you could visit Malabar, also by Acurio and one of the Latin America's Top 50 Restaurants.
Miraflores
Miraflores has long served as the epicenter for foreign tourists and many expats. This upscale neighborhood has a huge number of restaurants, bars, hotels, hostels, and much more to offer.
While Miraflores isn't the prettiest neighborhood, architecturally speaking, it does have a huge number of parks, an ideal location, and an almost endless number of places to explore.
Many of the city's best restaurants are here in Miraflores. You'll also find the best concentration of coffee shops (the best cup we found was in CATE, due north of Parque Kennedy). While Miraflores may cater to tourists, that doesn't mean that it isn't a popular spot for locals too, whether that's for the bars and restaurants or just shopping.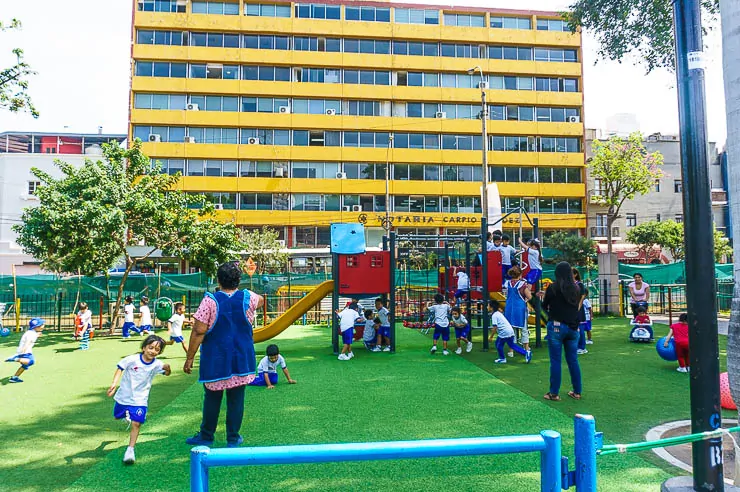 Miraflores tilts toward the upscale, but it can cater to any budget, actually. Sure, you can get a pricey room with an ocean view at the JW Marriott and eat at some of the city's finest restaurants, or you could just as easily grab a bed in a cheap Lima hostel, offering up just as good of a location, and eat at some of the more budget-friendly places in Miraflores (also delicious). Honestly, both extremes are totally fitting for Miraflores.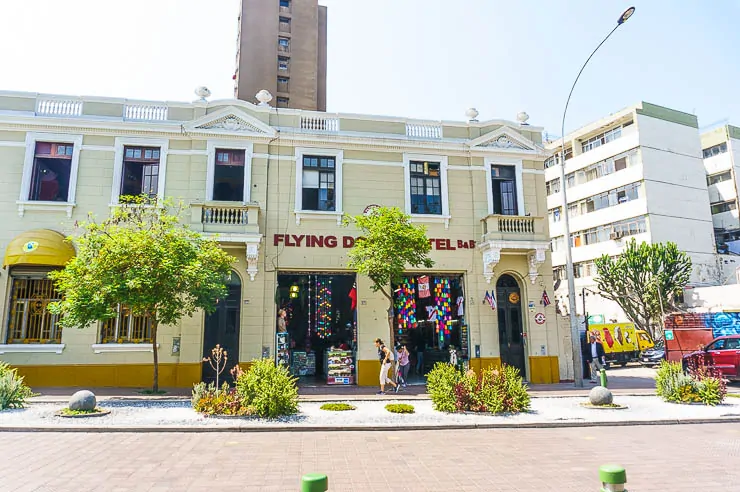 Miraflores sits right along the Pacific Ocean which offers one of the biggest draws in the area: walking along the scenic Malecon boardwalk that follows the cliffs high above the ocean.
Here you'll find paragliders sailing overhead, a scenic lighthouse, and beautiful little parks like Love Park. Miraflores is also a very safe neighborhood, generally speaking, although one should also be aware of their surroundings no matter where they are in Lima.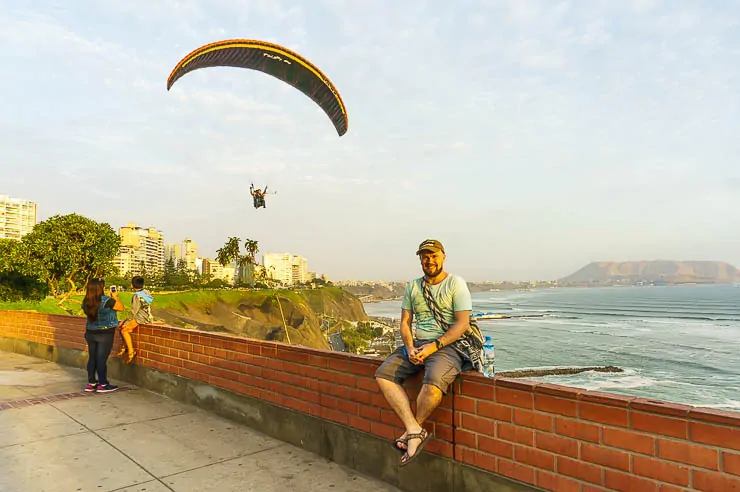 It's important to note that bus services such as the Lima Express Airport shuttle and Peru Hop (to travel to other cities in Peru) almost exclusively serve the Miraflores neighborhood. The existing tourism infrastructure here makes it a really good place to base yourself.
Not only that, but the neighborhood is centrally located right between San Isidro (to the north) and Barranco (to the south), which we will talk about next. It's also within walking distance to the Metropolitana BRT station if you want to head into the Centro Historico.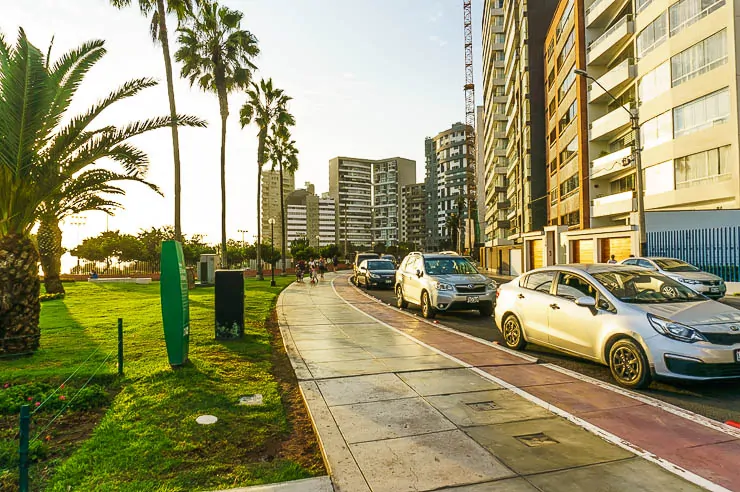 #1 Hostel in Lima's Miraflores: Pariwana Hostel Lima
Top Things to Do in Miraflores:
Walk the Malecon as the sun sets over the Pacific Ocean
Go paragliding over the waterfront area
Eat at some of the city's best restaurants like Maido, amaZ, La Mar, or IK — check out our guide to the best restaurants in Lima.
Hang out with the cats that inhabit Parque Kennedy (the center of Miraflores)
Head over to Larcomar, Lima's most scenic shopping mall, nestled into a hill overlooking the ocean.
Visit the pre-Incan ruins of Huaca Pucllana (after dark they are lit up quite cool).
Take a cacao and chocolate making class at the Choco Museum on Berlin Street, which is one of the best Lima tours or activities, in my opinion. Or maybe enjoy the local fine dining with one of those gourmet food tours in Lima? We loved it!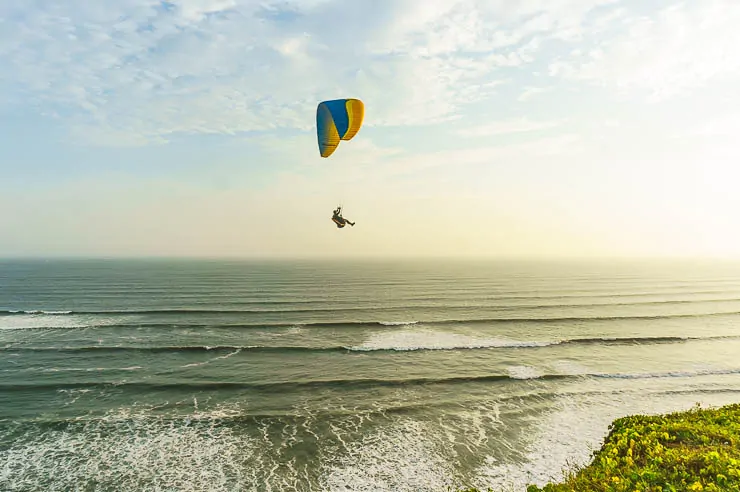 Barranco
The final neighborhood we'll be discussing is Barranco, which sits just south of Miraflores a little further along the coast. Barranco is known as the most bohemian district of Lima, since it has long been a center for art, artists, writers, and so forth, although it feels like that aspect may have begun to wash away, leaving a more upscale atmosphere in its wake.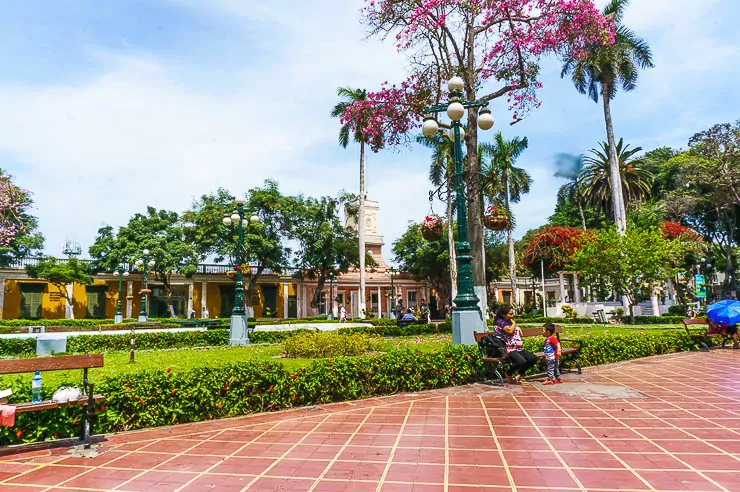 That being said, Barranco is quite simply cool. This area used to be the retreat for Lima's elite, filled with large mansions or casonas so they could get away to the coast. With the widespread insecurity in the 80s, the area fell out of favor, causing much of the area to become somewhat abandoned, at least by the elites. In its wake, a bunch of artists and like-minded folks moved in, creating something really cool in the process while rescuing some of these historic structures.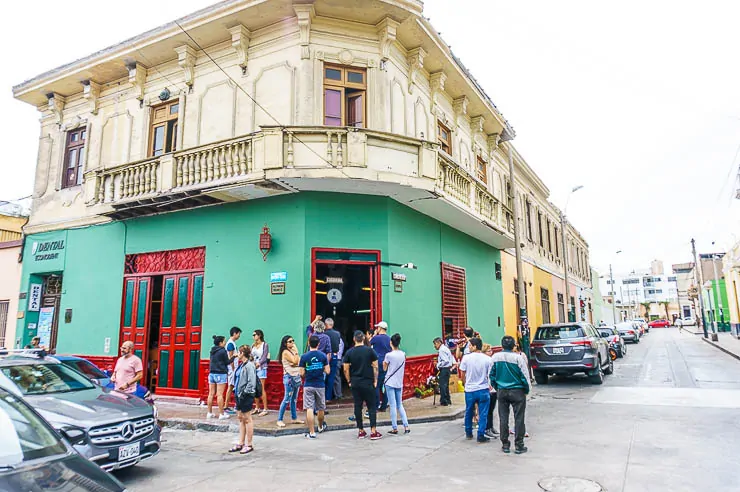 Today you'll find beautiful old architecture (in between some gritty and crumbling buildings), high-end restaurants, beautiful street art, lively bars, and some of the best museums in Lima.
Barranco feels a little bit like a cross between the beautiful architecture of the Centro Historico with the life and vibrancy of Miraflores in terms of restaurants, bars, etc, albeit on a smaller scale in both respects.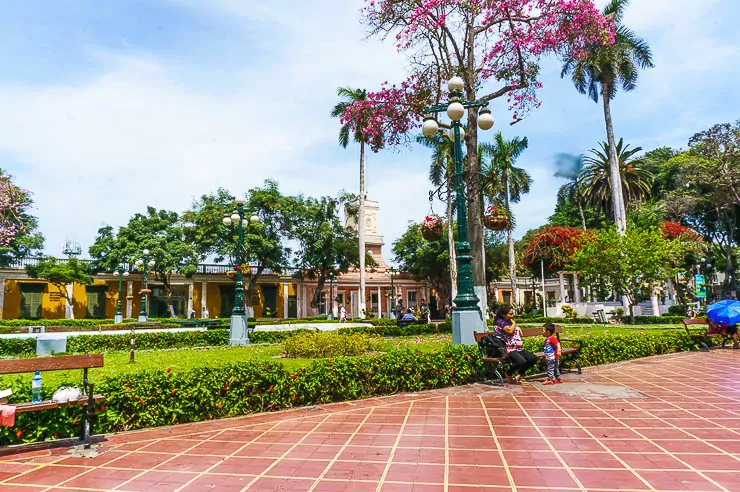 Barranco is the place where I would personally want to live if I was settling into Lima long-term, I think, but it is still somewhat small and isolated, to be honest, which doesn't make it an ideal base for a tourist coming to explore for a few days, in my opinion.
That being said, this is an excellent and lively area for nightlife, whether with the traditional peñas or something a bit more typically modern. The streets are full of people late in the night, which is always nice.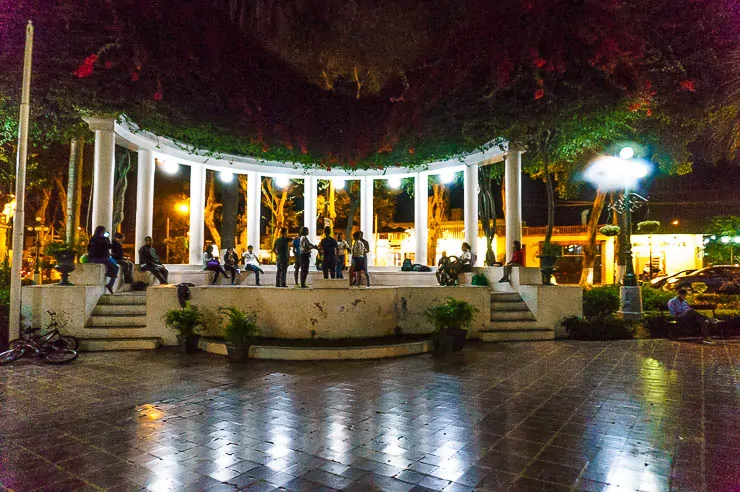 #1 Hostel in Lima's Barranco: Barranco's Backpackers Inn
Top Things to Do in Barranco:
Walk across the famous Puente de los Suspiros
Hang out in the lively Plaza Barranco where you can read a book, watch people dance, or just people-watch in general.
Visit Tostaduria Bisetti, Lima's original coffee shop, the coffee may not be the best in Lima, but the space is cool and chill, making for a great hang out spot.
Head down the Bajada de Baños which leads down to the beach in Barranco.
Enjoy the nightlife at a traditional Peña where criollo music and dancing take the night away. Two of the most well-known are Don Porfirio and La Oficina, both in Barranco. Or just grab a pisco sour at one of Lima's coolest bars at Ayahuasca.
Eat at some of Lima's best restaurants with places like Central (one of the best in the world), Kjolle, Canta Rana (for ceviche), or Isolina.
Check out some of Lima's coolest art museums at MAC (Museum of Contemporary Art), MATE (Mario Testino Museum), or the Pedro de Osma Museum.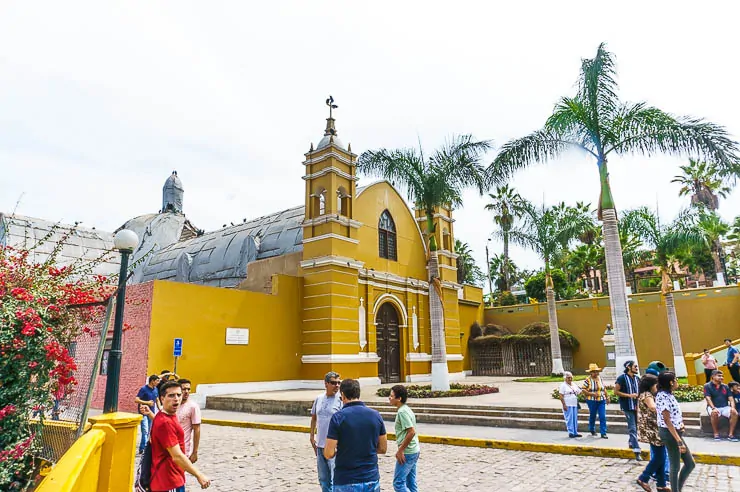 Where to Stay in Lima
So, that's my overview of the five best neighborhoods to stay in Lima, what makes each of them special, along with the downsides of each barrio. This big overview is designed to help you choose the best neighborhood for you, which is often different for everybody, but if someone asks me directly about where to stay in Lima, my top recommendation would still be Miraflores…
I hemmed and hawed a lot between Barranco and Miraflores, but I'm still convinced that Miraflores is the best neighborhood for any first time visitor to Lima, but Barranco would be runner-up.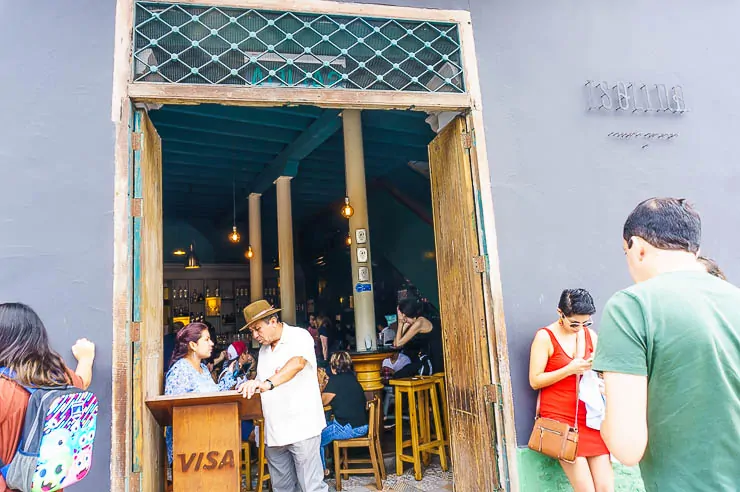 Why Stay in Miraflores:
Well served in terms of transportation: you've got the airport express bus serving various parts of Miraflores and the Metropolitana is close by to head to other areas.
Very well positioned between Barranco (walkable within 45 minutes) and San Isidro, plus easy access to the Centro Historico and cheap Uber ride to Pueblo Libre.
Right there on the Malecon and stunning views of the Pacific Ocean.
An endless amount of places to eat and drink on virtually any budget.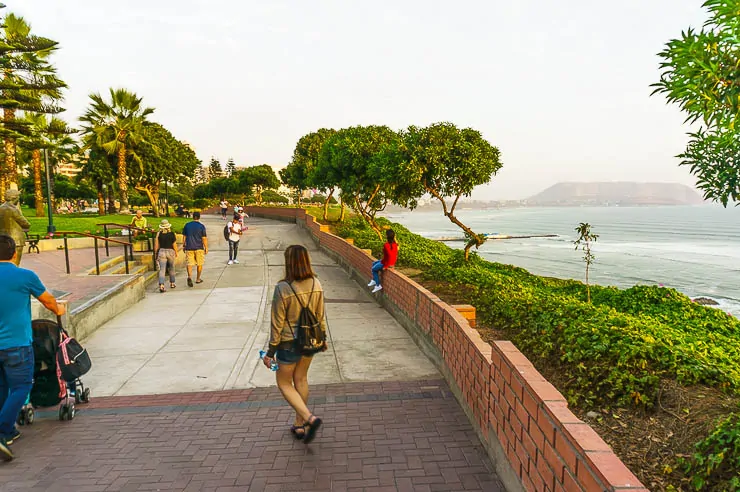 Ranking the Best Neighborhoods in Lima for Travelers:
Miraflores
Barranco
Centro Historico
San Isidro
Pueblo Libre
If I were visiting Lima for a longer period of time (at least a few weeks), I'd go for Barranco, I think. But any short term visitor to Lima is best served by Miraflores.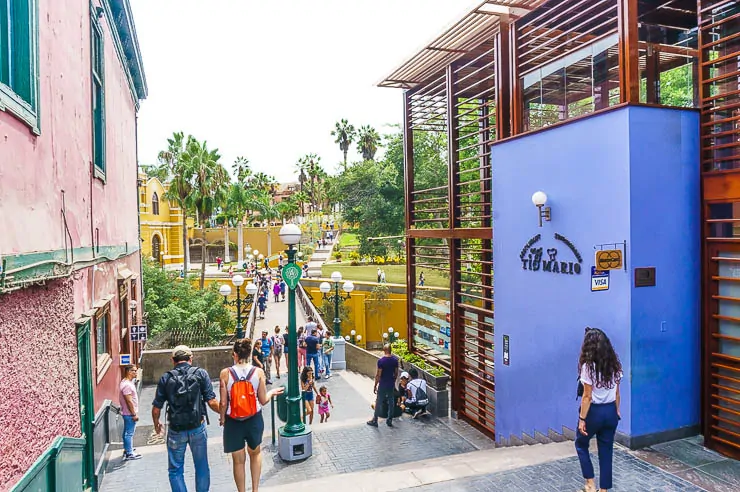 Anyway, that's my opinion on where to stay in Lima, I hope it has been helpful in guiding your decision making process and determining what's best for you.
Map of the Best Lima Hostels
Here's a map of the best hostels in Lima so that you can better understand where each place is situated within the city.
Traveling to Lima soon? Don't forget to book a room with Booking.com now to save and check out my guide to the best Lima hostels to help you choose. Also, don't travel to Lima without purchasing travel insurance for Peru to protect yourself against illness, injury, and theft. I use and recommend World Nomads thanks to its combination of coverage and affordability.
Read Next: The Best Things to Do in Lima
Share This
Did you enjoy this post about where to stay in Lima and the ranking of the best neighborhoods? Please take a second to share this article on Pinterest, Facebook, or Twitter. Thanks!
The following two tabs change content below.