This article may contain
affiliate links
. If you make a purchase through these links, I will earn a commission at no extra cost to you. Thanks!
Lima is the capital and largest city of Peru, a place famous around the world for its incredible cuisine and which serves as a jumping-off point to Cusco, Machu Picchu, and many other incredible places in Peru. Lima is a place that offers a lot to any visitor, ranging from food, fun, museums, art, and more. In this article, we'll be discussing the best Lima tours and activities which will ensure you start your trip to Peru off in the most incredible way possible.
Many visitors stop for just a single night on their way to other destinations throughout the country, but I think that's a mistake because there is truly a lot to see here (and in the surrounding area that is within day-trip distance). While I wasn't sure what to expect with Lima, I was pleasantly surprised and found out there was a lot to love here.
About the City of Lima
The Spanish in the 1500s came to invade the land but Lima was already a thriving settlement. Formerly called Itchyma (named after its original inhabitants), the city was inhabited by indigenous groups which were under the Inca empire. Lima quickly came to serve as the base for the Spanish after their conquest of Peru, thanks to its position on the coast.
The city of Lima today is home to over nine million people and millions of foreign travelers come each year to visit Lima and Peru. Some people may be surprised to learn that Lima is one of the most populated urban cities in the world and is also one of the world's driest — with Lima considered to be the second largest desert capital city after Cairo in Egypt.
Lima is one of the most interesting big cities to visit in South America. Although it is in the tropics and in a desert, the cool waters and breeze of the Pacific Ocean give it a lower temperature than expected. The ruins, temples, and museums are just a few of the things that you can start with. The city is also within a 100-km radius of the most unique and exciting landscapes such as deserts, oasis lakes, rock islands, natural stone formations, and so much more.
Are you ready for your Lima adventure now? These are the 13 best Lima tours and activities to do during your stay….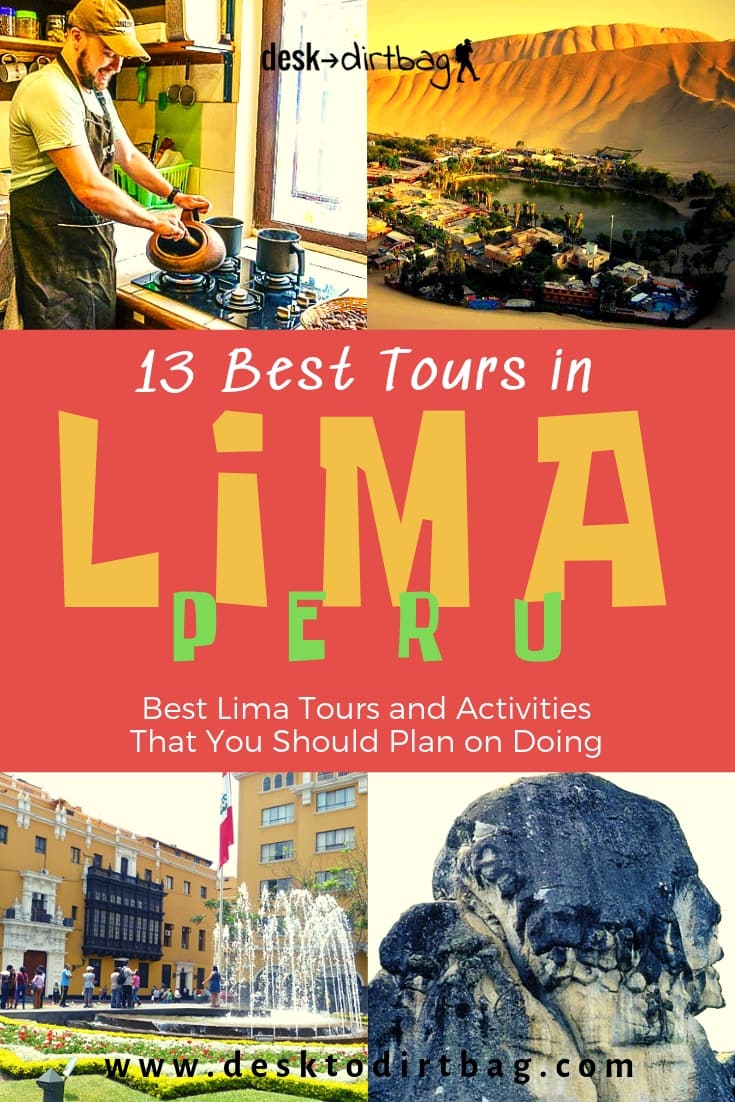 Free Walking Tour of Downtown Lima
One of my favorite ways to get to know any new big city is to set out on foot so I can discover its architecture, history, and fun places to check out. Well, in my opinion, one of the top things to do in Lima is the free downtown walking tour with Inkan Milky Way, these guys are locals, super passionate, well-reviewed, and they are also one of the few (or only) that offers separated groups in both English and Spanish.
Not only that, but the tour guide will meet you in Miraflores (just south of Parque Kennedy) and then take the whole group on the Metropolitana (the Bus Rapid Transit system) up to the Centro Historico. This makes it a whole lot easier to get your bearings and get around on your first day in the city.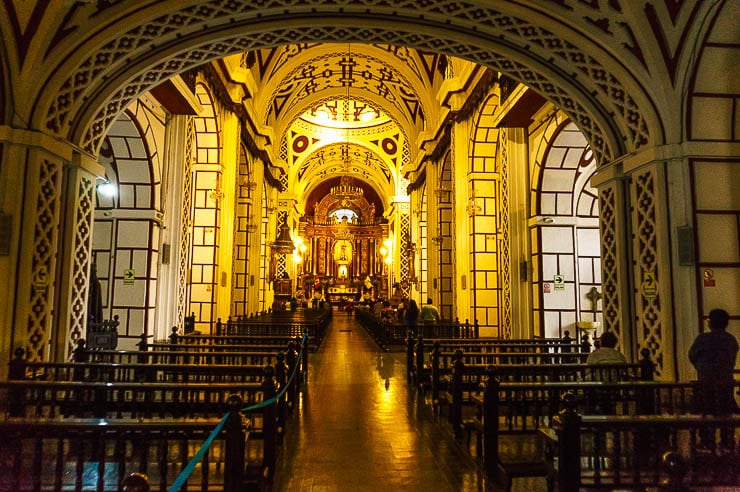 In total, it takes almost an hour to get downtown, and from there the groups will split into English and Spanish and begin exploring the city. You'll hit all the highlights and learn about the history of Lima, the conquest, as well as what life is like for the majority of Limeños who can't afford to live in places like Miraflores.
It's a great tour… Plan about four hours total (including the one hour to get downtown). These tours are gratuity based, so be sure to give your guide a nice little tip.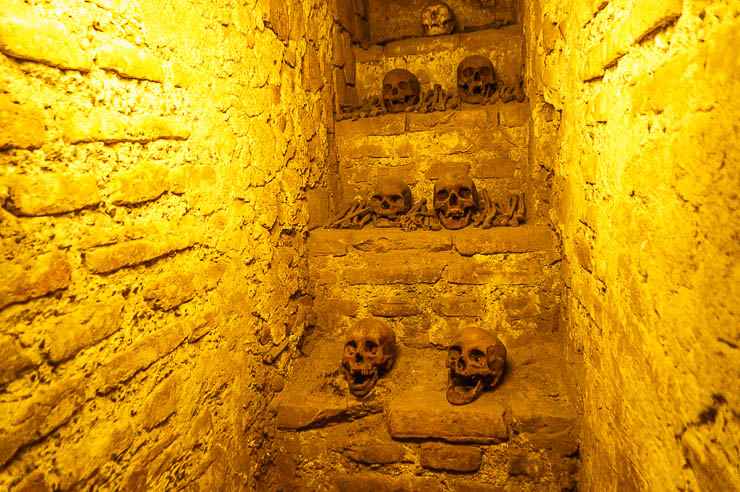 Speaking of tips, be sure to bring water, lots of sunscreen, a hat, and maybe an umbrella. It feels way hotter downtown than near Miraflores where you get more of a sea breeze. After your tour, I'd recommend staying downtown and exploring for the rest of the day, then when you want to return to Miraflores just ask a kind stranger if they will pay for your Metropolitana fee in exchange for cash (you need a special card to use the system).
Reserve your Free Walking Tour of Downtown Lima now.
Lima Gourmet Food Tour
Lima is one of the world's greatest gastronomic dining destinations. Period. If you haven't already had the chance to get to know Peruvian cuisine, be prepared to be blown away.
Even the normal food in Peru at a "Menu of the Day" type establishment which costs $3-4 is absolutely amazing. In Lima, of course, it is on a whole other level, being home to three of the world's 50 best restaurants (for comparison, NYC also has three, Paris has four). Just check out our guide to the best restaurants in Lima for a better idea of everything it has to offer.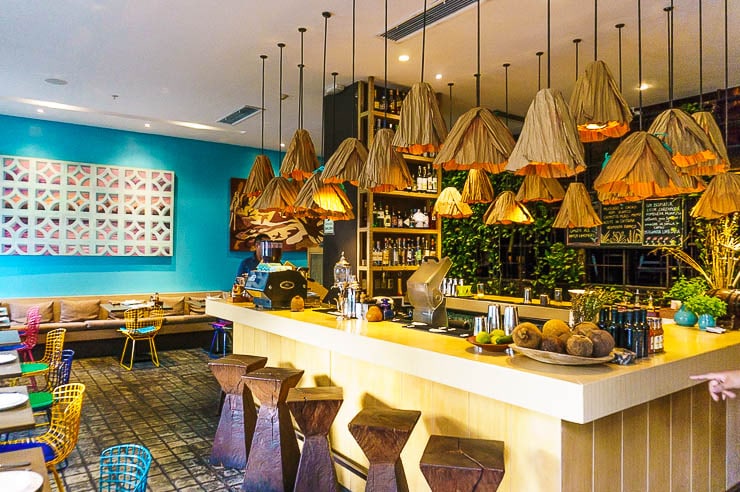 If you want to dine at one of these world-class destinations, you'll need to make reservations weeks in advance and expect to spend $120+ per person for a multi-course tasting menu. Or, you could do what we did, and hop on a tour with the Lima Gourmet Food Company for a great overview.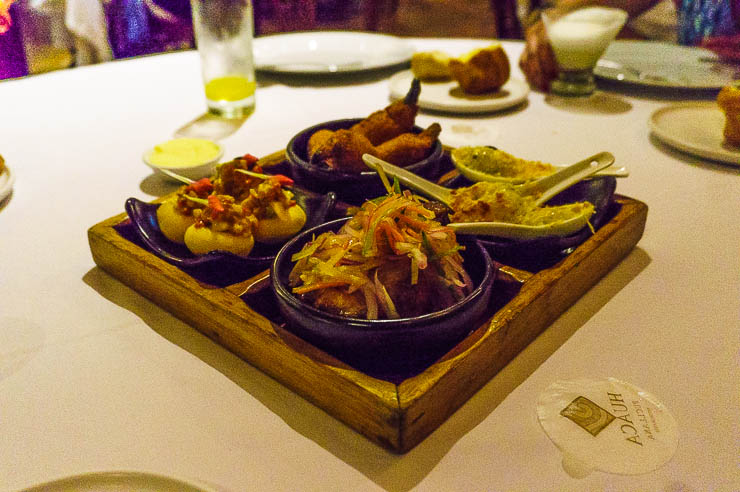 The Lima Gourmet Food Company has both daytime and nighttime tours, each lasting around 5 hours and consisting of multiple stops throughout the city, as well as private transport in small groups (it was just us and another couple when we did it). In total, this gourmet food tour of Lima was $135 per person which included everything throughout.
We did the night time tour which consisted of:
La Trastienda right on the beach for Pisco Sour tasting and info
amaZ which is one of the world's 50 best restaurants in Latin America, for a jungle ceviche, another cocktail, and then another three plates to taste. Anthony Bourdain came here on his show.
Huaca Pucllana which is a gourmet restaurant beside pre-Inca ruins (lit up all amazing at night) for four different dishes representing the various influences on Peruvian cuisine, four different desserts, and of course, another cocktail.
Crem de la Crem in Barranco for one more dessert of gelato as you walk around this amazing neighborhood at night.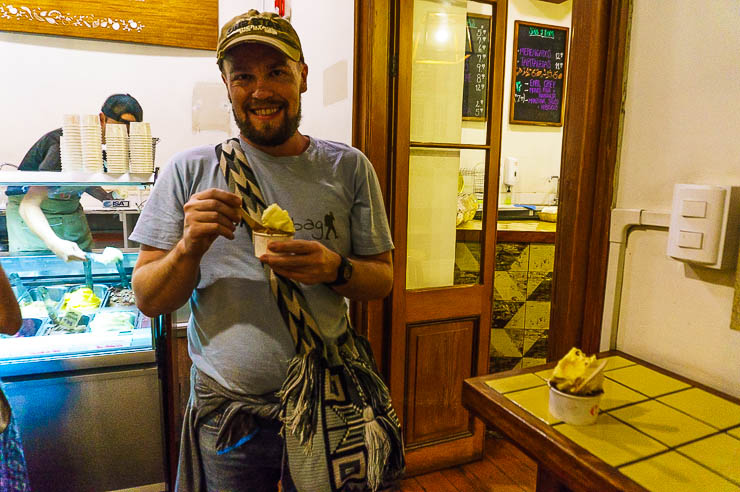 I like to travel on a budget, but I also enjoy splurging on really cool or memorable things every once in a while. If you can, be sure to splurge on at least one extravagant dining experience here in Lima, whether it is a tasting menu at one of the best restaurants, or a tour with the Lima Gourmet Food Company, which I also highly recommend.
Read More: Best Food Tours in Lima
Chocolate Making Class at the Choco Museo
Do you like chocolate? Who doesn't like chocolate, right? I dunno about you, but I've eaten tons of chocolate in my life, without ever really understanding where it comes from, how its made, and so forth, beyond the vague fact that it comes from cacao and tropical climates.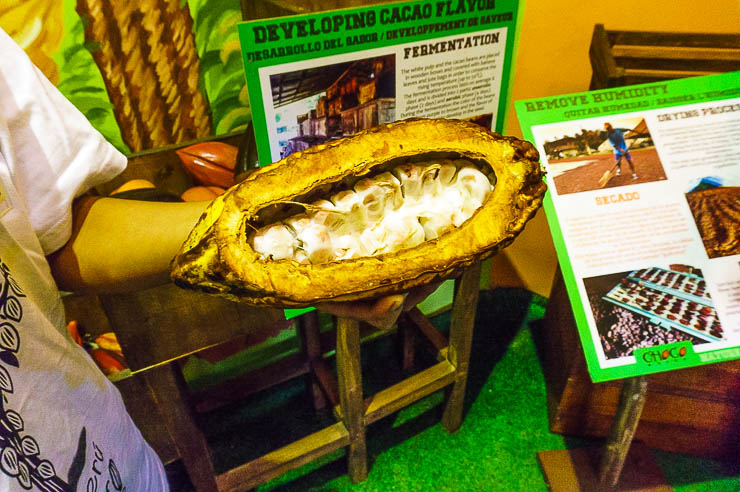 Well, if you're like I was, I'd highly recommend taking a hands-on chocolate making class here in Peru at the Choco Museo. It was incredibly interesting to learn about the growth and production of cacao and everything that the chocolate making process entails. After a quick overview of everything in the cultivation process (which resembles coffee quite a bit), the class turns hands-on as you go into the kitchen, don an apron, and get to work…
They explain how to choose cacao beans, we go into the kitchen to toast them until they start to pop (like popcorn), separate the cacao bean from the shell, and then we had to grind the beans from whole into a thick, goopy paste (which is hard work!). From there we could start to make three different drinks: a cacao tea from the husk, then the traditional Mayan hot chocolate which is spicey, and then the Conquistadors version which is sweet.
The class wraps up by making your own different chocolate bars with whatever add-ins you want like coffee beans, sea salt, cacao nibs, etc, which you can take back with you.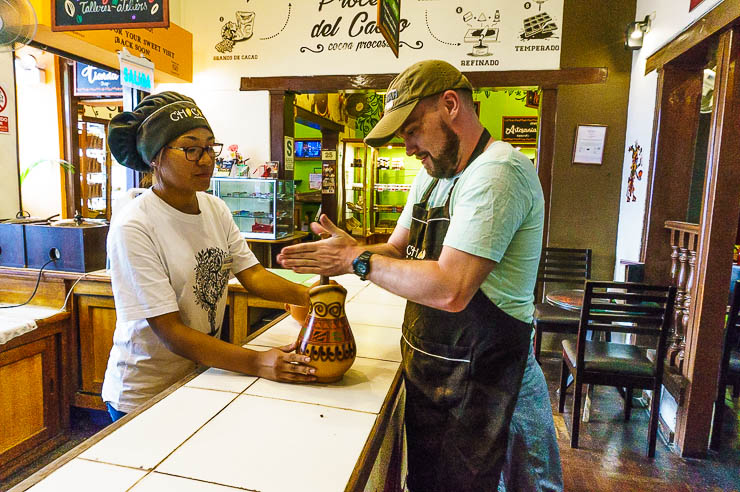 It was a super informative and fun class which gave me a much greater understanding and appreciation of all that chocolate I eat. Highly recommended!
The two-hour class costs about $24 per person which obviously includes the three drinks and the four or so medium-sized chocolate bars to take home. They've also got shorter 45-minute classes, but the two-hour one was only available at their Calle Berlin location in Miraflores (they have various locations through the city).
Learn more about the Chocolate Class at Choco Museo.
Time Travel to Pachacamac Inca Archaeological Complex
Southeast of Lima is Pachacamac, an Inca archaeological complex about 25 miles away from the city. Pachacamac is named after the god Pacha Kamaq. In this 4-hour tour of Pachacamac, you will get to visit this ancient complex larger than Machu Picchu and learn more about this empire at the Pachacamac Museum.
From Lima, you will be driven down southeast for more than 30 minutes to get to these pre-Inca ruins, the Pachacamac Archaeological Site, where you will be guided by engaging and knowledgeable tour guides about the history and culture of the Inca Empire.
Pachacamac site was first settled in around AD 200 and it flourished for about 1,300 years until the Spanish conquered Peru. The area is about 600 hectares which include enormous building, burial sites, religious temples, and a large cemetery. In the Pachacamac complex, there are ramps, plazas, and mud-brick stepped pyramids.
The most famous pyramids namely the Painted Temple, the Temple of the Sun, and the Old Temple of Pachacamac are found in the first sector which is known to be the sacred sector. The Temple of the Sun is in the shape of a trapezoid and from here you get breathtaking views of the Pacific Ocean. Some experts believe that human sacrifices may have been done at this temple.
The Inca actually invaded and conquered the Pachamac site in 1470, not long before the arrival of the Spanish, and the Incas incorporated the creator god Pacha Kamaq into their religion out of respect for the locals.
Book your Pachacamac Inca Tour now.
Lima Off-the-Beaten-Path Tour
Tourism has paved the way for us to learn about other cultures and places. But it is sometimes a good thing to veer away from the tourists and follow a different path to discover the lives of the locals. In this 5-hour Lima Off-the-Beaten-Path Tour, you will get an authentic, inter-cultural experience where you will be led to some of the disadvantaged settlements of Lima.
See a different side of Lima and get to interact with a local family over an authentic Peruvian lunch. You will see how the Limeños strive hard to survive every day and try to uplift their current standard of living although they are living in the poorest settlements in the city.
The slopes of the sandy hills on the outskirts of Lima are home to a very diverse group of immigrants from all over Peru, from people who came to the big city looking for a better life and more opportunities.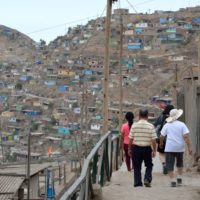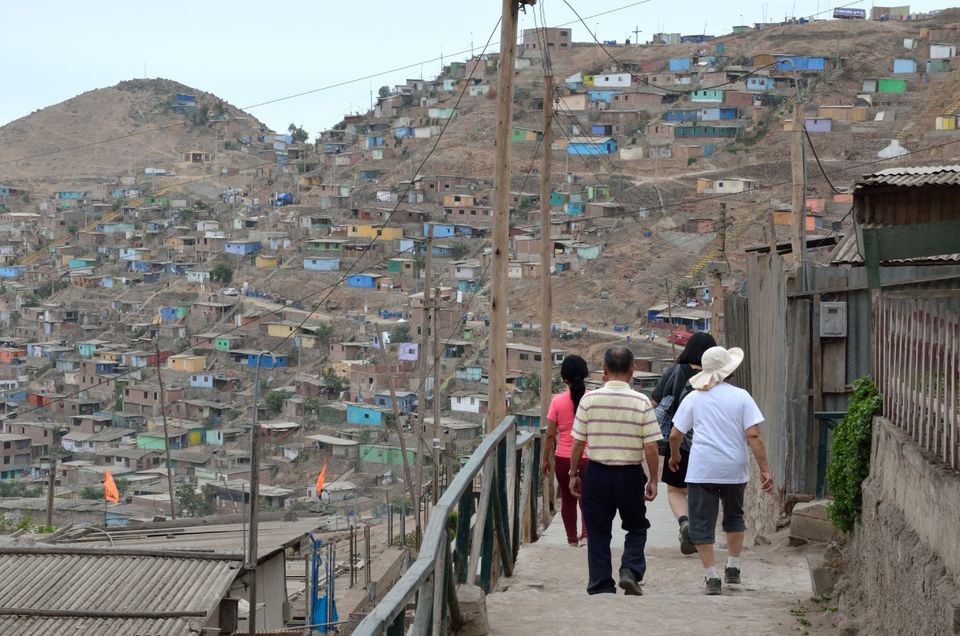 This is a different kind of tour that kicks off with a visit to the second largest cemetery in the world and you will see how different it is from others that you may have seen before. Surprisingly, you will find it colorful and interesting.
Next stop will take you to a social enterprise by a women's group who have started to make handicrafts and sell them as fair trade products. Their products are good ideas for souvenir items and by buying their work you also get to help them and the local community. Plus they are just cool.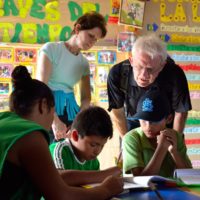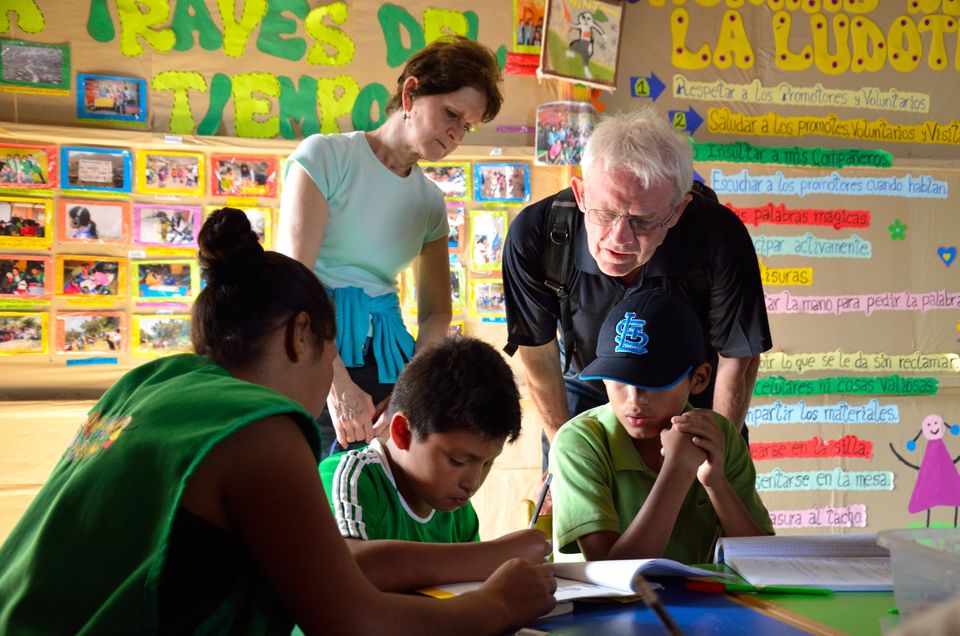 You will also have a chance to visit a social project aimed to help improve the lives in this area. This might be a different tour from other ones you have done, but this might be one of the most unique and unforgettable experiences of your life.
Book your Off-the-Beaten-Path Tour now.
Lima City and Coast Culture Bike Tour
Another way of seeing the vibrant neighborhoods in Lima is on two wheels… Cycle by ancient archaeological sites around to the city and through the Bohemian neighborhood of Barranco, on to the famous Love Park on the Malecon, and some other interesting places.
Salty wind in your face, cruise up and down the picturesque waterfront of Lima as you take in sweeping views of the city and the Pacific Ocean. With a local as your guide, you get to experience it like a local too. From the busy city center to the ruins and to the artsy neighborhoods and many more hip places to hang out in.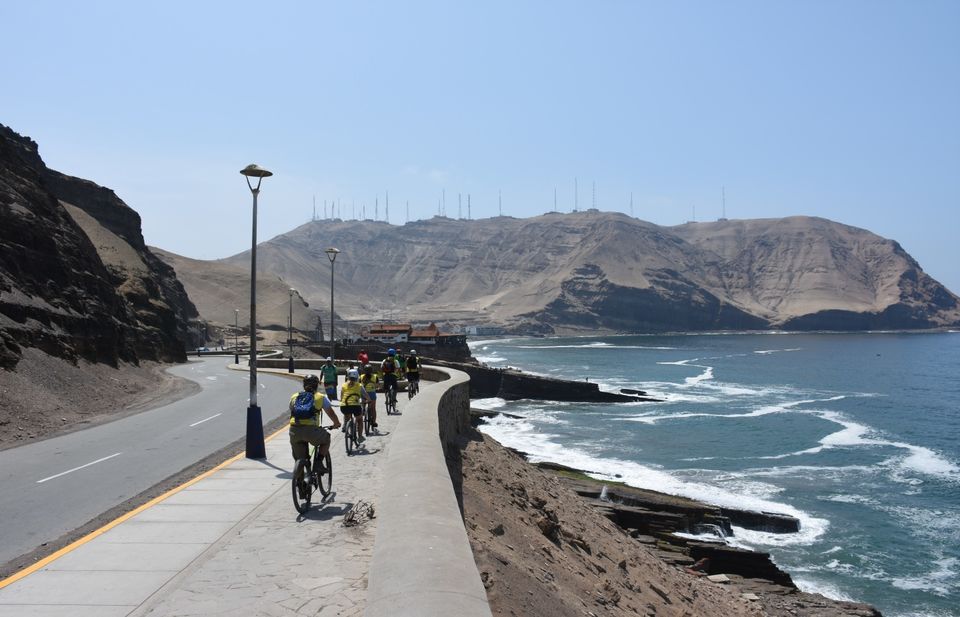 The pickup location is in the Miraflores area and then you head out to the Morro Solar, the hills surrounding the city with stunning views of Lima. After a quick safety briefing with your guide, it is time to bike downhill to visit several stops to better understand the history and culture of Lima.
Take a quick stop at the quaint seaside Chorrillos neighborhood which is frequented by the fishermen. Your bike tour will take you to bohemian Barranco where you will also get to experience how vibrant the art landscape of Lima is. This is the place to be to meet lots of artists, musicians, and writers that call this place home. I absolutely adored Barranco.
Look around and immerse in the areas of street art, public art, and murals. Get the perfect shot for Instagram with some of this awesome street art. Ride up along the coast and be prepared for the rolling ways of the Pacific Ocean below you. Take in the sunshine and the positive vibes of the ocean breeze before riding back to the Miraflores district.
Whether you're biking with a loved one or traveling alone, Love Park is still gonna inspire you. Which is the final stop of the tour, in a park reminiscent of Gaudi's work and is dedicated to love and all things about it. Enjoy the romance-inspired artwork and sculpture.
You can ask your guide for more recommendations for the hippest things to do in this neighborhood or ask them how you can find your way back to your hotel. This interesting bike tour is not only an exercise for your legs but will also offer an unforgettable time in this incredible city.
Book your Lima City and Coast Culture Bike Tour now.
Ica and Huacachina Sand Dunes Tour
Ica and Huacachina Sand Dunes Tour is a fully-packed 16-hours of sand, wheels, and even piscos! You'll start with an early morning drive to Ica with a brief beach stop at Cerro Azul. It was once a commercial port and fishing village but recently it has been popular as a tourist destination for both locals and foreigners.
As soon as you arrive in Ica, you get to taste the local sweets. Follow the path to the Sanctuary of the Lord of Luren. It was destroyed in the big 2007 earthquake but it has been restored since. Thousands of worshippers accompany the Lord of Luren (the patron saint of the city) in procession every Easter Week and mid-October.
About four kilometers from Ica is the unique witches village of Cachiche where you will get to know the famous bruja Julia. According to local legend, Julia Hernández Pecho Viuda de Díaz was one of the famous witches and was known to have cured the stammer of a boy.
Many stories have been told about her and her prophesying of the future of Ica. Before her death she prophesized that Ica would be wiped out when the 7th head of the palm tree appeared; in 1998 there was a great flood that affected thousands (the same time the palm tree sprouted out its 7th head!). Recent years have brought renewed interest in Peru about alternative medicine which has once again brought fame to this once-forgotten town.
You will then find yourself in a guided tour of a traditional winery dating back to 1856. Learn more how pisco, the national drink of Peru, is produced and get to taste different kinds of piscos, wines, and other drinks manufactured here.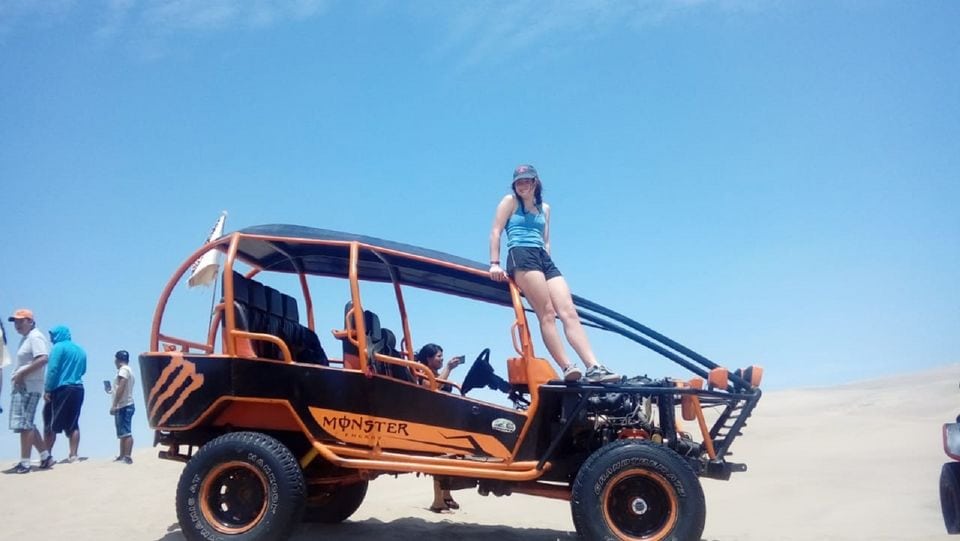 Enjoy lunch in a typical Peruvian style in Ica before you go out into the sandy dunes and practice sandboarding. Experience a wild ride on a dune buggy as you set out to the middle of the desert. Perfect day to end a day is to chase the sunset … not on a horse, but on a fun dune buggy.
The little oasis ruins of Huacachina in the middle of towering sand dunes straight out of the Sahara is quite a sight to behold… Certainly one of the coolest places in the southern half of Peru, in my opinion.
Book your Full Day Trip to Ica and Huacachina now.
Huaca Pucllana Ruins and Larco Museum at Night
Ruins, museum, and food seem a regular tour but do it at night and it will be a totally different vibe. This Huaca Pucllana Ruins and Larco Museum at Night Tour will get you inside the pre-Inca ruins as well as a stop to enjoy the Larco Museum's pre-Columbian art (which might make you blush).
What is nice about Lima is that it has pre-Inca ruins within the city center and you can visit it any time of the day. Huaca Pucllana is majestically lit at night. Right in the Miraflores neighborhood, it is an adobe and clay pyramid built from seven platforms. It was built for ceremonial purposes and became where the center of advancement is for the Lima culture between 200 AD to 700 AD.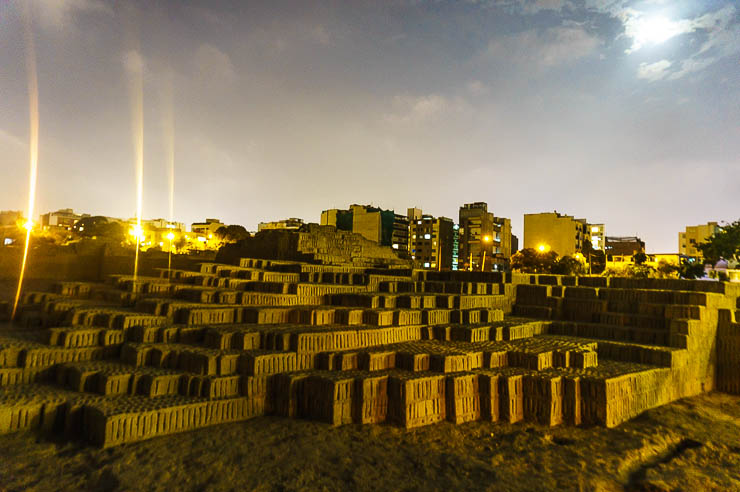 Pro Tip: The gourmet restaurant beside the ruins is an absolutely magical experience with the ruins all lit up around you…
Another Inca site is Huaca Huallamarca is also known as Huaca Pan de Azucar (which means "sugar loaf" in Spanish) and is in the area of San Isidro. It was used differently in three different periods. First, it was used as a temple, then a cemetery, and later on to a human settlement. There is also an on-site museum that highlights artifacts excavated in 1958.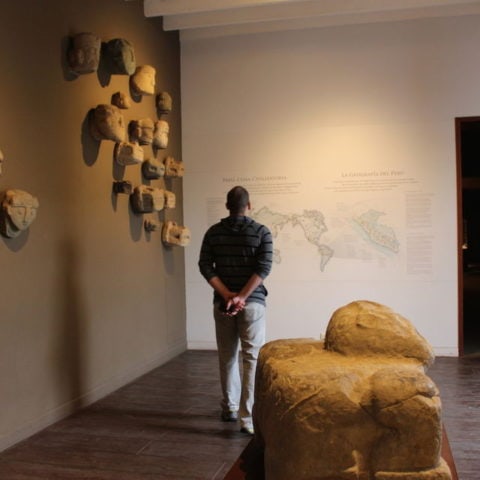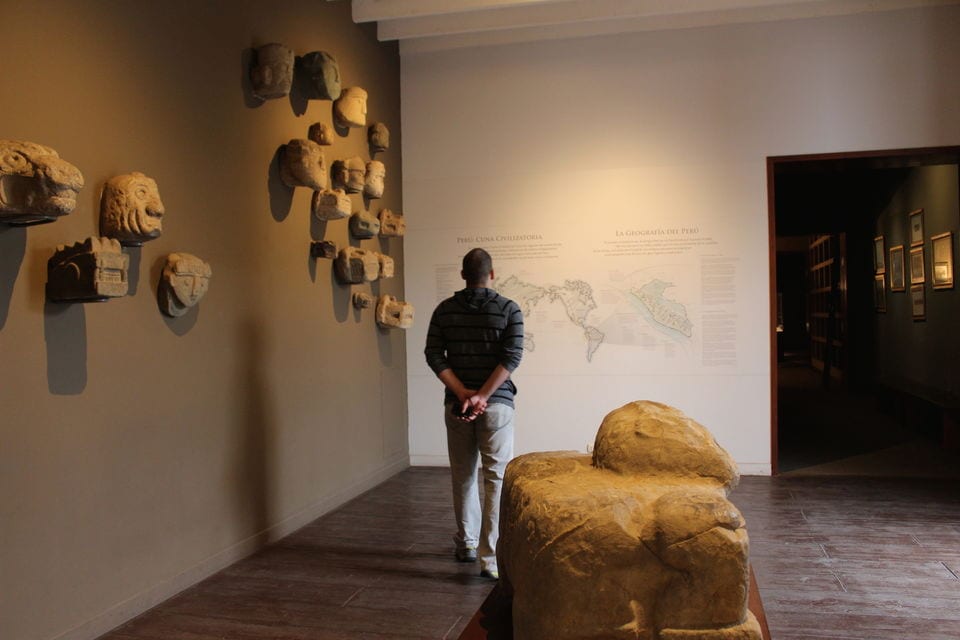 Next stop is the amazing Larco Museum which is remodeled from a mansion which was built on the site of a pre-Columbian temple. It has a vast collection of three millennia of finest objects made in silver and gold, ceramics, and textile.
Perhaps most interestingly, there is this astonishingly large collection of fairly explicit erotic pottery (thousands of artifacts that have survived the destruction of these items by the Spanish conquerors who found them revolting and obscene).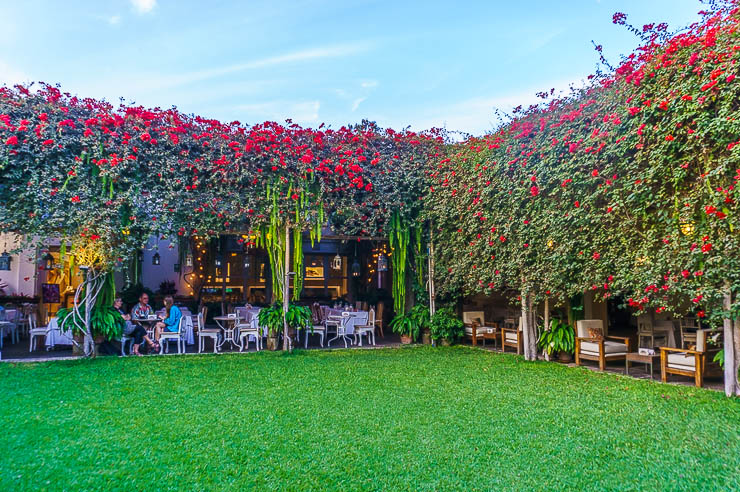 You'll culminate this night tour with a 3-course meal at the Cafe del Museo on the grounds of the museum overlooking a garden draped with flowers. Look out into the night from the terrace and soak up the lush gardens as you celebrate thousands of years of history, culture, and arts of the Peruvians.
Book your Huaca Pucllana & Larco Museum Night Tour now.
Lima City Tour Express Bus
The Lima City Tour Express is an exciting and inexpensive way of visiting and learning about Lima in just three hours. This bus has a second level where you can get to see the best view of Lima's top tourist spots.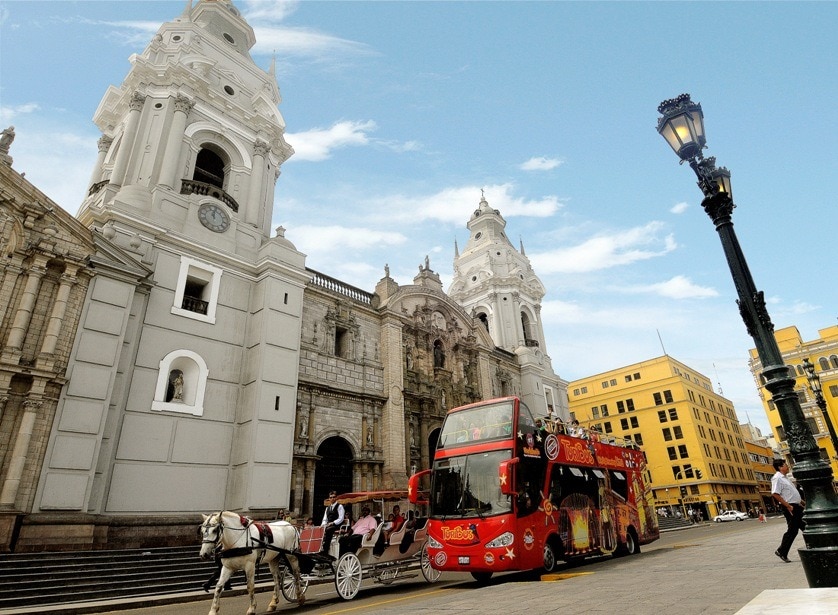 This excursion will take you to Huaca Pucllana, the San Martin Square, the Main Square, the Convent of San Francisco, the Congress, and Love Park. These are just some of the more than 20 tourist destinations that you will get to see in this tour. If you have little time to spend in Lima or you just want to get the "summary" of the city, then this is a good start for finding places you want to return to.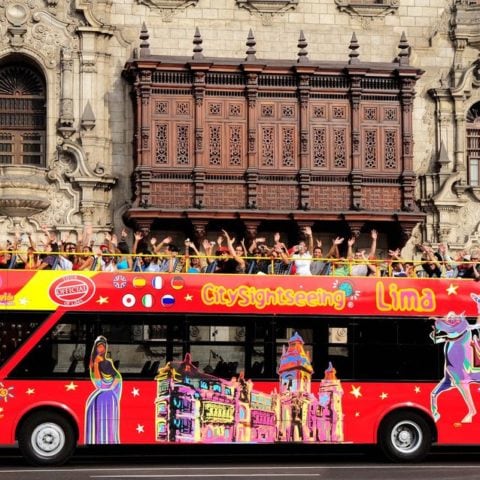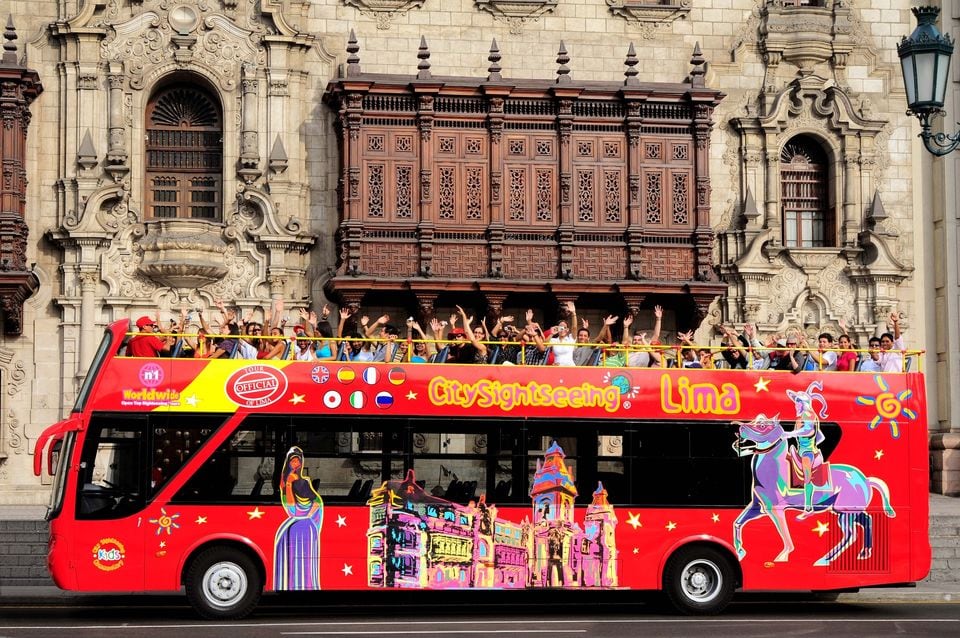 Lima City Tour Express starts in Lima's fanciest and most beautiful mall called Larcomar which overlooks the Pacific. You'll get to enjoy more than twenty highlights of Lima's tourism circuit from the bus, but you'll also get the chance to get out and explore in-depth at the impressive and spooky catacombs of San Francisco.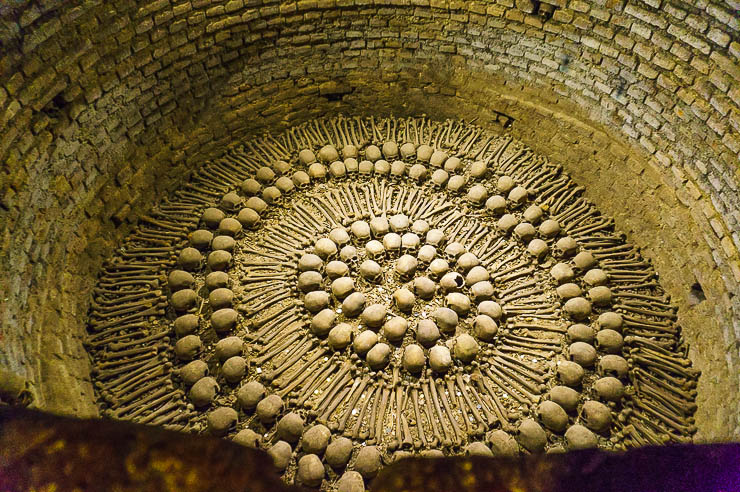 After all the sightseeing, you will be brought back to Larcomar. All-in-all, it's a great introduction to the city and a chance to take lots of pictures from a different angle.
Book your Lima City Tour Express now.
Ballestas Islands and Paracas National Reserve
This is an epic 15-hour tour of Ballestas Islands and Paracas National Reserve. You'll be able to see sea lions, penguins, and many different kinds of seabirds when you visit the Ballestas Islands (known as the Peruvian Galapagos) and also get to experience one of the most unique arid landscapes on earth which is the Paracas National Reserve.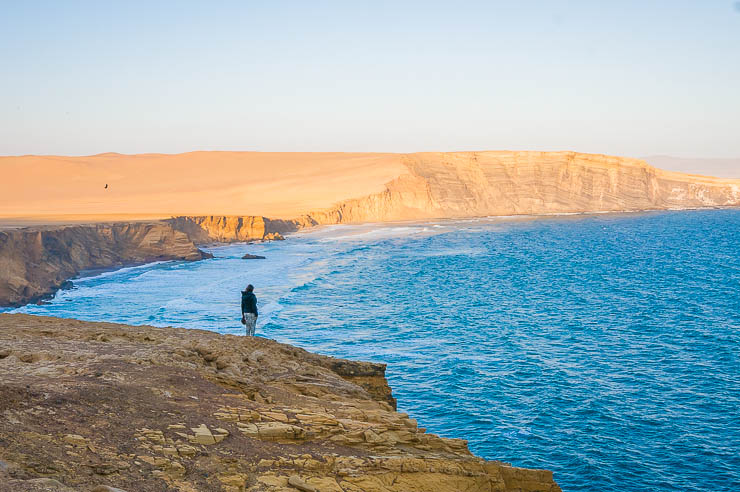 You'll have to start really early at 4 AM so you can reach the transfer to the boat at 8 AM for Ballestas Islands. This is a group of islands near Paracas, on the southern coast of Peru. On the way, you'll see the Paracas Candelabra, a massive symbol etched into the hillside, not unlike the Nazca lines.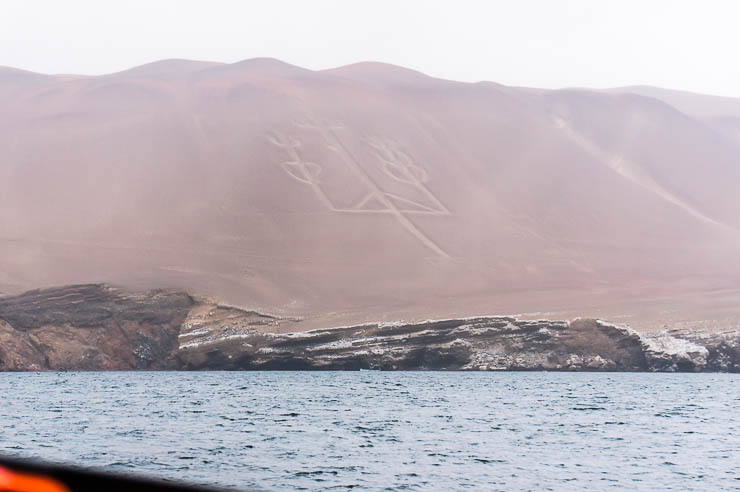 The rock formations on the islands are home to thousands of sea birds like cormorants, guanay guano bird, the blue-footed booby, and more. There are also sea lions, fur seals, and often penguins (we only saw one penguin when we went).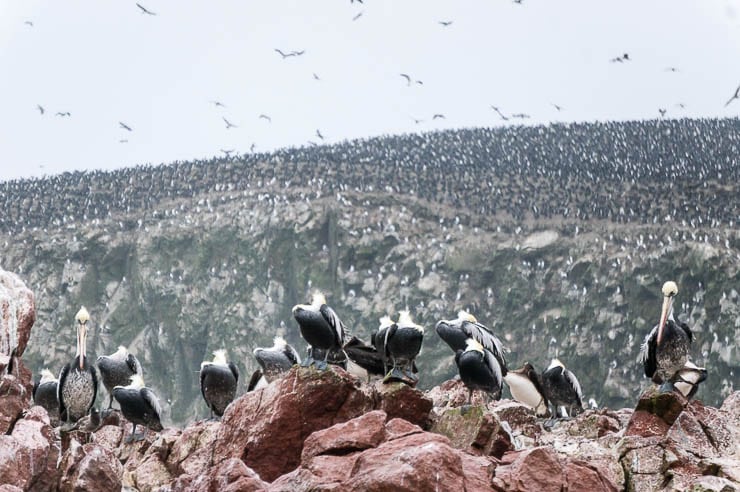 After Ballestas, you'll head on to Paracas National Reserve and it is undoubtedly an amazing landscape which is also one of the driest spots on earth (Guinness World Records certified, whoa!). This does not stop some animals to live and thrive in this environment. Experience a real oasis lake in the middle of nowhere (migratory birds pass by here too) and you might just see a Great Pink Flamingo in this area!
This is your chance to experience the wildlife and outdoors while you are here in Peru. This tour is definitely for everyone, and both Paracas and Ballestas are among my favorite places in this region — a true must-do!
Book your Ballestas Islands and Paracas National Reserve Tour now.
Off Road in Marcahuasi
Marcahuasi stone forest is spectacular, hands down! Missed by a lot of visitors (who never even hear about it), this mystical site should be in your must-go list while in Lima. This 12-hour Off-Road Tour in Marcahuasi is a private guided tour that will show you stunning views of this spectacular place.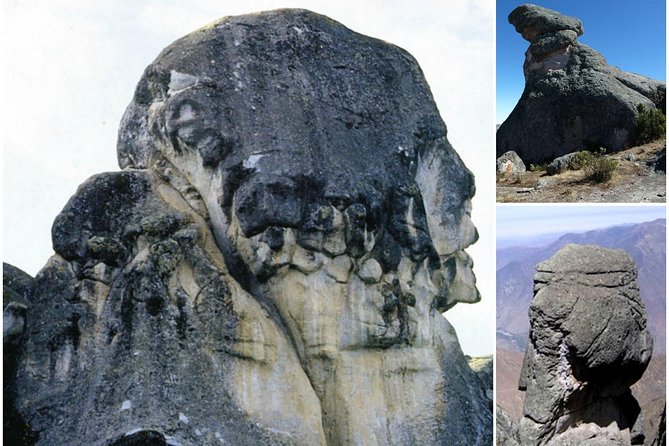 Marcahuasi is located 60 km east of Lima in the Andes Mountains. It is a plateau situated at about 4,000 meters above sea level. There are monolithic stone forms, cotton clouds gliding down the cliffs, and unparalleled vista points off the beaten path. This place is famous for the stones in shapes of human faces, religious symbols, and animals in granite rock.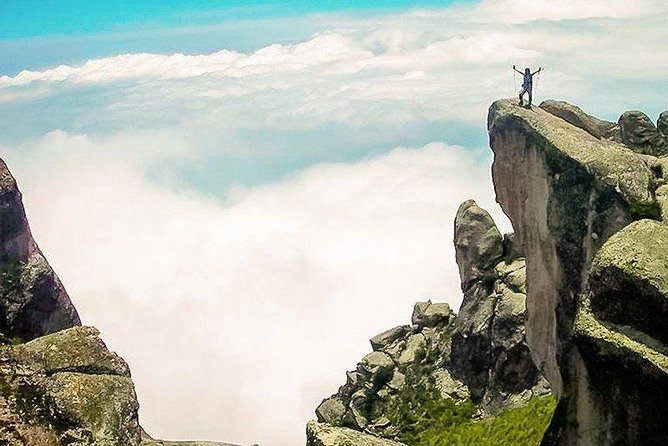 These Marcahuasi natural stone formations are formed due to erosion over thousands of years. There were also ancient tombs and an ancient ruins site in this area. Unique and absolutely stunning, it is a mistake to not visit Marcahuasi and these magnificent stones.
Book your Off-Road Tour in Marcahuasi now.
Lima Surf Trip
If you are fond of surfing or you would like to start surfing, you should get right on board (pun intended) and surf in the waters off Lima through this 9-hour Lima Surf Trip. A local guide and Lima surf insider will give you instruction and take you to the best waves in the area.
The day will start early with a drive down south to the best surf spots. You don't have to guess where the best parts are or what to do because your expert guide and surf instructor will be your angel. Save time and start enjoying the waves of one of South America's top surf spots.
This Lima Surf Trip is convenient and hassle-free and you just have to start surfing the best waves in this part of the world with all the gear you need to jump into the cold water…
Book your Lima Surf Trip now.
Paragliding over Lima
If you've never been paragliding (or even if you have) then doing so in Lima is a great choice, thanks to this truly stunning landscape as you glide over the steep cliffs leading down to the Pacific, as the city sprawls out before you. This is truly one of the most spectacular paragliding spots I've ever seen and this exhilarating experience is easy for you to book right in the Miraflores district of Lima.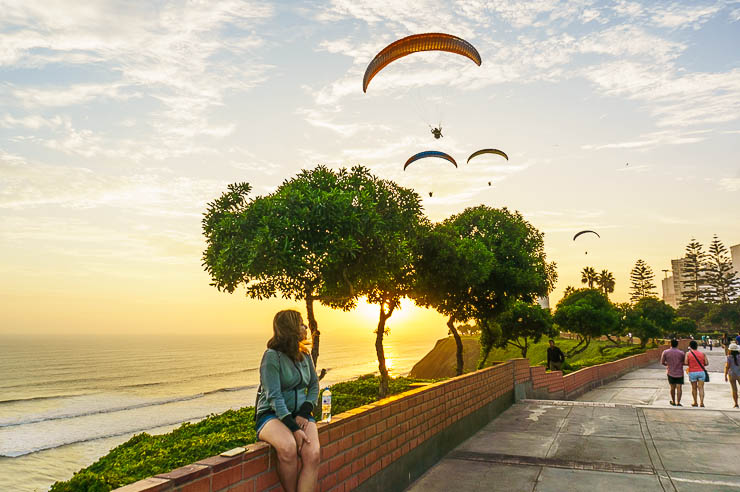 If you would like to try this sport, you can check out the many paragliding shops and companies that offer paragliding services. Don't worry if you don't have experience because you can always do the tandem paragliding (flying with a professional instructor and expert paraglider). Favorite spots are the clifftop parapuerto (para-port) in Parque Raimondi, Parque del Amor, and Parque Salazar.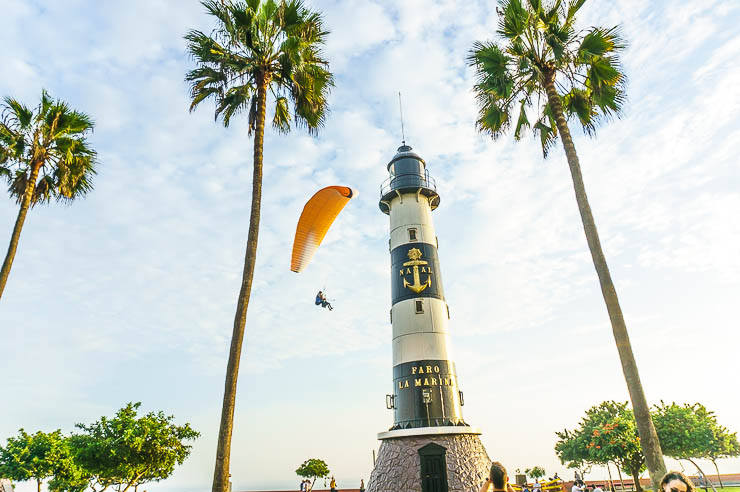 Stunning views of the city, the coasts and down to the beaches of Barranco and Chorrillos are waiting for you. See Lima the city of kings from the skies! Even if you don't go paragliding yourself, it is quite fun to just watch them sailing around above you as you walk the Malecon — I'd recommend heading there at sunset for some spectacular photos!
Check out any of these companies for your paragliding experience in Lima:
Fly Adventure, AeroXtreme, PeruFly
More Tours
Honestly, that's just a sampling of the many amazing Lima tours and activities that you can enjoy with this city vibrant city as your base for a few days… I'd recommend booking your tours and activities with Get Your Guide.
Visit Lima, Peru
Lima is a city that has a little something for everyone. It has the charm of the old world and the energy of the new world. Whether you're looking for incredible museums, beautiful churches, history, gourmet cuisine, budget-friendly eats, or adrenaline adventure activities, this is a great place to be.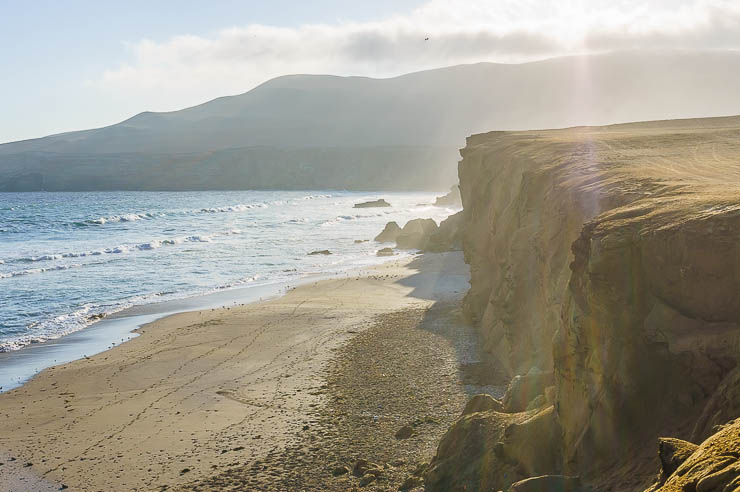 Most people only stay in Lima for maybe a night or two and push on quickly to other destinations, but if you've got the time, you should plan on spending at least three nights here to explore a little more about what makes this city so special, but be sure to read more about where to stay in Lima, to ensure you have the best time.
As in any city in South America, Lima offers thousands of things to do, amazing spots to eat, and great places to go. Be sure to read about my own list of the most amazing things to do in Lima. And if Lima is your first stop on that epic trip to Machu Picchu, then I hope my guide to Cusco, Peru can help you out, or read more about how to visit Machu Picchu on a budget.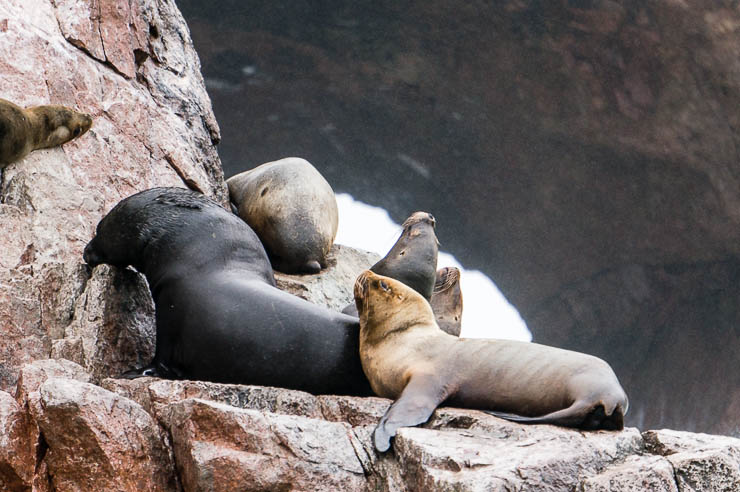 Taking part in organized tours and activities is an excellent way to gain much greater insight into the area you are traveling to, thanks to the input of friendly, knowledgeable local guides. Instead of only taking photos, you might take away one or two, or maybe three things with you — a beautiful handicraft, an unforgettable memory, or a life lesson.
Maybe it's something as simple as a better understanding of chocolate, and every time you eat it in the future, you'll remember that class you took in Lima… In that way, travel isn't something that you experience once in that moment, but something you take with you forever.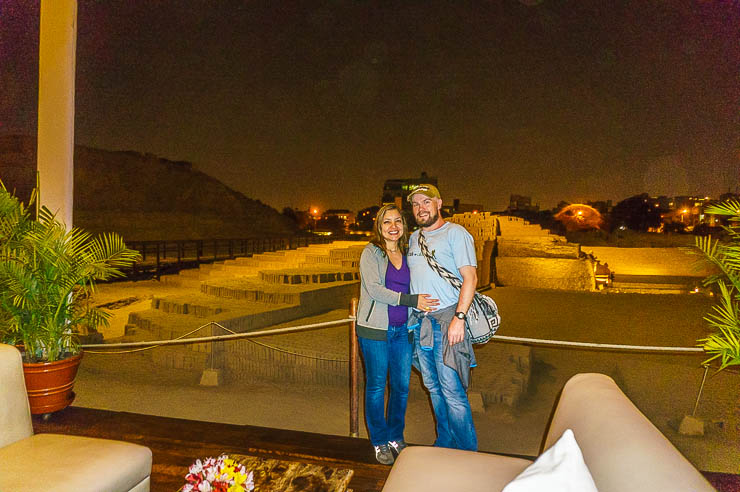 Traveling to Peru soon? Be sure to book your hostel or hotel from Booking.com now to save, and check out my guide about where to stay in Lima or the best Lima hostels to help you decide. For multi-week stays, I personally prefer booking with Airbnb. And don't forget to purchase travel insurance for Peru to protect yourself against injury, theft, and sickness. I use and recommend World Nomads.
Read Next: The Ultimate Guide of the Best Things to Do in Lima, Peru
Share This
Did you enjoy this post about the best Lima tours? Please take a moment to share it on Facebook, Pinterest, or Twitter.
The following two tabs change content below.
Desk to Dirtbag is one of the leading budget adventure travel blogs online and is dedicated to helping its followers achieve their travel dreams through inspiration, information, and actionable steps. If you are new to the site, be sure to
Start Here
.
Latest posts by Desk to Dirtbag (see all)