This article may contain
affiliate links
. If you make a purchase through these links, I will earn a commission at no extra cost to you. Thanks!
There are more than a dozen food tours in Lima which isn't a surprise, considering that it is one of the best culinary destinations not only in Latin America but in the world. Not only is fine dining and food one of the top things to do in Lima, but you could almost spend a lifetime here just exploring some of the best restaurants in Lima and all that the incredible local cuisine has to offer.
So how can you possibly choose the best food tour in Lima with such an overwhelming number of options? I'll try to help you find the best choice for you, as well as what I ended up choosing.
But regardless of which one you choose, one thing that is nice is that you'll likely be able to pair a food tour in Lima with a bit of sightseeing to an ancient pre-Inca site or the historic colonial downtown, or maybe get to know the Miraflores or Barranco neighborhood more in-depth, kind of killing two birds with one stone.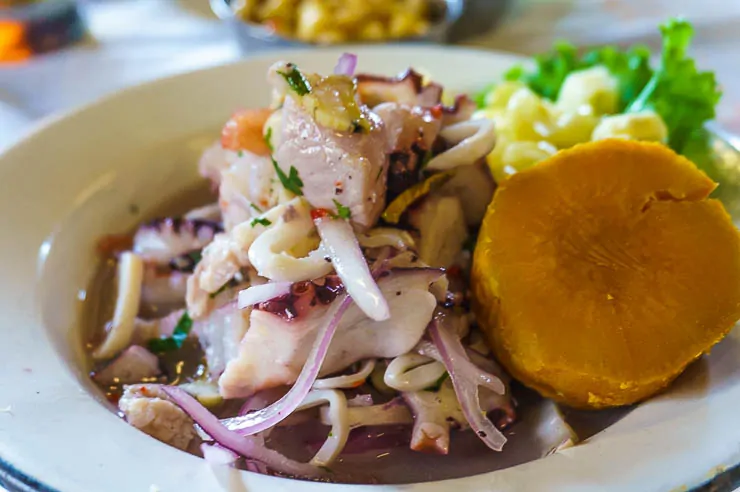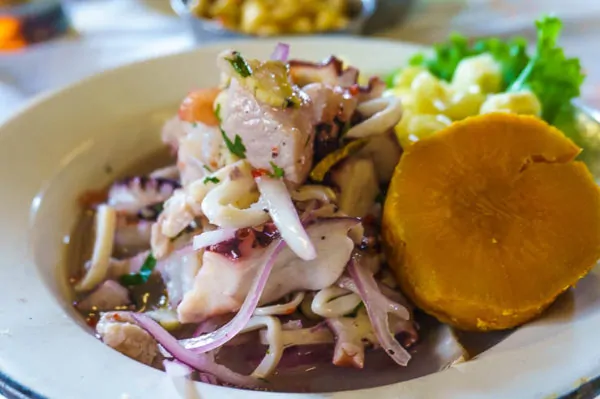 Also, if you are more interested in cooking, you can definitely find a cooking class in Lima or tour that will teach you how to make your own traditional Peruvian dishes with a local family, or learn things like how to make ceviche or a pisco sour.
If you're tight on time, I'd highly recommend doing a Lima food tour while you are in town, that way you can pack in a lot of different places, neighborhoods, and flavors in a short amount of time, since that is all that most people usually dedicate to Lima (unfairly, in my opinion).
In any case, here are a few of the top recommended food tours in Lima so you can see what best suits your next trip and, of course, your palate.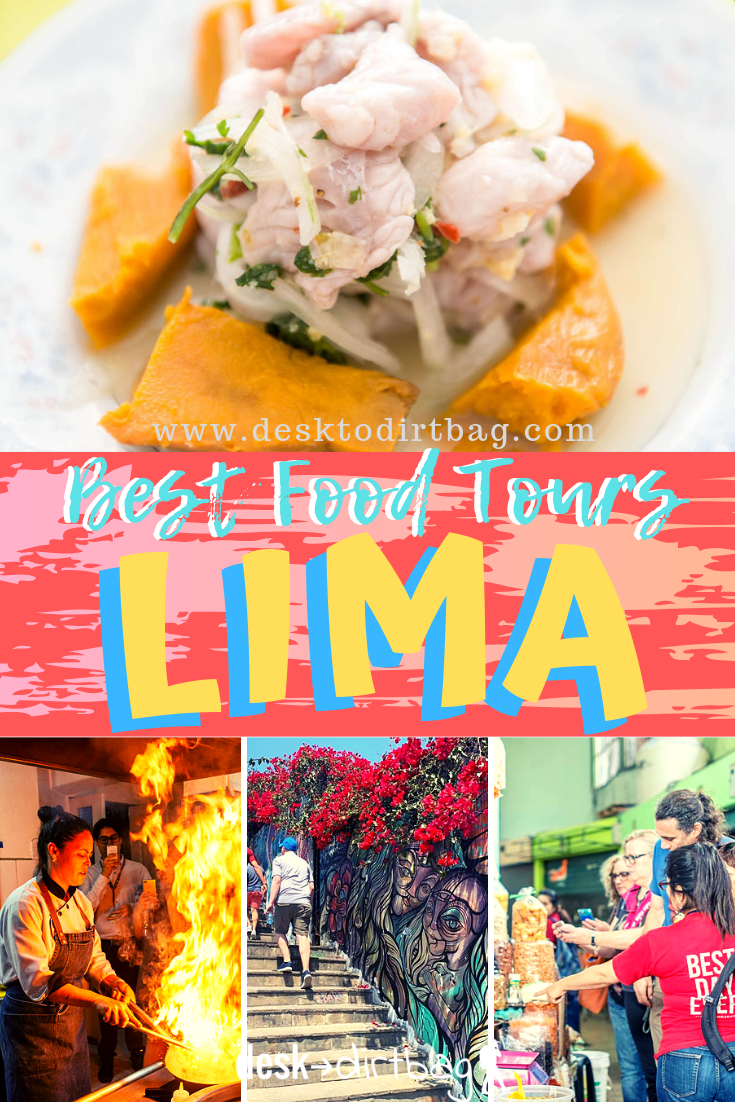 Lima Gourmet Food Tour
The Lima Gourmet food tour is an incredible value for the money and will get you into places like Huaca Pucllana and amaZ, which are considered among the best Lima restaurants. It was almost for this fact alone that we chose this tour above any other because it included a lot of awesome stops, including these "best" restaurants.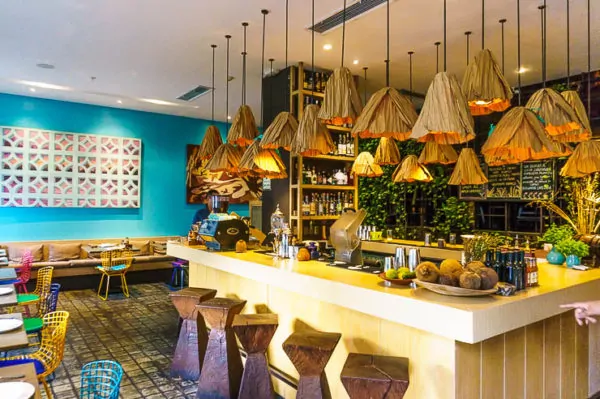 The Lima Gourmet Food Tour Company has both a daytime and evening tour which are slightly different, but we did the night tour and had an absolute blast…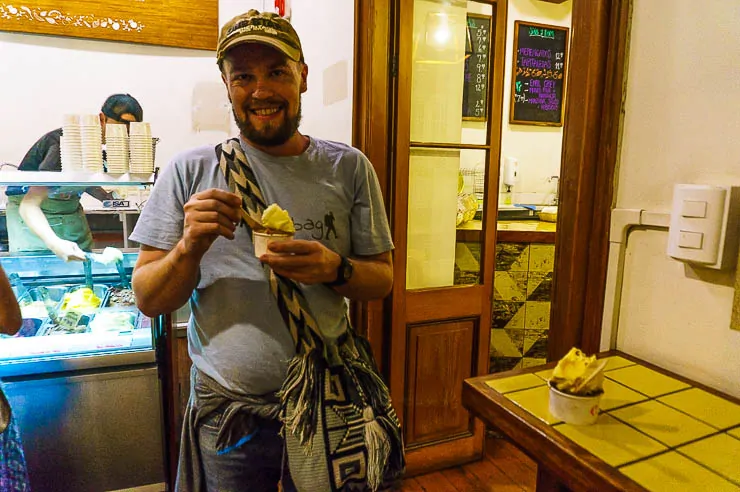 We started the evening with pisco sours and snack at La Trastienda at the edge of the Pacific Ocean, then we went to amaZ for some of their incredible jungle-inspired and inventive cuisine.
After that, we went to Huaca Pucllana overlooking the ruins where we sampled dishes representing Nikkei, Chifa, and other prominent influences in Peruvian cuisine, and finally, we capped the night with dessert at a boutique gelateria store in the hip and bohemian Barranco district.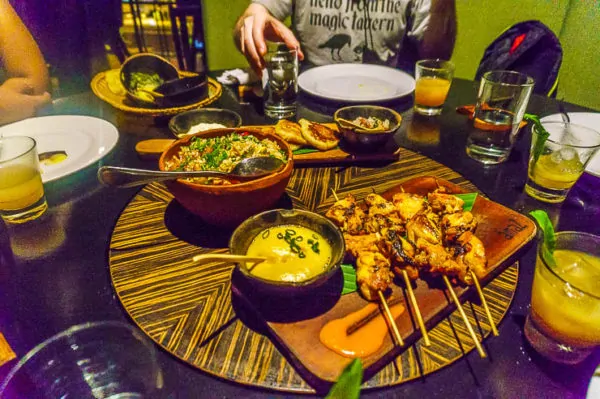 We were absolutely stuffed by the end and had sampled a very incredible and rich range of dishes. While the tour isn't cheap, it does get you into some awesome places, gives you a lot of food and drinks (various cocktails), includes private transport, and a friendly and knowledgable guide.
You can expect to spend $135 per person on this tour, which is fairly comparable to a tasting menu in one of Lima's best restaurants but includes history, culture, food, sightseeing, transport, and even a guide. I thought it was a good deal, albeit a splurge for us.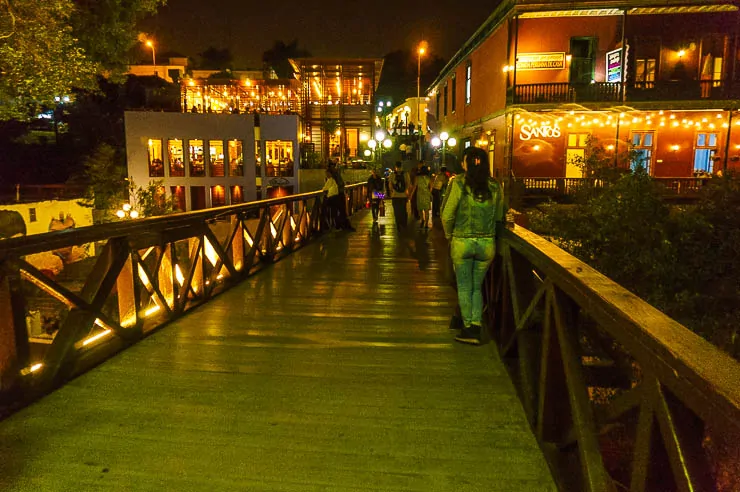 If you opt for the daytime tour, it is in many ways the same, but it includes a make your own ceviche lesson and a hands-on class to make your own pisco sour, which all sounds quite fun as well. I chose the night tour in the end because I really wanted to see the Huaca Pucllana ruins all lit up mysteriously in the dark… Worth it!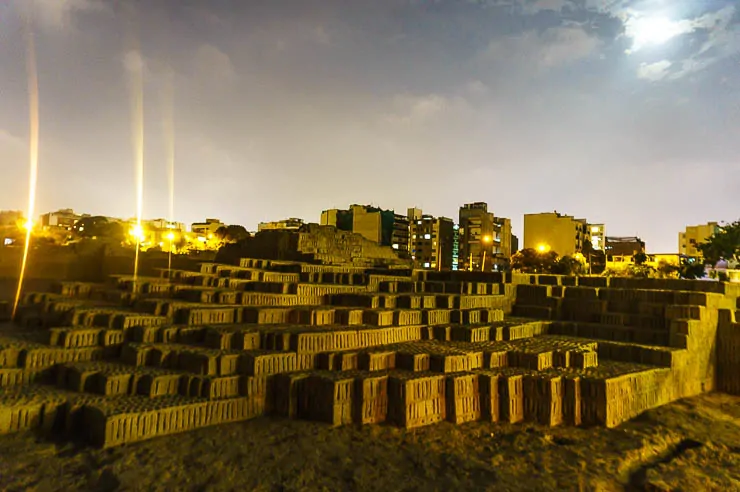 We had a lot of good times in Lima during our stay, but the Lima Gourmet Food Tour definitely stands out as one of the most fun and memorable parts of our trip. I would highly recommend it!
Reserve your Lima Gourmet Food Tour Now.
Huaca Ruins and Larco Museum at Night with Dinner
One of my favorite ways to end a day of traveling is to have a delicious dinner and some wine. But Lima offers a better option: visiting some awesome ruins and then heading to a beautiful restaurant on the grounds of Lima's most famed museum as you drink a pisco sour or chilcano beneath colorful bougainvillea!
On this Lima food tour, you'll be brought to the impressive archaeological site of Huaca Pucllana to explore these 1,500-year-old pre-Inca ruins where you can learn more about the indigenous people from pre-Incan times, as well as some of the ceremonial rites performed at this great pyramid temple. I'm not sure what's more impressive, the ruins themselves, or the fact that they stand here in the middle of the modern Miraflores neighborhood…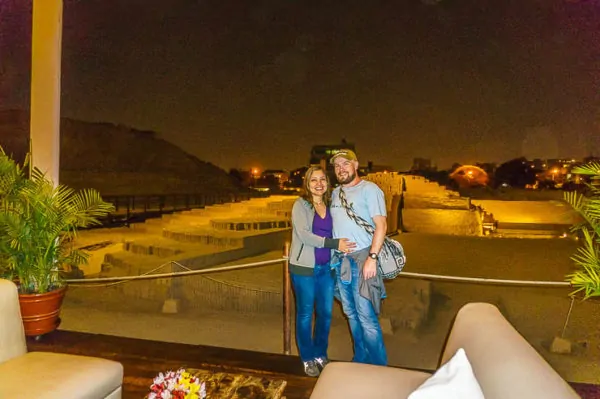 Afterward, you'll head to the amazing Larco Museum, where you can marvel at stunning pieces of pre-Columbian art. This museum highlights objects from ancient Peru which ranges from the finest collection of silver, gold, and stonework, to the somewhat bizarre (and massive) collection of erotic pottery.
Strange, yes, but the erotic pottery is a must-do in Lima, haha.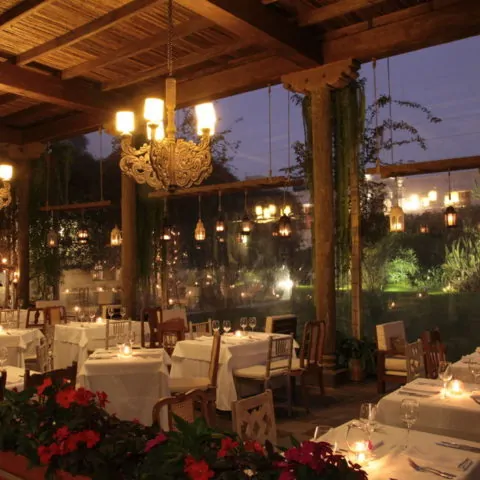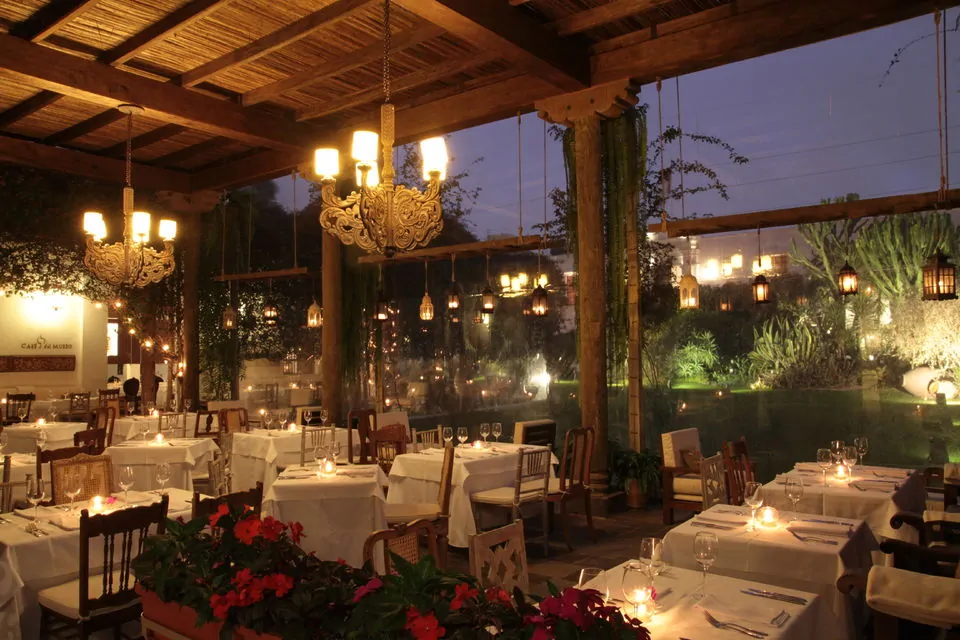 Then you'll end the night with a meal at the Cafe del Museo on the grounds of the museum as you look out from the terrace to the relaxing and beautiful gardens. This restaurant is brought to you by Gaston Acurio of Astrid y Gaston (long beloved as one of Lima's best restaurants), so you know it will be one of the most unforgettable dinners in your lifetime.
Book your Huaca Ruins and Larco Museum at Night with Dinner now.
Culinary, Historic & Traditional City Tour
On this tour, you'll get to visit the largest Chinatown in South America and savor the fusion of Peruvian and Chinese cuisine. Eat street food, wander through the little shops, and shop for your souvenirs from the many quaint stores offering local, handmade products.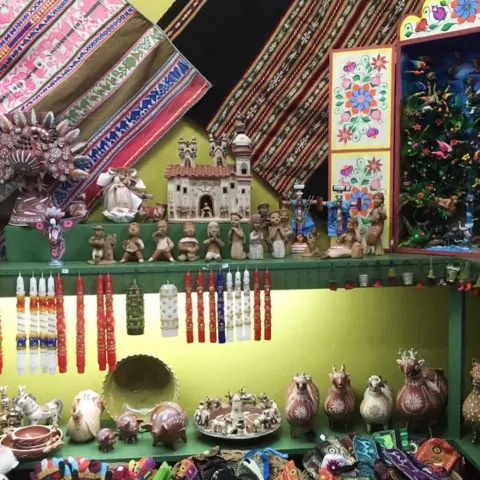 See for yourself how Peruvian and Chinese cultures merged here in Peru and gain a better understanding of how this mix gives local cuisine a different flavor. Honestly, it is basically because of these Asian influences that modern-day Peruvian cuisine is so delicious… There's a reason that Peru has the best food in South America, which blows away neighbors like Bolivia or Ecuador.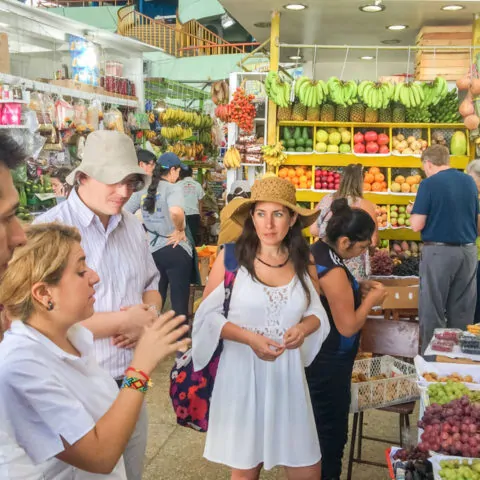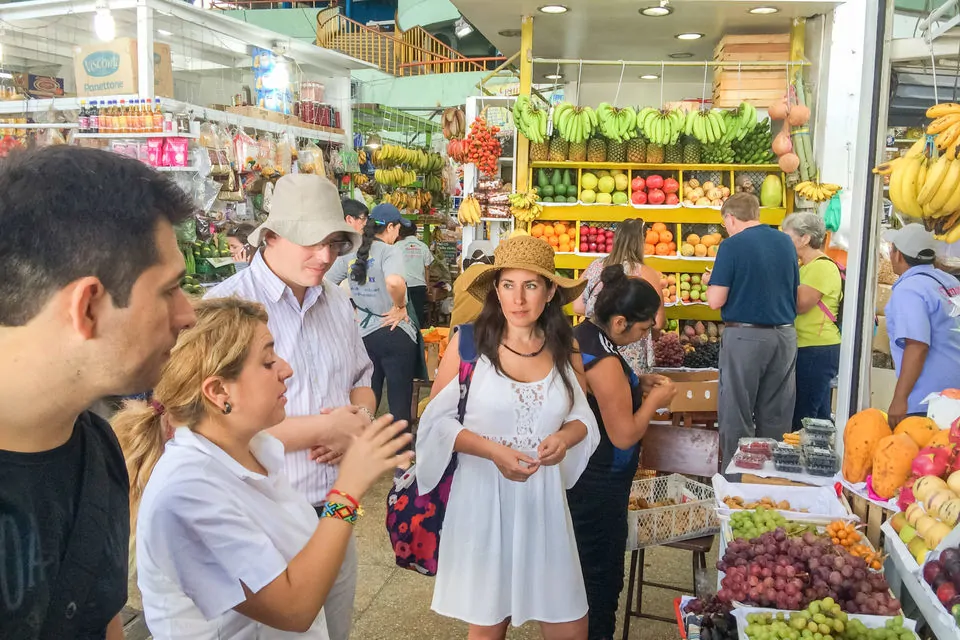 On this tour, you'll also get to observe how to make a ceviche, its different ingredients, and taste different kinds of ceviches. Explore the local market with your senses as you sift through all the produce of the region. Get to see some of the many exotic fruits and interesting food that this side of Latin America has to offer.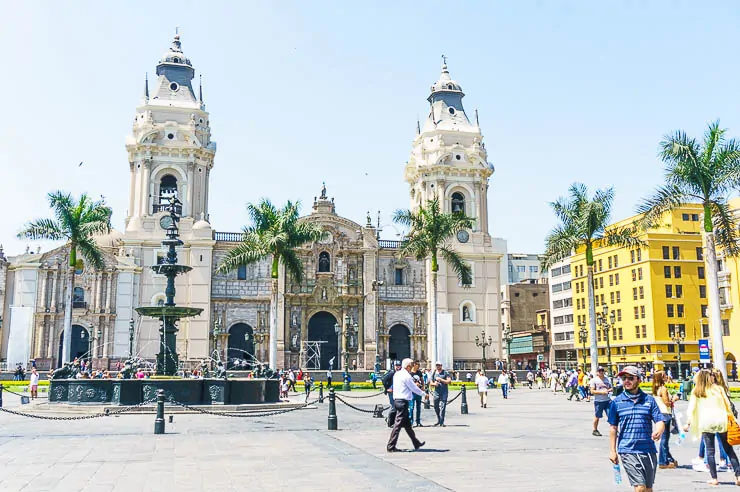 You'll also get to walk around the beautiful historic center of Lima and marvel at its monuments and architecture. And then you will also get to visit a local restaurant to taste some picarones, a tasty Peruvian dessert.
Book your Full-Day Lima: a Culinary, Historic & Traditional City now.
Miraflores Trending Flavors Half-Day Walking Tour
Miraflores is one of the best neighborhoods to stay in Lima and it is also one of the best places to eat your way through town.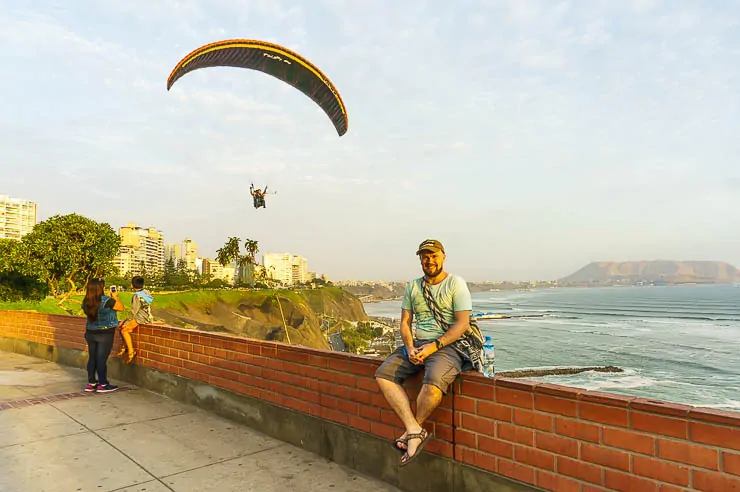 You can stay here, never leave, and have an almost endless list of places to enjoy great food, ranging from some of the best restaurants in the world to the best street foods that you have ever tasted in your life. This walking tour of Miraflores will give you the opportunity to experience the different flavors of Peru.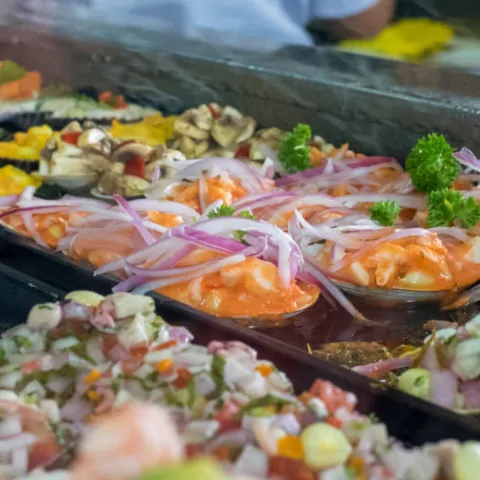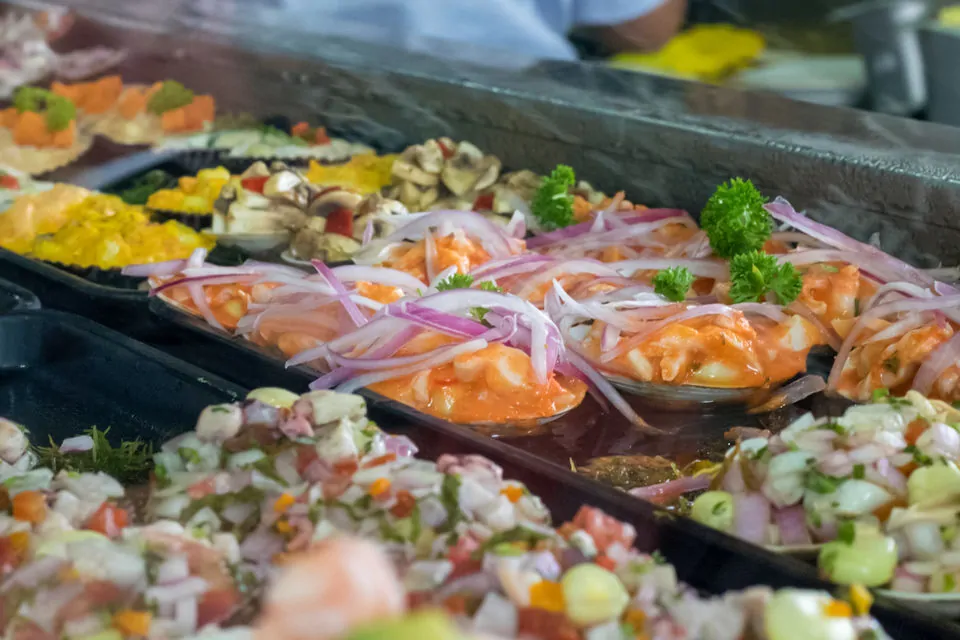 First, you'll start the day with some great coffee at the Terrua coffee shop near Parque Kennedy with a brief introduction to the coffee scene in Peru.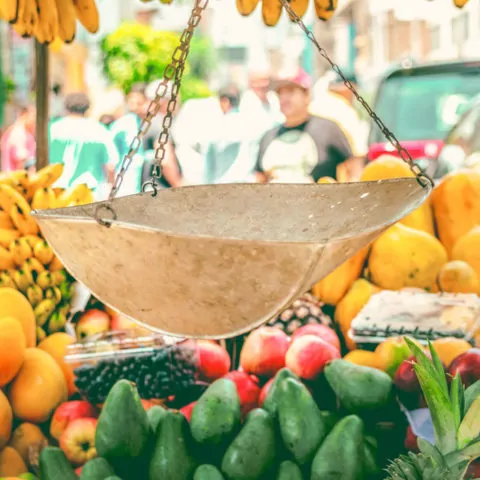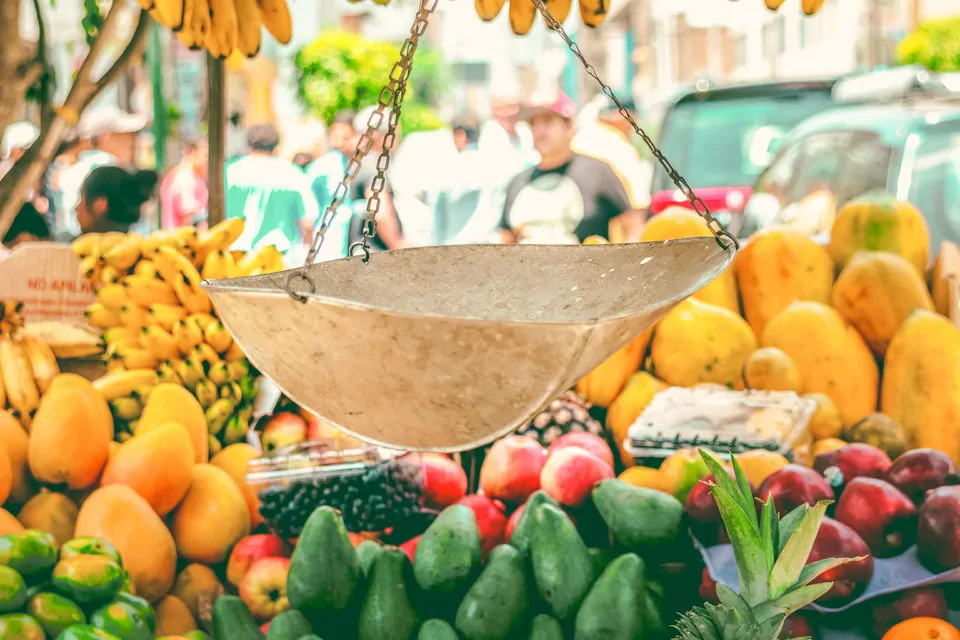 You will then visit the Surquillo market to try some of the best exotic fruits from this region. You will be amazed at some of the fruits that you haven't ever seen or heard of in your life.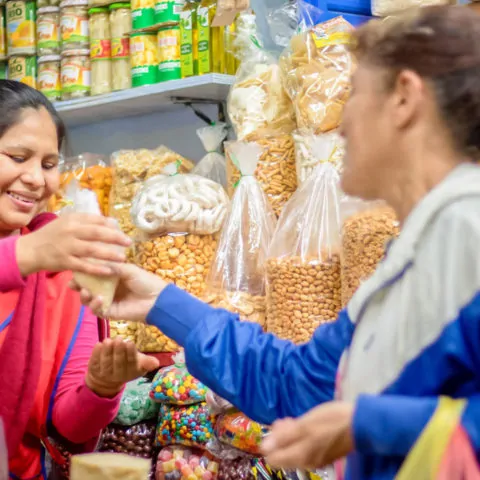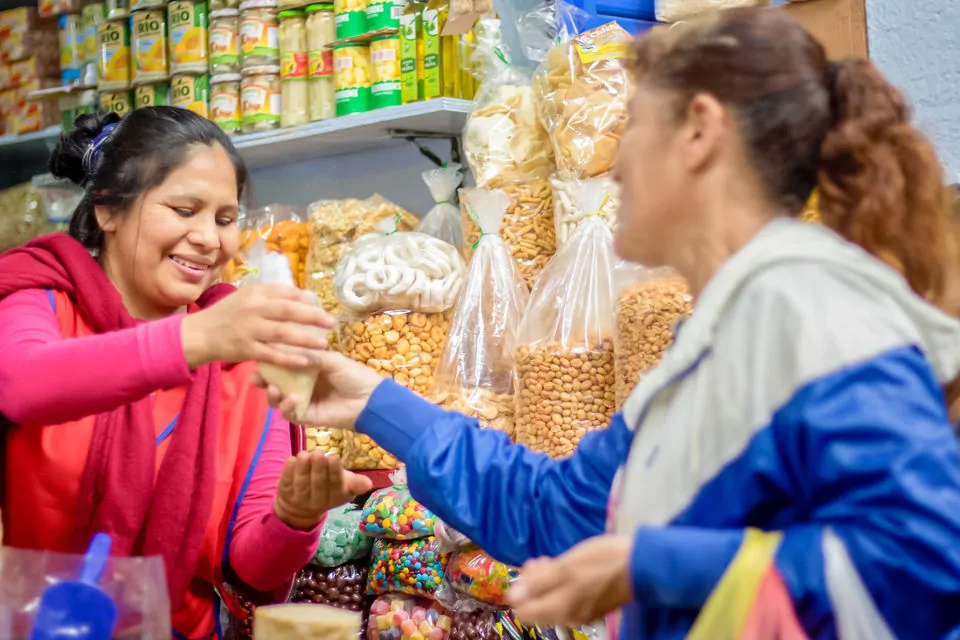 The next stop is a local bakery called Lucas to indulge in some desserts (you may have been introduced to some of the unique ingredients they use at the market stop).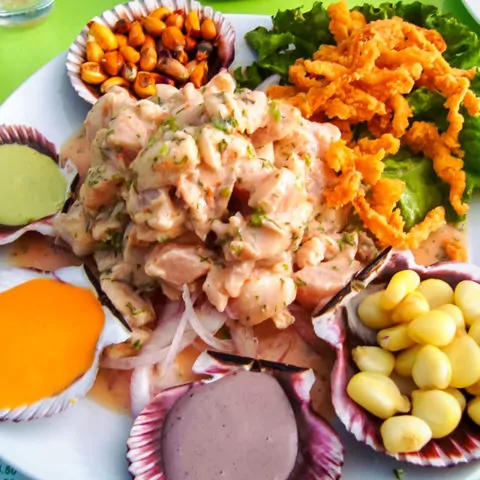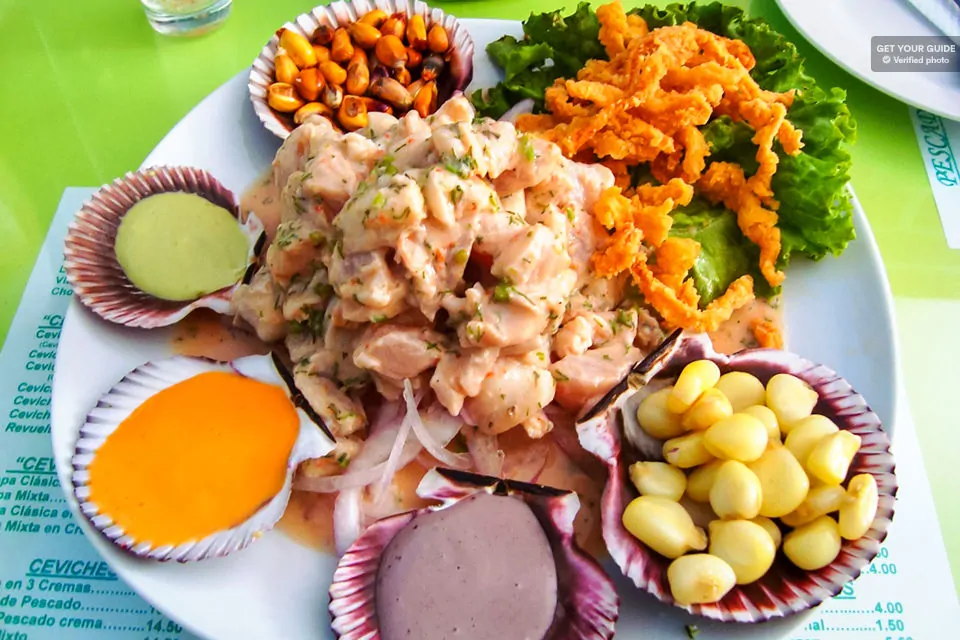 You'll make a stop at La Preferida, a traditional ceviche restaurant, where you can enjoy a mixto or some tiraditos for lunch. Finally, you'll end the tour with some pisco sour at Mercado 28.
Book your Lima: Miraflores Trending Flavors Half-Day Walking Tour now.
Barranco Ultimate Peruvian Food Tour
Barranco is probably Lima's most attractive neighborhood, even more so than Miraflores, and it also offers an array of interesting meals and drinks in some hip and trendy restaurants.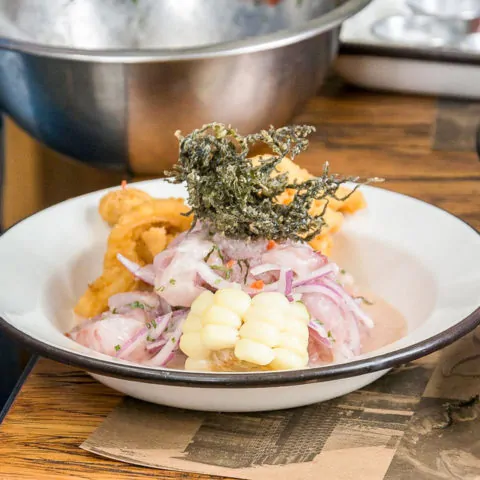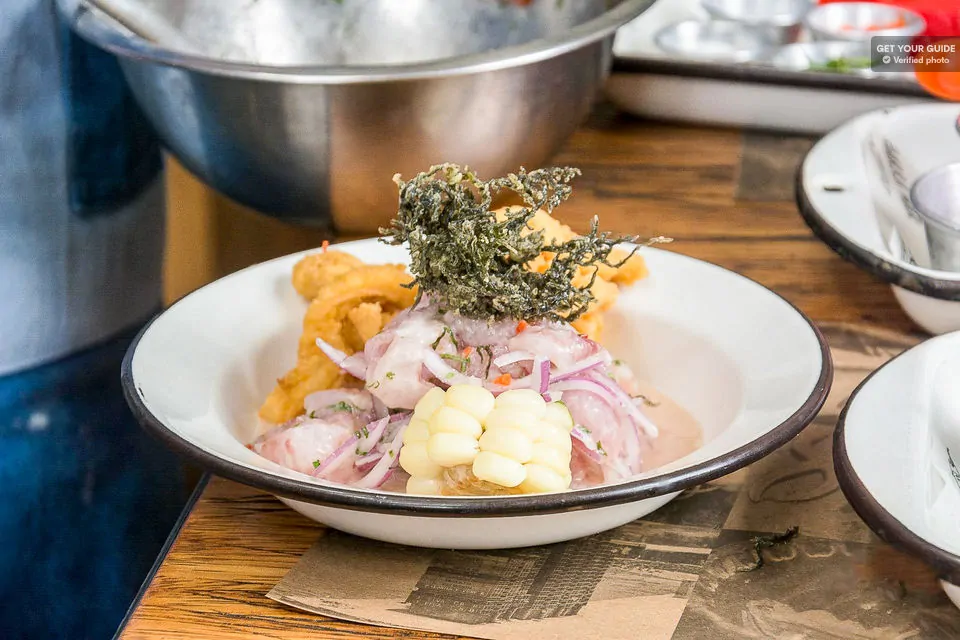 You're going to want to make sure you join this tour with an empty stomach because you will be visiting eight different restaurants to taste 16 different local flavors from fruits to drinks to dishes.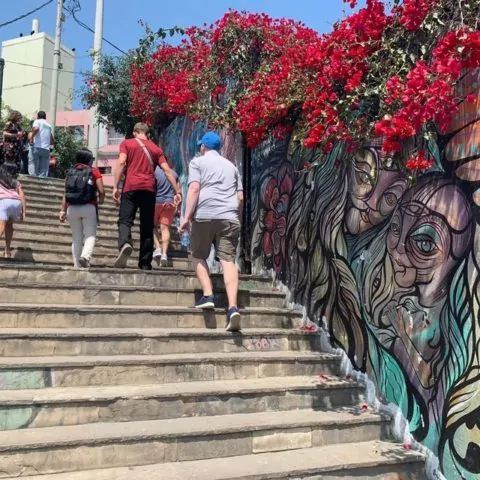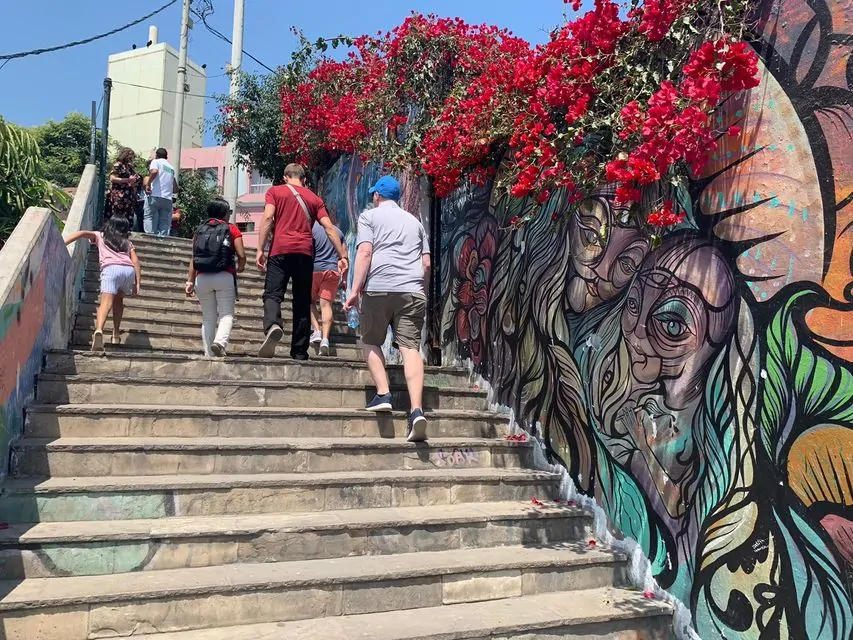 Interested in learning how to make your own pisco sour? They're delicious drinks and it is a skill that you can take with you back home to keep reliving the magic of Peru.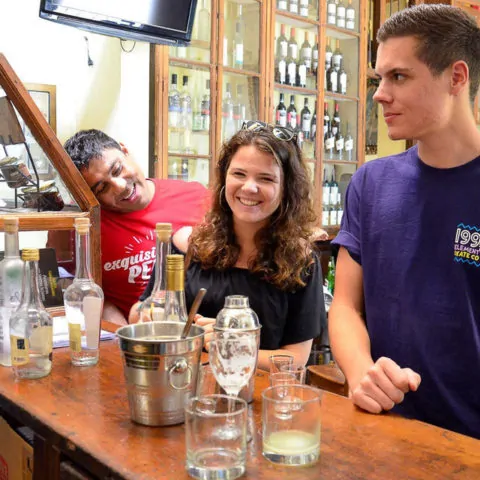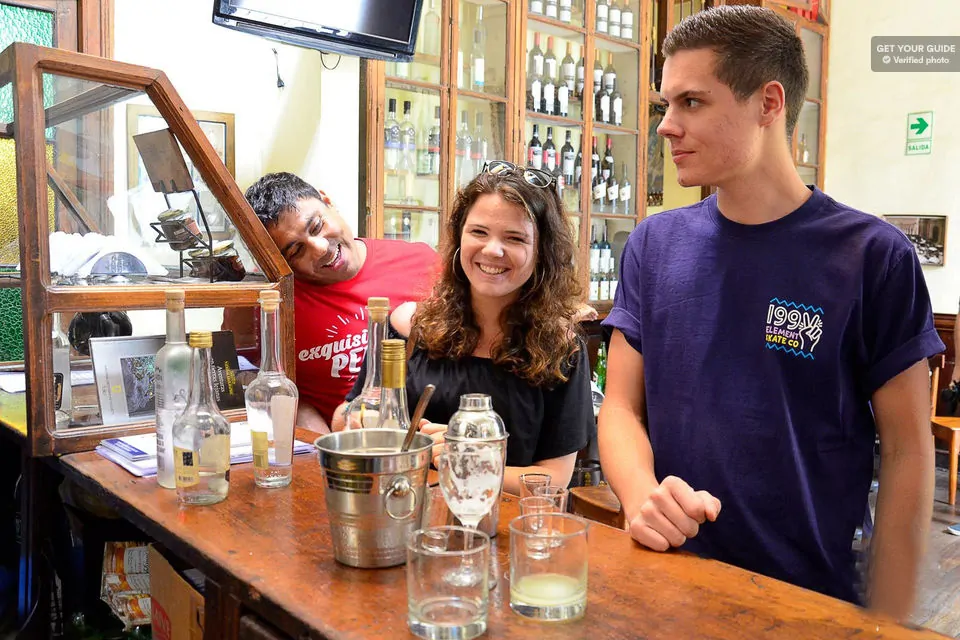 Not only do you get to eat plenty on this half-day tour but you will also get tidbits of historical and cultural facts about the dishes being served.
Book your Lima: Barranco Ultimate Peruvian Food Small Group Tour now.
Home Cooking Class with a Peruvian Family Plus Local Market Tour
Anywhere you go, try to always go local. You'll get better insights and make better memories that way versus eating at big chains. One of the coolest ways to go local is by experiencing how a typical Peruvian family would prepare their food at home.
First, you will need to shop for the ingredients for the day at a local market. The cooking class with Doña Mechita, a Peruvian mother, will teach you some traditional recipes handed down over generations in her own home in residential Chorrillos.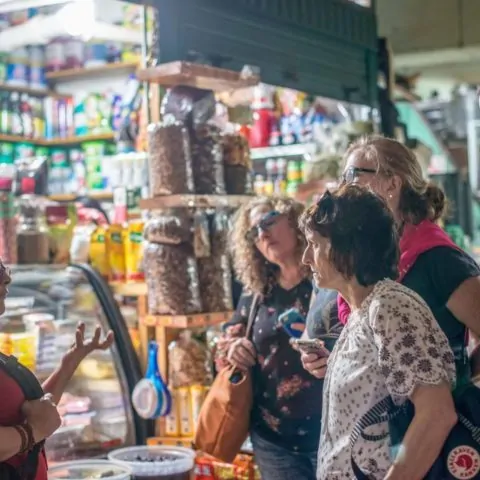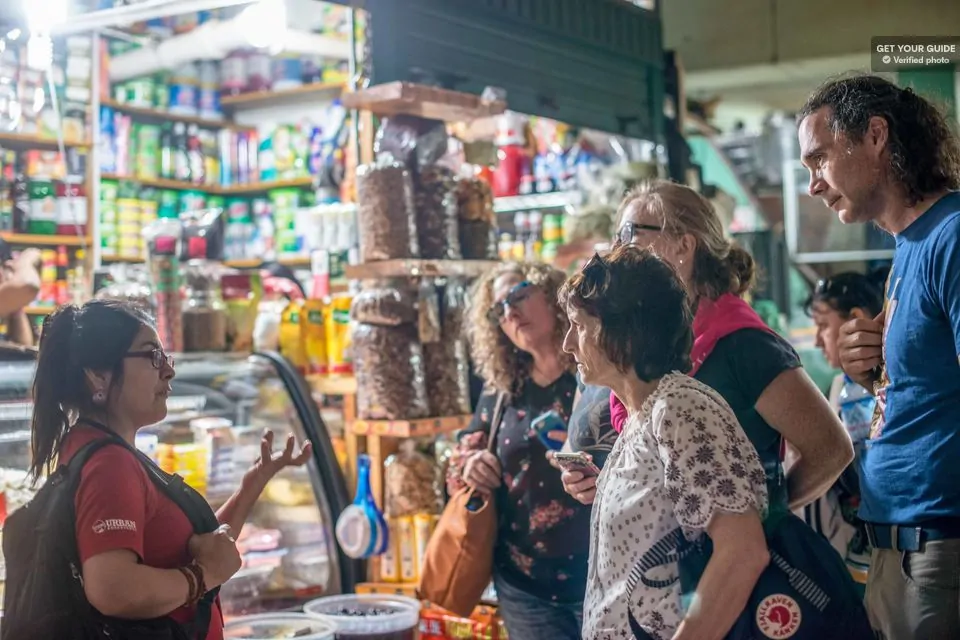 You will then learn how to make a delicious causa limeña with chilis, lime, and potatoes. Causa Limeña will be the perfect appetizer to your ceviche, Peru's national dish. You will also make a ceviche with the fresh catch of the day plus a special mix of limes, onions, coriander, and a few other ingredients.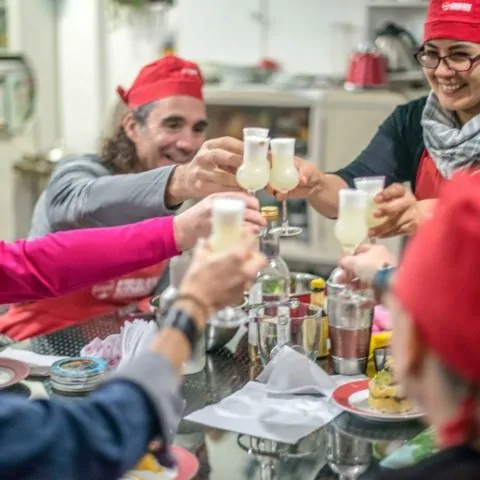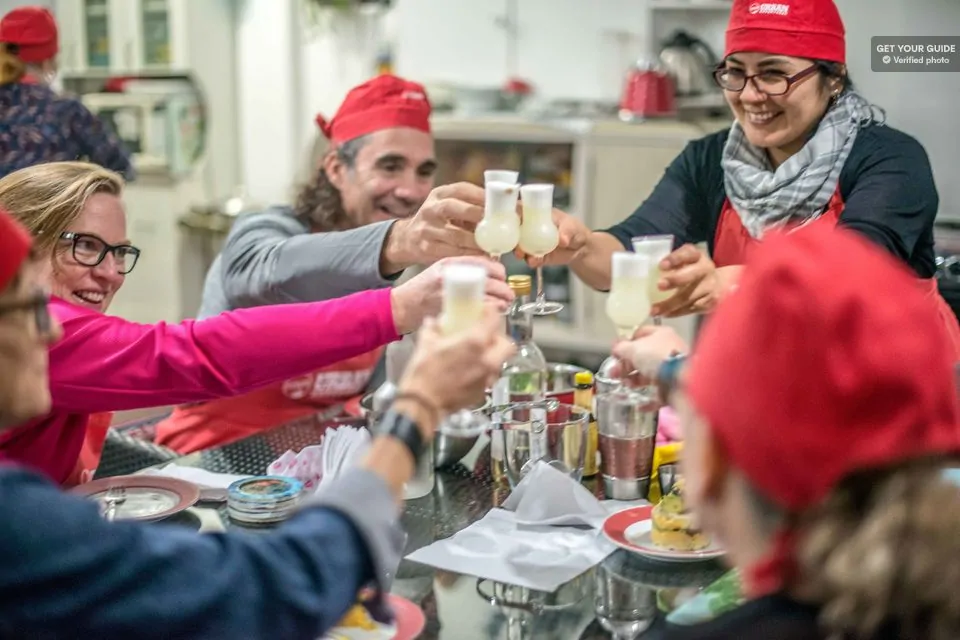 You'll also get hands-on lessons in how to make a pisco sour using an original recipe. And don't forget to try the maracuya drink, it is one of my favorite fruit juices and something I consume quite regularly.
Book your Lima: Home Cooking Class and Local Market Tour now.
Vegan Peruvian Food Tour
Vegans, this one's for you! Lima is a gastronomic paradise for all and in this tour, you'll get to taste 14 vegan dishes, drinks, and products. This culinary itinerary includes eight different shops and restaurants which have been carefully chosen from different local small entrepreneurs.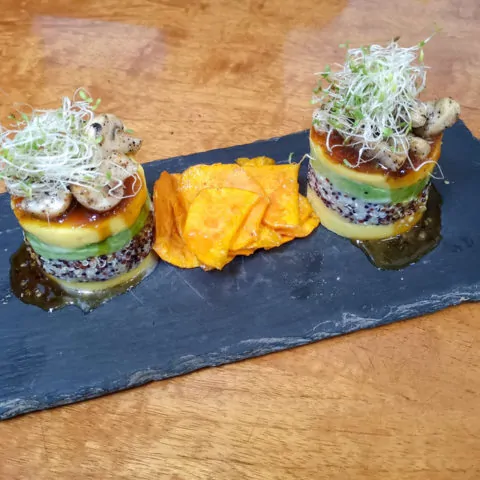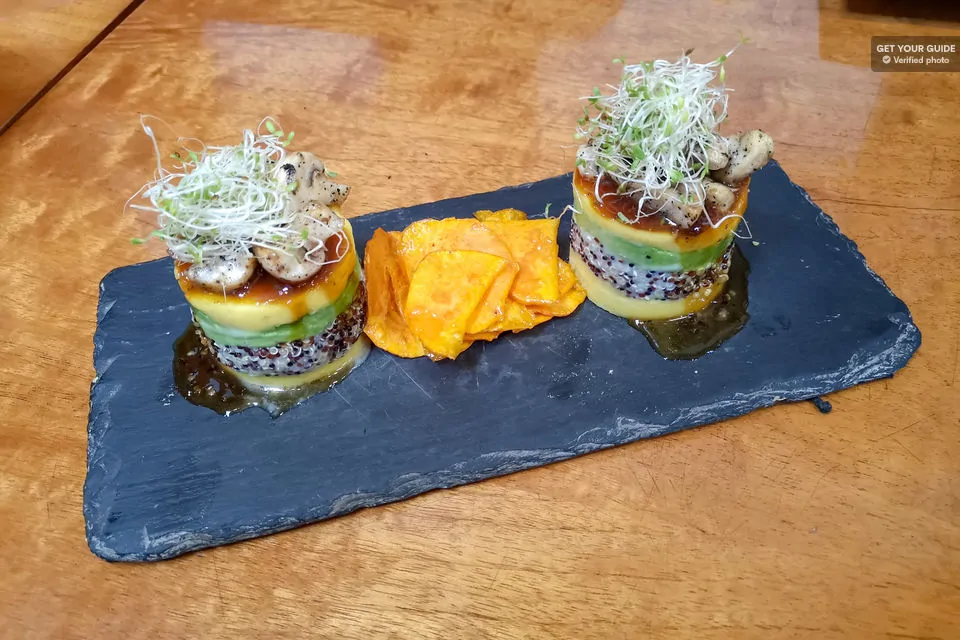 Immerse yourself in Peruvian history and culture as you walk with your local hosts around the bohemian and artsy neighborhood of Barranco, where you'll learn how to prepare a chilcano, enjoy a mushroom ceviche, or enjoy the vegan chocolate tasting.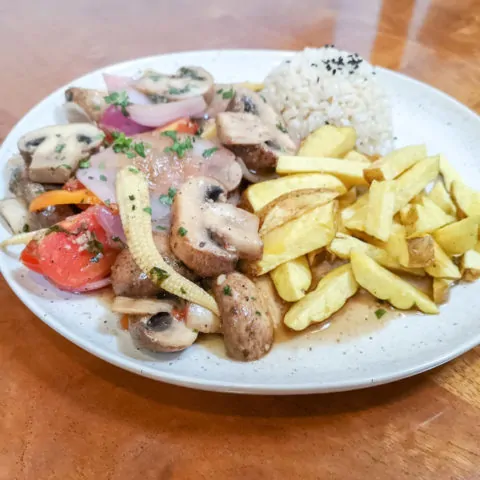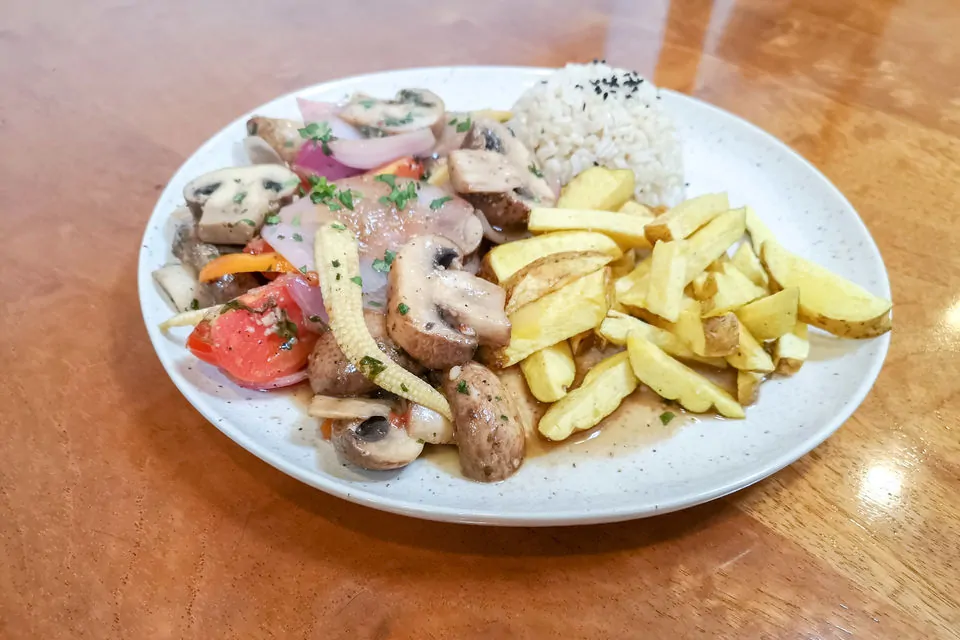 Your expert tour guide is knowledgeable and will make sure that all food experiences are truly vegan. And as a nice touch, part of your tour package includes a donation to the local non-profit Action Against Hunger Peru.
Book your Lima: Vegan Peruvian Food Small Group Tour now.
More About Visiting Lima
Lima is a must-visit if you are coming to Peru. Aside from the amazing cuisine, they have an incredible history, culture, and art that you can enjoy.
Check out my guide of things to do in Lima or choose from the best Lima tours and activities in and around the city.
Wondering where to stay in Lima? I have also made it easier for you to choose where to stay in the best neighborhoods in Lima along with a guide to the best Lima hostels.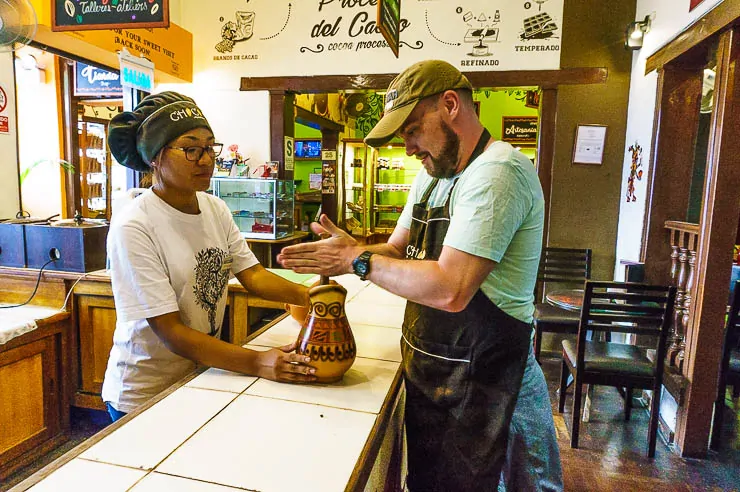 And if Lima is your first stop on that epic trip to Machu Picchu, then I hope my guide to Cusco, Peru can help you out, or read more about how to visit Machu Picchu on a budget. And of course, beyond Machu Picchu, there are plenty of other interesting things to do in Peru like the Cordillera Blanca, Laguna Paron, or hiking to Laguna 69 (any hiker's dream and of course mine too!).
Read Next: The Ultimate Guide to the Best Things to Do in Lima, Peru
Traveling to other parts of Peru? Be sure to book your room from Booking.com now to save on the best Lima hostels and hotels. If you are staying for a few weeks, I highly recommend looking into Airbnb units. And don't forget to purchase international travel insurance for Peru to protect yourself against injury, theft, and sickness. I use and recommend World Nomads.
Share This
Did you enjoy this post about the best food tours in Lima? Take a moment to share it on Pinterest, Facebook, or Twitter. Thanks!
The following two tabs change content below.
Desk to Dirtbag is one of the leading budget adventure travel blogs online and is dedicated to helping its followers achieve their travel dreams through inspiration, information, and actionable steps. If you are new to the site, be sure to
Start Here
.
Latest posts by Desk to Dirtbag (see all)