This article may contain
affiliate links
. If you make a purchase through these links, I will earn a commission at no extra cost to you. Thanks!
I'm not sure how I'd never heard about Laguna Paron or seen photos of this magical place long ago… It was something that only entered my imagination thanks to a travel blogger I was following on Instagram that was on the road ahead of us. Immediately, I knew that I had to visit this incredible place.
Laguna Paron (Lake Paron) is quite simply one of the most beautiful lakes and stunning settings that I have ever seen and among the most beautiful place to visit in Peru.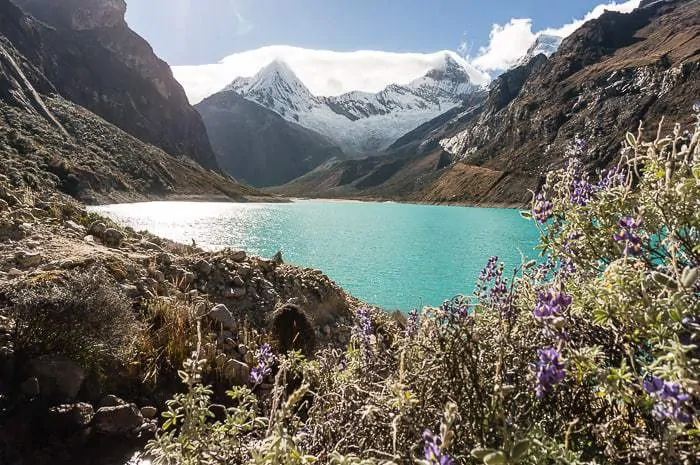 Laguna Paron
Laguna Paron is the largest lake in Huascaran National Park and sits at 4,200 meters above sea level. The backdrop with Piramide de Garcilaso, the view to the massive Huandoy mountains, and glimpses of other snow-capped peaks is breathtaking.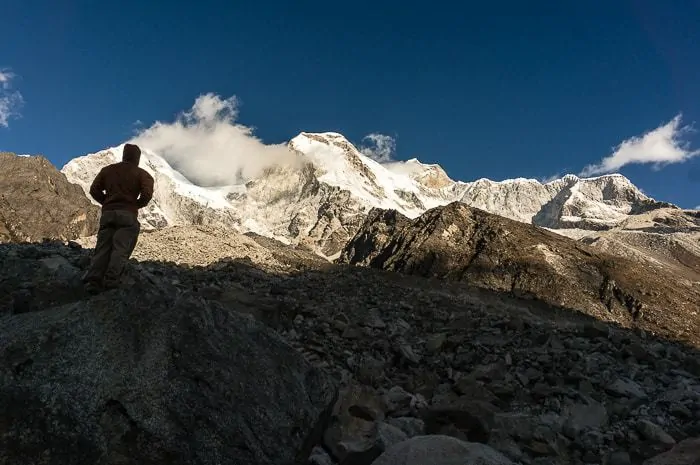 Honestly, this lake is every bit as beautiful, if not even more beautiful, than the extremely popular Laguna 69 hike, but there are barely any people here.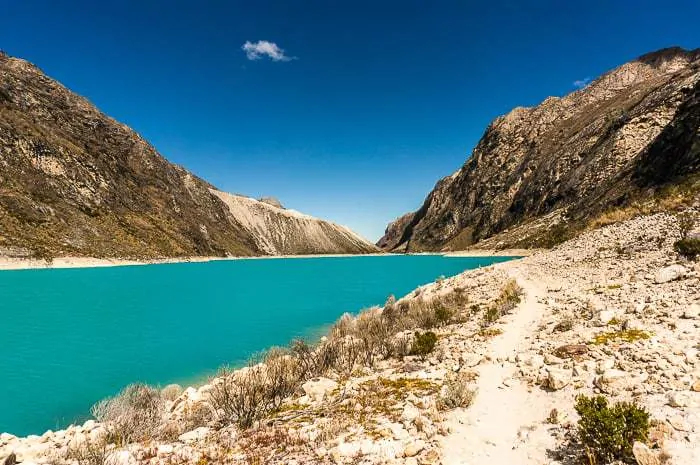 Getting to Laguna Paron
Laguna Paron sits approximately two hours along a bumpy dirt road from the sleepy little town of Caraz.
The lake is completely accessible by vehicle — you park right along the shore, from there you can hike back to Artesonraju, hike up to the lookout point, etc. I will share more details about these incredible hikes and what to do when visiting Lake Paron a little later.
Most visitors to Laguna Paron come for a quick daytrip via a local tour agency in Huaraz. They drive up to the lakeshore, stay for a few hours and then return to town.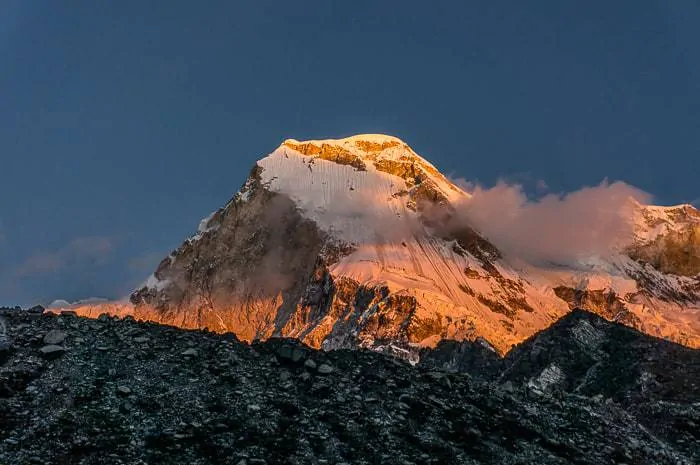 There is however a refuge available at the lake where you can stay overnight for 10 soles per person, or you can camp outside for free. The refuge has a flush bathroom, as well as a simple kitchen (if you are camping, they ask for a small contribution for gas).
Since we were driving ourselves, we simply slept in the back of the truck on the numerous occasions we visited the lake. It was definitely cool and chilly at night, but it is one of the most spectacular places we've ever truck camped.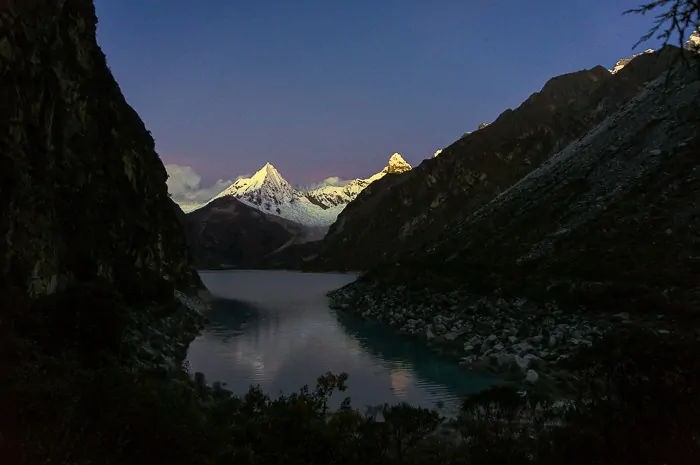 In the evenings we would join a small handful of other travelers who gathered inside next to the fireplace before later retreating to our sleeping bags to withstand the cold at above 14,000 feet.
If you wish to stay overnight, you can arrange private transport from Caraz who will take you to the refuge. Some visitors choose to start hiking from the entrance gate (some taxis won't go beyond due to the conditions of the road) in order to help with acclimatization as well.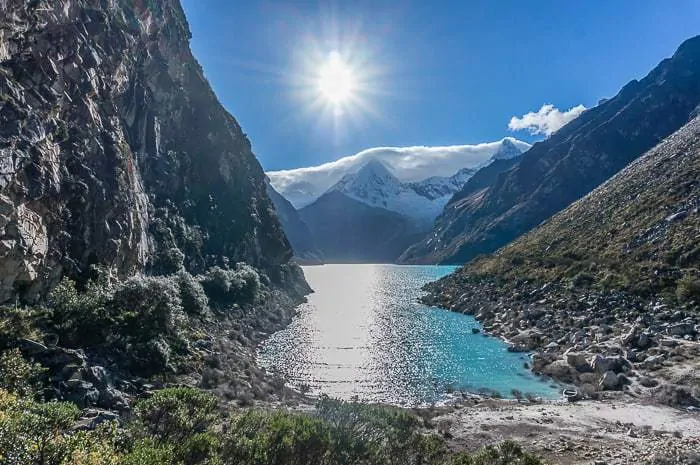 You will need to arrange a pickup time and date to return, or else it can be tough to find a ride out of Laguna Paron.
NOTE: It costs 5 soles to enter — a contribution to the local community — and your three-week pass for Huascaran National Park does NOT apply here.
What to Do at Laguna Paron
Honestly, the main thing is to just enjoy the incredible view. Hang out. The colors of the lake change depending on the time of day and the general weather conditions.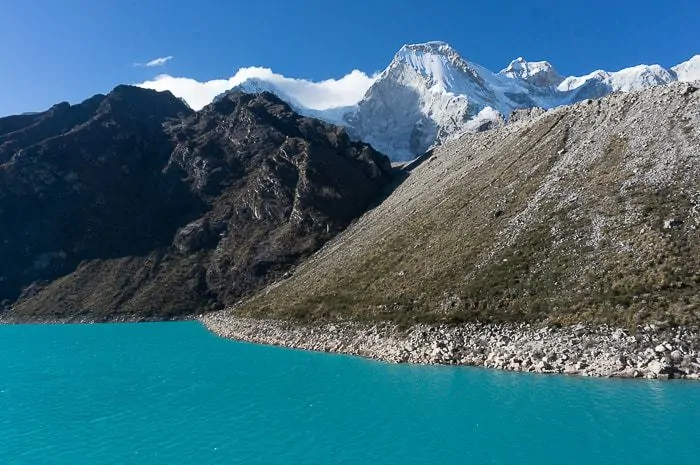 It makes a great place to acclimatize if you want to up the altitude at which you are sleeping (here is 4,200 m or 13,800 feet) for mountain climbing adventures in the Cordillera Blanca, like Yanapaccha, which I climbed.
Hike Along the Lake
You can hike along the shore of the lake (left side from the refuge) and get glimpses of more mountains and hike back to another series of small lakes, or even the base of Artesonraju's glacier.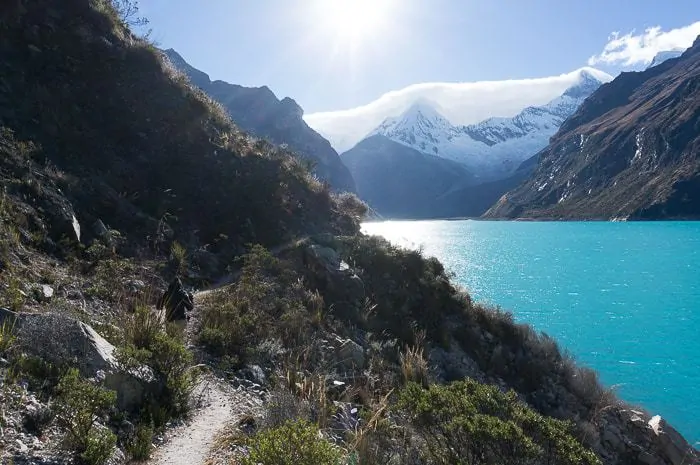 We only hiked until the end of the lake, where the trail kind of just disappears. In order to cross you would need to scramble along some exposed ledges or get wet by crossing the lake.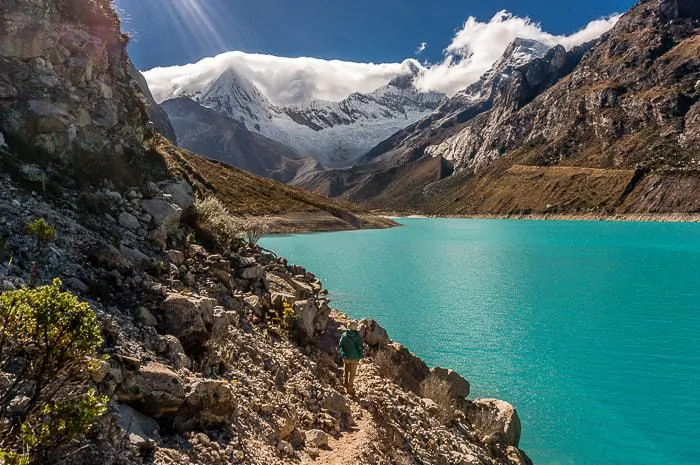 This hike is only a few hours, but it's beautiful and easy.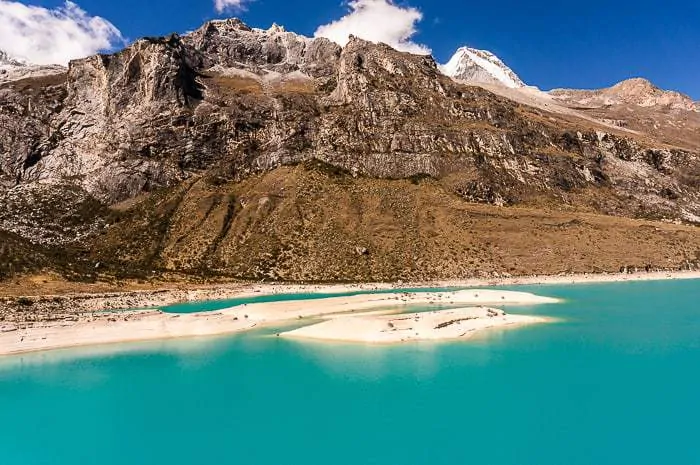 Hike to the Lake Paron Mirador
Just above the refuge is a great short hike up to a spectacular view of Lake Paron.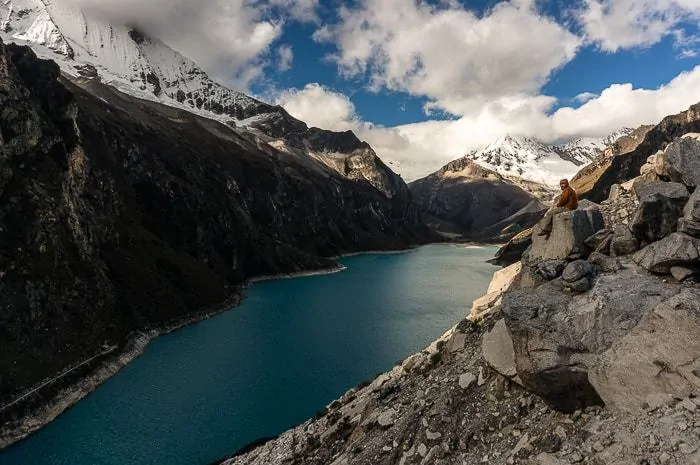 It takes about 45 minutes to hike up and the same to return. It's a jumbled mess of boulder hopping at the top, but worth it.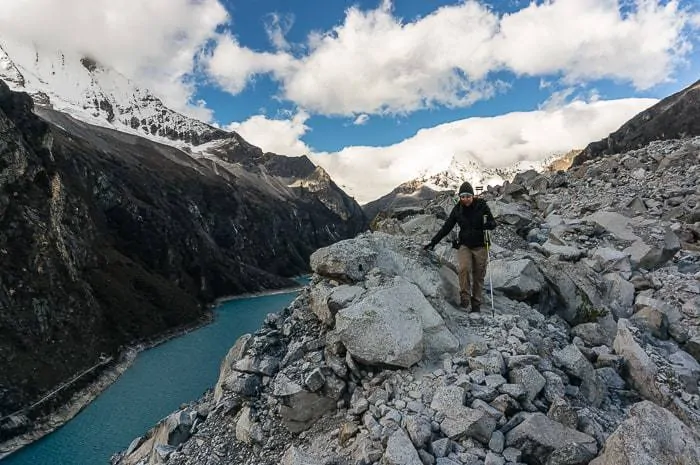 Climb Something
There are a number of great climbs in the area, from Artesonraju, to Piramide, to the multi-pitch big wall, granite climbing on La Esfinge. The whole place left me amazed and I wish I got on something in the area.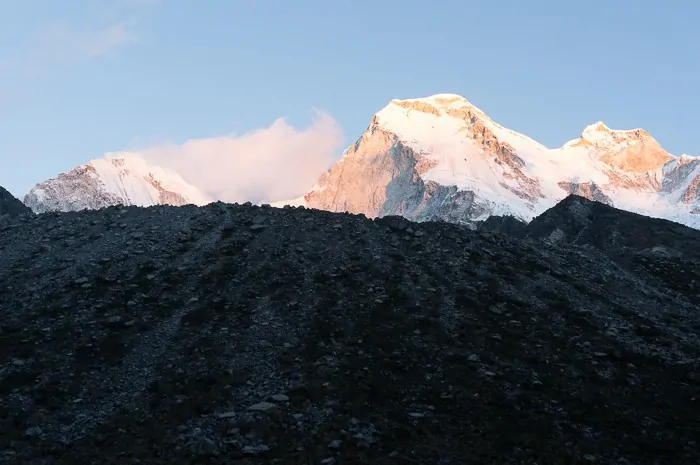 Laguna Paron is truly one of the most spectacular places we've visited on our long journey through South America and is a must-visit if you are in the region of the Cordillera Blanca.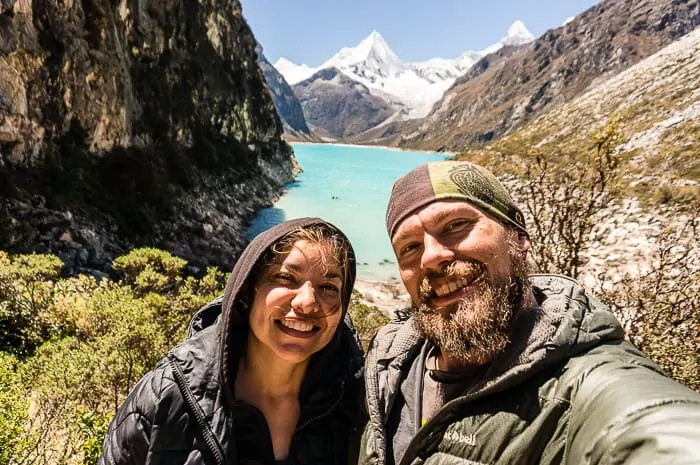 Traveling to Peru on your next trip? Book the perfect room on Booking.com today, or if you plan to stay longer, I highly recommend looking for a place on Airbnb. And don't forget to purchase international travel insurance that will help protect you against illness, injury, and theft. I use and recommend World Nomads for its combination of coverage and affordability.
Read Next: What to Do in Caraz, Peru
Getting to Caraz: If you're coming from Lima, you'll need to take a bus for about eight hours to Huaraz, from there you can catch another bus that takes about 1.5 hours.
See Also:
Share This
Did you enjoy this post about Lake Paron? Please take a moment to share it on Facebook, Pinterest, or Twitter.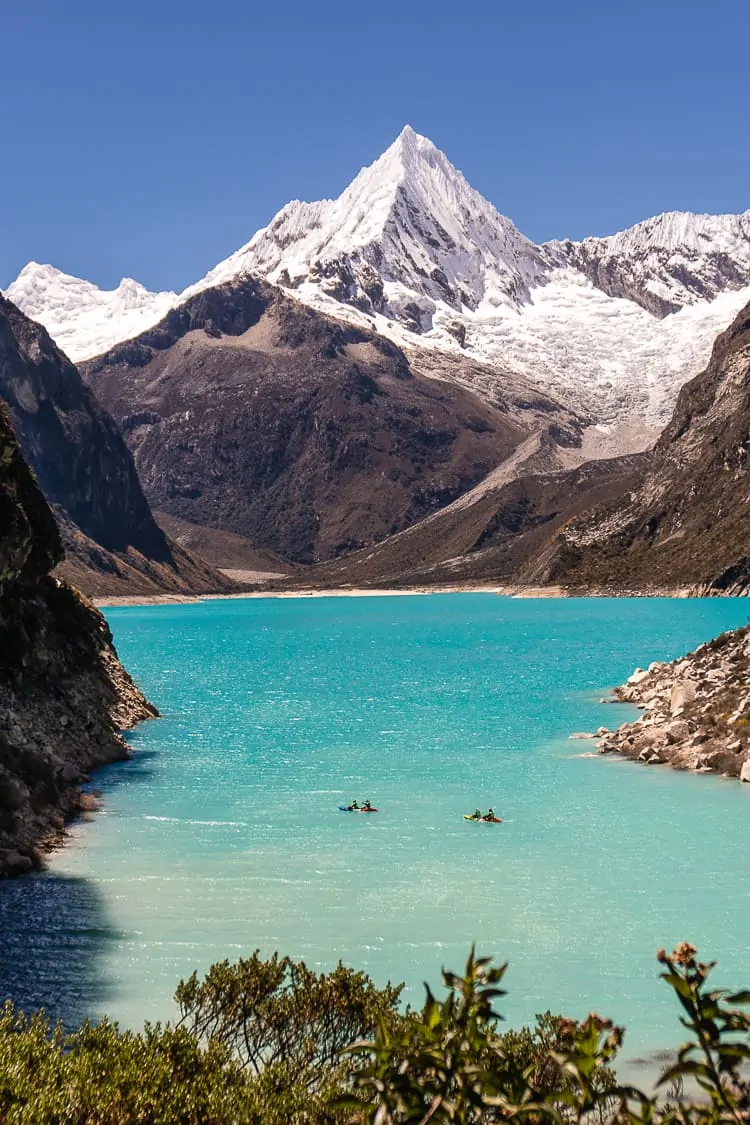 The following two tabs change content below.