This article may contain
affiliate links
. If you make a purchase through these links, I will earn a commission at no extra cost to you. Thanks!
Huaraz, Peru has become a popular destination for trekking and climbing adventures in the surrounding Cordillera Blanca or the Cordillera Huayhuash. Undoubtedly there are a million things to do in the area surrounding Huaraz if you love the great outdoors.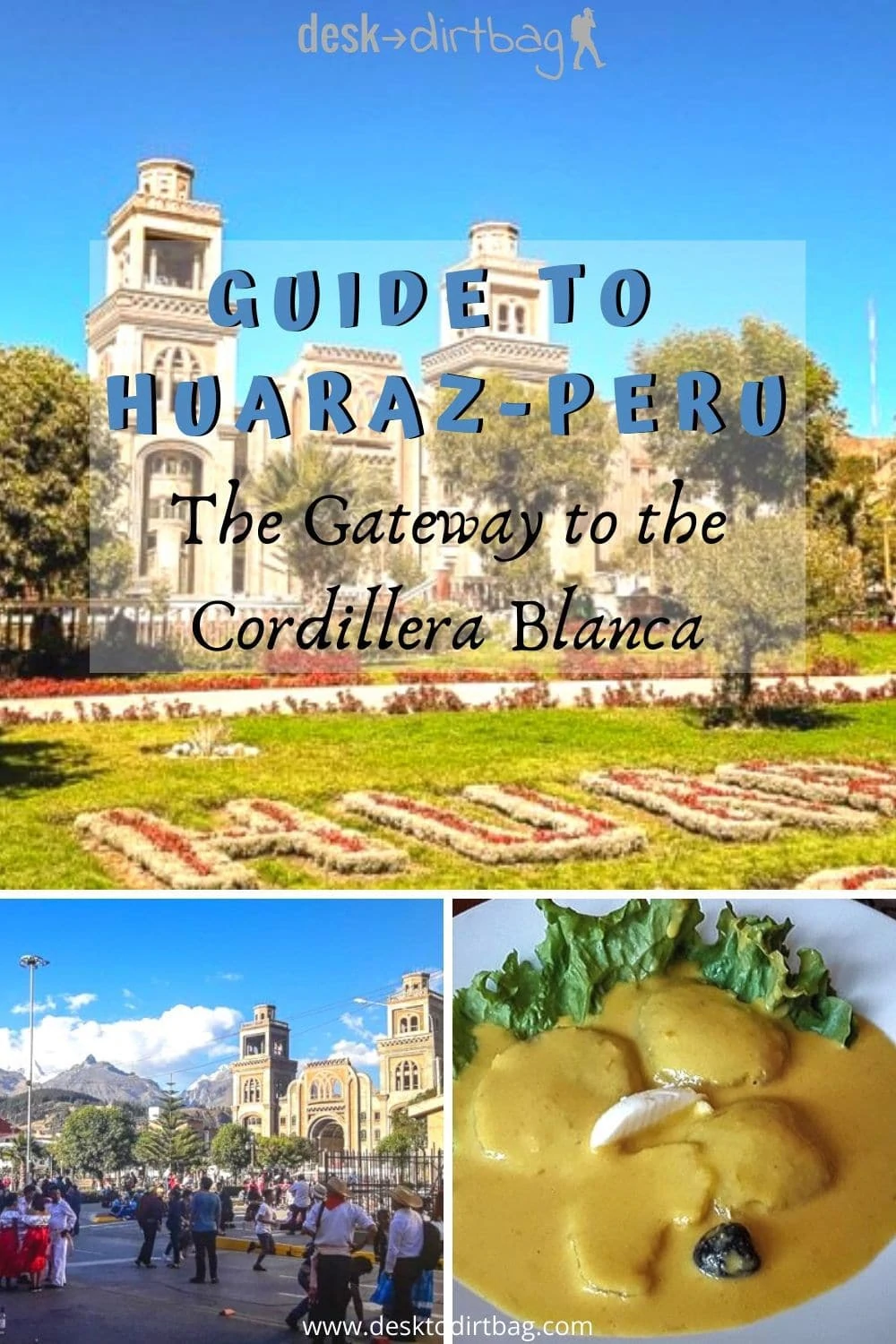 But what is there to do in Huaraz itself?
Well, the short answer is not a whole lot.
Huaraz is a medium sized city, somewhat chaotic, noisy, and dirty, but it makes a great base camp for outdoor adventures and a perfect place to settle in and acclimatize for a few days, thanks to its elevation at 3,100m (10,170 ft).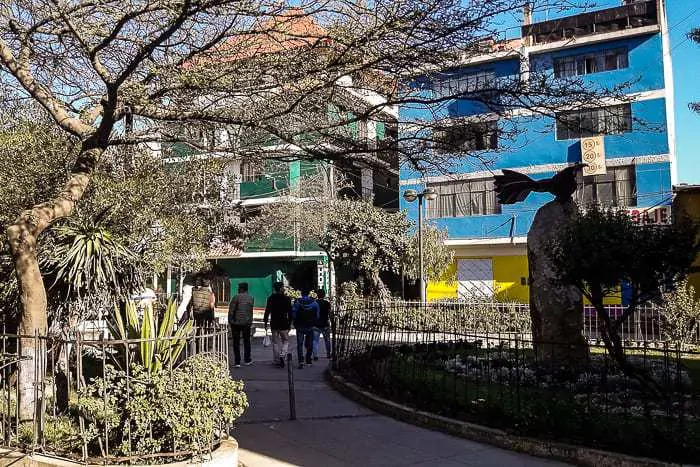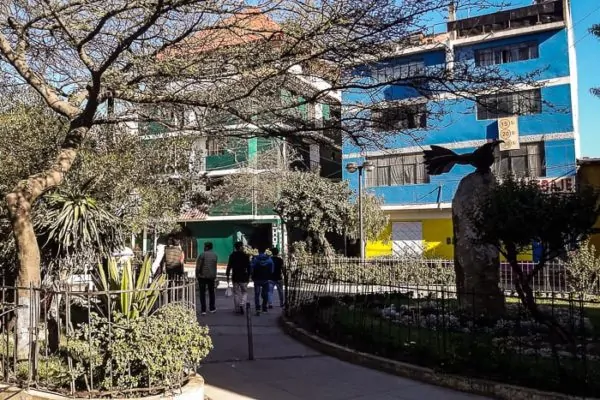 We've spent a few weeks in Huaraz proper as we explored the Cordillera Blanca, acclimatized, and settled in for some work projects, so we've gotten a pretty good feel for the city.
Here are a few recommendations for what to do in Huaraz, Peru when you aren't out exploring the mountains:
Hang Out in the Plaza de Armas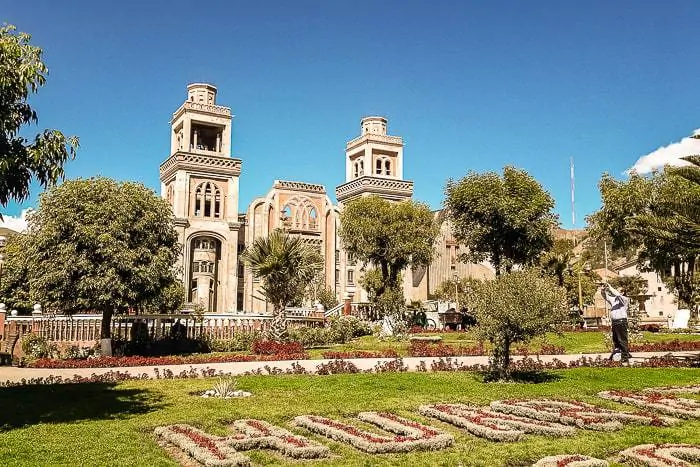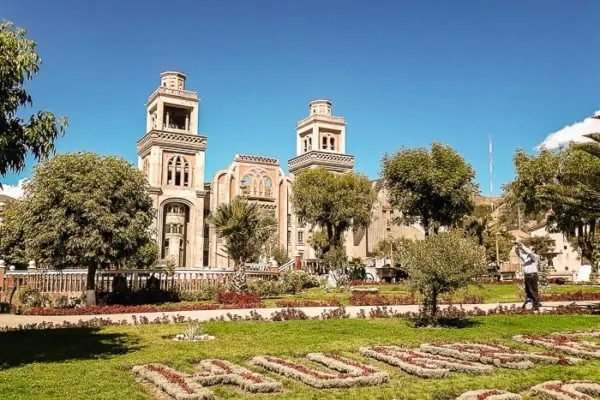 The grand central square in Huaraz bustles with activity, and the blocks immediately surrounding it are filled with things for sale.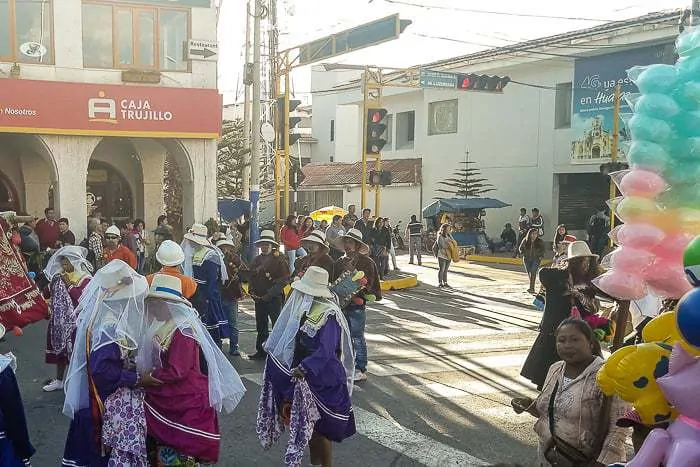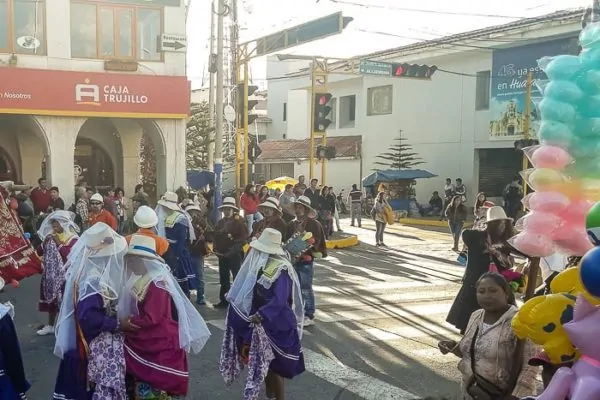 It seemed like every time we walked by there were people in traditional clothes performing music or dancing — and it wasn't some act for the tourists, but rather a celebration of local culture, nobody was asking for money.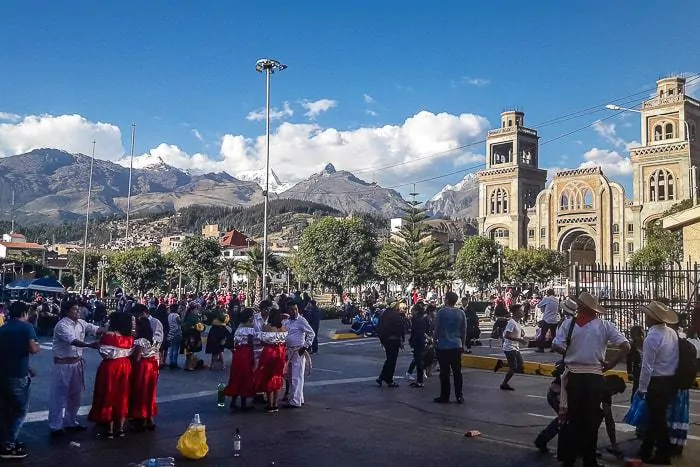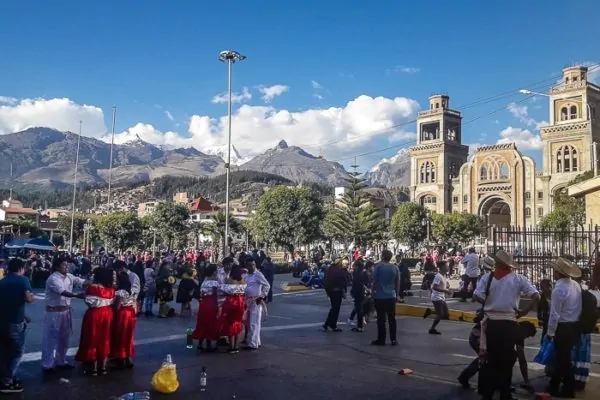 Visit the Market
If you've never been to a big, chaotic, smelly market, then now is your chance!
You can buy whole chickens, bags of live guinea pigs (to cook up! You know, the local "cuy"), fresh fruits, vegetables, and almost anything you can imagine.
There are tons of people, colors, and smells. It's a sensory overload.
But it's also a great place to pick up cheap produce.
We regularly went to the market to grab bags of potatoes, tomatoes, or onions (a crazy quantity for just 1 sol) or a rack of 30 eggs (10 soles) so we could cook up things at the place we were staying.
Grab a Coffee
Thanks to the big tourist crowd there are at least two real coffee shops in town, California Cafe and Cafe Andino (Peru isn't known for its coffee, sadly).
While Cafe Andino wins for the view, it falls short in terms of service from the staff (I had to ask for the WiFi password 4x before I got it, and it still didn't work) and the quality of the coffee (weak French press).
California Cafe was my go-to for a good cup of coffee and hanging out on their comfy sofas. The French press there rocks, and the chocolate cake is among the best I've had while traveling (the winner is still Astor in Medellin).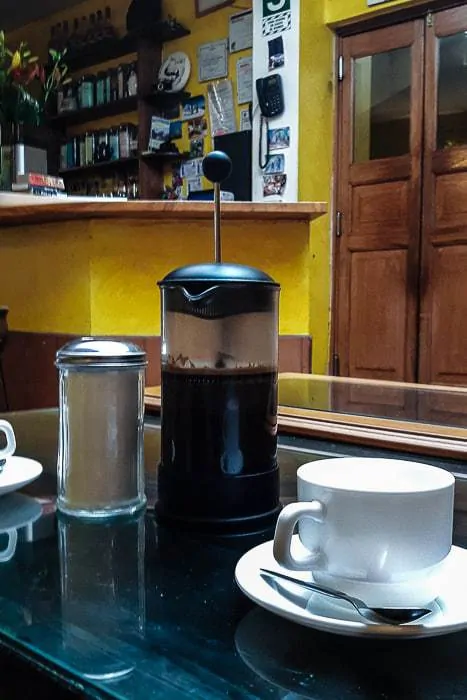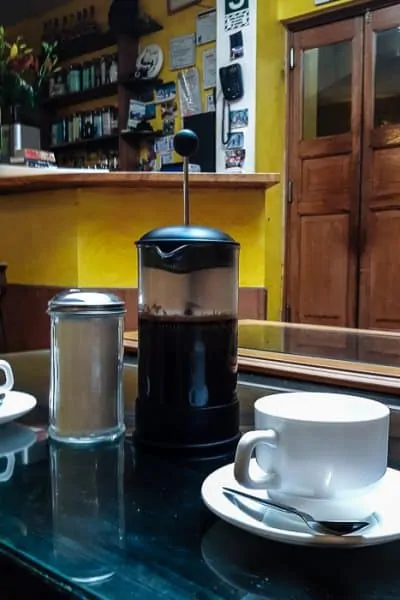 California has a huge selection of reading material on the shelves as well as a book exchange.
Visit Parque del Periodista and Parque Ginebra
These two parks are a pedestrian only area, and is as close a "nice" or upscale area that you will find in Huaraz. It is certainly catered toward the tourists, but it is about the only place in downtown Huaraz where you can escape the general chaos of the streets.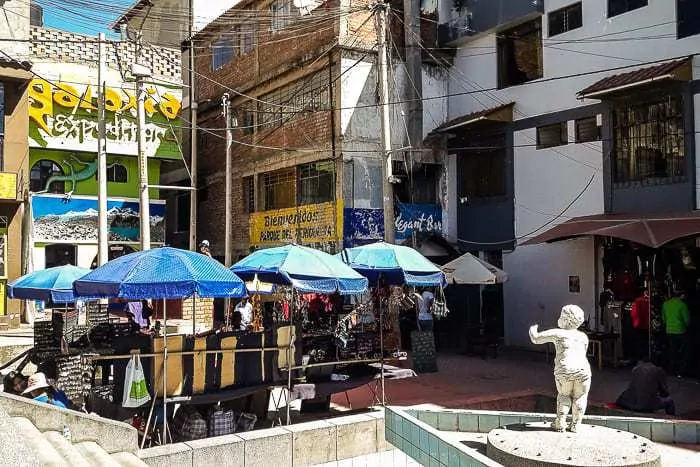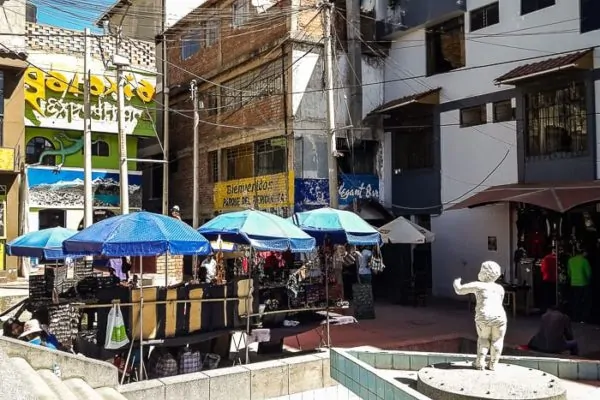 Thankfully, these parks feature a number of great restaurants, and is one of the best places to grab a menu of the day — the fixed lunches for about 10 soles and up. Each restaurant puts out a display with their offering for the day, so you can stroll by each day and see who has the most appealing menu.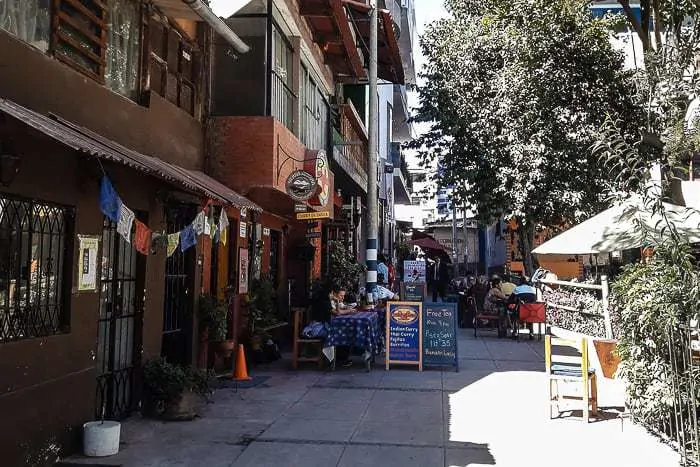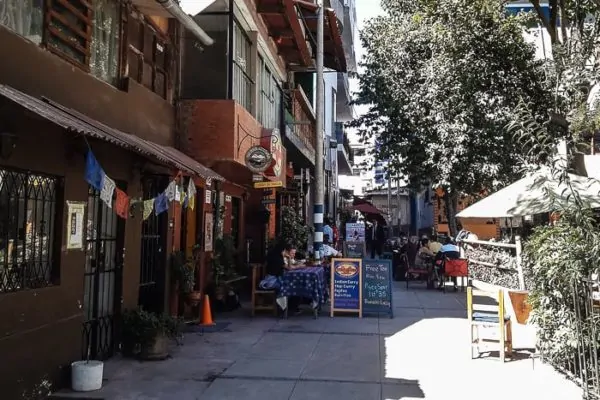 It's also the best place to grab a really good meal after a long, hard hike.
The burger at 13 Buhos was absolutely massive and a great deal for 22 soles, along with a heap of fries.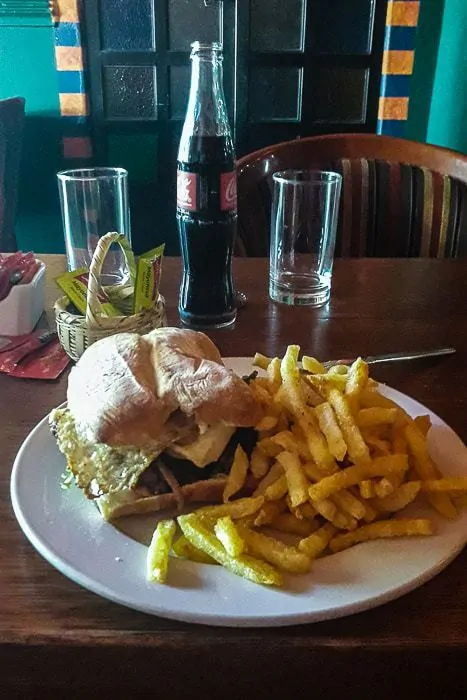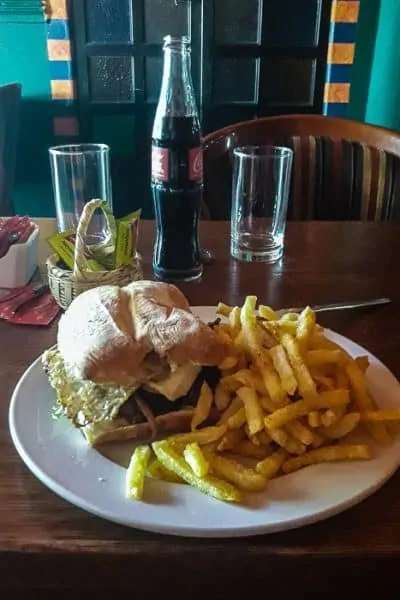 I was excited to see chicken tikka masala at Chilli Heaven, but the quality was "meh" and it was insanely overpriced at 32 soles (basically what they charge in the States). Steer clear, unless you want to take advantage of their free tea.
Explore the Local Cuisine
Peru's got some great food and for bargain prices. The menu of the day is pretty good around the parks above, but you can definitely find better.
On the north end of town, away from he chaos, the streets of Huaraz are calmer and more normal.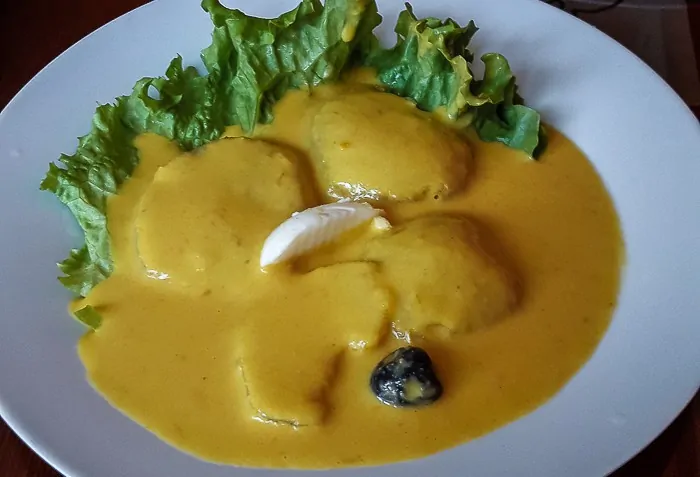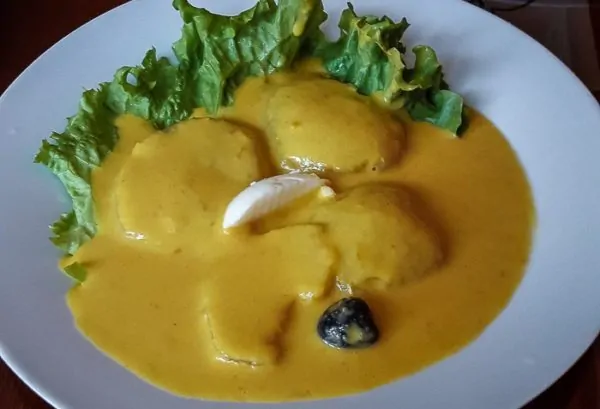 There's a great restaurant called Isabelita's (near the Plaza de Independencia) with three or four choices for menu of the day for just 6 soles ($2), which includes an appetizer, main dish, drink, and dessert. The quality of the food and the flavors are among the best we've had in Peru thus far.
They've also got more fixed menu of the day options for 9 soles, which includes the appetizer, drink and dessert, but with more options for your main dish including Lomo Saltado, Pollo Milanesa, Chicharron de Pollo, and more.
All of which I love… So delicious!
Get Out of Huaraz Peru
Yeah, like I said, there isn't a lot to do in Huaraz, so my number one recommendation is to get out of Huaraz! The real draw here isn't the city, it's the mountains that lay just beyond town, like the awesome hike to Laguna 69, or the awesome multi-day Santa Cruz Trek.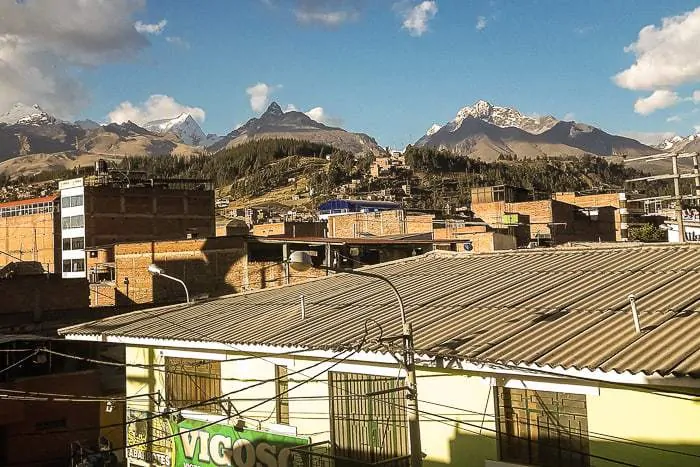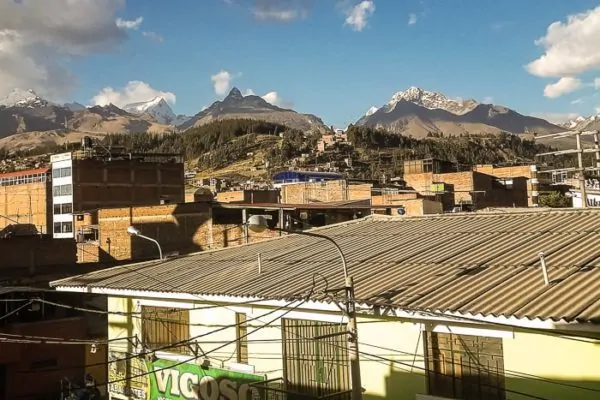 If it wasn't for the acclimatization benefits of staying in Huaraz, I much preferred the neighboring town of Caraz in terms of charm and the relaxing environment (but it sits nearly 900 meters lower).
Where to Stay
If you're looking for a bargain, I'd highly recommend checking out Huaraz Backpack on the north end of town. It is located far from the chaos and is more akin to an Airbnb where you stay in a family home (you've got your own private room and bathroom), but have access to a separate guest kitchen below.
It was only 33 soles per night for a couple. An additional 5 soles per night for use of the parking garage (since we are driving through South America). It's about a 20 minute walk to downtown, or you can take a taxi anywhere within Huaraz for 3 soles.
Traveling to Huaraz on your next trip? Book the perfect room on Booking.com today!
Map of Huaraz Peru
Share This
Did you enjoy this post? Please take a moment to share it on Facebook, Pinterest, or Twitter.
The following two tabs change content below.