This article may contain
affiliate links
. If you make a purchase through these links, I will earn a commission at no extra cost to you. Thanks!
The Cordillera Blanca became sort of our home away from home upon entering Peru. I found it difficult to leave the amazing mountain scenery and a planned couple weeks turned into more than a month. The time wasn't spent exclusively in Caraz, Peru but also in Huaraz, camping throughout Huascaran National Park, or on the other side of the mountains.
There is so much to explore, and Caraz makes an excellent home base.
I actually preferred Caraz in many ways over the chaos of Huaraz. It is a small, quiet, pleasant town. If it wasn't for the relatively low altitude of 2,200 meters (versus Huaraz at 3,100m), I probably would have stayed longer, but Huaraz is better suited for passive acclimatization for high altitude trekking or mountain climbing.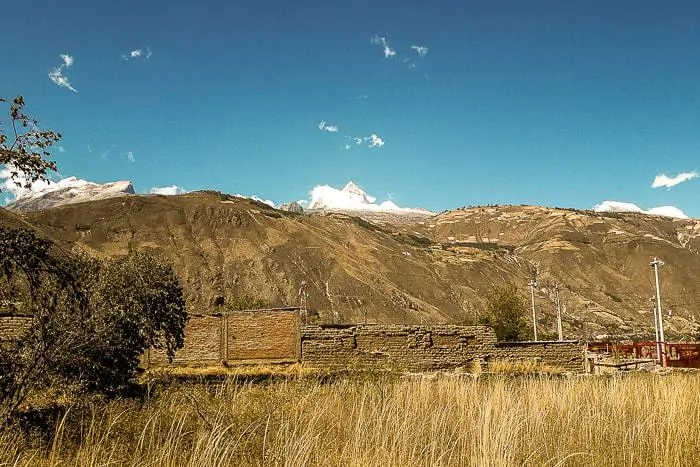 Of course, in small towns like this, there isn't much in the way of amenities like restaurants and coffee shops, but there are a few great places.
Here are a few thoughts on what to do in Caraz, where to stay, and where to eat in this pleasant little town.
Lunch at Entre Panes
Entre Panes is as close as Caraz comes to an upscale restaurant. They have a great selection of Peruvian food from the menu, and probably the best-fixed menu of the day in Caraz.
Service is slow and not what I would call attentive. Do NOT go here if you are famished after a long hike. We made that mistake after the Santa Cruz Trek and simmered with a hangry rage as we sat there for 45 minutes without so much as receiving our juice or soup. ?
But the food is absolutely delicious once you get it.
Eat at La Terraza
La Terraza sits around the corner and is more typical. The service here is much faster and much better. The food is all good too, typical Peruvian lunches ranging from Lomo Saltado, Pollo Milanesa, and so forth.
You'll get a lot of food for a very cheap price. They've got decent coffee and desserts as well (try the crepes or panqueques with ice cream).
The pizzas a la carte are pretty decent as well, but we always loved getting the papas a la huancaina as an appetizer which doesn't come with the pizza!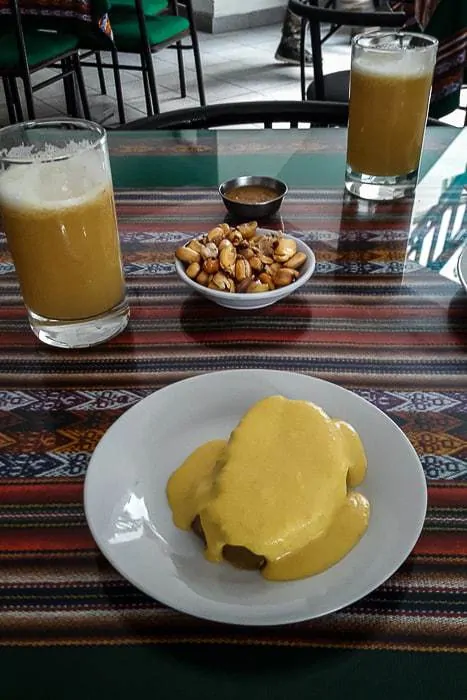 Pizza at Cafe de Rat
Caraz's pizza place, Cafe de Rat has an odd name, but they serve an okay pizza. It is only open in the evenings and sits on the second floor above Pony Expeditions (you can buy camping fuel canisters here, and rent gear).
The pizza is nothing to write home about, but it's good for Caraz. The prices are cheap at least.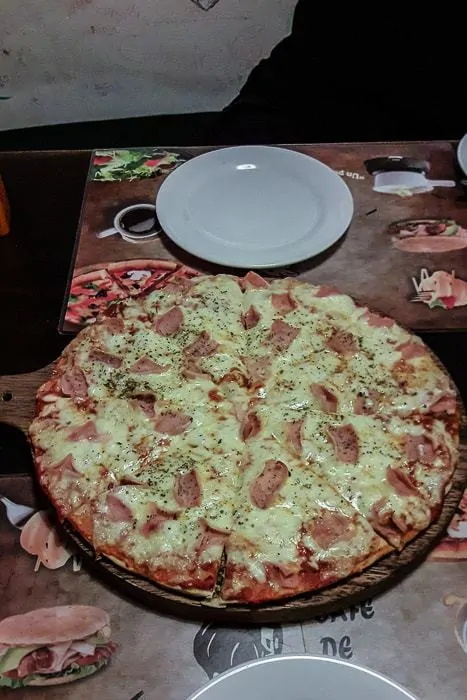 Grab a Cold Beer
Video Bar El Parral is located a few blocks from the main square. Most bars or tiendas in the Peruvian mountain towns don't refrigerate their beers and serve them at room temperature or "al tiempo" — which isn't very delicious.
Video Bar El Parral, on the other hand, serves up some ice cold beers in big bottles. The music selection is quite varied, from Spanish rock to salsa to reggaeton.
Where to Buy Groceries
There is a Trujillo grocery store along the main road on the outside edge of town. Selection is relatively limited, but you can get all the basics here except for fresh fruit and produce.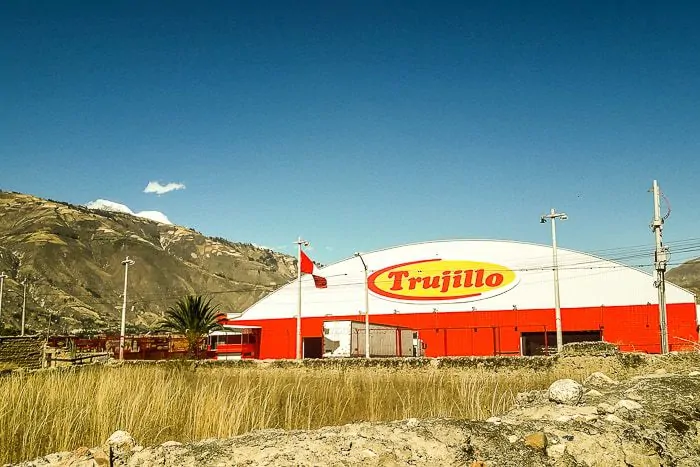 If you're looking for fresh fruit and produce, you should be sure to visit the market, located a few blocks uphill from the main square.
Surrounding the market you can also find just about anything else, whether you need some new insoles for your hiking boots, or need repairs to your clothes or gear. Everything is super cheap — I had a hole in my approach shoes repaired for just a few soles.
Where to Stay
There are a few options in Caraz, but we found the best value for the money to be Hotel Edwards. They have two classes of rooms, one for 30 soles ($10) and the other for 40 soles (for a couple) — the difference being one had a foam mattress and the other had a real mattress. But they were otherwise indistinguishable.
There can be quite a bit of street noise depending on the room, but that is often hard to escape in towns like this.
They also have free parking in the wood workshop across the street, something we needed since we are driving across South America.
Get Out of Caraz
The biggest thing to do though is getting out of Caraz to visit the mountains!
Just two hours from town you can visit Laguna Paron, which is absolutely incredible.
Caraz also makes a great home base to leave your stuff behind for the Santa Cruz Trek (the start or end of the trek is much closer to Caraz than Huaraz).
Traveling to Caraz on your next trip? Book the perfect room on Booking.com today!
Getting to Caraz: If you're traveling from Lima, you'll need to grab a bus for approximately 8 hours to the city of Huaraz and then hop on another bus for 1.5 hours to Caraz.
Read Next: 61 Photos to Help You Plan Your Next Trip to Peru
Share This
Did you enjoy this post about Caraz Peru? Please take a moment to share it on Facebook, Pinterest, or Twitter.
The following two tabs change content below.