Some articles on Desk to Dirtbag (and just what is a dirtbag, anyway?) contain affiliate links, meaning that if you make a purchase through these links, I may earn a small commission (at no extra cost to you!). Thank you for reading!
---
Peru is a hiker's dream, especially all along the Cordillera Blanca near the city of Huaraz (the most common point of departure for nearby mountain adventures), and Laguna 69 in Peru is one of the best dayhikes in the area.
Laguna 69 was a place I knew I had to visit before I'd even set foot in Peru. Laguna 69 has blown up in popularity (perhaps partially due to its name, but undoubtedly due to its beauty) in the past few years on social media.
Laguna 69 was a great early acclimatization hike in preparation for the Santa Cruz Trek, and it was an amazing day hike in and of itself.
Here's what you need to know about the hike.
What to Know Before You Go to Laguna 69
Laguna 69 sits at 4,600 meters (15,100 feet).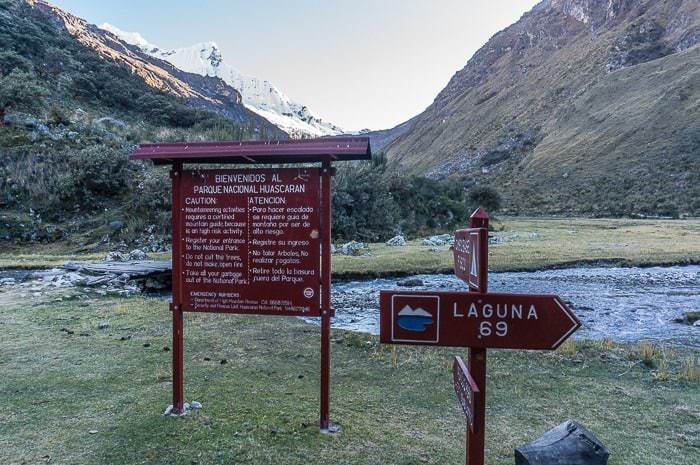 Let that sink in… that is approximately 700 feet higher than any place in the Continental USA.
If you've never hiked at altitude, you can expect it to be tough.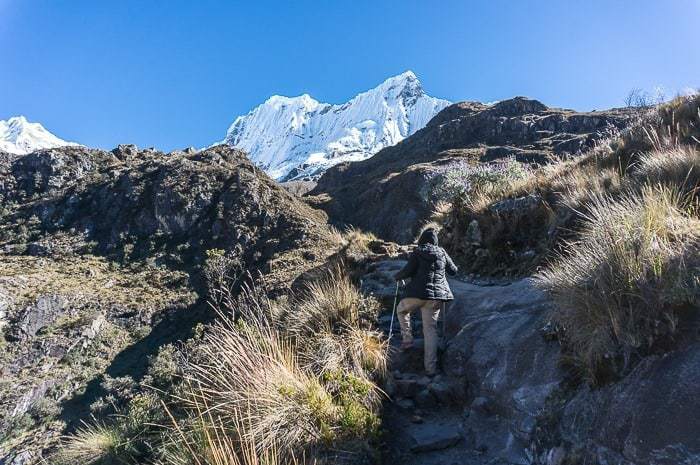 You should spend at least 24 hours or more in Huaraz (which sits at 3,100 meters) in order to help you acclimatize prior to setting out.
The hike will take at least 3 hours on the ascent and 2 to 2.5 hours on the descent.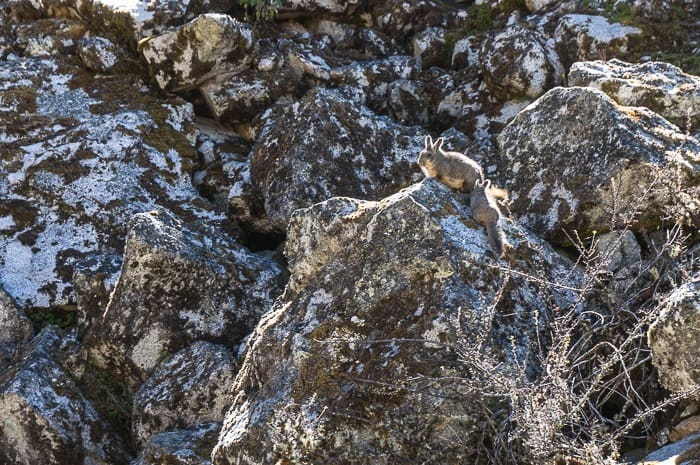 You should be prepared to hike 12 kilometers round trip (7.5 miles) and to climb 800 meters of vertical ascent (2,600 feet). If you don't know what those numbers mean, you might have a much harder time than expected.
But if you are in descent shape and acclimatized to the altitude in Huaraz, you should be able to do this awesome hike.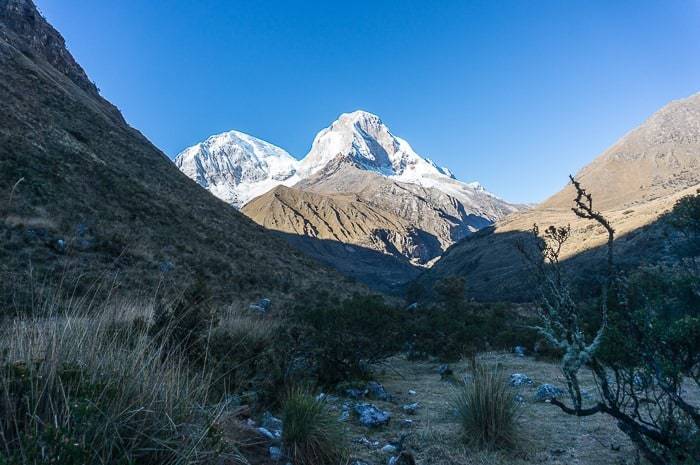 Just don't expect it to be easy… Or quiet and peaceful…
Avoiding the Crowds
Alright, the main problem with Laguna 69 is it is insanely popular. We are talking about bus loads of people that arrive daily, with hundreds climbing to the top all around the same timeframe.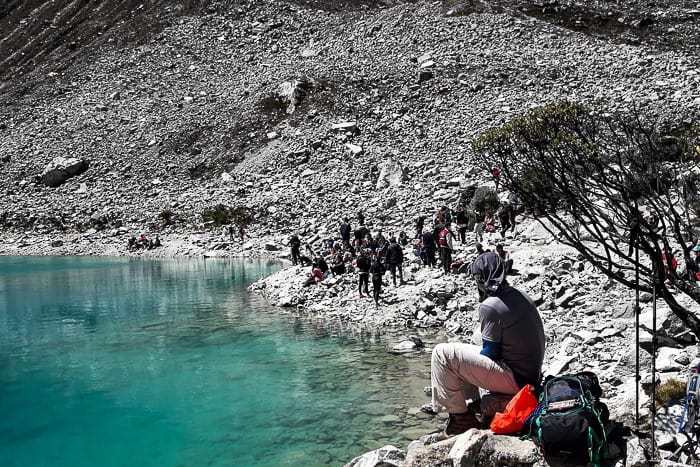 If you want some peace and solitude and not just a selfie in front of the lake, I would recommend spending the night at the camp area at Llanganuco near the trailhead and starting early in order to beat the crowds.
This is what we did, and it allowed to have the lake almost to ourselves for a brief period of time.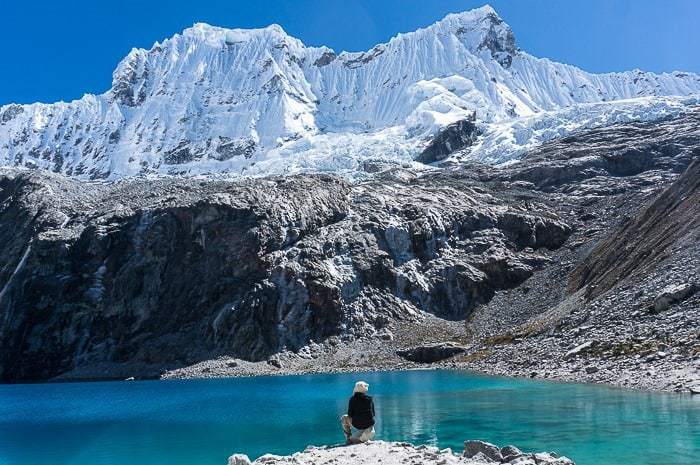 We set out by 7am (woke up at 5:30 at the free campsite) and made it to the lake just after 10am.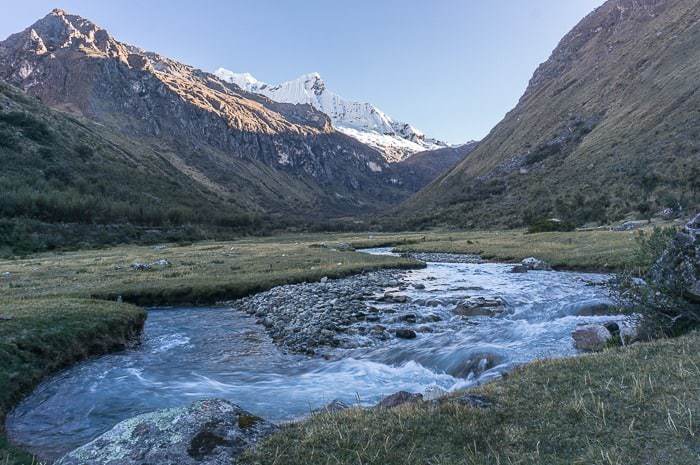 The first wave of people arrives around 10:45 with the fastest hikers — giving us at least 30 minutes almost alone at the lake. We only had to share it with another pair of hikers.
Between 11am and 12pm, the crowd grows thicker by the minute, with almost no where to hang out beside the lake.
People had music blasting on portable speakers. People were screaming and jumping into the lake.
We waited around this whole time, snacking, eating lunch, and marveling at the circus.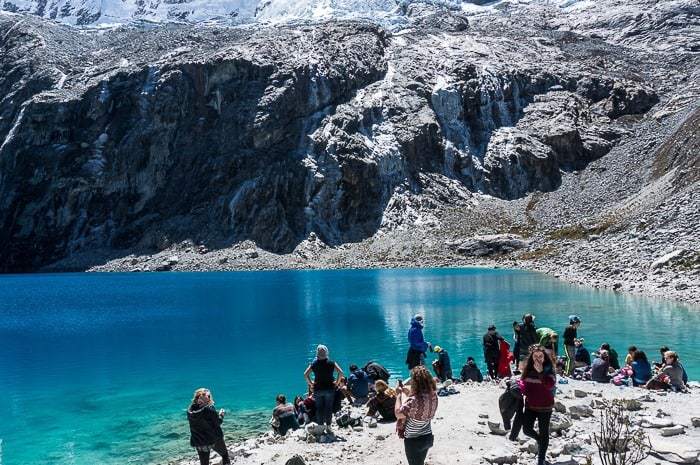 We started hiking back down at around 12:30 and I counted the people I passed on the trail that were still hiking up.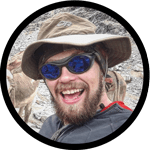 (Psst... Wanna know the "secret" to traveling forever or being free to do what you love? Here's how I did it, in five simple steps)
I stopped counting at 115 people.
About the Laguna 69 Hike
The hike starts off relatively easy, gradually ascending through the valley, passing lazy cows and horses.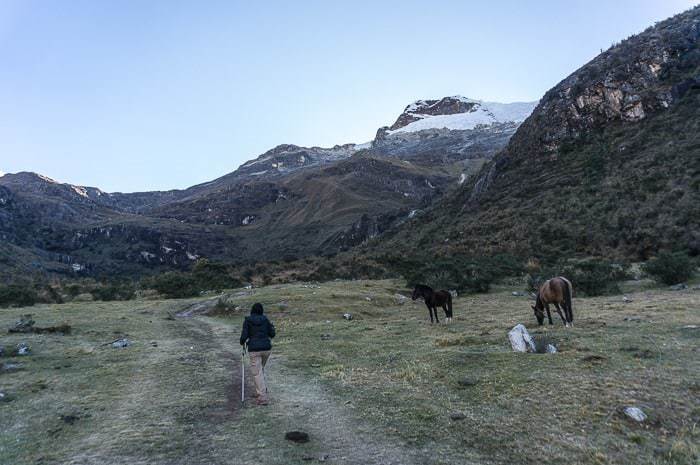 Snowcapped mountains lay both behind and ahead of you and Chacraraju calls you ahead.
You arrive at a series of switchbacks that take you higher as you breathing quickens.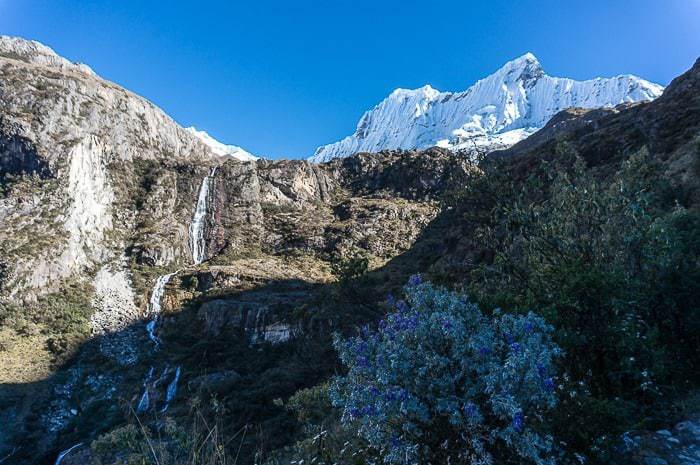 You will eventually arrive at a small lake, a false summit if you will, that represents the halfway mark.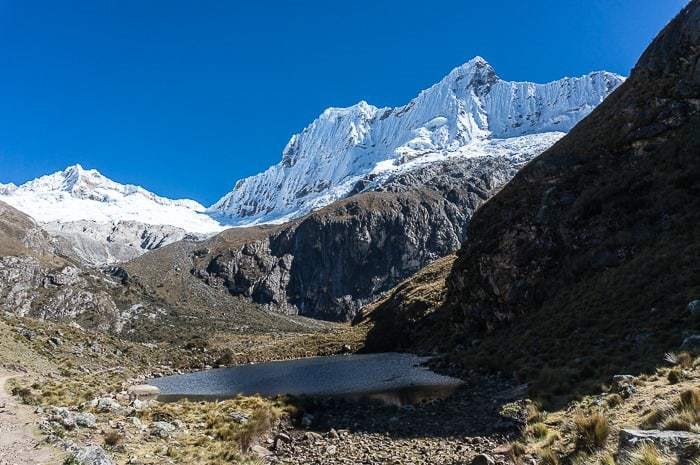 You'll find yourself once again hiking through a lazy valley before heading up the last and hardest set of switchbacks.
It was here on our descent where nearly every hiker asked me "how much further?" in between heavy breaths.
I replied "15 minutes" to which they would mutter to their friend "that's what someone said 15 minutes ago…"
It's a slow and challenging hiking at altitude. The challenge is truly about the altitude, not the vertical ascent or distance when it comes to hiking Laguna 69.
Finally, you'll pop over a hill and get your first glimpse of those shockingly blue waters below the mountain of Chacraraju.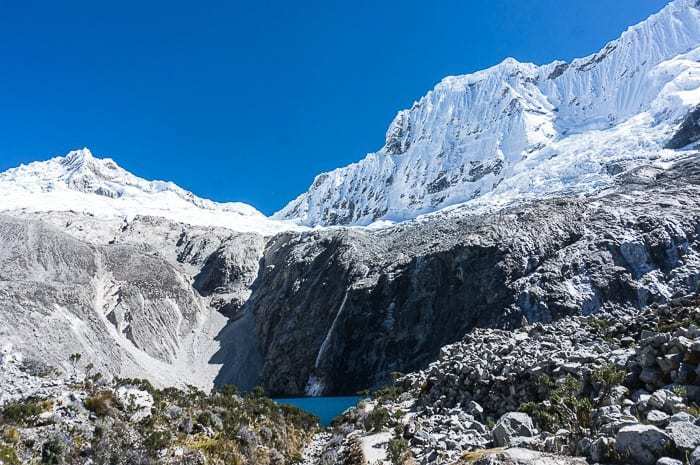 If you go with a tour group, you will have a short time here before you'll have to turn around and hike down.
Snack up and pat yourself on the back for a job well-done.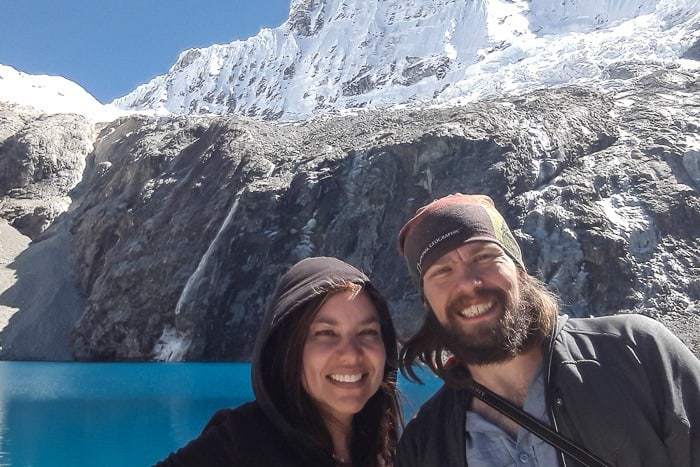 Is Laguna 69 Worth It?
Laguna 69 is undeniably spectacular. I'm not sure it's the most stunning lake I've seen — that would have to go to a nearby neighbor in Peru — but it's definitely worth visiting.
It makes for an excellent workout and a great way to acclimatize for other adventures like the Santa Cruz Trek in the Cordillera Blanca.
I would personally hate to do it if I was in the middle of a crowd of hundreds — part of the reason I hike is the peace and solitude — and I'm so glad that we chose to spend the night camping down with the donkeys in the Llanganuco Valley prior to setting out.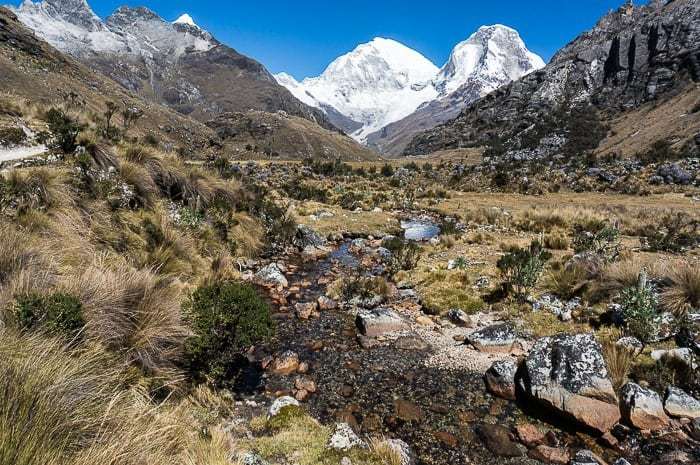 If you've got the time, I would encourage you to visit Laguna 69 this way, just be sure to start by 7am (or earlier!) to take advantage of a crowd-free Laguna 69.
If you are sufficiently acclimatized, you could also hike up late and spend the night beside the lake — but remember to consider the extreme altitude before planning to camp at Laguna 69.
Laguna 69 Map
What to Bring
– Small Daypack
– Two liters of water
– Rain jacket (you never know)
– Warm jacket
– Sunscreen
– Lunch and snacks
– Trekking poles (your knees will thank you)
Traveling to Huaraz on your next trip? Don't miss my guide to Huaraz and book the perfect room on Booking.com today!
Wish you could travel more? Click me to grab my free resources for affordable, long-term travel.
Share This
Did you enjoy this post? Please take a moment to share it on Facebook, Pinterest, or Twitter.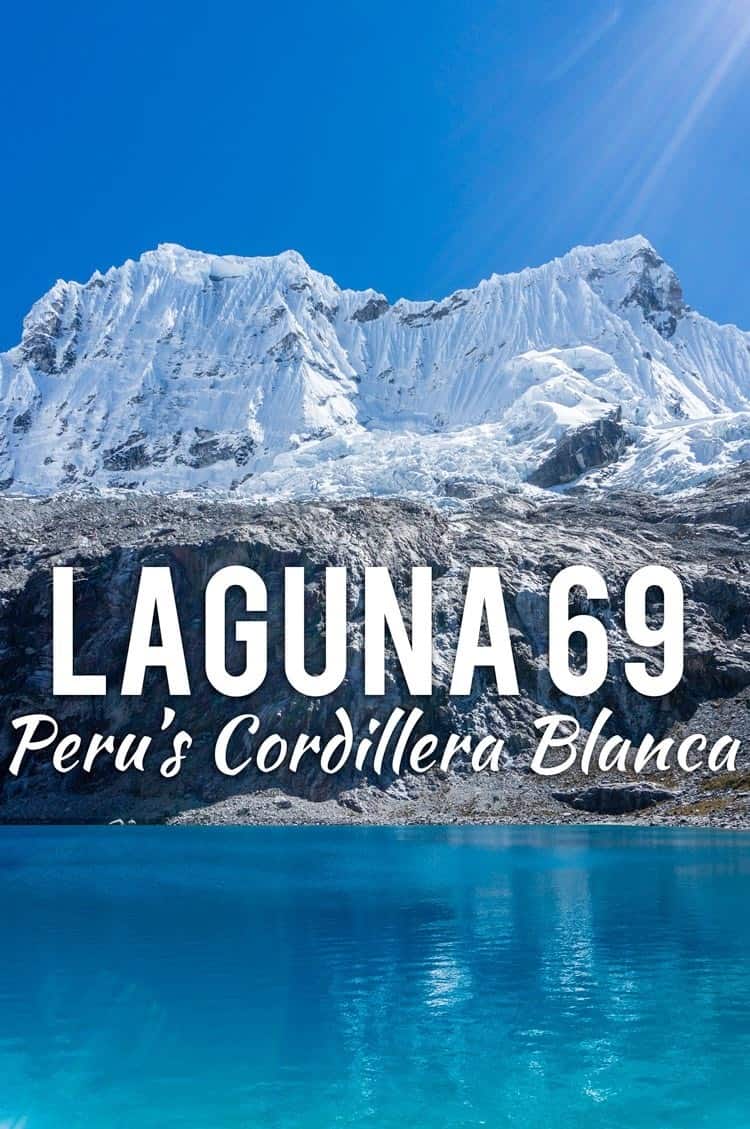 The following two tabs change content below.