This article may contain
affiliate links
. If you make a purchase through these links, I will earn a commission at no extra cost to you. Thanks!
When most people think about traveling to Mexico we think about tacos and tequila, mariachi and margaritas, about the beautiful beaches — Cancun, Playa Del Carmen, Cabo San Lucas, Mazatlan, Puerto Vallarta, etc — or the colonial towns of Oaxaca and San Cristobal, or the stunning ruins and pyramids in Mexico, but there are also plenty of awesome things to do in Mexico City.
Don't miss the printable Mexico Travel Tips at the bottom of the article!
Mexico City doesn't frequently pop up on the lists of places one must visit in Mexico… Indeed when Andrea and I initially discussed setting out driving through Mexico we had planned to actively avoid Mexico City.
The population of Greater Mexico City is more than 22 million people, making it the largest metropolitan area in the Western Hemisphere and the largest city in the Spanish speaking world (definitely one of those interesting Mexico City facts that not many realize).
I wasn't sure that fighting the endless traffic jams while driving in Mexico City and hordes of people would be "worth it". But I would have been wrong — I'm so glad that we went to Mexico City, it was one of the best surprises of the entire trip and a place that both Andrea and I were blown away by.
We were lucky enough to land a three-week house-sitting gig in the heart of Mexico City in the upscale La Condesa neighborhood. From there I was able to finalize and launch of my book about how to travel the world on a budget and after launching we were able to set out and explore this amazing city quite in-depth.
If you're in a hurry and don't have time to read these travel tips (or just want a copy for later), enter your email address to get this article in your inbox along with some other amazing resources to help you save money and plan a better trip to Mexico City:
Best Things to Do in Mexico City
There is so much to see and do in this city—it is a modern and progressive city with all the comforts one would expect from home mixed with the history of its past as the oldest capital city in the Americas.
Traveling to Mexico City is not unlike going to London, Paris, or any other great capital city of Europe. And for those of us in the United States, it is so much closer and so much more affordable (thanks to a favorable exchange with the Mexican Peso).
Seriously, visit Mexico City and prepare to be blown away. To get you started here are my top recommendations for what to do in Mexico City (but there are plenty more attractions!), and don't forget to check out my article on the best Mexico City tours for some cool excursions that are both fun and informative.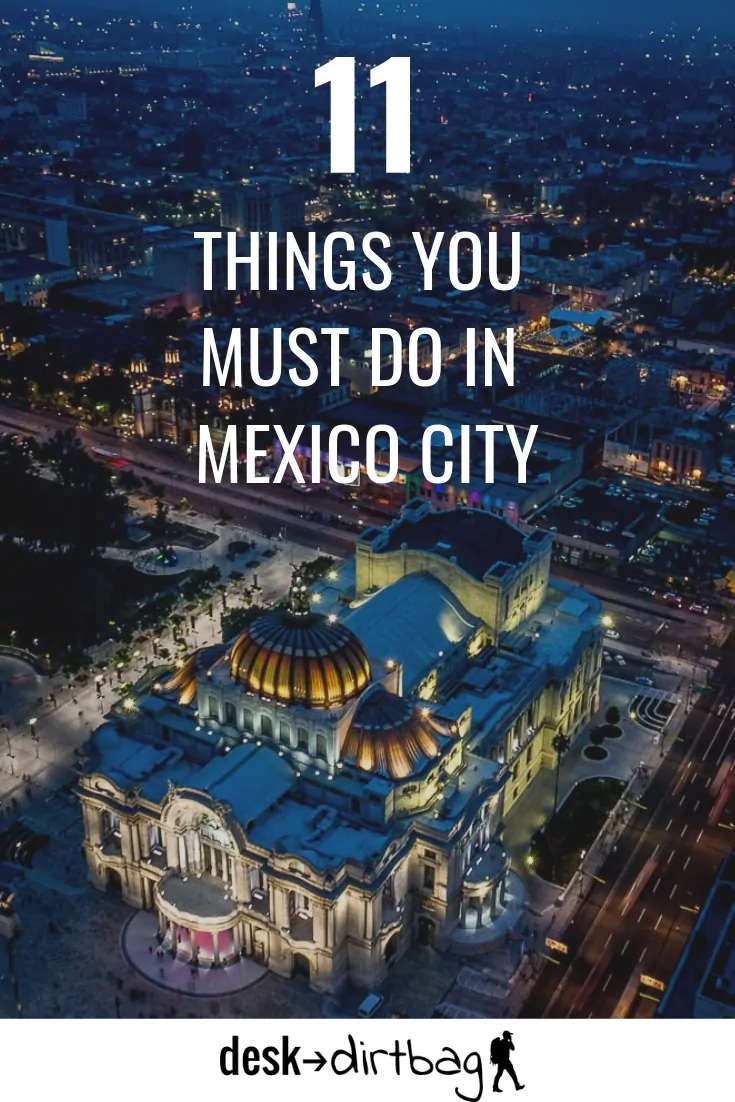 Free Walking Tour
One of my favorite ways to start a trip to any new city, especially one as historically and architecturally beautiful as the historic center of Mexico City, is with one of those free walking tours lead by a local. In this case, I'd highly recommend joining a free downtown walking tour so you can explore the incredible Centro Historico.
The history of Mexico City is complex, but a free walking tour will help you understand things a little better in a simplified version of history, while also learning a number of anecdotes about the places you are seeing.
Of course, you'll be covering the main square, the Cathedral, the ruins of Templo Mayor, Alameda Central and the Palacio of Bellas Artes, and so much more.
These free walking tours are based on tips, however, so be sure to bring along some money to show your guide some love after everything wraps up… These tours are a great introduction to the city and help you identify the areas you want to explore more in-depth.
Check out the Estacion Mexico Free Walking Tour.
Ride the Double Decker Turibus
Taking the hop-on, hop-off Turibus upon arrival will provide you with a great overview of the area, the history, and the most interesting sites for you to explore later, and is one of the best forms of sightseeing in Mexico City.
Mexico City is absolutely massive, and therefore there are 4 different intersecting Turibus lines across the city, the primary tour through the heart of the city, Polanco to the wealthy and modern area, the southern circuit to Coayacan, and a short Basilica tour.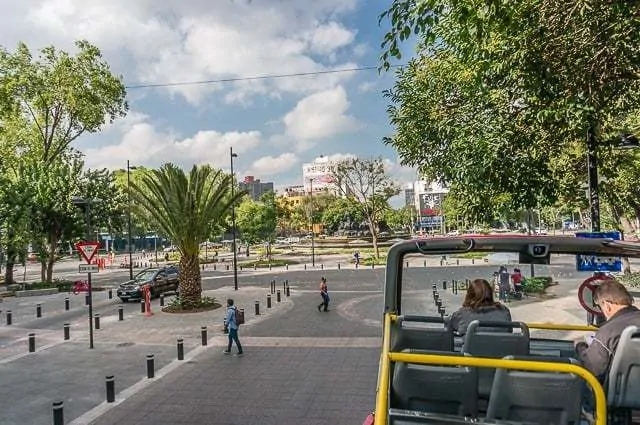 Buses run from 9 am to 9 pm and you can catch a bus at any of the official stops and purchase tickets on board. $140 pesos during the weekday.
The principal line from the Zocalo to Chapultepec is one that you should not miss.
If you plan to do all four tours in one day, you must start as early as possible and don't expect to be able to hop on and off much. Traffic is heavy in the city and buses are slow going.
We tried to do all four but ended up hopping off early on the southern route to Coyoacan when we were starving and barely moving in the evening rush hour traffic, and ridiculously the bus will actually kick off at 9 pm sharp wherever they end up—they do not finish the route.
If you're going to miss one route, the Basilica tour is the least interesting and doesn't include the open top second level where you have a better view of the city.
Book your Hop-on Hop-Off ticket here.
Visit the Frida Kahlo Museum
Take the trip down to Coyoacan to explore the art of the famous Frida Kahlo.
The Frida Kahlo Museum is in the former home (also known as the Blue House) of Frida, where she was born, grew up, and eventually died. She also shared the home with her husband Diego Rivera, another famous and influential Mexican artist.
The museum houses a broad collection of Frida and Diego's artwork and provides insight into the life and times as well.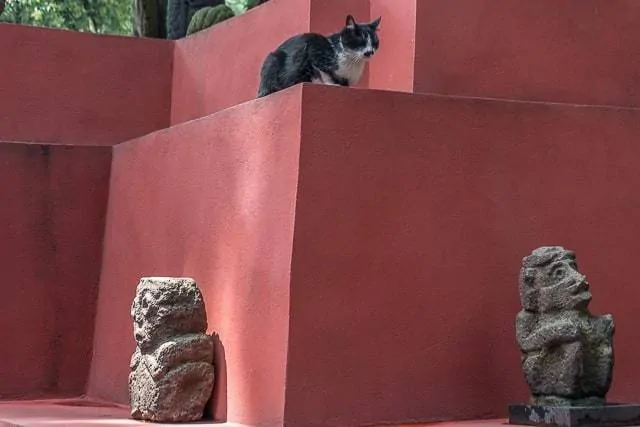 The museum is one of the top attractions in Mexico City and it is a must visit for any traveler passing through.
You can even couple this visit awesome museum visit with a tour that will take you to Xochimilco and the canals, which is like a strange little Venice. If you're in that area, be sure to also make a stop at Museo Dolores Olmedo where you'll find an extensive collection of Frida and Diego's works at a beautiful hacienda with lush gardens, hairless Xolo dogs, and colorful peacocks.
If you're still looking for more of a Frida and Diego fix, then don't miss visiting their Casa Estudio in the neighboring San Angel district, one of Mexico City's coolest neighborhoods and which often goes under the radar. There are cobblestone streets, old churches, and it is also home to one of Mexico City's most cherished day of the dead celebrations.
Read More: All About the Frida Kahlo Museum
Museo Soumaya
Up in the posh neighborhood of Polanco — where you'll find all the high-end stores — there is the opulent and modern Museo Suomaya, which houses a broad and incredible selection of art.
The best part is the museum is FREE all the time, thanks to the generous patronage of Mexican super-billionaire, Carlos Slim.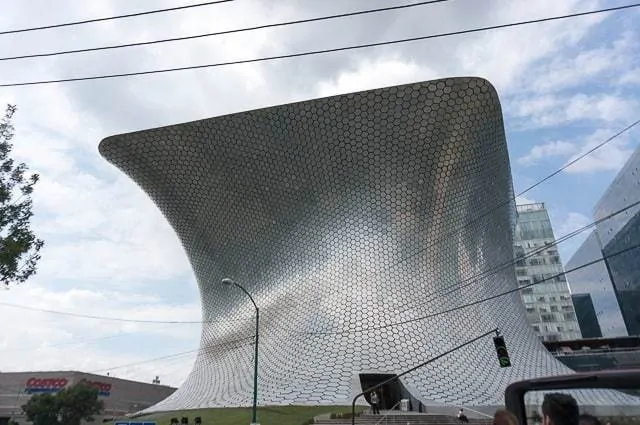 This museum houses more than 60,000 works that span many centuries and is Mexico City's most visited museum.
Here you will find the works of masters like Rodin, Dali, and many other internationally renowned artists.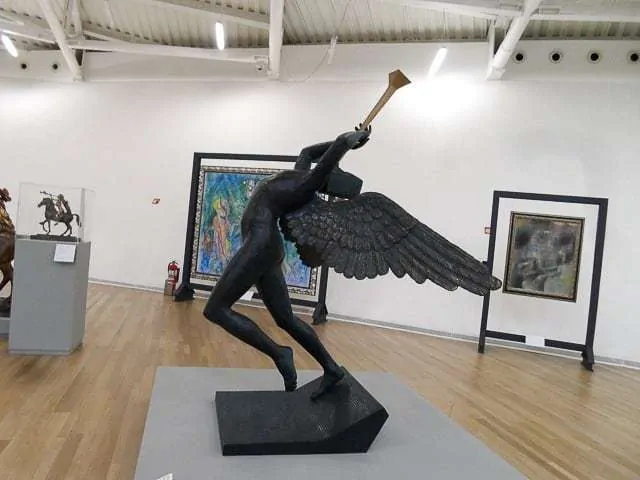 If you're in the area, you can also add in a visit to the Museo Jumex right next door which offers more contemporary art in an incredible space. And yes, it is called Jumex after the massive juice company that patronizes the museum.
Why not couple your day out in Polanco and these incredible museums with a Polanco food tour for three hours of mouthwatering Mexican specialties in one of Mexico City's best neighborhoods? If you're not one for food tours, but just want a bit of gourmet, then consider a tasting menu at the world-renowned Pujol for fine dining as you've never had.
Mexico City Museum Tips: Keep in mind that most, but not all, Mexico City museums close on Mondays. Also, Sundays at a number of museums are free for local residents meaning they can be particularly busy (if you hope to avoid the crowds). Don't miss my guide to the best Mexico City museums as well!
Eat Churros in El Moro
Churros, those fried pieces of bread covered in sugar and cinnamon, are an absolutely delicious treat.
There are photos of me at Disneyland as a little kid with churros that are practically bigger than I was.
I couldn't resist going to El Moro, a classic churro destination in the heart of the city, where they've been making churros for more than 80 years.
Make a point to visit this Mexican City institution and dig into a big plate of churros and a cup of coffee (or for more sweet decadence, a cup of hot chocolate).
El Zocalo and the Metropolitan Cathedral
The historic downtown of Mexico City is centered upon the broad and expansive Zocalo, or central square, and the Metropolitan Cathedral which sits beside it.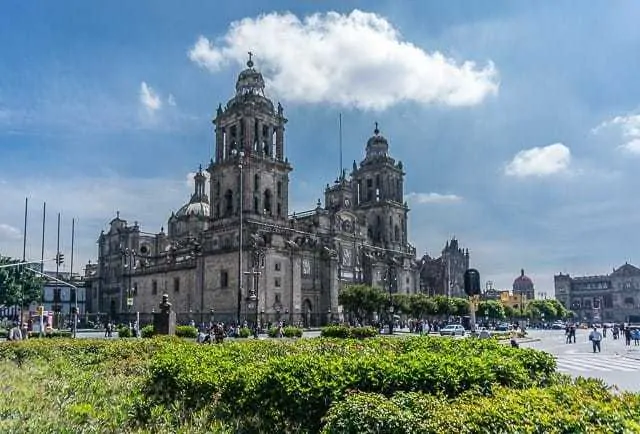 This space is immense and beautiful, with classic architecture and imposing facades.
Around the corner, you can also explore the ancient ruins that lay under the city at Templo Mayor.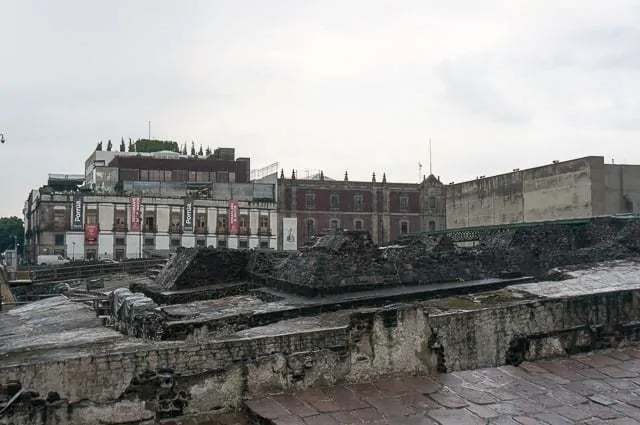 If you're hungry or just want to grab a drink, be sure to head up to one of the many terrace restaurants that overlook the central plaza, where you can relax and take in the hustle and bustle of the central plaza.
Chapultepec Park
Even if you've never visited New York City, you're probably familiar with the marvel that is Central Park. Mexico City has its own version with Chapultepec Park (even bigger and better at nearly double the size), which was initially dedicated to the Aztec ruler of the same name.
If you're looking for a bit of a respite from the big city life, you can't go wrong with a trip to the sprawling and lush Chapultepec Park.
The park is one of the largest parks in the western hemisphere at more than 1,600 acres — double that of Central Park in New York.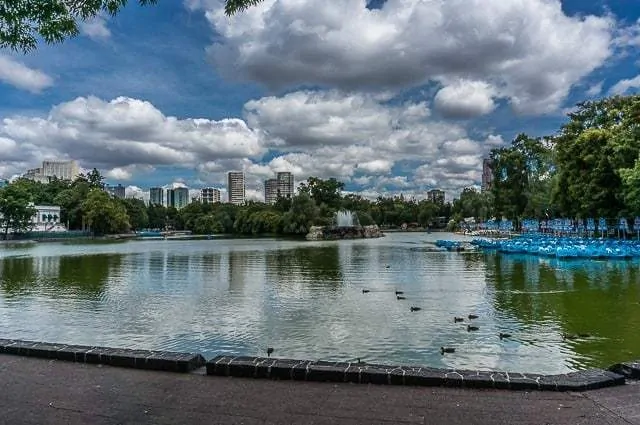 The massive park is filled with lakes, trees, and greenery, and has long been considered the lungs of Mexico City, as the trees replenish oxygen to the valley. The Park is also home to the National Museum of Anthropology, as well as a botanical garden, several stunning lakes, and even a theme park. You can also marvel at Chapultepec Castle, which used to house the city's ruler but is now home to the National History Museum.
The park is great just to go for a stroll and take in the sights and scenery, but you can also go for a boat ride, visit one of the numerous museums, or visit the zoo, which is free.
If the madness of big city life is getting to you, then a visit to Chapultepec will help you reconnect with nature, since it is like an oasis in the middle of the hustle and bustle of the city.
One of our favorite things to do in Mexico City during our lengthy stay was to visit this sprawling park and just explore… Be warned, however, that parts of this park get extremely busy on weekends as thousands of locals descend upon the park with the same idea as you…
Best Things to Do in Chapultepec Park
Go to the free zoo and check out local wildlife as well as some of the international variety like pandas.
Rent a paddleboat and head out on the lake, enjoy one of the periodic public movie nights that you watch as you bob in your boat on the lake.
Explore one of the numerous museums here, grab some street food, or go for a jog along one of the many exercise paths. This park is like a whole city unto itself.
Pop into the almost overwhelmingly expansive National Museum of Anthropology Mexico where you can learn more about the rich and incredible history of this amazing country.
The Top of Torre Latinoamericana
The Torre Latinoamericana is one of the most important and recognizable landmarks in Mexico City. It was once the tallest building in town, until 1984, but still stands proudly as the biggest landmark in the central downtown core.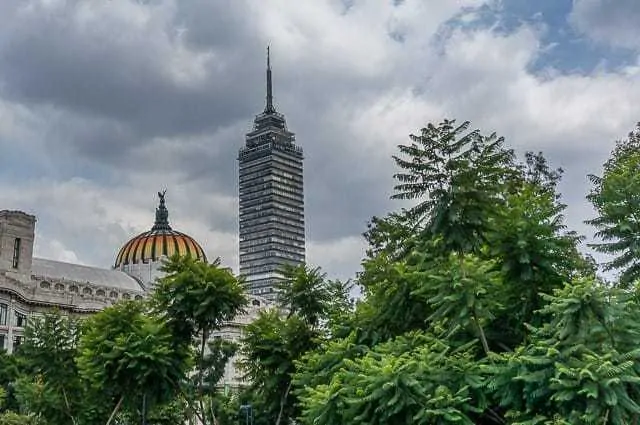 Tourists can go to the top of the nearly 600-foot tower and get an unprecedented view of the sprawling metropolis, as well as the ensuing gridlock that Mexico City is famous for.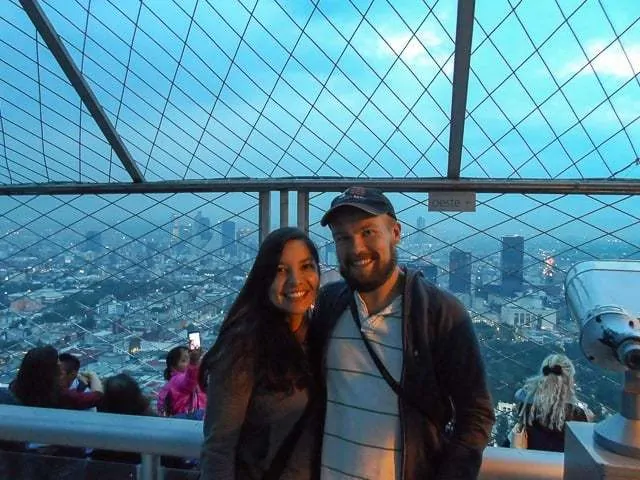 I'd recommend going just before sunset so you can take in the city during daylight, catch a (hopefully) beautiful sunset, and then take in the lights of the city at night.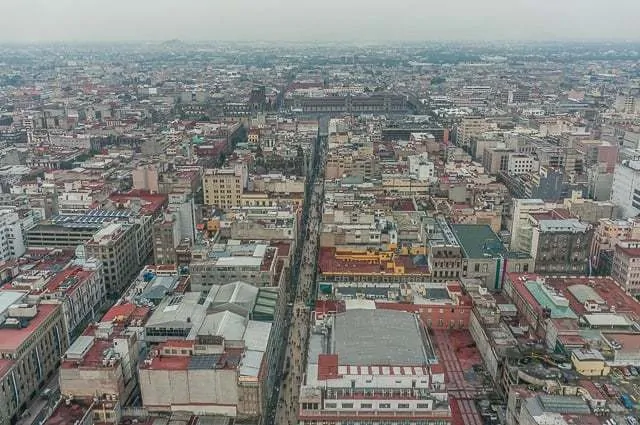 Budget Tip: Instead of paying 80 pesos or whatever to go to the official observation deck, tell them you're going to the bar. The elevator to the bar is free. From there you can spend your 80 pesos on a drink and stare out of the windows from there, on a chair, with something to cool to sip on. It's only a level below the observation deck.
Visit Sanborns
Sanborns is an iconic Mexican restaurant and cafe, with locations all over the city and country, but the Sanborns near the base of the Torre Latinoamericana is a special place.
As soon as you go through the doors, you feel transported back in time to classic Mexico City.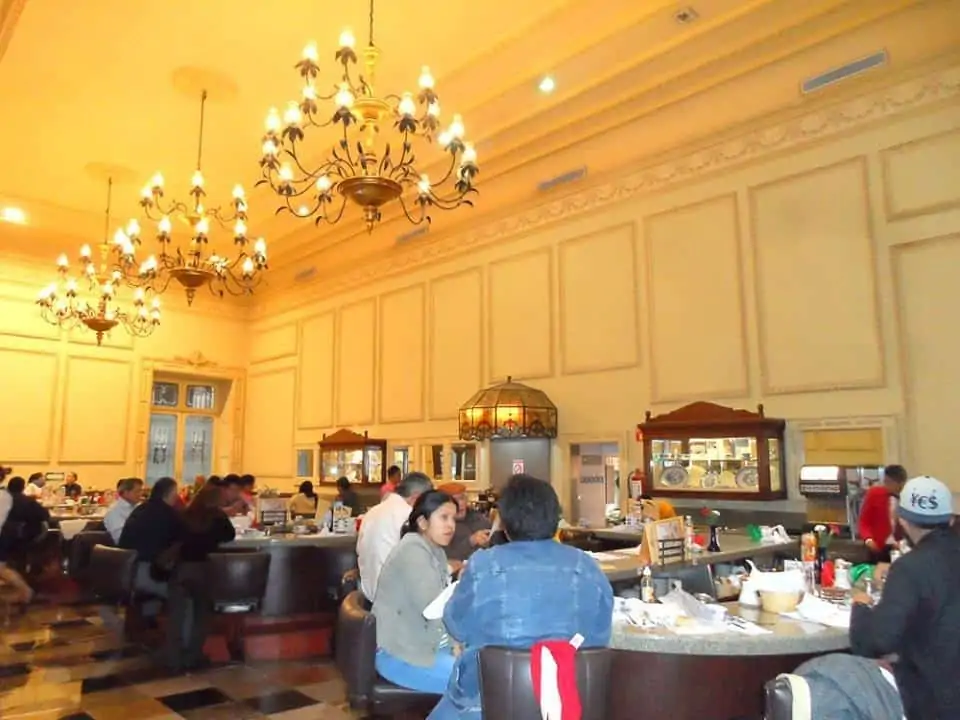 It doesn't hurt that they have a huge and delicious selection of food, or you can just stop in for a sweet treat and some coffee. Either way, you can't go wrong.
Cool Mexico City Tours
While I generally prefer to explore a city on my own, it's hard to deny the appeal of certain organized tours where everything is taken care of for you and you get a much quicker insight and understanding of local customs, culture, and history.
Be sure not to miss my other article on what I'd consider the best Mexico City tours and activities that are worth your time & money.
Eat Street Food
Mexico City is a street food lovers paradise, there is an incredible variety of delicious foods all over town.
You can't go more than a few blocks without running into something calling you to grab a seat and a bite to eat.
There's too many to list, but you can't go wrong with tacos al Pastor, gringas, chicharron de queso, or pretty much anything!
Mexican food is always good, but it tastes that much better in Mexico City.
Honestly, one of the coolest ways to get a handle on the street food scene and everything it has to offer is with one of those local street food tours.
Take in the Architecture
Simply walking throughout downtown Mexico City is a special experience, there is one head-turning view after another and a magic sort of energy that you only find in this big bustling metropolises.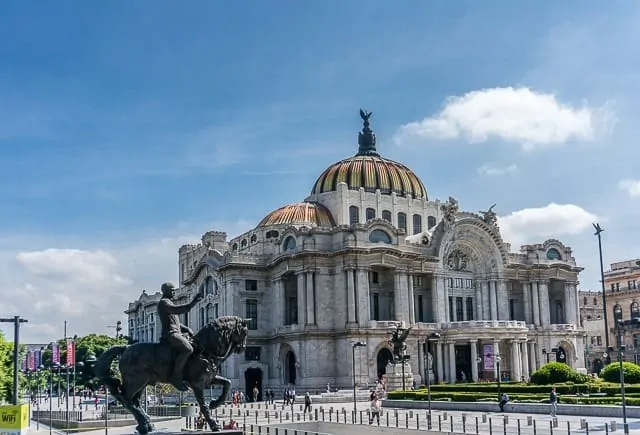 From the Palacio de Bellas Artes to the numerous monuments, cathedrals, towers, and beautiful city streets — Mexico City's downtown is incredible.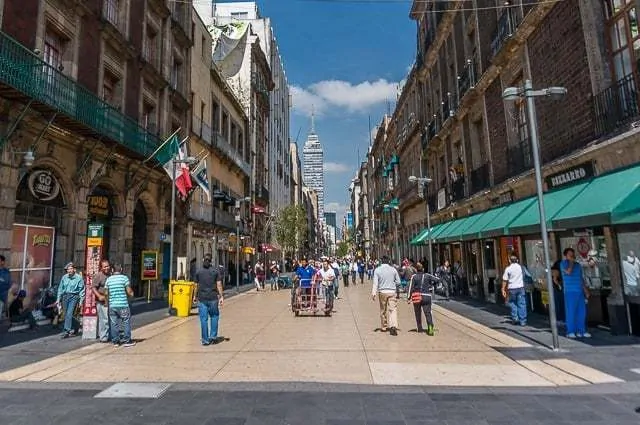 I loved walking Zoe, the dog we were house sitting, through the streets a few times per day and taking in new sites, stumbling across different restaurants or cafes in the Condesa neighborhood.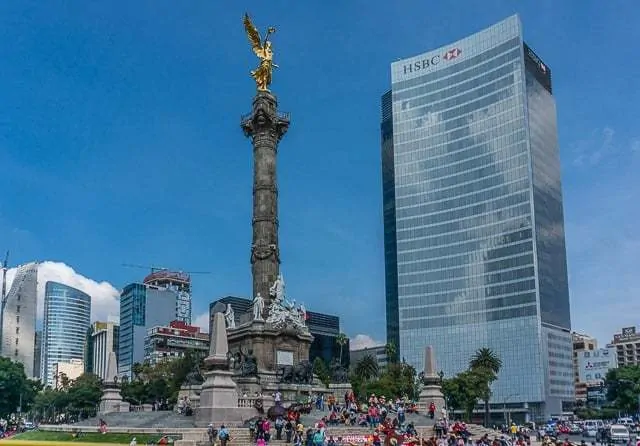 Walk along the length Paseo de la Reforma, or wander aimlessly through the neighborhood of Roma Norte and discover some hidden gems.
Simply being in Mexico City is something special in and of itself. If you want to see it with a local, you can take a FREE walking tour as well.
Ancient Pyramids
Finally, I'd be remiss if I didn't mention the spectacular ruins of Teotihuacan. While this isn't in Mexico City, it is a short distance outside the city and is absolutely worth doing as a Mexico city day trip.
You don't have to go all the way to Egypt to see incredible ancient ruins, and these ones you can actually walk to the top to take in the view of the surrounding countryside in Teotihuacan.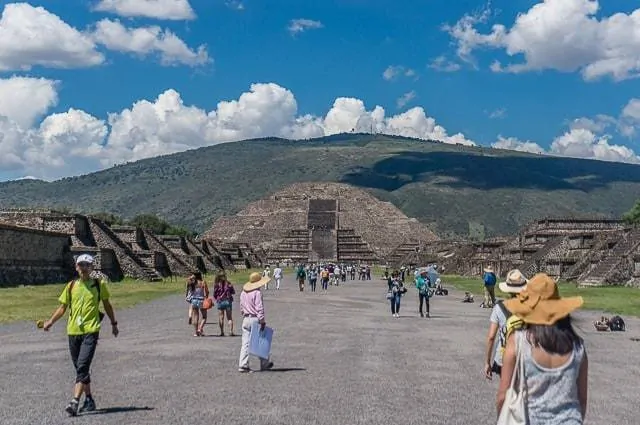 You can book a tour to visit the pyramids as a day trip, or you can stay out in Teotihuacan — which is what we did. If you've got the budget, you can also take a hot air balloon up to see the pyramids from above!
Read more about our visit to the pyramids of Teotihuacan.
Seriously, Visit Mexico City
These are just a few ideas for things to do in Mexico City, a place I had truly underestimated, but it is a destination in and of itself, one that I would love to return to and explore even more in-depth.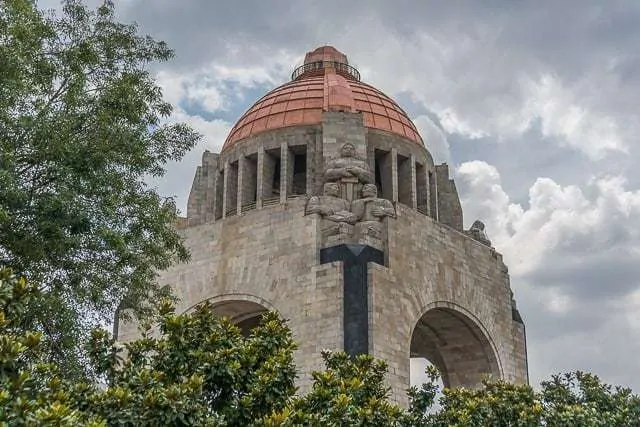 Even three-weeks in Mexico City wasn't enough time, by the second week we had even begun considering the idea of living in Mexico City for a few months — that's how cool this city.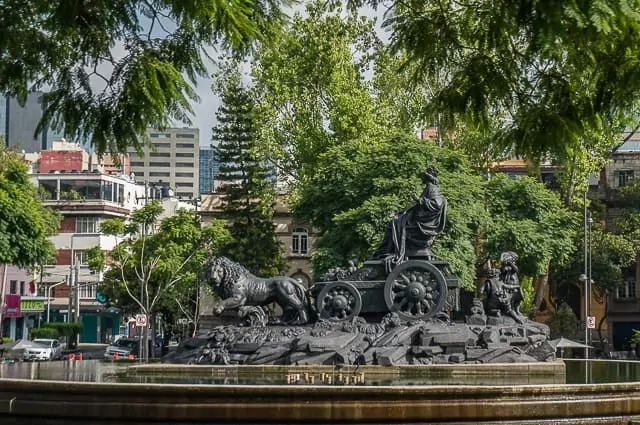 It is easily one of my favorite cities in the world and has a lot of interesting and fun things to do, whether you want to taste mezcal, go see a lucha libre wrestling match, or just watch the old mariachis croon in Garibaldi Square.
If you're traveling to Mexico City, be sure to book your lodging through Booking.com to save! I've put together a guide about where to stay in Mexico City with the best neighborhoods and guide to the best Mexico City hostels if you're looking for an awesome place to stay while on a budget.
Be sure to also protect yourself in Mexico City against illness, injury, and theft (there is unfortunately petty crime here) by getting coverage with World Nomads Travel Insurance. You can purchase it in advance or even after you've already arrived in the country. It will allow you to rest easy and enjoy this incredible city for all it has to offer! Read more about why you need travel insurance for Mexico.
Read Next: Things to Know Before Visiting Mexico City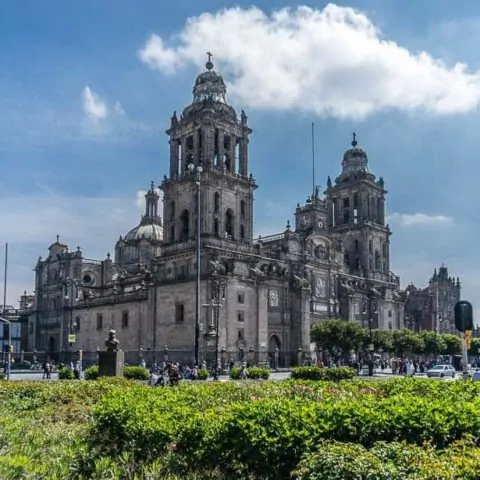 Mexico Travel Tips
Important tips and resources for planning an amazing trip to Mexico, based on my extensive experience traveling across the entire country.
Tools
Instructions
Book a cheap flight to Mexico with Momondo, or better yet, start travel hacking so you can fly for free.
Plan a rough itinerary and how long you will spend in each destination. Pick up Lonely Planet Mexico to help with this.
Work every day to teach yourself Spanish, you want to know as much as possible before you arrive.
Book your cheap accommodation in advance, at least for the first destinations -- For hostels use: Booking, for cheap hotels use: Hotels.com, for apartments use: Airbnb.
Reserve your on the ground tours and activities through Get Your Guide.
Purchase travel insurance for Mexico with World Nomads to protect yourself from illness, injury, and theft while in Mexico.
Check out my comprehensive guide about traveling to Mexico with information on cities, things to do, places to see, and more.
Learn more money saving tricks with my top budget travel tips if you want to get more bang for your buck.
Put together your Mexico packing list.
Enjoy this incredible country!
Notes
I hope this helped you plan your travels in Mexico! I know it can be a struggle to find accurate and on the ground information when traveling to a new place like Mexico, which is why I started writing so extensively about it!
If you have any questions about Mexico, budget travel, or anything else shoot me an email at ryan@desktodirtbag.com.
(I love getting questions! That is how I get ideas for my blog posts and what to write about!)
Recommended Products
As an Amazon Associate and member of other affiliate programs, I earn from qualifying purchases.
Share This
If you enjoyed this post, please take a moment to share what to do in Mexico City on Facebook, Pinterest, or Twitter.
The following two tabs change content below.