Some articles on Desk to Dirtbag (and just what is a dirtbag, anyway?) contain affiliate links, meaning that if you make a purchase through these links, I may earn a small commission (at no extra cost to you!). Thank you for reading!
---
While Mexico has always been a tourism hot spot, particularly for those north of the border, Mexico City has never been one of the most popular destinations since the majority or in search of white sand beaches and turquoise waters. But thanks to a lengthy house sitting assignment, I got to experience much of the best that Mexico City and (while continuing the road trip) the surrounding area has to offer, so if you're looking to hit the ground running, here are what I would consider the best Mexico City tours which will give you a great perspective on this incredible city.
Honestly, after having traveled through most of Latin America on my long
drive from Seattle to the end of South America
, I still hold Mexico City up as one of my favorite cities in Latin America, perhaps only narrowly beaten by
Buenos Aires
. That's all to say that Mexico City is incredible and you won't regret taking the time to explore the depths of all this city has to offer.
In this article we will cover a wide range of Mexico City tours both within the city limits and those that you can do as a relatively easy day-trip nearby.
Free Downtown Walking Tour
Mexico City's downtown is a vibrant and incredible place, full of great architecture, countless eateries, hidden gems, and remarkable stories. One of my favorite ways to see any city is on foot, and a free walking tour is probably the best Mexico City tour out there. Seriously!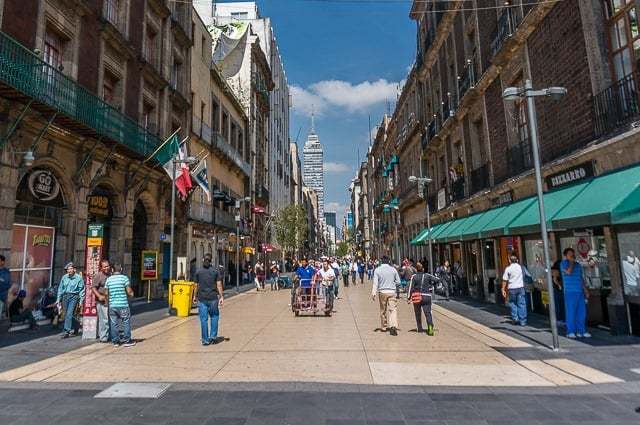 It's something I'd recommend on your first full day in town, because it will get you out there and give you a great lay of the land while also offering perspective on where you might like to return to explore (and of course now you'll now how to get there). You'll hit the highlights of La Catedral Metropolitana, Bellas Arts, Torre Latinoamericana, Temply Mayor, and much more.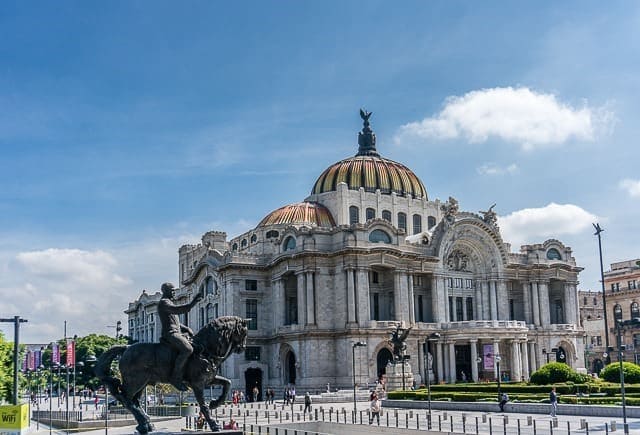 These free walking tours are donation based at the end, so you can hand over a tip to your guide of whatever you think it was worth — whether that's 100 pesos, 200 pesos, or whatever.
Book your free walking tour now.
Hop-on Hop-off Bus
Mexico City is HUGE and that is no exaggeration. Trying to take in the sights in neighborhoods from Polanco to Condesa or from downtown to Coyoacan can be a huge undertaking.
While Mexico City has an excellent metro system, you don't get to see anything of the beauty and vibrancy of this city when you're in a tunnel underground. That's one of the main reasons I recommend the hop-on hop-off bus tours for one day in Mexico City.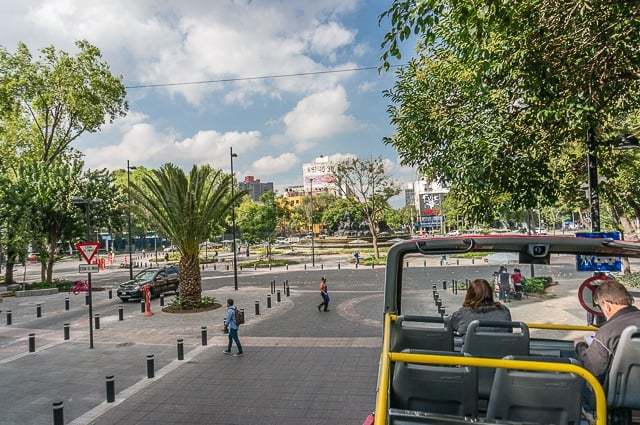 You'll get a great overview of the many different interesting neighborhoods, learn some of the history, hear more about the main attractions, and yes, you can hop off an explore some of those.
Just be aware that in terms of hopping on and off, you probably won't have time to explore all the different connecting bus lines, and also watch out for peak rush hour traffic when everything slows to a crawl.
Book your hop-on hop-off bus now.
Street Food and Markets
Mexico in general is one of the world's great destinations for food and nowhere in Mexico can rival Mexico City when it comes to food. Not only that, but it is also a street food paradise where you can eat all sorts of amazing things on almost any street corner.
You've got tacos, gorditas, gringas, churros, elotes, quesadillas, tortas, and so, so much more. If you aren't particularly outgoing or adventurous, it might be tough to try and determine where to go for Mexican street food and what to ask for when you get to the stand, which is why taking a street food tour can be a huge help.
They'll take you to the best places and introduce you to the delicious Mexico City street food, which will open up a world of cheap and awesome eats for the rest of your stay in town. You won't go hungry here. They will also take you through a busy and bustling local market, which is an experience in and of itself… Buy a juicy tuna (no, not the fish, but a delicious fruit) and enjoy!
Book your street food and market tour now.
Teotihuacan Pyramids
Who said you've got to visit Egypt to see pyramids? These massive pyramids are truly a sight to behold… While they don't lie within Mexico City, they are but a short distance away and make for an easy and totally worthwhile daytrip.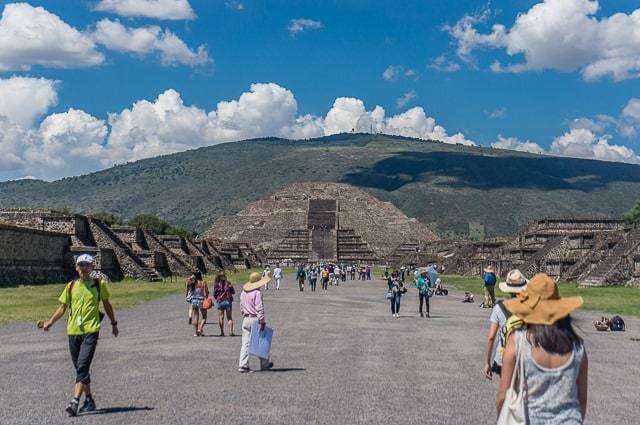 We spent a few days in the area of Teotihuacan (the name of the small town too) which is enjoyable in and of itself. But these pyramids dating from back to 200CE are well worth the visit, and definitely a can't miss while in Mexico City.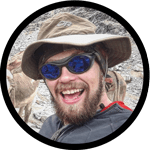 (Psst... Wanna know the "secret" to traveling forever or being free to do what you love? Here's how I did it, in five simple steps)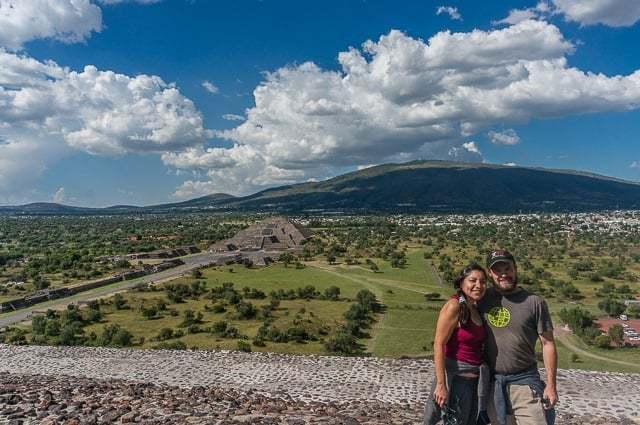 You can hike up to the top of the pyramids for a great view, which isn't often the case at many historic sites. Check out my article on the Teotihuacan pyramids for more info.
If you've got the budget, you could also take an incredible early morning hot air balloon flight above the pyramids!
Book your Teotihuacan Pyramids tour now.
Xochimilco Canals
Like pyramids and Egypt, waterway canals are normally associated with Venice, but Mexico City has those too! Xochimilco (pronounced like so-chi-milko) is a series of intricate canals totaling over 100 miles in length on the southern edge of the city.
These canals are the remnants of the vast lakes and canals which used to make up the valley, and which is why back in the days of Moctezuma the city sat on an island accessed by bridge.
Today there are colorfully painted boats called trajineras which ply the waterways and in between the floating islands called chinampas. Heading out on the canals isn't just a tourist trap, it is actually quite popular with locals as well, many of whom head hear on Sundays (so avoid that day if you want to avoid the crowds).
This is a uniquely Mexico City tour, and one that you would be remiss not to check out. These tours are often accompanied by a visit to the Frida Kahlo Museum, so you can kill two birds with one stone. Or you could opt to take the tour at night while the boats are all lit up for a different experience!
Book your Xochimilco canal tour now.
Puebla & Cholula
While there are almost too many things to do in Mexico City, you may want to take advantage of your time in Mexico's interior with a day trip to see a whole new area… One of the best day routs, in my opinion, would be heading out to Puebla and Cholula (situated right next to one another).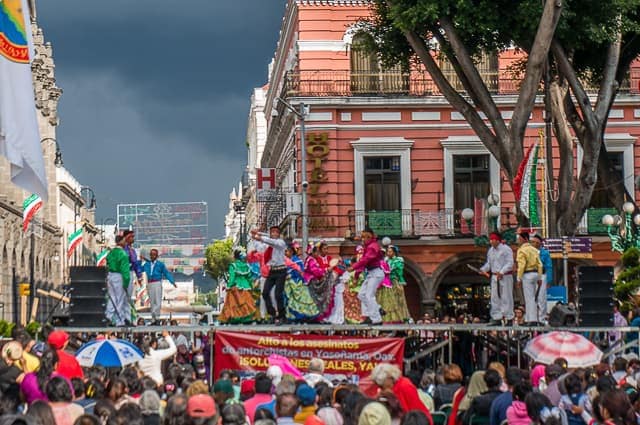 The setting of the towns, beneath the striking volcano of Popocatépetl, which is the second highest peak in Mexico at 17,800 feet, are unrivaled. Puebla is the capital of churches in Mexico, and features beautiful, colorful architecture throughout. While the main draw of Cholula is the world's largest pyramid, which has tunnels you can explore like Indiana Jones. It is quite a cool experience!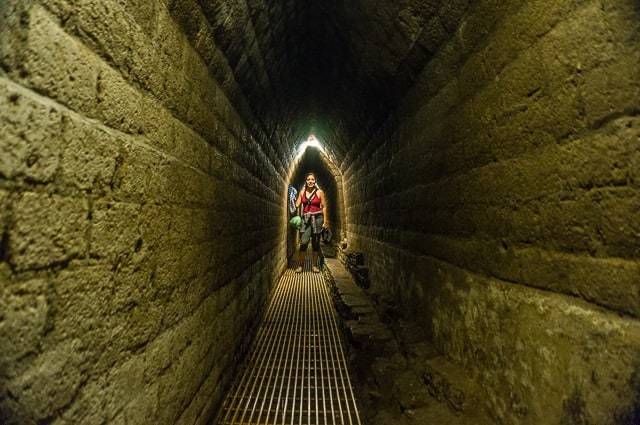 If you're familiar with Cholula hot sauce, you will be disappointed to know that it isn't from the town of Cholula, but rather over by Lake Chapala.
Alternative day tours to other towns include Cuernavaca & Taxco.
Book your Puebla and Cholula tour now.
More Mexico City Tours
Those are what I'd consider to be the best Mexico City tours, and ones that any new visitor would be happy to enjoy if they've got the time and budget to do-so. But there are many other unique Mexico City tourist attractions and sightseeing activities which one should take advantage of, whether it is watching a lucha libre wrestling match, tasting tequila or mezcal, taking in a mariachi performance, or any number of other urban adventures.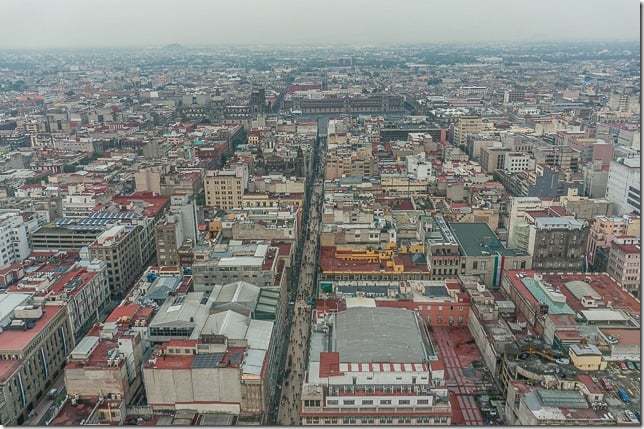 Even though you're planning to take a guided tour, don't miss out on my comprehensive guide of things to do in Mexico City so you can pack your limited time full of awesome stuff and great memories. You're sure to be busy whether you are visiting Mexico City for a few days or a few weeks like we did.
Traveling to Mexico City? Be sure to book your hostel or hotel from Booking.com now to save.
Read Next: The Coolest Things to Do in Mexico City
Mexico Travel Guide
Read Next: My Guide to Traveling to Mexico
Share This
Did you enjoy this post about the best Mexico City tours? Take a moment to share it on Pinterest, Facebook, or Twitter. Thanks!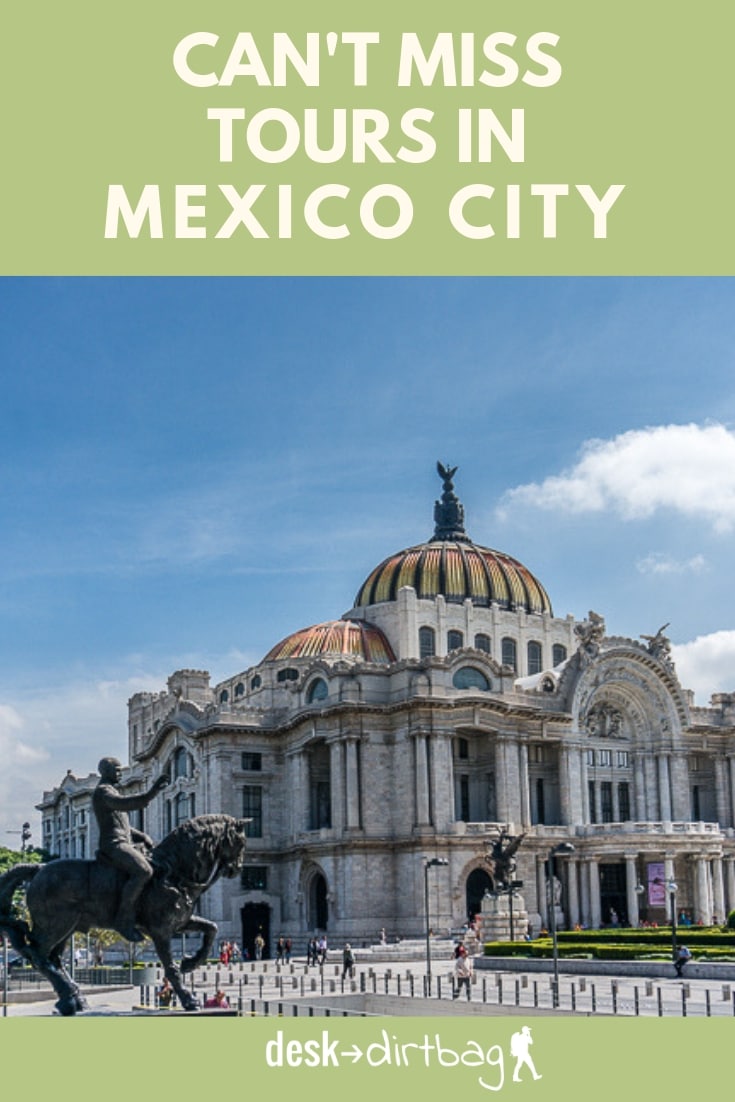 The following two tabs change content below.