This article may contain
affiliate links
. If you make a purchase through these links, I will earn a commission at no extra cost to you. Thanks!
When you think of Mexico, you might think more of gorgeous white sand beaches and the ruins of ancient civilizations hidden in the jungles. But Mexico is so much more than that. For instance, did you know that Mexico City is second to Paris as the city with the most number of museums? Yes, it is a cultural hotspot with more than 150 museums which highlight the history, culture, art, science, and a whole lot more. To get you started, I suggest you check out these 15 best Mexico City museums, but the most important of these museums is the National Museum of Anthropology in Mexico City.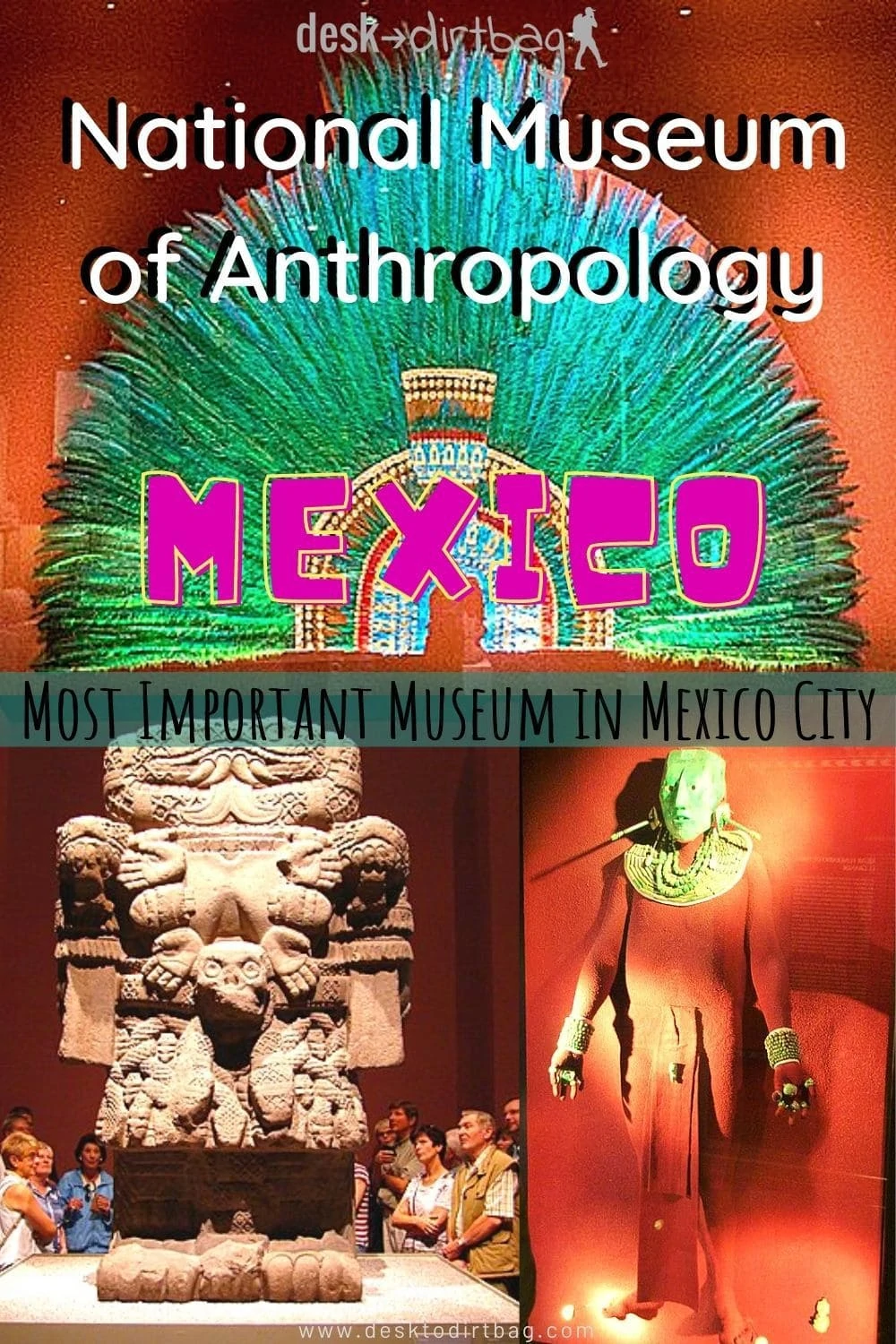 About the National Museum of Anthropology Mexico City
To be able to understand Mexico, you also have to go deep into its past. Long before the Spanish contact, the ancient people who inhabited present-day Mexico had already been flourishing for more than 4,000 years.
It is a long and complicated history, but the best place to learn of Mexico's past is from the most important museum in Mexico City which is also it's most popular and most visited of all of its 150+ museums — the National Museum of Anthropology or the Museo Nacional de Antropología.
The National Museum of Anthropology was founded in 1825 and was named as such in 1939. They moved to a modern new building in 1964, after just 19 months of construction of this massive structure, which was designed by Mexican architects Pedro Ramirez Vázquez, Jorge Campuzano, and Rafael Mijares Alcérreca.
Located in the area between Paseo de la Reforma and Mahatma Gandhi Street within Chapultepec Park, sitting west of the historic center of Mexico City, this museum design is still as avant-garde as it was more than 50 years ago. The museum consists of more than 80,000 square feet and has 23 separate exhibition rooms.
More than three million visitors walk through these corridors, museum grounds, and exhibition halls each year which is home to the largest collection of ancient Mexican archaeological and anthropological artifacts in the world.
Exactly how large you may be wondering? There are more than seven million pieces of archaeological treasures and five million-plus ethnological pieces from Mexico's pre-Columbian period in this massive structure.
There are ancient human remains and art objects that are exhibited, plus pottery and pieces from the Pre-Classical Period as early as 5000 BC. It's almost mind-bogglingly large because there are thousands of more pieces from other periods of history and culture.
Honestly, you would definitely need more than a few days if you want to explore all of the collections. What fascinated me most was learning just how advanced a civilization existing here even before any kind of contact from Asia or Europe, which so often gets forgotten or ignored.
The exhibition starts with an introduction to anthropology and the different cultural groups who inhabited what is current day Mexico. All of the archaeological and anthropological pieces of evidence throughout thousands of years of history are presented here to stand as a repository of everything about Mexico's past.
Mexico is a vibrant, proud, and storied country, and this museum serves to remind and educate its people of their identity and their intangible (and incomparable) heritage.
The Architecture and What's Inside the Museum
Jaime Torres Bodet was vital in building this museum and made sure that he brought together a team of visionaries to define the character and concept of the museum. They designed it in a way that the natural environment, gods, religion, politics, sociology, history, and culture of Mexico will be incorporated into the theme of each room.
Architect Pedro Ramírez Vázquez directed the design, use of space, and the construction in the museum. He was also part of the creation of the Museum of Modern Art, the Basilica of Our Lady of Guadalupe, and the Azteca Stadium.
The museum is organized as follows:
The Orientation of the National Museum of Anthropology
Introduction to anthropology which outlines the basics of this science and presents the evolution of man and his culture.
Intro to Mesoamerica highlighting the different pre-Hispanic cultures throughout time
11 Archaeological Rooms
10 Ethnographic Rooms
To create a more objective and diverse context for the exhibits, there was a need for replicating the pre-Hispanic buildings in the interior and exterior grounds. It was staged so that the visitor will be able to learn more about the life of the peoples of that time, with temples, murals, and houses replicated to reflect the environment of that specific period.
And the spectacular works of art in these walls gave voice to the many prominent Mexican artists and their craft. Guided by scientific studies, different artists were commissioned to do the murals around the many exhibits for both aesthetic and educational value.
Tips for Visiting the National Museum of Anthropology
Before visiting the museum, I would like to share some tips so you can have a better understanding and make the most of your time while you're at it. Whether you are a first time visitor to Mexico City or die-hard museum-lover, I think these tips will help you in one way or another.
You will do a LOT of walking in this massive museum. They say the halls here total 5.5 kilometers. So wear your comfortable footwear. It should be a good workout too.
Avoid visiting on Sundays because Mexican residents get free admission to this popular museum which means it gets super crowded.
Enjoy free guided tours at these hours: 10:30 AM, 12:30 PM, 1:30 PM, 3:00 PM, and 5:00 PM, Tuesdays to Saturdays only. Please ask for guided tours in Spanish, English, French, or Italian, although this is subject to staff availability.
You can go around Chapultepec Park to look for food and come back if you want to. But don't lose your ticket, otherwise, you'll have to pay again when you re-enter.
Enjoy several live or street performances in Chapultepec Park. You may even run across upon some of those famous flying acrobats on a towering pole. You really never know what you'll find in Chapultepec Park, although the most interesting are performances that portray the ceremonial practices of ancient tribes in Mexico.
I know that this museum can be overwhelming. It is huge and offers so much to see and experience. What I like about this museum that they were able to incorporate the exterior grounds as part of the exhibition. Yes, feel free to go outside and take a deep breath in the gardens or the courtyard.
If you would like to know more about the museum, they are part of the Google Art Project. You can experience a 360° virtual tour and explore the different collections. But hey, that might be a major spoiler for some!
8 Important National Museum of Anthropology Exhibits
You are probably wondering what makes this museum the most important museum in Mexico. What really is inside this museum that makes it different? Well, there's a lot to see, but as with any museum, there are a few highlights that you should try to prioritize during your visit. Here are a few of the best things to see at the National Museum of Anthropology in Mexico City.
El Paraguas
A gargantuan fountain welcomes everyone to the museum complex. In the internal courtyard, you will see the single-beam structure with water coming down from it. This is called El Paraguas or the Umbrella, which has become the symbol of the museum. Based on the concept of Jaime Torres Bodet, the column was done in concrete and reinforced aluminum by the Chavez Morado brothers.
This single pillar holds up a giant roof — making for a giant umbrella — that almost makes you question how it stands up. But don't worry, this installation has survived numerous large earthquakes.
What is more interesting in this structure is that the engravings on the pillar tell the "Image of Mexico." The work takes on a different message from each of its four points. The view to the east conveys the meeting of the indigenous people and the Spanish conquistadores. It also shows the most important pre-Hispanic Mexico symbols of day and night which is the eagle and the jaguar.
The view to the west is how Mexico projects to the western coasts with the expedition to the Philippine Islands, which was under the Viceroyalty of Mexico for many years. And the view to the north and to the south conveys symbols of the fight for their freedom and which corresponds to the three formative stages: Independence, Reformation, and Agrarian Revolution.
Aztec Stone of the Sun
The infamous Aztec Sun Stone or Piedra del Sol was unearthed in the main square of Zócalo in 1790 when they were building the Metropolitan Cathedral. It was first displayed at the National Museum of Cultures and was later transferred to this museum.
This massive 24-tonne stone masterpiece took several hours to be transferred to the museum. It measures 12 feet (3.7 meters) in diameter and 3.25 feet (a meter) thick. The Aztecs are known for their reverence to the Sun God and how the sun was connected in every way to their daily life.
The Aztec calendar is a dating system based on the Mayan Calendar. The face of the Aztec sun god Tonatiuh is in the center of the stone and surrounding it are the four panels honoring the deity incarnations of the four previous ages of the world. The outer part represents the 20 days of the Aztec month.
The Tomb of Pakal the Great
Be amazed by the replica of the original tomb of the famous K'inich Janaab Pakal I, the longest-reigning emperor of Palenque (68 long years!). He ascended the throne when he was 12 and lived on to rule until his death when he was 80 years old. His tomb was discovered in 1952 in Palenque (Chiapas).
The museum presented the replica tomb in a way that you are like entering Pakal the Great's Temple of Inscriptions. You will have to descend a flight of stairs.
And in this display, you will be able to see the elaborate jade funerary mask and beaded articles found on the great emperor in this tomb.
Jade Mask of the Zapotec Bat God
Found in the ruins of the pyramids of Monte Alban, this ancient jade mask of the Zapotec Bat God was discovered when several archaeologists were excavating a tomb. This rather sinister mask is undoubtedly beautiful, made with 25 pieces of jade and shell fragments.
You may wonder, why bats? Bats were highly regarded in the Zapotec civilization and the wider Mesoamerican civilizations as related to the sacred world of the dead. Bats inhabit caves, tombs, cenotes, and temples and they were believed to be spirit ancestors from the underworld. Learn more about the Zapotec Bat God at the Oaxaca exhibit room at the museum.
Ceremonial Headdress of Aztec Emperor Moctezuma
Moctezuma II was widely known as the Aztec ruler who became the puppet ruler during the Spanish conquest. This ceremonial headdress was believed to have been his. What makes this special is how grand it was in size and the attention to detail and materials were exquisite.
Sewn with gold thread, it is made from peacock blue, green quetzal feathers and many other colorful feathers from some other birds. This is said to be a replica only and that the original has found its way to Vienna.
Olmec Stone Heads
There mysterious colossal heads were found in the towns of Tabasco and Vera Cruz. But these stone heads can also be found in other towns in Mexico, as well as Guatemala. Most of them were buried as early as 900 BC so it can be said that they were made earlier than that. In the museum, they are all displayed in the gardens.
The Olmecs were known to have made them through systematically shaping and finishing them. The Olmecs were considered to be the first people to have advanced in Mesoamerica between 1500 BC and 400 BC. As of today, no one has uncovered what they were for.
The Exteriors
If the exhibition halls are kinda overwhelming, step out into the gardens of the museum and you will get to experience the different stories told by the staging of the temples and stone heads. There are also native huts representing the dwelling places of the early indigenous peoples of Mexico.
The central courtyard presents another surprise. Here you can find a bronze shell sculpted by Iker Larrauri. Called "The Sun of the Wind", this beautiful sculpture is made to mimic the sounds made by pre-Hispanic musical instruments when the wind passes through.
Second Level
There are more interesting pieces that represent the present daily life of Mexico's indigenous peoples exhibited on the second level. Pottery, woven baskets, and artifacts, ceramics, traditional costumes, thousands of ethnographic objects can be found in these 11 rooms.
Although the highlight of the museum is generally the ground floor and gets less interesting as you move up. So if you're limited on time or quick to tire, focus on the ground floor first.
How to Get to the Anthropology Museum and Other Info
How to Get to National Museum of Anthropology Mexico:
Metro Auditorium (Line 7) and Chapultepec Metro (Line 1)
The museum is approximately 1.3 km away from the metro stations.
Schedule:
Tuesday to Sunday – 9 AM to 7 PM
Mondays – Closed
Prices:
General Admission – $ 75.00 MXN or $4.00 USD
Free Admission – for nationals over 60 years old, children under 13, people with disabilities, teachers, and students (present ID)
Free Admission on Sundays – for national public and foreigners residing in Mexico (present ID/FM Documents)
Location and Contact Details:
Address: Av. Paseo de la Reforma and Calzada Gandhi s / n Col. Chapultepec, Polanco. Del. Miguel Hidalgo, CP 11560, Mexico City, Mexico.
Contact numbers: Museum Reporting Module +52 (55) 5553-6266 ext. 412309, Museum Box Office +52 (55) 5286-1743 ext. 412322
Email Address: attention.mna@inah.gob.mx
Get your tickets here through their Official Website so you can skip lines.
More About Mexico City
The National Museum of Anthropology Mexico is just one museum from the more than 150 museums in Mexico City alone. Don't forget to check out my guide to the best museums in Mexico City so that you can also take a look at the other major museums while you are in the city (there are a few great ones in Chapultepec alone).
There is so much to see, do, eat, and experience in Mexico City, making it one of my favorite destinations in all of North America. Just be sure to check out my guide to the best things to do in Mexico City. Beyond Mexico City, you can still find many surprises throughout this beautiful country, whether you're visiting Oaxaca, Cancun, Tulum, or Tequila.
Traveling to Mexico City soon? Be sure to book your room from Booking.com now to save, but first check out my guide on where to stay in Mexico City and the best Mexico City hostels. If you are staying on for a few weeks, then, I'd highly recommend looking into Airbnb units. Also don't forget to purchase travel insurance for Mexico to protect yourself against theft, sickness, and injury. I use and recommend World Nomads for the best combination of affordability and coverage.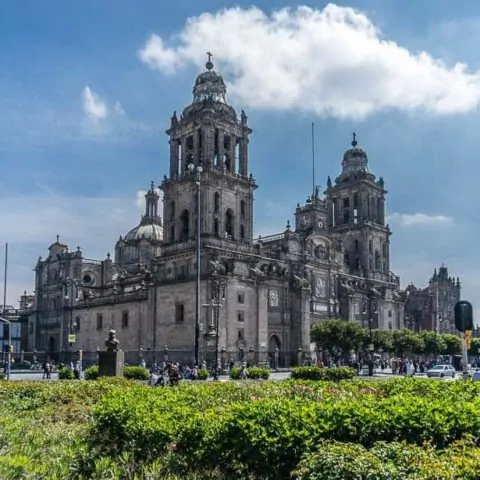 Mexico Travel Tips
Important tips and resources for planning an amazing trip to Mexico, based on my extensive experience traveling across the entire country.
Tools
Instructions
Book a cheap flight to Mexico with Momondo, or better yet, start travel hacking so you can fly for free.
Plan a rough itinerary and how long you will spend in each destination. Pick up Lonely Planet Mexico to help with this.
Work every day to teach yourself Spanish, you want to know as much as possible before you arrive.
Book your cheap accommodation in advance, at least for the first destinations -- For hostels use: Booking, for cheap hotels use: Hotels.com, for apartments use: Airbnb.
Reserve your on the ground tours and activities through Get Your Guide.
Purchase travel insurance for Mexico with World Nomads to protect yourself from illness, injury, and theft while in Mexico.
Check out my comprehensive guide about traveling to Mexico with information on cities, things to do, places to see, and more.
Learn more money saving tricks with my top budget travel tips if you want to get more bang for your buck.
Put together your Mexico packing list.
Enjoy this incredible country!
Notes
I hope this helped you plan your travels in Mexico! I know it can be a struggle to find accurate and on the ground information when traveling to a new place like Mexico, which is why I started writing so extensively about it!
If you have any questions about Mexico, budget travel, or anything else shoot me an email at ryan@desktodirtbag.com.
(I love getting questions! That is how I get ideas for my blog posts and what to write about!)
Recommended Products
As an Amazon Associate and member of other affiliate programs, I earn from qualifying purchases.
Share This
Did you enjoy this free guide of the National Museum of Anthropology in Mexico City? Then take a moment to share it on Facebook, Pinterest, or Twitter. Thanks!
The following two tabs change content below.
Desk to Dirtbag is one of the leading budget adventure travel blogs online and is dedicated to helping its followers achieve their travel dreams through inspiration, information, and actionable steps. If you are new to the site, be sure to
Start Here
.
Latest posts by Desk to Dirtbag (see all)