This article may contain
affiliate links
. If you make a purchase through these links, I will earn a commission at no extra cost to you. Thanks!
When you are planning on visiting Mexico City for the first time (or even for the fifth time!), it can be an almost overwhelming experience trying to decide what to do, where to go, where to stay, how to stay safe and avoid problems, and so forth. Mexico City is a massive metropolis… The second-largest in the western hemisphere, second only to Sao Paolo, and even larger than New York City in terms of population.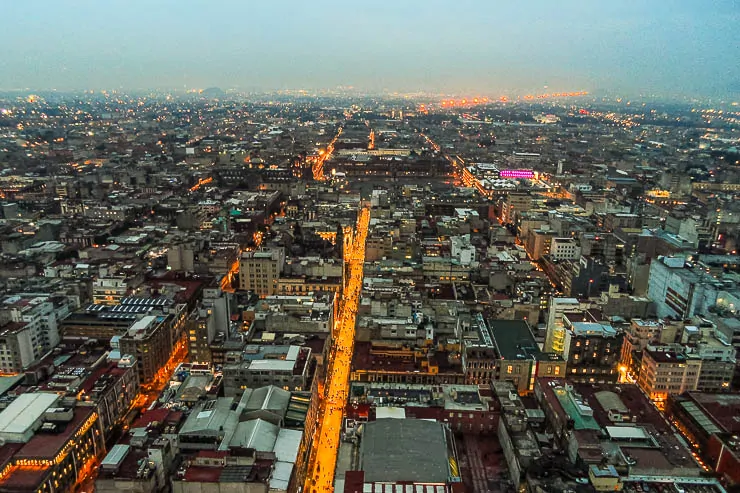 Yet despite the sheer scale and sometimes chaos of a megalopolis like this, Mexico City was a place that instantly captured my heart. And I was one of those people who wondered is Mexico City worth visiting before going… Honestly, I had planned to skip it, but I'm so glad I didn't!
For a long time it was my favorite city in all of Latin America until it was recently edged out by Buenos Aires, but still, visiting Mexico City is one of my top recommendations for anyone traveling to Mexico, so I'm glad to hear that you are planning a trip to Mexico City, Mexico and hope that this travel guide will help you out.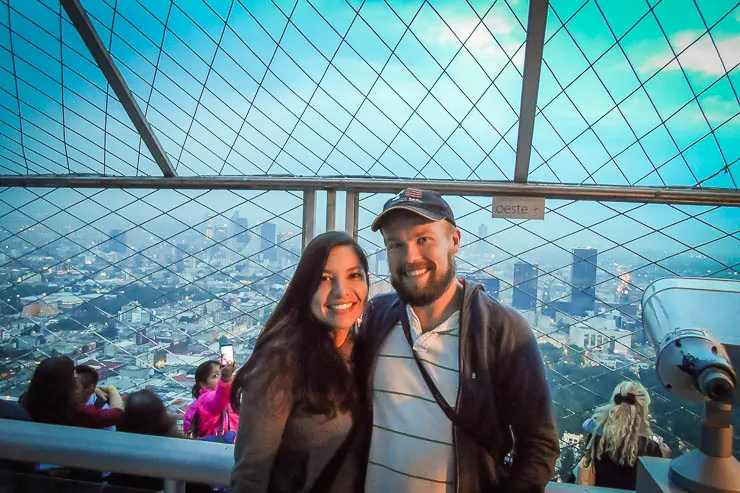 These are the sorts of things I wish I had known before visiting Mexico City for the first time and will certainly help you maximize your stay in one of the world's most incredible cities.
Let's get on with the travel tips for Mexico City…
If you're in a hurry and don't have time to read these travel tips (or just want a copy for later), enter your email address to get this article in your inbox along with some other amazing resources to help you save money and plan a better trip to Mexico City: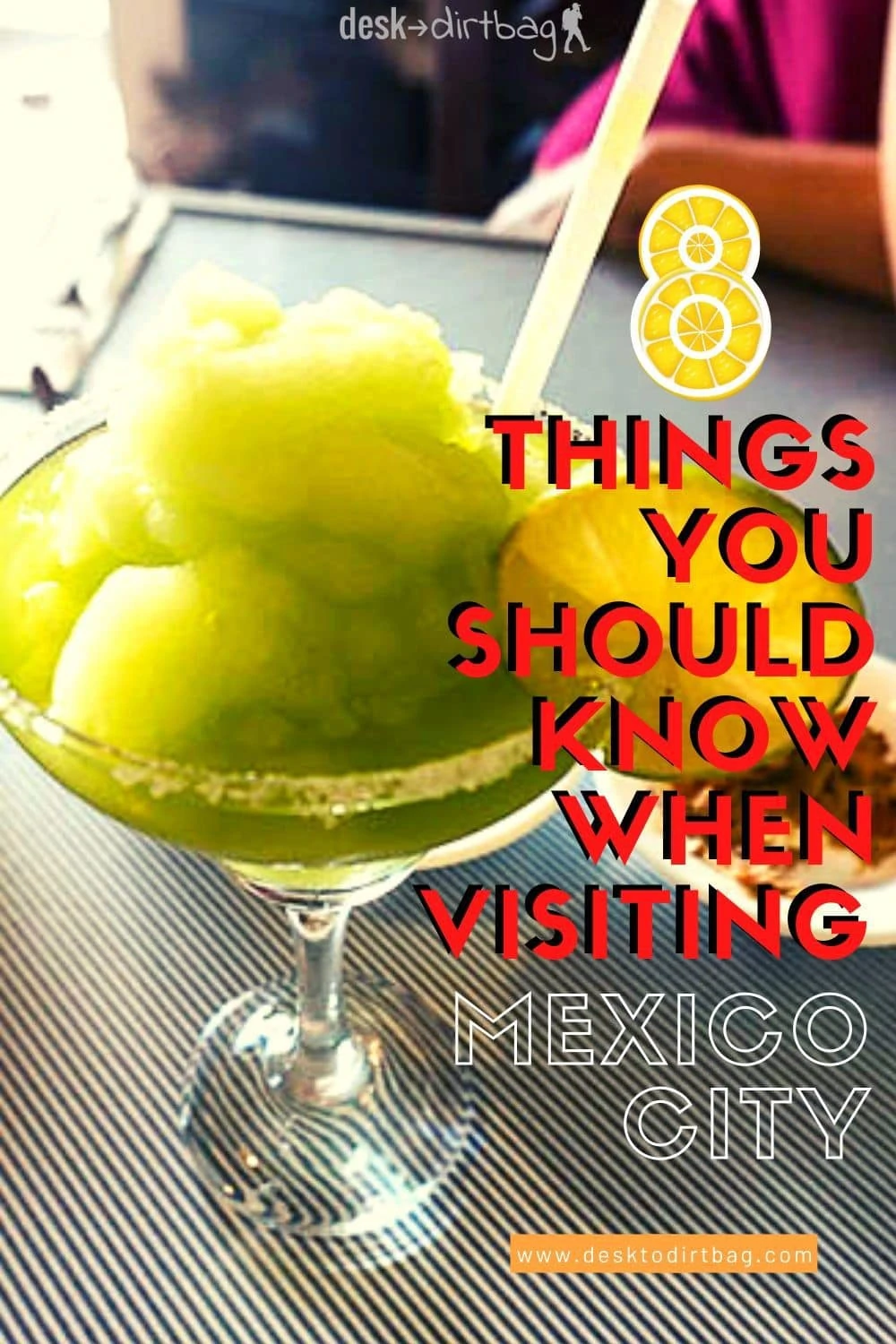 Where to Stay When Visiting Mexico City
I'm assuming you've already booked your flights or made other travel plans, so we won't discuss how to save money on that aspect. Your next major step before visiting Mexico City is determining where you will stay during that time.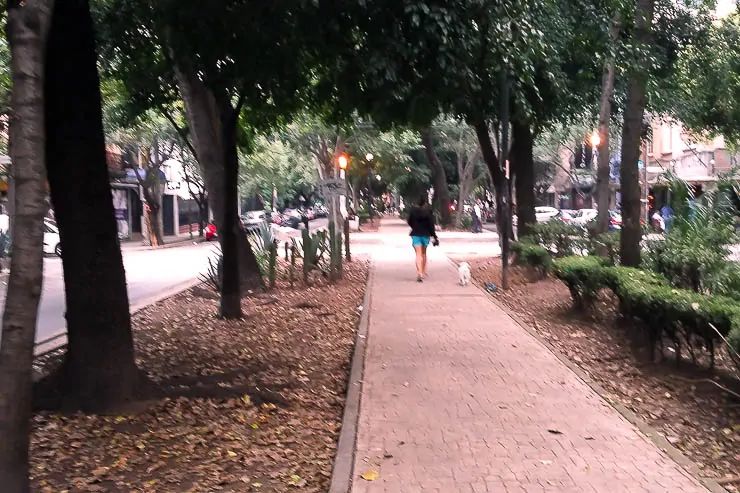 As I said, Mexico City is massive, so determining what neighborhood you stay will also kind of guide almost every other aspect of your trip in terms of an easily traveled radius.
Some of the top neighborhoods for foreigners are La Condesa, Roma, Coyoacan, the Centro Historico, the Zona Rosa (part of Colonia Juarez), and Polanco. For a more detailed description of each neighborhood, please see my guide about where to stay in Mexico City for more details.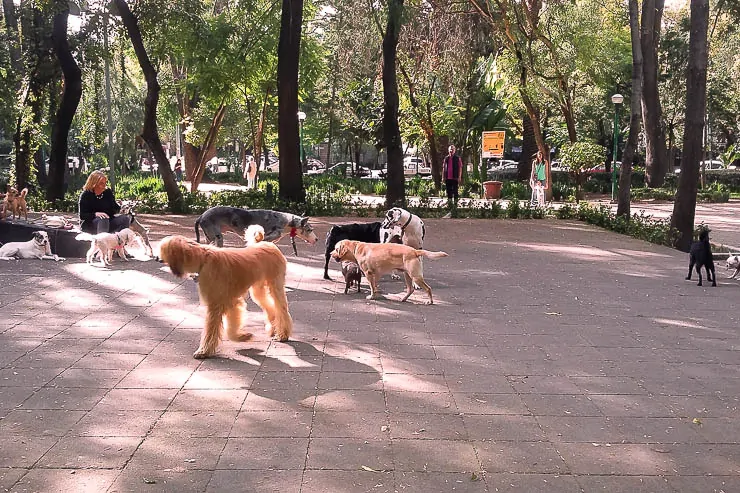 Every neighborhood has its pros and cons but my top recommendation would be to stay in either Condesa or Roma — these areas are some of the safest, most interesting, and coolest parts of the entire city. You will never be left wondering where to eat or explore, and it is a great location as a home base because you can easily head out from there to explore other zones of the city.
Of the two, Condesa still remains my absolute favorite, and the closer you can stay to the Hipodromo, the better. Here are my best recommendations for where to stay in La Condesa for every budget:
Best Hostel in Condesa:
Hostal Be Condesa or Gael Condesa
Best Budget Hotel in Condesa:
Hotel Roosevelt
Best Mid-Range Hotel in Condesa:
Hotel Parque Mexico
Best Luxury Hotel in Condesa:
Casa Malí by Dominion Boutique Hotel
You can also check out my guide to the best Mexico City hostels if you're on a budget and interested in staying in one of the other vibrant neighborhoods in Mexico City.
If you are coming to Mexico City for a longer stay, then I would recommend looking to Airbnb for a better deal. New users can get a discount for their first stay!
Be sure to also read my guide to finding cheap accommodation for expert advice on getting a good price.
Getting Around Mexico City
As I said, Mexico is massive, this means that getting around in Mexico City can eat up huge chunks of your time if you are going by street level. The quickest way to get around Mexico City is definitely the subway or metro system. Not only is it fast but it also super cheap!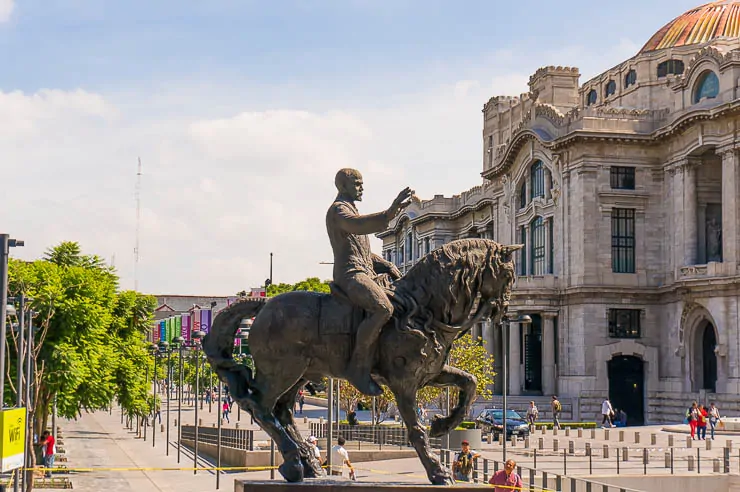 Mexico City Metro: You may have concerns about safety on the Metro, but the system is as safe as any other big city metro system around the world… That means you should be careful of pickpockets by keeping your phone and wallet in your front pocket. If it gets really crowded or you are exiting a platform, I usually stuff my hand in my pocket as well.
Snatch and grabs are uncommon but they can happen. If you have a purse or bag, be sure to always keep it in front of you rather than on your back or stashed to your side where it is out of sight.
Taxis in Mexico City: I don't recommend taxis in general, as they are expensive and often suspect in terms of scams or outright working with thieves. Uber is a better option if you insist on going by street-level (it does offer better views compared to the subway, of course). You will find the prices to be as cheap or cheaper than a taxi. If you do rely on taxis, use an app like EasyTaxi.
Bike Share: Another option is EcoBici bike share in Mexico City… While Mexico City traffic can be horrendous, that does usually mean that traffic is moving slowly and I did notice that drivers here are at least more conscious and considerate of pedestrians and bicycles compared to most of Latin America.
Getting from the Airport: If you're trying to get to your lodging from the Mexico City International Airport (Benito Juarez Airport), then I would personally recommend using a van shuttle service. It's safe, it's easy, even if it is a little slow sometimes. Your next best bet would be Uber in this case.
Reserve Your Mexico City Airport Shuttle Here.
Do You Need Spanish in Mexico City?
Outside of Mexico's most popular tourist towns (like Cancun) and some border areas, you'll find that Mexico City has perhaps the best accessibility to non-Spanish speakers.
So, do you need Spanish in Mexico City? No, you could manage without. Usually, you will find somebody close by who speaks some English and can help you out. But almost every frequent traveler has found themselves in situations where they don't speak the language and we still get around just fine through non-verbal communication or apps.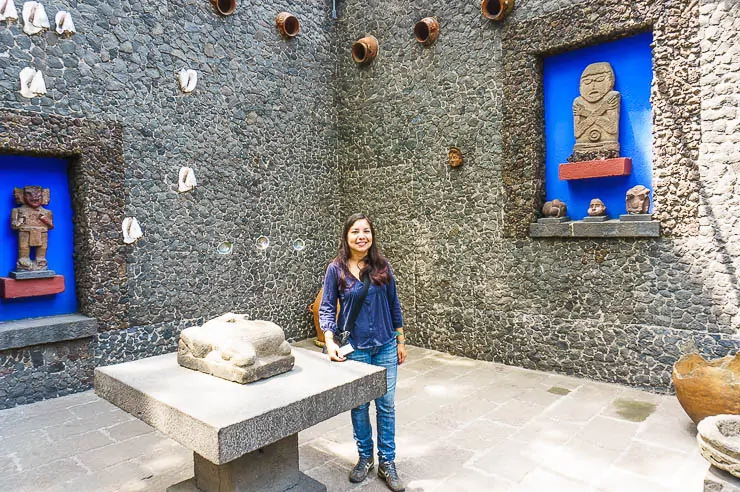 That being said, you should absolutely try to learn as much basic Spanish as possible before you arrive. Your trip will be much better and it will open a whole new world to you. Believe me, there are still lots of people in Mexico City that don't speak a word of English.
The Michel Thomas Spanish audio course is my #1 recommendation for learning Spanish quickly and on your own. It is like the 80/20 guide to getting you functional in Spanish.
Check out my other favorite resources for learning Spanish.
Don't Drink the Water?
Ah yes, Mexico and Montezuma's Revenge. If there is one thing almost everyone has heard, it is "Don't Drink the Water!" Unfortunately, this isn't exactly a misguided stereotype. Water quality in Mexico City has supposedly improved but even the locals don't drink the water here.
What I do when traveling through places with suspect water quality is to use a Steripen UV filter to kill all the bad stuff. It is a popular thing with backpackers and campers but works just as good for questionable tap water. As a result, I can reduce my plastic use, consumer local water, and save money.
Drinking Water at Restaurants: In terms of eating out in restaurants, you can save money by asking for agua de garrafon which is from big jugs of filtered water that virtually any decent sit-down restaurant should have. If you don't ask specifically for this, they will more often bring you an individual plastic bottle of water (which also costs a lot more)!
Ice: Any reputable bar or restaurant will use ice that has been made with filtered water, so you shouldn't be concerned about getting a cocktail or coke with ice cubes unless it is a totally sketchy place then you might ask for "sin hielo" without ice.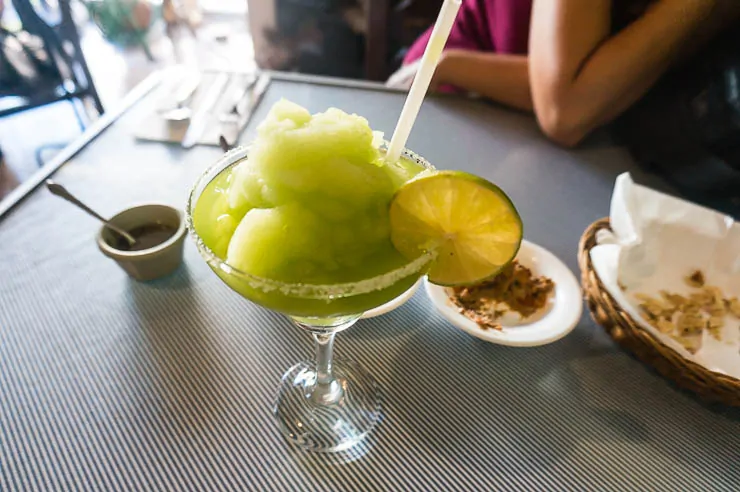 Fruits & Vegetables: Another common concern is eating fruits or vegetables that have been washed with tap water… Again, any decent or reputable restaurant in Mexico City will ONLY use treated water (either filtered or treated with drops) to wash produce that will be consumed raw like in salads or so forth. So you shouldn't be too worried about eating that salad.
Buy the Steripen Before You Go.
Weather & Seasons (Don't Forget the Jacket)
When people think of Mexico, they think sun, sand, and beaches. Either fortunately or unfortunately, that isn't the case in Mexico City. It's important to remember that Mexico City sits above 2,200 meters or 7,200 feet, making Denver look like chump change (it's one of those interesting Mexico City facts that many people don't realize).
While the altitude isn't quite as extreme as many other capital cities of South America, it is still quite high for most sea-level dwellers.
At the least, you will probably feel the effects of altitude upon arrival and be breathing a little heavier. At worst, you might suffer from headaches if you are someone more susceptible to altitude sickness. If so, drink lots of water, take some over the counter meds, and plan a light schedule for a day or two.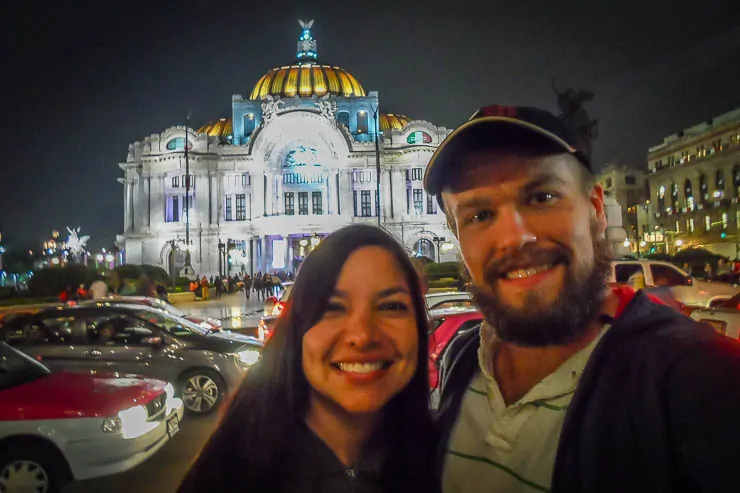 Beyond that, the altitude affects how to dress when visiting Mexico City because the most noticeable aspect is the temperature changes here. The daytime temps in Mexico City are quite nice, in my opinion, with an average temperature of 71 F (22 Celsius) in January or an average of 80 F (27 Celsius) in May.
The temps can get somewhat chilly at night though, which is why you should definitely bring a jacket or light sweater. In January the average nighttime low is 41 F (5 c) and in June it is 55 F (13 C).
Basically, it is like perfect day time temps while being cool but not crazy cold at night. It has some of the best weather really. Keep in mind that the dry season is December to March and the rainy season is June to September.
Handling Your Pesos
Some people recommend taking out a lot of pesos at once in order to avoid bank transaction fees, which on the surface sounds like okay advice, but it isn't so great. Taking out large wads of money anywhere in Latin America is definitely a bad idea as it is like an invitation for potential theft or robbery.
Better advice would be to get a travel-friendly bank account that doesn't charge for ATM withdrawals and even reimburses you for transaction fees charged by other banks. That's what I have with Charles Schwab and they save me hundreds of dollars, quite literally, and allows me to withdraw smaller chunks of cash as needed.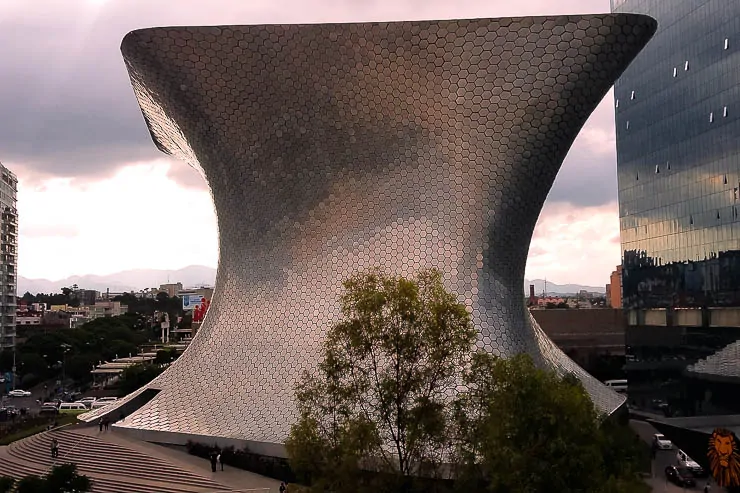 Read about how I manage the travel banking fundamentals including how I stay safe to avoid thefts and robberies, answering questions like do you need a money belt?
You will also find a growing acceptance of credit cards in most mid to large size business, so if you get a credit card with no foreign transaction fees, like the Chase Sapphire, you will be better off still since you can earn points toward future travel… Travel hacking (especially for those of you from the United States) is my #1 big tip to save money on your travels as it has given me numerous free flights and free nights in hotels.
You may be asking yourself what is travel hacking if you haven't heard of it before and be sure to check out the best travel credit cards!
Read my Travel Hacking 101 guide.
Coordinating Your Activities
The theme here is that the Mexican Capital is massive, right? This means that you need to place extra emphasis on properly coordinating your activities each day. It would be a terrible idea to try and squeeze in Polanco, the Centro Historico, and Coyoacan in a single day just because you'd lose more time going from place to place than you would in seeing each place.
Because of this you should try and group or cluster your activities into certain neighborhoods or zones within the city. Maybe Chapultepec with Polanco in one day, one day devoted to the Centro Historico and some of the amazing museums, like the National Museum of Anthropology Mexico, and another day in Coyoacan with the Frida Kahlo Museum and capped off in Xochimilco (the so-called Venice of Mexico).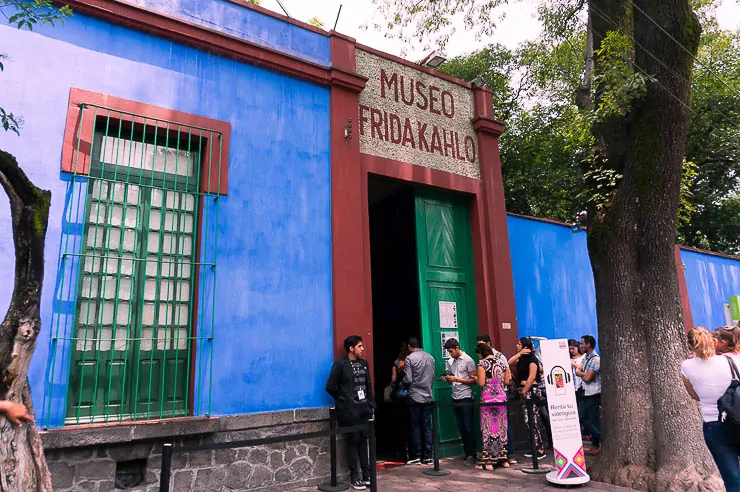 There is an almost endless source of things to do in Mexico City, which I'm sure you've already gotten an idea of, but I'd also highly recommend organizing a few tours or guided activities to make your trip to Mexico City even more informative, memorable, and enjoyable.
The absolute #1 tour you should do is a visit to Teotihuacan which is where the ancient pyramids are located just outside of the city. A guided tour makes for the easiest way to do it, but you can also get there by public transportation, of course, if your budget is tighter.
Book the Teotihuacan, Shrine of Guadalupe & Tlatelolco Day Tour
Another top choice would be a full-day tour that will combine the tourist attractions of Frida Kahlo's Casa Azul (the museum), Xochimilco and Coyoacan, which will bring you to a few areas that are located kind of far out along the southern stretch of the city, away from the main areas of interest or where I recommend you stay above.
Book the Frida Kahlo's Casa Azul, Xochimilco & Coyoacan Full-Day Tour
Finally, while everybody knows about tacos and burritos, Mexican food is so much more than that… There is a long and storied gastronomic tradition throughout the country, dating back to pre-Hispanic times. What better way to make that come alive than a food tasting tour?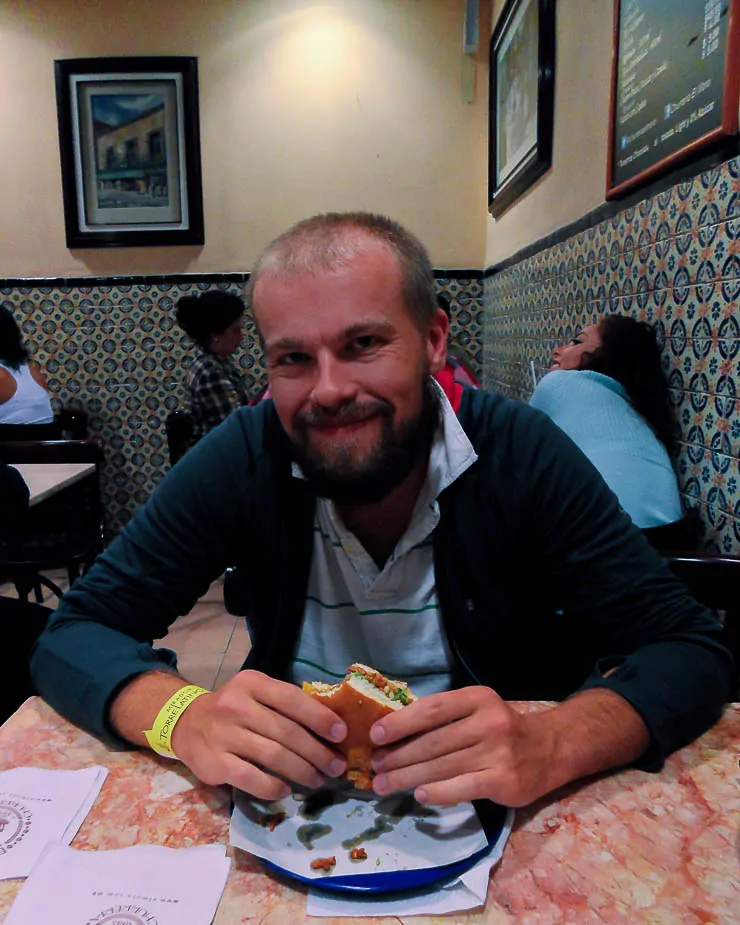 Mexico City is not only one of the world's greatest street food (check out a street food tour too!) destinations, but it is also a melting pot for the many different regional Mexican cuisines and a gastronomic foodie paradise.
Doing a food tour is the best way to introduce you to a range of foods and tastes that go beyond the stereotypical… Highly recommended!
Book the Mexico City Historic Center Food Tasting Walking Tour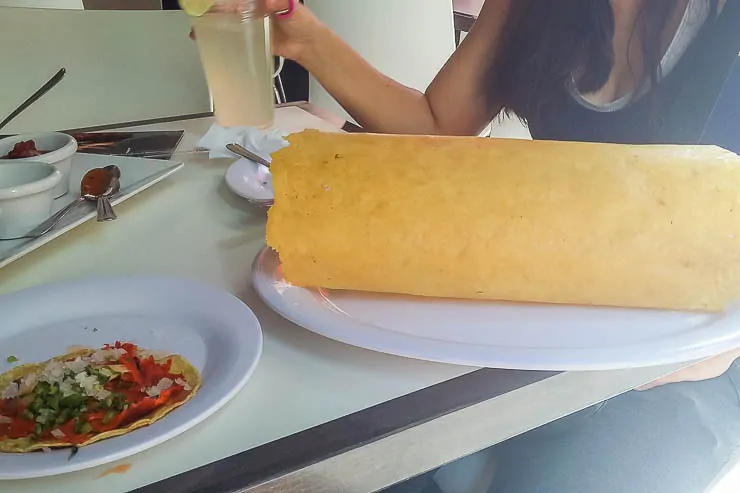 Without a doubt, there are some awesome activities and tours to keep you busy among the numerous Mexico City tourist attractions.
Check out some more of the best Mexico City tours here.
Is Visiting Mexico City Safe?
Finally, many people wonder whether or not Mexico City is safe… The short answer is yes, Mexico City is safe although you should exercise some street smarts here like any big city around the world.
The average tourist is not likely to find themselves in harm's way. On the whole, Mexico City is quite safe, all things considered, and it does NOT suffer from the instability or travel warnings you hear about other regions in Mexico due to the drug trade.
But there is petty crime here, like any big city, so you should always be wary of showing valuables too openly, not being careful of your pocket/purse/backpack, or be very cautious of walking through unknown areas after dark.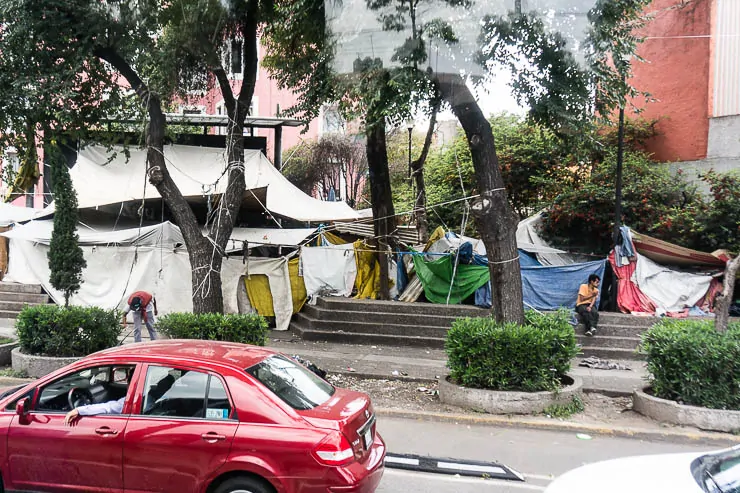 After having traveled throughout basically all of Latin America now, I can honestly say that Mexico City stands out as feeling pretty safe, especially given the sheer size. Be careful with taxi drivers though, and be wary of anyone who approaches you on the street speaking English as that is often the sign of, at best, inflated prices, or at worst, some sort of scam.
But then again, I remember a guy eagerly approaching me in the Zocalo who wanted to practice his intermediate English… He walked with me for a few blocks and I kept waiting for his sales pitch, but it never came.
Regardless, I still recommend to everyone traveling overseas that they get some type of travel insurance to cover their butts in case of illness, injury, or theft. God forbid you take a tumble while descending from the top of the Teotihuacan Pyramids or get a nasty stomach bug from eating at a sketchy food stall, or get your luggage stolen out of your hotel or hostel.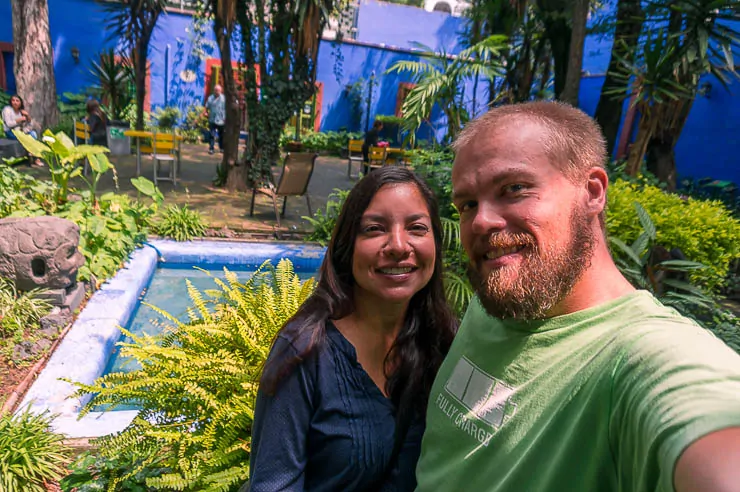 That's why I personally use and recommend World Nomads Travel Insurance, to protect against just that sort of thing. It offers the best combination between price and coverage… Get a custom quote for your trip here:
I'm 99% sure you will have an awesome and unforgettable visit to Mexico City, but it's good to protect yourself against the 1% in case something goes wrong. Be sure to purchase travel insurance with World Nomads (you can even do so if you forgot and are already in Mexico).
I've written more extensively about whether or not you need travel insurance for Mexico (short answer, yes, but read it for more details).
Visiting Mexico City
So there you have it, a few of my top tips for visiting Mexico City and planning a better trip. I hope that proved helpful to you. If you haven't yet, be sure to grab a copy of this article in your email along with a series of other helpful quick tips that will ensure you get the most out of your trip to Mexico City, whether you are visiting for a few days, a few weeks, or even a few months.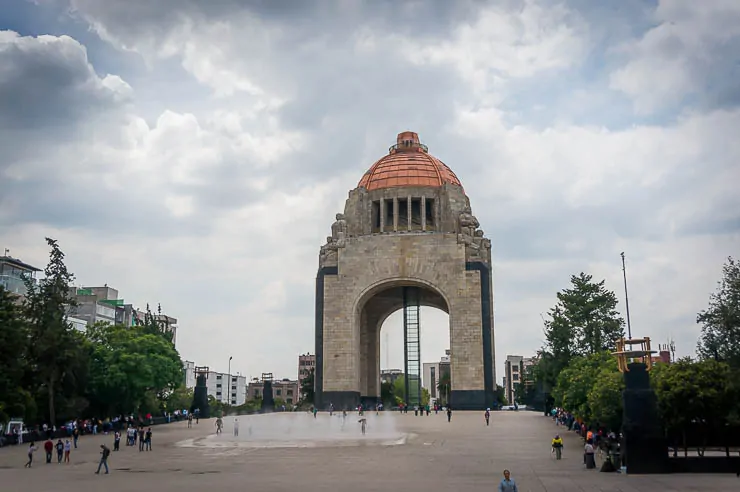 Returning to Mexico City again remains high on my list, as I'm sure it will be for you too. If this was helpful, remember that booking your lodging or purchasing other services through my links will provide a small commission for me, at no extra cost to you — thanks!
Traveling to Mexico City soon? Reserve your room on Booking.com now to save, and don't forget to purchase your travel insurance with World Nomads to protect against illness, injury, and theft.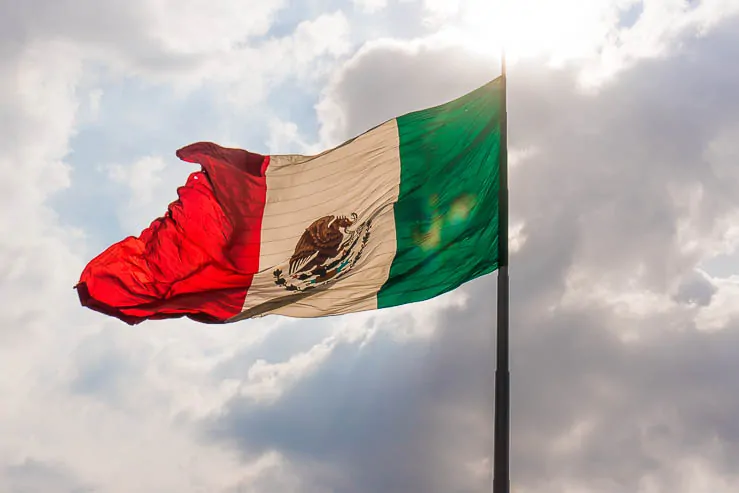 Finally, don't forget to grab a copy of this to your email along with lots more about how to get the most out of your trip: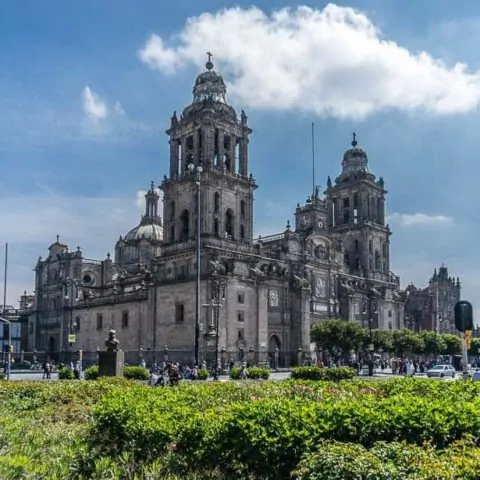 Mexico Travel Tips
Important tips and resources for planning an amazing trip to Mexico, based on my extensive experience traveling across the entire country.
Tools
Instructions
Book a cheap flight to Mexico with Momondo, or better yet, start travel hacking so you can fly for free.
Plan a rough itinerary and how long you will spend in each destination. Pick up Lonely Planet Mexico to help with this.
Work every day to teach yourself Spanish, you want to know as much as possible before you arrive.
Book your cheap accommodation in advance, at least for the first destinations -- For hostels use: Booking, for cheap hotels use: Hotels.com, for apartments use: Airbnb.
Reserve your on the ground tours and activities through Get Your Guide.
Purchase travel insurance for Mexico with World Nomads to protect yourself from illness, injury, and theft while in Mexico.
Check out my comprehensive guide about traveling to Mexico with information on cities, things to do, places to see, and more.
Learn more money saving tricks with my top budget travel tips if you want to get more bang for your buck.
Put together your Mexico packing list.
Enjoy this incredible country!
Notes
I hope this helped you plan your travels in Mexico! I know it can be a struggle to find accurate and on the ground information when traveling to a new place like Mexico, which is why I started writing so extensively about it!
If you have any questions about Mexico, budget travel, or anything else shoot me an email at ryan@desktodirtbag.com.
(I love getting questions! That is how I get ideas for my blog posts and what to write about!)
Recommended Products
As an Amazon Associate and member of other affiliate programs, I earn from qualifying purchases.
Share This
Did you enjoy these tips for visiting Mexico City? Please take a second to share it on Pinterest, Facebook, or Twitter.
The following two tabs change content below.