This article may contain
affiliate links
. If you make a purchase through these links, I will earn a commission at no extra cost to you. Thanks!
If you're visiting Mexico City for the first time, then you're not going to want to miss visiting downtown Mexico City, aka the Centro Histórico. There are a lot of things to do in Mexico City, but there's no better place to spend a whole day than the Historic Center. Life in the Historic Center of Mexico City centers around El Zócalo, and there's no shortage of restaurants, museums, and historic monuments to experience while you're in the area.
Honestly, Mexico City is one of my favorite cities in all of Latin America, offering up so much within its sprawling borders from the arts, culture, history, and so much more. No matter which of the best neighborhoods in Mexico City you're staying in, definitely plan on coming to the Centro Historico for a day trip and experience the heart and soul of Mexico City where everything is within walking distance.
Let's get on with our guide to the historic center of Mexico City, what to see and do, and where to go.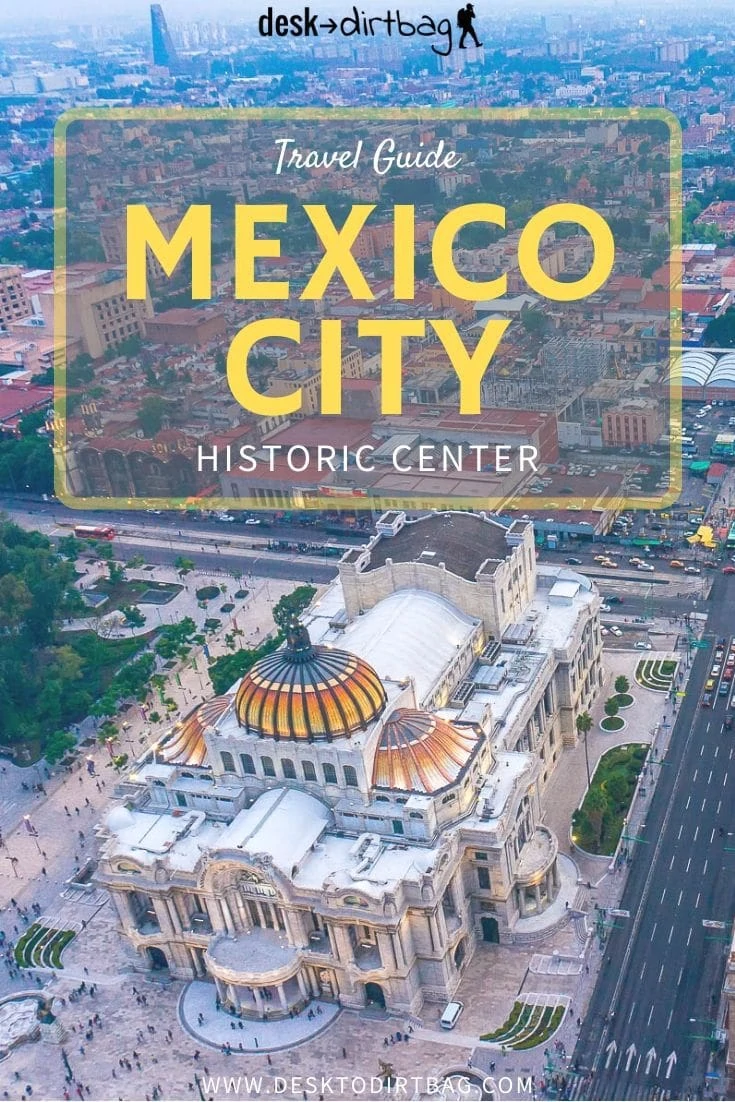 The Best of the Historic Center of Mexico City
The Historic Center of Mexico City is a hotspot for locals and travelers. Packed with significant sites and almost always bustling with activity, here are the Historic Center's must-see attractions if you don't have much time to spend in the area or are just looking to fill your day.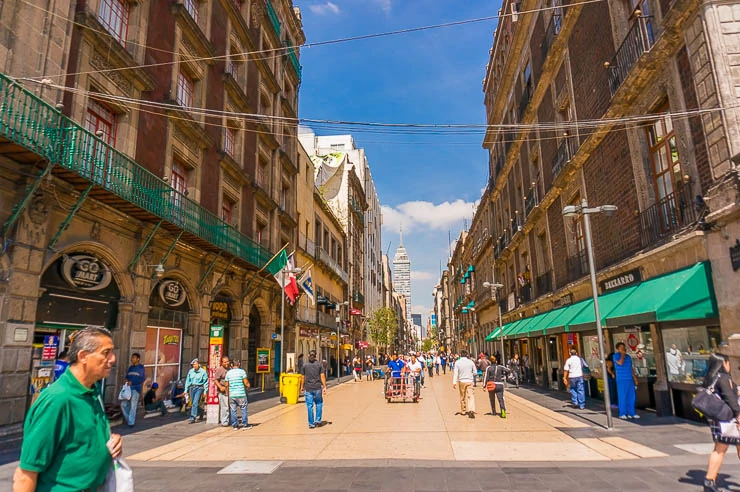 El Zócalo
El Zócalo is the main square and vibrant centerpiece of the Historic Center. This is basically the heart of Mexico City. Whether you attend one of the many events that take place here, or you just want to sit and people-watch for a while, the square is an excellent venue to sit with some Mexican street food or a cup of coffee.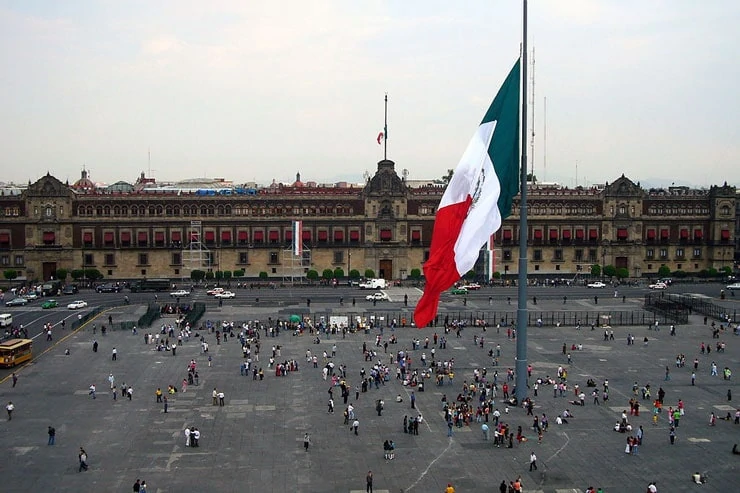 Here you will find a number of important landmarks bordering all sides of the Zocalo, which we'll be discussing individually.
One of the best views of the Zocalo is to head up to an awesome rooftop bar or restaurant to enjoy a meal or drink as you overlook this mammoth central square.
Templo Mayor
Templo Mayor is all that remains of Tenochtitlan's main temple which was the Aztec city which once laid here. The ruins are located just steps away from the main square and are well worth checking out.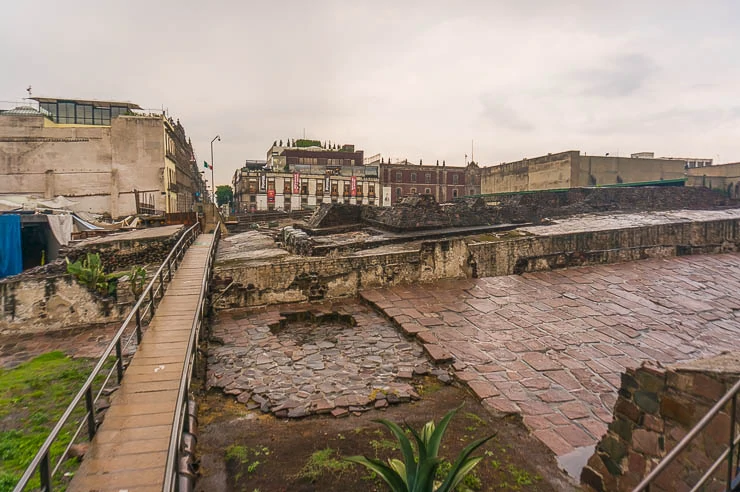 The onsite museum explains the rich history held within the temple walls through fascinating artifacts that give visitors a glimpse into the religious life of the Aztec people. New artifacts are still being discovered, so there's always something new and exciting to admire at Templo Mayor.
This is certainly one of the most important and best museums in Mexico City that you shouldn't miss.
Palacio de Bellas Artes
As one of Mexico City's most recognizable landmarks or attractions, Palacio de Bellas Artes stuns visitors with its architecture and hosts breathtaking art exhibitions, as well as music and dance performances year-round. Theatre, opera, and of course, ballet shows take place at this gorgeous cultural center. The Museo Nacional de Arquitectura is also housed within the Palacio de Bellas Artes.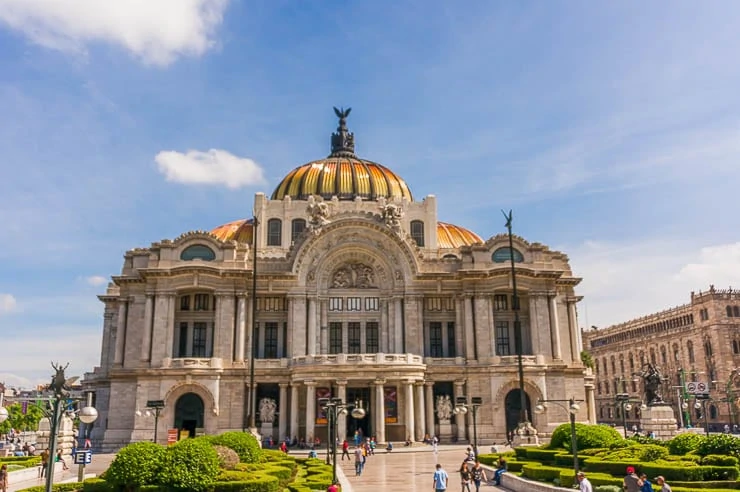 If you have an evening to spare, you won't regret taking the time to enjoy one of the center's stunning performances. If you can't catch a show, you can admire the hodgepodge of architectural styles that make up this magnificent structure or stop in for one of the rotating art exhibits. We visited the Palace of Fine Arts during an incredible exhibit of Leonardo da Vinci which took me right back to my days in Florence, Italy.
This incredible piece of art nouveau architecture was built in 1934, about 30 years after construction initially started due to numerous starts and stops, namely because of the Mexican Revolution from 1910-1920.
Alameda Central
If you find yourself wanting to trade the bustling main square for a slightly more peaceful respite amid a bit of nature, you can enjoy the scenery at Alameda Central. This landscaped park is the perfect place to enjoy a post-lunch cup of coffee or morning stroll. Hang out by the fountains and spend a few minutes admiring the gorgeous nature at this park just adjacent to the Palacio de Bellas Artes.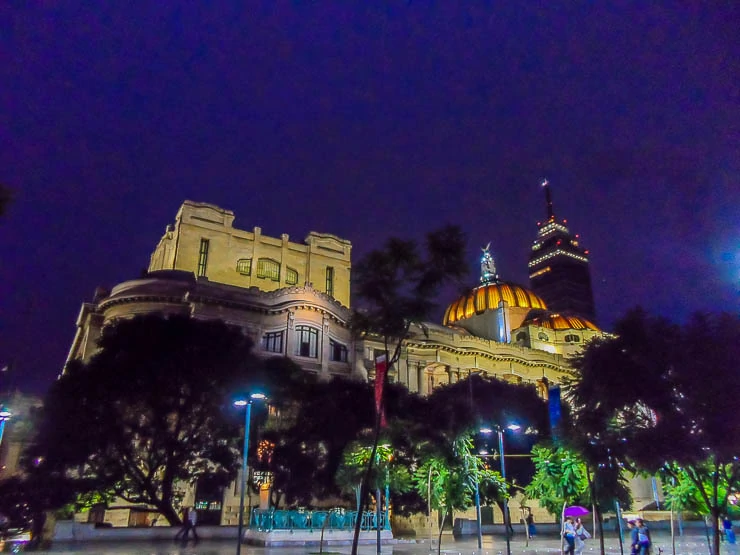 Make sure to stop in at the nearby Cafe Don Porfirio which offers the best head-on view of the Palacio de Bellas Artes. This is a great place for a snack and some coffee with a bit of photo-snapping.
Torre Latinoamericana
If you want the best view of Mexico City's Historic Center, then the viewing platform at Torre Latinoamericana can't be beaten. This famous skyscraper looks out over the Mexico City skyline and offers an excellent vantage point for warm, orange-pink sunsets. I recommend coming a little before sunset to take in the view during daylight and then see the city lights at night.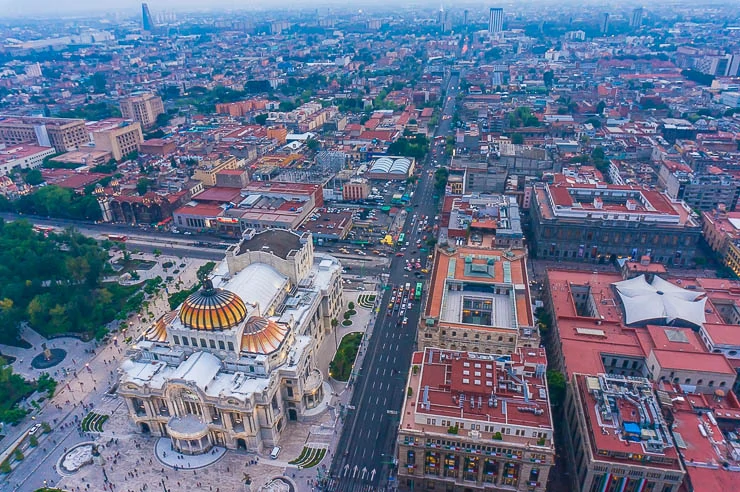 For a budget travel hack, you can avoid the entrance fee to the observation deck and tell them you're going to the bar. You can use that ticket price to buy a drink here and enjoy one of Mexico's prettiest scenes.
While there are taller buildings in Mexico City now with more modern development, the viewing platform here is still probably the best thanks to its location in the heart of the city.
Grab a Drink
Mexico City's Historic Center offers plenty of bars where visitors can bump elbows with the locals and get to know them over a round of tequila. Cocktail lovers can pull a chair up to the wooden bar at Zinco Jazz, and history buffs will sit in awe of the infamous bullet hole in the roof of La Opera, a mark left by none other than Pancho Villa.
Enjoy the Best Restaurants in Downtown Mexico City
It's easy to get overwhelmed by all the delicious dining options in the Historic Center. There are so many great establishments to enjoy, you may have to make room for more than three meals a day!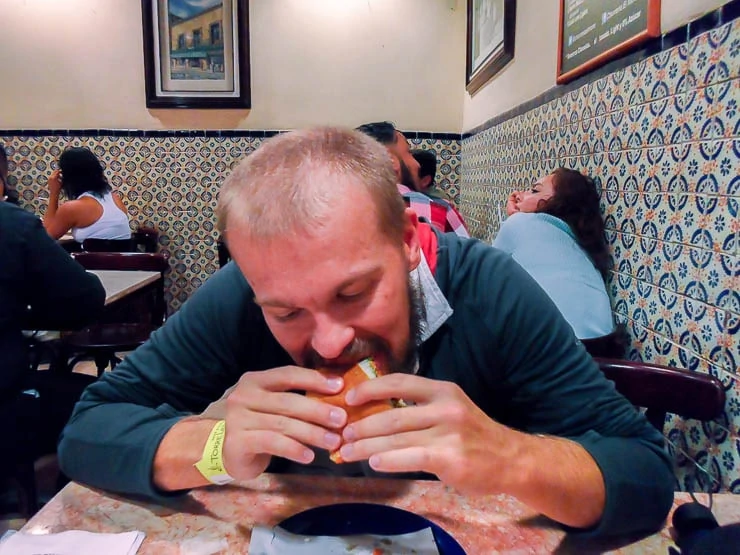 You'll find plenty of authentic Mexican food, scrumptious desserts, and fresh seafood are accompanied by the sound of mariachi bands and paired with the best alcoholic beverages to make your night in Mexico City one to remember. Some of the best restaurants near the Historic Center include Mercaderes, Limosneros, El Danubio, Puro Corazón, and Pastelería.
I'm a fan of the historic Sanborns near the base of Torre Latinoamericana, along with Cafe Tacuba. And don't forget to make the trek to El Moro for the best Mexican churros you'll ever have. They've been serving this scrumptious dessert for more than 100 years.
Metropolitan Cathedral
A remarkable blend of baroque, Mexican churrigueresque, and neoclassical architecture can be admired at the Metropolitan Cathedral right on the Zocalo. Construction of this cathedral finished in 1788 and is the heart of Catholicism for all of Mexico.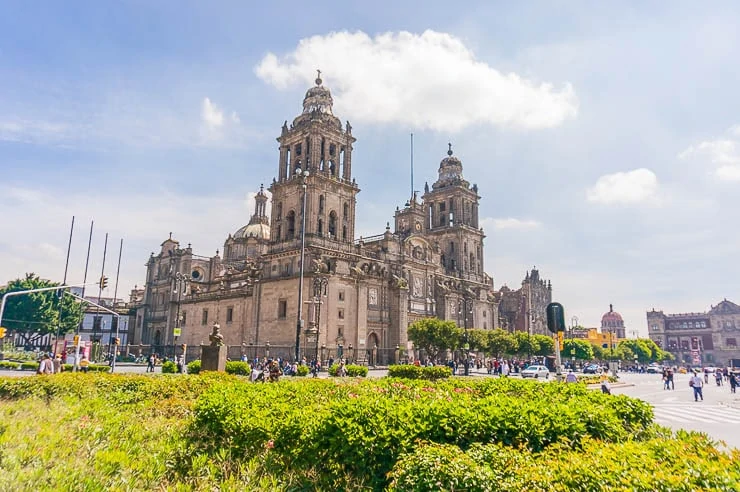 Inside, visitors can behold the stunning architecture, view paintings and intricate statues, and even head down to the catacombs. The Altar of the Kings is absolutely amazing to behold. Keep an eye out for the strangely oversized carved hands on the altar too.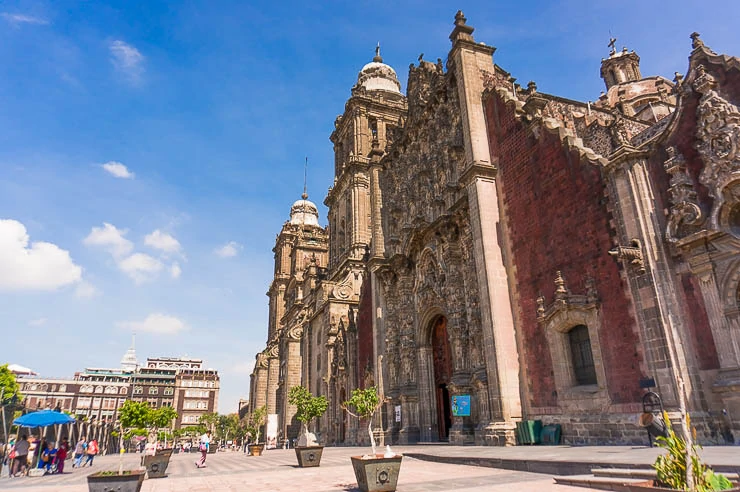 This Cathedral is truly an impressive site and among the most striking that I've ever seen in Latin America. It is among the largest in all of Latin America, which is one of those interesting Mexico City facts that most people don't know.
Plaza Garibaldi
Prepare to be serenaded with the sweet sounds of mariachi music when you spend time at Plaza Garibaldi. This famous musical plaza lies a few blocks north of the Palacio de Bellas Artes and is well known for hosting charming bands that will sing to you for a small fee. Or you can just sit back a bit and enjoy the spectacle from afar for free.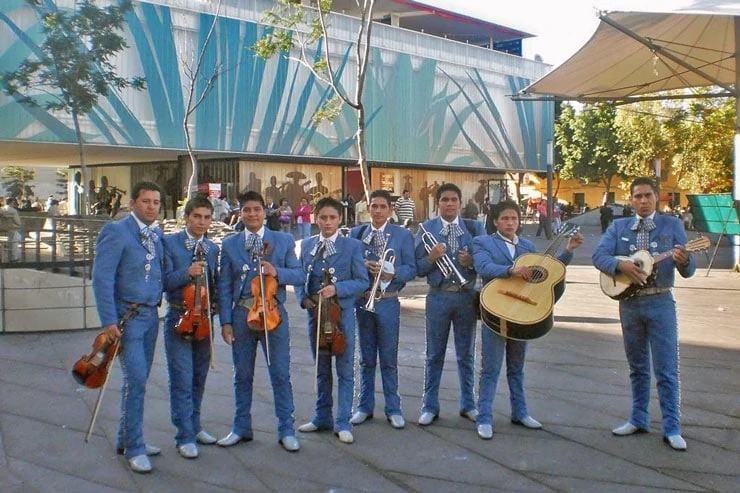 The best time to swing by Plaza Garibaldi is during the day when the area is still well-trafficked by tourists and locals. One of the best Mexico City tours is one that takes you for mariachi here and then to a lively lucha libre wrestling match.
Museo de la Memoria y Tolerancia
The Museum of Memory and Tolerance is one of the Historic Center's best attractions. Since 2010, this museum has been presenting exhibits to educate and inspire visitors about tolerance, human rights, and non-violence. Exhibits here are designed to keep the memory of key figures alive and inspire viewers to take a stand against violence, intolerance, and human rights violations.
This museum is not expensive and is among the most interesting museums in Mexico City. It will certainly have you reflecting on humanity's propensity for violence and destruction and some of the important figures fighting against that.
If you don't speak Spanish, be sure to get the English audio guide to understand the exhibitions.
Memorable Murals
Street art is commonplace in Mexico City, but it's scarcer in the Historic Center. Though it's harder to come by, you can still enjoy street art in this part of town after dark when closed store shutters expose beautiful depictions of nature and other exciting scenes. The most well-known piece of street art in the Historic Center is located on Calle Regina.
Of course, there are some much more important murals that you shouldn't miss out on as well…
Diego Rivera Murals
Another one of Mexico City's best attractions downtown is the Diego Rivera Mural Museum which is home to the artist's Dream of a Sunday Afternoon in the Alameda Central. The famous mural depicts a group of important figures, including Frida Kahlo, and has been at the museum since 1986 when an earthquake destroyed the piece's previous home.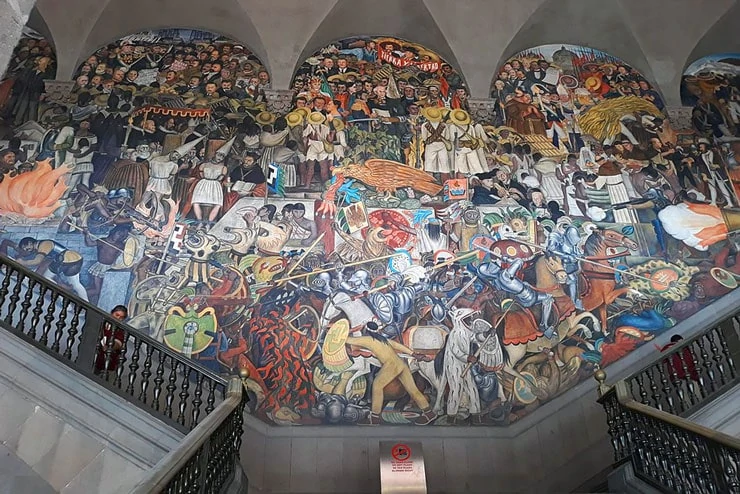 Of course, be sure to also stop by the Palacio Nacional right on the Zocalo for more works from Diego Rivera. This government building houses some incredibly large and intricate murals painted by one of Mexico's most important artists. The Palacio Nacional is a must-do while in the historic center of Mexico City.
Spend the Day in the Historic Center of Mexico City
Whether you're a foodie, an art-lover, a history nerd, or all of the above, you can experience the rich, colorful culture that this part of the city has to offer. Put on your walking shoes, have a shot of tequila, and be sure to bring your camera to capture this special part of Mexico City.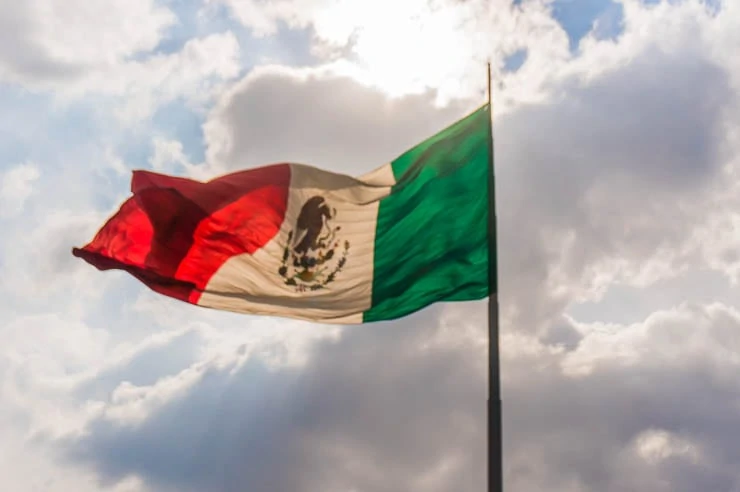 I spent a few weeks house sitting in Mexico City and immediately fell in love with all that it has to offer. If you're planning to visit Mexico City, be sure to check out some of my other detailed articles.
Traveling to Mexico City soon? Book your lodging on Booking.com now to save, or if you plan to stay longer, I highly recommend looking for a place on Airbnb. Don't miss my guide on where to stay in Mexico City and the best hostels in Mexico City. And don't forget to purchase travel insurance for Mexico that will help protect you against illness, injury, and theft. I use and recommend World Nomads for its combination of coverage and affordability.
Read Next: 8 Things You Should Know When Visiting Mexico City
Share This
Did you enjoy this post about the historic center of Mexico City? Take a second to share it on Pinterest, Facebook, or Twitter. Thanks!
The following two tabs change content below.