This article may contain
affiliate links
. If you make a purchase through these links, I will earn a commission at no extra cost to you. Thanks!
Mexico City… It's one great big city with well over 150 museums. This gargantuan city is second only to Paris for the most number of museums in a single city, making Mexico City one of the world's greatest centers of history, art, design, architecture, anthropology, and is the birthplace of many great artists. In this free guide, I wanted to cover but a few of those museums and try to winnow it down to the 15 best Mexico City museums to explore during your next visit (although it may take you a few visits just to work through this list).
Mexico City is full of awesome things to do, and one of those main things to do in this city is to explore the seemingly endless amounts of museums, arts, and culture (the sheer number of museums here is an interesting Mexico City fact that not many realize). It seems like on every other corner you might stumble across another cool, interesting museum but the sheer number of museums can feel almost overwhelming…
So, this list is meant to give you a launching pad or starting point for your cultural tour of Mexico City. It will help give you an idea or two to where about where to start your exploration of this incredible city and the vibrant art scene, hopefully offering you a better understanding of the history and culture of the Mexican people.
First, a few tips about Mexico City Museums:
Generally speaking, museums in Mexico City are closed on Mondays but open every other day of the week. So be sure to plan your visits accordingly and check each website for the most recent hours and admission rates.
Also, World Museum Day is celebrated every May 18th and all over the world, museums open for free to celebrate history, art, culture, and heritage. This is a good time to visit a museum for free but why wait for just this one day in a year if you got the other 364 days to visit them all (okay, you can decide which ones you like).
Some museums offer free entrance days, so if you're on a budget, be sure to pay attention to that when mentioned in this article.
Finally, the greatest concentration of great museums can be found in or around the Centro Historico of Mexico City or within Chapultepec Park, so if you've got the wherewithal, you can work in a few different awesome museums on the same day.
Let us start with our best Mexico City museums guide…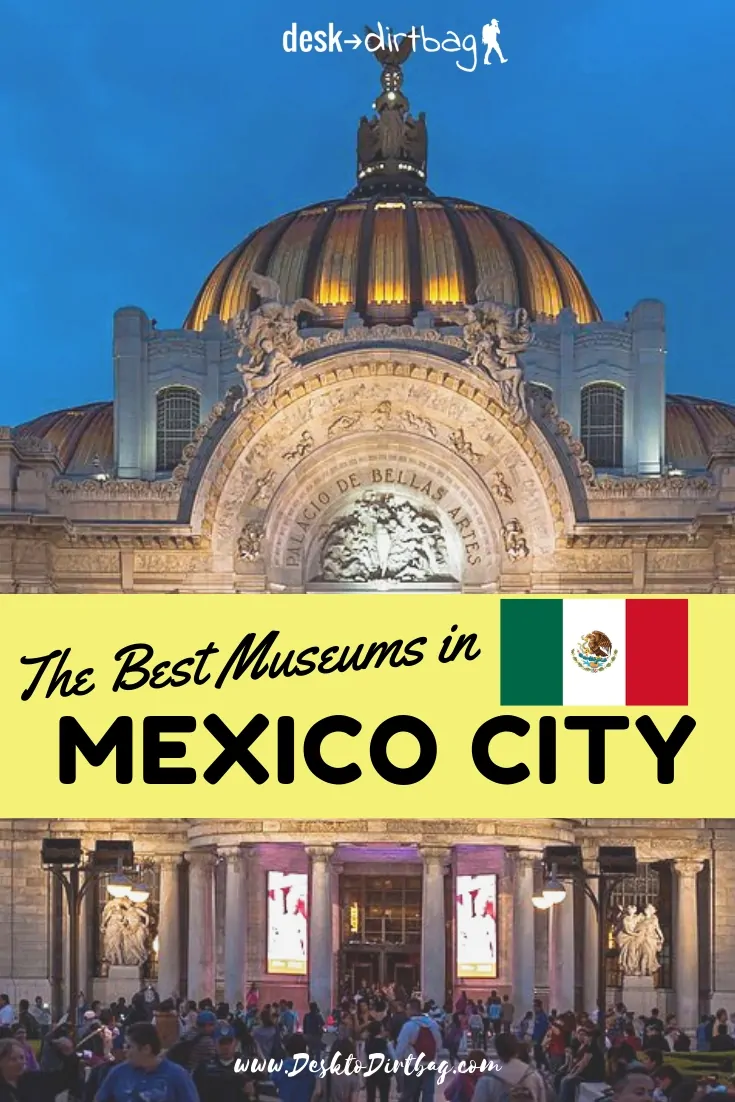 National Museum of Anthropology Mexico
What better way to start our round-up of the best Mexico City museums than with the most well-known museum in the city — the National Museum of Anthropology Mexico or Museo Nacional de Antropología.
Located in Chapultepec Park, it is home to the largest collection of ancient Mexican archaeological and anthropological artifacts in the world. This is also the most visited singular tourist destination of the country which attracts more than three million visitors every year.
The massive structure for the national museum of Mexico was designed by the Mexican architects Pedro Ramirez Vázquez, Jorge Campuzano and Rafael Mijares Alcérreca in 1964 and still looks as avant-garde today as it did at that time. It took 19 months to finish this gigantic museum which sprawls a total area of 20 acres with the 23 separate exhibition rooms exhibiting the most important works both historically and culturally.
If you want to see the famous Aztec Stone of the Sun (calendar stone) or the ceremonial headdress of Aztec emperor Moctezuma, start early and try to absorb a fraction of the more than seven million pieces of archaeological treasures and five million-plus ethnological pieces from Mexico's pre-Columbian period.
Tip: Avoid visiting on Sundays because Mexican residents get free admission to this popular museum which means it is super crowded.
For details about the hours and admission, click here.
Read More: Guide to the National Museum of Anthropology Mexico
Museo Frida Kahlo
Mexico's most celebrated woman artist Frida Kahlo lived, loved, painted, and died in her family home now turned into a museum known as Casa Azul (the 'Blue House') or just the Frida Kahlo Museum. Located in the Colonia del Carmen area of the Coyoacán barrio, the house of cobalt-blue walls is as striking outside and inside with the importance that it holds to both the life and works of Frida Kahlo.
Frida may have lived in other places in Mexico City but she always went back to her Casa Azul which weaved deeply into her life and artistry. The Blue House was donated after her death by her husband and fellow Mexican artist Diego Rivera in 1958 to showcase Frida. A pillow in her bed is embroidered "Do not forget me, my love", a great call for those who come to celebrate her life and art.
Casa Azul offers a rare peek into Kahlo's universe and it contains 10 rooms that house the personal artwork collection of Frida Kahlo, Diego River, and other artists along with the Mexican folk art, pre-Hispanic artifacts, Mexican cookware, personal mementos, and of course her own artworks. Most of these were left and preserved just as how it looked when Frida lived here.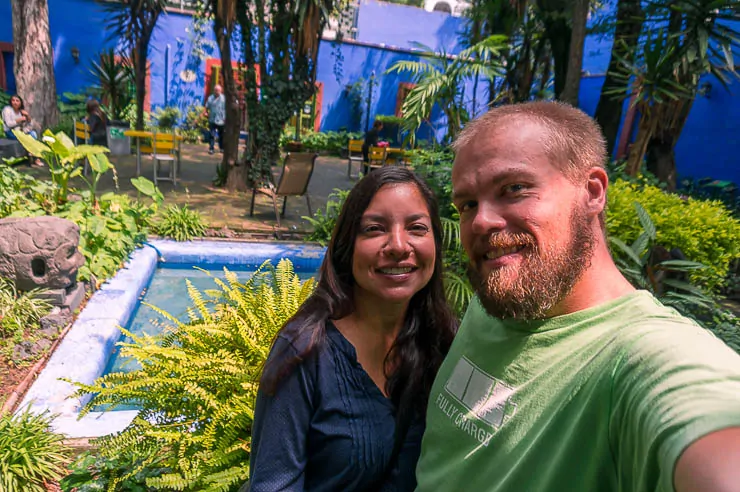 Kahlo's home and museum attract crowds from all over the world and the lines do snake around the neighborhood. Your best bet is to get tickets online. With your museum ticket, you can also enter for free to the nearby Anahuacalli Museum (also established by Frida's husband Diego Rivera).
Also, there are hostels and Airbnbs near Casa Azul that you can book so you can go earlier than everybody and stay in a quiet or more residential neighborhood (read more about where to stay in Mexico City).
For details about the hours and admission, click here.
Read More: Frida Kahlo Museum Mexico City
Palacio de Bellas Artes
Many people around the world come to worship the 'Cathedral of Art in Mexico' the Palacio de Bellas Artes or the Palace of Fine Arts in Mexico City. Located in the Alameda Central district near downtown, it is home to different forms of arts: dance, literature, music, performing arts, visual arts, filmmaking, and architecture.
The architecture alone at the Palace of Fine Arts is certainly worth your time and visit. The breathtaking facade has influences from both Art Nouveau and Neoclassical designs with the dragon scale roof tiles covered in intricate iron and Marroti crystal.
The vast interiors were designed by Mexico's most well-known artists and muralists such as Diego Rivera, José Clemente Orozco, Rufino Tamayo, David Alfaro Siqueiros, and Roberto Montenegro. It is also home to Mexico's principal opera house and the National Folkloric Ballet.
This is the ultimate home of the arts and the most important cultural center in Mexico. This was also recognized by UNESCO as an artistic monument in 1987. With over 6,000 works of paintings and sculptures by the many famous artists of Mexico, you will never run out of inspiration and learning opportunities.
The Palacio de Bellas Artes also offers some pretty incredible rotating exhibits… When we went, we took in a great exhibit on Da Vinci.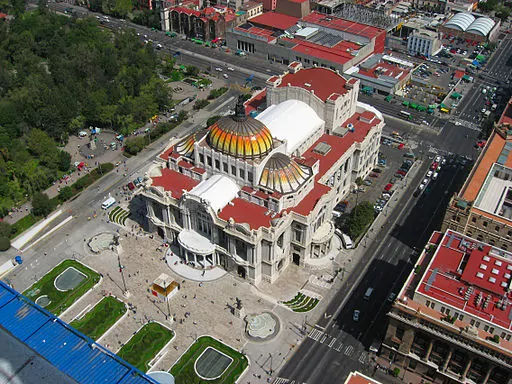 Tip: For the best bird's eye view of the Palacio, be sure to make the visit to the top of Torre Latinoamericana as well. Of course, be sure to go inside for the art, but the Torre to take in the architecture.
For details about the hours and admission, click here.
Papalote Museo del Niño
A museum dedicated to children and to the kid at heart (that includes all of us). Located at the edge of the Chapultepec Park, this is a big museum with a building made and designed for interactive activities of art, science, and technology for children. Visitors are encouraged to interact, touch, smell, feel, and experiment.
It has over 288 interactive exhibitions divided into five areas where children can touch, play, and learn. It even has its own IMAX cinema, where you can watch all kinds of videos for learning and entertainment. These interactive museums are really quite a good time.
For details about the hours and admission, click here.
MUAC or Museo Universitario Arte Contemporaneo
Contemporary art is defined as any art done in the last century and includes minimalism, pop art, conceptualism, performance art, graffiti art, photorealism, and contemporary realism to name a few. Mexican contemporary art found a home in The MUAC. The building was designed by architect Teodoro Gonzalez de Leon and the design itself attracts architecture and design lovers.
This 14,000-square-foot iconic contemporary museum is located in Mexico City's largest public university, on the southern edge of Mexico City. The MUAC complements what the National Autonomous University of Mexico also offers in its campus. Along with the museum, it offers concert halls, theaters, film rooms, a cafeteria that offers exquisite gourmet food, and a sculpture space.
The MUAC offered a space to different kinds of artworks, sound installation, videos, offered plenty of learning experiences, workshops, training, and seminars. There are also music and concert cycles that you can follow. The open spaces around this place are also a popular weekend gathering spot for families. It's also a good place for buying some sophisticated gifts at the museum gift store ranging from art gifts to designer objects.
For details about the hours and admission, click here.
MUCHO Museo de Chocolate
This small museum, the Museo de Chocolate, is fast becoming popular with thousands of local and foreign tourists coming to Mexico City every day. Museo de Chocolate or MUCHO is in a remodeled 20th-century house which is totally dedicated to chocolate. Cacao is a plant native to Mexico and was first domesticated in these areas.
Not only will you be able to learn about the history of chocolate, but there are some "sensory exhibits" that are all interactive. The museum also offers chocolate-making workshops and other courses and you can bet that the tour guides are fun and engaging (maybe not everybody loves art, but pretty much everybody loves chocolate).
You can also enjoy the museum gift shop and taste their many varieties of chocolates. There is also a cafe shop in a lovely open space where you can stop in for a hot chocolate.
Most of us spend our lives eating countless amounts of chocolate but never really understand where it comes from, how it is made, and everything else that goes into its production. I highly recommend learning more!
For details about the hours and admission, click here.
Museum of Modern Art
The Museum of Modern Art (Museo de Arte Moderno) has one of the most important collections of 20th-century art in Latin America and also has artworks of Diego Rivera, Frida Kahlo, Leonora Carrington, and Remedios Varo. Located in Chapultepec Park, this museum has paintings, photography, multimedia, sculpture, and so many other artworks in different media.
The building has a large dome in its center surrounded the circular shape. The building was designed by Pedro Ramirez Vazquez and Rafael Mijares. Matsumoto conceptualized the gardens. The Sculpture Garden is filled with the works of other Mexican sculptors like Matthias Goeritz and Juan Soriano.
This is a cool space that is definitely worth visiting when you're coming through on a day of exploring Chapultepec.
Tip: This is one of the museums that are free on Sundays!
For details about the hours and admission, click here.
Museo de Arte Popular
The Folk Art Museum (Museo de Arte Popular) showcases the varied folk arts and handicrafts of Mexico. There are a lot of pottery and textiles and a diverse range of folk arts, papier-mache figures, toys, embroidery, home instruments, and crafts. To add to the exhibitions, there are two or three non-permanent exhibits running for a certain time.
Located at the Centro Historico, the museum is also known for the annual night parade of large carved figures called alebrijes.
For details about the hours and admission, click here.
Museo Dolores Olmedo Patino
This underrated museum is the former hacienda of Dolores Olmedo, who was a huge patron of the local arts. The museum sits far outside the normal hustle and bustle of the big city within Xochimilco and makes for an ideal addition to your day if you plan to visit its canals and colorful boats which Xochimilco is famous for (known as the Mexican version of Venice).
The museum (like any great hacienda) sits on some truly impressive grounds where you can enjoy the gardens, watch the colorful peacocks, or just take photos with the hairless Xoloiztcuintle dogs (a pre-Columbian breed).
Not only that, but the museum also houses an impressive collection of works by both Diego Rivera and Frida Kahlo, and an exceptional collection of pre-Columbian art and artifacts.
Museo Dolores Olmedo is definitely a hidden gem that is kind of off the beaten path.
For details about the hours and admission, click here.
National Palace (Palacio Nacional)
Palacio Nacional highlights the history of Mexico, from the Aztec era all the way to the conquest to the Revolution and the development. Diego Rivera's famous mural "The History of Mexico" is also showcased in this museum to introduce a little bit of history through visual storytelling.
If you are exploring around the Zocalo Square (a must do, of course), then don't miss the chance to go in free for the opportunity to immerse and learn of Mexico's past through art.

You can also find the murals of the famed Mexican muralist Diego Rivera inside.
For details about the hours and admission, click here.
Museo Jumex
Museo Jumex can be found in the swankiest of Mexico City neighborhoods, Polanco. It is the newest contemporary art museum and houses one of Latin America's most extensive and important contemporary art collections. Eugenio Lopez Alonso began collecting in the 1990s and the museum started in November 2013.
You can enjoy the works of artists Andy Warhol, Martin Kippenberger, Cy Twombly, and Damien Hirst. And this museum hosts a diverse number of experimental expositions that are specifically designed for open space.
The building is housed in a massive white concrete cube with a sawtooth top and was designed by British architect David Chipperfield. The building attracts many tourists who are also design and architecture aficionados.
Tip: Museo Jumex has free entrance on Sundays.
For details about the hours and admission, click here.
It's a cool space, definitely one worth checking out if you find yourself in the Polanco area, perhaps coupled with another amazing museum next door…
Museo Soumaya
When you search on Google about the best Mexico City museums to visit, a super modern building will come right up, something that looks almost like a space ship. This stunning piece of architecture is the Museo Soumaya.
Museo Soumaya is a curvaceous building clad in 16,000 hexagonal aluminum tiles, located in the upscale Hidalgo district (basically Polanco). It is said to only be rivaled in modern museum excellence by Bilbao's Guggenheim. Designed by Fernando Romero, it is the home to an extremely impressive and quite diversified collection of 66,000 pieces of art.
They are proud to have several from the so-called European Old Masters, including the French artist, Auguste Rodin, along with more modern fare like an impressive collection of work by Salvador Dali.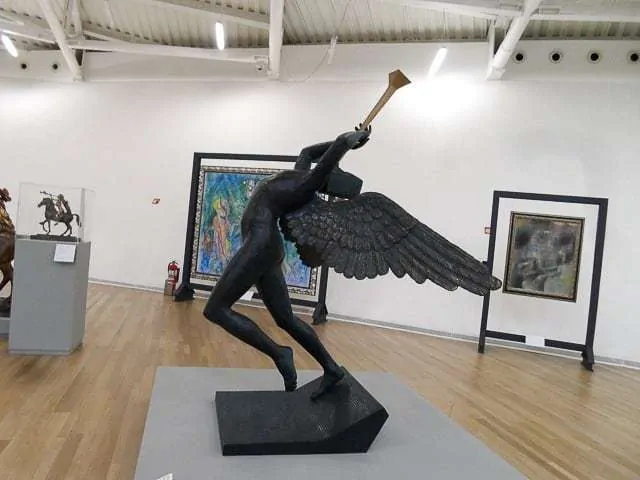 What's perhaps most incredible about this museum is that it is totally free! Every day of the week. In terms of free museums in Mexico City, this is probably far and away the best.
For details about the hours, click here.
Museo del Juguete Antiguo México
The Museo del Juguete Antiguo México (Old and Ancient Toy Museum) is a passion project by architect Roberto Shimizu Kinoshita. Located in Colonia Doctores just a few blocks east of the Roma neighborhood, the museum houses an extensive collection of toys from the 19th century to the 1980s. There is an emphasis on the impact of popular toys in Mexico.
Don't forget to check out the vibrant murals at the top-floor library!
For details about the hours and admission, click here.
Museo Nacional de Historia
Located in the Chapultepec Castle in Mexico City, Museo Nacional de Historia welcomes more than two million visitors each year. Within its 12 showrooms, the museum highlights exhibitions about the Mexican history, the Spanish Empire in Mexico, The Mexican War of Independence, the Reform movement and the 1910 Revolution.
For those who still have troubles with their Spanish though, be forewarned that the exhibits are not available in English — and also check out these resources for teaching yourself Spanish!
On the plus side, not only do you get to explore a castle, but it also offers a garden area and an old observatory which offers one of the best views of the amazing Chapultepec Park.
For details about the hours and admission, click here.
Templo Mayor
If you are already in Zocalo square, then you should definitely take the time to visit Templo Mayor. It was the main temple of the Aztecs and was excavated in the 1970s after several workers uncovered a stone disk which turned out to be the image of the Aztec goddess Coyolxhauqui.
Here you can learn more about the ancient Aztecs and their civilization, and how the Spanish conquerors quite literally built right over the top of it, placing the main cathedral on the ruins of this ancient temple.
These are the most impressive ruins within Mexico City, undoubtedly, but I'd also strongly recommend heading out of town to Teotihuacan where the pyramids are if archaeological ruins are your thing (and even if they aren't, it's still worth a visit!).
For details about the hours and admission, click here.
More about Travelling Around Mexico
Again, there are 150 museums in Mexico City alone, so these 15 are really just scratching the surface. But another couple museums that certainly deserve honorable mention include the Museo Tamayo, Museo Nacional de Arte (MUNAL), Museo del Objeto del Objeto, or even the Museo of Leon Trotsky.
Whether you're staying for a few days or a few weeks, you're bound to have a full schedule in Mexico City, and that's not even talking about all the many other things to do in Mexico City, the incredible dining, street food, cafes, and other cultural attractions.
And of course, beyond Mexico City, this country is home to ancient Mayan ruins, historical places, vibrant towns, amazing beaches, cool cenotes, old Mexican villages and another million things to do and discover. Don't miss my guide to traveling to Mexico if you've got other destinations planned too…
Map of the Best Mexico City Museums
Travel Insurance
Don't forget to purchase travel insurance for Mexico to protect yourself against theft, sickness, and injury. I use and recommend World Nomads for the best combination of affordability and coverage.
Read Next: Things to Know When Traveling to Mexico City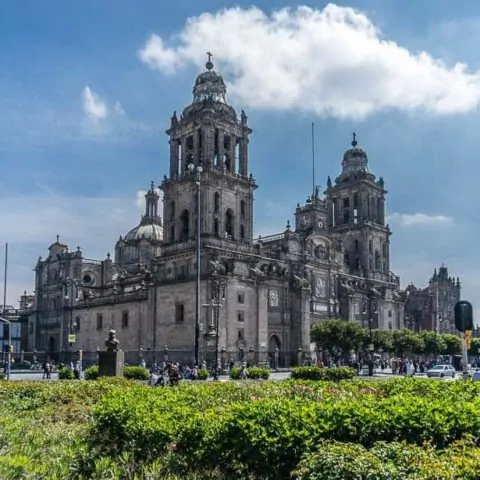 Mexico Travel Tips
Important tips and resources for planning an amazing trip to Mexico, based on my extensive experience traveling across the entire country.
Tools
Instructions
Book a cheap flight to Mexico with Momondo, or better yet, start travel hacking so you can fly for free.
Plan a rough itinerary and how long you will spend in each destination. Pick up Lonely Planet Mexico to help with this.
Work every day to teach yourself Spanish, you want to know as much as possible before you arrive.
Book your cheap accommodation in advance, at least for the first destinations -- For hostels use: Booking, for cheap hotels use: Hotels.com, for apartments use: Airbnb.
Reserve your on the ground tours and activities through Get Your Guide.
Purchase travel insurance for Mexico with World Nomads to protect yourself from illness, injury, and theft while in Mexico.
Check out my comprehensive guide about traveling to Mexico with information on cities, things to do, places to see, and more.
Learn more money saving tricks with my top budget travel tips if you want to get more bang for your buck.
Put together your Mexico packing list.
Enjoy this incredible country!
Notes
I hope this helped you plan your travels in Mexico! I know it can be a struggle to find accurate and on the ground information when traveling to a new place like Mexico, which is why I started writing so extensively about it!
If you have any questions about Mexico, budget travel, or anything else shoot me an email at ryan@desktodirtbag.com.
(I love getting questions! That is how I get ideas for my blog posts and what to write about!)
Recommended Products
As an Amazon Associate and member of other affiliate programs, I earn from qualifying purchases.
Share This
Did you enjoy this free guide about the best Mexico City museums? Then take a moment to share it on Facebook, Pinterest, or Twitter. Thanks!
The following two tabs change content below.