This article may contain
affiliate links
. If you make a purchase through these links, I will earn a commission at no extra cost to you. Thanks!
Cenotes are natural sinkholes of exposed groundwater where the ground is mostly made of porous limestone. Some cenotes can be found in underground caverns and some that are open like pools surrounded by rock formations. The Yucatan Peninsula is home to more than 6,000 cenotes which would take you an absolute lifetime to explore, so this is your guide to the best cenotes in the Yucatan part of Mexico.
About Mexico's Cenotes
The term cenote was derived from the lowland Yucatec Maya word "ts'onot" which referred to any place with accessible groundwater. Many of these cenotes were named by the Mayans originally hence their very unique names — Ik Kil, Hubiku, etc.
The ancient Mayans would perform some of their most important sacrificial offerings and rituals in these sacred sinkholes. Various digs and archaeological research found many personal items and human bones in these cenotes.
Scientists believe that the Mayans considered these cenotes were special portals to the underworld. The Sacred Cenote in Chichen Itza is one of the most important cenotes in this part of Mesoamerica and this is also where they were able to find artifacts in the bottom of this cenote.
Today, however, there are a lot of things that you can do in these gorgeous freshwater pools — swim, snorkel, scuba dive, zip line above it, and even rappel down into the water! Cenotes can include underground rivers, caves, waterfalls, and amazing rock and crystal formations.
And the water? Super clear and clean is an understatement, but you'll have to dive in and see the otherworldly beauty underwater for yourself. The temperature of the water in the cenotes is constant year-round with an average of 21-25ºC or 70-77ºC, which is the perfect temp to chill and escape from the hot Mexican sun.
In any case, let's get on with a few important tips about visiting cenotes in the Yucatan.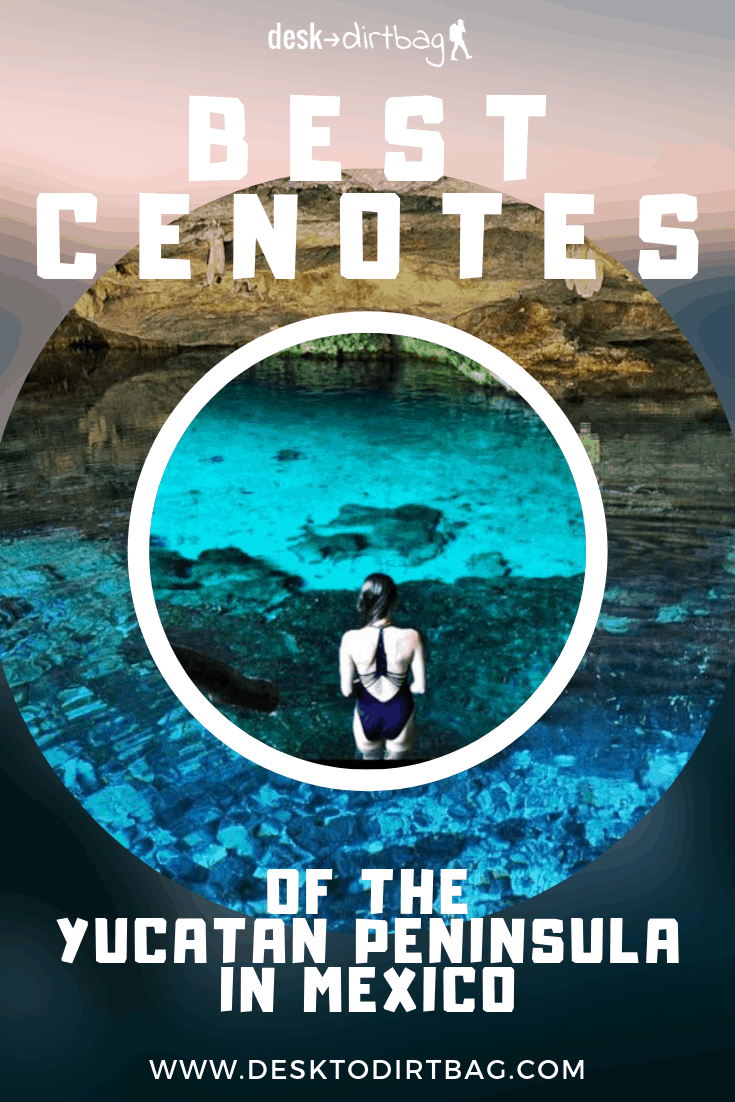 Things to Know When Visiting Cenotes
These are just some tips before you visit any cenote for the first time. Whether you choose a tour package with a cenote visit or you just want to visit a specific cenote on your own, it's important to remember a few things before you go:
Safety means fun. Make sure that you abide by the rules and guidelines of the place so you won't get into any accidents. Some cenotes have underground rivers and caves that one may get lost, or there may be protected areas, so be sure to ask about any off-limits areas.
Use proper swimwear (there are bathrooms and changing rooms that you can use in the most popular cenotes). Wear some sturdy and comfortable footwear because you will be walking in and around the area which might be rugged terrain or otherwise (don't use those cheap $1 flip-flops, they'll break). You can usually rent some snorkeling gear there too.
Please bring cash, some cenotes are free but most have admission fees. You can also often rent a locker for your things on site (bring your ID so you can use it for rentals).
Locals and other travelers would highly recommend going as early as you can so you can avoid the biggest crowds in the cenotes. But the second-best time to visit is also towards the closing time. Midday is the busiest.
Most cenotes are located quite far from the various towns or touristic spots, so you are most likely going to be needing transportation. If you are on a tour, then there is no problem because transportation is provided. However, if you are not, then it may be difficult for you to go to the cenote and get back. There are bike and car rentals, choose wisely.
Slather up on those insect repellents (organic please) because you are going into the jungle and the mosquitos can be fierce in the Yucatan, even while just hiking into a cenote.
If you can, please refrain from using any makeup or harmful lotions because cenotes are freshwater pools and these additives might harm marine life and of course affect the water quality. Rinse off before you jump into the cenote.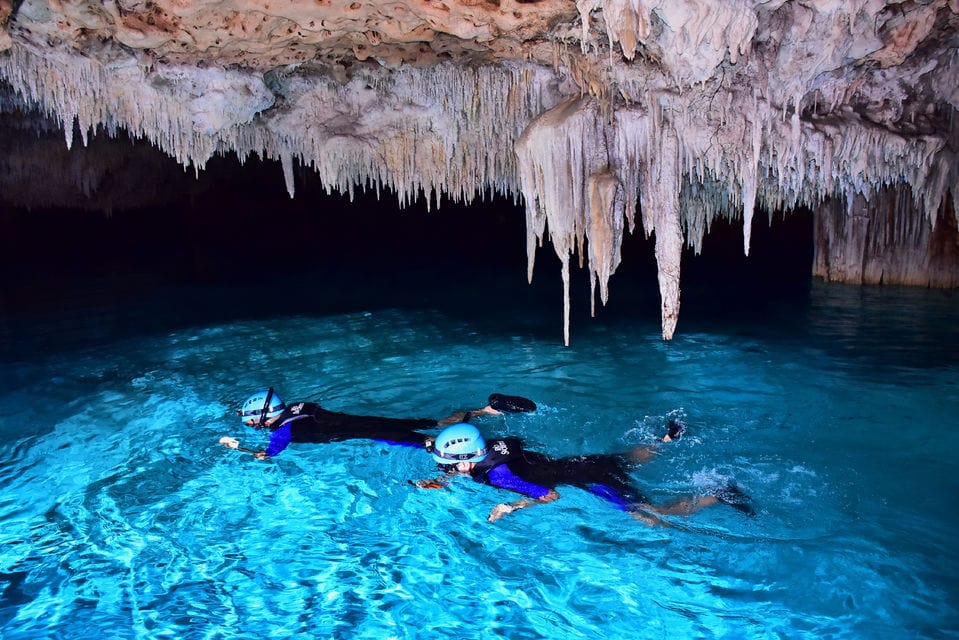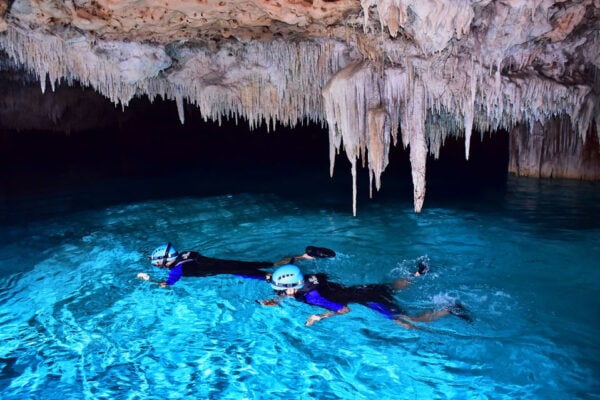 If you are taking your camera or a GoPro to swim, make sure you have some sort of a floatation device installed with your camera. Since the bottom is really deep, if you drop something it may be difficult or even impossible to without the help of a diver to help get it.
You need to take note of the opening and closing time of the cenote. For your safety, you have to leave on or before closing time.
The 8 Best Cenotes of the Yucatan Peninsula
Alright, enough with the introduction and tips for visiting the best cenotes in Mexico, let's get on with our guide to the top picks that you should check out on your first visit… But, of course, with 6,000 more to choose from, you could stay busy for a long time. These top cenotes will give you the most spectacular settings and most memorable experiences, at least that's our opinion.
El Gran Cenote
Located just about 10 minutes outside of central Tulum, this is a must-visit cenote and one of the most expansive cenotes in Mexico. El Gran Cenote has an underground cavern for you to explore with abundant birdlife and bats living inside.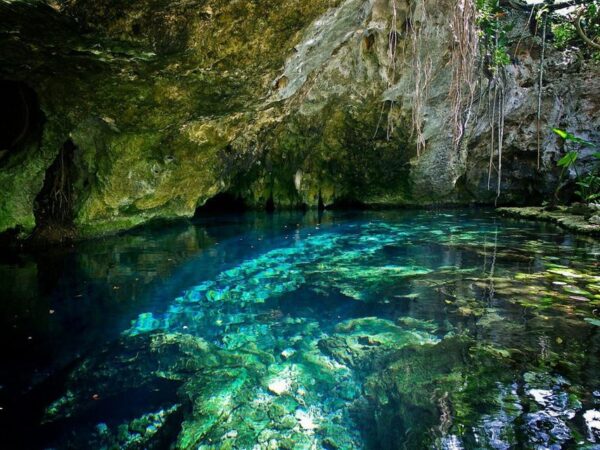 If you are lucky, you will be swimming beside turtles in this cenote, and you don't even have to snorkel to see them. Since the water is so clear, you can spot them swimming happily in the cenote.
The crystalline waters are clean and are perfect for swimming and snorkeling. Since this cenote is huge, it is composed of several caverns with a fairly smaller uncovered pool of water. But it provides just enough light to go through the cave to be able to see the stalagmites and stalactites which are insanely beautiful.
Book your Tulum and Cobá 2-Day Tour here to visit the El Gran Cenote included in the package.
Dos Ojos Cenote
The amazing twin cenotes of Dos Ojos near Tulum is a sight to behold. Meaning two eyes in Spanish, Dos Ojos are neighboring cenotes sharing a large cavern zone. This is one of the most massive cenotes in the state of Quintana Roo in Mexico.
The underwater cave system has been measured at 61 kilometers so far. Many scuba divers have already explored the cave system. It has been named as one of the top 10 longest underwater cave systems in the world.
Most tour packages around Yucatan include a cenote visit or two. The downside of Dos Ojos is that you are often with a group, so hoards of people will be coming down to swim in that cenote. But then again, crowds or none, you should never pass up the chance to take a dip from these mysterious sinkholes.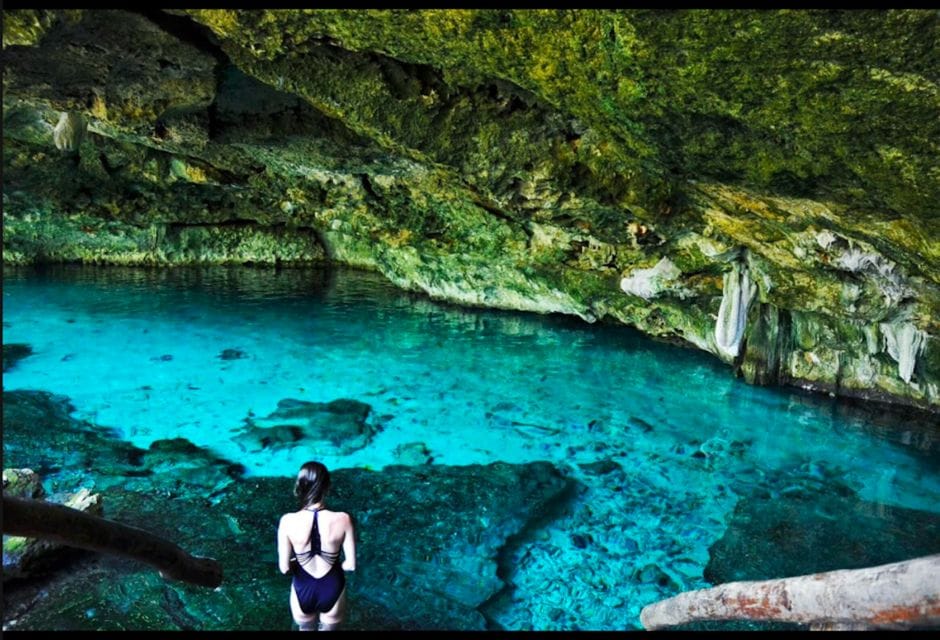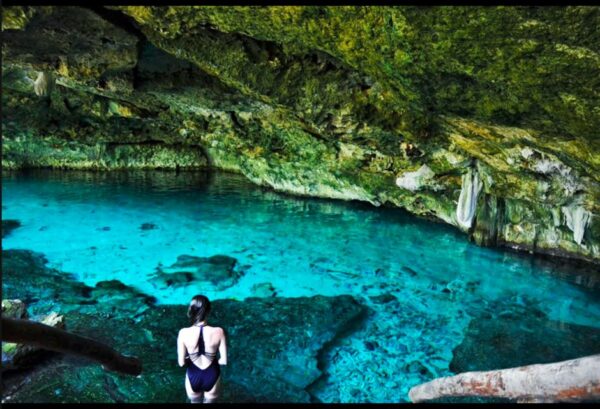 Check out this tour package with a visit to Dos Ojos Cenote along with a visit to the Tulum archaeological site.
Check out this Tulum and Dos Ojos Cenotes: 5-Hour Guided Tour here.
Calavera Cenote
Another must-visit around Tulum is the Calavera Cenote. If you know Spanish, the name might make you a bit afraid or curious (or both) now. Calavera means skull in Spanish. To add to the intrigue, the cenote's nickname is the Temple of Doom. Sounds like something straight out of Indiana Jones.
Calavera Cenote is a jug-type cenote which means that the upper part opens up. If you swim inside and look up, it is like looking from inside a skull. The light coming from above creates an eerie effect inside the cenote.
In the bigger hole, you can do a nice 10-foot dive from the entrance of the cenote to the water below. There are also smaller holes that you can do a straight drop into the water. Just be careful of divers surfacing up while you do your jumps.
The cenote is filled with water and you have to swim here. You may be wondering, then how you can get out from this cenote? Thankfully, they have installed a ladder to climb back up.
You can also snorkel or scuba dive with the expert guides for a fee. It is best to get help from certified cave divers because this is an expansive underground cave system and you can go down from four different entrances that go to different underwater caverns and tunnels.
If you are diving, be sure to check out that ledge in the cenote that looks like an altar. You will find animal bones, human bones, and pieces of pottery in this area (thus the name Temple of Doom). The Mayans believed that these cenotes are sacred and are passageways to the underworld.
Whether you climb down or take the plunge, you will surely enjoy this eerie but interesting cenote.
Ik Kil
Ik Kil Cenote is located near in the Ik Kil Archaeological Park near the famous ruins of Chichen Itza. Most Chichen Itza tours include a visit to Ik Kil. This cenote is just 7 kilometers (4.5 miles) outside of Piste in the municipality of Tinum.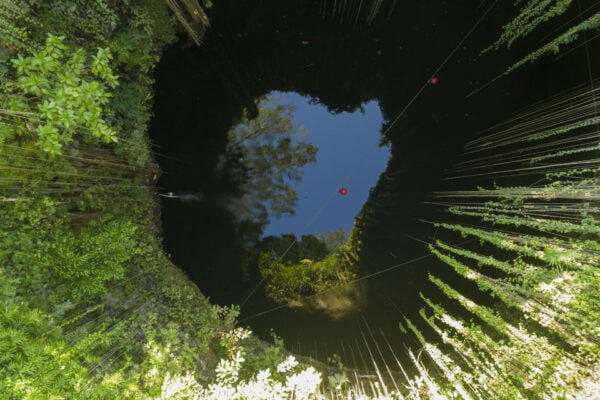 This is a beautiful cenote with hanging vines and greens from the top of the cenote and flowing down just above the water. Also, the walls of Ik Kil perfectly form a circle. It is indeed a dramatic cenote which you can enjoy swimming in.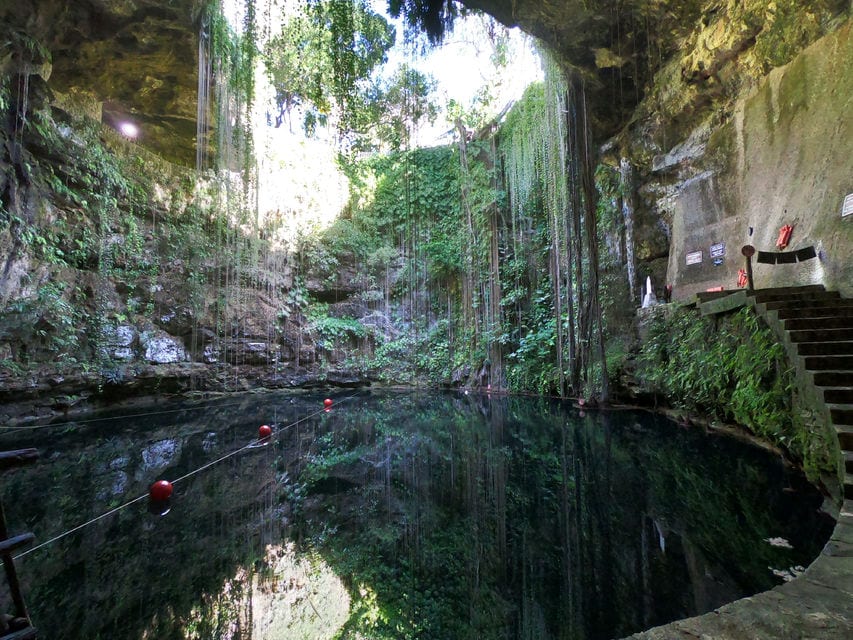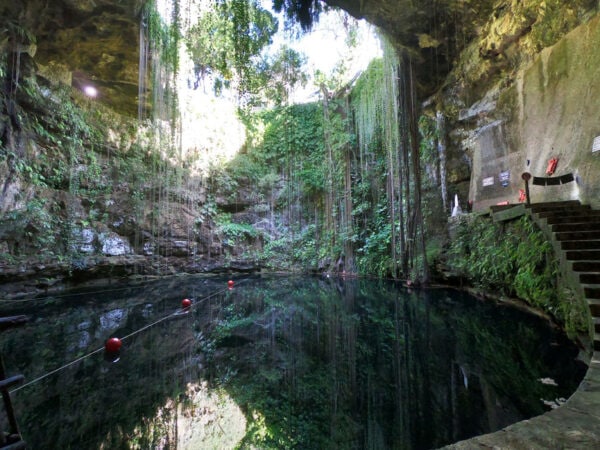 Remember not to ever touch or pull on the vines (no Tarzan moves). Please help in preserving the beauty of the cenote so others may also enjoy it. You can reach the cenote by descending 25 meters below the surface through a carved stairway into the limestone rock. The water is about 30 meters (90 feet) deep.
This cenote became more popular because of the Red Bull Cliff Diving event in 2010, 2011, and 2014 but diving from the top is strictly prohibited. One of the two stairways though has a ledge (where the lifeguards stay) and here you can jump into the water.
There are several hammocks in the other parts of the park so you can stay and relax while having some drinks. There are two restaurants and small stores that sell ice cream and refreshments so you can buy your snacks in between swims. Or how about a cold beer?
Ik Kil Cenote is the perfect place to chill and especially if you have just gone exploring Chichen Itza for the day.
Check out the Chichen Itzá, Ik Kil and Coba Small Group Tour here.
Hubiku Cenote
The Hubiku Cenote is also a way to start your day, especially if you're looking for cenotes near Valladolid or making a visit to Chichen Itza. A scenic drive through the Yucatan jungle will lead you to this cenote, a sinkhole of cool freshwater in a limestone cave.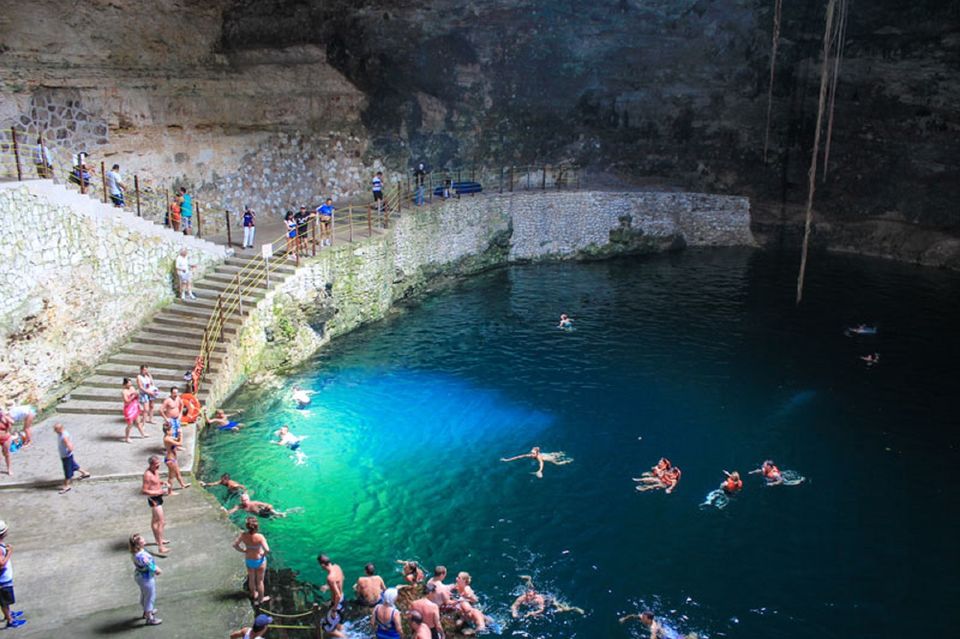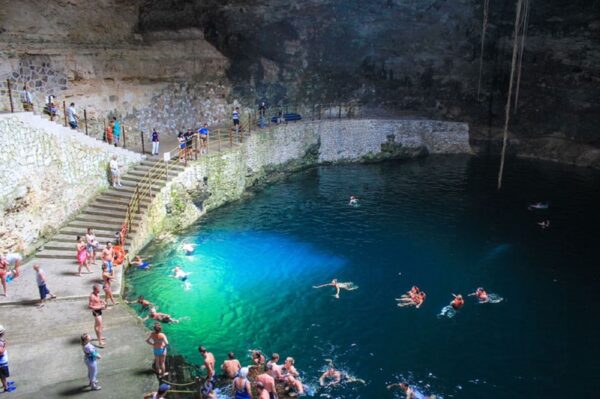 This is a large enclosed cenote with a massive pool where you can swim and snorkel. You can go down the wide stairs and enter into the cavern where the cenote is. From the wooden platform, you can take a dip into the cenote. Try to snorkel and look for the catfish that lives in here.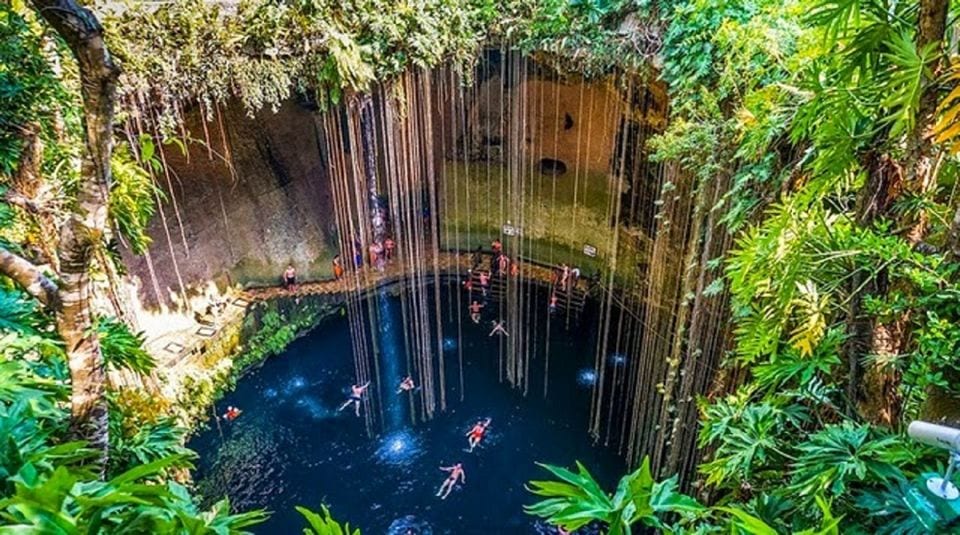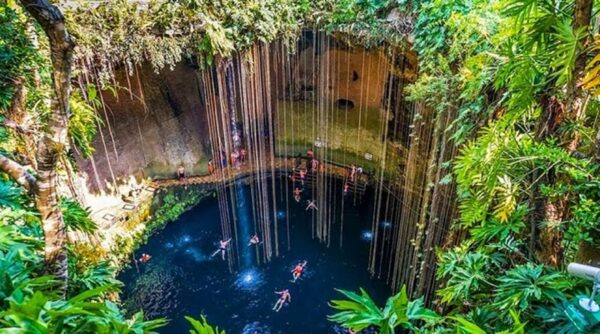 Interesting enough, the park around the cenote has some traditional Mayan houses. See and learn how the Mayans used to live from a thousand years before.
This is a common stop numerous tours, including those that visit Chichen Itza, Ek Balam Ruins, or Valladolid. Even though Cenote Hubiku gets a little bit crowded at times, it is still one of the most breathtaking cenotes to see and a definite must-experience while you are in Yucatan.
Check out the Ek' Balam Ruins, Hubiku Cenote, and Valladolid Experience here.
Sacred Cenote
Sacred Cenote, also known as the "Well of Sacrifice," is a cenote found at the pre-Columbian Mayan site of Chichen Itza. This is probably one of the most well-known cenotes in the Yucatan Peninsula (and one of the most visited). It is connected to Chichen Itza with a 300-meter (980 feet) sacbe, which are the white, raised roads, connecting the different structures of the ancient city and the other Mayan cities in the peninsula.
It was considered a sacred well by the Mayans because there was evidence that the ancient Mayans made offerings and sacrificed human beings to the Mayan rain god called Chaac.
Many of these objects that were found include pottery, incense, rubber, cloth, wood, shells, weapons, scepters, tools, idols, and the ever-important jade (the Mayans regarded this as the most precious). And don't be surprised, but human skeletons were found here too. The scientists saw blunt force trauma to the skull which is a proof of human sacrifices. This also proves that they were killed first before they were thrown into the water.
Although this is an exposed, circular cenote, most visitors just visit to see the cenote and forgo swimming. Since this is one of the most important cenotes of Chichen Itza, this was considered to be the most sacred among the sinkholes for the people who inhabited the area at the time.
Hilario Cenote
Hilario Cenote will be one of those unforgettable places you visit in your life. After a 10-minute walk down the jungle, you will be led to the entrance of this cenote. From here you can descend into this stunning cenote.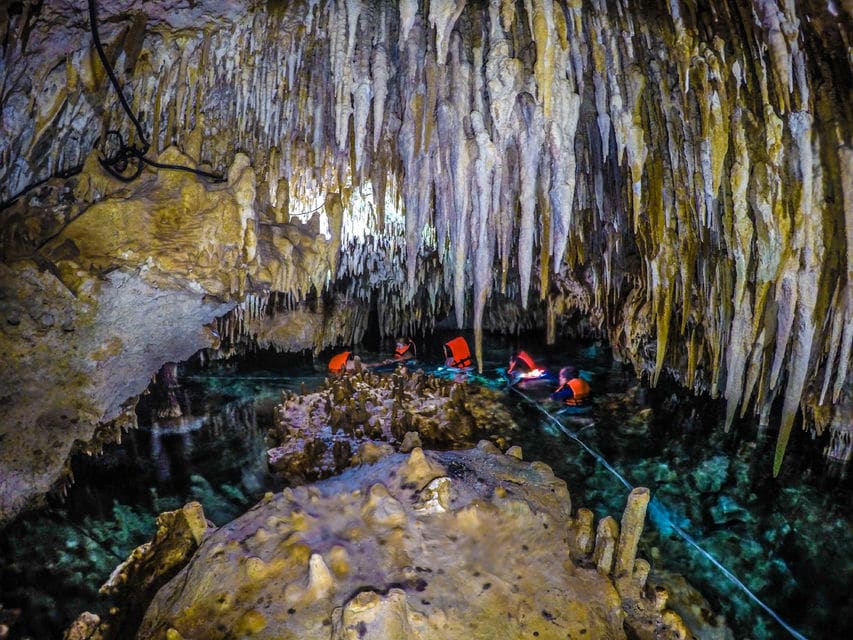 Once there, you will see the unique landscapes that this cenote has, with stalactites, stalagmites, and flowstone formations that are just out of this world. Places like this really show why the Mayans considered these portals to another world.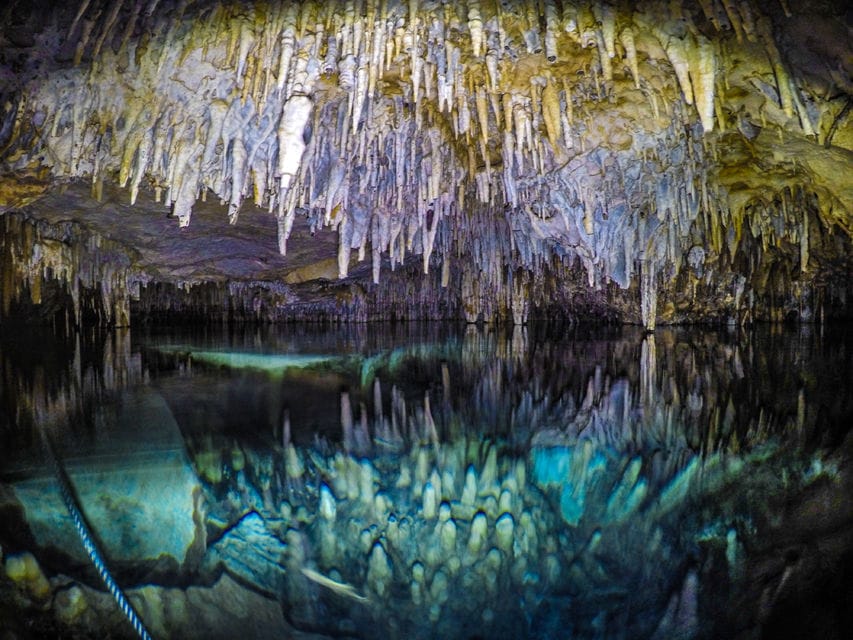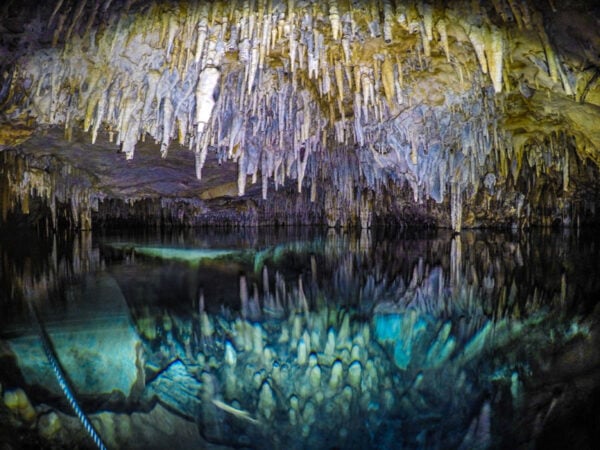 There is a guided snorkeling tour offered here which is one of the shorter and easier snorkeling tours.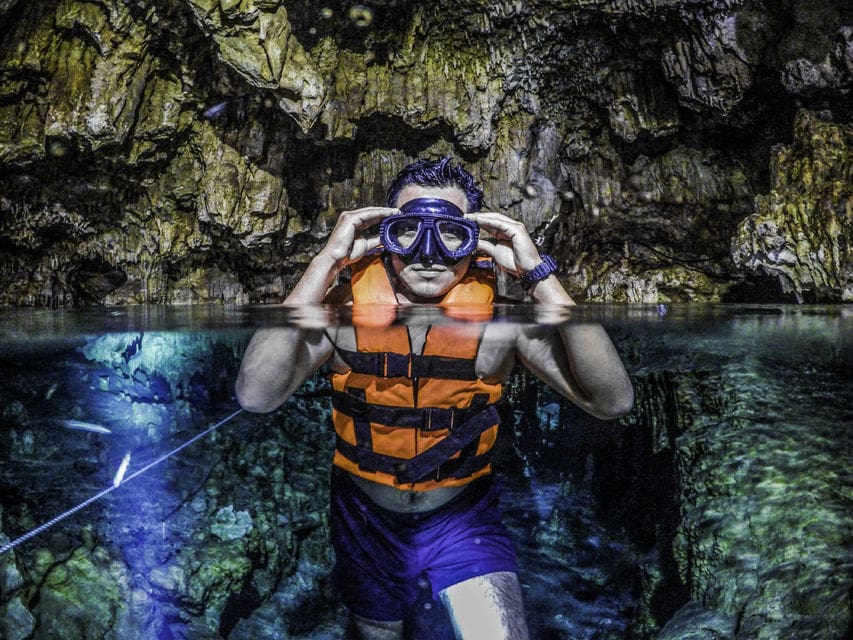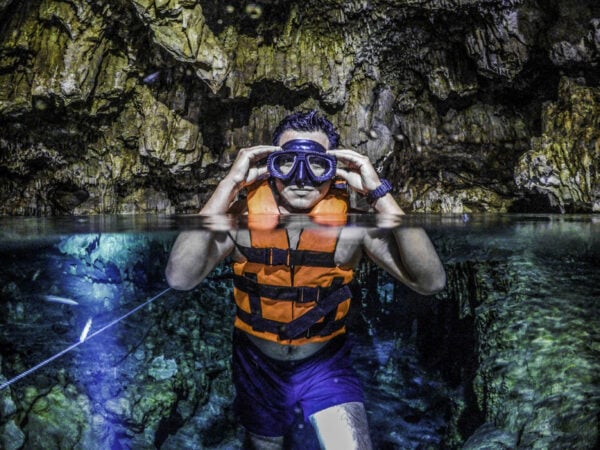 This cenote is near the ruins of Coba and you can take a side trip into this interesting cenote. But if you are interested in maximizing your time with a full-day tour of two Mayan ruins and the Hilario Cenote, then you can do a tour like what I recommend below.
Check out the Tulum, Cobá and Hilario Cave Day Trip here.
Rio Secreto from Playa del Carmen
The Rio Secreto is one of the most spectacular cenotes and cave systems in the Yucatan Peninsula, if not the world. This cave is full of stalactites and stalagmites in 360 degrees and is one of those incredible things to do in Playa del Carmen.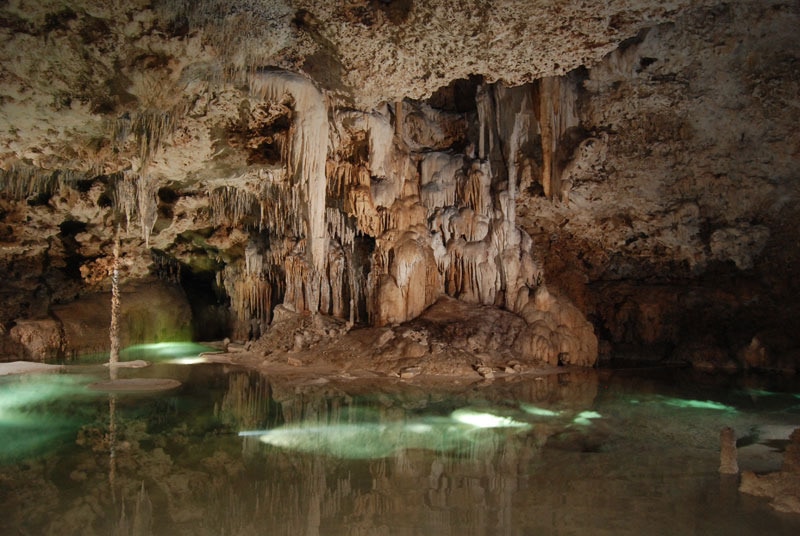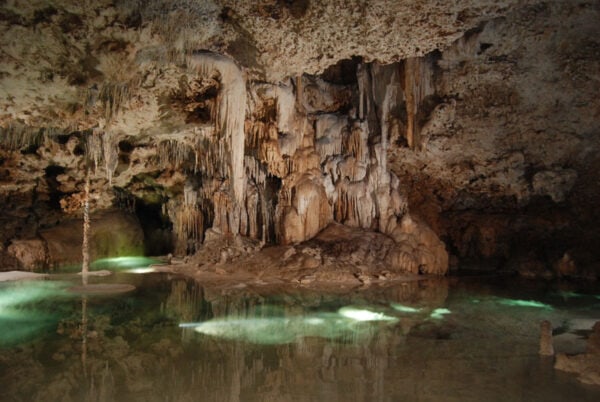 Here you can marvel at how nature formed these age-old crystal rock formations that form like a cathedral floating in turquoise blue freshwater.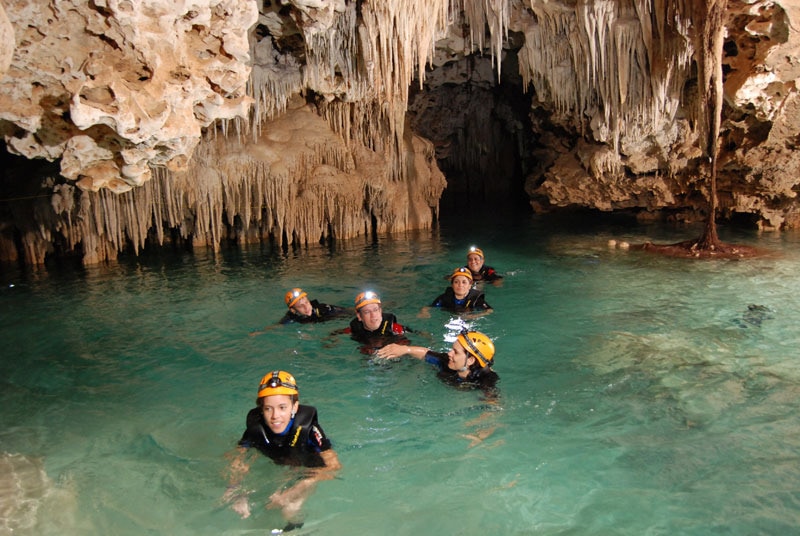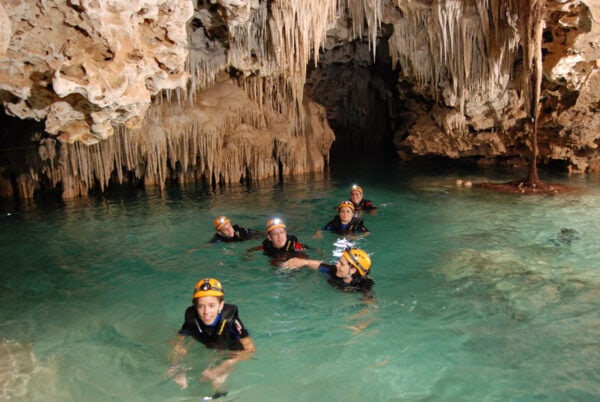 And don't forget to swim in the cool crystalline waters of the Rico Secreto. Are you ready to swim in the 20°C waters? I am more than ready! The Caribbean heat can take so much of your energy and the relaxing dip is a welcome break from the sun.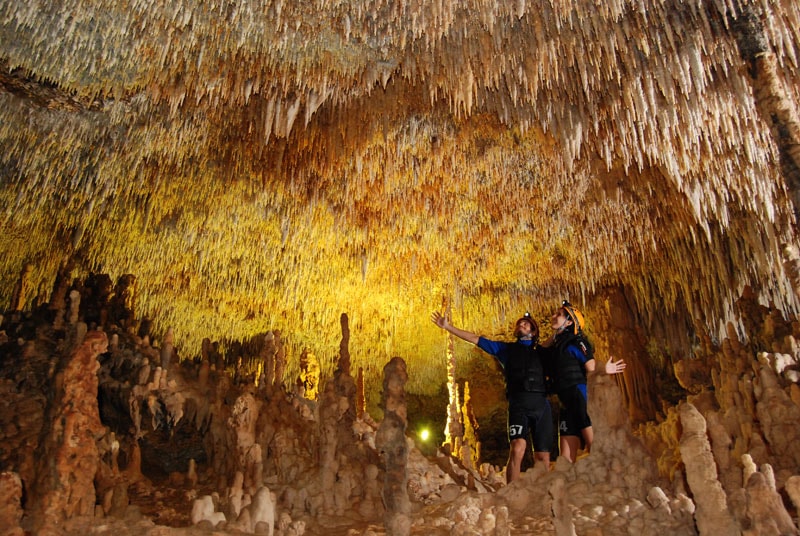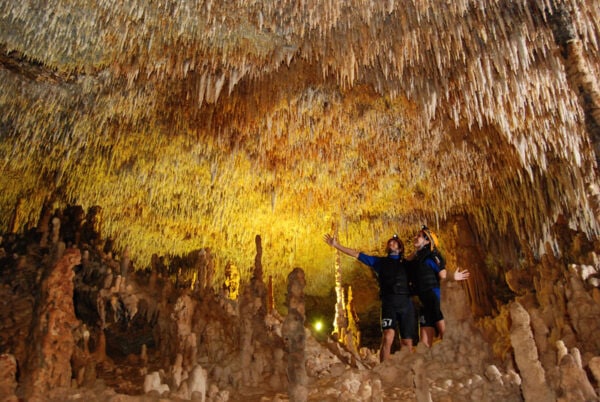 Float as long as you can in this magnificent underground cenote. Just purely beautiful!
Check this Rio Secreto Underground River Tour here.
More about Cenotes and the Yucatan Peninsula
There are 6,000 more cenotes around the Yucatan Peninsula that you can visit. You can choose to visit these cenotes whether you're coming from Tulum, Cancun, Playa del Carmen, or other cities in the area because there are SO many natural sinkholes dotting the peninsula.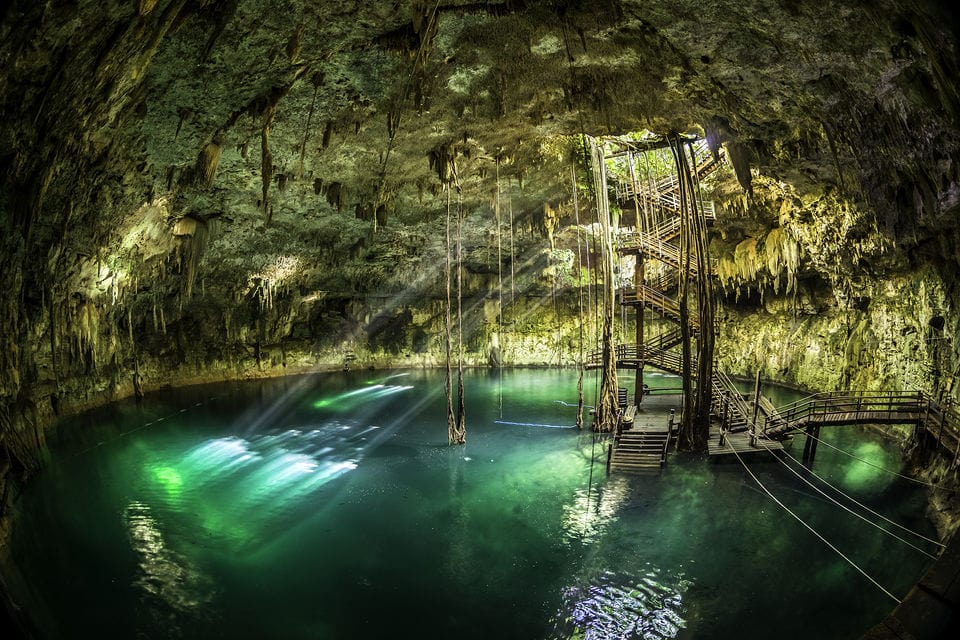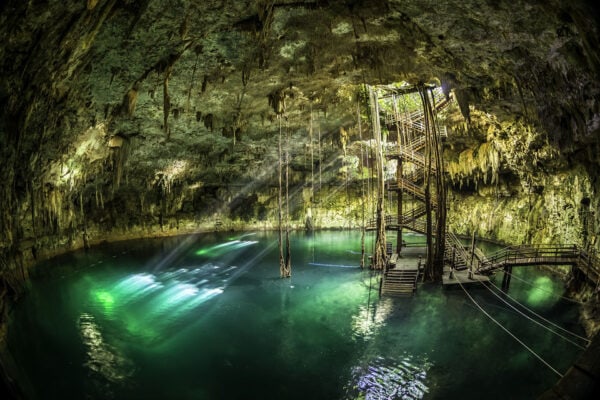 If there are other cenotes that you have visited that you think should be included in this guide to the best Yucatan cenotes, please don't hesitate to comment down below. I would love to hear from your experience of the incredible cenotes.
The Yucatan Peninsula is one of the most spectacular parts of Mexico, filled with so many natural wonders such as these ethereal cenotes. But don't take my word for it, go see it for yourself.
Traveling to Mexico soon? Be sure to book your room from Booking.com now to save on your lodging. If you are staying on for a few weeks, I highly recommend looking into Airbnb units. Don't forget to purchase travel insurance for Mexico to protect yourself against theft, sickness, and injury. I use and recommend World Nomads for the best combination of affordability and coverage.
Read Next: The Mayan Ruins of Chichen Itza: Everything You Need to Know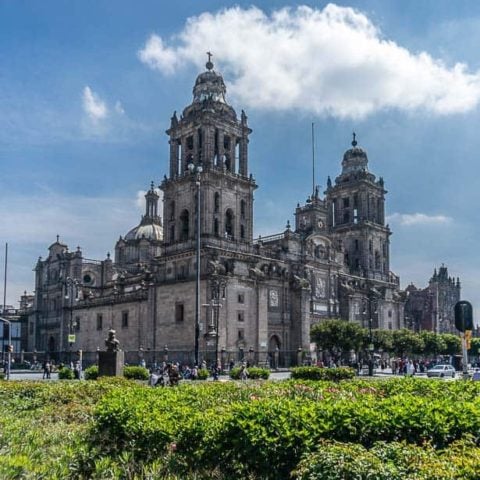 Mexico Travel Tips
Important tips and resources for planning an amazing trip to Mexico, based on my extensive experience traveling across the entire country.
Tools
Instructions
Book a cheap flight to Mexico with Momondo, or better yet, start travel hacking so you can fly for free.
Plan a rough itinerary and how long you will spend in each destination. Pick up Lonely Planet Mexico to help with this.
Work every day to teach yourself Spanish, you want to know as much as possible before you arrive.
Book your cheap accommodation in advance, at least for the first destinations -- For hostels use: Booking, for cheap hotels use: Hotels.com, for apartments use: Airbnb.
Reserve your on the ground tours and activities through Get Your Guide.
Purchase travel insurance for Mexico with World Nomads to protect yourself from illness, injury, and theft while in Mexico.
Check out my comprehensive guide about traveling to Mexico with information on cities, things to do, places to see, and more.
Learn more money saving tricks with my top budget travel tips if you want to get more bang for your buck.
Put together your Mexico packing list.
Enjoy this incredible country!
Notes
I hope this helped you plan your travels in Mexico! I know it can be a struggle to find accurate and on the ground information when traveling to a new place like Mexico, which is why I started writing so extensively about it!
If you have any questions about Mexico, budget travel, or anything else shoot me an email at ryan@desktodirtbag.com.
(I love getting questions! That is how I get ideas for my blog posts and what to write about!)
Recommended Products
As an Amazon Associate and member of other affiliate programs, I earn from qualifying purchases.
Share This
Did you enjoy this article about the best Cenotes of the Yucatan Peninsula? Then take a moment to share it on Facebook, Pinterest, or Twitter. Thanks!
The following two tabs change content below.
Desk to Dirtbag is one of the leading budget adventure travel blogs online and is dedicated to helping its followers achieve their travel dreams through inspiration, information, and actionable steps. If you are new to the site, be sure to
Start Here
.
Latest posts by Desk to Dirtbag (see all)