This article may contain
affiliate links
. If you make a purchase through these links, I will earn a commission at no extra cost to you. Thanks!
There is no question that Mexico is a country full of some of the most amazing beach destinations on earth, and there's no doubt that those places can provide a fantastic time for visitors. People enjoy these beaches so much, in fact, that the vast majority of tourists never leave the beautiful sand and playful waves of the Mexican beaches. But that is a terrible mistake, in my opinion. Mexico has so much to offer in areas that are not directly on the shores. Here are a few of the best places to visit in the Mexico interior that obviously are not on the beach and maybe not even on your radar.
If you're planning a trip to Mexico, you'd be well served by considering adding one of these amazing destinations to your travel plans…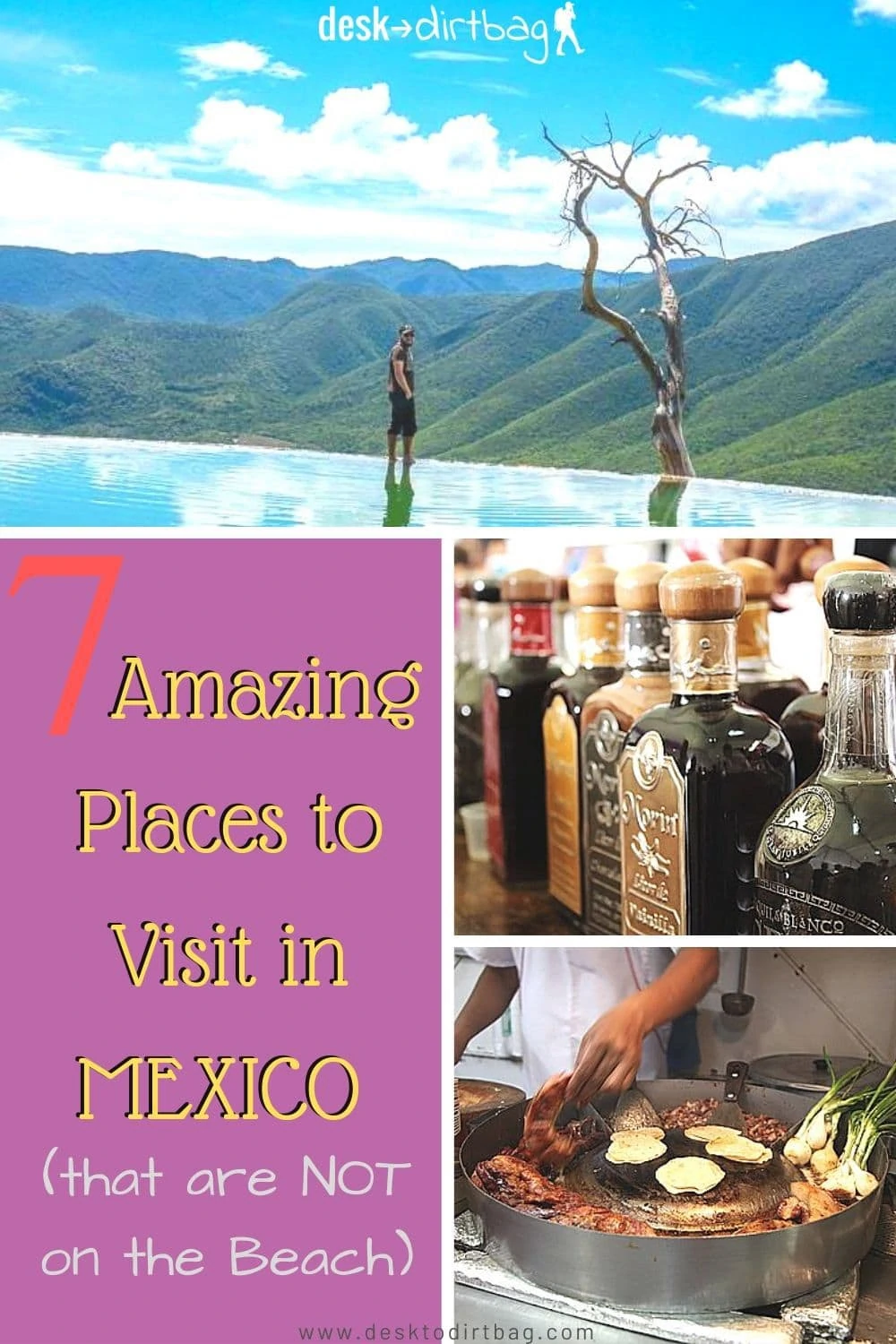 Tequila
Yes, everyone knows the liquor, but few realize that there is a cool little town in the western state of Jalisco that serves as the center for the production of this strong spirit. Near the center square, you'll find all sorts of cool buildings and churches in a rustic style of architecture, and surrounding town you'll find endless fields of the spikey Blue Agave plant from which tequila is made.
We stayed in this little town much longer than anticipated, because of how pleasant it was, even beyond all the tequila that there is to be drank here. Of course, if you make your way to Tequila, be sure to go on one of the numerous tequila factory tours whether from Casa Sauza, La Cofradia, or another one.
Furthermore, the town sits within easy striking distance of the stunning Lago Chapala, and even the beautiful beaches to the west like Sayulita, Rincon de Guayabitos, and Puerto Vallarta.
Read More: Tequila Factory Tour in Tequila, Mexico
Mexico City
This thriving metropolis has so much to offer visitors, with an almost endless number of places to explore and discover. It has tons of vibrant neighborhoods, each with its own personality and flair.
It is a place that mixes an incredible history with a vibrant and modern mix. Mexico City is home to some world-class museums (it's the city with the second most museums in the world!), like the Frida Kahlo Museum or the National Museum of Anthropology, and home to a vibrant and proud culture. Did you know that Mexico City is one of the top street food destinations on earth and also home to a handful of the world's best restaurants?
Although you can hitch a ride on the extensive subway system, the best way to experience the city is to walk through it and absorb the atmosphere. When you visit Mexico City, be sure to wear comfortable shoes.
While you are in the heart of the capital city, be sure to stop by the Zocalo, take a walk down Madero Street to see the Bella Artes building, head over to Chapultepec Park and stop by El Moro for some tasty churros. But, no trip to Mexico City is complete without visiting the archeological site of Teotihuacan, located about an hour northeast of the city center.
Mexico City is a place that blew me away and captivated me… It is a world-class city that rivals New York, London, or Paris, just with way fewer tourists.
Read More: Things to Do in Mexico City
Puebla
Puebla sits a few hours to the southeast of the bustling metropolis of Mexico City, and while Puebla is a big city, it is much more manageable in comparison. Puebla is known for its strong religious roots, which shows in the sheer number of churches here in town, with one seemingly on every corner.
Indeed, Puebla reportedly has the highest concentration of churches in all of Mexico, with Hernan Cortes vowing to build 365 of them, one for each day of the year.
Beyond the colorful buildings and stunning architecture, you'll find a city located in one of Mexico's most stunning settings, where snow-capped volcanoes stretch out overhead, higher than any peak in the Continental United States. The neighboring town of Cholula is also worth exploring, famed for its ancient pyramid which you can explore via underground tunnels that feel a bit like Indiana Jones.
The pyramid, which is now covered in dirt and vegetation which makes it look like a big hill, has been topped by an elegant church by the Spanish. Part of their effort to physically change important religious and cultural sites with those of Christianity and the Old World.
Both Puebla and Cholula were highlights of our journey through Mexico, and they deserve more time than just as a day trip from Mexico City as many do.
Read More: Exploring Puebla and Cholula
Oaxaca
If you are looking for someplace to get some of the greatest and most authentic Mexican food, then you need to take a trip to the city of Oaxaca. Oaxaca is widely considered the kitchen of Mexico, so it is THE place to enjoy a meal or two.
Oaxaca is known for its mole sauce. In fact, it boasts seven main styles of this popular chocolate-based sauce. So, if you love this savory sauce (or haven't yet tried it) that is a staple of Mexican cuisine, do yourself a favor and check out all the amazing things that Oaxacans do with it.
Plus, Oacaxan cuisine goes beyond mole sauces. You can also tempt your tastebuds with the likes of local dishes such as tlayudas, memelas and tamales oaxaqueños, too.
Rest assured, Oaxaca is not a locale that is strictly for foodies. You can also go there to enjoy its beautiful old town with pedestrian streets, the colorful markets, and exotic botanic gardens.
There are also many archeological sites that are ideal for day trips and do not miss visiting the mineral pools of Hierve el Agua which are like "frozen" waterfalls on the hillside that form natural infinity pools.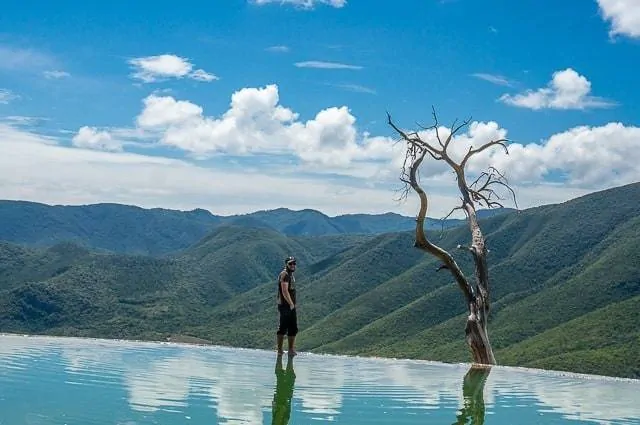 Oaxaca was one of my other favorite big cities in the country, thanks to its incredible dining, amazing street life, and nearby areas to visit, like the world's widest tree! If you start missing the beach, you can also make the trip over the mountains to the remote and amazing beaches of Zipolite and Mazunte, which are like little hippie paradises.
Read More: Things to Do in Oaxaca
San Cristobal de las Casas
San Cristobal is a colonial town located in that state of Chiapas, which is perhaps one of the most stunningly beautiful regions in all of Mexico. This colonial town features a vibrant town square, known as the Zocalo, which is highlighted by numerous pedestrian-friendly streets that are easily walkable and extremely welcoming to all who visit.
This place is one where tourists can get caught up in the culture and beauty and stay longer than originally intended. While you are in San Cristobal, take the time to explore the authentic markets and treat yourself to some of the handcrafted textiles that are unique to this area of Mexico.
I'll admit, the town itself wasn't my absolute favorite of destinations in Mexico simply because of all the people aggressively hawking to tourists, but this town makes the best base from which to explore the area on day trips to places like the Sumidero Canyon, the ruins of Palenque, and Aguas Azul waterfall. These are but a few of the impressive sites that should not be missed by anyone visiting the area.
Campeche
If you want to visit an area of Mexico that is vibrant and full of color, then you must head over to San Francisco de Campeche. Although this port city is located on the coast, it is not a beach destination like others on the Yucatan Peninsula.
This city is known for its colonial charm and slow pace of an older town that is ideal for visitors looking to kick back and relax. This city is also much less crowded than other destinations on the Yucatan Peninsula.
So, you will easily have the chance to explore the area without having to worry about the throngs of people getting in your way or people constantly hawking tourist wares at you.
This historic city that has survived legendary pirate attacks is home to numerous forts and other places to discover. In fact, it has earned a place on UNESCO's World Heritage List. If you want an easy way to explore the area, hop on a trolley and take an informative tour. Then, end your day by watching one of the most unforgettable sunsets you will ever encounter.
Yucatan Peninsula Interior
Speaking of the Yucatan Peninsula, you'd be surprised at how many incredible things there are to explore as you head inland, away from the hustle and bustle of places like Cancun or Playa del Carmen, and even beyond the obvious attractions like the popular Chichen Itza tours…
Merida
This charming old town was one of my absolute favorites on the entire trip through Mexico. It has a vibe that pulled me in, with its mix of old-school colonial architecture, lively streets, and just something really cool about it.
It was a place that we both kind of envisioned being a place we could live in. It's only about 30 minutes from the beaches in the north near Progreso, and even though it is an old school colonial city, it still features plenty of modern amenities on the outskirts.
Read More: The best things to do in Merida
Valladolid
For something even more laid back, check out this cool little town in the center of the Yucatan Peninsula, where you will find awesome streets that are just ripe for exploration… Valladolid is famous for its pastel buildings, colonial Spanish architecture, and old historic churches.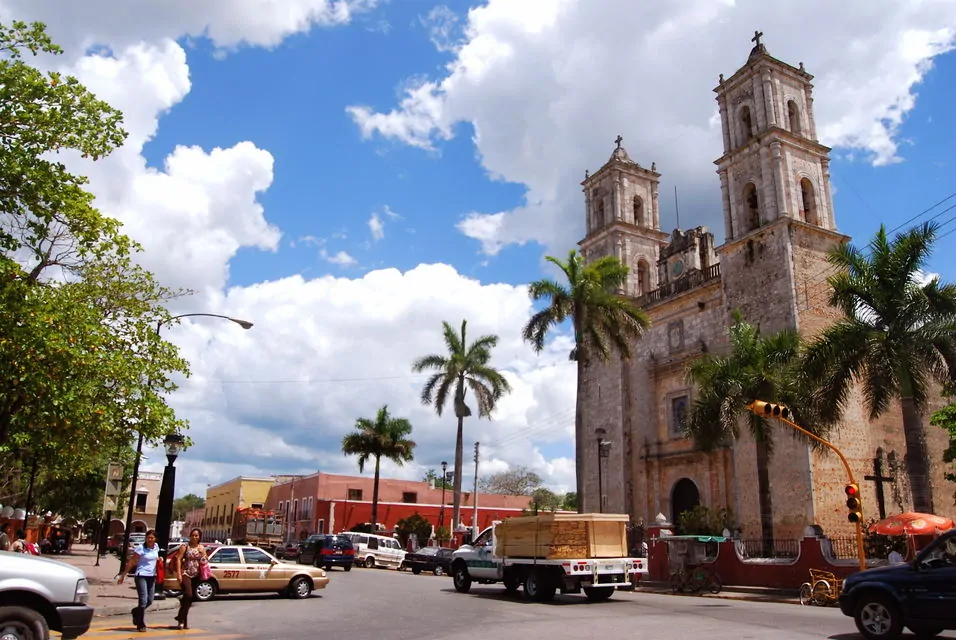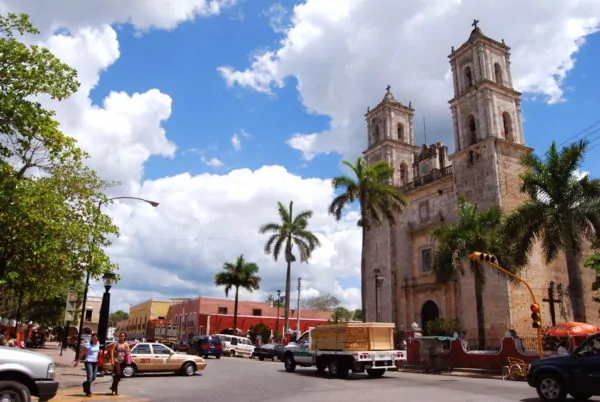 This is a cool place, often overlooked, and it's actually one of the best places to base yourself if you want to head out to Rio Lagartos, Merida, the beaches back along the Riviera Maya, or as a place to explore the almost countless cenotes. Speaking of cenotes…
Cenotes
During your trip to Mexico, surprise yourself with a trip to see a cenote. A cenote is simply a sinkhole that is created by the collapse of limestone rock. The crystal clear water pools that are created were important to the Mayan culture, as they were used to make sacrificial offerings to the god of rain.
Cenotes are scattered throughout the state of Yucatan and Quintana Roo. Visiting one will give you an experience you will never forget, and you'll find the best ones dotted all over the interior, away from the beautiful beaches. Read more about the best cenotes in Mexico here.
Book a tour to explore Chichen Itza and Cenotes now.
Visit the Mexico Interior
This is just a handful of some of the cool places to visit in Mexico that aren't on the beach, but there are plenty more that I've visited, and even more that I haven't had the chance to explore yet, whether that's Monterrey, Copper Canyon, or some of the numerous pueblos magicos that pepper the countryside. The fact is that the Mexico interior is a cool space that merits further travels and explorations.
Of course, lazing away on the beach is never a bad way to spend a vacation in Mexico, but this beautiful country has so much more to offer.
Indeed, I'd go so far as to say some of the best things about Mexico are those places far inland, away from the hustle of the tourist resorts that dot the coast on both the Pacific and Caribbean sides of the country.
Do yourself a favor on your next trip to Mexico and give the beach a break in favor of visiting more of what this wonderful country has to offer.
Traveling to the Mexico interior soon? Be sure to book your room with Booking.com now to save. And if you are staying in any of these places for a few weeks, I highly recommend looking for units in Airbnb. And before you go, don't forget to purchase travel insurance for Mexico to protect yourself against illness, injury, and theft. I use and recommend World Nomads for its combination of affordability and coverage. Check them out!
Read Next: Traveling to Mexico Guide: Things to Do, Travel Tips, and More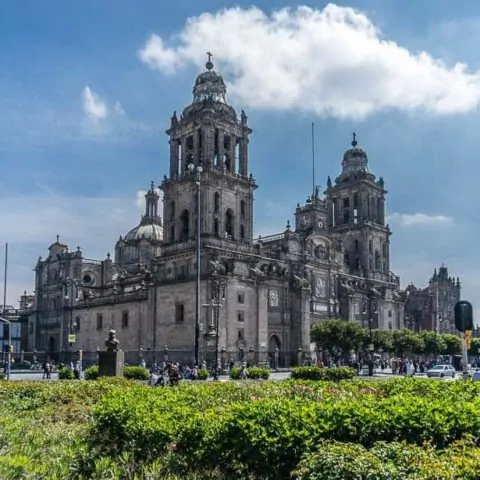 Mexico Travel Tips
Important tips and resources for planning an amazing trip to Mexico, based on my extensive experience traveling across the entire country.
Tools
Instructions
Book a cheap flight to Mexico with Momondo, or better yet, start travel hacking so you can fly for free.
Plan a rough itinerary and how long you will spend in each destination. Pick up Lonely Planet Mexico to help with this.
Work every day to teach yourself Spanish, you want to know as much as possible before you arrive.
Book your cheap accommodation in advance, at least for the first destinations -- For hostels use: Booking, for cheap hotels use: Hotels.com, for apartments use: Airbnb.
Reserve your on the ground tours and activities through Get Your Guide.
Purchase travel insurance for Mexico with World Nomads to protect yourself from illness, injury, and theft while in Mexico.
Check out my comprehensive guide about traveling to Mexico with information on cities, things to do, places to see, and more.
Learn more money saving tricks with my top budget travel tips if you want to get more bang for your buck.
Put together your Mexico packing list.
Enjoy this incredible country!
Notes
I hope this helped you plan your travels in Mexico! I know it can be a struggle to find accurate and on the ground information when traveling to a new place like Mexico, which is why I started writing so extensively about it!
If you have any questions about Mexico, budget travel, or anything else shoot me an email at ryan@desktodirtbag.com.
(I love getting questions! That is how I get ideas for my blog posts and what to write about!)
Recommended Products
As an Amazon Associate and member of other affiliate programs, I earn from qualifying purchases.
Share This
Did you enjoy this post about the best places to visit in Mexico that are NOT the beach? Take a second to share this article on Pinterest, Facebook, or Twitter. Thanks!
The following two tabs change content below.

Desk to Dirtbag is one of the leading budget adventure travel blogs online and is dedicated to helping its followers achieve their travel dreams through inspiration, information, and actionable steps. If you are new to the site, be sure to
Start Here
.

Latest posts by Desk to Dirtbag (see all)