This article may contain
affiliate links
. If you make a purchase through these links, I will earn a commission at no extra cost to you. Thanks!
We managed to break ourselves away from the adorable puppies at Teotihuacan Trailer Park (but it was difficult!) after extending our stay from just one or two nights into five…
Pointing the truck south we headed toward Cholula, a small pueblo on the outskirts of Puebla— a bustling city itself— and which both sit in the shadow of the volcano Popocatepetl.
Cholula (Not the Hot Sauce)
We were on the hunt for the Las Americas Trailer Park, but we had a hard time finding the place at first (even with GPS coordinates) — there was one decrepit sign on the main road which made it look like it had closed long ago.
Taking the turn as the sign indicated and we drove down a quiet road and saw no other signs.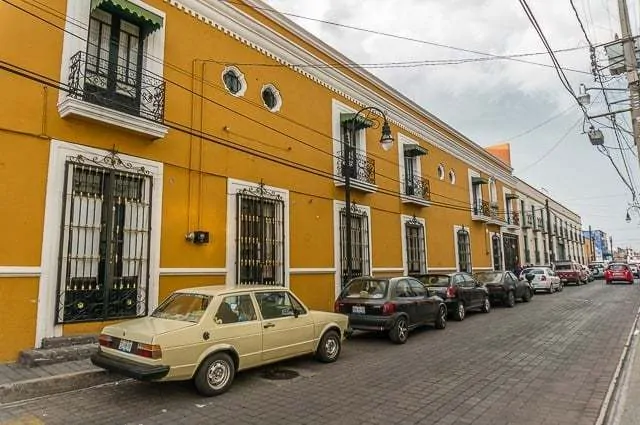 We drove to the end of the block and flipped a u-turn to ask the police that were parked near by.
"It's that big gate there" came the reply.
Ah okay, I thought, but still strange there is no sign.
We pulled up in front of the gate and the attendant inside looked at us and then went back to what he was doing…
Andrea had to jump out of the truck and approach the gate to ask if this was indeed the trailer park.
Now he finally opened the gate and allowed us to come inside.
Las Americas Trailer Park
The place was essentially a private apartment complex that also doubled as a trailer park around the perimeter parking area. Which meant there were residents and workers constantly coming and going—walking right beside where you'd be camping.
It certainly didn't have the warmth of the Teotihuacan Trailer Park, but I guess it would do… Even though there was basically no internet—you had to crawl all the way over to the side of the building and sit on a small bench outside of somebody's apartment just to get a signal.
It was a short walk to the San Diego Shopping Mall in Cholula though, so we took advantage of that fact and went to dinner at the VIPS chain restaurant (quite good!) and for a movie for the first time in many months.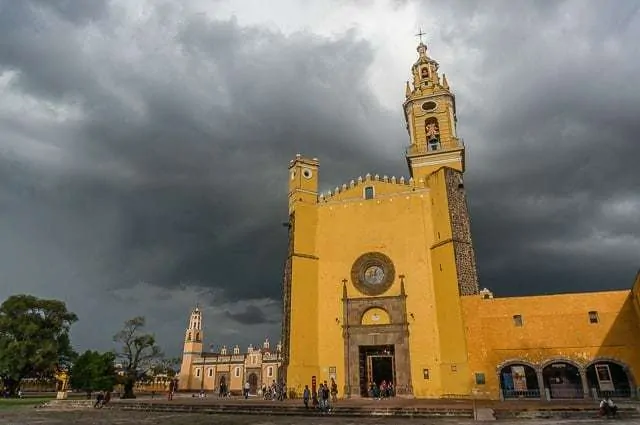 Cholula Pyramid
The following day we went out for more pyramid exploration—this time to the Cholula Pyramid.
From the outside the Cholula Pyramid doesn't look like anything… Indeed it looks like a big hill with a church on top of it. That's the Cholula Pyramid.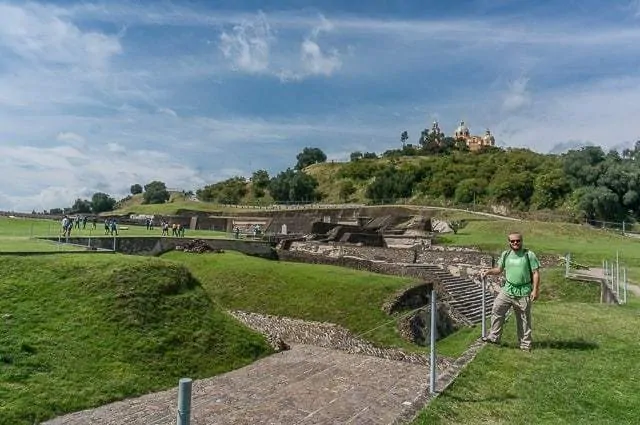 But it is, supposedly, the largest pyramid known to exist in the world today (by volume).
The top of the pyramid, where the church sits, offers an excellent view.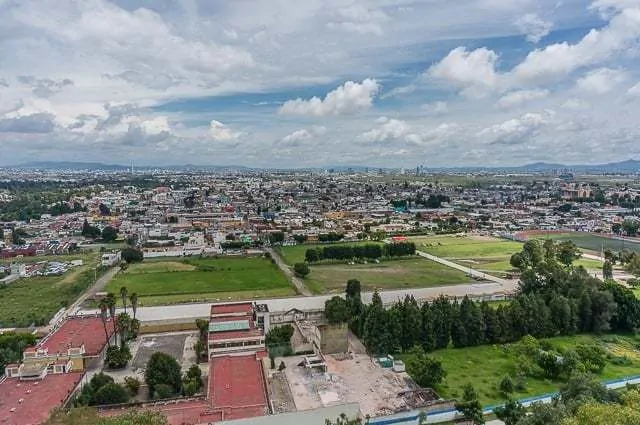 The pyramid was built in stages beginning in the 3rd century BC through the 9th century AD.
It would appear that the civilization at Cholula was closely linked to that of Teotihuacan, and both appear to have declined simultaneously.
Upon the arrival of the Spanish the pyramid had been overgrown with dirt and vegetation, though it still retained some local cultural importance. And is was the practice at the time, the Catholic Church repurposed old religious sites by building a church on top of the pyramid.
Because of the historical and cultural significance of the church, they are now unable to excavate the pyramid for fear of destabilizing or damaging the centuries old church atop.
Exploring the Ruins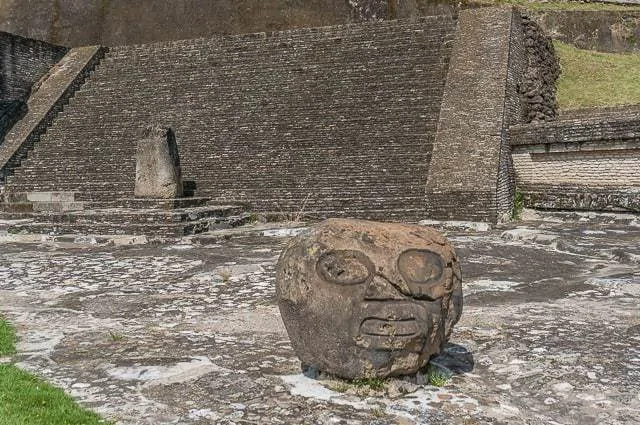 There have however been numerous tunnels explored through the heart of the pyramid—which is how visitors today are able to visit and appreciate this ancient structure.
It's quite fun wandering through the lengthy tunnels and imagining yourself as Indiana Jones and thinking about what lies just beyond the rail up those stairs or around that corner.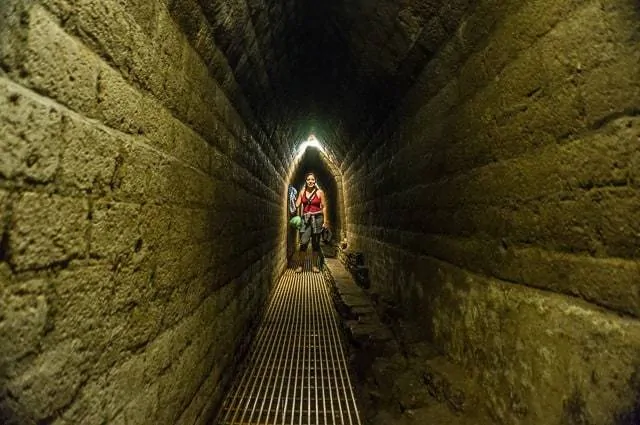 After exploring some of the nooks and crannies of the pyramid you pop back outside where you can explore some of the excavated corners of the pyramid in the great courtyard.
If anything exploring these ancient pyramids gives you a better appreciation for the civilizations that once ruled these parts of the Americas.
In the United States, at least, we don't have the lasting legacy of who was once there. Not like in Mexico, Guatemala, and Peru, at least.
That there were once great civilizations here that rivaled or even exceeded Europe, but which abruptly disappeared, not unlike the dinosaurs.
The Streets of Cholula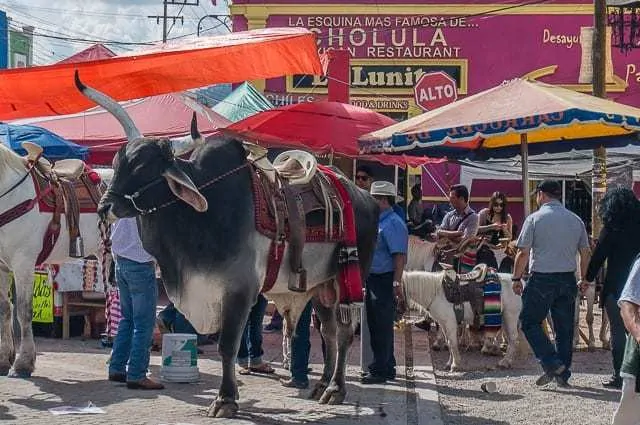 Walking around the open air markets that were there temporarily for the annual fair (feria) was also fun—lots of trinkets, strange new foods, micheladas, loud music, and carnival rides.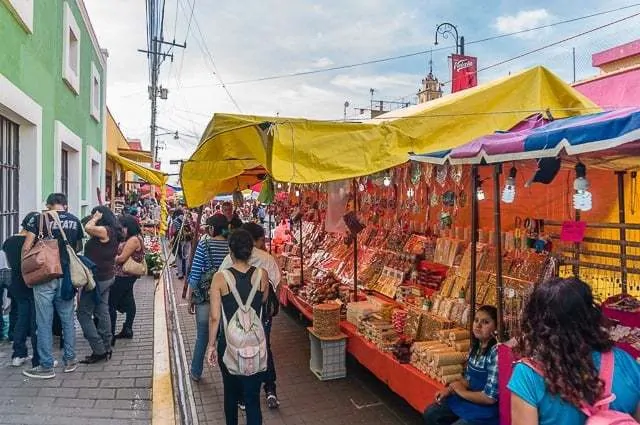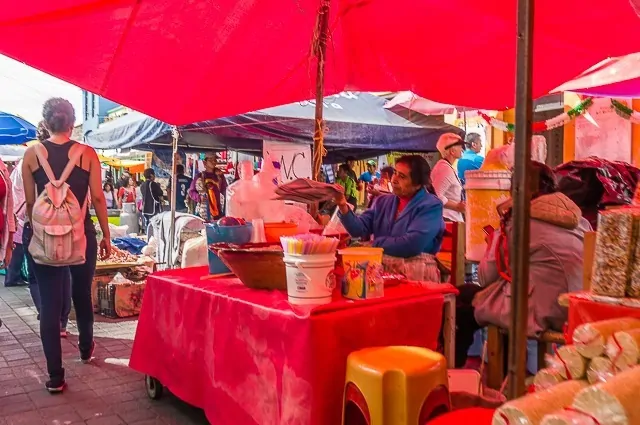 Puebla
The following day we took the bus into the big city of Puebla to explore this colonial town—which boasts more churches than anywhere else in Mexico.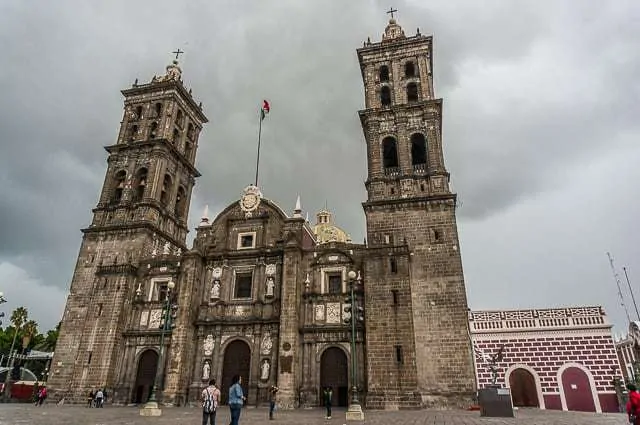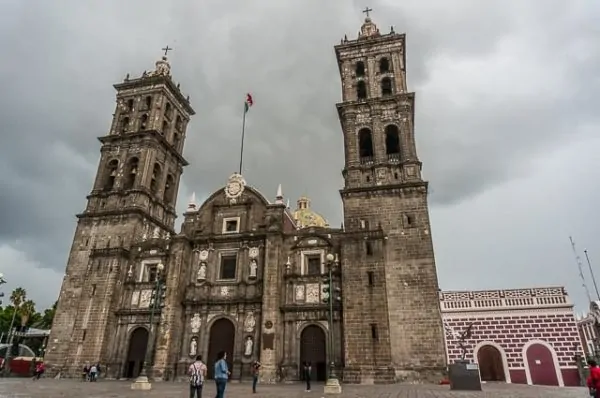 The main plaza was bustling with activity as the locals came out to enjoy shows of traditional dance and song, eat, drink, and socialize.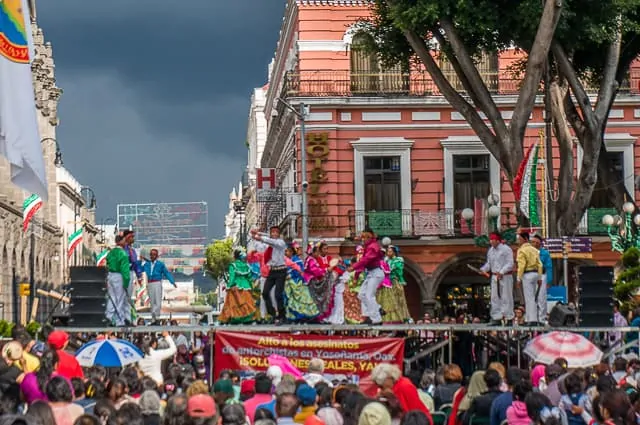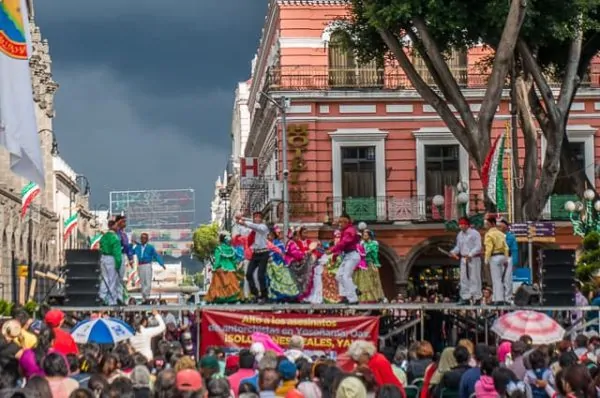 Children were launching long skinny balloons into the air which would come tumbling back down and smack someone in the head, invariably.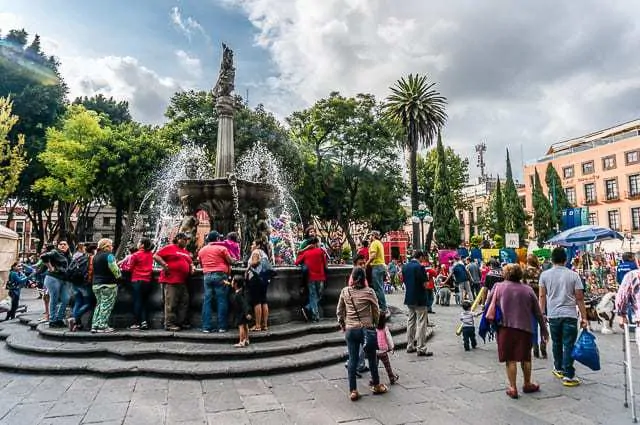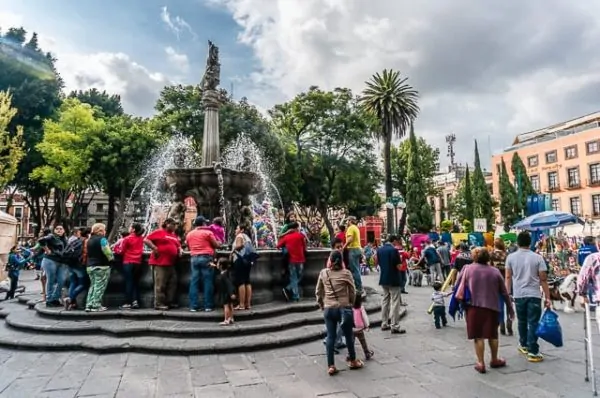 We enjoyed some churros from a street vendor and sat down for a coffee just off the main square…
Then, of course, just as we were leaving, the skies unleashed the most torrential of torrential downpours.
Everyone took to running to find cover under the awnings and colonnades of the old colonial square.
We crowded in and bumped against one another trying to avoid getting wet.
Almost instantly numerous vendors appeared out of nowhere selling umbrellas and plastic ponchos to those who couldn't wait.
Thanks to Andrea we at least had one small umbrella between us. But the rain was coming down too hard so we waited until it at least let up a bit before we pushed on to find the bus.
But we still got drenched in the process.
Everyone always says, oh you're from Seattle, you should be used to the rain. But in Seattle, we don't get rain like they get rain here in Central America. When it rains here, the heavens open up and dump buckets upon you.
Traveling to Cholula or Puebla on your next trip? Book the perfect room on Booking.com today!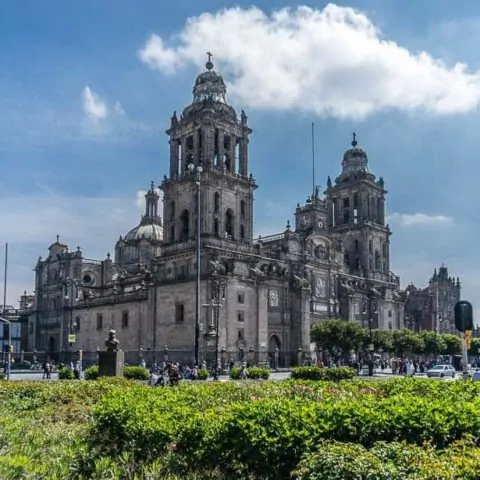 Mexico Travel Tips
Important tips and resources for planning an amazing trip to Mexico, based on my extensive experience traveling across the entire country.
Tools
Instructions
Book a cheap flight to Mexico with Momondo, or better yet, start travel hacking so you can fly for free.
Plan a rough itinerary and how long you will spend in each destination. Pick up Lonely Planet Mexico to help with this.
Work every day to teach yourself Spanish, you want to know as much as possible before you arrive.
Book your cheap accommodation in advance, at least for the first destinations -- For hostels use: Booking, for cheap hotels use: Hotels.com, for apartments use: Airbnb.
Reserve your on the ground tours and activities through Get Your Guide.
Purchase travel insurance for Mexico with World Nomads to protect yourself from illness, injury, and theft while in Mexico.
Check out my comprehensive guide about traveling to Mexico with information on cities, things to do, places to see, and more.
Learn more money saving tricks with my top budget travel tips if you want to get more bang for your buck.
Put together your Mexico packing list.
Enjoy this incredible country!
Notes
I hope this helped you plan your travels in Mexico! I know it can be a struggle to find accurate and on the ground information when traveling to a new place like Mexico, which is why I started writing so extensively about it!
If you have any questions about Mexico, budget travel, or anything else shoot me an email at ryan@desktodirtbag.com.
(I love getting questions! That is how I get ideas for my blog posts and what to write about!)
Recommended Products
As an Amazon Associate and member of other affiliate programs, I earn from qualifying purchases.
Share This
If you enjoyed this post, please take a moment to share it on Facebook, Pinterest, or Twitter. Thanks!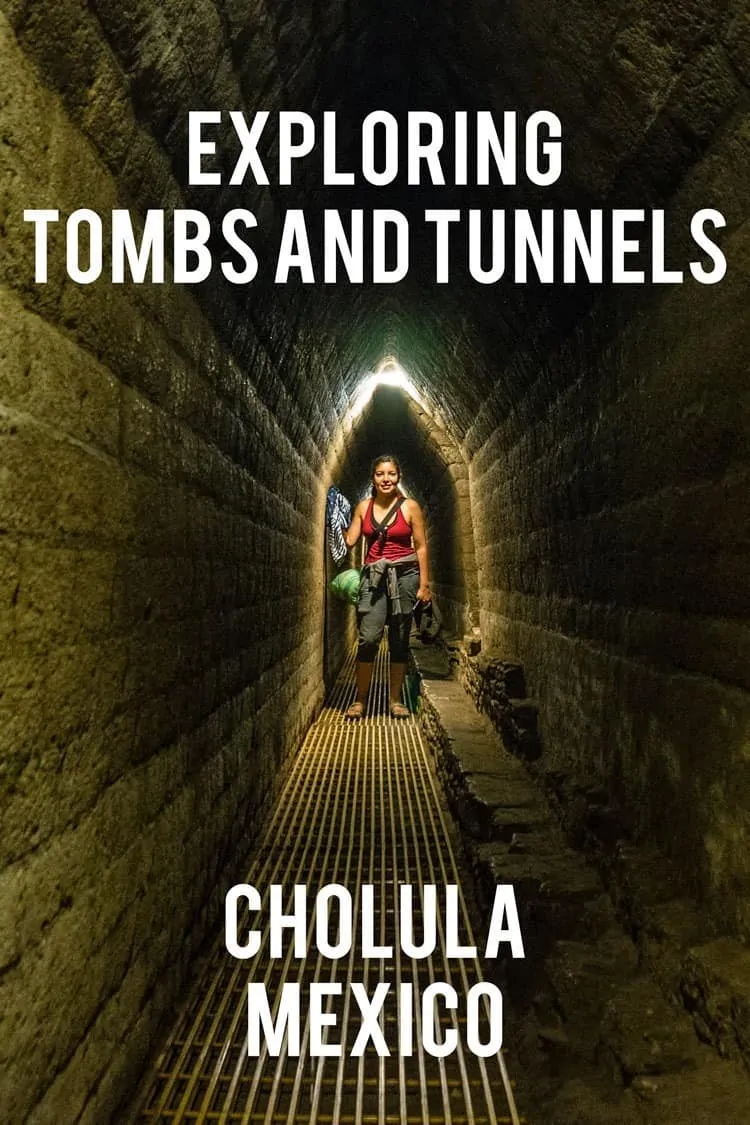 The following two tabs change content below.