This article may contain
affiliate links
. If you make a purchase through these links, I will earn a commission at no extra cost to you. Thanks!
Merida is the capital and the largest city of the Yucatan Peninsula of Mexico. Merida may not be the #1 place people think of when they think of the Yucatan (thanks to the popularity of places like Cancun or Tulum) but this city was among my favorite destinations in Mexico — a place I even envisioned living one day. "La Ciudad Blanca" is a place that is quite unforgettable for its cuisine, culture, art, history, and warm people. If you're planning a trip to the Yucatan then you might be wondering whether it's worth the visit, well, I can assure that it is because there are a lot of awesome things to do in Merida.
About Merida
Being the largest city in Yucatan, Merida has more than a million people and more than 60% of these residents are of Mayan descent. This city has the highest percentage of indigenous peoples compared to any other large Mexican city. Because of the strong influence of Mayan culture, it enriched the food, culture, art, and history of the people of Merida. Not only that but walking the streets you will also feel the Spanish and European influences which have been woven to its culture and history.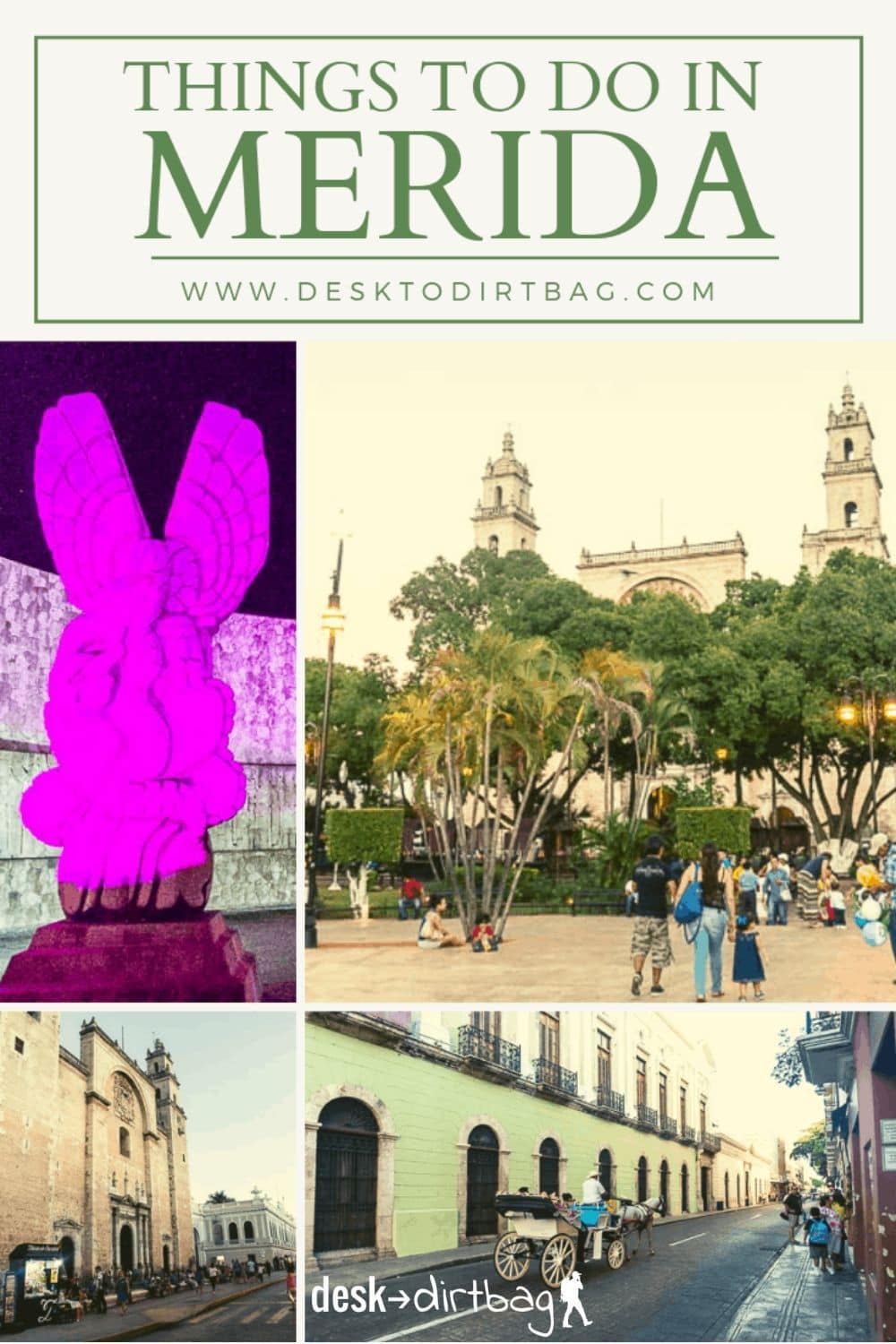 Merida is called La Ciudad Blanca or White City because the buildings were built with white stone and it was said that the early inhabitants used to wear white. If you are planning for your trip to Merida, don't be too overwhelmed because we will breakdown the different places to go and places to eat in this city, with our list of the best things to do in Merida.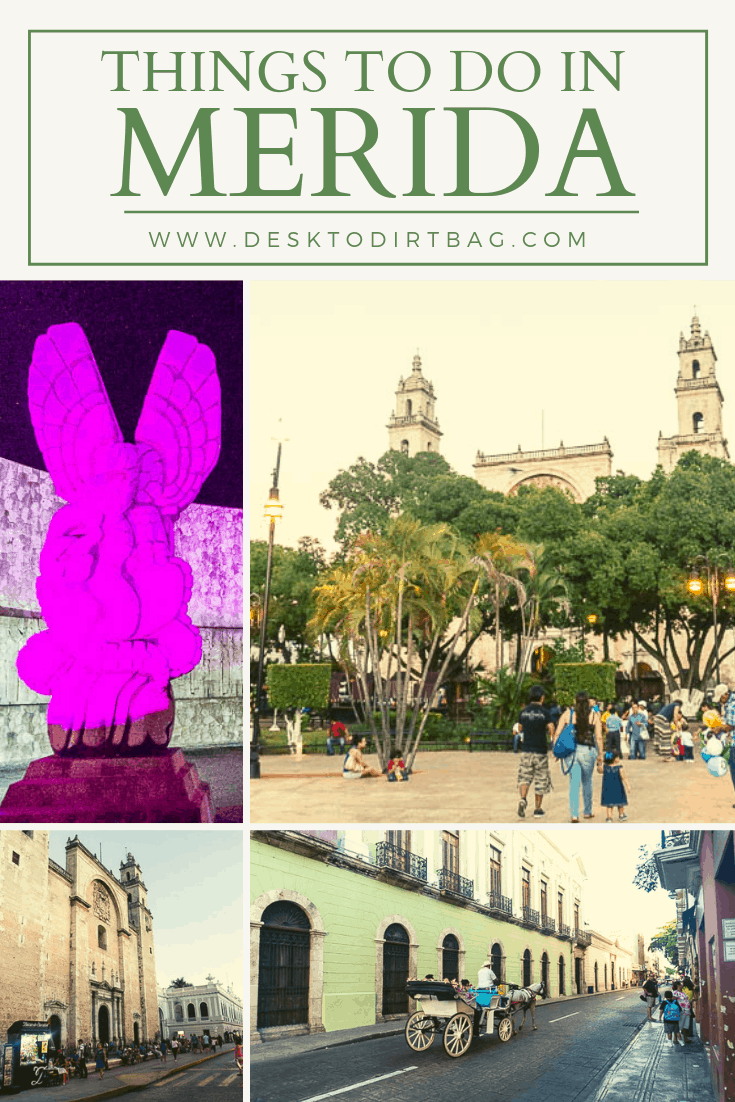 Join the Free Walking Tour in Merida
Again, anything and everything that is free… that's something us dirtbag travelers should always grab right off the bat. Merida has several free walking tours that will help you understand the city before and it is also one way of getting the feel of the place if it is your first time visiting this beautiful city.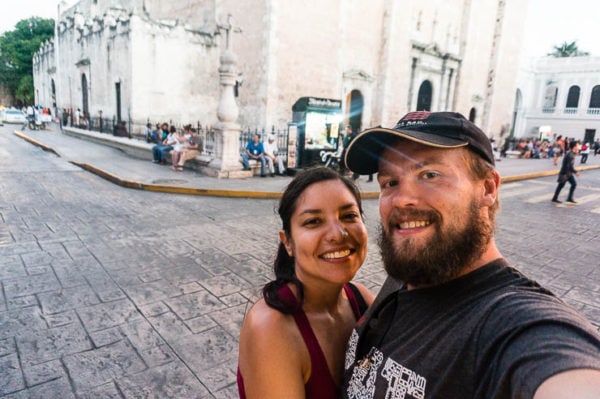 While going around the Merida, you may see different cultural influences ranging from the Mayans, Spanish, French, British, Lebanese, and the Dutch. The Spanish had the most visible influences here as they have founded it in 1542 and named the city after the town in Extremadura, Spain. Since the Spanish built this city on the grounds of the Mayan city of T'hó, some of the ancient Mayan stones can be seen in the walls of the main cathedral and other buildings.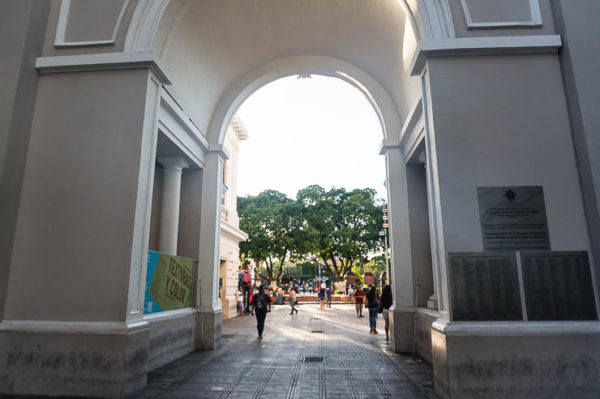 Your expert tour guides will lead you to Plaza Grande, Catedral San Ildefonso, Pasaje de la Revolucion, Parque Hidalgo, and other main tourist attractions in the city center. They will also tell you more about the legends, history, and some folklore of the city. They have tours every day at 10 AM (in English or Spanish). Don't forget to tip generously, guys!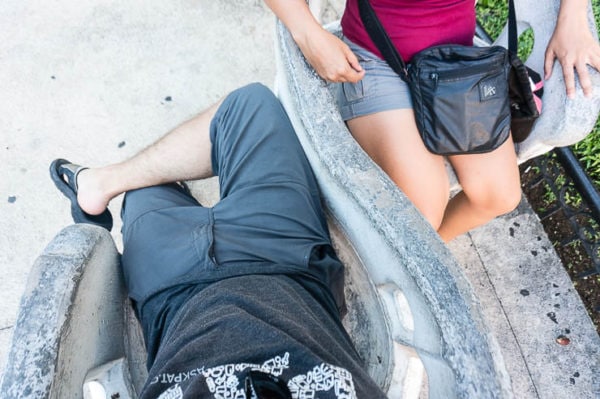 Honestly, the historic center of Merida is quite enchanting, and we loved nothing more than just wandering the streets or sitting in the plaza.
Book your free walking tour in Merida now.
Marvel at the Architecture of Paseo de Montejo
The old city of Merida has expanded beyond the old walls. Along the affluent main avenue of Paseo de Montejo, you can find the elaborate buildings which were the homes of the many Merida millionaires of the early 20th century.
You can take a walk in Paseo de Montejo, which is basically a wide boulevard with pedestrian-friendly streets. Most of these mansions have been turned into museums, banks, and government offices. Enjoy some of the cafes in this area while you look at the elaborate buildings on this street.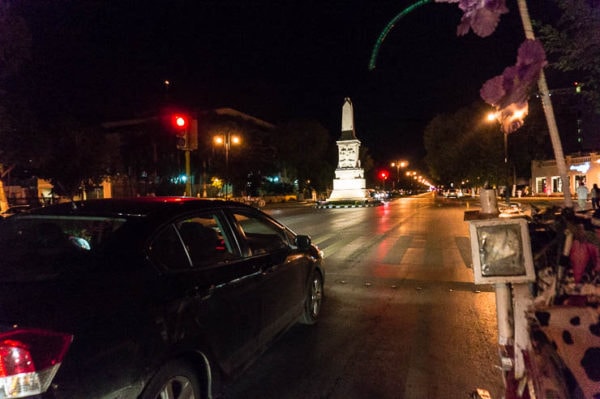 If you like, you can also take a horse carriage ride up the Paseo, perhaps in the early evening as they light up the facade of these incredible mansions… It's like taking a step back in time.
Quinta Montes Molina
Quinta Montes Molina stands out from the rest of the mansions with its eclectic style completed in 1902. For over 100 years now, the descendants of the first owners have kept the mansion and everything inside in top condition. You can check inside the century-old fittings like Carrara marble floors, porcelain, alabaster figurines, antique furniture, Murano and Baccarat chandeliers which are still in beautiful condition.
It has attracted many to hold their weddings, business events, and cultural happenings in this lavish mansion and its grounds.
Quinta Montes Molina opens every day except Sunday from 9 AM to 5 PM with several English-language tours every day. The property highly recommends for visitors to get tickets online or call first to make sure there are no events scheduled.
For more information about Quinta Montes Molina checkout their official website.
Visit the Museums of Merida
This is the cultural capital city of the Yucatan Peninsula and the city houses significant archaeological finds from the ancient Mayans. There are several museums in the city that you can visit to learn more about the region's vibrant past.
Palacio Cantón
Paseo de Montejo's Palacio Cantón is a beautiful turn-of-the-century mansion which was built for the politician and general Francisco Cantón Rosado (thus the name). It is done in a mix of neo-Baroque and Neoclassical elements with Doric and Ionic columns. The lavish gardens are well kept.
Palacio Cantón used to showcase some archeological collections before these were moved to the bigger museum for Mayan collections. Now, it has temporary exhibits which change throughout the year. This is a smaller museum but one of the closest options to view Mayan artifacts. They are open Tuesdays to Sundays from 8 AM to 5 PM.
To learn more about this museum, please visit Palacio Cantón's Official Website.
Museo Fernando García Ponce-Macay
Another museum that can be found near Plaza Grande is the Museo Fernando García Ponce-Macay which showcases sculpture and contemporary paintings. This museum's mission is to promote national and international modern and contemporary art.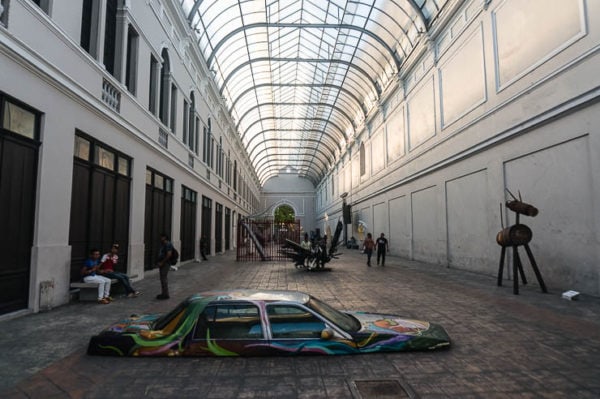 This has become an important venue for Mexico's modern artists to exhibit their art in the 15 dedicated temporary exhibition halls (which are changed simultaneously every three months, totaling to 45 exhibitions annually).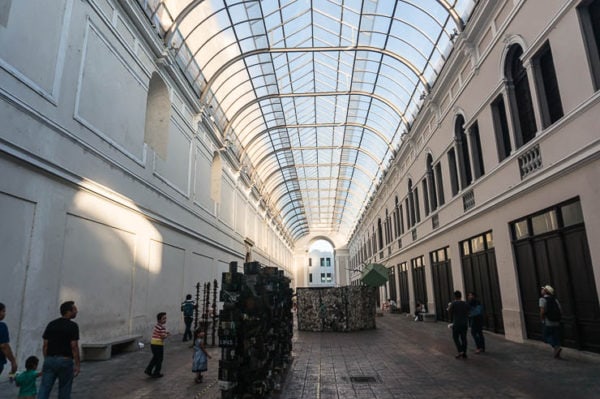 The permanent collection includes Yucatan's modern artists Gabriel Ramirez Aznar (abstract expressionist), Fernando Castro Pacheco (muralist), and of course Fernando García Ponce (abstract expressionist).
Entrance in this museum is free and it is open every day except Tuesdays from 10 AM to 6 PM.
Know more about Museo Fernando García Ponce-Macay on their official website.
Museo de la Ciudad de Mérida
This 1908 building was once Merida's old central post office which has since been turned to Museo de la Ciudad de Mérida. You can walk through Merida's history from the pre-Hispanic period, Spanish period, the 19th century and the henequen haciendas, and Merida since the 20th century.
Museo de la Ciudad de Mérida opens every day except Mondays, from 9 AM to 6 PM.
Gran Museo del Mundo Maya Merida
Whether you are a big history buff or a person who just wants to know more about the Mayans, Gran Museo del Mundo Maya Merida is the perfect place for you to discover the Mayan world. There is perhaps no such place on earth now that holds greater information about this ancient civilization than this museum. Take note, there are over 1,000 different pieces in here!
Well, I could say that this is the ultimate primer if you want to get a deeper understanding of the Mayan civilization, from the beginning of time to the modern Maya descendants today. Absolutely recommended doing before you visit the significant Mayan ruins in the Yucatan Peninsula like Chichen Itza, Palenque, and Tulum (to name just a few).
Gran Museo del Mundo Maya Merida is open every day except Tuesdays, from 8 AM to 5 PM. This is will be a little farther away from the city center so you'll probably need to take an Uber here (about 20 minutes drive from the Centro).
You can check out their official website to know more about Gran Museo del Mundo Maya Merida.
Explore the Ancient Mayan Civilizations
The Yucatan Peninsula is like a walk back thanks to the sheer amount of Mayan ruins stretching all throughout this corner of Mexico (and beyond, into Guatemala, Belize, and Honduras, of course).
Dzibilchaltún
"Place where there is writing on the stones" — this is what Dzibilchaltún means in the Mayan language, a clear reference to the many tombstones (or stelae) which have been there since 500 AD. It is one of the largest ancient cities believed to have been inhabited by more than 40,000 individuals.
The Temple of the Seven Dolls is the main monument in the Mayan ruins of Dzibilchaltún (first excavated in the 1950s). Mayans combined astronomy with architecture and in almost all Mayan buildings it has something to do with the sun.
You can also experience the Xlacah cenote here which is also Dzibilchaltún's water supply. Chill and cool off in this 100 meters by 40 meters cenote.
Dzibilchaltún is open every day from 8 AM to 5 PM.
Read more about Dzibilchaltún here.
Mayapán
About 45 minutes southeast of Merida is another Mayan site called Mayapán. There are more than 4,000 individual structures uncovered in over four square kilometers. What is nice about Mayapán is that you can climb a few of the Mayan pyramids here.
Most of the time, the other popular ruins in the area are too crowded but then again there are places like Mayapan where you can find a bit of solitude as you explore the ancient ruins and you can have the old Mayans to yourself. This is certainly a great alternative to the super-popular Chichen Itza ruins that every tourist in Cancun visits by the busload.
Mayapán is open every day from 8 AM to 5 PM.
Chill at the Cenotes
The Yucatan Peninsula has over 6,000 cenotes, and some are even found in the Mayan ruins, serving as both water supply and a sacred place for the Mayans which were believed to be sacred passageways from life to death. Cenotes are bodies of groundwater exposed by the collapse of the topsoil and limestone. They are basically underwater sinkholes with clear water best for snorkeling, swimming, and diving.
One of the best cenotes near Merida is X'batun Cenote, found about 50 kilometers to the south of the city. To reach the cenote, you have to go through 2.3 km of dirt road and pick up life vests and snorkel equipment at a thatched palm shelter called a palapa. Enjoy the waters that range from aquamarine to dark blue or just roam around the jungles surrounding the cenote to look for native bird species and iguanas.
Read More: Best Cenotes in the Yucatan Peninsula
Join the Fiesta!
Fiesta is practically part of daily life in much of Latin America. Interestingly enough, Merida is a place where you can experience a fiesta (festival or party) at almost any time of the year.
Merida celebrates Merida Fest in January with dancing, music, and fireworks almost every night in the Plaza Grande. I know 2022 is a long time from now but this might be the fest of all fests for Merida since they will be celebrating their 500th year anniversary! Start planning ahead…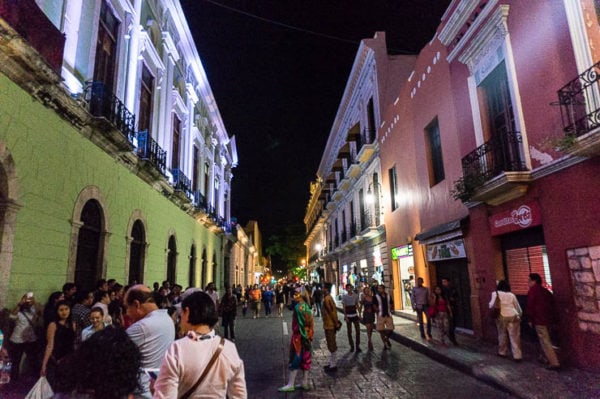 Experience Semana Santa (Holy Week) and Easter celebrations in Merida from March to April (depending on where the Holy Week will fall). November 1st is the Day of the Dead so Día de Muertos in Merida, locally known as Hanal Pixán, is full of festivities basically to celebrate the dead.
Enjoy life in Merida with almost a monthly celebration of every kind of festival!
Pok Ta Pok: Ancient Ball Game
Every Saturday night at 8:30, Calle 60 in front of the Cathedral and Plaza Grande becomes a time machine… Watch as the players play Pok Ta Pok, an ancient Mayan sport where players slide onto the cobblestones to score by hitting the ball with their hips into the post.
This amazing spectacle of an ancient ball game is free but be sure to come early so you can get good seats in the bleachers (they fill up really early). And please do cheer as you have never cheered for in your life (well, you haven't seen this on TV yet, haha!).
Plaza Break
Indeed not all things in life are free, but taking a break is free! Especially in the many plazas of Merida. In Plaza Grande, you can enjoy people-watching, or unwind, feel the breeze under the trees, or simply connect to the WiFi.
Oh yes! You heard it right, there's complimentary WiFi along with charging stations are here in Plaza Grande. Haha, but no, it's best to put down the phone and enjoy the people watching, like the families and little kids enjoying the evening, a young couple escaping for some alone time in the middle of the plaza, or the vendors walking through selling their wares.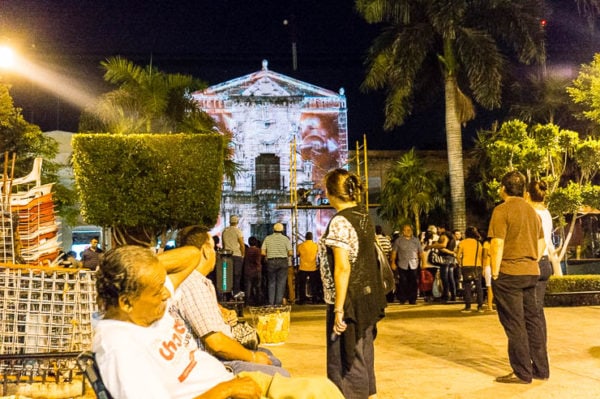 Merida is a lively and lovely place, and nowhere is more emblematic than the central plaza. Andrea and I came here on a nightly basis, not necessarily to do anything, just to be here.
These are a few of the other plazas that you might find interesting to relax and watch local life go by: Parque Santa Lucia, Parque Santa Ana, Parque Santiago.
Cheers! Drink Your Way around Merida
This is Mexico and tequila is their middle name here. But there is more to Mexico than tequila, you'll also find plenty of cervezas, mezcals, and whatever you have in mind in the many cantinas and lively bars throughout Merida. Locally crafted beers are available so you can have a taste of their local products. Drink moderately, Salud!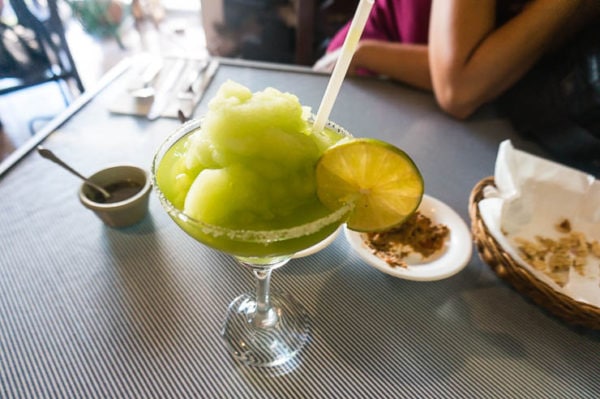 Tasty Merida, Relive Yucatan Cuisine
When you think of Mexican food, you probably think about tacos, burritos, tortas, and things of that nature — all of which are delicious — but there is more to Mexican cuisine than that. Every region features its own differences, and the Yucatan is no exception.
Write this down and thank me later: Cochinita pibil, Sopa de lima, Poc-chuc, Pavo relleno negro, Papadzules, Huevos Motuleños, and of course the Marquesitas. The food is different here, but so delicious! Be sure to visit La Chaya Maya just a few blocks north of Plaza Grande for perhaps the best restaurant for local Yucatecan Cuisine. They've got a great sampler platter that offers a great deal for a whole bunch of things you've probably never tried before. A must visit!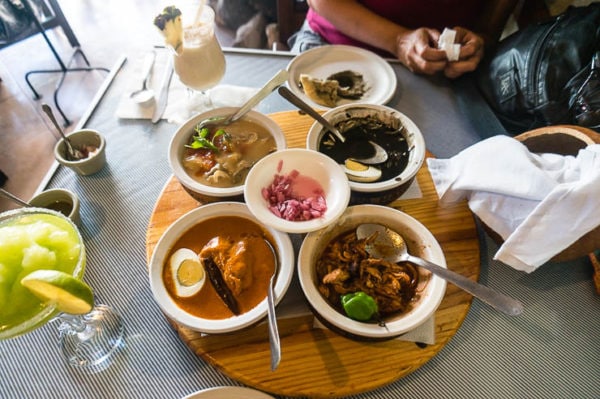 Merida is the home to some of the best cuisines in Mexico because of the different cultural influences and its own Yucatecan cuisine. Vegans and vegetarians fear not because there is something for everyone.
From the markets to street vendors to the nice restaurants, Merida won't disappoint your culinary checklist. Happy eating!
More about Merida
Merida is as interesting and exciting as the other Mexican cities of Tulum, Mazatlan, Cancun, or Puerto Vallarta. Each place has its own stellar quality that makes them different and unique from the others. But for me, personally, Merida stands out above these places as an awesome and often overlooked destination in Mexico that is absolutely worth exploring!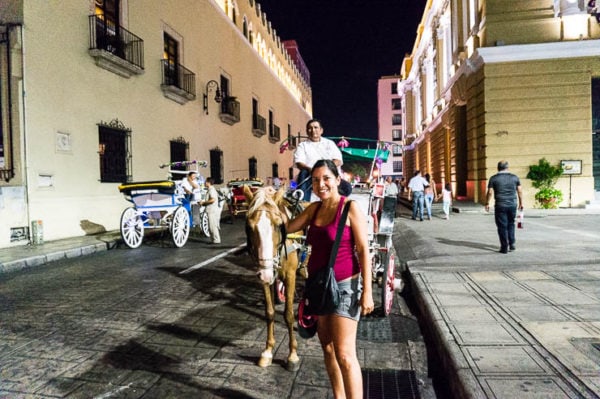 Merida is known as the heart of the Yucatan Peninsula and rightfully so, the place will charm you with its elegant architecture and ancient Mayan ruins. This was a place that sucked us in and made us want to stay a little while longer…
Read Next: Guide to Traveling to Mexico
Traveling to Merida soon? Book your lodging on Booking.com now to save. But if you plan to stay for a few weeks, I highly recommend looking for any unit on Airbnb. And don't forget to purchase travel insurance for Mexico that will help protect you against illness, injury, and theft. I use and recommend World Nomads.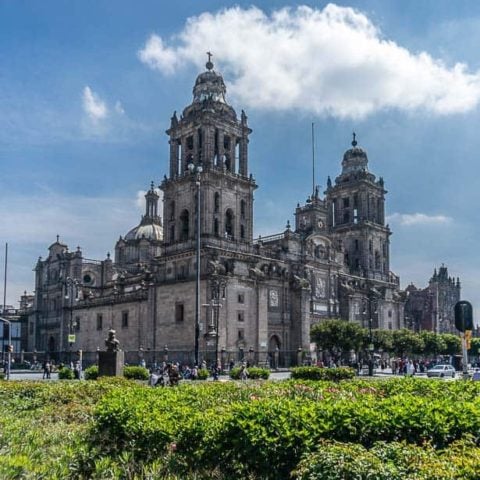 Mexico Travel Tips
Important tips and resources for planning an amazing trip to Mexico, based on my extensive experience traveling across the entire country.
Tools
Instructions
Book a cheap flight to Mexico with Momondo, or better yet, start travel hacking so you can fly for free.
Plan a rough itinerary and how long you will spend in each destination. Pick up Lonely Planet Mexico to help with this.
Work every day to teach yourself Spanish, you want to know as much as possible before you arrive.
Book your cheap accommodation in advance, at least for the first destinations -- For hostels use: Booking, for cheap hotels use: Hotels.com, for apartments use: Airbnb.
Reserve your on the ground tours and activities through Get Your Guide.
Purchase travel insurance for Mexico with World Nomads to protect yourself from illness, injury, and theft while in Mexico.
Check out my comprehensive guide about traveling to Mexico with information on cities, things to do, places to see, and more.
Learn more money saving tricks with my top budget travel tips if you want to get more bang for your buck.
Put together your Mexico packing list.
Enjoy this incredible country!
Notes
I hope this helped you plan your travels in Mexico! I know it can be a struggle to find accurate and on the ground information when traveling to a new place like Mexico, which is why I started writing so extensively about it!
If you have any questions about Mexico, budget travel, or anything else shoot me an email at ryan@desktodirtbag.com.
(I love getting questions! That is how I get ideas for my blog posts and what to write about!)
Recommended Products
As an Amazon Associate and member of other affiliate programs, I earn from qualifying purchases.
Share This
Did you enjoy this post about the best things to do in Merida? Take a second to share it on Pinterest, Facebook, or Twitter. Thanks!
The following two tabs change content below.
Desk to Dirtbag is one of the leading budget adventure travel blogs online and is dedicated to helping its followers achieve their travel dreams through inspiration, information, and actionable steps. If you are new to the site, be sure to
Start Here
.
Latest posts by Desk to Dirtbag (see all)