This article may contain
affiliate links
. If you make a purchase through these links, I will earn a commission at no extra cost to you. Thanks!
Cancun is one of the best places in Mexico if you're looking for the ultimate getaway with sand, sun, and fun. Although the beaches and parties are the most famous aspect of Cancun, there is a lot more to discover that goes beyond the stereotypical. When you get to Cancun, the most popular destination in all of Mexico, you will also realize that there are plenty of cultural, culinary, and adventure activities, which we've rounded up here with the best Cancun tours and activities to enjoy on your trip.
About Cancun
Maybe you've already decided on where to stay in Cancun, and now you're looking to put together an itinerary. Well, the good news is that Cancun offers good vibes and fun for all ages and for all kinds of travelers (even us dirtbag budget travelers). There is an unimaginable range of activities to do, places to eat and drink, things to see, and things to experience in this cool city.
Cancun sits on the Yucatan Peninsula of Mexico and within a range of 1-3 hours, you can find tons of places to discover and learn more about Mexico, its people, its history, and culture.
With the numerous ancient Mayan ruins like Chichen Itza and Coba, you will be amazed at how the Mayan Empire flourished before it was invaded by the Spaniards, and marvel at impressive structures tucked into the jungle.
With the cenotes you'll discover idyllic landscapes with crystal clear waters underneath the collapsed roof of a limestone cave, places that have been witnesses to age-old rituals and are today home to natural biodiversity.
That's just a sample, but I know you must be excited about your trip to the Yucatan so let's get on with the best Cancun tours and activities…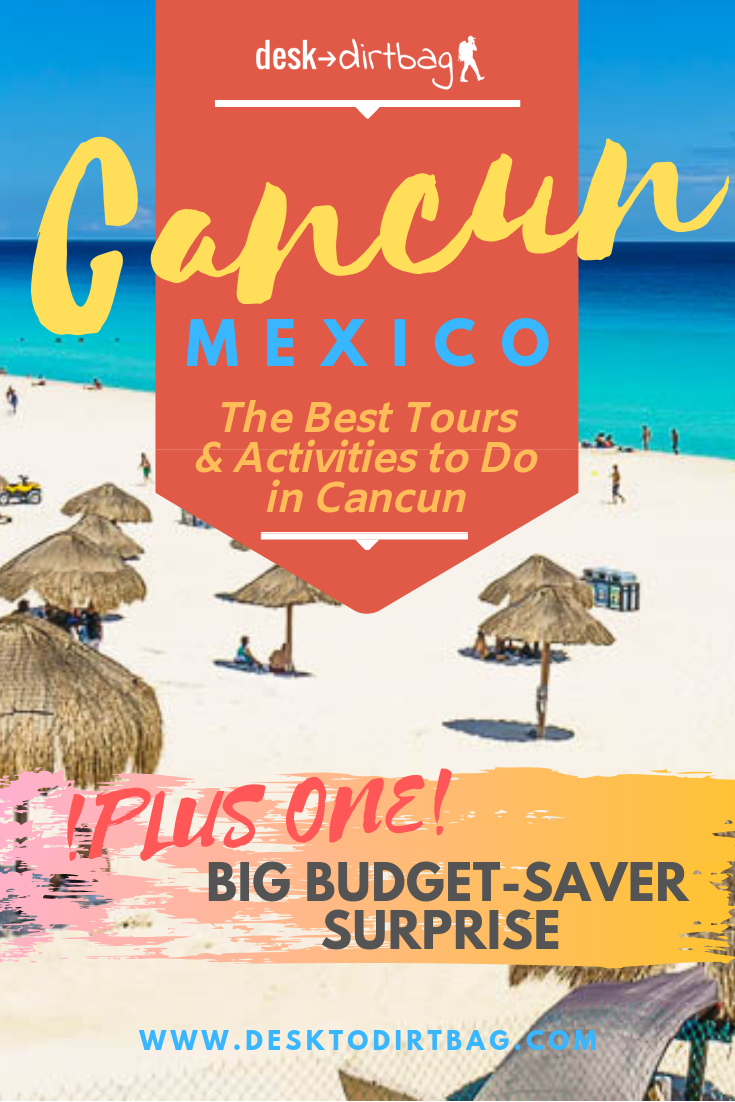 Free Cancun Walking Tour
Any freebie is welcomed by pretty much any traveler. Here you can get to know Cancun from a local's perspective with a free walking tour which is a great start in getting to know this city.
You can book your free tour online and show up at the Hard Rock Cafe guitar (near Coco Bongo and the Forum) at 10 AM (just look for the pink umbrella). Cancun is known for its beautiful beaches and great hotels but there is more to Cancun than what almost everyone knows about it. This walking tour highlights the history, culture, and art of the people of Cancun along with its stories and legends.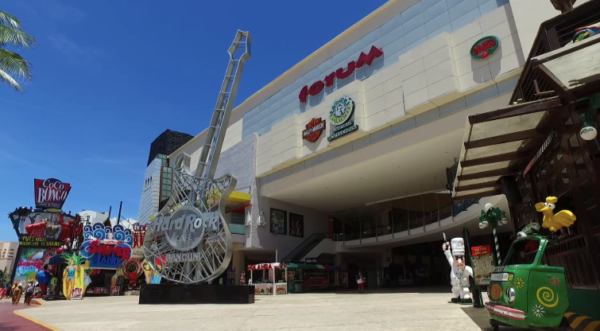 The guide will tell you about the nightlife of Zona Hotelera, the great Mayan civilization in the nearby Mayan ruins, and offer an introduction of the Caribbean Coral Reef. Everyone is welcome on this tour which offers you a better chance to get to know the beautiful and fun city of Cancun.
To book your free tour, you can email: freetourcancun@gmail.com or click the link below for more information. Of course, you should tip your guide at the end of the tour.
Book your Free Walking Tour of Cancun now.
Visit Chichen Itzá and a Cenote
How would you like to experience ancient Mayan civilization in between cocktails and the Caribbean beach? This great combo tour includes both ruins and cenotes — two things you must do while in Cancun!
You'll be able to visit the ever-popular Chichen Itzá along with the Ik Kil cenote and the lesser-visited ruins of Coba which is the perfect tour for you and anyone who would like to experience another side of Mexico.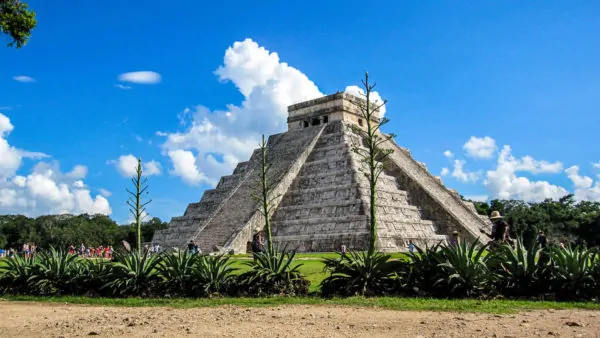 Wear comfortable shoes and don't forget your camera because you will start your day with the famous Chichen Itza ruins. Climb up the step pyramid of the Temple of Kukulkan (also known as El Castillo) and learn more about how extensive the Chichen Itza complex was, which is actually the biggest archaeological site in the Yucatan Peninsula of Mexico.
The site was also declared a UNESCO World Heritage site in 1988. You'll get the chance to tour around the Astronomical Observatory or look at the traditional masks in the small temples, and also get to see how the ancient engineers of the Mayans made the ball courts, temples, pyramids, and observatories.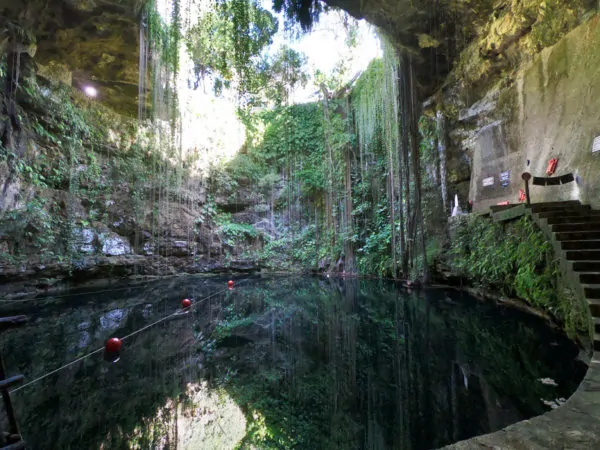 Next stop is Ik Kil, one of the best cenotes in the Yucatan. This sinkhole is known to have been caused by a meteorite. Cenotes are natural pools of freshwater caused by the collapse of the limestone around it, where you will find pools of water connected underground.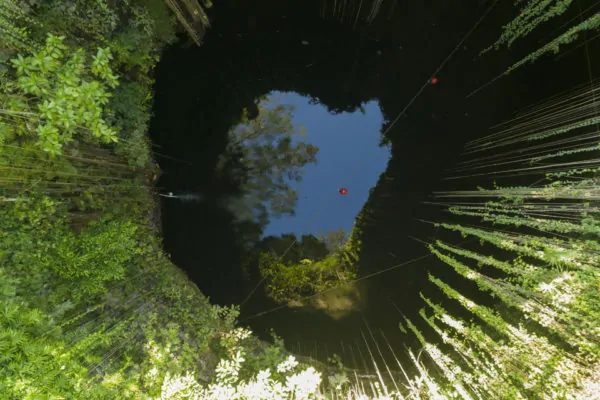 These cenotes are found all over the Yucatan Peninsula and are numbered to about 5,000. They have the clearest and most crystal waters to swim and explore. In this tour, you also get to learn that there are purification rites for the rain god Chaac too and other ancient beliefs by the Mayans. After this quick cenote swim, you get to enjoy lunch at a restaurant near Ik Kil before moving to the next stop.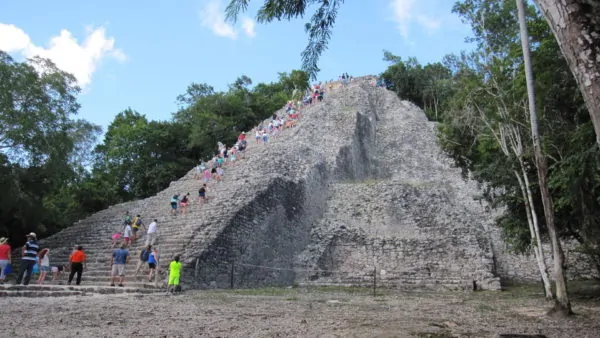 Coba is an ancient Mayan city and one of the most amazing ruins in the Quintana Roo state. There were an estimated 100,000 people living in the ancient city of Coba which may have been the largest population of all the Mayan cities. It is a mega-city composed of many areas which also shows how intricately designed the buildings were and extensive size of the city.
The Nohoc Mul pyramid can be seen rising over the vast green jungle surrounding it. The sacbes, or the ancient roads, can still be seen leading into the city and some of these sacbes are up to 100 kilometers long (62 miles). From the 6,500 structures that were believed to be in Coba, a number that has been uncovered are extremely well-preserved.
End the day in this vast Mayan archaeological site as you wander the different temples and structures while listening to the birds and animals of the jungle. You will be driven back to your hotel in Cancun before the day ends. For more details, be sure to read our guide to the Chichen Itza tours and everything you need to know.
Book your Chichen Itzá Ruins and Cenote tour now.
Have a Blast at Xel-Há Park
The famous Xel-Ha Amusement Park is packed with fun activities for different ages. Xel-Ha is one of the world's most beautiful natural aquariums and the clear, warm waters of the Caribbean is home to thousands of species of tropical fish and plants. This park provides the best experiences for both land and water activities while letting the guests enjoy the preserved natural wonders of Xel-Ha.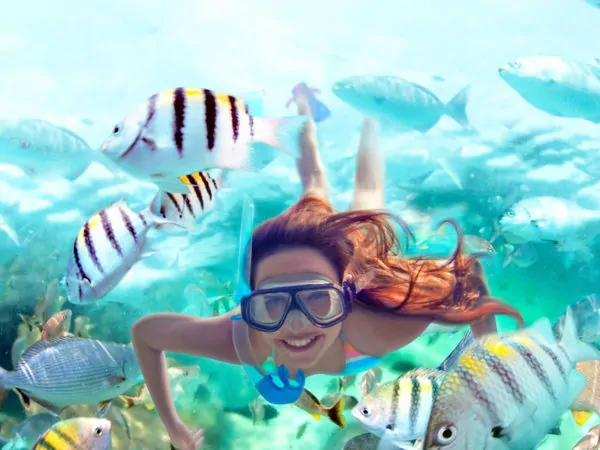 Here you'll be able to dive in and enjoy snorkeling through the cool waters of the underground river and cenotes. You will get to swim alongside schools of angelfish, parrotfish, pufferfish, snappers, and even barracudas.
Maybe start with a chill river tour to get to see the different attractions that Xel-Ha offers. The river tour is a relaxing float in inner tubes that will lead you along the mangroves and to the cove. Clear turquoise waters… and you. Relax and float through the park and then you can decide which other attractions you are going to do, like cliff jumping or the zip lines.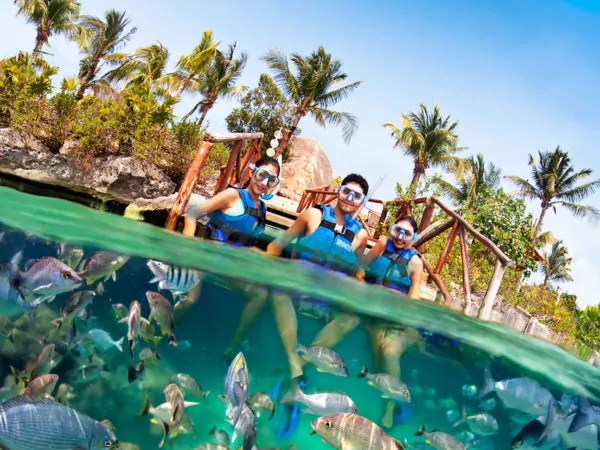 Maybe you can take the Salpichanga plunge to the water? Don't worry, Salpichanga is not an ancient ritual where you will be sacrificed to the water gods. It is just a short zip line from either side of the rivers or from the garden.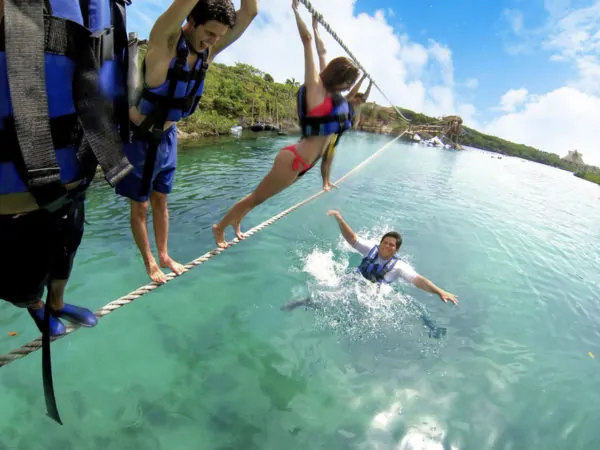 And if you want a physical challenge, try the Trepachanga. This is where you can test your stamina, balance, and strength as you try to cross the river between two ropes. With a series of challenges, can you make it to the other end without falling to the water? Success or fail, you will still have an exhilarating time trying to finish this obstacle.
There are so many things to do in this park, so we'll just name a few to not ruin it with spoilers. Here you've got ruins, enchanting caves, cenotes, cliffs, rope swings, secret coves, mangroves, jungle trails, and so much more.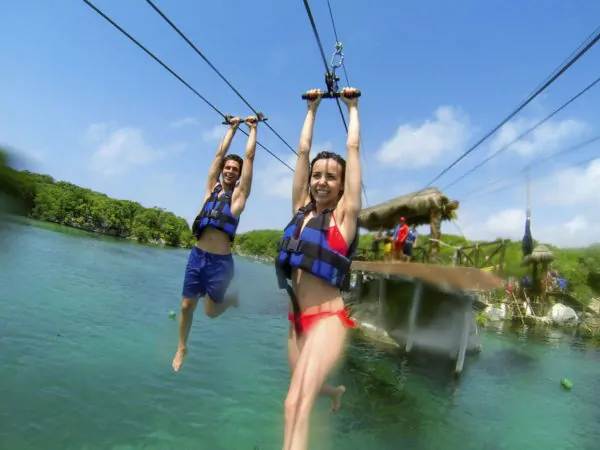 Almost everything in Xel-Ha Park is included except for the swimming with the dolphins or manatees, scuba diving, the sea trek, and transportation. Excluded activities, however, can be purchased separately. Make sure you bring your waterproof camera, sunscreen (please choose biodegradable, chemical-free and organic products), and some cash for tips or if you wish to buy souvenirs or pay for optional activities at the park.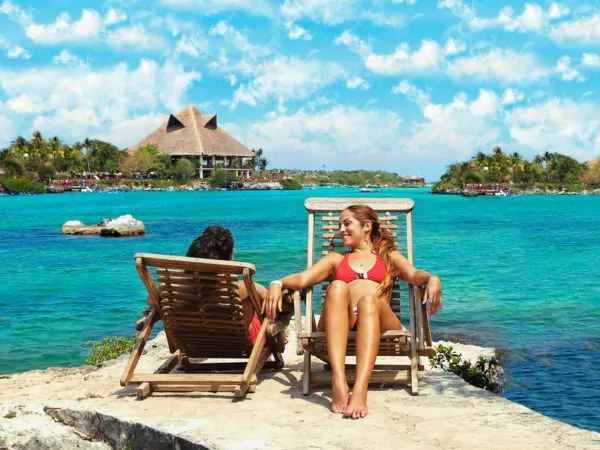 Xel-Ha Park is open from 9:00 AM to 6:00 PM. And as this park has more than 20 attractions, I suggest you read on the park rules and regulations for your guidance and safety. They would usually call for exit starting at 5:00 PM, so make sure you mind the time as you have to navigate a huge area to arrive at the park exit by closing time.
This is a great way to spend one of your days here and Xel-Há Park is a must while in Cancun.
Book your Xel-Há Park All-In 1-Day Tour now.
Swim with Whale Sharks
Forget about those sad dolphin swim tours with majestic creatures stuck in an aquarium… Whale sharks, the biggest fish in the world and one of the gentle giants of the high seas, come and frolic in the warm Caribbean waters from mid-May to mid-September.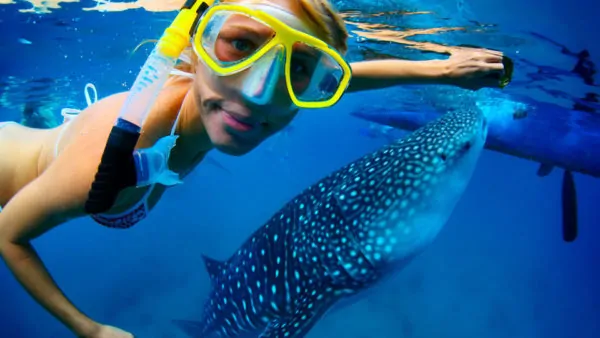 You'll have a guaranteed sighting from early June to mid-September when hundreds of these gentle giants feed on plankton in the Cancun coastal areas. With this tour, you will be brought to an area in between Isla Mujeres and Isla Holbox by powerboat to see these whale sharks.
Be worry-free while swimming with the whale sharks because you will be accompanied by expert guides while you snorkel around this area (plus they aren't actual sharks, so no need to worry about the Jaws movie).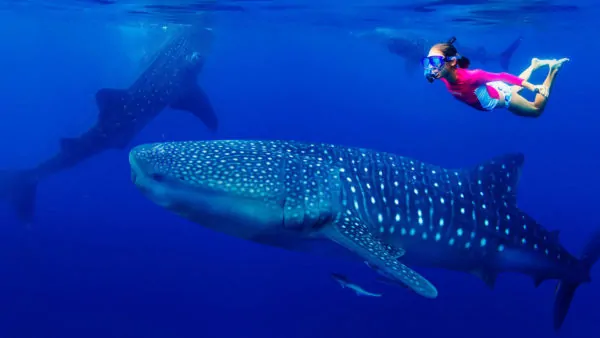 While you are here, you may be able to see hundreds of other marine mammals and wildlife like dolphins, sea turtles, and manta rays swimming in this underwater kingdom. Be a star in your own underwater adventure show (just like in a NatGeo or Animal Planet show) and bring back the most incredible memories of a majestic animal up close and personal, making for an absolutely unforgettable Cancun adventure.
Book your Swimming with the Whale Sharks now.
Escape to Incredible Tulum
Cancun is a great place to visit because it is in the Yucatan Peninsula where ancient Mayan ruins and amazing cenotes are all easy to access. And this half-day Tulum Express tour will take you to one of the most famous Mayan archaeological sites which are the 12th-century pre-Columbian ruins at Tulum.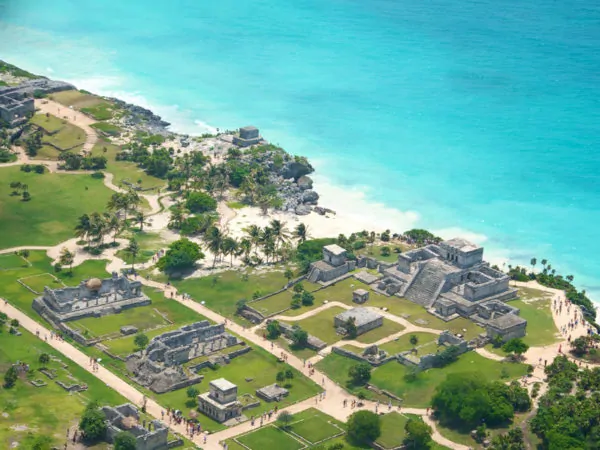 The Tulum ruins are located on top of a cliff overlooking the beautiful beaches of the Caribbean Sea. From Cancun, you will grab a short but scenic drive going to this archaeological site where you will learn more about this ancient civilization, how they lived, how they worshipped, understand more about Mayan culture, and also how they managed this important port city.
This express guided tour of Tulum will also bring you to the different temples, castles, and structures of this complex. You will get to visit the Pyramid El Castillo (The Castle), the Temple of the Frescoes and the Templo Dios del Viento (God of Winds Temple) guarding the sea entrance. You will be given your own time to explore this magnificent city before returning to Cancun.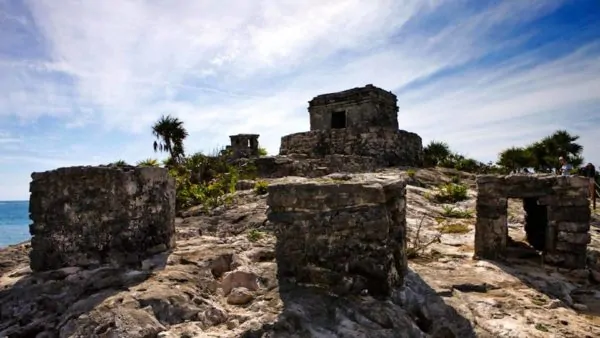 If you can't visit Tulum for a longer period of time (which is a shame, because there are tons of things to do in Tulum), then this tour is the next best option to see what all the fuss is about.
Book your Tulum Express Tour now.
Go on the Sian Ka'an Safari
This full-day trip to the Sian Ka'an biosphere (located south of Tulum) will bring you to an incredible nature reserve and provide you with another level of understanding of how the ancient Mayans used their environment to boost their empires. This trip will also make you appreciate the diversity of the flora and fauna of this area with its different species of birds, mammals, and plants. And to top it off, this is also what I'd consider being one of the best Cancun adventure tours…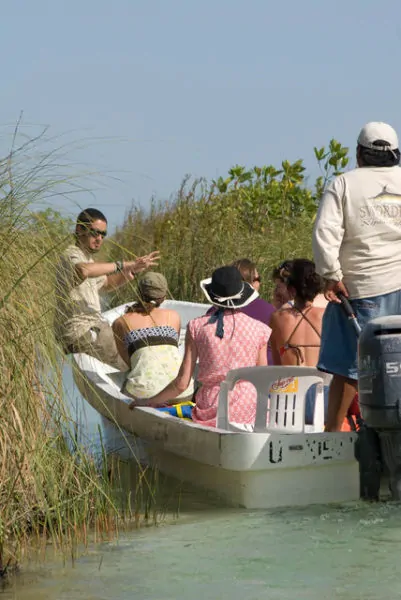 You'll start off the day with a drive to the city of Tulum for a quick safety briefing with the guides. Equipment for this adventure will also be included and the knowledgeable guides will help you all throughout the day. Then you will be traveling 25 km before transferring to a boat in Paso Lagartos for a three-hour marine safari.
Along the way to Paso Lagartos, you will stop for sightseeing at the Boca Paila Bridge where the lagoon's freshwater meets the Caribbean Sea. In this Sian Ka'an tour, you will see the local specifies of crocodiles.
For your marine safari, you will get to observe sea turtles, wild dolphins, and different endemic species of birds. The ever-elusive manatees might even grace you with their presence. If the sea conditions are good, you might take a quick snorkel and dip.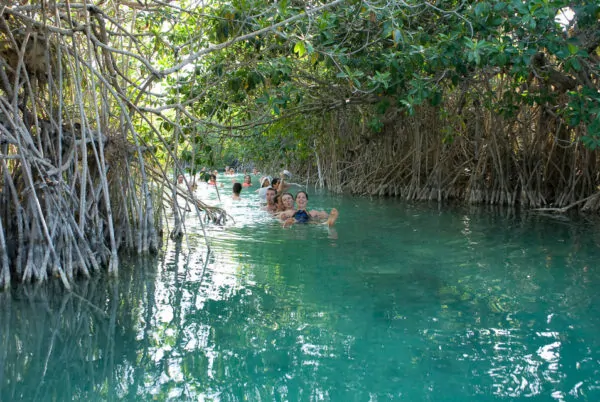 After this snorkel and swimming part of the tour, you will head to the natural pool in Punta Allen to relax and swim. Punta Allen is where you can find inlets of cerulean blue waters that are surrounded by mangrove forests, where you will be floating through these inlets while enjoying the birds and trees around.
Most of these inlets were used by the ancient Mayans to transport their goods and travel around this massive area. Until now, locals still use them in this manner.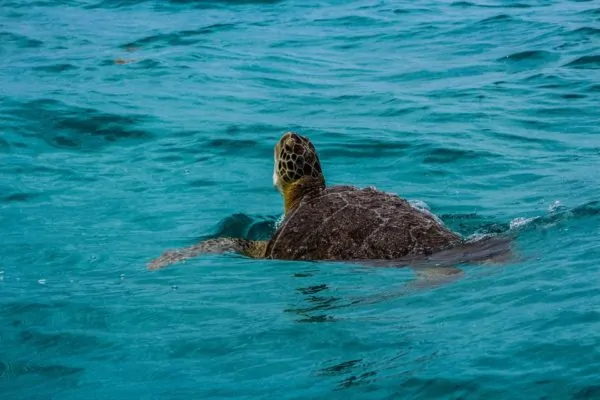 After this nature and wildlife adventure, you will be served a local lunch at the village where you can see what life is like around Sian Ka'an bio reserve. This is a perfect way to escape from Cancun for the day and have a totally different kind of experience.
Book your Sian Ka'an Safari now.
Isla Mujeres Catamaran Tour
Isla Mujeres in the Mexican Caribbean waters is one of the most beautiful natural wonders near Cancun and is one of those must-do day trips from Cancun. Not only is it a cool little island, but it is also a world-class snorkeling and scuba diving site. You will sail through the turquoise waters aboard a catamaran without a care in the world aboard this Isla Mujeres all-inclusive tour.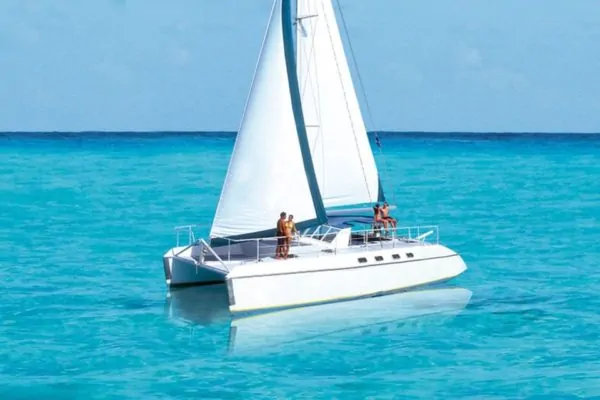 Enjoy the continental breakfast on board the catamaran before jumping off to snorkel at Punta Sam Reef, accompanied by expert guides who will provide you with a safety briefing and all the necessary equipment for this part of the tour.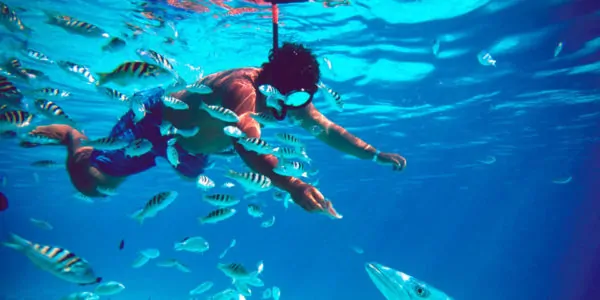 Set sail again and you will dock at the Isla Mujeres port to explore the bustling downtown area of this island. Lunch will be served in a beach club where you can also enjoy their amenities.
Two large pools await for you to relax in, and you'll have a magnificent view of the Caribbean while sipping drinks at the open bar and snacking at the international buffet spread.
Sway to the Latin beats onboard the catamaran while you journey back to Cancun on a sunset cruise along the Caribbean coast. A perfect ending to a perfect day trip from Cancun.
Book your Isla Mujeres Catamaran Tour now.
Flamingo and Pink Beach Tour
Pink is the color of your day as you discover the natural treasures of the Yucatan Peninsula in Mexico on this Flamingo and Pink Beach tour, where you visit the pink lagoons of Rio Lagartos and swim in Ek Balam cenote. You will also get to see a crocodile sanctuary!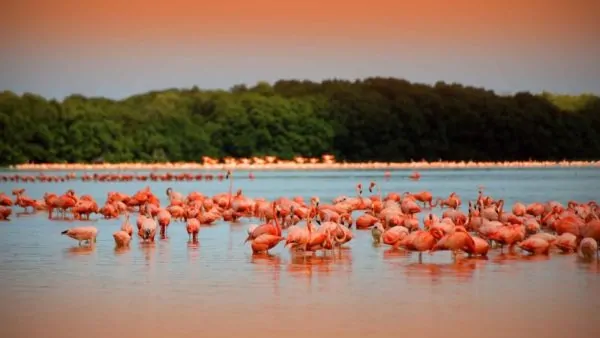 Start this day tour with a drive from Cancun to the city of Temozon where you can stop for coffee and taste some delicious Mexican street food. Next stop is the Ek Balam cenote where you'll discover how the ancient Mayans revered these sacred sinkholes. You can explore this magnificent site on your own.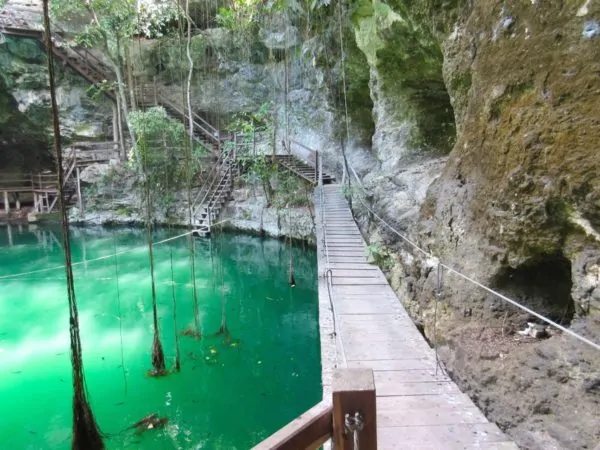 Next stop is the crocodile sanctuary to see how these crocodiles thrive in their natural habitat all across the Yucatan before you continue on to the salt ponds of Las Coloradas which is also home to thousands of flamingos in the wild.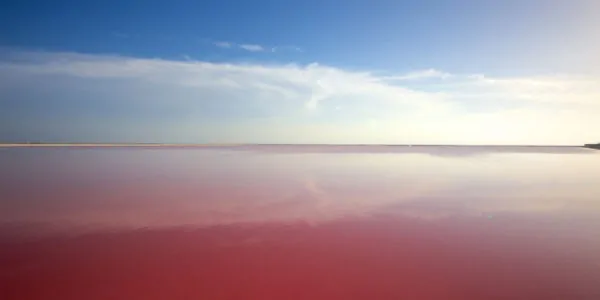 You're likely to see many other species of birds frolicking at these ponds as well, such as cormorants, ospreys, herons, and pelicans which are mostly feeding on small fishes and crustaceans.
Enjoy a hearty lunch of salad, soft drinks, and the main course of your choice (fresh fish, chicken, or vegetarian option). Travel back to Cancun after a day of wildlife encounters on the Yucatan Peninsula.
Book your Flamingo and Pink Beach Tour to Rio Lagartos, Las Coloradas and Ek Balam now.
Underwater Museum and Jungle Adventure Tour by Speedboat
This Underwater Museum and Jungle Tour Adventure will take you around the beautiful mangrove canals of the Nichupte Lagoon, which sits between the Hotel Zone and the mainland of Cancun. On this tour, you'll be able to snorkel in the Punta Nizuc coral reef and get to see a wide range of underwater species of fish and marine mammals.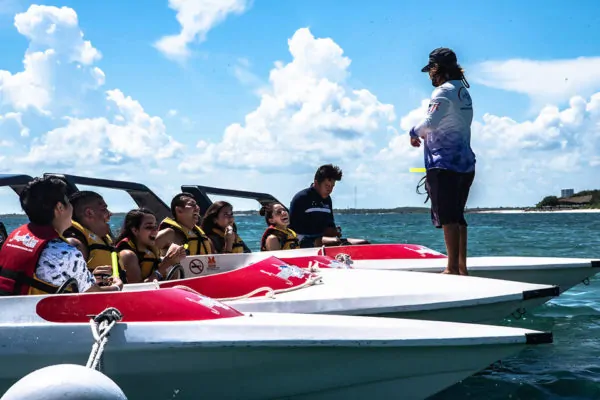 Of course, you'll start off with a safety briefing, equipment fitting, and learning how to operate the speedboat safely. Then, onboard your two-seater speed boat you'll get to blast around the Nichupte Lagoon which is blessed with rich mangrove vegetation. Your guide will help you identify interesting wildlife that you might get to see in this area.
You will then be going to the Mayan Coral Reef at Punta Nizuc which is where you will find some of the 500 MUSA statues also known as the Cancun underwater museum.
Here you can swim around and snorkel in this unique tourist attraction as you marvel at these man-made sculptures (now overgrown with different sea plants and corals). After these two amazing hours, you'll jet back to the marina to return your speedboat.
Book your Underwater Museum and Jungle Tour Adventure on Speedboat now.
Parasailing Adventure
Are you up for a breathtaking experience to see the Caribbean Seas from above? Then this parasailing adventure is for you! If you are a fan of thrilling and exhilarating rides, this Parasailing Adventure is worth every penny, when you get to see a bird's eye view of the white-sand beaches of Cancun. A boat will propel you as you drift behind parasailing, offering unparalleled views.
This tour includes transportation to and from your hotel, snacks, and some refreshing drinks. The tour is supplied by operators trained by PAPO, the Professional Association of Parasailing Operators and follows all their strict operating and safety standards, including the full assistance of professional guides and using the most modern and safe equipment.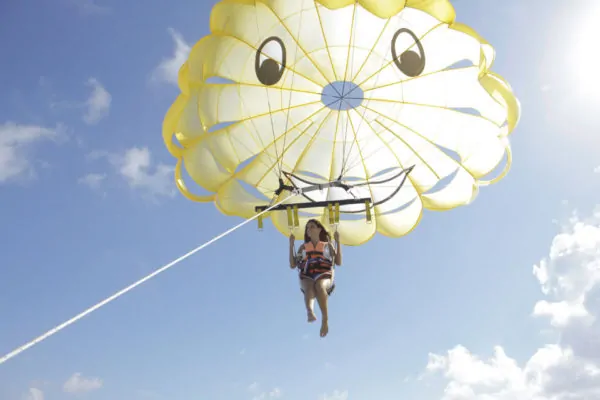 Always remember that safety and fun should always go in tandem with these kinds of tours.
Book your Parasailing Adventure now.
Enjoy the Xcaret Theme Park
Xcaret Park is one of the coolest Riviera Maya tours and one of the top attractions for anyone who visits Cancun, but especially so for families… This park is 250 acres of ecological and archaeological wonders including more than 50 attractions in the theme park.
Here you will find a museum, cultural center, zoo, water park, and aquarium just to name a few. And with this all-inclusive ticket, you will get to enjoy everything it has to offer during this full-day excursion.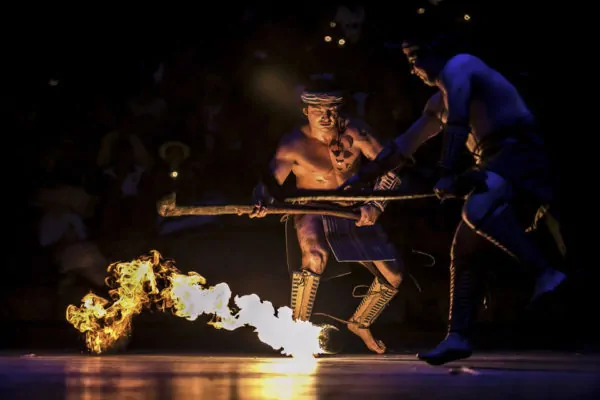 During your visit here, you can be a special guest in an ancient Mayan ball game. You can also decide to stay to see Xcaret at night for a variety of colorful cultural performances which includes a musical journey through the history of Mexico (300 artists join this performance).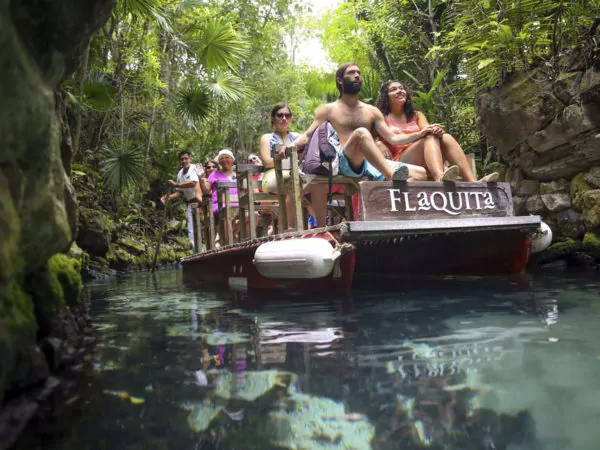 Explore the underground rivers, the Río del Paraíso journey, and lounge around the beach, inlets, and natural pools. If you are done relaxing, you can try the Coral Reef Aquarium, Marine Turtles Area, and the Manatee Lagoon.
Choose to visit the howler monkeys at the Spider Monkey Island or marvel at the Living Museum of Orchids to see the orchids in its full glory.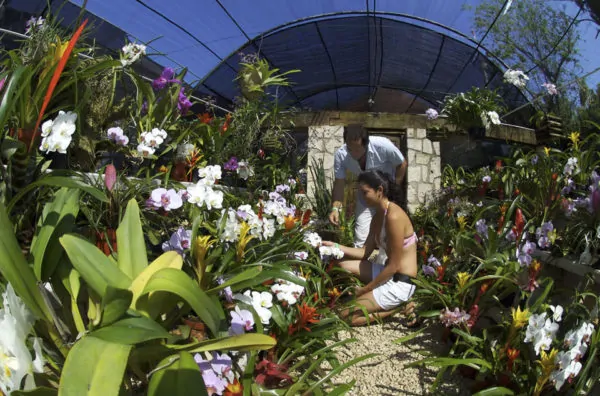 Discover the Tropical Jungle Trail and the Regional Wildlife Breeding Farm. If you like history and culture, visit a Mexican cemetery and a Mayan Village. Or just learn a little more about the colonial history at the St. Francis of Assisi Chapel and see folk art at the Hacienda Henequenera.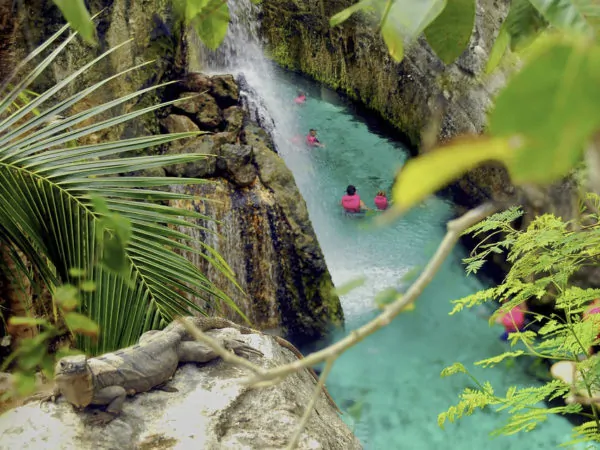 Whatever your interest may be, you will surely find your something incredible here in Xcaret Park, with its many cultural and historical activities, making it a truly one-of-a-kind destination.
Book your Xcaret Park: Full-Day Riviera Maya Tour now.
Cancun Cooking Experience Class & Gourmet Feast
Whether you are just a food lover or a cooking aficionado, you will love this Cancun Cooking Experience Class & Gourmet Feast as you will have a real chef leading you during an authentic Mexican kitchen cooking experience.
Immerse yourself in the middle of the Riviera Maya Jungle and learn how to cook the menu of your choice before you enjoy your great gourmet feast at the end of the day.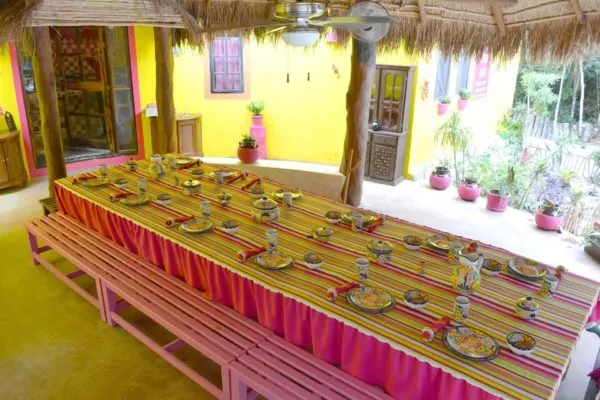 One way of learning about Mexican culture is understanding how they cook and in this cooking experience, you will help prepare some of the best traditional dishes. Start with your Mexican morning treat cafe de la olla and Mexican pastries while you learn more of Mexican culture with stories from the chef.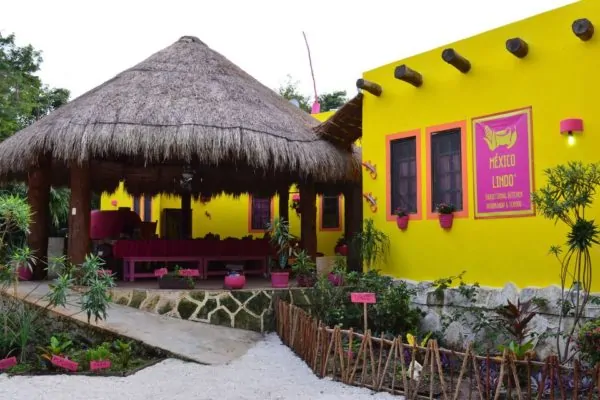 Then how about a light snack with some botanitas (appetizers)? Then you'll prep your cooking pots and knives as you prepare a traditional meal (you get to choose the kind of food that you will be cooking). Enjoy this feast with the chef as you sit in the patio for this meal.
Wind down with a sobremesa (after meal) with coffee and dessert and search the little tiendita (shop) for souvenirs to bring back with you. This authentic Mexican cooking experience is definitely one for the books, and an experience you can take back to your own kitchen with you!
Book your Cancun Cooking Experience Class & Gourmet Feast now.
BONUS: Big Budget-Saving Surprise
Go Cancun Card: Save up to 45% on Top Attractions
There is an almost overwhelming number of attractions and interesting things to do in Cancun, but one great way to squeeze in a lot without breaking the bank is a card that can help you save up to 45% on over 30 attractions. The Go Cancun Card is an easy-to-use discount card that gives you more bang for your buck on every activity that you do.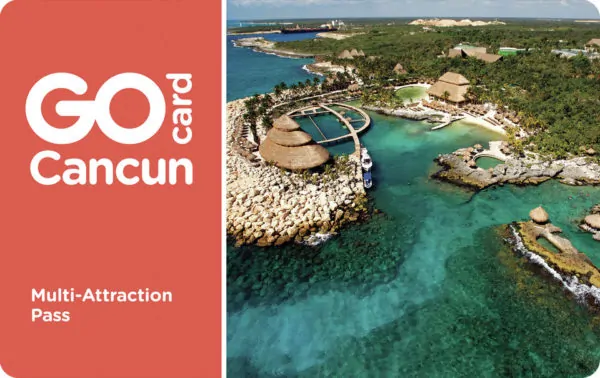 You can download it straight to your smartphone to enjoy savings in many included attractions, museums, tour packages, and tourist sites in Cancun. You can even enjoy VIP and skip-the-line privileges on some of the busiest attractions. You will also get a free exclusive guidebook to help you find your own personal list of the best Cancun tours and activities.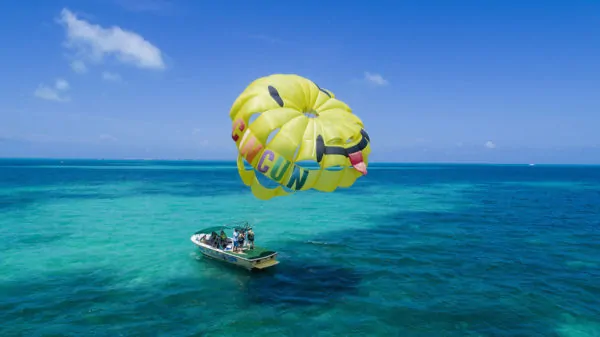 Premium attractions are included on all 3, 4, 5, and 7-day cards and this list also includes the Royal Garrafon Natural Reef Park adventure in Isla Mujeres, Xplor Fuego night all-inclusive admission, moonlight bioluminescence snorkeling tour, Cancun Wax Museum, and Frida Kahlo Museum Riviera Maya, just to name a few.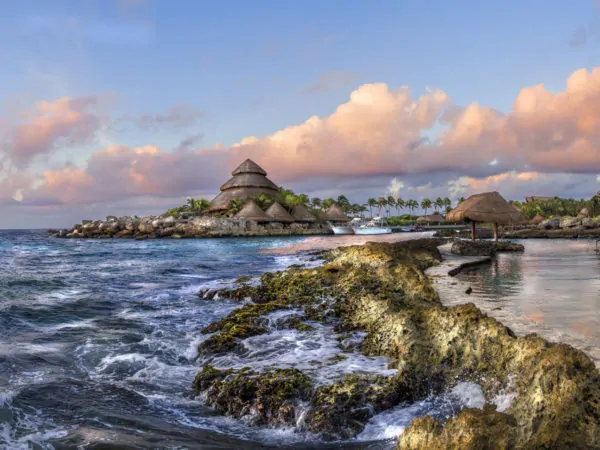 If you have the time and money to stay in Cancun, then you're going to want to maximize your trip, and this Go Cancun Card is the best way to save while getting in even more tours and sights that you want to do and see.
Your card is activated from first use and it is valid depending on the number of days purchased. So don't miss out on your chance to see 30+ attractions at a fraction of the price…
Just take a look at which activities you think you would do and add up the standard price to ensure that you will fully utilize the Go Cancun Card and get your money's worth.
Grab the Go Cancun Card to enjoy even bigger savings!
More Cancun Tours
Cancun is a city that seems to pulse 24 hours a day and beyond these tours and activities, there are about a hundred more things to do while you are visiting.
These are what I would consider the best Cancun tours, but there are even more on offer from Get Your Guide, my preferred tour operator, where you can find great prices, unbiased reviews, and opinions, and all manner of activities from private tours, adventure activities, cooking classes, and much more.
Check out more Cancun tours from Get Your Guide.
More About Cancun and the Yucatan Peninsula in Mexico
Cancun is the official party place of Mexico set beside the bluest and clearest waters of the Caribbean Sea and some of the most beautiful beaches I've ever seen. But beyond the beaches, this place offers up much more than what you expect it to be, as I hope these Cancun activities have shown you.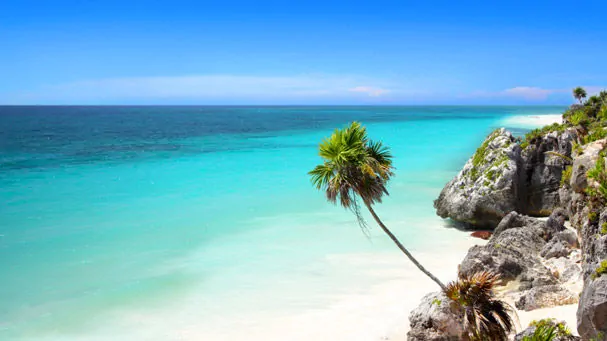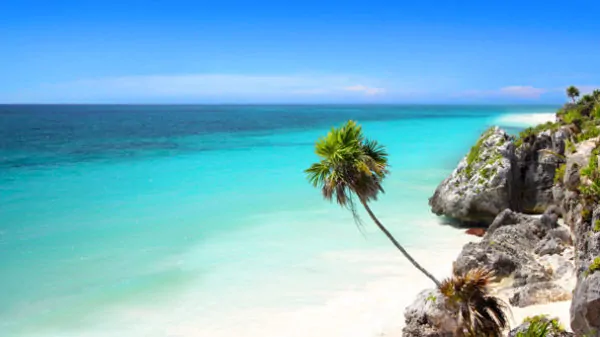 I'm a big fan of doing at least one organized tour or activity during your travels, as they offer a quicker insight and info into the local culture, create cherished memories that you'll take with you for the rest of your life, and help expand your worldview in ways that you often never anticipated.
Traveling to Cancun soon? Be sure to book your room from Booking.com now to save on the best Cancun hotels, and be sure to read about where to stay in Cancun. Don't forget to purchase travel insurance for Mexico to protect yourself against injury, theft, and sickness. I use and recommend World Nomads thanks to its combination of coverage and affordability.
And don't miss our travel guides to the nearby towns of Playa del Carmen, Tulum, Merida, Chichen Itza, and beyond.
Read Next: 23 Amazing Things to Do in Cancun Mexico on Any Budget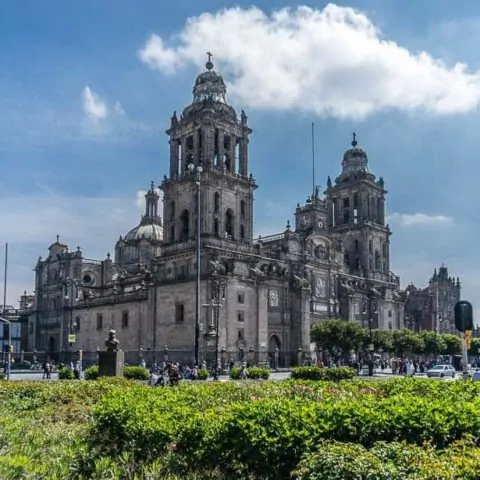 Mexico Travel Tips
Important tips and resources for planning an amazing trip to Mexico, based on my extensive experience traveling across the entire country.
Tools
Instructions
Book a cheap flight to Mexico with Momondo, or better yet, start travel hacking so you can fly for free.
Plan a rough itinerary and how long you will spend in each destination. Pick up Lonely Planet Mexico to help with this.
Work every day to teach yourself Spanish, you want to know as much as possible before you arrive.
Book your cheap accommodation in advance, at least for the first destinations -- For hostels use: Booking, for cheap hotels use: Hotels.com, for apartments use: Airbnb.
Reserve your on the ground tours and activities through Get Your Guide.
Purchase travel insurance for Mexico with World Nomads to protect yourself from illness, injury, and theft while in Mexico.
Check out my comprehensive guide about traveling to Mexico with information on cities, things to do, places to see, and more.
Learn more money saving tricks with my top budget travel tips if you want to get more bang for your buck.
Put together your Mexico packing list.
Enjoy this incredible country!
Notes
I hope this helped you plan your travels in Mexico! I know it can be a struggle to find accurate and on the ground information when traveling to a new place like Mexico, which is why I started writing so extensively about it!
If you have any questions about Mexico, budget travel, or anything else shoot me an email at ryan@desktodirtbag.com.
(I love getting questions! That is how I get ideas for my blog posts and what to write about!)
Recommended Products
As an Amazon Associate and member of other affiliate programs, I earn from qualifying purchases.
Share This
Did you enjoy this post about the best Cancun tours and activities? Please take a moment to share it on Facebook, Pinterest, or Twitter.
The following two tabs change content below.
Desk to Dirtbag is one of the leading budget adventure travel blogs online and is dedicated to helping its followers achieve their travel dreams through inspiration, information, and actionable steps. If you are new to the site, be sure to
Start Here
.
Latest posts by Desk to Dirtbag (see all)