When traveling to a place, the first thing to consider is what to do and where to go… In Tulum, Mexico, there are so many activities that you'll have no worries about how to fill your time when you aren't enjoying the long white sandy beach. With the old Mayan ruins and the cenotes, here are the best Tulum tours and activities that will surely take your breath away.
About Tulum Mexico
Tulum was an ancient Mayan walled city which served as the primary port for Coba. Today it is most famous for the Tulum Ruins which are situated on top of the tall cliffs overlooking the Caribbean Sea.
This ancient city is one of the last cities built by the Mayans. It survived 70 years before the Spanish came to occupy Mexico. With the arrival of the Spanish settlers, they also brought in a lot of diseases that almost annihilated the population and led them to flee.
Today, Tulum is an increasingly popular destination on the Yucatan peninsula that many used to visit just as part of a day trips from Cancun, but which has become a destination in and of itself.
There are plenty of things to do in Tulum, and it is a fun place to kick back, get around by bicycle, walk barefoot on the beach, and enjoy great food in this chic, hippy, beach retreat.
Important Tip: Tulum is near other popular destinations on the Yucatan Peninsula, so you're likely to see many tours that are similar but leave from different places.
When booking any trip or activity, make sure that you read where it will be coming from and its endpoint. You will have to pay extra for transfers. Booking a wrong tour can also cost you about 2-3 hours of traveling which can also be very tiring. In this list, I made sure that these tours and activities we have listed all come from Tulum so you won't have to worry about transfers.
Let's get on with the best Tulum tours and activities for a fantastic trip!
1. Free Guided Tours in Tulum
In most cities that I have visited, they offer free walking tours which are some of my favorite things to do in a new place. I have featured these free tours in cities like Medellin, Cartagena, Buenos Aires, and many more from Latin America.
However, in Tulum, there are no free walking tours, because the city is small, the beachfront is the main draw, and all the big activities are located outside of Tulum. But I have found an app called GPSmyCity (for both iOS and Android phones or tablets) that offer sightseeing guides for this city.
You can create your own self-guided walks to explore Tulum on foot and at your own pace. There are also guided walks made by other members who have gone to Tulum. The detailed route map is complete with GPS navigation that will lead you from one spot to the next. And I think you will be happy to know that the app works offline.
Download the app for your iPhone or your Android here now and here is a quick guide of Tulum.
In GPSmyCity, you can download a Top 10 Foodie Stops for Vegetarians in Tulum self-guided tour. If you are a foodie, you will be delighted in this part of Mexico! For the past ten years, Tulum has turned out to be one of the hippest destinations at the south end of the Riviera Maya. The development brought with it an astounding variety of international cuisine alongside plenty of local establishments.
With this food tour featured in the GPSmyCity app, you can see you for yourself why Tulum is one of the best places to be if you are a foodie. One of the places you will find on this tour is El Gourmet where you can find the best sandwiches.
Find Top 10 Foodie Stops for Vegetarians in Tulum, Mexico on GPSmyCity here.
Thousands of Cenotes
Cenotes are mind-blowing natural attractions, and Mexico is the country with more than 6,000 cenotes. The Yucatan Peninsula is home to most of these cenotes, and the Tulum area has the best cenotes in Mexico. Cenotes are formed resulting from the limestone bedrock collapsing and exposing the groundwater underneath.
A cenote came from the ancient Yucatec Maya word ts'onot referring to any location with accessible groundwater. The ancient Mayans used the cenotes for sacrificial offerings. Most of these cenotes were also named by the Mayans (hence, their very unique names).
Some cenotes may merely be underground pools of water exposed to the light (still pretty cool!), but they may also have waterfalls, underground rivers, caves, and are an otherwise magic underwater world. These sinkholes get filled up slowly with ground-filtered water and this is the reason why the waters here are super clear and clean.
These clear open water pools and underwater cave systems attract tourists and cave divers alike. It's about time we list a few cenote trips along with other exciting places to go in Tulum.
Read More: Must-Visit Cenotes in the Yucatan
El Gran Cenote
El Gran Cenote is one of the most expansive cenotes in Mexico. It has an underground cavern that is perfect for swimming, snorkeling, and diving (stalagmites and stalactites in this cenote are out of this world!). There is an underground cavern for you to explore. Watch out for the birds and bats that are in there too.
As locals would recommend, it is best if you go early so you will avoid crowds in the cenotes especially El Gran Cenote which may be too crowded for you to enjoy. Just 10 minutes outside of central Tulum, this is a must-visit and to experience it for yourself. It is open from 8:00 AM to 4:45 PM and the entrance fee is at 180 pesos ($9.50).
There are a lot of tours from Tulum that combine cenotes and other activities. Take note that the cenotes are quite far from the town proper and you often need transportation to get to most of them. Here are some of the best Tulum cenote tours that are not to be missed.
2. Chichen Itza with Cenote and Valladolid Visit
Knock off a few of the BEST area attractions on this Chichen Itza tour which includes cenotes and a stop at Valladolid. This is an excellent full-day trip (duration is 10 hours, so it is well worth the price) because it covers the reasons that might have made you decide to go to Tulum in the first place. This combo tour includes the Mayan ruins, cenotes, a beautiful beach, and an authentic Mexican town.
Starting the day early for a whole day trip, make sure you are ready for the day's activities. Bring your water, sunscreen, and extra clothes. Be ready for walking around the whole day so make sure you have comfortable footwear on.
After pickup at Tulum, you will find yourself in a scenic drive to the ruins of Chichen Itza and will be accompanied by an experienced tour guide. Chichen Itza was recently selected as one of the New World Wonders but was also declared UNESCO World Heritage Site back in 1988. It was considered to be the principal ceremonial center of the Yucatan during the Mayan period.
Its architecture is both Mayan and Toltec and the different structures in this complex have been restored and preserved. The main pyramid, also known as the El Castillo, has four sides each with 91 stairs. That is 365, which is what we all recognize as the number of days in the solar year.
There are several structures in Chichen Itza, and it will be explained by your experienced tour guide. (Tip: Buy some chocolates at the square, remember Mayans were the first to make chocolates.)
Chichen Itza is one of the most important Yucatan archaeological sites and also is the 2nd most visited site in all of Mexico. The name came from the two cenotes that made the city suitable for living ("chi" meaning mouths and "chen" meaning wells) and the name of the Maya tribe that settled here (Itza). This arid area of 10 square km (4 square miles) was fed by these two big cenotes nearby.
Read more about the Chichen Itza tours and everything you need to know.
Just before the town of Valladolid, you can take a dip at Cenote Dzinup or Cenote Xkeken. It is only 10 km away from Valladolid. There is natural light in the cave, but it is also well lit up and has a lifeguard on duty. It is best to swim and probably snorkel here with the water here in constant 25 degrees Celsius.
After refreshing, you will enjoy your lunch in downtown Valladolid in a restaurant near the plaza. You can explore the pleasant town of Valladolid with its market and colonial building. Visit the Sisal neighborhood for its temple, former convent, and park.
This fully-packed tour is a great way to start your Tulum vacation. For sure, it will have you wanting more of all that Mexico has to offer.
Book your Chichen Itza Day Trip with Cenote and Valladolid here.
3. Tulum and Dos Ojos Cenotes
If you are wondering what to do if you have a half-day free, then the Tulum and Dos Ojos Cenotes guided tour will be a perfect choice. You will get the best of Tulum on a 5-hour trip: Mayan ruins and cenotes.
The Tulum Ruins is one of the most famous Mayan archaeological sites along the Riviera Maya, and it is also one of the most well-preserved coastal ruins in the Yucatan Peninsula. Your tour guide will lead you to the templos and castillos from this once-thriving port city of the Mayans. Discover the ruins of The Temples of the Frescoes, pyramid temple El Castillo, and Temple of the God of the Winds.
Although it is comparably smaller than Chichen Itza, the scenery is just breathtaking and unbelievable. It is a thousand-year-old Mayan ruin, atop tall cliffs, overlooking the lightest blue waters of the Caribbean. And do I have to remind you of the beautiful white sand beach?
It can be hot while visiting the ruins and the next stop will be a chance to cool off at the Dos Ojos Cenotes (Spanish for two eyes because these are neighboring cenotes sharing a large cavern zone).
This is one of the most massive cenotes in the state of Quintana Roo, Mexico. The underwater cave system has been documented since 1986, and they have only covered 61 km so far.
Dos Ojos has been named one of the top 10 longest underwater cave systems in the world, and the water is just exceptionally clear, making it perfect for swimming and snorkeling. The super clear water also attracts a lot of divers. At a constant 24 degrees Celsius throughout the year, this will be a welcoming break from the Caribbean heat.
Check out the Tulum and Dos Ojos Cenotes Tour here.
4. Tulum, Cobá and Cenote
In this full-day Tulum, Cobá and Cenote Day Trip, you will get to explore the ruins of the old Mayan cities of Tulum and Coba plus swimming in the crystalline waters of Cho-ha Cenote.
The tour begins with ruins in Tulum, a port city of the Mayan civilization. The remains of the templos and castillos still have so many decorations on its walls. Discover the white paths called zac beoob that highlights the infrastructure of the city. The Tulum ruins are just set atop the tall cliffs in the Caribbean coast.
Off to the next stop, Coba. This will be a 45-minute drive that will bring you to the most important cities of the Mayan empire. You can follow the zac beoobs (pathways) that connected the structures.
You will find here the 42-meter tall pyramid and you can try to climb it to the top (the view is fantastic from there, and you can't climb up Chichen Itza!). Be aware that there is a long way from the entrance to the main pyramid (2 km).
There is a familiar ball court in this complex and you might wonder what kind of games they are playing here. Your tour guide will describe what the ancient Mayans did for entertainment (or sacrifice?).
Coba is a little smaller than the Chichen Itza but it is way less crowded and you should get a bit more of an authentic vibe here. Although Coba has never been fully restored, many visitors still regard it as magnificent and beautiful.
Lunch is included for this tour package, and you get to enjoy it in a restaurant in front of a lagoon at Coba. They serve regional dishes, and you get to savor authentic handmade corn tortillas.
After lunch, a dip at Cenote Choo-Ha would be very welcome, no? This cenote has caves with stalactites and stalagmites with clear waters (this one is at 21 degrees Celsius!). Playa Paraiso is the last stop back in Tulum where you can once again enjoy the turquoise waters and white sand.
A full day of ancient ruins with swimming in waters, both hot or cold, will be a fantastic way to spend a day in Tulum. This tour is indeed a complete day of enjoyment.
Book the Tulum, Cobá and Cenote Day Trip here.
5. Cenote River: Snorkeling & Paddleboarding
The Cenote River: Snorkeling & Paddleboarding package is a short 2.5-hour tour from Tulum. It starts off with basic paddleboarding techniques before you head upriver to enjoy the lush mangrove trees that surround the river.
This will lead to a cenote which you will find a bounty of marine life such as fish and blue crabs and there are also lots of birds flying around the area. You can jump off the paddleboard and swim in the clear freshwater of the cenote river where you can snorkel beside your paddleboard.
This is perfect for those who would like a laid back and slow day with the remaining part of the day still free for other activities.
Book the Cenote River: Snorkeling & Paddleboarding Tour here.
6. Mystic Adventure, ATV, Ziplining and Cenote Experience
This jam-packed 4-hour tour with Mystic Adventure includes an ATV, ziplining, and cenotes for a specially made experience for adrenaline junkies. A cenote is already amazing, and given all these activities it definitely amps up the fun.
First, you'll ride the ATV into the jungle to explore two cenotes. You have the option to zipline right into the cenote if you'd like which is pretty rad. And/or just go snorkeling in the cenotes and discover the incredible rock formations in the cenotes (the water is super clear it would seem like you are looking into an aquarium).
All this adventure will leave you hungry. But you won't go 'hangry' with the authentic Mexican tamales. Who's ready for this outdoor adventure?
Check out the Mystic Adventure ATV, Ziplining and Cenote Experience now.
Other Activities In and Around Tulum
7. Contoy and Isla Mujeres Full-Day Tour
Give yourself a full day to enjoy the Caribbean Sea with a visit to Contoy and Isla Mujeres. Explore the National Park of Contoy, with its lagoons and wildlife. And you'll also get a chance to visit the incredible Isla Mujeres (which is also one of the best things to do in Cancun, since it is even closer).
The tour will start at Puerto Juarez with a breakfast stop. You will then be cruising to the Parque Nacional Isla Contoy and get the chance to enjoy the pristine waters and the opportunity to snorkel in the reefs.
You will probably snap hundreds of photos (snap some pics of the observation tower) in the picturesque Isla Mujeres, both on the beach and the island itself. You can visit the Museum of Marine Biology to learn more about the flora and fauna of the area or head on to the lagoon and observe the different bird species found here.
After the eco-tour, a sumptuous feast of seafood, grilled chicken, tortillas, veggies, and fruits will be served at the beach. After lunch, you still have time to enjoy the sun and sand or you can also go explore around the island before you head back to Tulum.
Book the Contoy and Isla Mujeres Full-Day Tour now.
8. Intro Kite Boarding Lesson on Playa Paraiso
If you have never tried kiteboarding, this Intro Kite Boarding Lesson on Playa Paraiso will hook you up. Discover this fascinating activity in a one-hour introductory lesson in one of the most beautiful beaches in Tulum. Few people realize that the beaches on Tulum can be quite windy, which may not be great when you're beach towel tries to escape, but it is excellent for kiteboarding!
Don't pass up the chance to learn a fast and easy way to learn kiteboarding basics with professionals whether you are here for a few days or a few weeks in Tulum. You will be provided with a trainer kite on the beach while you learn the basics such as the wind window, the neutral and power zones.
Are you ready to learn why kiteboarding is magical and addictive?
Book your Kite Boarding Lesson on Playa Paraiso now.
9. Sian Ka'an Biosphere Reserve
The Yucatan Peninsula is home to a lot of eco-parks and natural reserves and Sian Ka'an Biosphere Reserve is THE best. It is located South of Tulum and is more than 1.3 million acres of different cenotes, wetlands, reefs, and estuaries (the large part of the river where it meets the sea). Because of the range of habitat that is available, the local wildlife is remarkably diverse.
Diving, snorkeling, or exploring the expansive park are just some of the things that you can do in Sian Ka'an. Most visitors highly recommend a visit here and some even stayed two days to experience more of the reserve. (Do NOT forget your mosquito repellant!).
While I had my own wheels, since I was driving through Mexico and thus able to explore the reserve on my own, you will probably want to join a tour for this one. A high clearance vehicle and even four-wheel drive is basically a necessity.
Book the Sian Kaan and Muyil (half-day option) or the Sian Ka'an Safari (full day) to enjoy this bio-reserve. By doing so, you also help the local community to protect and preserve their cultural heritage (Mayan descendants live here today) and the environment. Some of the present-day Mayans also work in these tours as guides. (Pretty cool!)
A. Sian Kaan and Muyil Ruins (Half-Day)
Ready your Indiana Jones outfit because this jungle definitely looks like something out of that movie. This quick, half-day tour will lead you to the Sian Ka'an ecological reserve as well as the Muyil ruins.
The Muyil archaeological site is a quiet alternative to the more famous ruins like Tulum, Chichen Itza, or even Coba. It is located in the northern edge of the Sian Ka'an bio-reserve and is home to many ancient buildings (believed to have been built as early as 300 B. C.). You will also see a 55-foot pyramid, an observation deck (offers a bird-eye view of the lagoon), and several other ceremonial structures.
Experience a unique way of getting from point A to point B as you float through the mangrove trees in these clear turquoise waters of Sian Ka'an. The Mayans established these canals for transport and trade way before anyone had any contact with them (brilliantly uhhhmazing!). These amazing canals are still used even after thousands of years.
You will be served with local snacks and refreshment while on board the boat over sunsets. Like it? Book now.
Book the Sian Kaan Muyil Half-Day Trip here.
B. Sian Ka'an Safari (Full Day)
Take your time on this full-day trip to Sian Ka'an and better discover the many amazing things that it offers. After your pick-up, you will be driven to Tulum for a quick briefing about the bio-reserve and safety procedures. You will then be driven about 25 km before boarding the boat in Paso Lagartos. Along the way, you will make a stop at the Boca Paila Bridge at an estuary to see some local species of crocodiles.
Well, this bio-reserve is home to hundreds of species of birds, insects, marine life, mammals, different kinds of plants and trees. During the marine safari, you will probably spot wild dolphins, sea turtles, and maybe the elusive manatees.
Punta Allen is where you can experience floating through the mangrove forests in cerulean blue waters (so unique!) while enjoying the birds and the trees. After this, you will be served a local lunch in the village where you can also explore the way of life there.
This marine safari and the Sian Ka'an Biosphere is a good day trip for anyone who loves nature and wildlife.
Book the Sian Ka'an Safari Full Day Tour now.
More about Tulum
Tulum is a great town to visit… I mean, where else can you find ancient ruins perched on tall cliffs perfectly backdropped with crystal blue Caribbean waters? No filter, no editing required, just perfect.
These top Tulum tours give you a great overview of some of the things you need to do, but I am definitely sure that you will discover many more cenotes (there are thousands of them in the Yucatan), be amazed by the ancient Mayan way of life, and find plenty more activities to do. If you have the time and budget to do so, you should try at least a few of the tours that we have listed here.
This town never disappoints, given the many discoveries you'll find such as the foodie stops (try the local specials like huitlacoche or Mexican truffle and cochinita pibil or slow-roasted pork), the yoga retreats and holistic parts of Tulum, seeing the spider monkeys of Punta Laguna Nature Reserve, or just walking the soft sands of Playa Paraiso. Your Mayan adventure awaits you in Tulum.
Also, if you're traveling elsewhere, don't miss out on my comprehensive guide when traveling to Mexico so you can plan your stay with tours, activities, places to go, things to do, and what to eat.
Traveling to Tulum soon? Be sure to book your hostel or hotel from Booking.com now to save and don't forget to purchase travel insurance for Mexico to protect yourself against injury, theft, and sickness. I use and recommend World Nomads.
Don't miss our guides to the nearby towns of Playa del Carmen, Cancun, Merida, Chichen Itza, and beyond!
Read Next: The Coolest Things to Do in Tulum, Mexico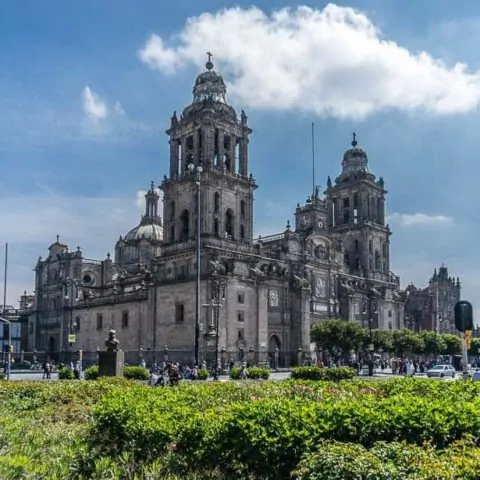 Mexico Travel Tips
Important tips and resources for planning an amazing trip to Mexico, based on my extensive experience traveling across the entire country.
Tools
Instructions
Book a cheap flight to Mexico with Momondo, or better yet, start travel hacking so you can fly for free.
Plan a rough itinerary and how long you will spend in each destination. Pick up Lonely Planet Mexico to help with this.
Work every day to teach yourself Spanish, you want to know as much as possible before you arrive.
Book your cheap accommodation in advance, at least for the first destinations -- For hostels use: Booking, for cheap hotels use: Hotels.com, for apartments use: Airbnb.
Reserve your on the ground tours and activities through Get Your Guide.
Purchase travel insurance for Mexico with World Nomads to protect yourself from illness, injury, and theft while in Mexico.
Check out my comprehensive guide about traveling to Mexico with information on cities, things to do, places to see, and more.
Learn more money saving tricks with my top budget travel tips if you want to get more bang for your buck.
Put together your Mexico packing list.
Enjoy this incredible country!
Notes
I hope this helped you plan your travels in Mexico! I know it can be a struggle to find accurate and on the ground information when traveling to a new place like Mexico, which is why I started writing so extensively about it!
If you have any questions about Mexico, budget travel, or anything else shoot me an email at ryan@desktodirtbag.com.
(I love getting questions! That is how I get ideas for my blog posts and what to write about!)
Recommended Products
As an Amazon Associate and member of other affiliate programs, I earn from qualifying purchases.
Share This
Did you enjoy this post about the best Tulum tours and activities? Please take a moment to share it on Facebook, Pinterest, or Twitter.