This article may contain
affiliate links
. If you make a purchase through these links, I will earn a commission at no extra cost to you. Thanks!
Cartagena is a historical and cultural jewel of Colombia along the Caribbean sea where you will find warm friendly locals, white sand beaches, an old walled city, lively plazas, hip nightlife, exotic Colombian fruits, and great food. Considered as one of the most beautiful and safest cities of Colombia, it is a colorful mix of Caribbean vibe, history, and contemporary life, and what better way to experience it than with some of these awesome Cartagena tours and activities?
I have called Colombia my base for more than a few years now and have been sharing my adventures of South America starting with this country. Honestly, I found Cartagena to be the one city in Colombia that seems to never sleep, with life and activity nearly 24/7, in a place with lively nightlife, beautiful white sand beaches, incredible mangrove forests, an amazing old walled city, cool markets, and, surprisingly, a volcano (Yes, a volcano, you heard that right!).
In this article, we will give you the best Cartagena tours that I really think you should not miss out on. To stay true to being a dirtbag, I also made sure that these noteworthy tours will give you the best deal for your buck. From walking tours within the city to a good day-trip adventure to the islands, you will definitely find a tour or more that will pique your interest.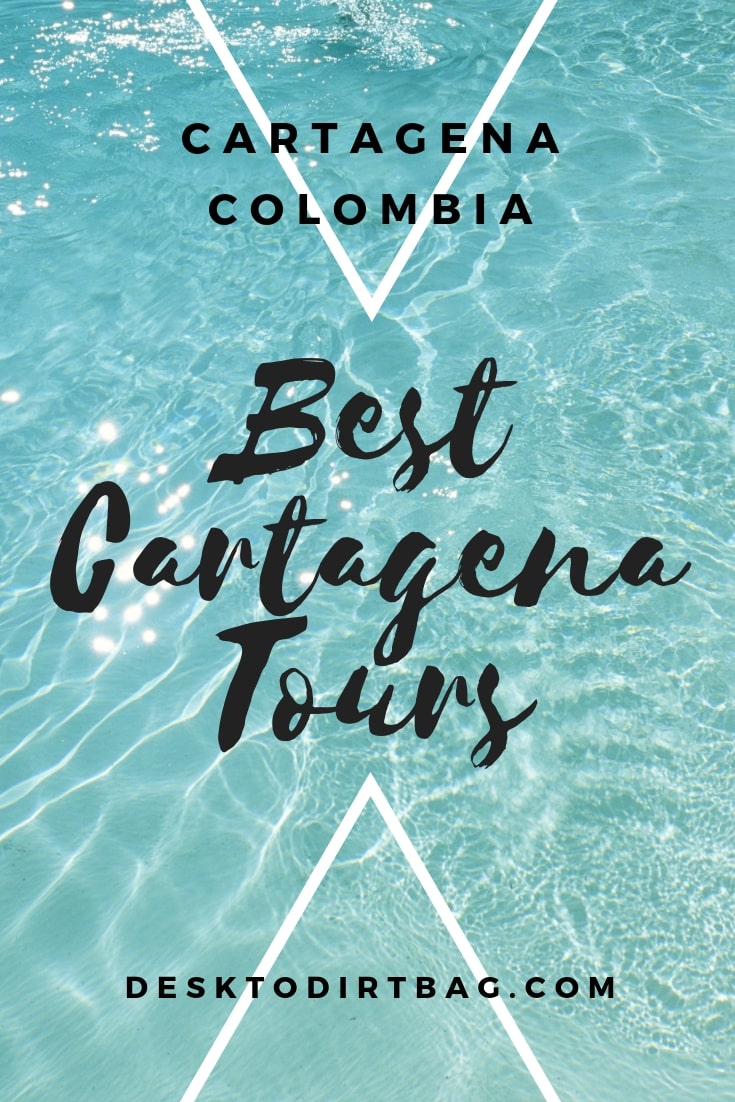 Free Cartagena Walking Tour
The best way to see any city is on foot and with a local as your guide. In Cartagena, passionate local guides give free walking tours and excursions loaded with history and cultural tidbits. I find it amusing how the guides weave local legends while taking you back to colonial Cartagena, captivating the audience in either English or Spanish. This is a nice introduction to the city so you can see the lay of the land and decide on the places you'd like to explore for the succeeding days.
The historical walking tour covers most representative sites of Cartagena like the walled city and the artsy Getsemani neighborhood just outside of the walls. Expect 2-3 hours of walking around so you need comfortable walking shoes and don't forget that sunscreen.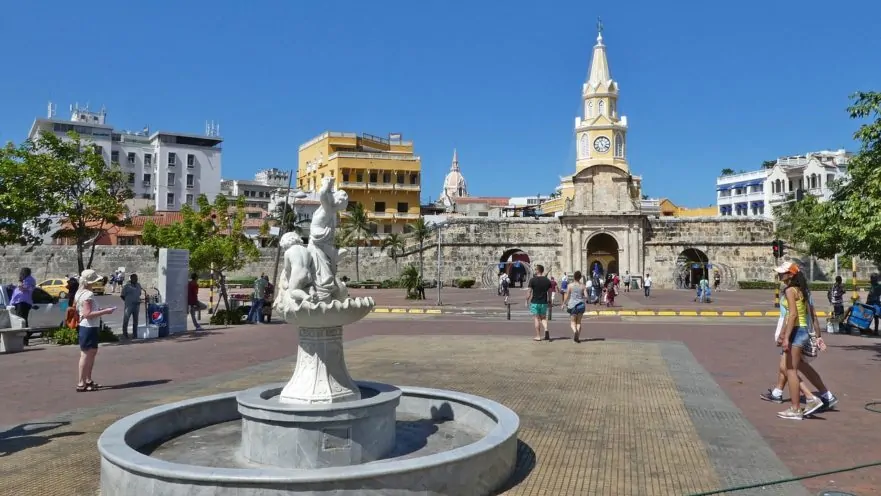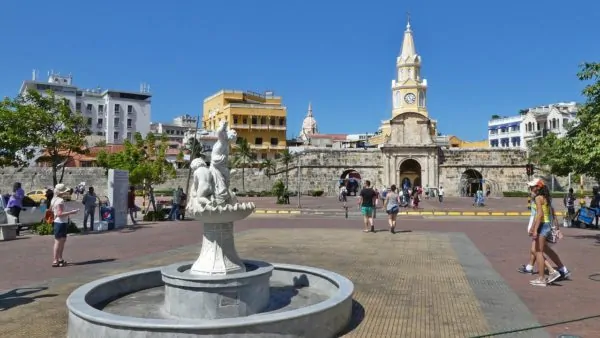 Although the tour is free, the organizers encourage everyone to tip voluntarily for the service of the guides. I am sure you learned a thing or two so give them some love when you finish a tour.
The Free Tour Cartagena is highly recommended because of the in-depth knowledge of the guides in history, architecture, and local lifestyle. They receive so many requests that you now need to book in advance. You will never miss them in Plaza Santa Teresa (where they start their tours), just look for the bright yellow umbrellas.
Book your Free Tour Cartagena now.
Cartagena Sightseeing Hop-on Hop-off Bus Tour
If you have a limited time to enjoy Cartagena or you just want to cover many spots in one day, this sightseeing bus tour is perfect for you. This is also a cheap way to see and visit more than a dozen stops in this historical city.
You will get to see the walled city, the old pier, the amazing San Felipe de Barajas Castle, visit the famous Simon Bolivar statue and discover the beauty of Cartagena Bay.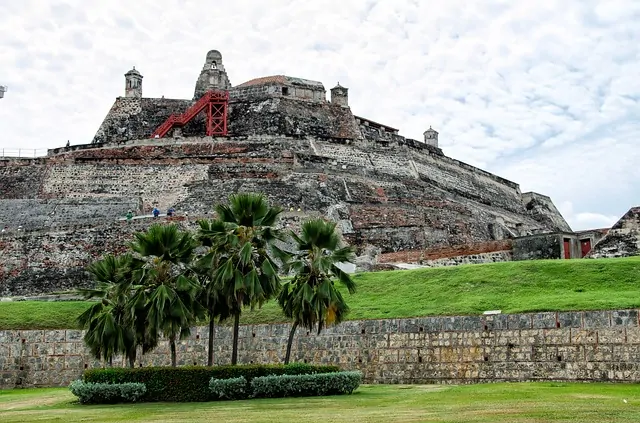 Comfortable and convenient, you can stay on the bus to listen to the audio commentary for each site or you can hop off to visit any of the stops, some of the highlights also include the walled city, Quintal street food market, and the bay views of Bahía de Castillogrande.
The tour duration is 90 minutes but you can do another round on the same day or the next day since ticket validity is for 48 hours.
Book your Cartagena Sightseeing Hop-on Hop-off Bus Tour now.
Rosario Islands Sailing Catamaran Cruise
Most secrets don't remain secrets for long, especially when this secret is a paradise like Rosario. Las Islas Del Rosario or Rosario Islands is an archipelago of 27 islands surrounded by clear, aquamarine waters with a vast diversity of marine life.
Your catamaran will set sail from the pier in front of the walled city called Muelle de la Bodeguita for your full day trip to Rosario and the San Bernardo Corals National Natural Park.
You can swim and snorkel in the lagoons and coral reefs. Enjoy your drinks under the hot Caribbean sun or under the shade in comfy seats. Did I mention there is a bar on board your catamaran?
Experience the white sand and turquoise waters of the Caribbean when you stop in one of the idyllic beaches here — certainly among the best Cartagena beaches, for sure. Swim, snorkel, float on playful inflatables and just have fun at the beach. You'll be able to explore the island and snap photos of paradise.
Sand in your toes and salt in your hair, enjoy the sumptuous seafood lunch prepared by the crew as you sail back to Cartagena after a day of sun and surf.
Book your Rosario Islands Sailing Catamaran Cruise now.
Fishing with Locals
This tour offers a unique experience to catch your food and later on cook what you have caught. La Boquilla is a rustic fishing village which is a few minutes away from Cartagena. This is an easy day-trip from Cartagena for those interested in nature and how locals live.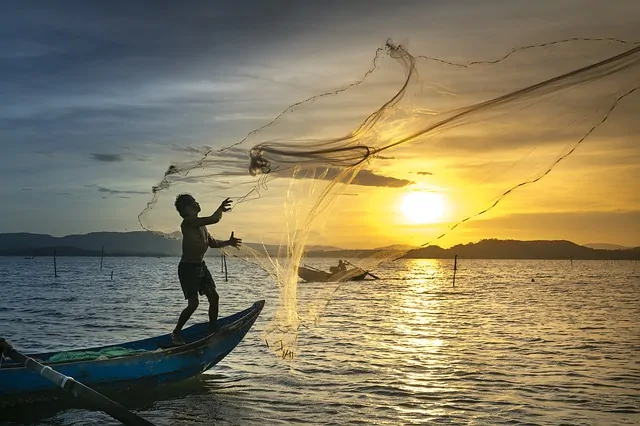 When you arrive in La Boquilla, local fishermen on canoes will meet you to lead you to the two big lagoons: the Cienaga de Juan Polo and the Cienaga de la Virgen. Here you can catch sea bass, ocean-bass or some clams and crayfish.
With the aid of your multilingual guide, the fishermen will share with you their stories while they teach you three main fishing techniques: fishing with a line, using nets, or using traps.
You earned it, drink that fresh coconut after a hard day's work. And of course, you get to keep your catch and even learn how to cook it in a nearby restaurant with the help of a local chef. Fish, cook, eat, repeat.
Book the Fishing with Locals trip now.
Totumo Volcano and Mud Baths: Day Tour from Cartagena
What will you say when I tell you that you can take a bath in a volcano here in Cartagena? It's true you can (and I haven't gone crazy…not yet) and it is amazing! This rejuvenating experience is possible with the Totumo Volcano and Mud Baths.
Totumo Volcano is in Santa Catalina town, one hour outside of Cartagena. The picturesque drive going to Totumo is dotted with a tropical Colombian landscape that you will surely enjoy.
The 50-foot volcano is accessible by a staircase to get to the top so you can immerse in the mud bath. Instead of spewing out ash and molten lava (thank god!), you will get to experience a mud spa that is said to have 50 or more natural minerals that can rejuvenate the skin and hair.
You can opt to get some lunch around the base of the volcano or an optional massage from any of the spa attendants for a separate price.
But don't forget to take a real bath and rinse off in the nearby lake before heading back to your hotel.
Book your Totumo Volcano and Mud Baths: Day Tour from Cartagena tour now.
Cartagena: 4-Hour Bazurto Market Tour
The best way to know the real character of the place you are visiting is to explore its local market. The crazy-busy Bazurto Market, one of Cartagena's hidden gems, tells the story of its people, the food that comes from its seas and forests, their artistic expression in their arts and crafts and the most important music of the locals.
The tour offers you the opportunity to savor the tastiest Caribbean cuisine. This bright and loud adventure of the real Cartagenero life is not for the faint-hearted. It is a sometimes intimidating labyrinth with splashes of moving animals, bursts of live music and dancing, and an almost endless sea of food stands.
You can choose to stand back and watch all the magic happening or be a part of it. You can buy ingredients and prepare an authentic Colombian meal later.
Visit the herb market, music market, and art market. Head over to the cafeteria for lunch just like a real Cartagenero would do.
Book your Cartagena: 4-Hour Bazurto Market Tour now.
Jaguar's Footprint Trip
A jungle trek, no less, is the best way to get me up and running. The Jaguar Footprint Trip run by eco-cultural tour agency Taroa Adventures is a guided jungle trek into the last dry forests of Colombia called Montes de Maria.
Olinto, your guide, will start the tour with an early morning scenic drive to the mountains (with a breakfast stop in a roadside café).
With two walking sticks in hand and a lot of hiking, you will wade through streams and flat forests. The local guides will point out the local mochuelo bird and leafcutter ants as part of the area's flora and fauna. One of the highlights for this trip is a look into the past of an ancient tribe who left petroglyphs in stones (pretty cool huh?).
Lunch will be at a restaurant for a typical Colombian fare with the delicious sopa de queso and exotic fruits. It will be followed by a visit to a village where the locals play indigenous instruments. You might even have the chance to join in to play some instruments with the locals. Definitely worth every penny!
Book your Jaguar's Footprint Trip with Taroa Adventures now.
More Cartagena Tours
These are the 7 best Cartagena tours I recommend for any newcomer to the city, especially if they have the time and budget to do so. But there are tons of activities that you can still do like visiting the emeralds museum, experiencing a salsa bar hopping tour, or again enjoy the Caribbean sun and go to Playa Blanca for the day.
You can also check out my comprehensive guide of things to do in Cartagena so you will know a little more about the coolest places to explore during your stay in this awesome city.
Traveling to Cartagena soon? Be sure to book your hostel or hotel through Booking.com now to save, but don't miss my article on the best Cartagena hostels to help you decide and my guide to where to stay in Cartagena. Also, super important, don't leave home without travel insurance for Colombia to protect yourself against illness, injury, and theft. I use and recommend World Nomads for its combination of coverage and affordability.
Read Next: The Best Things to Do in Cartagena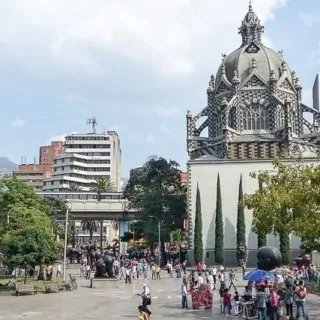 Colombia Travel Tips
Important tips and resources for planning an amazing trip to Colombia, based on my years of traveling and living in Colombia.
Tools
Colombia Trip Planning
Instructions
Book a cheap flight to Colombia with Momondo, or better yet, start travel hacking so you can fly for free. Traveling between major cities is much better by flying, trust me.
Plan a rough itinerary and how long you will spend at each destination. Use an itinerary planning service for custom recommendations and pick up Lonely Planet Colombia.
Work a little every day to teach yourself Spanish, you'll want to know as much as possible before you arrive.
Book cheap accommodation in advance, at least for the first destinations -- For hostels use: Booking, for cheap hotels use: Hotels.com, for apartments use: Airbnb.
Reserve your on the ground tours and activities through Get Your Guide.
Purchase travel insurance for Colombia with SafetyWing to protect yourself from illness, injury, and theft while in Colombia. VERY important. And be sure to read my article: "Is Colombia Safe?" for my honest opinion and safety tips.
Sign up for my free emails about planning a better trip to Colombia, and be sure to check out my comprehensive guide about traveling to Colombia.
Learn more money-saving tricks with my top budget travel tips.
Put together your Colombia packing list.
Enjoy this incredible country!
Notes
I hope this helped you plan your travels in Colombia! I know it can be a struggle to find accurate and on the ground information when traveling to a new place like Colombia, which is why I started writing so extensively about it!
If you have any questions about Colombia, budget travel, or anything else shoot me an email at ryan@desktodirtbag.com.
(I love getting questions! That is how I get ideas for my blog posts and what to write about!)
Recommended Products
As an Amazon Associate and member of other affiliate programs, I earn from qualifying purchases.
Share This
Did you enjoy this post about the best Cartagena tours? Take a moment to share it on Pinterest, Facebook, or Twitter. Thanks!
The following two tabs change content below.
Desk to Dirtbag is one of the leading budget adventure travel blogs online and is dedicated to helping its followers achieve their travel dreams through inspiration, information, and actionable steps. If you are new to the site, be sure to
Start Here
.
Latest posts by Desk to Dirtbag (see all)