This article may contain
affiliate links
. If you make a purchase through these links, I will earn a commission at no extra cost to you. Thanks!
Cartagena, the crown jewel of Colombia's Caribbean coast, draws a lot of attention from world travelers, indeed it is the most popular destination in Colombia for both local and foreign tourists. Here you'll find unique blends of cultures, amazing food, some incredible beaches, and a long and interesting history. A visit to Cartagena is everything a traveler could want and more, but many first-time visitors can be confused about where to stay in Cartagena.
With so many exciting neighborhoods to choose from, inexperienced travelers may find it challenging to decide and may only be considering the Old Walled City (which is definitely a good choice, but not the only one). Indeed, depending on what you're looking for during your visit to Cartegena, the Old Walled City may be the wrong choice for you.
But don't worry! This guide to the best neighborhoods of Cartagena will have you feeling ready to pack your bags, make reservations, and make your way to the Caribbean city as soon as possible.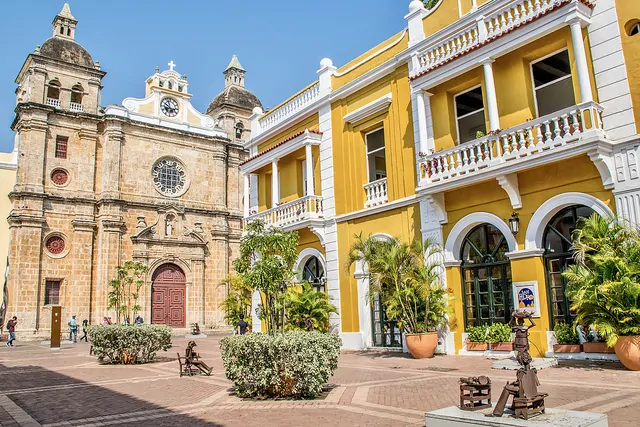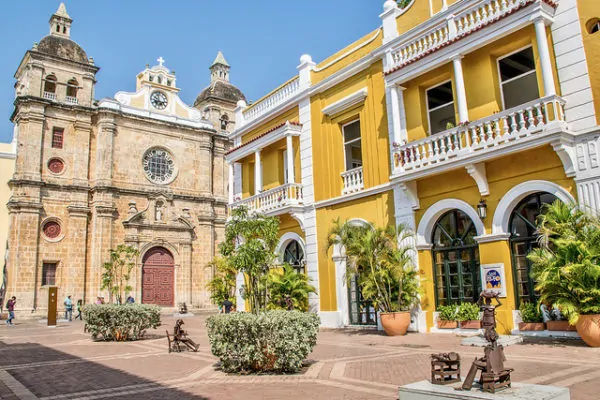 Cartagena is a great introduction to Colombia (it was also my first stop here in Colombia) because of its long-time popularity as a tourist destination, plus the place is just cool… It may not be my absolute favorite city in Colombia, but that isn't because it isn't awesome, just because it faces a lot of stiff competition from other incredible places to visit in Colombia.
Anyway, let's get on with this guide to the best neighborhoods and where to stay in Cartagena…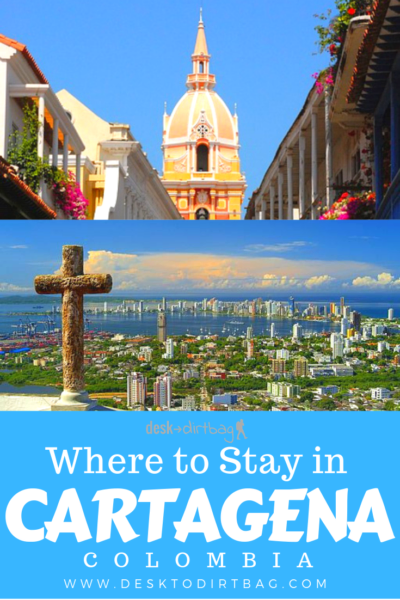 The Old Walled City
The Old Walled City, also known as El Centro, is one of the most iconic images often seen of Cartagena, often drawing tourists from around the world to Colombia. As it entices so many visitors to travel here, no wonder it has become an incredible place to stay.
What do you love to do while traveling? Centro can see to almost all of your wants and needs. Hungry? Try some fine dining in exquisite restaurants or sample some incredible street food. Enjoy a few drinks in an exclusive cocktail bar or have a beer at one of the friendly local bars.
When you finally decide to call it a night, rest your head at a luxury hotel or stay in a budget-friendly hostel. Everyone will find something to love in the Old Walled City with its mix of color and colonial architecture.
You'll also find many of Cartagena's fantastic tourist attractions within the city's wall. History lovers will relish a visit to the Naval Museum, Gold Museum, and Inquisition Museum. Those who wish to enjoy the spirit of the Centro can stroll along the wall or on the colonial streets and cobblestone alleyways.
With everything you can do with just a quick walk, the Old Walled City makes a perfect neighborhood for first-time visitors, but the Centro does have drawbacks. If you hope to visit the beach frequently, this neighborhood won't put you right on the sand.
The neighborhood can get incredibly busy at peak tourist seasons and around New Years and early January, Easter (all of Semana Santa) and the November Festivities. You will also interact with tons of street vendors in the Old Walled City, so be prepared for them. Lastly, even though you will have hostel options here, overall this may not be the best choice if you have a tight budget.
The Old Walled City does house the majority of the coolest things to do in Cartagena, and while it is a great place to stay, you may be just as happy in a nearby neighborhood that is within walking distance to the Old City and other attractions.
#1 Pick for Best Hostel in the Old Walled City: Bourbon St. Hostal Boutique — see more in this guide to the best hostels in Cartagena.
Getsemaní
In the colonial era, Getsemaní housed the working class that built Cartagena — the shipbuilders, masons, and carpenters. Just outside the walled city, this working-class neighborhood has grown into an area quite popular with young travelers and backpackers. As you make your way down the streets, you'll find exciting street art, cool cafes and restaurants and trendy — but not too trendy — nightlife.
You have plenty of options for places to stay that won't break the bank — budget and boutique hotels and hostels make this neighborhood an excellent choice for travelers without a lot to spend, and especially younger crowds.
Nightlife in Getsemaní means partying to a lot of visitors looking to have a good time with fellow travelers. If you want to explore that party scene, check out Calle Media Luna and Calle El Arsenal for some of the best scenes in all of Cartagena.
Since Getsemaní sits right outside the Old Walled City, you still have fairly easy access to all the attractions found there, but won't spend as much as you would be by staying inside the walls. Trendy restaurants have started popping up in the neighborhood, but you still have plenty of local joints and delicious street food to choose from.
Anyone can save a little money by staying in Getsemaní, but if you don't like crowds, hipsters, or partying this neighborhood may not be your best choice. If excellent nightlife and having fun with other travelers sounds like a good time to you, give Getsemaní a try.
While I'm not a huge fan of crowds and hipsters, I still consider Getsemani to be a top choice for first-time visitors to Cartagena (it's my favorite neighborhood to stay in Cartagena) thanks to its mix of coolness, budget-friendly, vibrancy, and easy access to surrounding attractions.
Not only is it right next to the Old Town, but it's actually closer than the Old Town to other attractions like the old castle of San Felipe de Barajas or the "Old Shoes" monument, just to name a few.
#1 Pick for Best Hostel in Getsemani: Life is Good Cartagena Hostel — see more in this guide to the best hostels in Cartagena.
Bocagrande
If the old world charm of Cartagena doesn't win you over, you may want to consider a stay in Bocagrande. This neighborhood brings modernity just adjacent to the old city, with high-rises, skyscrapers, and modern stores, restaurants, and attractions.
You won't find cheap accommodations here, but you can enjoy luxurious beach resorts and international cuisine. You'll also have a ton of shopping opportunities and easy access to the beach.
In fact, if you love the beach, this neighborhood will make it easy to step right out onto the sand every day. Like many other parts of the city, you'll have to share the beach with other tourists and vendors, but since Bocagrande is home to many of Cartagena's wealthy, you never have to worry about safety in this neighborhood (but always exercise common sense).
You'll still have access to the historical attractions within the Old Walled City — it's only a long walk or a quick taxi ride away, but in Bocagrande you can surround yourself with modern luxury. For those who can afford it and the numerous 4-star or 5-star hotels, this neighborhood allows you to experience the best of both worlds.
Another great option here is to check out Airbnb (new users can get a free credit toward their first stay with my link) where you can find entire apartments or even individual rooms with ocean views for a fraction of upscale hotel prices, particularly if you'll be here during the offseason (read more about the best time to visit Colombia).
Manga
Much of Cartagena bustles with crowds of tourists. If you would like to escape all of that or if you have a tight budget than even Getsemani allows, consider a stay in Manga. This neighborhood is mostly residential — meaning it doesn't attract throngs of tourists like some of the other neighborhoods in the city that we've already covered.
That doesn't mean you won't enjoy a visit to Manga. While it doesn't have the same historical nature as the older parts of Cartagena, the architecture is still pretty stunning at times and many visitors enjoy admiring the neighborhood's old mansions, and slightly more off the beaten path feel.
You won't have easy access to the Old Walled City from Manga, but you will enjoy much quieter streets as well as great harbor skyline views — you can even see Bocagrande's skyscrapers on the other side of the harbor.
Because of the less touristy nature of Manga, you can find places to stay much cheaper here. Budget travelers can stay here to save a few bucks, but families may enjoy getting away from the hustle and bustle of the tourist crowds and vendors as well.
Couples often enjoy a romantic weekend in the neighborhood — the streets are quiet, and Manga has some amazing seafood restaurants (for super cheap prices).
#1 Pick for Best Hostel in Manga: Peregrinos Hostel Cartagena de Indias — see more in this guide to the best hostels in Cartagena.
San Diego
Eager to experience the culture and open-air feel of the Centro, but worry that you'll feel overwhelmed by the crowds of tourists and vendors? You should consider a visit to San Diego. While still in the area of the Old Walled City, but considered its own neighborhood, San Diego has the look and feel of the Centro but without so much hustle and bustle.
Take a stroll down to the Plaza de San Diego, dotted with historic buildings — like the old church — and full of amazing food and incredible street performers, and you will feel like you've entered another world. In place of the vendors that crowd the streets in other neighborhoods, you'll enjoy the charming souvenir shops scattered throughout the neighborhood.
Everything moves a little slower in San Diego. Students congregate here to enjoy their time off and have fun, and you won't encounter the same tourist-centric activities you'll find elsewhere.
Slow down, try some Colombian street food, and enjoy watching the fisherman as they haul in their catch for the day. Follow that up with a cigar and a mojito at Cuba 1940, then make your way to the top of the city's walls to watch the sunset.
You can walk to the attractions in the Old Walled City without too much hassle from this neighborhood. While more expensive than some areas, you will find some budget options and hostels available if you choose to stay in San Diego, making it an excellent choice for many travelers.
#1 Pick for Best Hostel in San Diego: Maloka Boutique Hostel — see more in this guide to the best hostels in Cartagena.
Summary of Where to Stay in Cartagena
For me, based on a few visits, my top recommendation for those looking to stay in Cartagena is to be either in or near the Old Town… My personal favorite is Getsemani, but you can't really go wrong with staying directly in the Old Walled City, either.
Old Walled City
Getsemani
San Diego
Bocagrande (for more luxury or beach-centric stays)
Manga
Map of the Best Hostels in Cartagena
Cartagena is a magical place. Full of history, tropical weather, and friendly people, this city will continue to attract travelers from across the globe. There's something for everyone in Cartagena.
Whether you're a budget traveler looking for an affordable getaway, a backpacker looking to party, a history buff wanting to explore the Old Walled City or a visitor hoping to soak up the sun and some luxury (at more affordable prices), one of these neighborhoods will have just about everything you need.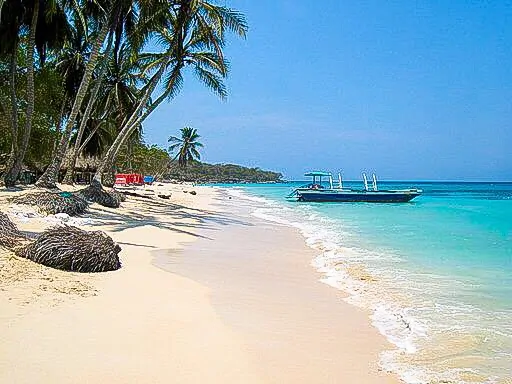 Of course, no neighborhood is perfect — when you stay in one, you may find that you can't fully appreciate some of the others. With so much to explore and so many neighborhoods to see, there is only one solution for the problem of deciding where to stay in Cartagena — a return trip. That's been my case, at least, with a couple of visits to Cartagena now and a lingering desire to return and keep exploring this colorful and vibrant Caribbean town in Colombia.
Traveling to Cartagena soon? Reserve your room now via Booking.com to save! If you're going on a budget, don't miss my guide to the best Cartagena hostels throughout these neighborhoods. Also, there are many activities and tours that you can do in this city. Finally, don't forget to purchase travel insurance for Colombia to protect yourself against illness, injury, and theft. I use and recommend World Nomads for the best combination of affordability and coverage.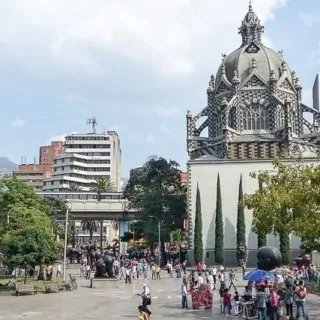 Colombia Travel Tips
Important tips and resources for planning an amazing trip to Colombia, based on my years of traveling and living in Colombia.
Tools
Colombia Trip Planning
Instructions
Book a cheap flight to Colombia with Momondo, or better yet, start travel hacking so you can fly for free. Traveling between major cities is much better by flying, trust me.
Plan a rough itinerary and how long you will spend at each destination. Use an itinerary planning service for custom recommendations and pick up Lonely Planet Colombia.
Work a little every day to teach yourself Spanish, you'll want to know as much as possible before you arrive.
Book cheap accommodation in advance, at least for the first destinations -- For hostels use: Booking, for cheap hotels use: Hotels.com, for apartments use: Airbnb.
Reserve your on the ground tours and activities through Get Your Guide.
Purchase travel insurance for Colombia with SafetyWing to protect yourself from illness, injury, and theft while in Colombia. VERY important. And be sure to read my article: "Is Colombia Safe?" for my honest opinion and safety tips.
Sign up for my free emails about planning a better trip to Colombia, and be sure to check out my comprehensive guide about traveling to Colombia.
Learn more money-saving tricks with my top budget travel tips.
Put together your Colombia packing list.
Enjoy this incredible country!
Notes
I hope this helped you plan your travels in Colombia! I know it can be a struggle to find accurate and on the ground information when traveling to a new place like Colombia, which is why I started writing so extensively about it!
If you have any questions about Colombia, budget travel, or anything else shoot me an email at ryan@desktodirtbag.com.
(I love getting questions! That is how I get ideas for my blog posts and what to write about!)
Recommended Products
As an Amazon Associate and member of other affiliate programs, I earn from qualifying purchases.
Share This
Did you enjoy this post about where to stay in Cartagena? Please take a second to share it on Pinterest, Facebook, or Twitter. Thanks!
The following two tabs change content below.
Desk to Dirtbag is one of the leading budget adventure travel blogs online and is dedicated to helping its followers achieve their travel dreams through inspiration, information, and actionable steps. If you are new to the site, be sure to
Start Here
.
Latest posts by Desk to Dirtbag (see all)