This article may contain
affiliate links
. If you make a purchase through these links, I will earn a commission at no extra cost to you. Thanks!
I've spent about three years on and off living and traveling through Colombia, and I can say without hesitation that there are a plethora of incredible things to see and an almost overwhelming amount of places to visit in Colombia. Even after traveling through all of Central America and the majority of South America, I can still say that Colombia is probably my favorite country in Latin America.
I know that planning a trip to Colombia can be an intimidating undertaking as you consider where to go, what to see, and how much you can fit into a limited time, so today I wanted to raise the profile of what I would consider being the 21 most incredible places to visit in Colombia, aka those places which should be near the top of your list.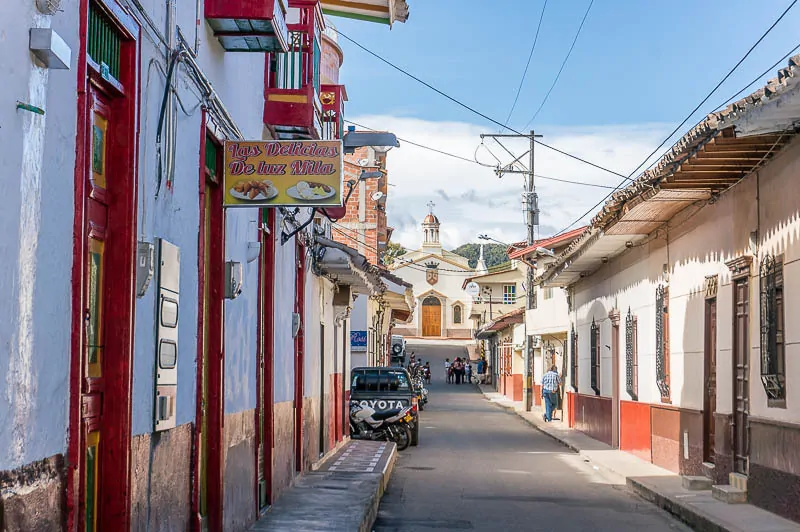 The Most Incredible Places to Visit in Colombia
Of course, there is no way you'll be able to see everything here within a short period of time, but it will at least call to attention some places, regions, or things which you may have not heard about or overlooked, and can help you organize and optimize your visit.
Anyway, let's get on with it…
Cartagena
Let's start with the most obvious places, Cartagena, since it is Colombia's #1 tourist destination and for pretty good reason. This old, walled city draws visitors through its colorful corridors, past exotic Colombian fruit vendors and sucks you in.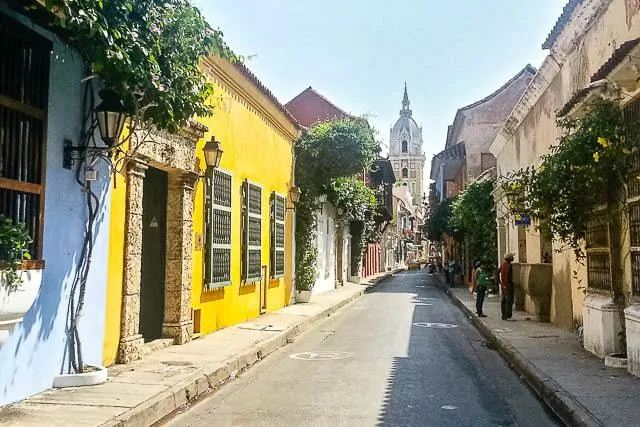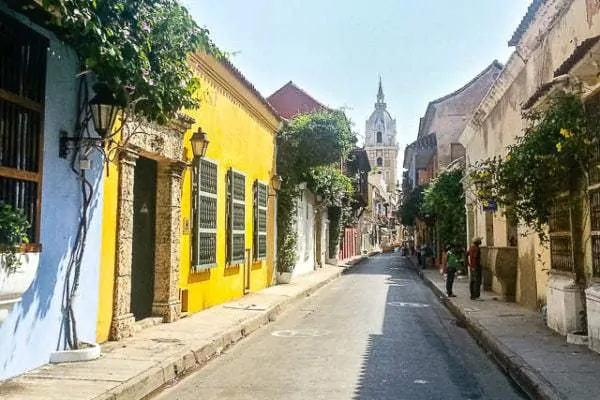 While Cartagena isn't my favorite big city in Colombia, it is hard to deny the appeal of this special place. Cartagena also makes a popular jumping-off point for some of the incredible beaches in the area like the famous Playa Blanca in Baru.
Cartagena is a frequent jumping-off place for most travelers to Colombia thanks to the many cheap flights one can find here. It was where I started my own travels in Colombia so many years ago.
Read More: Things to Do in Cartagena
Tayrona National Park
Tayrona National Natural Park is probably the crown jewel of Colombia's national park system, an ecological paradise where palm-tree-lined white sand beaches tuck up against crystalline blue waters.
Thanks to its status as a national park, the area has been largely protected of development, giving visitors a feel for what Colombia's Caribbean Coast looks like in a natural state. It is a place where you can truly disconnect and relax in an idyllic, tropical paradise. Be sure to head to the famously beautiful Cabo San Juan within the park.
Tayrona is located near Santa Marta, Colombia, which is a city that makes a great jumping-off point for a day trip or a number of other big adventures, such as the Ciudad Perdida Trek, aka the Lost City, as well as for a visit to the Sierra Nevada de Santa Marta, the world's highest coastal mountain range. I love the little town of Minca, tucked in the mountains above Santa Marta too, good for at least one night, if not more.
Cabo de la Vela in La Guajira
For unforgettable beaches that are far less touristy than those in Cartagena or Tayrona, you should make a point to head to Cabo de la Vela along the Guajira region. The Guajira is a department (ie state) and a large peninsula that juts out into the sea.
The area is extremely poor, mostly inhabited by the native Wayuu, and predominately desert, but the scenery as the rolling desert sand dunes meets the sea is extremely unique.
You can also try and make a point to visit Punto Gallinas, the northernmost point in Colombia (not counting islands).
El Cocuy
For a total change of scenery, you can (slowly, thanks to the high altitude) make your way to El Cocuy, located near the border of Venezuela, high in the Andes mountains.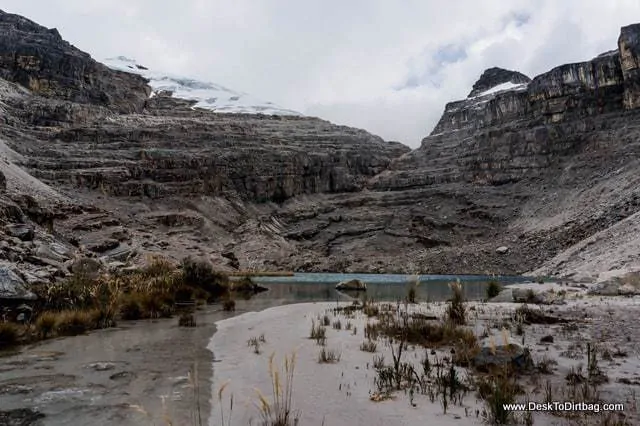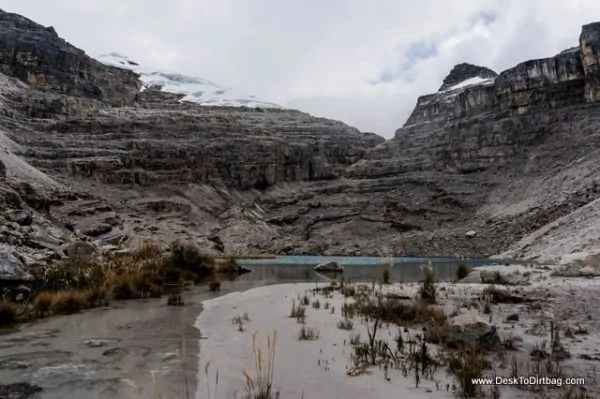 This is another breathtaking natural park, but one consisting of high, snow-capped mountains, glaciers, and windy mountain passes.
It is a great place for trekking and camping out under the stars for a few nights.
Read More: Trekking in El Cocuy
San Gil
San Gil is located near the big city of Bucaramanga, and it remains one of my all-time favorite mid-size towns. San Gil is known as the adventure sports capital of Colombia, thanks to the many fun outdoor activities available in the area, ranging from white water rafting, paragliding, rappelling, riverboarding, or even rock climbing in the nearby Chicamocha Canyon.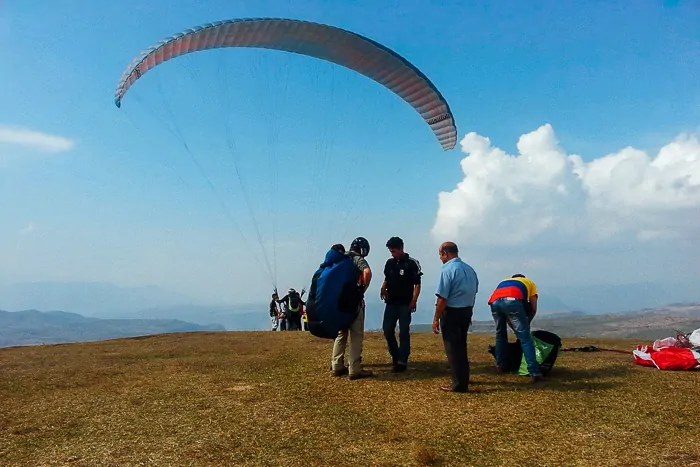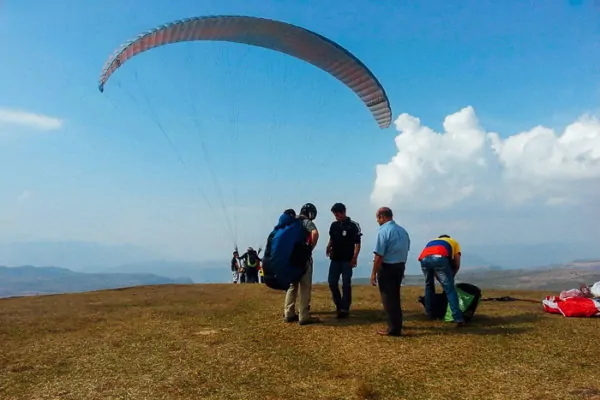 Don't miss out on less extreme adventures too, like taking the short hike to nearby Barichara, among the prettiest colonial towns in all of Colombia.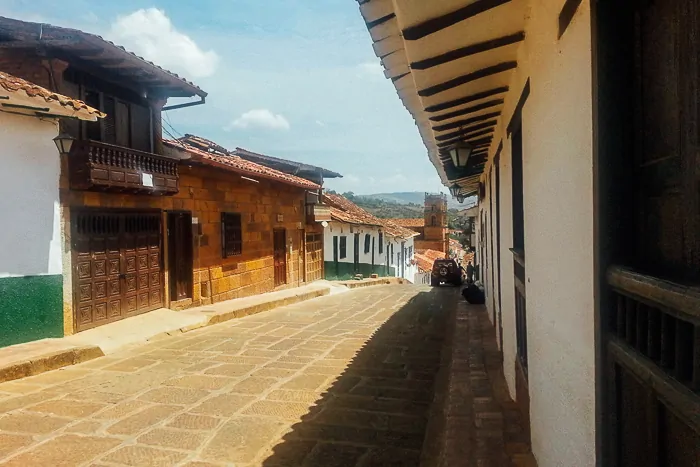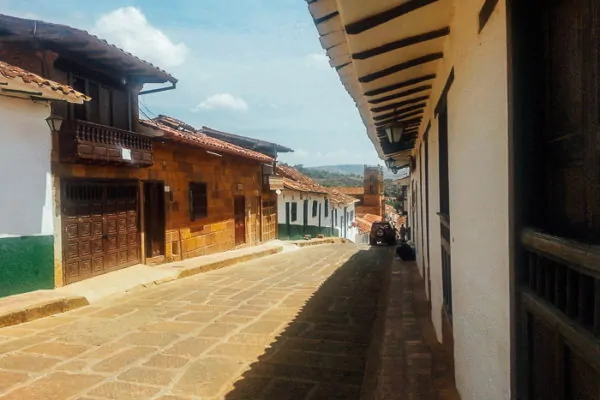 Read More: Things to Do in San Gil
Villa de Leyva
Villa de Leyva is located a few hours from Bogota, and it is among the best-preserved colonial towns in Colombia, with very little in the way of development over the past 400 years. Here you will find cobblestone streets, sixteenth-century buildings, and what is believed to be the largest central plaza in all of South America.
The town is also well known for their huge pyrotechnics display on New Year's Eve, should your visit happen to coincide with that timeframe.
The Salt Cathedral of Zipaquira
Perhaps among the most unique churches in the world, the Salt Cathedral of Zipaquira is a Catholic church built inside the tunnels of an underground salt mine, more than 200 meters underground.
The entire church and architectural details were hand-carved and it is considered to be one of the most notable achievements in Colombian architecture.
While the church doesn't have a bishop and thus has no official status as a cathedral in Catholicism, it still regularly hosts religious services and sees as many as 3,000 visitors on Sundays.
Bogota
Bogota is the large and bustling capital city, a place that can be somewhat chaotic and overwhelming, but nonetheless is worth visiting as Colombia's most cosmopolitan city, filled with arts, culture, entertainment, food, and much more.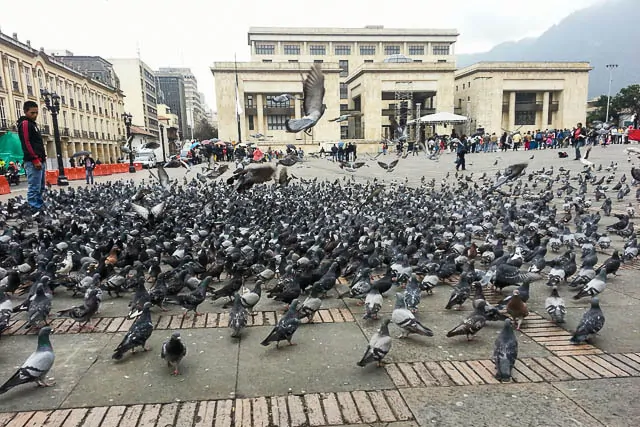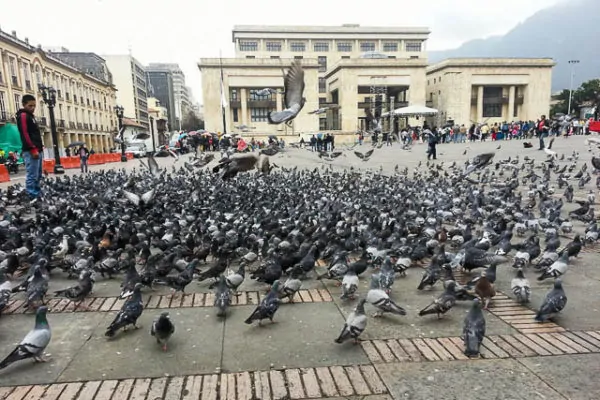 Whether you are just strolling around the Candelaria neighborhood, browsing the gold museum, or heading up the gondola to the top of Monserrate, Bogota is a cool place and somewhere so very different from the other big cities in Colombia.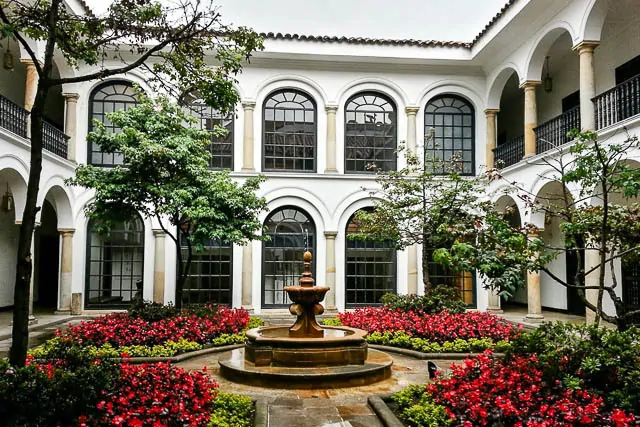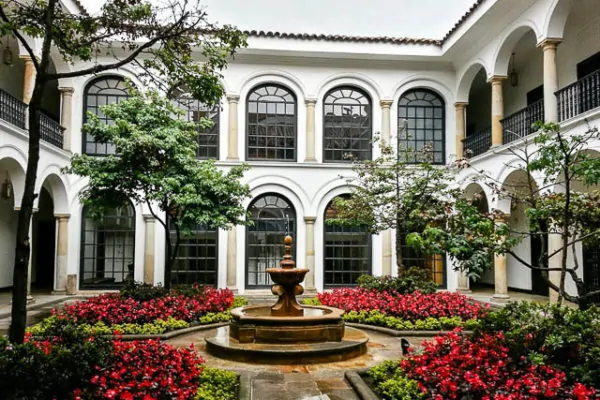 Read More: Things to Do in Bogota
Caño Cristales
Caño Cristales is a unique natural attraction known as the red river or the river of seven colors, due to the phenomenon of naturally occurring algae during certain times of the year which turns the river into unreal colors.
The peak time to visit is between July and October, and it isn't easy to get to, but if you have the time and money to make the trip, it is considered to be one of those once in a lifetime type of journeys. You will need to book a flight to visit, which is most commonly done from Bogota or Villavicencio.
This is a place that is high on my list to visit one of these days.
Amazonas
Most visitors to Colombia explore only a tiny fraction of Colombia and never make it over the Andes to Los Llanos (the plains) and the Amazon. Again, this is a place that you need to fly to in order to visit, as there are no roads that will take you to Leticia.
As part of your trip to Leticia and the headwaters of the Amazon, you can visit the famous Isla de los Micos (Monkey Island) where you can get up close and personal with a ton of monkeys, or you can easily hop on a boat to head into either Brazil or Peru and the numerous small towns along the riverbank.
San Andres & Providencia
Finally, the last of my recommended places to visit in Colombia that involves flying is a trip to the idyllic Caribbean islands of San Andes and Providencia. These two islands are actually located closer to Nicaragua than Colombia but are nonetheless part of Colombia.
For Colombia's looking for the best beaches and who would rather avoid the crowds in Cartagena and nearby, they fly up to San Andres (which can be done for quite reasonable prices, actually) so they can enjoy white sand beaches and crystal clear water.
Medellin
Medellin at first blush isn't the prettiest city (although the surrounding landscape most certainly is) but it is a place that beats with life, energy, and rejuvenation. What was once the world's most violent city has become perhaps Latin America's most innovative and forward-looking city…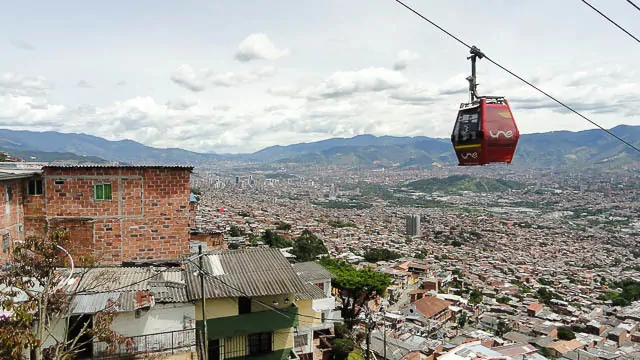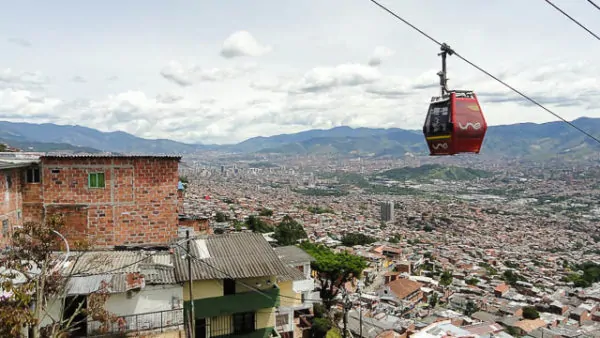 While things aren't perfect in Medellin, there is a definitely something about the energy here, perhaps one that can only be found by coming out of some truly dark times. For those reasons, Medellin is my favorite big city in Colombia.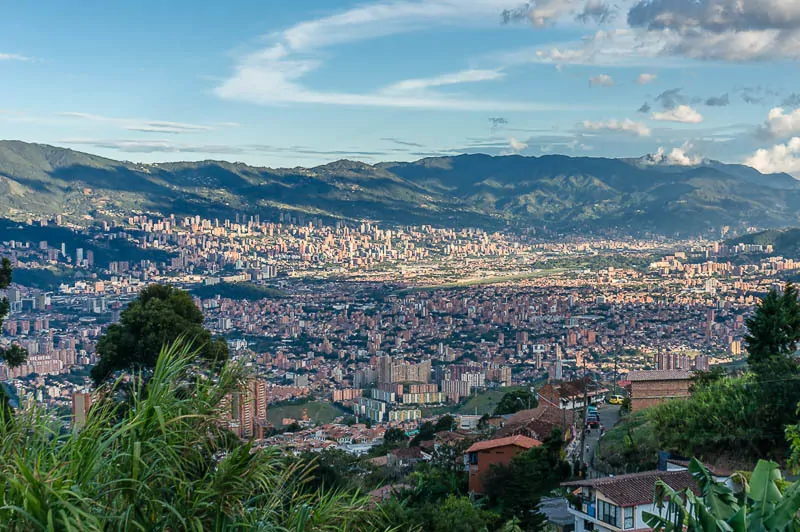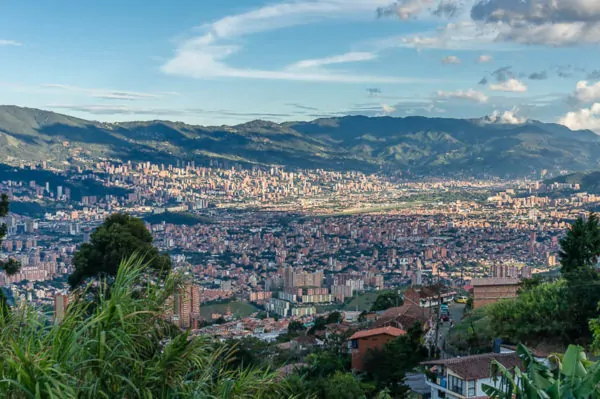 The agreeable climate, affordable cost of living, big-city amenities (like a metro system, huge malls, tons of restaurant and nightlife) have made Medellin a popular destination for travelers. There's way more than Pablo Escobar, cocaine, and violence, and you'd be doing yourself a disservice by not visiting. There's also plenty of cool things to do here…
Read More: Things to Do in Medellin
Guatape
Not too far outside of Medellin, you'll find the cute little town of Guatape with colorfully painted buildings and a plethora of things to do in this pleasant little tourist town.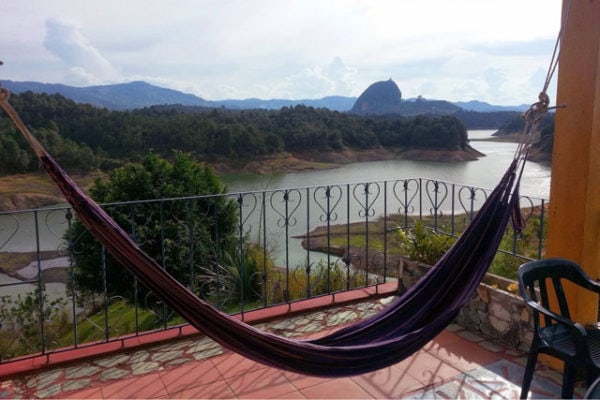 Many are drawn here for access to the reservoir where you can head out on a boat tour, but the biggest thing is El Peñol de Guatape, a monstrous rock monolith that juts out of the surrounding landscape. You can climb the 740 stairs to the top where you will get some pretty incredible views of the surrounding water. Highly recommended!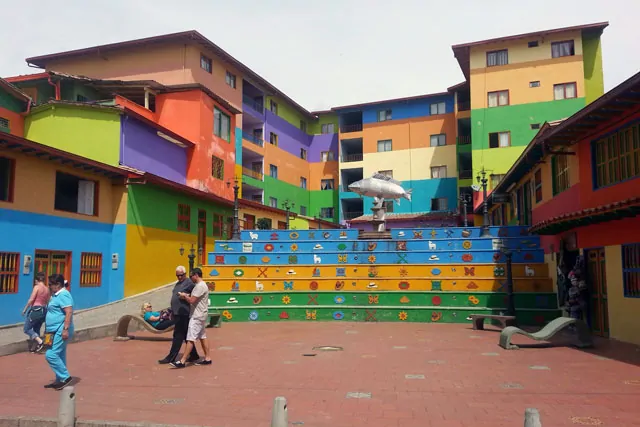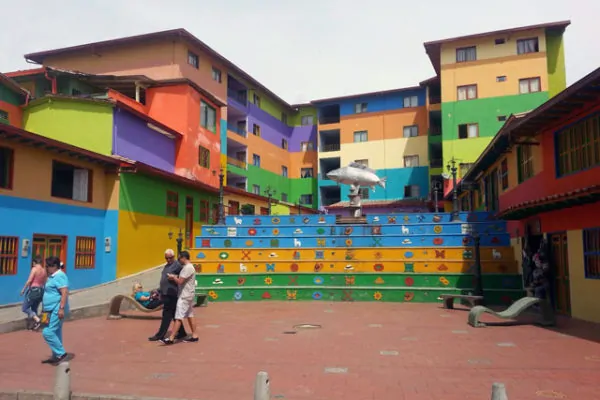 Cali
Cali is often overlooked compared to Cartagena, Medellin, and Bogota, but it has its own interesting vibe and story… For one, this is the salsa dancing capital of Colombia, so if that's on your list at all, then you've got to come to Cali.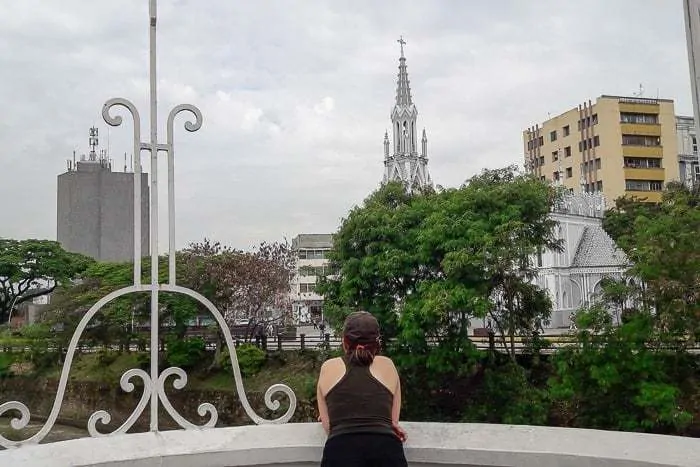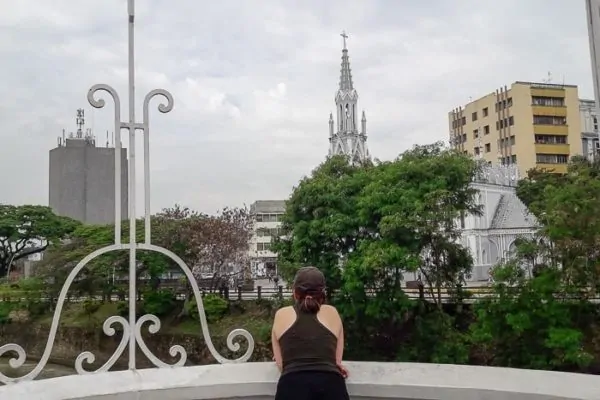 Whether you're walking the park along Rio Cali, or through the old part of San Antonio, or admiring the architecture of the Ermita Church, there is plenty to love about Cali, although the weather will probably remind you of being back on the sweltering coast.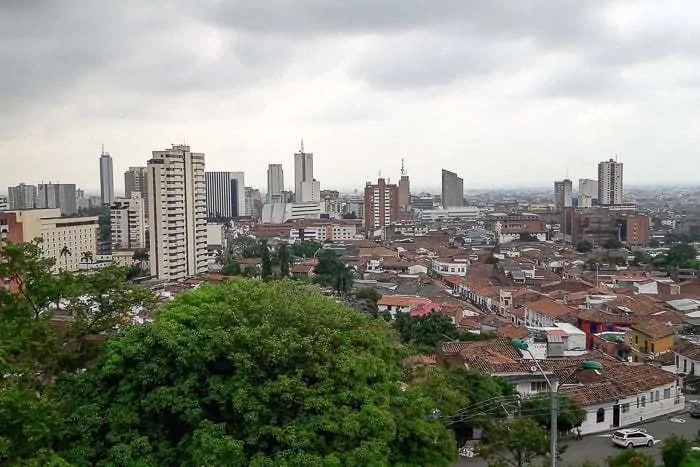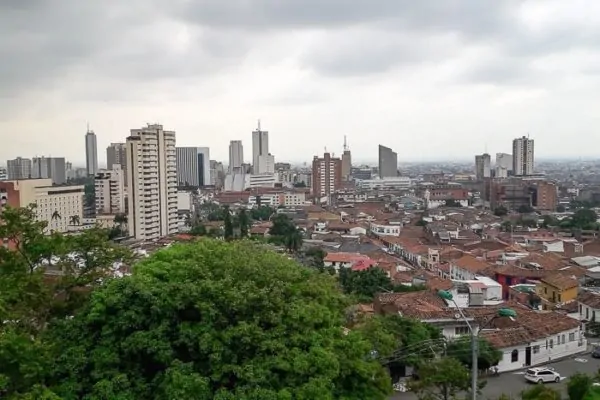 The nearby city of Buenaventura also makes a popular jumping-off point for Colombia's wild Pacific Coast.
Read More: Things to Do in Cali
Tatacoa Desert
Crossing back over one of the cordillera mountain ranges from Cali, you will find the intriguing Tatacoa Desert, just north of Neiva. Here you will find what we usually call badlands in English, where strangely colored desert formations laid out before you.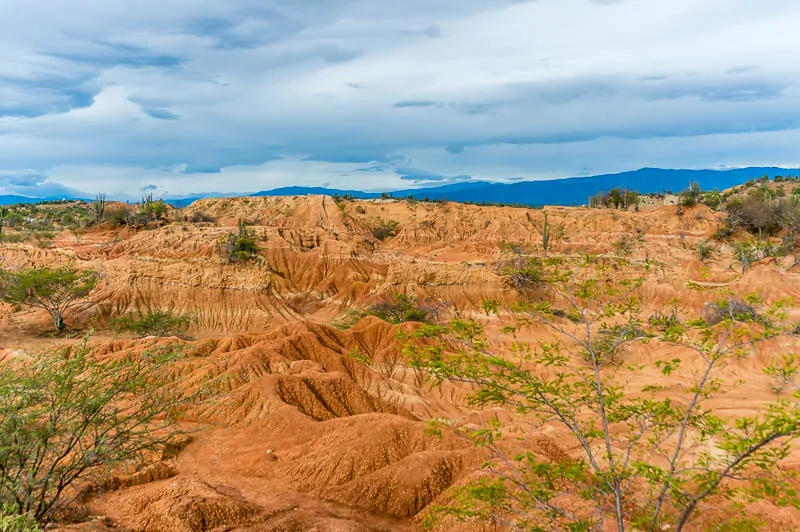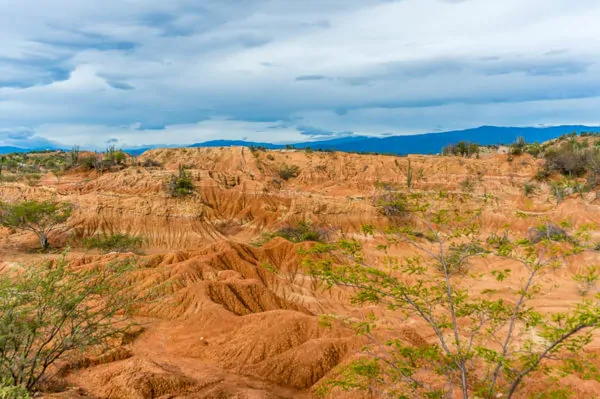 The landscape is stunning, and the Tatacoa Desert also makes for one of the best places to stargaze in all of Colombia. My only tip is to bring lots of bug spray, there are some annoying biting flies there.
San Agustin
South of Tatacoa, the landscape turns from desert to jungle, where you will find the town of San Agustin. The principle draw here, beyond the waterfalls and beautiful landscapes, is the San Agustin Archeological Park.
This park contains the largest collection of religious monuments in Latin America, famously composed of hundreds of intricately carved rock sculptures, and numerous burial grounds, making it the world's largest necropolis.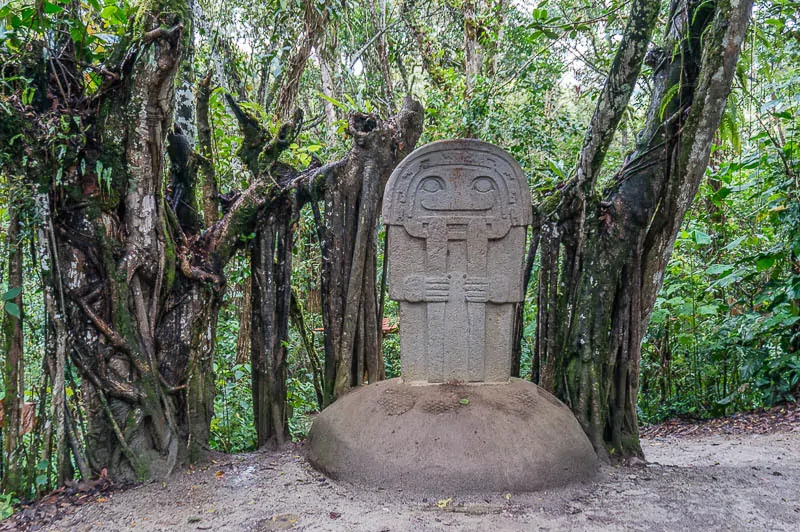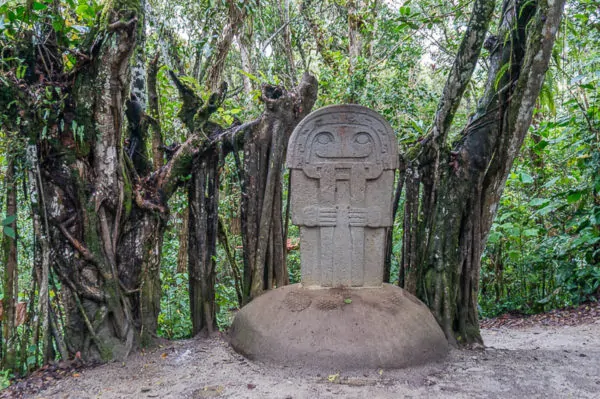 The majority of the statues were believed to have been carved between 50-400 CE and the area was abandoned by 1350 CE, and then mostly forgotten.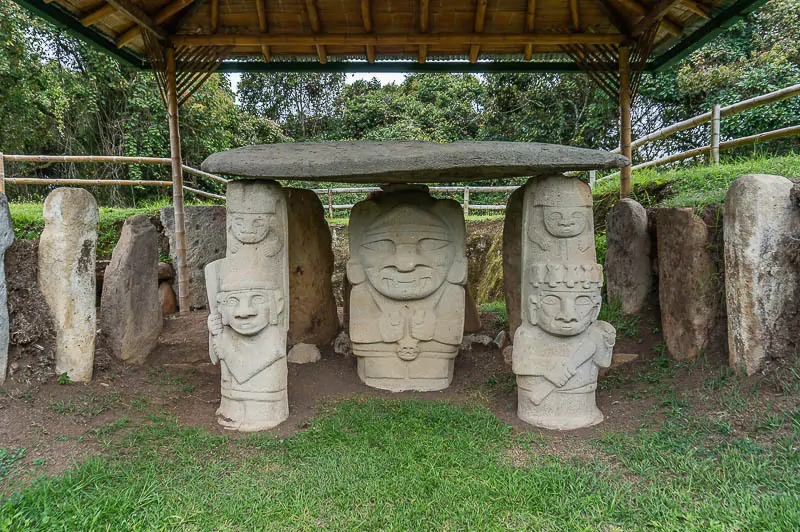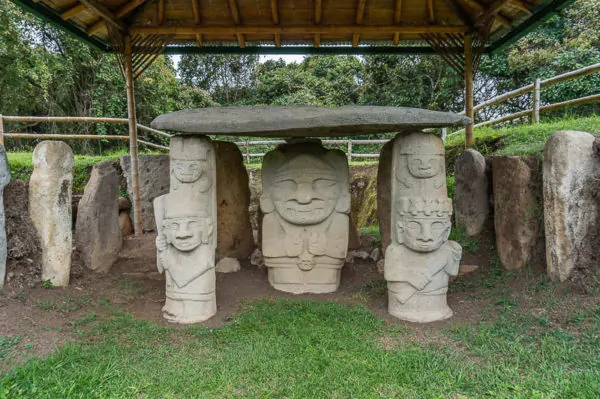 The majority of the statues are still housed outdoors, although under small roofs to protect them from the elements.
Popayan
The white city of Colombia was a huge surprise for me and is certainly among my top favorite mid-size cities… Arguably even more attractive than some of the more famous colonial cities like Barichara or Villa de Leyva. In the old town, you'll find cobblestone streets and virtually every building painted white.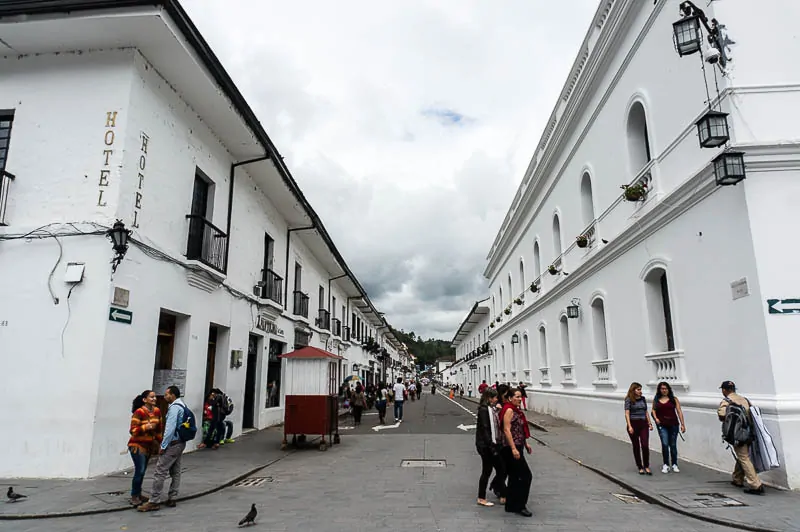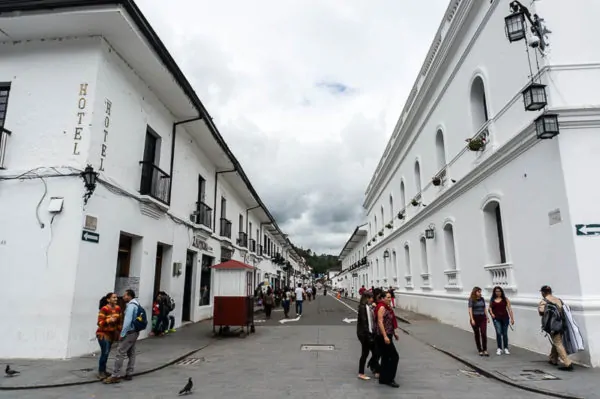 I loved just walking around the old town, taking pictures, and popping into little coffee shops are grabbing some local empanadas.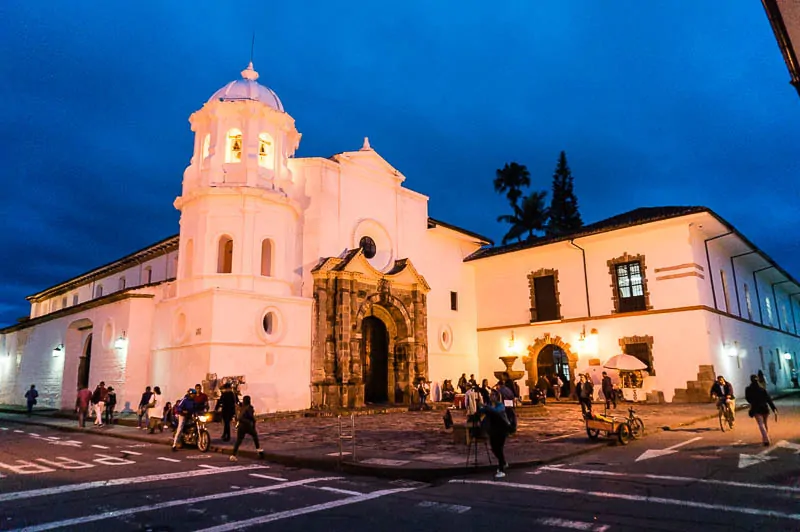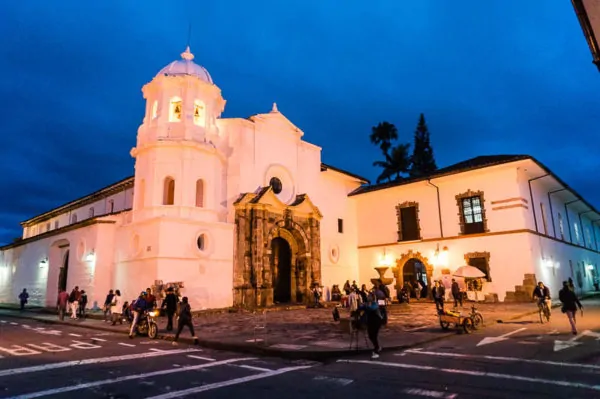 There are a number of natural wonders or attractions located nearby as well, which make it a great base for exploration.
Read More: Things to Do in Popayan
The Coffee Axis
The Coffee Axis or Coffee Triangle consists of the area surrounding the three cities of Manizales, Armenia, and Pereira. This coffee region is where the majority of Colombia's top coffee is cultivated. The scenery here is stunning, with steep hillsides covered in coffee plants.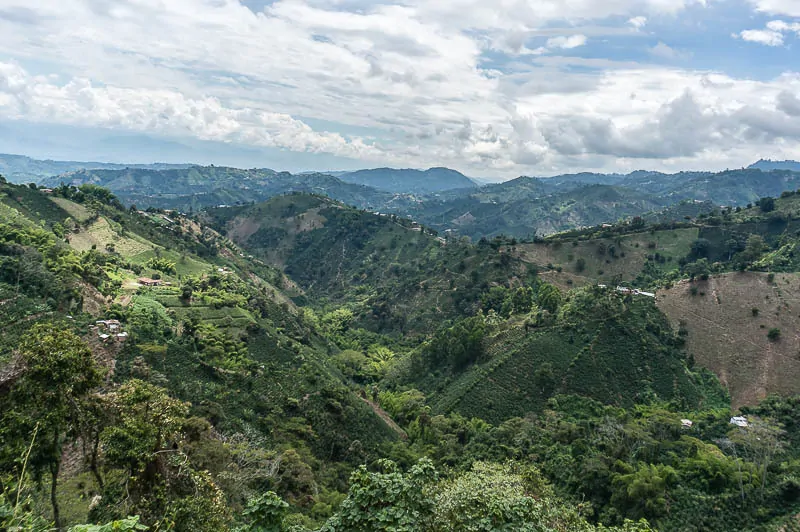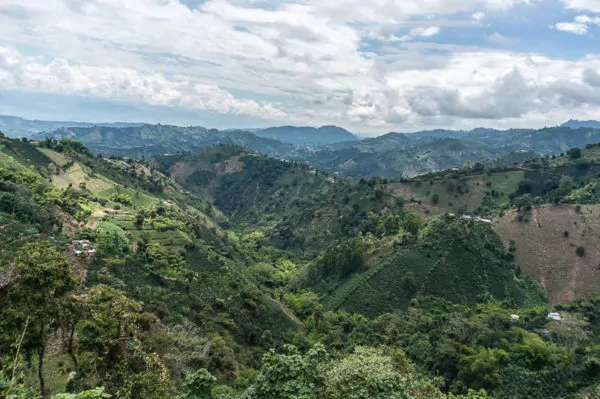 Be sure to tour a coffee farm in Colombia while in the area, or if you want to goof off, go visit the Parque del Cafe which is an amusement park with thrill rides and a coffee education center. It's not Universal Studios, but it's pretty fun.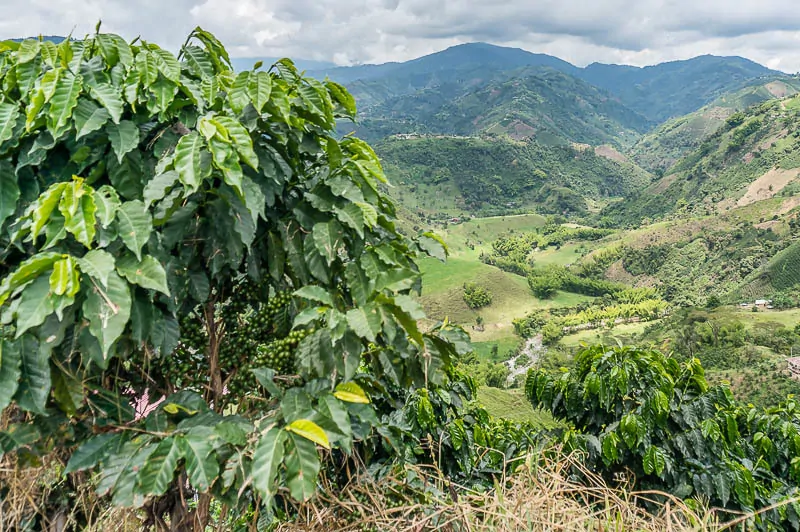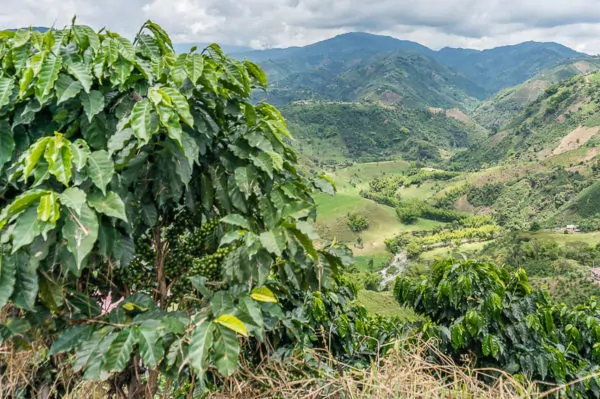 In terms of the three large cities, I prefer Manizales and Armenia over Pereira. There are a number of cool places to visit nearby such as the hot springs of Santa Rosa de Cabal, and two others that we will talk about now…
Los Nevados
Los Nevados is another one of the top national parks in Colombia, which rivals El Cocuy in terms of the mountainous terrain and snowcapped peaks. There are many active and dormant volcanoes in the park (which give birth to the hot springs) as well as the opportunity to view some very unique Andean ecosystems, such as those you will find in the Paramo.
For those so inclined, it is also the place in Colombia that is most accessible in terms of mountain climbing, allowing you to climb up to heights that far surpass those in the Continental United States.
Valle de Cocora
Perhaps one of the most unique and impressive sights in Colombia is the Valle de Cocora, where wax palms stretch high into the area above the verdant green ground.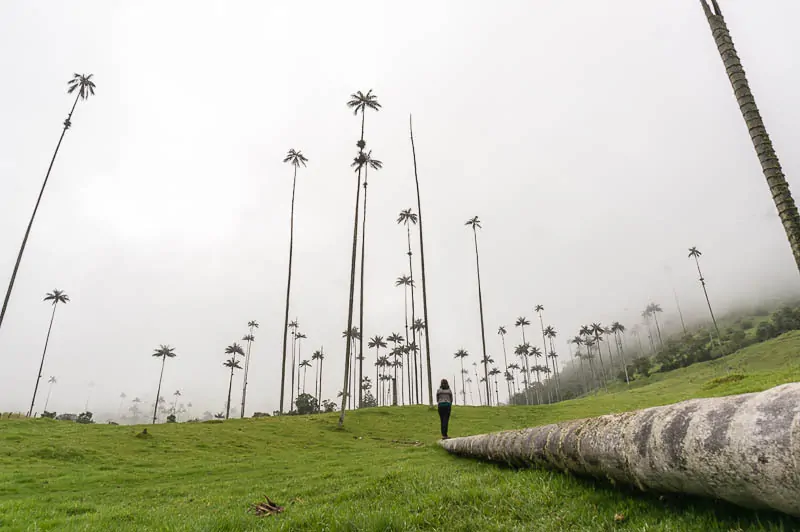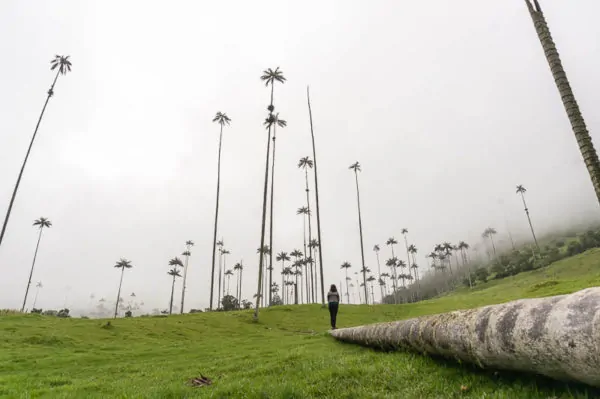 These towering wax palms are the tallest palm trees in the world, and while we normally associate palm trees with the beach, these ones happen to lie in the mountains.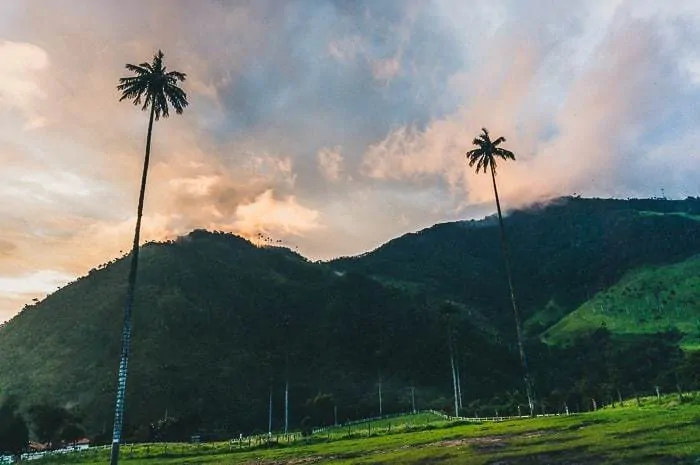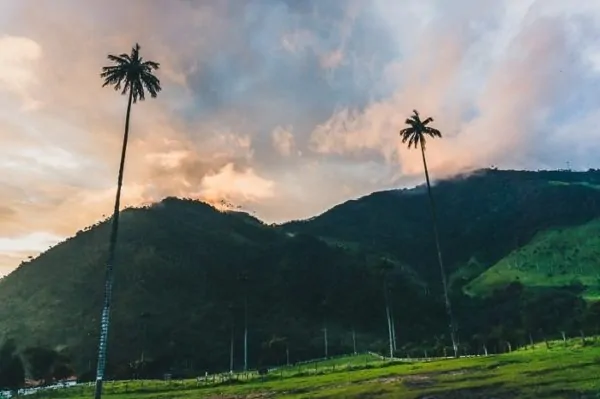 The scenery here is absolutely breathtaking, and the nearby town of Salento is one of my favorite little pueblos in all of Colombia. You should spend a few days here to take it all in, whether that is hiking, tasting coffee, or just hanging out in the cool town.
Read More: Hiking Cocora Valley
Las Lajas
Finally, my last recommendation in the top places to visit in Colombia is one that sits practically on the border with Ecuador in the far south… The Las Lajas Sanctuary.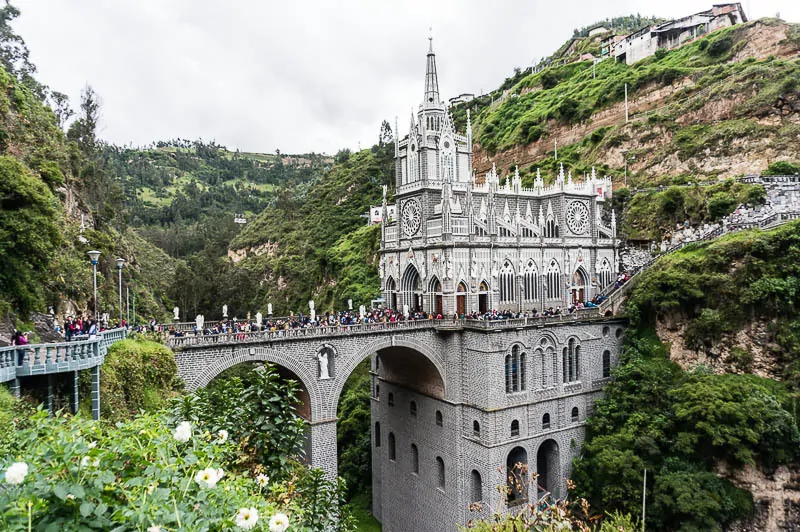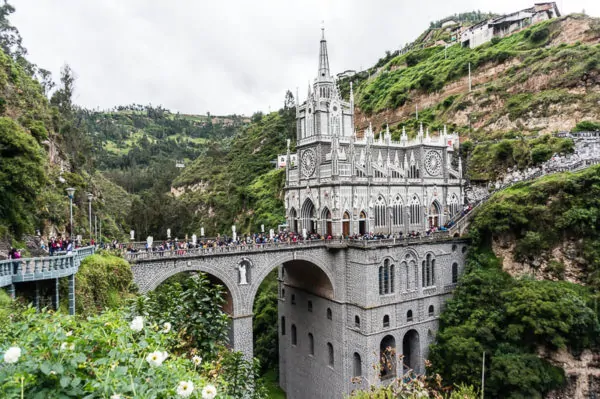 The setting of this church is probably the most impressive that I've ever seen, more reminiscent of a medieval castle than a church. It sits near the bottom of an impressive valley and is guarded by an imposing-looking bridge. The visit makes for a great way to cap off an amazing trip to Colombia.
More Places to Visit in Colombia
Of course, there is plenty more to see and do in Colombia that I didn't cover here in this article, whether it is whale watching in Choco, visiting one of the many other national parks, or the numerous amazing small towns like Jardin, there is a lifetime of exploration here. But I hope that this article will give you a great starting point for your own adventures and explorations of the coolest places to visit in Colombia.
If you've already traveled to Colombia, is there something you would have included on this list that I didn't include here? Sound off in the comments below.
Traveling to Colombia soon? Book your lodging on Booking.com now to save, or if you plan to stay longer, I highly recommend looking for a place on Airbnb. And don't forget to purchase travel insurance for Colombia that will help protect you against illness, injury, and theft. I use and recommend World Nomads for its combination of coverage and affordability.
Read Next: Is Colombia Safe?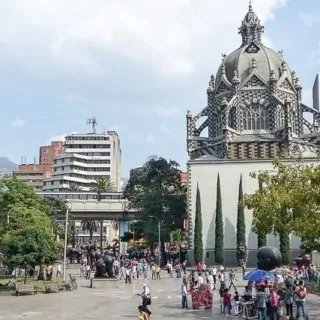 Colombia Travel Tips
Important tips and resources for planning an amazing trip to Colombia, based on my years of traveling and living in Colombia.
Tools
Colombia Trip Planning
Instructions
Book a cheap flight to Colombia with Momondo, or better yet, start travel hacking so you can fly for free. Traveling between major cities is much better by flying, trust me.
Plan a rough itinerary and how long you will spend at each destination. Use an itinerary planning service for custom recommendations and pick up Lonely Planet Colombia.
Work a little every day to teach yourself Spanish, you'll want to know as much as possible before you arrive.
Book cheap accommodation in advance, at least for the first destinations -- For hostels use: Booking, for cheap hotels use: Hotels.com, for apartments use: Airbnb.
Reserve your on the ground tours and activities through Get Your Guide.
Purchase travel insurance for Colombia with SafetyWing to protect yourself from illness, injury, and theft while in Colombia. VERY important. And be sure to read my article: "Is Colombia Safe?" for my honest opinion and safety tips.
Sign up for my free emails about planning a better trip to Colombia, and be sure to check out my comprehensive guide about traveling to Colombia.
Learn more money-saving tricks with my top budget travel tips.
Put together your Colombia packing list.
Enjoy this incredible country!
Notes
I hope this helped you plan your travels in Colombia! I know it can be a struggle to find accurate and on the ground information when traveling to a new place like Colombia, which is why I started writing so extensively about it!
If you have any questions about Colombia, budget travel, or anything else shoot me an email at ryan@desktodirtbag.com.
(I love getting questions! That is how I get ideas for my blog posts and what to write about!)
Recommended Products
As an Amazon Associate and member of other affiliate programs, I earn from qualifying purchases.
Share This
If you enjoyed this post about the best places to visit in Colombia, please take a moment to share it on Pinterest, Facebook, or Twitter. Thanks!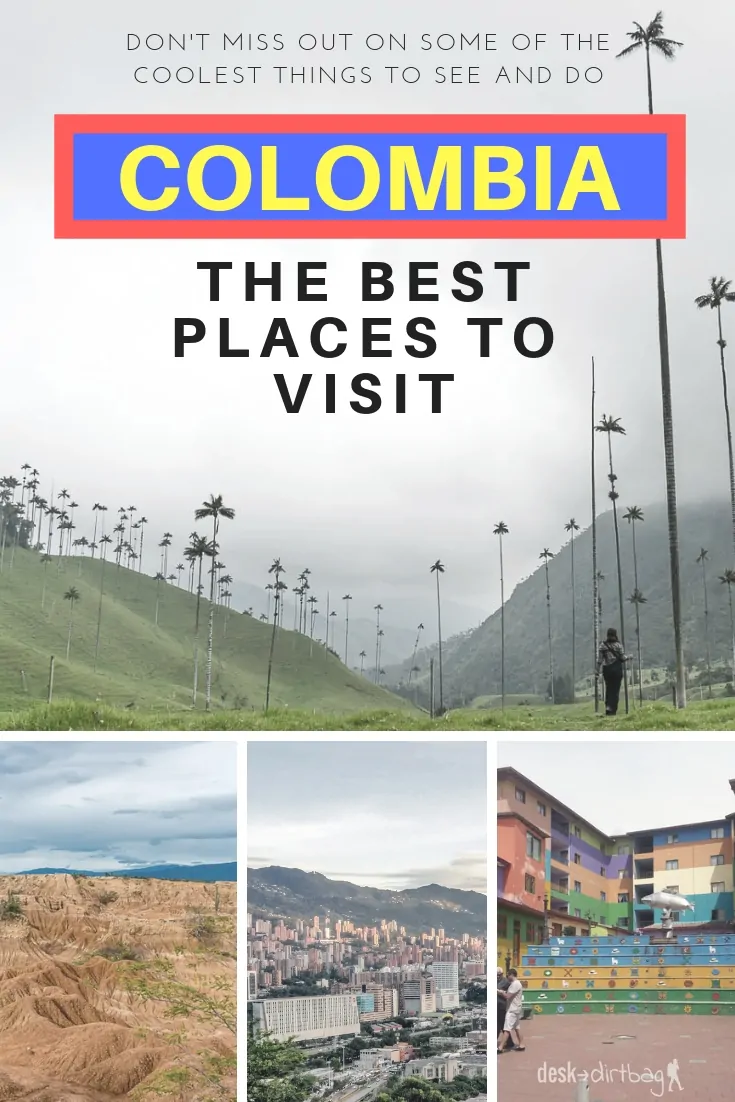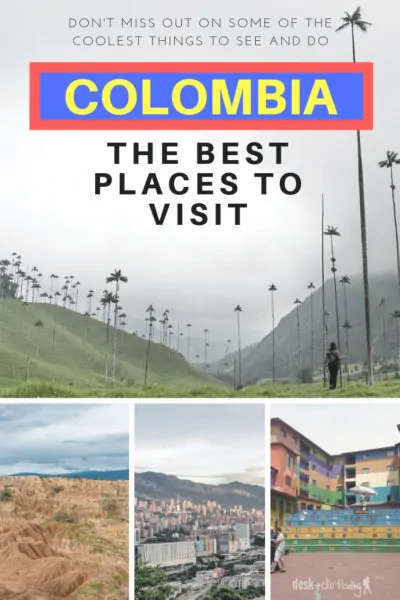 The following two tabs change content below.