This article may contain
affiliate links
. If you make a purchase through these links, I will earn a commission at no extra cost to you. Thanks!
Jardin is a classic, Antioquian pueblo. Old and beautiful; at the same time entirely unique and oh-so similar to every other pueblo here. Thankfully, there are a number of things that set this pueblo apart, and there are so many things to do in Jardin Colombia, making it one of my favorite pueblos across Colombia.
A large and ornate Catholic church anchors the center of the town with a large plaza outside which is where the center of the town's social life and activities take place, with extremely narrow cobblestone streets radiating out from this point.
Driving in Colombia
Another long weekend here in Colombia means another trip out of town. Andrea and I headed out to the popular tourist town of Jardin, Colombia, located 3-4 hours south of Medellin near the coffee region.
Jardin is a town that you hear a lot about here, but neither myself nor Andrea had ever been, so we jumped in her car for the drive south.
I've become more and more accustomed to the driving here in Colombia, as absolutely crazy as it is. Cars darting in and out of traffic, passing on blind corners, riding your tail relentlessly… It is almost a game here to drive as aggressively as possible.
The drive is typical of Antioquia–two lane roads winding perilously through the mountainous scenery. It is beautiful and awe inspiring.
At one point we drove past the infamous Cerro Tusa–a nearly perfect pyramid on the skyline. One that kept causing me to crank my neck in its direction with longing thoughts of the view from the top.
Things to Do in Jardin Colombia
This idyllic little pueblo offers up a number of interesting or unique activities that make it ideal for a few days or even a week of travel. Here's what we did or discovered, and what I'd recommend to others.
Camp at a Trout Farm
Arriving in Jardin we passed through town to the outskirts where all the trout farms are located. We were on a camping kick recently and wanted to keep it going. As with most places in Colombia there aren't really many opportunities for just camping out and about in the wild. Indeed, there aren't even really campgrounds in Jardin as we had found in Rio Claro.
Instead we found a trout farm that had a number of tents for rent that were setup on a large wooden platform with a roof. Kind of a strange, open-sided barn.
Our camp was directly above the ponds and streaming water where the trout were raised. A camping experience like I have never had before, that's for sure.
Truchera Montemar is also a restaurant where you can catch your lunch fresh, have it cooked up immediately, and served with some tasty patacones and rice. Very cool and super delicious.
Try the Colombian Coffee
The town of Jardin is worth checking out for your typical pueblo life, where people pass their time hanging out in the main square.
If you enjoy good coffee, I strongly recommend a visit to Cafe de los Andes a small chain and co-op throughout Antioquia that supports the farmers growing this wonderful bean.
Adventure Activities in Jardin
Around Jardin you can find a number of adventurous activities including hiking, paintball, ziplines, paragliding and more.
One item that I have heard a lot about and would love to do on a future visit is a trip to the Cueva del Esplendor, a beautiful series of caves and waterfalls a few hour hike outside of the city along with the Salto de Angel waterfall nearby.
We went down there for a weekend of just relaxing and getting away from the hustle and bustle of Medellin city life, the internet, work, and those things, and thus didn't get out on the trail.
Jardin Cable Car
One of the most easily accessible activities that you have to do is a ride up the cable car (gondola) which brings you to a lovely vista overlooking the pueblo, set among coffee farms and banana plantations.
There is a nice little tienda at the top where you can purchase a drink, take in the view, and even hike back along the road through the neighboring farmland.
Visit Jardin, Colombia
All-in-all, Jardin makes for a nice weekend getaway for outdoor exploration.
Camping at the trout farm was certainly a unique experience, and since they have tents on the property it is available to all travelers, including those who didn't bring a tent and might not have planned to do any camping.
The tent rental includes big fat foam pads to sleep on, sheets, blankets and pillows. All for only 15.000 COP ($7.50) per person.
The covered roof also ensures that you'll stay dry in the tent–it does rain in that region fairly frequently.
The downside though is that you aren't really supposed to cook there–though I did take my (silent) little alcohol stove down beside the trout pond to boil up water for our evening coffee and such.
Jardin is a gorgeous, green, and lush area. If you are making a trip to the coffee region, be sure to stop by Jardin to grab a cup of coffee and dine on some fresh trout for lunch.
Traveling to Jardin on your next trip? Book the perfect room on Booking.com today!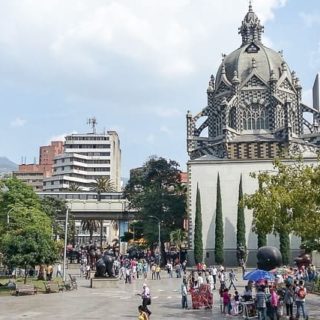 Colombia Travel Tips
Important tips and resources for planning an amazing trip to Colombia, based on my years of traveling and living in Colombia.
Tools
Colombia Trip Planning
Instructions
Book a cheap flight to Colombia with Momondo, or better yet, start travel hacking so you can fly for free. Traveling between major cities is much better by flying, trust me.
Plan a rough itinerary and how long you will spend in each destination. Use an itinerary planning service for custom recommendations and pick up Lonely Planet Colombia.
Work a little every day to teach yourself Spanish, you'll want to know as much as possible before you arrive.
Book cheap accommodation in advance, at least for the first destinations -- For hostels use: Booking, for cheap hotels use: Hotels.com, for apartments use: Airbnb.
Reserve your on the ground tours and activities through Get Your Guide.
Purchase travel insurance for Colombia with World Nomads or SafetyWing to protect yourself from illness, injury, and theft while in Colombia. VERY important. And be sure to read my article: "Is Colombia Safe?" for my honest opinion and safety tips.
Sign up for my free emails about planning a better trip to Colombia, and be sure to check out my comprehensive guide about traveling to Colombia.
Learn more money-saving tricks with my top budget travel tips.
Put together your Colombia packing list.
Enjoy this incredible country!
Notes
I hope this helped you plan your travels in Colombia! I know it can be a struggle to find accurate and on the ground information when traveling to a new place like Colombia, which is why I started writing so extensively about it!
If you have any questions about Colombia, budget travel, or anything else shoot me an email at ryan@desktodirtbag.com.
(I love getting questions! That is how I get ideas for my blog posts and what to write about!)
Recommended Products
As an Amazon Associate and member of other affiliate programs, I earn from qualifying purchases.
Share This
Did you enjoy this post? Please take a moment to share it on Facebook, Pinterest, or Twitter.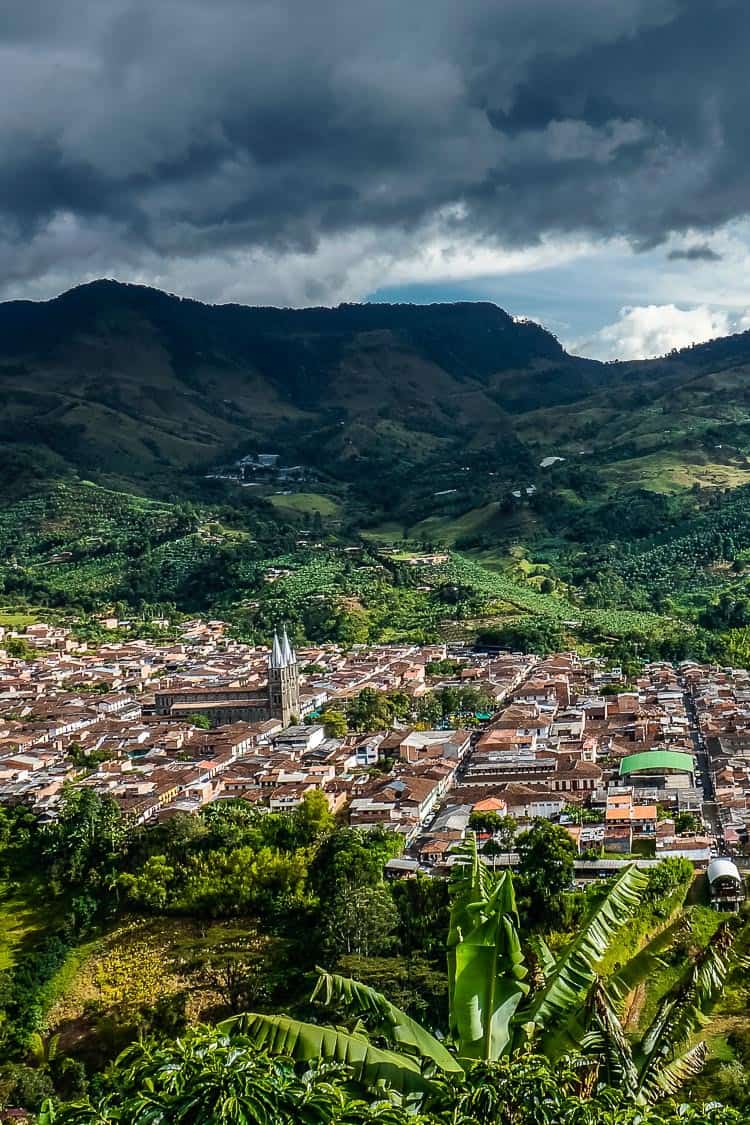 The following two tabs change content below.