This article may contain
affiliate links
. If you make a purchase through these links, I will earn a commission at no extra cost to you. Thanks!
My girlfriend, Andrea, had managed to score a long four day weekend away from her job thanks to the (plentiful) Colombian national holidays and a bit of work day swappage.
We absolutely wanted to take advantage of the long weekend by getting out of Medellin and heading out to the countryside.
We opted to head out to the Rio Claro Nature Reserve located about three hours outside of Medellin where we could go camping, explore the great outdoors, and get away from city life for a bit.
Driving in Colombia
I was behind the wheel for our drive out of town, and the more I drive here, the more I drive like a Colombian… They are definitely wild and sometimes unpredictable drivers.
Passing semis on blind corners, driving down the middle of the road waiting for your opportunity to pass, and other crazy shenanigans.
For instance, if one lane is closed for construction work and everyone gets backed up waiting for their turn, when they give the go ahead, everyone just pulls directly into the left lane and speeds ahead trying to pass everyone else, they definitely don't continue ahead in the same line that they were waiting in as we would in the States.
We managed to arrive unscathed to Rio Claro through the circuitous, windy roads, steady stream of slow moving semi-trucks, and erratic drivers.
Finding Nature in Colombia
There is a lot that I love about Colombia, but the lack of major public outdoor parks and reserves is something that I don't.
It isn't easy (possible?) to just find a wild area–beyond the few large national parks–where you can walk off into and camp without worrying about trespassing on other people's property or perhaps something worse.
But Rio Claro is a nice little refuge, albeit touristy and developed. There is a gated entry way leading into the canyon. There is a large field right at the beginning for camping and then developed cabins, restaurants, and such further back along the trail.
Camping at Rio Claro
Camping cost us 35.000 pesos per person for three nights–or about $17 per person, about $6 per night.
We set up camp at an idyllic spot right beside the river and away from the bulk of people that wanted to camp closer to their cars and the parking lot.
Although the second night a group of three Colombians decided to pitch their tent about 10 feet from ours, despite the massive open field all around us. Strange.
The river itself was cool and refreshing in the sweltering heat and humidity of the day.
We spent the first afternoon bobbing around in the water and afterward testing out my new and amazing ENO DoubleNest Hammock.
That thing made all the difference in the world for car camping… Really. It was my chair while cooking, our nightly lounging area, and respite from the ants.
What to Cook while Camping in Colombia
One thing I have struggled with here on previous camping and backpacking trips in Colombia has been the food thing… They just don't have the same sorts of things that I am used to using when backpacking in the states.
Since we were just car camping it made things a little easier, of course.
We settled on scrambled eggs with canned salchicha for breakfast, simple sandwiches from pre-made canned chicken and mayo, and then pasta with sauce and some cabana meat or salchicha for dinner.
All cooked over my little alcohol stove… The eggs were particularly tricky because there is no way to adjust the heat output, it just goes full bore, and you stir the best you can to keep things from sticking.
Rio Claro is a beautiful area for camping, and located near Hacienda Napoles, the former retreat of Pablo Escobar, which we also visited during our stay.
Adventure Activities at Rio Claro
Later in the weekend we ventured further upstream to investigate the adventure sports activities located near the cabanas.
There are lots of adventure sports activities to partake in, from zip lines, to caving, to rafting, which each only cost 20.000 pesos per person ($10). But we kind of wanted to save our money and do our own thing, so we hiked along the river, packed a lunch, and dipped into the various swimming holes along the lake.
Walking along the river you pass by the cabanas and touristy locales before reaching some of the beautiful natural scenery within the canyon.
There are a number of riverside beaches like Playa de Marmol, and Playa Manantial (which even has sand), as well as some cool caves complete with stalactites just beside the trail.
After spending the better of the afternoon at Playa Manantial, we continued deeper into the jungle off of the paved trail, scramble over roots, rocks, and leaf cutter ants in our sandals to venture deeper into the canyon with the towering walls and caves beside us, and the sounds of the jungle insects and river to accompany us.
Visit Rio Claro
All in all an awesome little escape from city life and the hustle and bustle which I've once again become accustomed to.
If you find yourself with the opportunity to visit Rio Claro and/or Hacienda Napoles, I would fully recommend it.
The cost for the two of us for gas, camping, food, beer, Hacienda Napoles, etc. for four days and three nights was approximately 400.000 pesos, or $200 dollars ($100 per person).
Traveling to Rio Claro on your next trip? Book the perfect room on Booking.com today!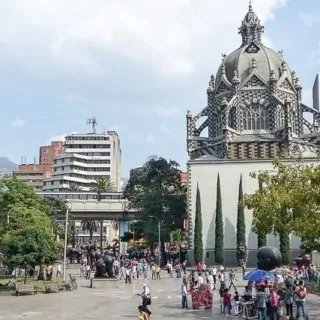 Colombia Travel Tips
Important tips and resources for planning an amazing trip to Colombia, based on my years of traveling and living in Colombia.
Tools
Colombia Trip Planning
Instructions
Book a cheap flight to Colombia with Momondo, or better yet, start travel hacking so you can fly for free. Traveling between major cities is much better by flying, trust me.
Plan a rough itinerary and how long you will spend at each destination. Use an itinerary planning service for custom recommendations and pick up Lonely Planet Colombia.
Work a little every day to teach yourself Spanish, you'll want to know as much as possible before you arrive.
Book cheap accommodation in advance, at least for the first destinations -- For hostels use: Booking, for cheap hotels use: Hotels.com, for apartments use: Airbnb.
Reserve your on the ground tours and activities through Get Your Guide.
Purchase travel insurance for Colombia with SafetyWing to protect yourself from illness, injury, and theft while in Colombia. VERY important. And be sure to read my article: "Is Colombia Safe?" for my honest opinion and safety tips.
Sign up for my free emails about planning a better trip to Colombia, and be sure to check out my comprehensive guide about traveling to Colombia.
Learn more money-saving tricks with my top budget travel tips.
Put together your Colombia packing list.
Enjoy this incredible country!
Notes
I hope this helped you plan your travels in Colombia! I know it can be a struggle to find accurate and on the ground information when traveling to a new place like Colombia, which is why I started writing so extensively about it!
If you have any questions about Colombia, budget travel, or anything else shoot me an email at ryan@desktodirtbag.com.
(I love getting questions! That is how I get ideas for my blog posts and what to write about!)
Recommended Products
As an Amazon Associate and member of other affiliate programs, I earn from qualifying purchases.
Share This
Did you enjoy this post? Please take a moment to share it on Facebook, Pinterest, or Twitter.
The following two tabs change content below.