This article may contain
affiliate links
. If you make a purchase through these links, I will earn a commission at no extra cost to you. Thanks!
Armenia, Colombia sits along the southern edge of the Coffee Triangle and is the third big city of the area along with Pereira and Manizales. Armenia isn't exactly a popular tourist destination, being outshined by the pueblo of Salento just next-door. I'll admit, I didn't have many expectations for Armenia when I first visited, but I've traveled through twice now, and have found it to be an unexpectedly pleasant place to visit for a night or two, and there are a handful of pleasant things to do in Armenia, Colombia, undoubtedly.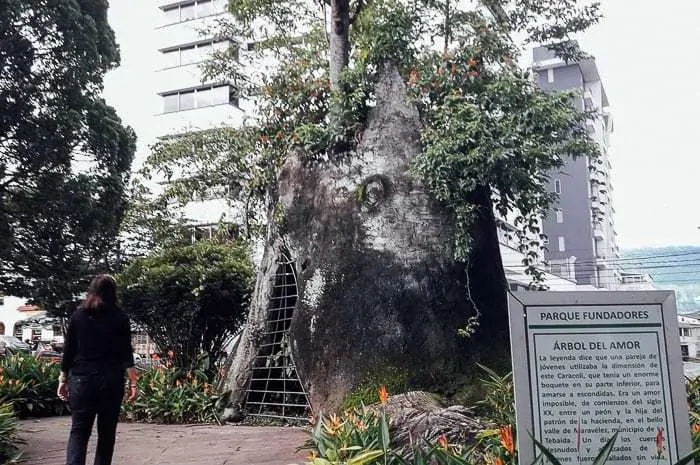 Downtown Armenia is centered along Carrera 14 between Parque Bolivar and Parque Sucre. This stretch of Carrera 14 is totally pedestrian and is surprisingly modern — owing to the fact that the city was partially destroyed by a massive earthquake in 1999, allowing them to rebuild in a modern fashion.
Things to Do in Armenia Colombia
Admittedly there isn't a ton to do in Armenia, but it's a nice little stopover, and certainly off the well-worn tourist trail in Colombia.
Here are a few ideas to keep you busy in Armenia, Colombia.
Carrera 14
As mentioned earlier, the downtown core is centered along Carrera 14, a large stretch of it is pedestrian-only, and makes a lovely place to stroll throughout the day or early evenings.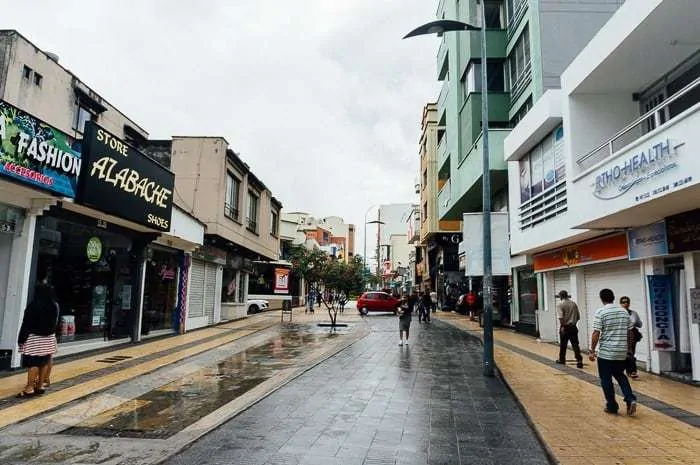 The streets are lined by lots of shopping, and feature art, public seating, kiosks, and more.
It's a really well-done downtown main drag, and a place I enjoyed walking and people watching.
Drink Coffee in Armenia Colombia
In no other city in Colombia have I seen so many coffee shops and kiosks. They are on almost every corner along the main drag of Carrera 14.
It makes sense because the city lies in the heart of the Coffee Triangle, yet Manizales also within the triangle, has almost no coffee shops.
Walking around here made me feel like I was in Seattle for the huge amount of coffee shops to be found. These coffee shops are more typical, not the upscale indy coffee shops that have popped up in other cities with Chemex and Aeropress but are cheaper and more modest.
Despite the fact that they aren't a connoisseur's coffee shop, the general quality of the cheap coffee is pretty good. Much better than that of Medellin, for instance.
One pretty cool place was Cafe del Parque, on the corner of Parque Sucre, where you can get a black coffee and cake for 6.000 pesos ($3).
The Gold Museum
The Museo de Quimbaya is located on the far north end of town and is a totally free attraction that is worth visiting.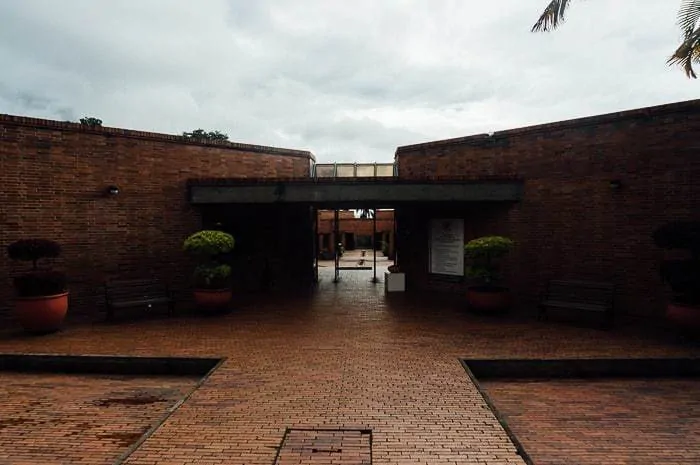 Here they explain some of the indigenous histories before the Spanish, the conquest and subsequent robbery of gold, and show a number of the ornamental uses of gold for local tribes.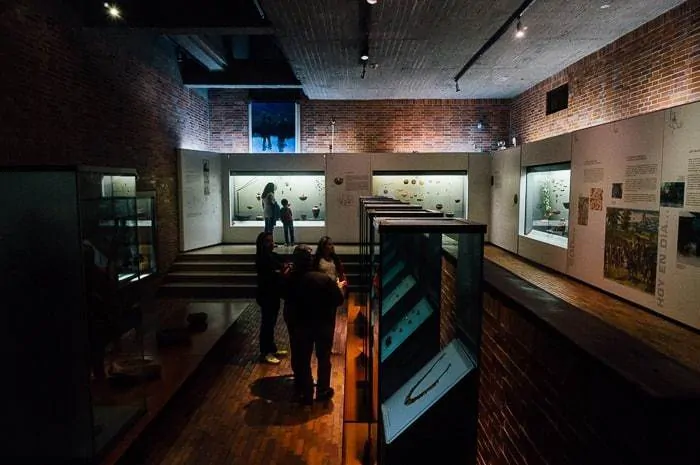 The museum is good for at least an hour of your time, and as I mentioned, it's totally free!
You can arrive at the museum by walking the full length of Carrera 14 — past the parks and the Zona Rosa — for approximately an hour, or you can hop on one of the city buses, or get a taxi from downtown for around 8.000 pesos.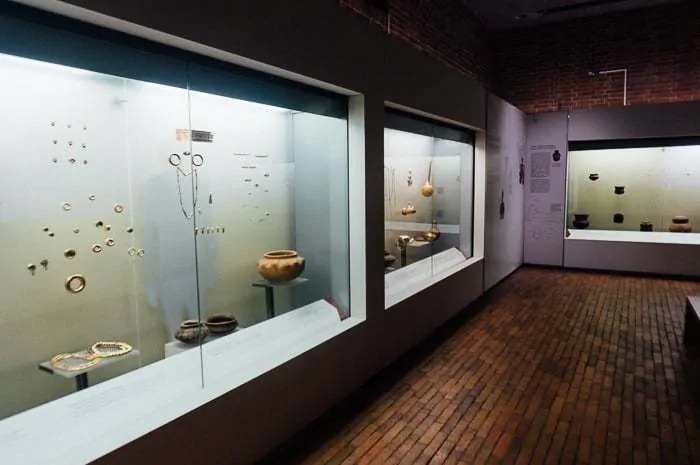 Eat at Lucerna
I love old school eateries with a long and storied history. Lucerna is that place in Armenia.
They've been serving delicious food for more than 60 years to Armenia's citizens.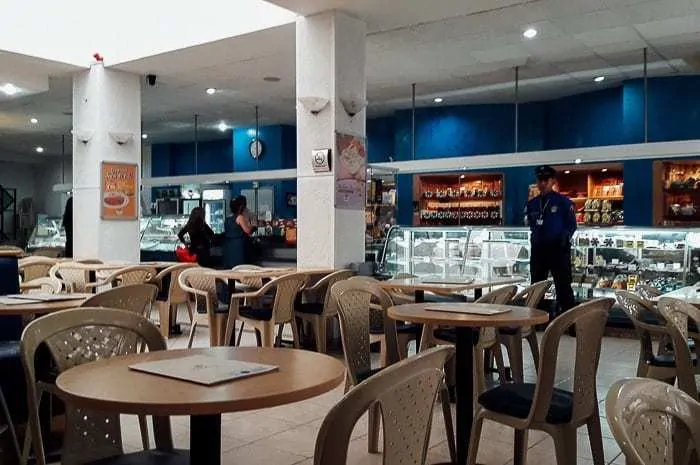 You can find Lucerna just off of Carrera 14, near Parque Bolivar — just drop down the pedestrian streets that sit in front of the church's main plaza.
It's a massive eatery popular for breakfast, ice cream, and other desserts.
We popped in for lunch. I got the chicken and mushroom crepe, and Andrea got the chalupa mixta which is like an Asian inspired grilled meat served over some crunchy taco like shells.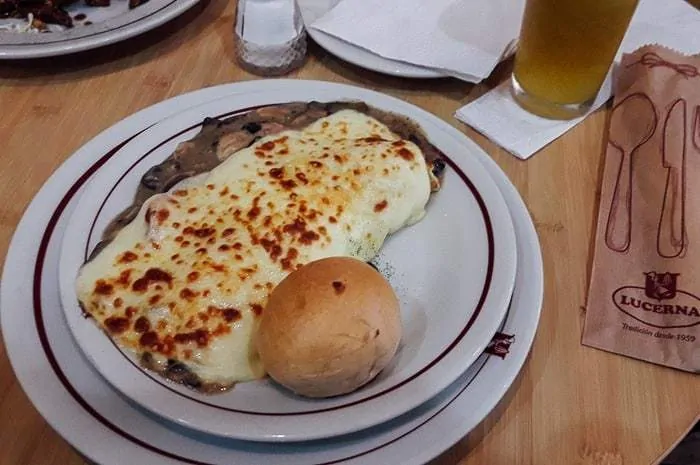 Her meal was cheaper than mine and absolutely delicious. I preferred her's actually.
Prices are moderate. Neither cheap nor expensive. You can expect to pay around 13.000 to 18.000 for a main dish ($4-$6) without the drink.
Visit Salento
The little pueblo of Salento lies less than one hour beyond Armenia — the closest big city.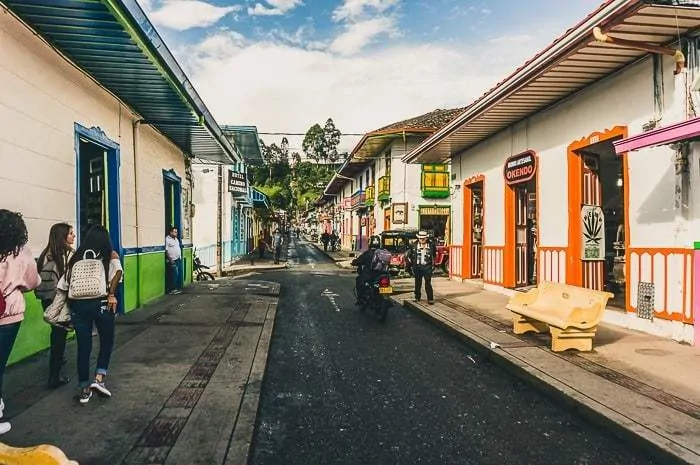 I would recommend Salento as a weekend visit rather than a day trip, as there is just so much to do in Salento from touring a coffee farm, hiking in the Valle de Cocora, or just enjoying pueblo life.
Salento offers more days of activity and interest than the big city of Armenia itself, and it would be a shame to come as far as Armenia and not visit Salento.
Read about more things to do in Salento Colombia here.
A Few More Recommendations
I've only ever visited on quick one-night trips, so I've only touched the surface of Armenia and the surrounding area. So here are a few things I've heard are good, but haven't personally explored.
Parque de la Vida – if you walk from downtown to the Gold Museum you will cross Parque de los Fundadores (a cool little city park) and then come to Parque de la Vida which is a pay to enter park, much like a botanical garden. We got there just before closing time, but the space looks nice if you've got a few hours to spend and want to go for a picnic, for example. 1.500 pesos to enter.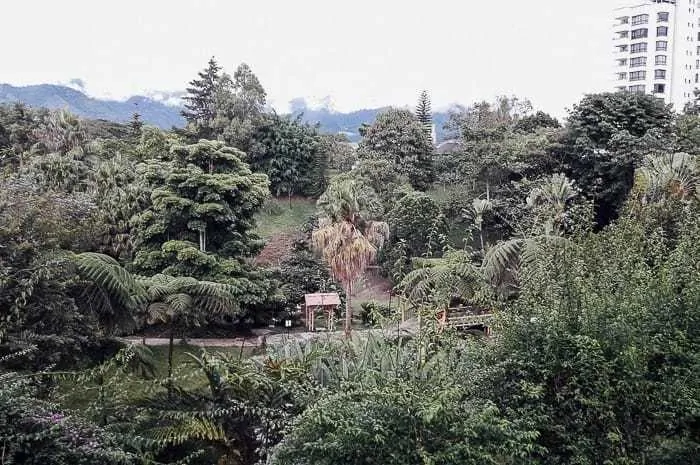 Quindio Botanical Gardens – A short bus ride outside of Armenia lies the Quindio Botanical Gardens in Calarca, where you can learn more about local plants, see some birds and wildlife, and even visit their massive butterfly garden. Entrance is about 15.000 pesos.
The Weather in Armenia Colombia
The weather in Armenia is quite agreeable, it is warm in the daytime but doesn't get too cold at night. It sits at an altitude a little higher than Medellin, so it's even a little more refreshing than the City of Eternal Spring.
Manizales, just to the north, for instance, sits about 2,000 feet higher so while the weather is even more pleasant during the daytime, the weather dips down pretty cold at night, so you'll want lots of blankets on the bed.
Where to Stay in Armenia Colombia
Personally I would recommend staying in the downtown area rather the Zona Rosa — the upscale part — as there is simply more of interest downtown. The closer you can stay to Carrera 14 between Parque Sucre and Bolivar, the better.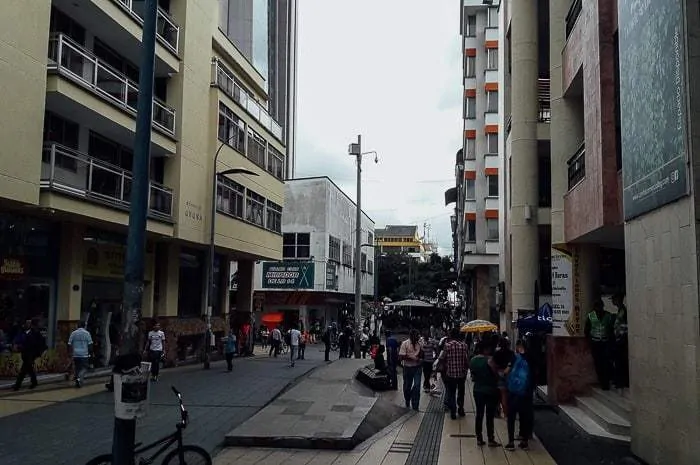 But we stayed in a dive hotel called Hotel San Sebastian just three blocks away for 45.000 per night. The street outside was loud and full of activity, but the area was as safe as any in Latin America.
Traveling to Armenia Colombia on your next trip? Book the perfect room on Booking.com today! If you plan to stay longer, I highly recommend looking for a place on Airbnb. And don't forget to purchase travel insurance for Colombia that will help protect you against illness, injury, and theft. I use and recommend World Nomads for its combination of coverage and affordability.
Read Next: Best Places to Visit in Colombia
Share This
Did you enjoy this post about Armenia Colombia? Please take a moment to share it on Facebook, Pinterest, or Twitter.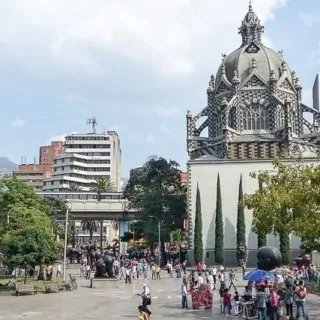 Colombia Travel Tips
Important tips and resources for planning an amazing trip to Colombia, based on my years of traveling and living in Colombia.
Tools
Colombia Trip Planning
Instructions
Book a cheap flight to Colombia with Momondo, or better yet, start travel hacking so you can fly for free. Traveling between major cities is much better by flying, trust me.
Plan a rough itinerary and how long you will spend at each destination. Use an itinerary planning service for custom recommendations and pick up Lonely Planet Colombia.
Work a little every day to teach yourself Spanish, you'll want to know as much as possible before you arrive.
Book cheap accommodation in advance, at least for the first destinations -- For hostels use: Booking, for cheap hotels use: Hotels.com, for apartments use: Airbnb.
Reserve your on the ground tours and activities through Get Your Guide.
Purchase travel insurance for Colombia with SafetyWing to protect yourself from illness, injury, and theft while in Colombia. VERY important. And be sure to read my article: "Is Colombia Safe?" for my honest opinion and safety tips.
Sign up for my free emails about planning a better trip to Colombia, and be sure to check out my comprehensive guide about traveling to Colombia.
Learn more money-saving tricks with my top budget travel tips.
Put together your Colombia packing list.
Enjoy this incredible country!
Notes
I hope this helped you plan your travels in Colombia! I know it can be a struggle to find accurate and on the ground information when traveling to a new place like Colombia, which is why I started writing so extensively about it!
If you have any questions about Colombia, budget travel, or anything else shoot me an email at ryan@desktodirtbag.com.
(I love getting questions! That is how I get ideas for my blog posts and what to write about!)
Recommended Products
As an Amazon Associate and member of other affiliate programs, I earn from qualifying purchases.
The following two tabs change content below.