This article may contain
affiliate links
. If you make a purchase through these links, I will earn a commission at no extra cost to you. Thanks!
My buddy Jeff and I headed out to a remote corner of Colombia to visit the Sierra Nevada del Cocuy in the Colombian Andes.
It is a beautiful, rugged, remote, and wild piece of mountain scenery. One that I had actually been wanting to visit for a number of years, ever since first hearing about it.
I finally made it, and it was as beautiful and impressive as I expected.
What I didn't expect however was to be so hammered by altitude.
I was also just coming off a cold that had been hounding me for more than a week, but here we were, this was our opportunity to visit.
Sierra Nevada del Cocuy
There are beautiful alpine lakes, high snow-capped mountains, and spectacular plant life like the frailejon bushes.
I was still struggling with coughing and weak lungs when we ventured up to camp at 13,000 feet and day hiked to around 14,500 feet (most likely my highest point to date).
Plans didn't unfold as I had originally hoped, given my cold, as well as the news that we received upon arrival that the entire area east of the passes was closed to hikers, apparently due to problems with the indigenous population and complaints that foreigners were leaving trash behind and degrading the pristine lakes and water supplies.
Too bad.
A photo essay of our journey can be seen below along with specific travel logistics, costs, etc.
Travel Logistics
Getting to El Cocuy is NOT an easy task.
Bus from Bucaramanga to Capitanejo 55.000 pesos left at 7pm and arrived 4am via Cootrans – 9 hours
Upon arriving at Capitanejo, we were informed that we *just* missed the bus to El Cocuy, the next one wasn't until that evening. After some conversing back and forth, they thought of another plan–a bus heading to Soata…
Bus to Soata from Capitanejo and la officina de correo. One hour 5am to 6am. 5.000 pesos via Cootrans – 1 hour
Bus from Soata to Cocuy for 15.000 pesos. Supposed to leave at 7 am with CootraDatil. Actual departure 720. Arrived in the town of El Cocuy 11:30 am – 4 hours
75.000 pesos per person and nearly 18 hours total travel time after leaving Bucaramanga, thus not counting the hours we spent waiting for the first bus to leave. Be sure to try and call ahead or ask beforehand about departure times so you don't waste time waiting around if you choose to just show up at the station.
In the town of El Cocuy
We were approached by a climbing/trekking guide immediately after exiting the bus. We told him we'd think about it, but he referred us to his friends hotel right off the main square: which was called Casa Vieja for 10.000 pesos per person per night.
That afternoon we ventured to the National Parks office in town in order to get our permit for the park and offer our plans. We paid 50.000 per person (yes, the gringo price) which is considerably more than the latest report we read online… Which means it will also probably cost more whenever you make it there in the future.
Day 1
In the morning you can catch a ride with the morning milk truck which departs from the town square at 6 am (later, in reality, but get there at 6 am) and costs 10.000 per person. We got off at La Cueva at 8:30 and began hiking up the road to the park.
* Alternatively you could pay a taxi approximately 80.000 pesos to drive you up there, or you could walk the 4+ hours.
It was a three-hour hike to the Lago Pintado camp where we hung out at Plazuela and tried to acclimate to the elevation for the rest of the day.
Day 2
We left at 9am for a day hike and reached Paso Cusiri (4.410 meters) at 12:30pm. Hung out up top for a bit before heading back to camp by 3 pm. It is a beautiful and high pass.
Day 3
We left camp at 10am hike up the moraine in the direction of Pan de Azucar we kept going until we felt like turning around, then dropped into the moraine to visit the two little lakes, which are absolutely gorgeous, one of which even has a sand beach. Back at camp at 3:15 pm.
Day 4
Heading out of the park.
9:30 departure from camp and reached the park gate at 11:30 am. The dumb part about leaving at that point is you really have no options to get back to town if you aren't out by early morning to get the milk truck.
So we just ended up walking and walking down the road toward town. We walked for an hour then miraculously got a ride back to town from some people working in the area (an hour drive or six hours of walking).
Just a note of warning: many things are closed on Saturday afternoon in the town. We couldn't get food, let alone the Internet.
To leave we were headed back toward San Gil and opted to go through Tunja to get there. Another option if you are venturing to this remote part of Colombia.
Gear Thoughts
I used my Ti-Tri Caldera Cone and alcohol stove for the first time at these altitudes (13k+ feet) and everything went fine, though it obviously took a little longer to boil. I took my Aeropress backpacking for the first time ever, which was kind of cool. I pre-ground enough beans for our time out there. Temps are cool at night and blazing during the day time–I appreciated having my MontBell Light Down Parka on this trip, and significant sun protection as well.
No gear problems to report. Perhaps the most significant problem I encountered on this backpacking trip was the issue of food… They just don't have the same sorts of things I am used to in the grocery stores in the states. We made do with top ramen, pasta, cans of tuna fish, and those sorts of things, but it was less than ideal. Where can I found Mountain House? Hah.
Also, side note, during the LONG trip in, I made a point to read Mark Horrell's travel diary/book of his trip to Cocuy. Be sure to check it out if making the journey: Cocuy Sniffing in Colombia: Walking one of South America's classic treks.
But yeah, amazing place, that you must make a point to visit in your lifetime. I hope to make it back there to visit El Pulpito del Diablo and reach the summit of Pan de Azucar.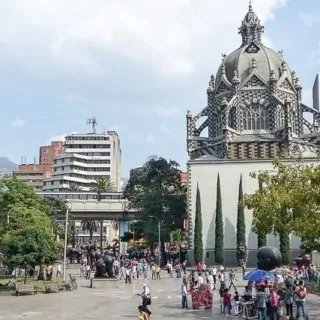 Colombia Travel Tips
Important tips and resources for planning an amazing trip to Colombia, based on my years of traveling and living in Colombia.
Tools
Colombia Trip Planning
Instructions
Book a cheap flight to Colombia with Momondo, or better yet, start travel hacking so you can fly for free. Traveling between major cities is much better by flying, trust me.
Plan a rough itinerary and how long you will spend at each destination. Use an itinerary planning service for custom recommendations and pick up Lonely Planet Colombia.
Work a little every day to teach yourself Spanish, you'll want to know as much as possible before you arrive.
Book cheap accommodation in advance, at least for the first destinations -- For hostels use: Booking, for cheap hotels use: Hotels.com, for apartments use: Airbnb.
Reserve your on the ground tours and activities through Get Your Guide.
Purchase travel insurance for Colombia with SafetyWing to protect yourself from illness, injury, and theft while in Colombia. VERY important. And be sure to read my article: "Is Colombia Safe?" for my honest opinion and safety tips.
Sign up for my free emails about planning a better trip to Colombia, and be sure to check out my comprehensive guide about traveling to Colombia.
Learn more money-saving tricks with my top budget travel tips.
Put together your Colombia packing list.
Enjoy this incredible country!
Notes
I hope this helped you plan your travels in Colombia! I know it can be a struggle to find accurate and on the ground information when traveling to a new place like Colombia, which is why I started writing so extensively about it!
If you have any questions about Colombia, budget travel, or anything else shoot me an email at ryan@desktodirtbag.com.
(I love getting questions! That is how I get ideas for my blog posts and what to write about!)
Recommended Products
As an Amazon Associate and member of other affiliate programs, I earn from qualifying purchases.
Share This
Did you enjoy this post about trekking in Colombia's Sierra Nevada del Cocuy mountains? Share it!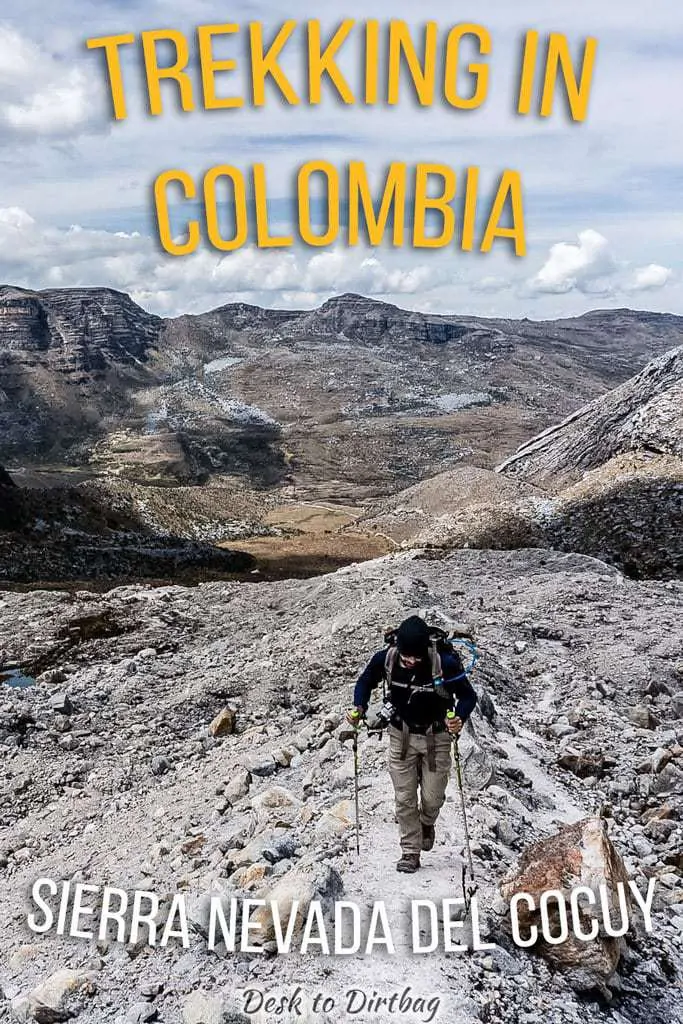 The following two tabs change content below.