This article may contain
affiliate links
. If you make a purchase through these links, I will earn a commission at no extra cost to you. Thanks!
Popayan Colombia was just supposed to be a stopover, a way to break up the long journey from Cali to Pasto. It wasn't a place I expected to love as much as I did. Indeed, Popayan was one of the most unexpected of surprises on my travels throughout Colombia. While it may not be on the radar of most people traveling or backpacking through Colombia, there are plenty of things to do in Popayan Colombia.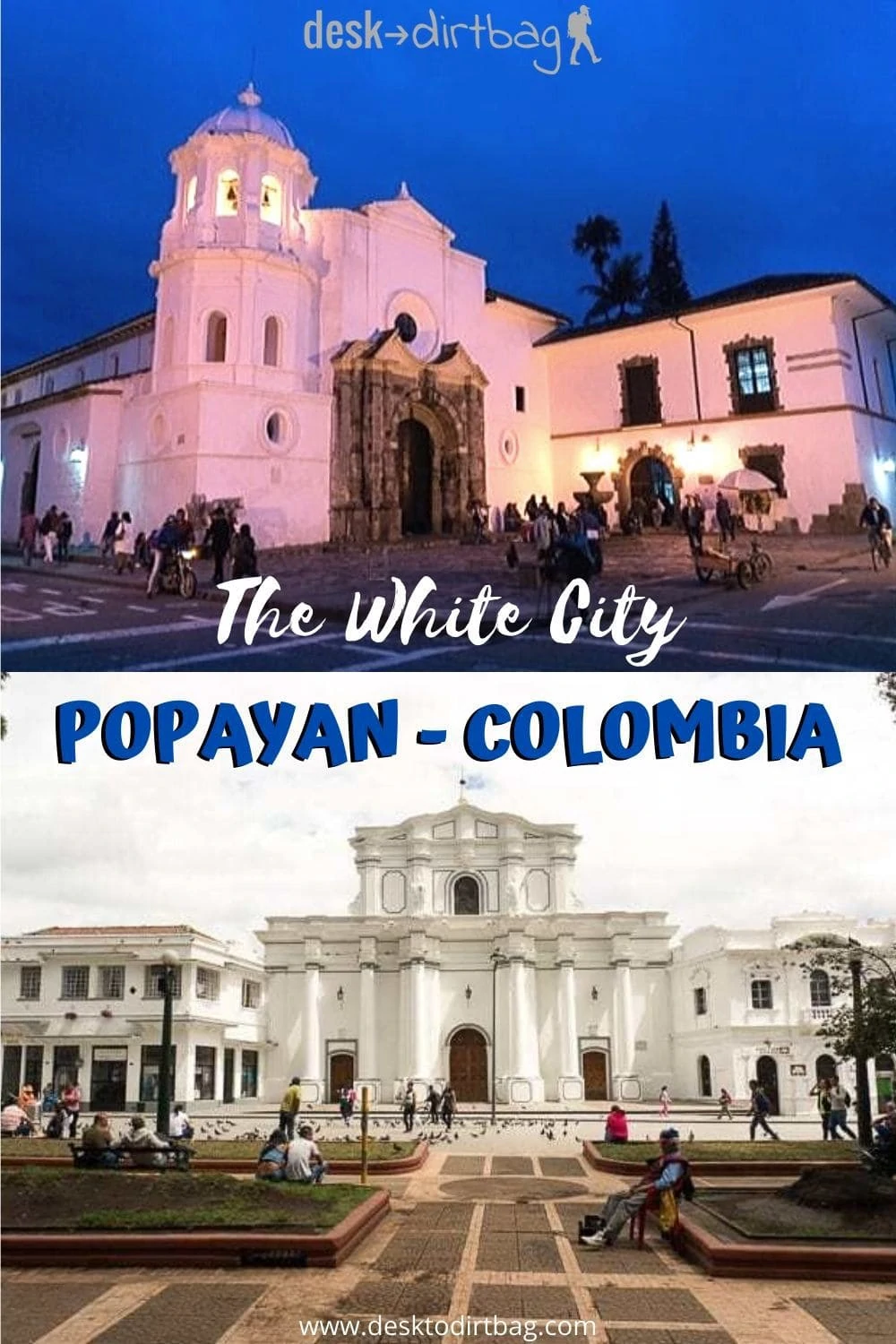 Popayan sits about halfway between Cali and Pasto, about three hours from Cali and five from Pasto, and it is known quite appropriately as the White City.
Yes, it's another old colonial town, with parts dating back centuries, but the architecture is beautiful, ornate, and the whitewash coat just gives it a certain touch that I haven't seen elsewhere.
Popayan Colombia is now among my favorite old colonial towns, not only in Colombia but throughout Latin America.
But the best part of Popayan is that it's not just a tiny colonial town, but there is a medium-sized city surrounding it with plenty of modern comforts from movie theaters to massive supermarkets. In a way, the city reminded me of what I loved about Merida, Mexico.
So what about those things to do in Popayan? Here are a few ideas to keep you busy for at least a few days.
El Puente de Humilladero
This 19th-century bridge was constructed to improve access to downtown for the poorer communities outside. Even today it provides a nice pedestrian only access to town.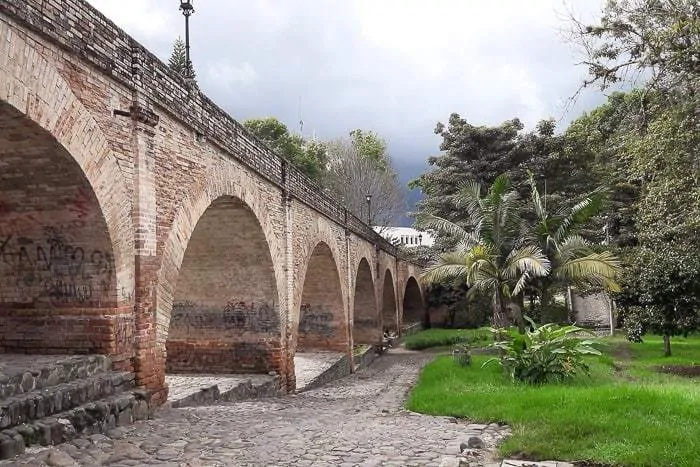 Eleven arches span nearly 800 feet as you walk across its cobblestones and look down upon a small stream running through a thick green park where couples embrace.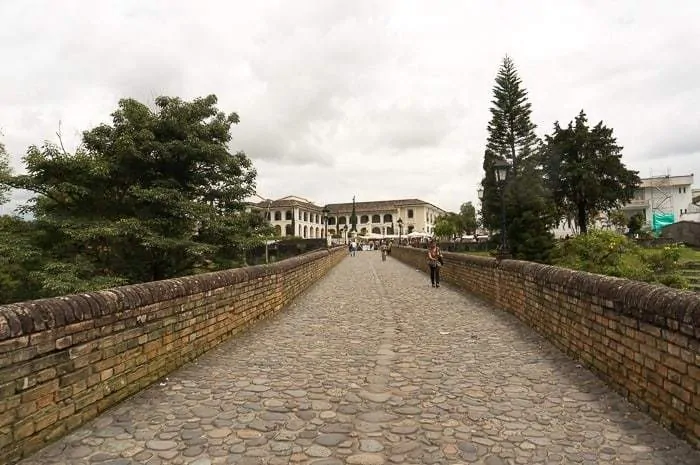 Popayan Colombia – The White Town
The historic downtown surrounding Parque Caldas is fascinating to walk through. As mentioned before, the numerous churches and overall architecture is simple but ornate, even the street lamps strike me as beautiful as you walk around.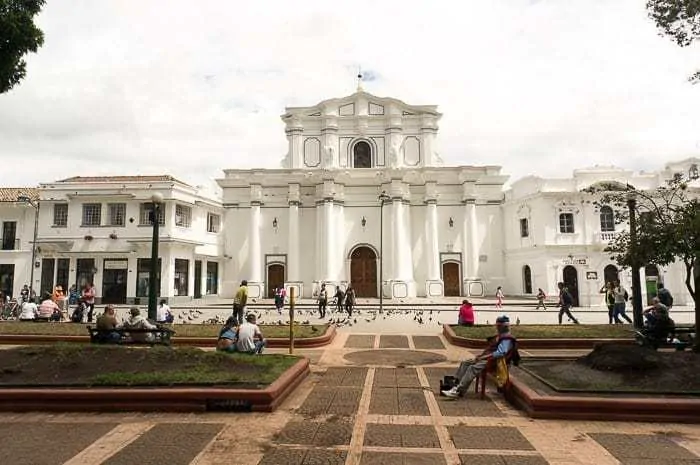 It's just fun to explore, each block holds a different surprise. You'll know if you leave the downtown core because there will be a sudden transition to traditional buildings without the white, just turn back around and keep wandering.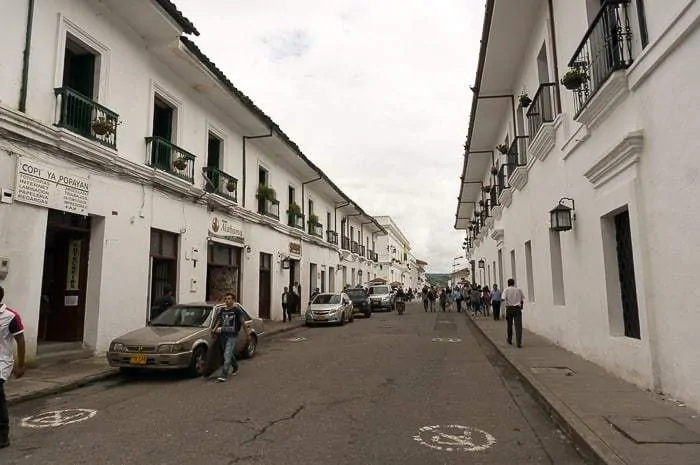 Eat Tamales de Pipian
All over town, you will see empanadas or tamales de pipian, a local take on these popular regional dishes. Pipian comes from a potato base, mixed with roasted and ground peanuts, garlic, tomatoes, onions, hard boiled egg, and more.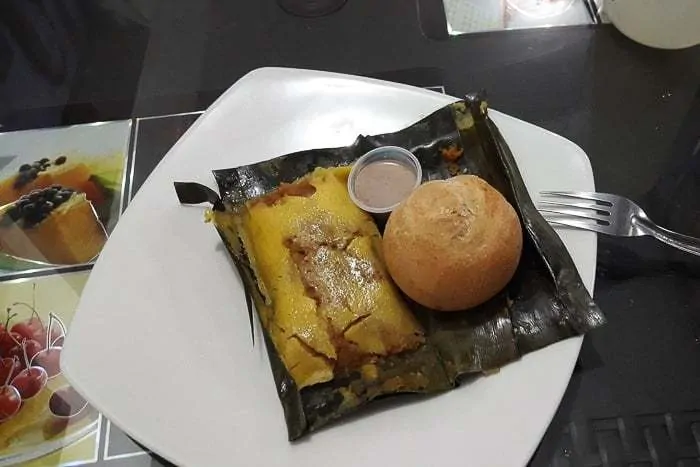 Both tamales and empanadas are often served up with a spicy peanut sauce that you can drench over the top. I found both the peanut sauce and the pipian to be delicious.
You will see signs for either all over town, but one of the best restaurants in town is Mora Castilla, just a few blocks from Parque Caldas.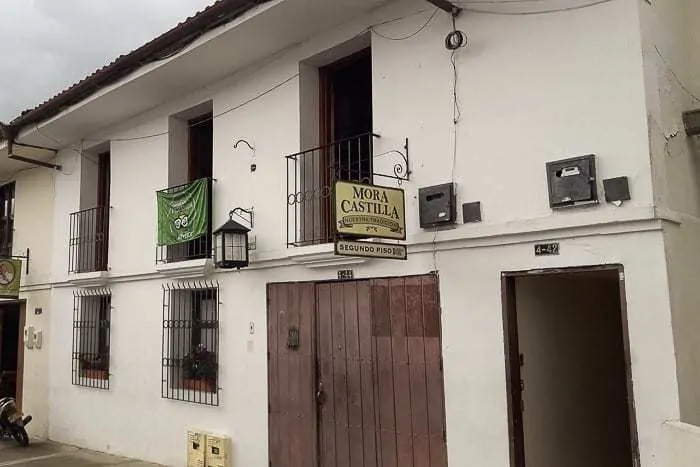 The place specializes in the popular local street food (think deep fried and relatively unhealthy) but is served up in a comfortable sit down restaurant. Most surprisingly, the prices are still street food prices — everything is dirt cheap.
You can grab a 10 empanaditas (mini empanadas) for a little over a dollar, you can get the tamales here, you can find cataranta — a sort of giant potato cheap made out of corn which you can slather with an hogao salsa.
Everything we tried was delicious and cheap.
Hike to the Top of Morro de Tulcan
Beyond Mora Castilla, there is a modest bare green hill (also visible from Puente de Humilladero) where you can hike to the top for an expansive view of the city below as well as the surrounding countryside.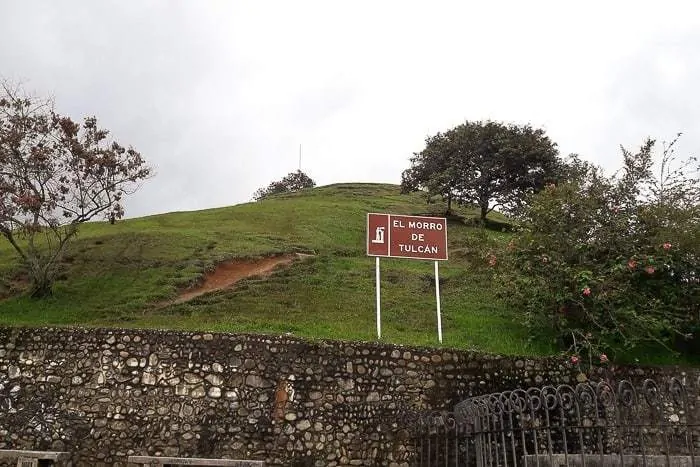 The walk to the base of the hill is short and safe, and the hike up is popular among the many students that call this city home. Some hike straight up the grassy hillside (causing erosion) but on the back, you will find a cobblestone path leading to the top where a statue of the Conquistador Sebastián de Belalcázar and the view awaits.
There is, unfortunately, a lot of graffiti at the top, and you may not want to hike up there at night.
The site was an Indian pyramid which the Spanish conquerors found abandoned.
Drink Siphon Coffee at Oromo
I was surprised to see so many upscale coffee shops this far south and in a city of this size. In some ways, it beats the big city of Medellin in terms of coffee quality.
There are a number of good shops to choose from… If you prefer ambiance, I really liked Madeira Cafe, if you prefer great coffee, the nod has to go to Oromo.
Oromo is an unassuming little place, with a laid back, casual vibe. We were ignored for a while when we first got there, so the barista brought us some alfajor cookies on the house to apologize.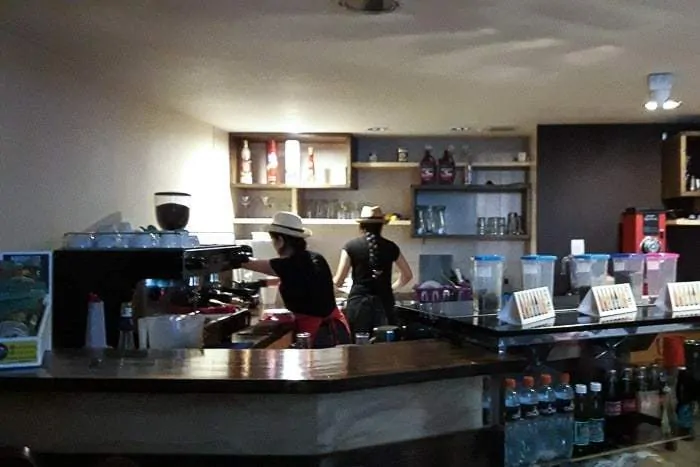 We ordered up a serving of siphon coffee with beans from the Cauca department. Now it isn't common to see siphon prepared coffee in Colombia, or in many places at all really, so we definitely opted for this method of preparation.
The barista brings over a cup of freshly ground beans and has you take in the aroma, then he returns with a chemistry like contraption straight out of Breaking Bad.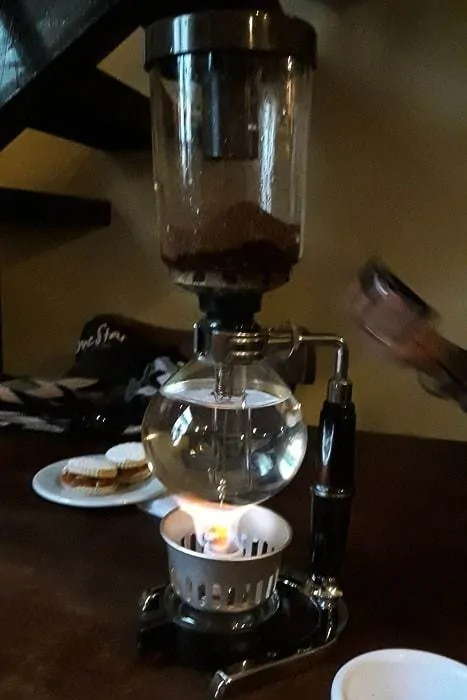 Basically, the beans are held in a chamber up top and the water in a chamber below. They place an open flame under the glass beaker and the water boils and passes to the chamber with the ground coffee to steep.
Once all the water passes above, they remove the flame, and the water drips back into the chamber below for serving.
The whole time the barista was talking with us about the coffee and preparation, quite hands on, and quite special. It felt like a nice complimentary experience after our recent coffee farm tour in Salento.
The brew was absolutely delicious, and a wholly unexpected surprise in a town full of great surprises. Best of all, it was only 8.000 pesos for the two cups (less than $3).
Other Things to Do in Popayan
Hopefully, that gives you a pretty good idea of what to do in Popayan, but there are a few common side trips that people make from here as well:
San Agustin – There are day trips on offer to visit San Agustin from Popayan, and while the ancient statues are awesome, I would not recommend doing it as a day trip. Go spend the night or a few in San Agustin, it's an area worth exploring.
Volcan Purace – This is one I really wanted to do, but we were there during the rainy season. Volcan Purace stands at just over 15,000 feet and sits a few hours east of town. Day trips can be organized with an early morning departure for around 100.000 pesos, including a local guide at the base of the mountain. Some organize overnight trips at the cabana or stay longer to enjoy the hot springs.
Where to Stay in Popayan
Stay as close to the historic downtown area as you can.
We found a budget choice just across the other side of the Puente de Humilladero, called Hotel Alcala Colonial. The place was decent enough with private bath for an incredibly cheap 35.000 pesos per night ($12) and with a great location, which had us walking across the bridge at least twice per day.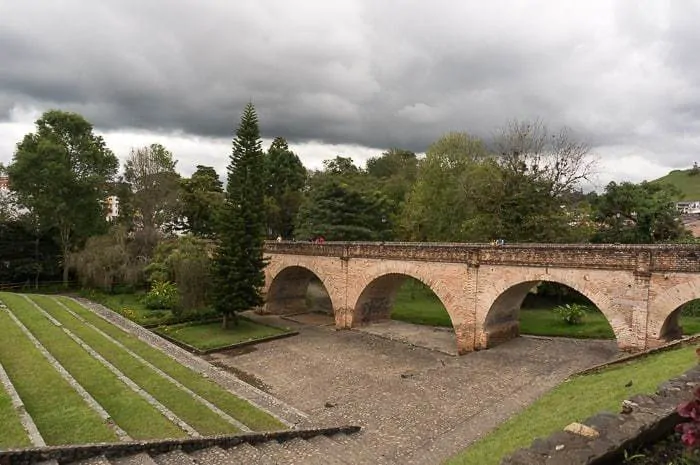 The cheap price will let you splurge on lots of delicious coffee at Oromo.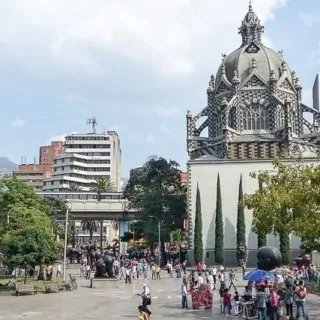 Colombia Travel Tips
Important tips and resources for planning an amazing trip to Colombia, based on my years of traveling and living in Colombia.
Tools
Colombia Trip Planning
Instructions
Book a cheap flight to Colombia with Momondo, or better yet, start travel hacking so you can fly for free. Traveling between major cities is much better by flying, trust me.
Plan a rough itinerary and how long you will spend at each destination. Use an itinerary planning service for custom recommendations and pick up Lonely Planet Colombia.
Work a little every day to teach yourself Spanish, you'll want to know as much as possible before you arrive.
Book cheap accommodation in advance, at least for the first destinations -- For hostels use: Booking, for cheap hotels use: Hotels.com, for apartments use: Airbnb.
Reserve your on the ground tours and activities through Get Your Guide.
Purchase travel insurance for Colombia with SafetyWing to protect yourself from illness, injury, and theft while in Colombia. VERY important. And be sure to read my article: "Is Colombia Safe?" for my honest opinion and safety tips.
Sign up for my free emails about planning a better trip to Colombia, and be sure to check out my comprehensive guide about traveling to Colombia.
Learn more money-saving tricks with my top budget travel tips.
Put together your Colombia packing list.
Enjoy this incredible country!
Notes
I hope this helped you plan your travels in Colombia! I know it can be a struggle to find accurate and on the ground information when traveling to a new place like Colombia, which is why I started writing so extensively about it!
If you have any questions about Colombia, budget travel, or anything else shoot me an email at ryan@desktodirtbag.com.
(I love getting questions! That is how I get ideas for my blog posts and what to write about!)
Recommended Products
As an Amazon Associate and member of other affiliate programs, I earn from qualifying purchases.
Share This
Did you enjoy this post about things to do in Popayan Colombia? Please take a moment to share it on Facebook, Pinterest, or Twitter.
The following two tabs change content below.