This article may contain
affiliate links
. If you make a purchase through these links, I will earn a commission at no extra cost to you. Thanks!
If you are planning to visit the coffee triangle of Colombia, then the Santa Rosa de Cabal hot springs are what I would consider a must visit, whether you are in Pereira, Manizales, or Armenia.
Andrea and I were looking for the perfect long-weekend getaway from Medellin, and the hot springs at the base of the Los Nevados mountains were calling our name.
Santa Rosa de Cabal Hot Springs
Just outside the small town of Santa Rosa de Cabal there are two different sets of 'termales' or hot springs.
From the town we hopped into a shared jeep and made our way up the long and bumpy dirt road toward the springs.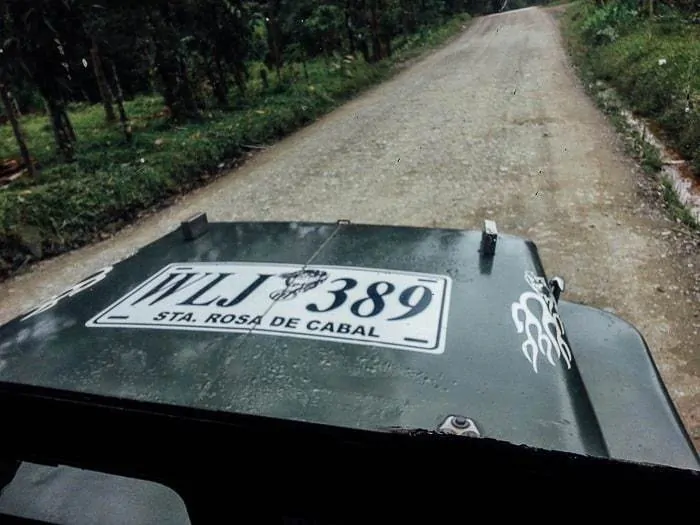 After a long bus ride from Medellin, we just wanted to find a place to lay our heads and found the cheap and decent Cabana El Portal.
On the second floor they have modest rooms, below there is a restaurant, and they sell a few convenience items as well.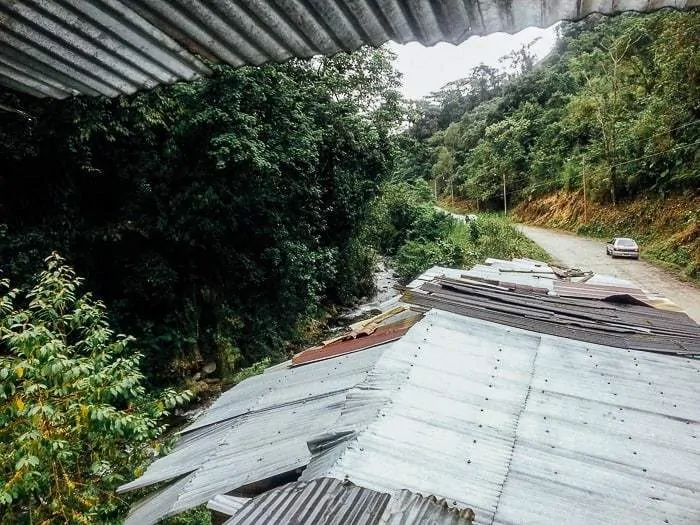 We hiked down to the edge of a small stream that runs along the opposite side of the hotel and hung out along the water.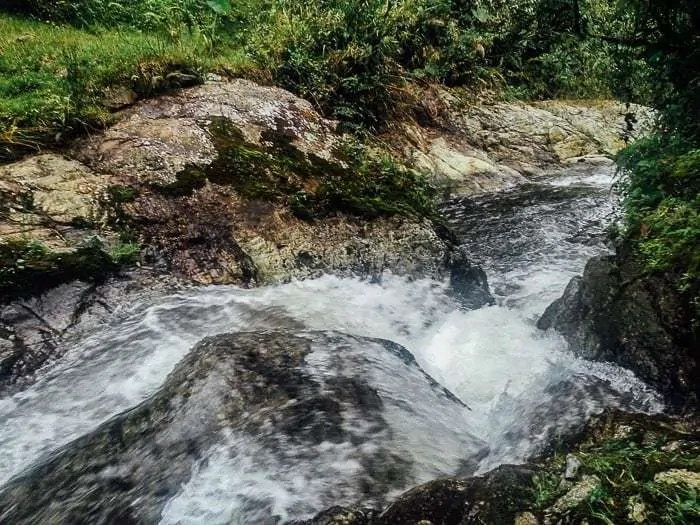 The Hot Springs – Two to Choose From
The following morning, after a hearty breakfast at the restaurant on the first floor, we headed up the road to the hot springs.
There are actually two different hot springs here — both are private with a paid entrance.
There is the Balneario Santa Rosa first and then a little further up the road is the Termales Santa Rosa de Cabal which is also the site of a fancy hotel.
The Santa Rosa hot springs are cheaper (and thus more popular) than the other. While you would think that more expensive equals better, in this case, that dooesn't seem to be true.
From all the local recommendations and the photos I've seen online, Santa Rosa is the most scenic and beautiful.
BUT if you're looking for a more upscale hotel, or looking for less crowds, then you're probably better off at the second hot springs.
Balneario Santa Rosa
From our cheap cabana, it was a short walk to the Balneario Santa Rosa. The entrance to the hot springs costs around 38,000 pesos ($12) for the day pass.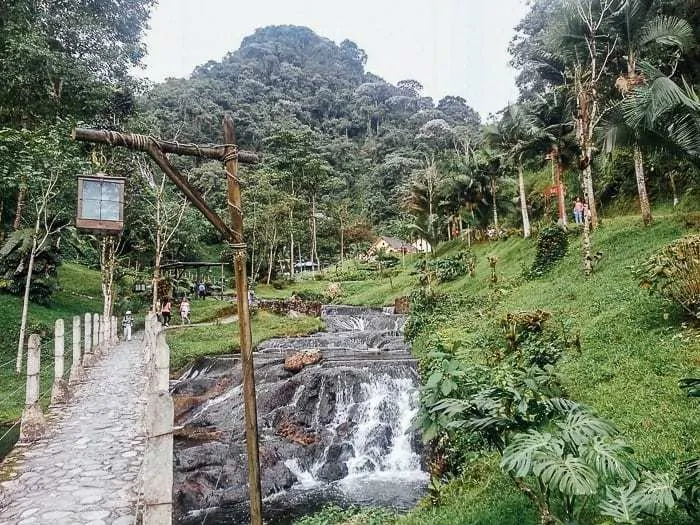 It's a short hike uphill alongside a babbling stream until you reach the main area.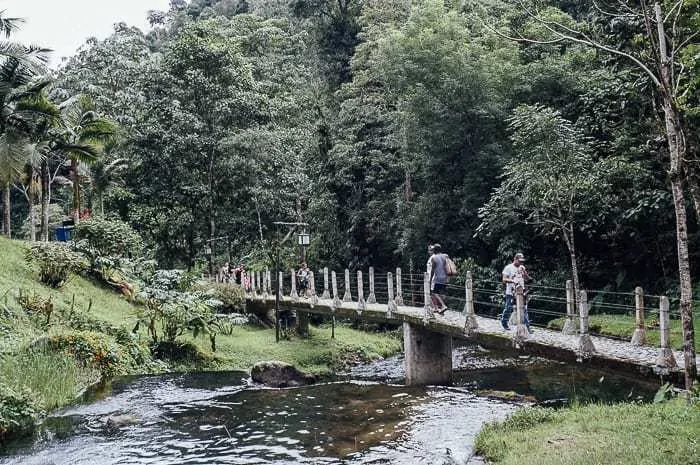 The centerpiece of the hot springs is the nearly 100 foot tall waterfall that cascades down the rocks along the waters edge.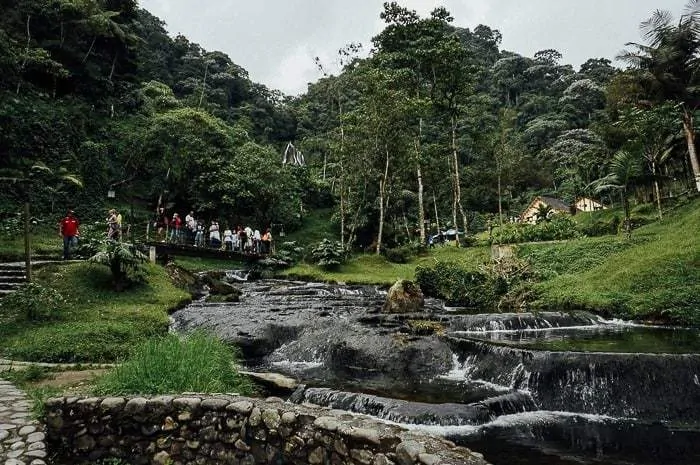 There are a few different pools of varying temperatures, and a number of water features.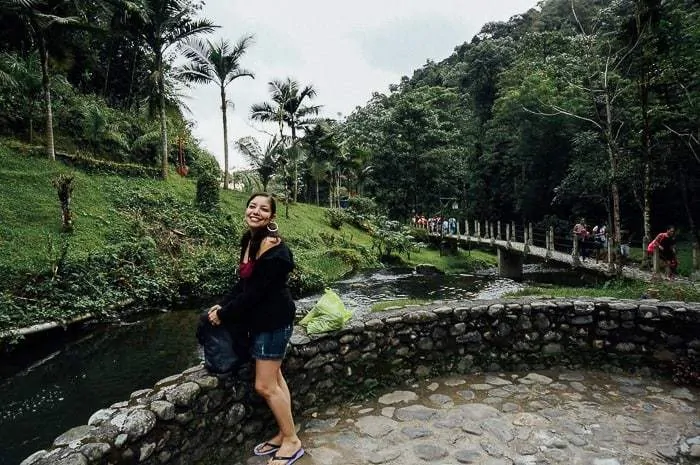 The space is expansive and the setting is absolutely gorgeous.
Amenities
Inside you will also find a restaurant or cafe with drinks.
Basically you can plan to spend a full day hanging out in the various pools, eating lunch or dinner at the restaurant and just relaxing in the hot mineral water pools.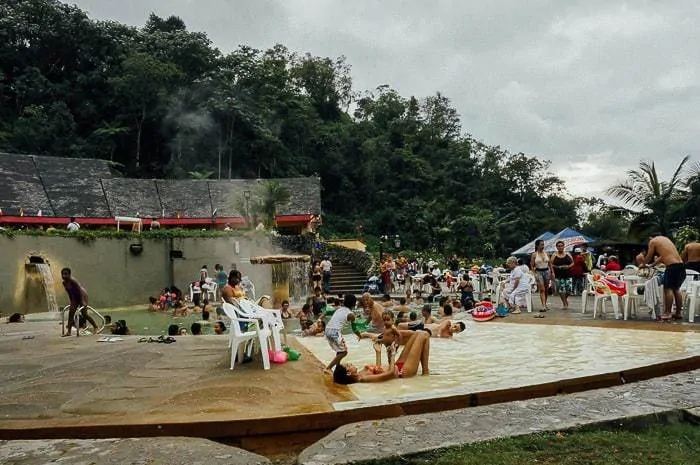 The area is famous for some of the best chorizos in all of Colombia, so be sure to give those delicious sausages a try as well!
If you go during a three-day weekend, you can expect to see lots of people.
By early evening, the pools were beginning to fill up with people, but it was still fun.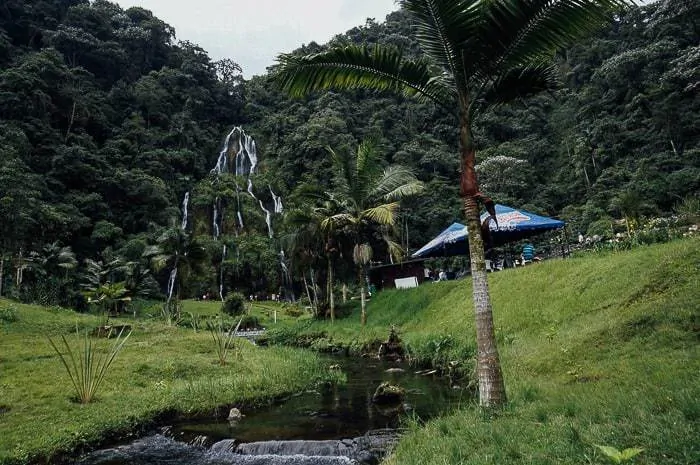 Amazingly the pools don't close until 11:30 at night, so you can hang out in the dark (the sun sets at 6:30).
Santa Rosa de Cabal is definitely worth the visit. I would recommend two nights in the area, allowing one full day just for the thermal pools.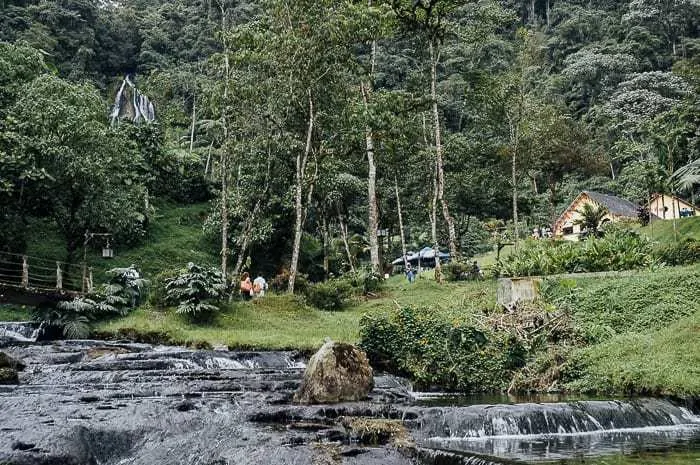 Getting There
The easiest way to get there is by bus to Pereira, then ask for the small city buses to the Santa Rosa de Cabal hot springs and someone will point you in the right direction. You can also make the visit from Armenia or Manizales, and don't miss out on the chance to visit Salento nearby.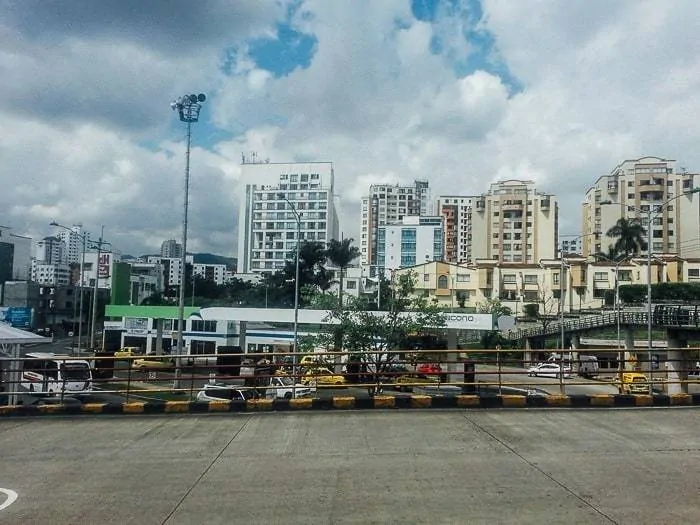 From there it is a short walk to the shared jeeps that will take you out to the hot springs.
Where to Stay
If you like you can stay in the town of Santa Rosa de Cabal, but it's pretty nice staying in one of the little places out on the dirt road that leads to the hot springs.
There are a number of hospedajes.
If you're going on a holiday weekend, you might want to make reservations in advance.
Traveling to the Santa Rosa de Cabal hot springs on your next trip? Book the perfect room on Booking.com today!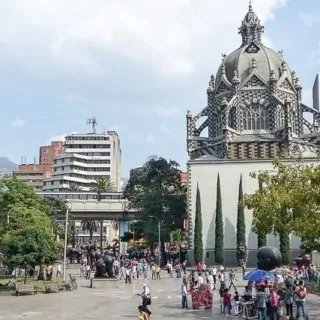 Colombia Travel Tips
Important tips and resources for planning an amazing trip to Colombia, based on my years of traveling and living in Colombia.
Tools
Colombia Trip Planning
Instructions
Book a cheap flight to Colombia with Momondo, or better yet, start travel hacking so you can fly for free. Traveling between major cities is much better by flying, trust me.
Plan a rough itinerary and how long you will spend at each destination. Use an itinerary planning service for custom recommendations and pick up Lonely Planet Colombia.
Work a little every day to teach yourself Spanish, you'll want to know as much as possible before you arrive.
Book cheap accommodation in advance, at least for the first destinations -- For hostels use: Booking, for cheap hotels use: Hotels.com, for apartments use: Airbnb.
Reserve your on the ground tours and activities through Get Your Guide.
Purchase travel insurance for Colombia with SafetyWing to protect yourself from illness, injury, and theft while in Colombia. VERY important. And be sure to read my article: "Is Colombia Safe?" for my honest opinion and safety tips.
Sign up for my free emails about planning a better trip to Colombia, and be sure to check out my comprehensive guide about traveling to Colombia.
Learn more money-saving tricks with my top budget travel tips.
Put together your Colombia packing list.
Enjoy this incredible country!
Notes
I hope this helped you plan your travels in Colombia! I know it can be a struggle to find accurate and on the ground information when traveling to a new place like Colombia, which is why I started writing so extensively about it!
If you have any questions about Colombia, budget travel, or anything else shoot me an email at ryan@desktodirtbag.com.
(I love getting questions! That is how I get ideas for my blog posts and what to write about!)
Recommended Products
As an Amazon Associate and member of other affiliate programs, I earn from qualifying purchases.
Share This
Did you enjoy this post? Please take a moment to share it on Facebook, Pinterest, or Twitter.
The following two tabs change content below.