This article may contain
affiliate links
. If you make a purchase through these links, I will earn a commission at no extra cost to you. Thanks!
Who are you calling a dirtbag? Depending on who you ask, being called a dirtbag might be a badge of honor or a rude insult. If you aren't familiar with the climbing world, then you might be curious to know what is a dirtbag and why I named my website Desk to Dirtbag…
♪ Now, this is the story all about how,
My life got flipped-turned upside down,
And I'd like to take a minute, just sit right there,
I'll tell you how I became a dirtbag and what the word means. ♪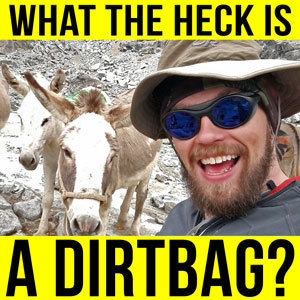 What is a Dirtbag?
Dirtbagging emerged in the early climbing days when the most dedicated rock climbers ditched the traditional work world and the constraints of a job, mortgage, debt, and the rat race. They lived in tents or automobiles in places like Yosemite Valley, Joshua Tree, and beyond, where they lived and slept in the dirt to be close to the rocks and the grandeur of Mother Nature. They valued their time more than money.
Names like Yvon Chouinard or Fred Beckey come to mind as some of the original, "true" dirtbags, scraping by with whatever bit of little work they could find (often seasonal), sometimes eating canned cat food or whatever in order to maintain their adventurous lifestyle.
These were people that dropped out of the normal world and wore their "dirtbag" title with a badge of honor.
Dirtbags Today
A climbing dirtbag today has it much easier, of course. Some might even say that dirtbaggery is dead. Some argue over who is a "true" dirtbag, I'm sure many would even say that I'm not a "true" dirtbag.
While that all may be true in the old traditional definition of the word in terms of surviving on the true margins of society with little to no money and no comforts, I'd also argue that dirtbags have evolved along with the changes in the world today.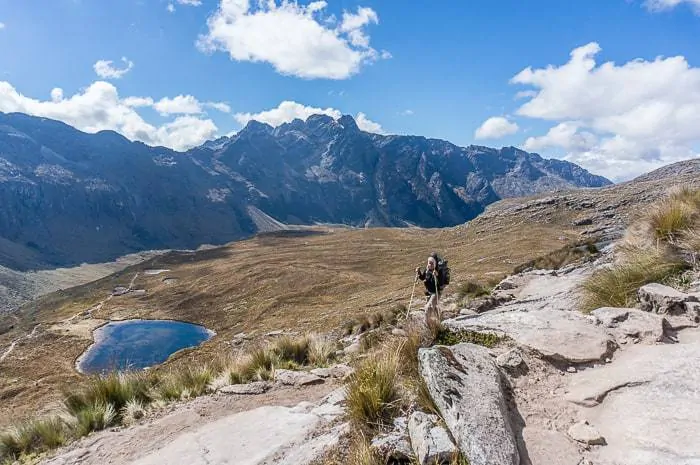 Namely, the advent of technology and the internet has opened up the world of the dirtbag lifestyle to the masses — if it is something they want, and they've been yearning for an alternative lifestyle that goes beyond endless consumption.
Thanks to the internet, people can work from anywhere they can get WiFi, maybe not necessarily earning a lot of money, but earning enough to live in a bit more comfort and security than the old school dirtbags, but still, one that is either nomadic or semi-nomadic and allows them to free up their most precious asset, time, in order to do more of the things that make them feel alive.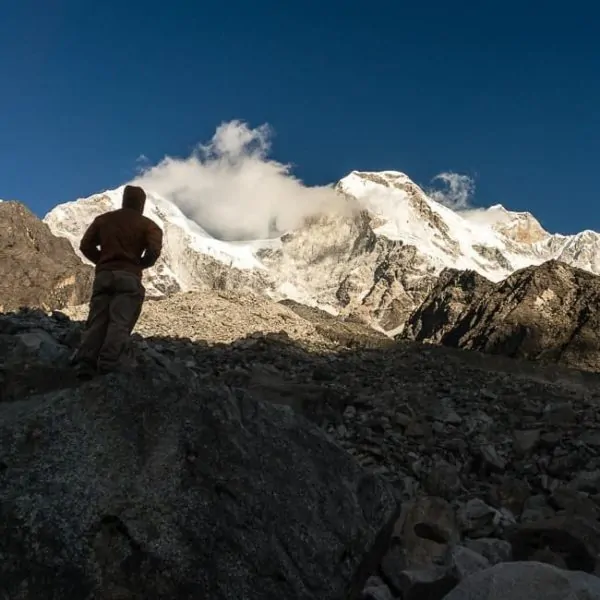 The modern dirtbag doesn't necessarily need to be a rock climber. I'd consider digital nomads to be a type of dirtbag life… Living out of a backpack on the cheap in Southeast Asia or South America. I'd consider people in the Tiny Home or Vanlife world to be another type of dirtbag.
We are all just different branches of the same tree.
The Dirtbag Manifesto
When I first started this site, I wrote a Dirtbag Manifesto which I believe best encompasses the underlying values and desires of the modern dirtbag.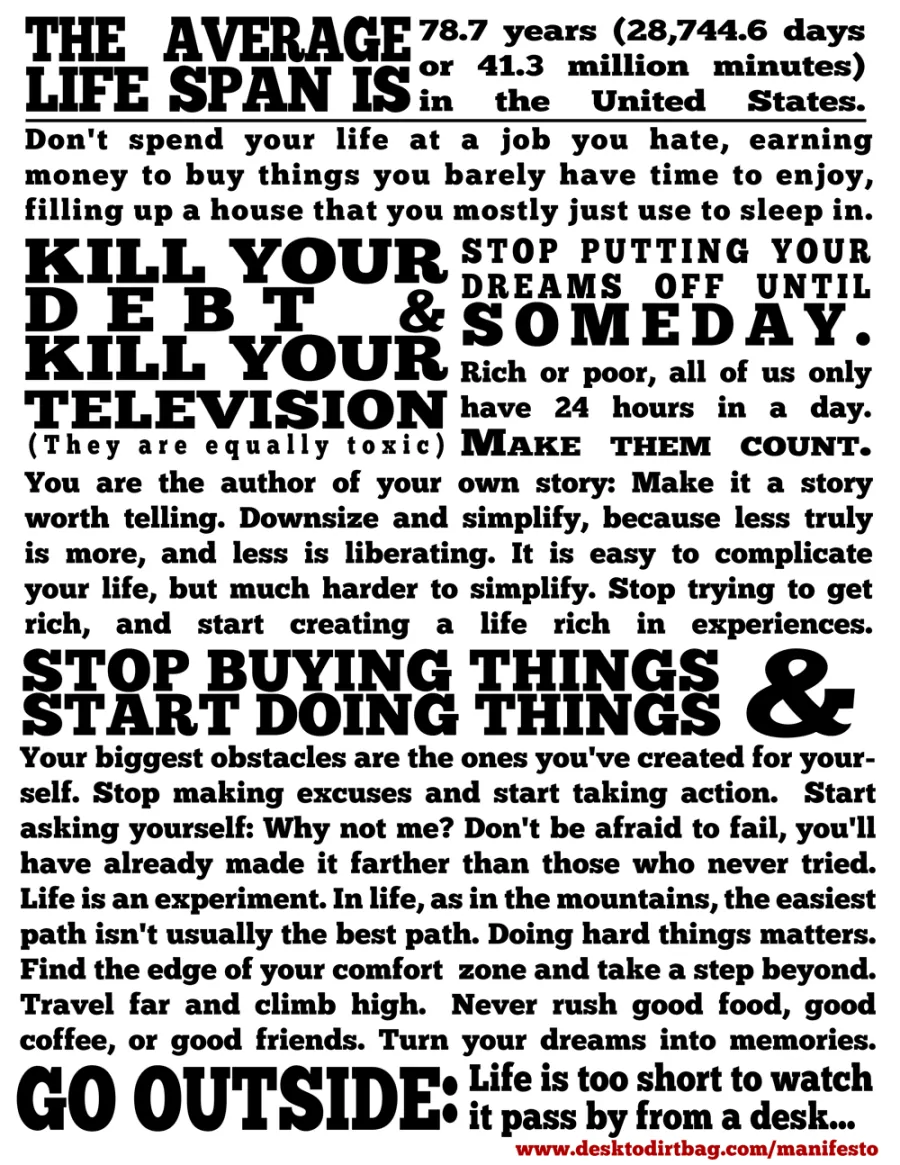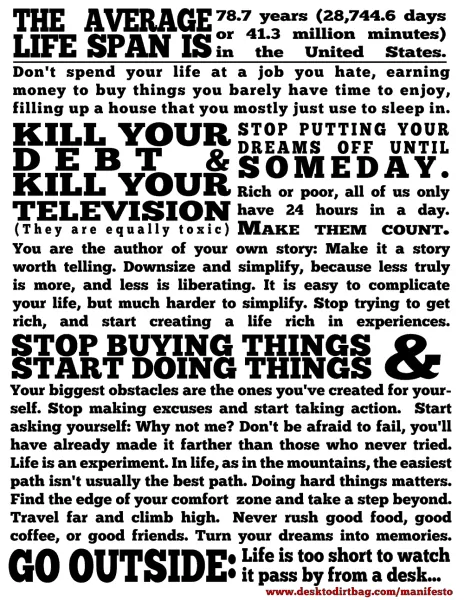 Dirtbag Definition
The main defining features of a Modern Dirtbag are:
A lack of traditional employment: It could be seasonal work, but more often it is some sort of online endeavor, whether a side-hustle gig, freelancing, or something entirely different. Dirtbags are not rich, but can still find ways to travel and do what they love, even with little money. They live a rich life without material wealth, although they spend more on their passions and hobbies than most would consider reasonable. Some might be remote workers, but that still usually entails a restricting 40-hour work week.
Alternative housing: It could be living out of a truck or van, it could be house hacking through geo arbitrage, pet sitting, or something different.
Semi-Nomadic: Dirtbags have always tended to move with the season, and that is still true today. While they may settle down in a particular location for a few months or a little longer, they don't usually have a permanent home base.
Minimalism: The semi-nomadic existence necessitates a minimalist lifestyle and thus a reduced level of consumerism, allowing them to travel very affordably over long periods of time. The key thing is to buy less & do more.
Love of Nature: This could be the defining piece that differentiates climbing dirtbags from some other similar lifestyles, but generally it means a need to be close to nature, in the mountains, in the hills, on the trail, etc.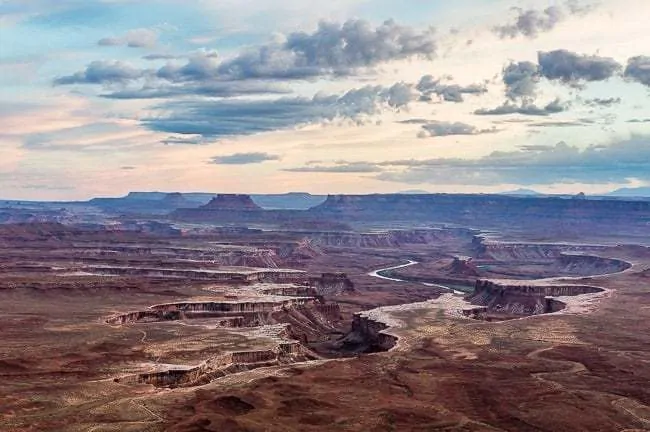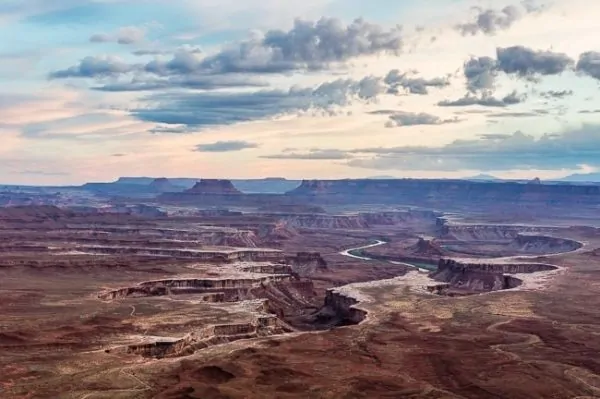 Desk to Dirtbag Meaning
My own story may be different than others, but it follows a familiar pattern. I had a good job, a prestigious job even, working in the hallowed halls of Congress in Washington D.C., but every free weekend or vacation time I had, I'd head to the mountains or forests, going hiking or climbing.
I needed that time in nature to balance me after a hectic and stressful work period. I'd spend my workday planning for the weekend and daydreaming about "someday" when I might be able to break away and travel or see more of the U.S. and the rest of the world.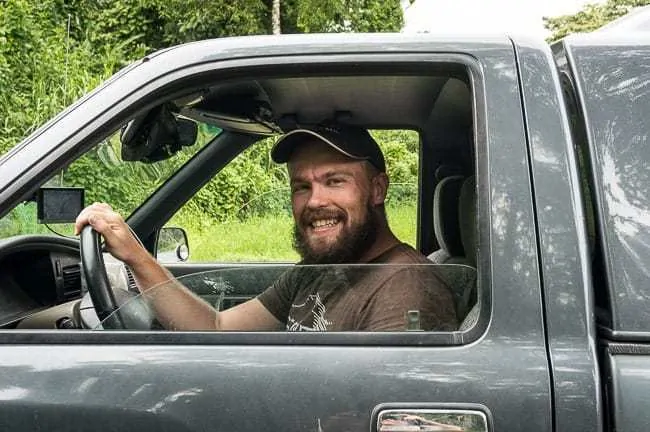 Then, I suddenly found myself facing unemployment when my boss decided to retire rather than run for reelection. My initial dismay soon gave way to relief at the chance to finally take the leap into the unknown and do what I'd always said I wanted to do.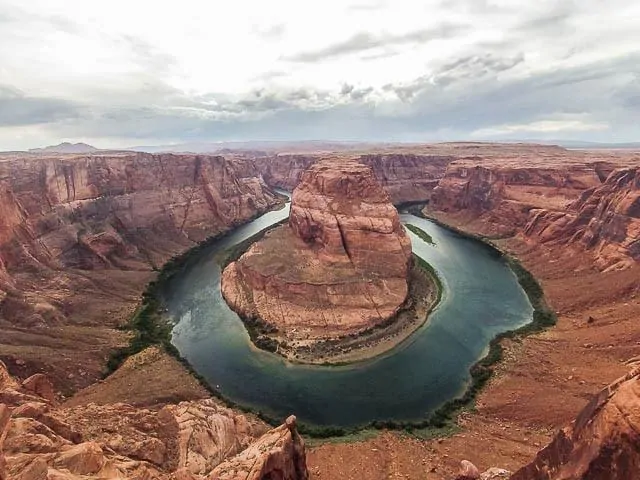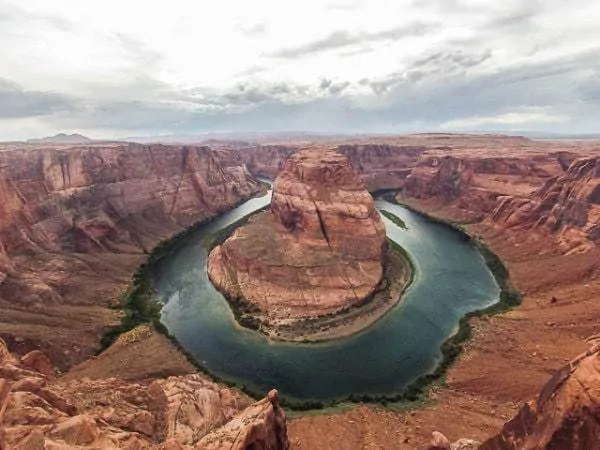 I spent my first year on the road, living out of my truck and hiking and climbing during a west coast USA road trip. My planned year-long sabbatical turned into an ongoing journey as I discovered new ways to sustain my lifestyle thanks to freelancing and other online endeavors and then embarked on even bigger and more ambitious journeys.
Read More: How I Afford to Travel Endlessly
Join the Dirtbag Movement
More and more, people are getting fed up with the traditional advice in life to work, work, work, consume, consume, consume. The Dirtbag Way offers up an alternative lifestyle that embraces simplicity and freedom over the rat race.
Of course, the life of a dirtbag isn't always easy or without struggle… Nothing ever is. But for some people, the choice is obvious when that fork in the road presents itself to them and they see that road less traveled.
The bottom line is you don't have to follow the traditional script for life, and the alternative isn't as hard as you think it may be.
Read Next: Five-Steps to Travel Forever
Share This
Did you enjoy this article about what's a dirtbag? Please take a second to share it on Pinterest, Facebook, or Twitter. Thanks!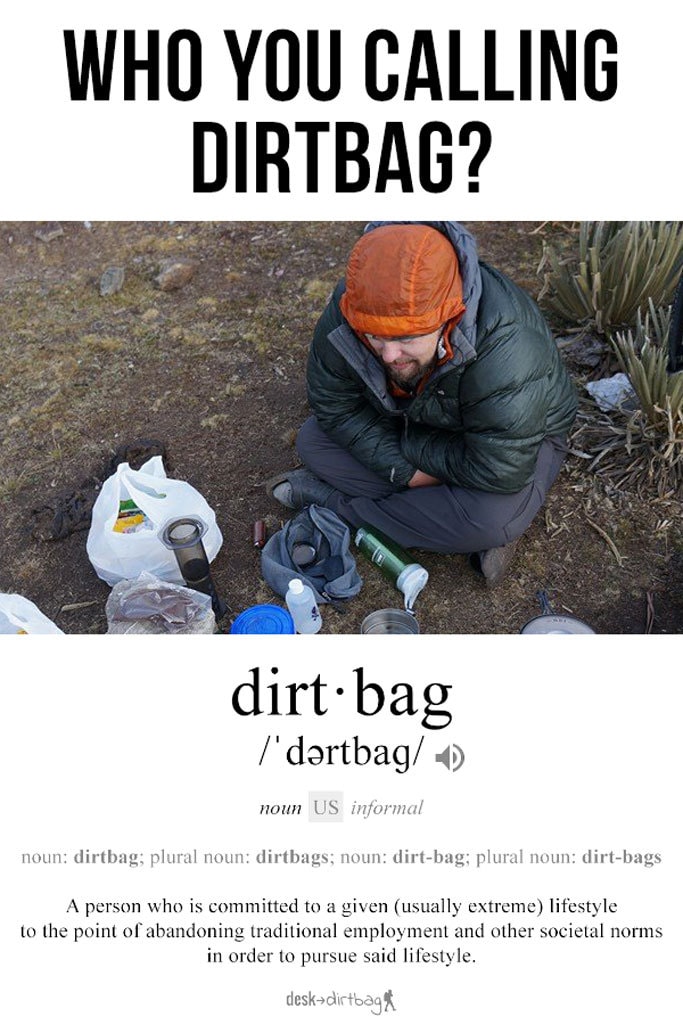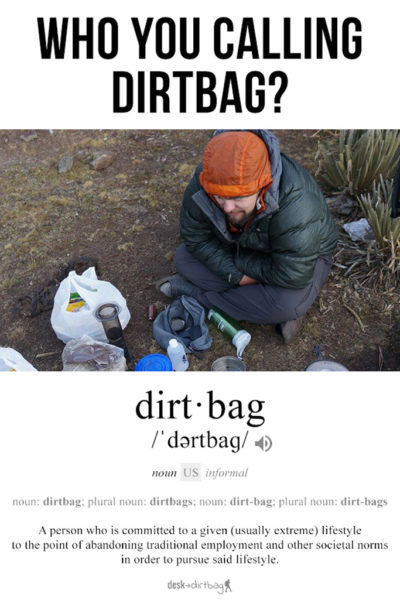 The following two tabs change content below.