Twisted and contorted Joshua Trees stretch for as far as the eye can see in the aptly named Joshua Tree National Park, California. Large jumbled boulders dot the desert landscape. An odd coyote runs through the campground in the shadows as the campfire crackles and the stars twinkle overhead.
I love Joshua Tree National Park, it's one of my favorite parks in the country. I spent at least a month living in and around Joshua Tree National Park during my year-long west coast road trip.
If you are a rock climber, you owe it to yourself to visit this desert paradise. But even if you don't climb, there is still plenty of things to do in Joshua Tree National Park, whether you just want to go camping, enjoy the stargazing, go hiking, or escape the city life.
Where is Joshua Tree National Park?
Joshua Tree National Park, or simply JTree as it is often called, is located in Southern California, just a few hours from the sprawling city of Los Angeles, and it may just be one of the best places for stargazing near Los Angeles, since it is away from the light pollution.
Weather in Joshua Tree National Park
JTree is best visited in the winter months or during the shoulder season, it is one of the best National Parks to visit in Spring, to be honest. It can be incredibly hot here during the summer months, which makes it somewhat agonizing… A few years after my first visit to the park, I returned with my girlfriend in June and we were still sweating to death as we camped out that night…
The average temperatures range from a low of 37 and a high of 60 in December and January to an average high of 100 and a low of 69 during the month of July.
See this for more average temperatures.
In any case, visiting around the March and April or October and November tends to have the most pleasant climate. When I was living there for a month, it was during March and April, until the temps began to rise and the climbing community started moving on.
Climbing in Joshua Tree National Park
JTree is an absolutely amazing place and one of the best places to climb if you are solo and just looking to hang out and find partners while you are there. There are tons of climbers that hang around these parts in the winter months and shoulder seasons and it is super easy to meet people.
It is a great community, for sure, with ample climbing opportunities that surround you. I also ended up running into people I got to know at Joshua Tree later on down the road in Red Rocks and Squamish.
If you're looking to be part of the climbing community you will definitely want to head to the Hidden Valley Campground.
It can at times be quite difficult to obtain a spot in the campground–your best bet is to head there in the morning before people have headed out for the day, or evening when everyone is back and just walk around asking if they know of anybody looking to share a spot. You can have two vehicles at each site, and plenty of people are open to sharing their camp with you if they have space and you can split the cost.
Joshua Tree was also where I got my introduction to crack climbing and absolutely shredded my hands. Definitely not the best place to learn how to do it–I was relegated to the slabs for weeks after that–but definitely do tape up your hands while there!
Joshua Tree was probably the coolest climbing community I came across during my lengthy travels, and I would highly recommend a stop.
What's Around Joshua Tree
If you're planning to spend a long stretch of time in JTree, then you'll also probably want to get away once in a while… At least to head into town for grocery shopping or the internet.
There is no cell service in the park so it is an excellent place to just disconnect from it all. I'd head into town and visit the local Starbucks on occasion when I wanted a rest day and a place to relax, update the blog and post photos.
In town, you can also visit Coyote Corner to use their paid showers… A sometimes necessary activity, of course, as there are no showers (or water, for that matter) within the park itself.
Don't forget to grab a date shake from Palm Springs if you're in the area, they are delicious!
If you're looking to explore a little further out, I'd also recommend heading down to the Salton Sea area, for a stop at Salvation Mountain and Slab City.
More Reading
Share This
Enjoy this post? Please take a moment to share it on Facebook, Pinterest, or Twitter.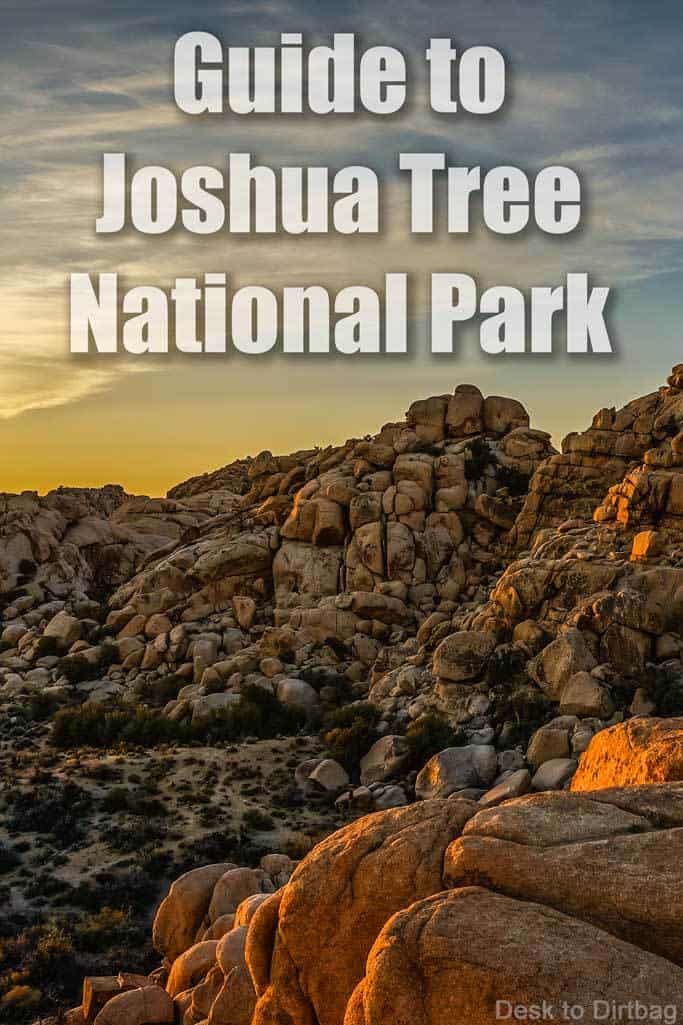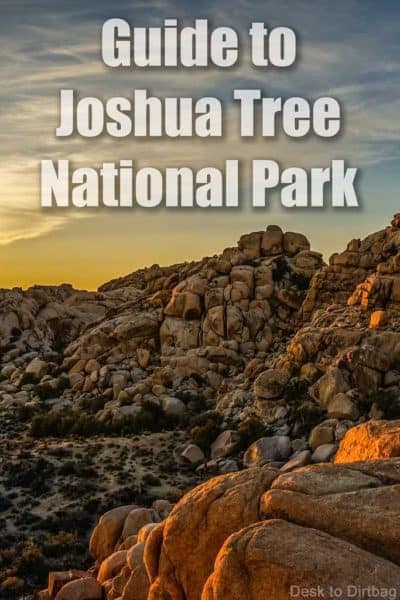 The following two tabs change content below.