This article may contain
affiliate links
. If you make a purchase through these links, I will earn a commission at no extra cost to you. Thanks!
After a lovely time exploring the city of Oaxaca and all it has to offer, we made our way up to Hierve el Agua, which sits about 45 miles outside Oaxaca, near the town of Mitla.
Ruins of Mitla
On our way out, we made a brief stop to check out the ruins of Mitla.
A few old ladies wandered around the parking lot selling their handicrafts, but we brushed them off and quickly made our way to the entrance of the ruins, but they told us we only had 15 minutes before closing.
We were kind of "ruin'ed out" anyways, after taking in the spectacular ruins of Teotihuacan, Cholula, and then Monte Alban, so we weren't too bothered.
We hopped back in the truck and made our way through a dusty, poverty-stricken little town and then up a long, winding, unpaved mountain road.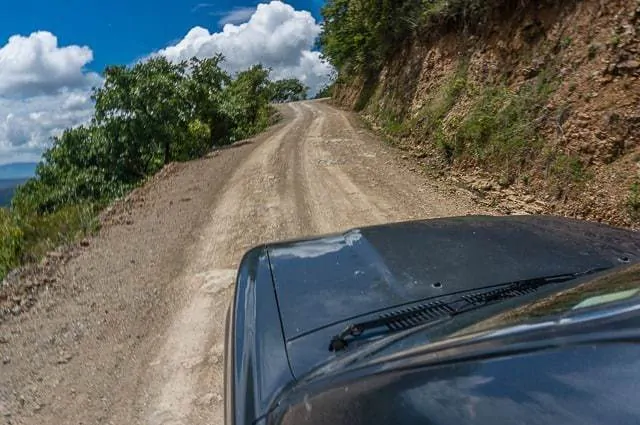 It felt quite a bit off the beaten path, as we climbed higher and higher for over an hour, and saw little to no traffic either coming or going.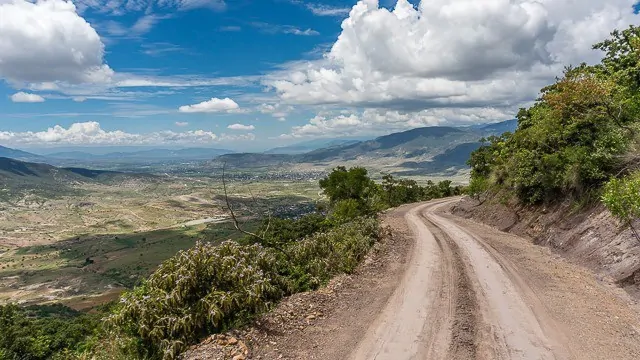 At the end of the long dirt road a small pueblo emerged, seemingly out of nowhere, and people milled about on the streets. It was surprising to see that this little community was scratched into the hillsides, so far removed from even a paved road.
Hierve el Agua
Hierve el Agua came as a recommendation from the folks back at Overlander Oasis, who spoke of an amazing "petrified waterfall" or a "natural infinity pool" in the mountains.
I'd never heard of such a thing, so naturally we had to check it out.
The place is a popular destination for people to come and enjoy the thermal waters during the daytime, but it clears out at night.
The security guard charged us 25 pesos per person to enter the premises, and another 40 pesos per person to camp overnight in their parking lot. It was 130 pesos per person overall to camp for the night, which is pretty cheap (less than $10).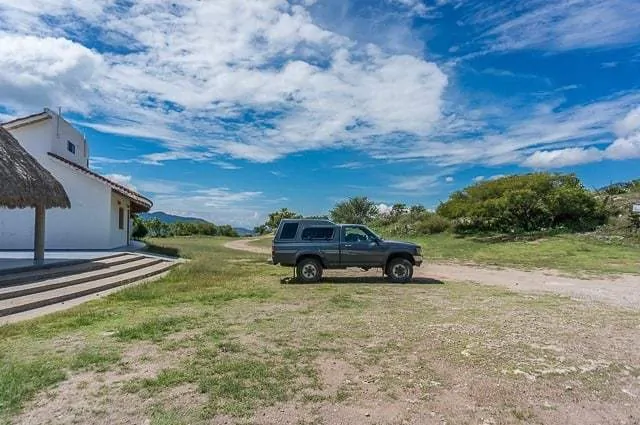 Of course, you're camped out in a normal, dirt parking lot, nothing too interesting or spectacular, but as soon as you walk over to the edge of the premises, you're greeted with a spectacular view of the surrounding mountains.
Infinity Pools
We quickly made our way down to the natural pools nestled into the mountainside and saw a few families wrapping up for the day.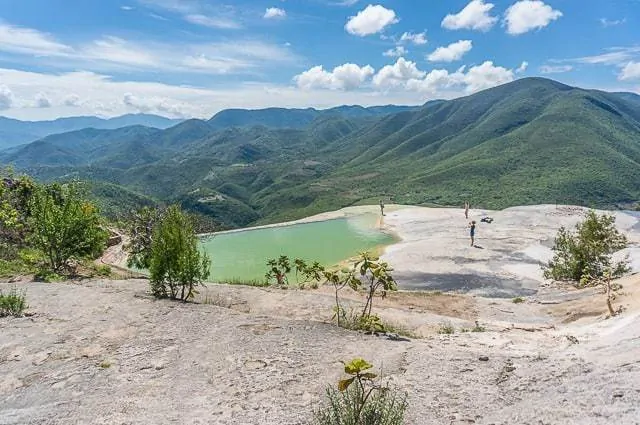 The view was absolutely incredible, just as described, completely natural infinity pools tucked into the high country.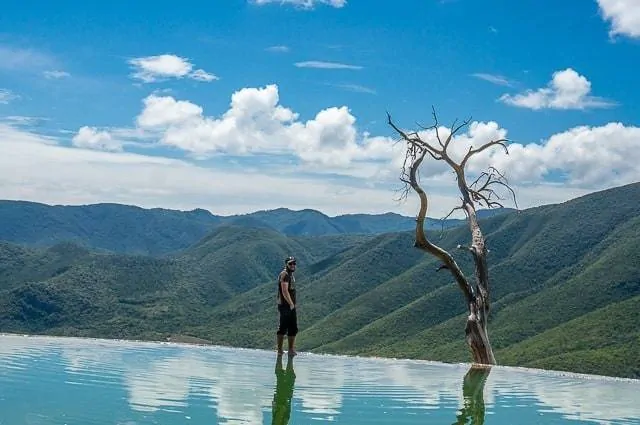 The pools are formed by calcium buildup, just like the stalactites that drip off the roofs of caves, leaving behind the natural pools, which in turn drip off the side of the mountain.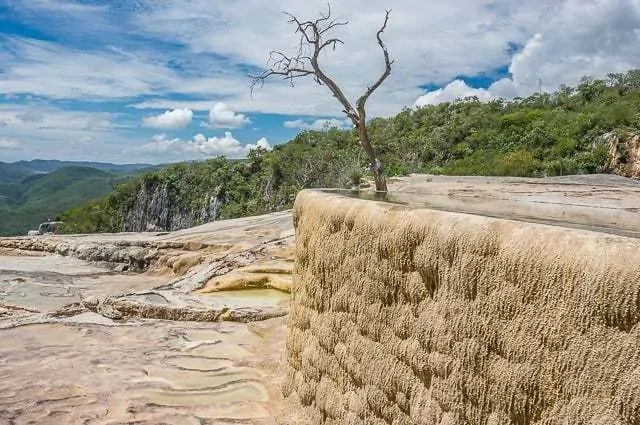 Petrified Waterfalls
From the first set of pools we could see the large, petrified falls, off in the distance.
It truly did look like a petrified waterfall, with white glistening rocks dripping down the mountain.
What an absolutely incredible place, for sure.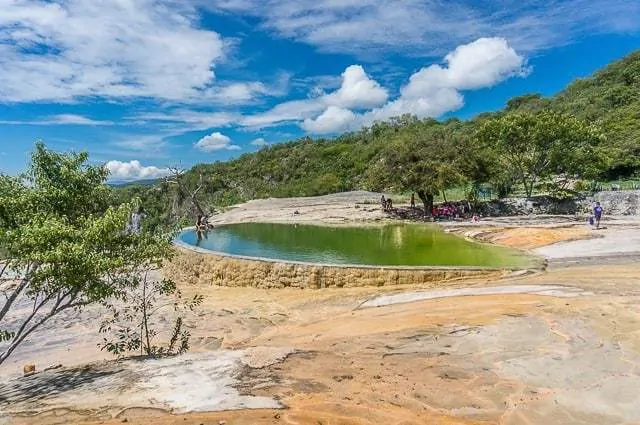 As darkness settled in, we tucked into the back of the truck to camp out. We were the only ones at the property, which was fine by us, though they did close and lock the bathrooms at night.
All to Ourselves
The next day we were up with the sun rise and the first ones down at the infinity pool to take pictures in the morning light.
People began to trickle in and play in the waters, and so we made our way over to the large falls where we could look back at the small falls.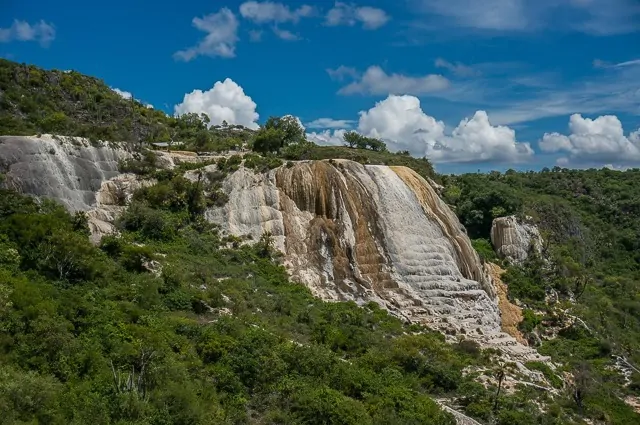 We didn't really swim around in the pools, just dip our feet in. The water is a bit murky and the bottom is quite slippery or slimy.
The view is absolutely worth the trek though, and something that everyone should check out if they are in the area.
Hierve el Agua
Latitude:16.86776
Longitude:-96.27631
Camping 40 pesos per person
Entrance 25 pesos per person
130 pesos total
No wifi, plain parking lot, amazing views, breezy, up a long dirt road in the mountains
Traveling to Oaxaca on your next trip? Book the perfect room on Booking.com today!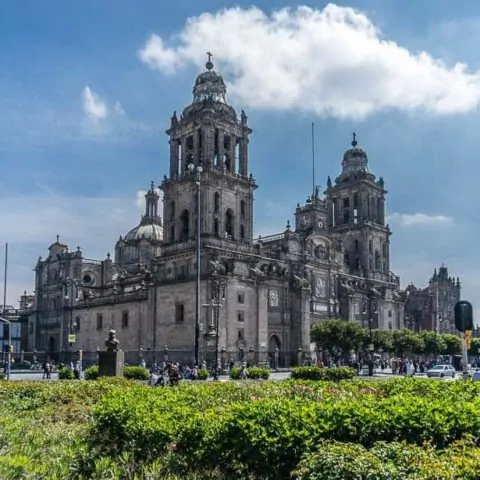 Mexico Travel Tips
Important tips and resources for planning an amazing trip to Mexico, based on my extensive experience traveling across the entire country.
Tools
Instructions
Book a cheap flight to Mexico with Momondo, or better yet, start travel hacking so you can fly for free.
Plan a rough itinerary and how long you will spend in each destination. Pick up Lonely Planet Mexico to help with this.
Work every day to teach yourself Spanish, you want to know as much as possible before you arrive.
Book your cheap accommodation in advance, at least for the first destinations -- For hostels use: Booking, for cheap hotels use: Hotels.com, for apartments use: Airbnb.
Reserve your on the ground tours and activities through Get Your Guide.
Purchase travel insurance for Mexico with World Nomads to protect yourself from illness, injury, and theft while in Mexico.
Check out my comprehensive guide about traveling to Mexico with information on cities, things to do, places to see, and more.
Learn more money saving tricks with my top budget travel tips if you want to get more bang for your buck.
Put together your Mexico packing list.
Enjoy this incredible country!
Notes
I hope this helped you plan your travels in Mexico! I know it can be a struggle to find accurate and on the ground information when traveling to a new place like Mexico, which is why I started writing so extensively about it!
If you have any questions about Mexico, budget travel, or anything else shoot me an email at ryan@desktodirtbag.com.
(I love getting questions! That is how I get ideas for my blog posts and what to write about!)
Recommended Products
As an Amazon Associate and member of other affiliate programs, I earn from qualifying purchases.
Share This
If you enjoyed this post, please take a moment to share it on Facebook, Pinterest, or Twitter. Thanks!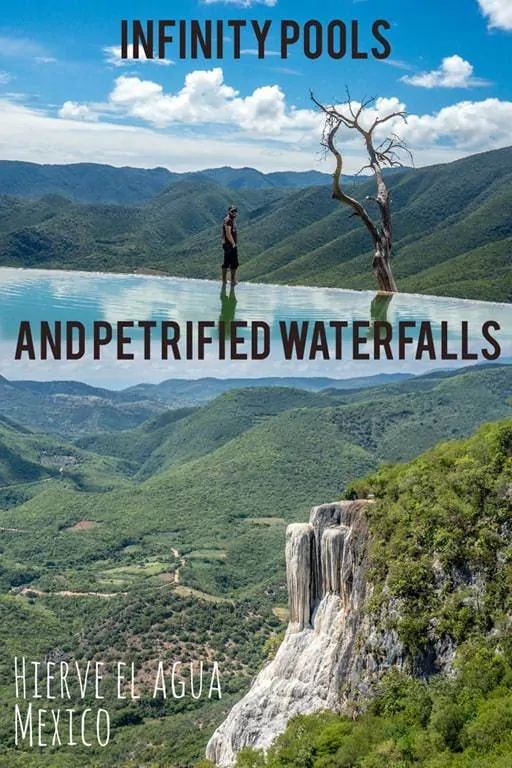 The following two tabs change content below.