This article may contain
affiliate links
. If you make a purchase through these links, I will earn a commission at no extra cost to you. Thanks!
Mexico City, the aptly named capital of Mexico, is a massive city with a dense population, which covers almost 575 square miles and has become an incredibly vibrant tourist destination. Art, history, culture, music, delicious food and friendly people all come together to make this an amazingly unique destination worth exploring. A city this big and dynamic is bound to hold an almost endless amount of interest for most visitors, but to get you started, I put together a few interesting Mexico City facts…
Have you thought about visiting Mexico City? It has a lot to offer travelers and tourists, and I'm almost certain you'll enjoy your stay (even if you aren't necessarily the big city type). From world-class museums to a dynamic food scene, there's so much to uncover here in Mexico City that you'd be hard-pressed to uncover it all in one lifetime…
Anyway, enough with the preamble, let's get on to these interesting Mexico City facts.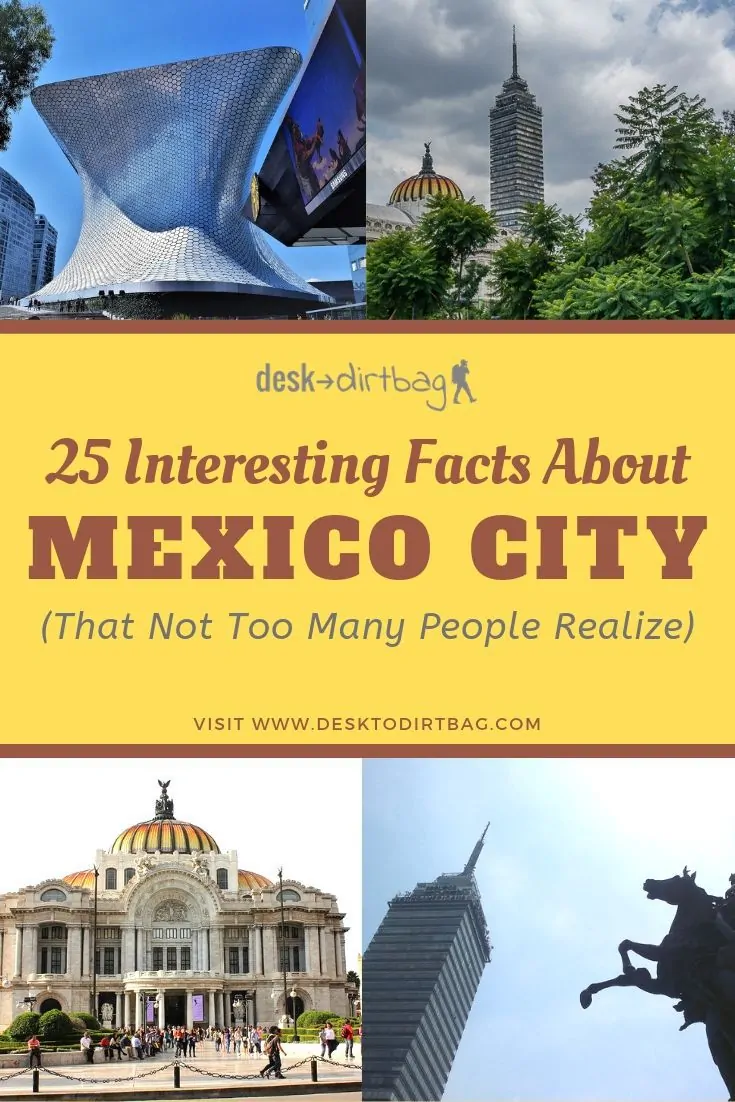 High Altitude
1. Located at an elevation ranging from 7,382 to 12,890 feet above sea level, Mexico City occupies almost the entire Lake Texcoco basin. The Aztecs built the city of Tenochtitlan on an island in the center of the lake, but after their victorious conquest, the Spanish drained the lake in an effort to control flooding. You can get an idea of what Mexico City was like before with a visit to the canals of Xochimilco (like a little Venice).
Sinking City
2. Because of its construction on a lake basin, Mexico City is constantly sinking slowly. Some areas of the city have dropped more than nine meters in the last 100 years.
Altitude Sickness
3. The elevation of Mexico City can make it challenging for visitors unaccustomed to the altitude when they first arrive. They may experience symptoms such as difficulty breathing and slight nausea. These symptoms typically go away within a day or two. It is important to take it easy and remember to keep hydrated.
A Big City
4. Mexico City is the largest Spanish-speaking city on earth as well as the largest metropolitan area in the western hemisphere with a population of over 21.2 million people (bigger than New York or Los Angeles). In just over 110 years, the city has grown by more than 20 million people, which is just crazy. Additionally, Mexico City is home to over 600,000 Americans, the largest concentrated group of Americans residing outside of the US.
Air Pollution
5. Most people know that Mexico City has had a problem with air pollution — worsened by the thinness of the air since the city sits at a high elevation. However, the Mexican government has undertaken considerable efforts to reduce the levels of air pollution in the area. Factories moved out of the city, and stricter regulations on vehicles — including prohibiting drivers from using cars one day out of the week — helped lower ozone levels in the city.
Subway System
6. To continue with the initiative to reduce air pollution, Mexico City has the cheapest subway system in the world, which is also the largest in Latin America. Up to 25 percent of the city's population uses the subway system at least once a day. The city also has a thriving rapid bus line and an extensive public bike share system available in a large part of the city. Honestly, it's better NOT to drive in Mexico City and just rely on public transportation.
Innovation
7. Mexico City won a prize at the 2013 City Climate Leadership Awards for global leadership in public policy for improving air quality. The Mexican government still focuses a lot of resources on reducing pollution and improving the air quality in Mexico City. Things aren't perfect, of course, but they are moving in the right direction.
Safety in Mexico City
8. Visiting Mexico City is very safe although, like most major cities, travelers should avoid certain areas for safety's sake. Unlike other regions of Mexico, there are no scary State Department travel advisories, warnings or restrictions for the city. In fact, Mexico City has a large and active police force, with a 1 to 100 police to civilian ratio, and roughly 11,000 security cameras in place throughout the city.
Most of the main tourist areas are completely safe, while some areas like Plaza de Las Tres Culturas and the Xochimilco canals should be avoided at night but are perfectly safe to visit during the day.
You can safely explore Mexico City without worry, although you may not want to stray too far off the beaten path unless you're an experienced traveler. If you're uncertain, ask a local. If you're worried, there are tons of locally-guided tours that can help you explore the city safely. Check out my picks for the top Mexico City tours here.
Mexico City Traffic
9. Traffic in Mexico City can get crazy – we actually were driving in Mexico City which was pretty intense. It's so bad that some very wealthy residents actually use helicopters to avoid traffic while traversing the city. If you keep your eyes peeled, you may even see them landing on rooftops.
About Guadalupe
10. Mexico City's Villa de Guadalupe is the world's second most visited Catholic sanctuary — topped only by the Vatican! Even if you aren't religious, it is still a great place to visit and gain an insight into the faith which the majority of Mexicans adhere to.
Amazing Butterflies
11. Love butterflies? You can check out the monarch butterfly migration during the summer. Every year millions of monarchs migrate to Mexico from the United States and Canada. You'll see some of them in Mexico City, but to see millions of monarchs in one place, plan a day trip to the Monarch Butterfly Biosphere Reserve, just a couple of hours from Mexico City to the west (near Toluca).
Most Museums
12. Mexico City boasts more museums than New York, Paris, and Madrid. In fact, the city features the most museums in the Americas and the second largest number of museums in the world, second only to London.
You can visit 186 officially recognized museums, as well as over 100 art galleries and 30 concert halls. You can also find a great many theatres — Mexico City has the world's fourth-highest number of them. If you love art, culture, food, or history, you'll be very content in Mexico City.
Check out our guide to the best museums in Mexico City, or our more in-depth guides to the National Museum of Anthropology Mexico or the Frida Kahlo Museum.
Huge Festivals
13. The city welcomes numerous music festivals and events, including an homage to the patron saint of musicians, St, Cecilia, every November starting in mariachi square and then descending onto Plaza Garibaldi. Due to its status as one of the epicenters of media, culture, and so forth, you'll also see tons of international musicians come through (whether famous in the United States or artists from other parts of Latin America) along with seemingly strange events like NFL games.
Archeological Wonder
14. If you love history and culture, enjoy Mexico City's nine archaeological sites and four UNESCO World Cultural Heritage sites — the UNAM Campus, Xochimilco, the architect Luis Barragan's home and studio and the Centro Histórico or the Historic Center of Mexico City.
Oldest University
15. The National Autonomous University of Mexico — or UNAM — is both the oldest and the largest university in the Americas, as well as the highest-ranked Spanish speaking University in the world. Most of Mexico's previous presidents attended UNAM.
Historic Center
16. The Centro Histórico is Latin America's largest historical city center. With 1,500 buildings of cultural, architectural, artistic and historical value, you could spend weeks exploring. There's more to the Centro Histórico, however.
It's also home to the largest metropolitan cathedral on the continent — the Metropolitan Cathedral of the Assumption of the Most Blessed Virgin Mary into Heavens — which houses two of the largest 18th-century organs in the Americas. And it is also home to the imposing Torre Latinoamericana which offers one of the best views of the city.
Read More: Guide to the Centro Historico of Mexico City
Rich Neighborhoods
17. You can also explore beautiful historic neighborhoods like San Angel or Coyoacan where significant artists like Frida Kahlo and Diego Rivera resided (be sure to visit the Frida Kahlo Museum, too). Stroll down the cobblestone streets, enjoy a coffee at the small cafes and soak in the traditional architecture. Exploring these historical neighborhoods provide an enjoyable alternative to the hustle and bustle of downtown Mexico City. Be sure not to miss my in-depth guide on where to stay in Mexico City, as well.
Amazing Entertainment
18. You can also enjoy what has been named the Best Venue in the World, the 10,000 seat National Auditorium, or visit Six Flags Mexico, the largest amusement park in Latin America. Additionally, if you like roller coasters, you can see several of the city center's La Feria Chapultepec Mágico amusement park coasters from various points across Mexico City.
About the Zocalo
19. Mexico City's central square, the Zocalo, is the second-largest city square on the planet at 11.5 acres. Every year, for Christmas, the city transforms the square into a giant ice-skating rink, with thousands of visitors every day.
A Palatial Place
20. Mexico City earned the nickname "the City of Palaces" because it has the most palaces on the continent. It is also the home one of the only true castles in the Americas, the Chapultepec Castle, which now serves as one of the city's 186 museums.
One of the Largest Parks
21. Chapultepec Park, one of the western hemisphere's largest city parks, provides Mexico City residents with a green space that is more than double the size of New York City's Central Park. They refer to Chapultepec Park as the "lungs" of Mexico City.
Largest Public Market
22. Mexico City's Central de Abasto is the world's largest public market, selling food and merchandise to roughly 30,000 people daily. Mexico conducts so much business here that the Central de Abasto helps set the prices and distribution patterns of many goods in the country. It is an almost indescribable place that is unique, colorful, and immense.
Bullfighting Ring
23. The Plaza de Toros México is the world's biggest bullring with seating for 41,262 people. Though dedicated to bullfighting many notable boxing matches have been fought here, and the venue has become a favorite spot for concerts and even motocross tour events.
Day of the Dead
24. The big Day of the Dead Parade in Mexico City is actually a recent phenomenon that was inspired by the James Bond film, Spectre, which featured a parade. Prior to that, there was no parade as seen in the film, but Mexico City decided to take advantage of the tourism opportunity and holds an annual Dia de Los Muertos parade along Paseo de la Reforma at the beginning of November.
Huge Tourism
25. Tourism is a big business for Mexico City! In 2018 13.5 million visitors stayed in hotels in the capital city, and over 2 million foreign visitors come to Mexico City annually. Sadly though, that number pales in comparison to the number of visitors that travel to places like Cancun, even though Mexico City offers infinitely more things to see and do.
More Interesting Mexico City Facts
In my opinion, very few cities rival the unique history, culture, and warm friendliness of Mexico City. Wherever you go, you're bound to be captivated by its lively streets, never be left wondering what to do, and its citizens will welcome you with a kind word and a warm smile.
Whether you visit for a day or stay awhile, you will love the vibrant spirit of the city and won't want to leave… At least I didn't! From art and architecture to concerts and sporting events, there's something for everybody in Mexico City, no matter what interests you.
Many people have a picture of Mexico in their head, and it usually doesn't include Mexico City and everything that the city encompasses, and its friendly residents have to offer. Hopefully, these interesting Mexico City facts that not many people know have helped you envision a much richer, truer image of Mexico City.
Read Next: Things to Know When Visiting Mexico City
Traveling to Mexico City soon? Book your lodging on Booking.com now to save. And don't forget to purchase travel insurance for Mexico that will help protect you against illness, injury, and theft. I use and recommend World Nomads for its combination of affordability and coverage.
Share This
Did you enjoy this post about interesting Mexico City facts? Take a second to share it on Pinterest, Facebook, or Twitter. Thanks!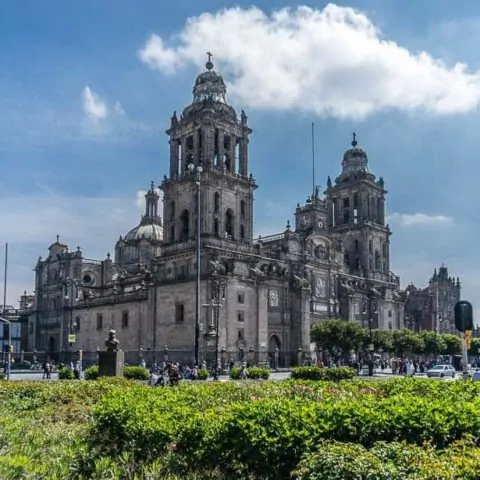 Mexico Travel Tips
Important tips and resources for planning an amazing trip to Mexico, based on my extensive experience traveling across the entire country.
Tools
Instructions
Book a cheap flight to Mexico with Momondo, or better yet, start travel hacking so you can fly for free.
Plan a rough itinerary and how long you will spend in each destination. Pick up Lonely Planet Mexico to help with this.
Work every day to teach yourself Spanish, you want to know as much as possible before you arrive.
Book your cheap accommodation in advance, at least for the first destinations -- For hostels use: Booking, for cheap hotels use: Hotels.com, for apartments use: Airbnb.
Reserve your on the ground tours and activities through Get Your Guide.
Purchase travel insurance for Mexico with World Nomads to protect yourself from illness, injury, and theft while in Mexico.
Check out my comprehensive guide about traveling to Mexico with information on cities, things to do, places to see, and more.
Learn more money saving tricks with my top budget travel tips if you want to get more bang for your buck.
Put together your Mexico packing list.
Enjoy this incredible country!
Notes
I hope this helped you plan your travels in Mexico! I know it can be a struggle to find accurate and on the ground information when traveling to a new place like Mexico, which is why I started writing so extensively about it!
If you have any questions about Mexico, budget travel, or anything else shoot me an email at ryan@desktodirtbag.com.
(I love getting questions! That is how I get ideas for my blog posts and what to write about!)
Recommended Products
As an Amazon Associate and member of other affiliate programs, I earn from qualifying purchases.
The following two tabs change content below.
Desk to Dirtbag is one of the leading budget adventure travel blogs online and is dedicated to helping its followers achieve their travel dreams through inspiration, information, and actionable steps. If you are new to the site, be sure to
Start Here
.
Latest posts by Desk to Dirtbag (see all)