Some articles on Desk to Dirtbag (and just what is a dirtbag, anyway?) contain affiliate links, meaning that if you make a purchase through these links, I may earn a small commission (at no extra cost to you!). Thank you for reading!
---
After our incredible day of snorkeling off the coast of Loreto we pushed on to La Paz, a few more hours to the south, so we could also do a little bit of reconnaissance about the ferry service to Mainland Mexico.
We found a cheap hotel in the suburbs for only 500 pesos per night.
Nothing special, but conveniently located beside a Mega supermarket and a movie theater.
The following day we pushed on to the tip of the Baja Peninsula to arrive in Cabo San Lucas… We'd just driven more than 1,000 miles through Mexico!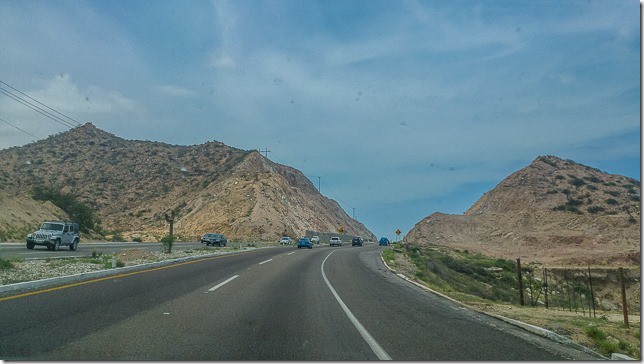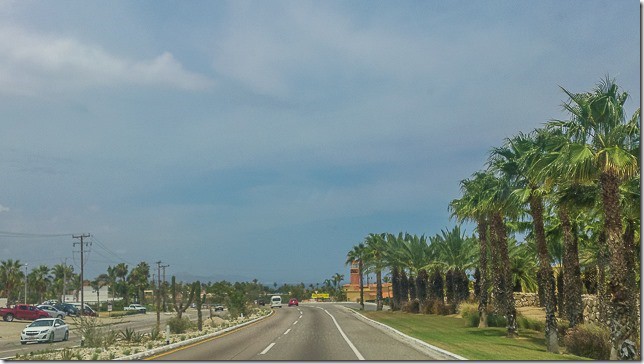 We decided that we were going to stay at the Hotel Santa Fe, since we enjoyed our stay so much with them in their Loreto hotel and since they had kitchenettes included.
Unfortunately, the Hotel Santa Fe in Cabo San Lucas was extremely difficult to find. The one way streets and road closures for road work downtown also caused numerous problems.
Mexican Cops
We found ourselves lost downtown in Cabo with swarms of police officers driving around with nothing to do in the daylight hours.
I accidentally turned down a vacant one-way street going the wrong way, but I quickly noticed the oncoming traffic a few blocks ahead and turned off down a side street.
A few seconds later I saw the lights flashing behind my truck… They got me.
My first run in with the infamously corrupt Mexican Police. The officer approached and introduced himself in a friendly manner.
I immediately apologized and started off by saying we were lost and confused—looking for the hotel we couldn't find. He was helpful and went on for a few minutes giving us detailed directions and then finished off by pivoting back to my infraction…
I tried to play the dumb tourist and made note that the streets aren't well marked. He mentioned how we could resolve the problem here and now (a bribe, seemingly) or go down to the judge to make my case, though the infraction would "certainly be more expensive" if he ruled against me.
In the end we said we didn't have much money on us right now and wanted to go to the office. The officer took my drivers license (he insisted it was either that or my license plate) and gave me directions for how to get there, but said he had to make another stop first.
I insisted that I would follow him, because I didn't want to let my license out of my sight. We sped off down the marina to pick up his colleague, and I continued following as we headed back toward the city.
I swear he was trying to lose me.
I finally get stuck at a red light as he sped off ahead.
I tried to catch up but there was no sign of the car, nor my license.
We saw a cop car on the opposite side of the median filling up with gas and figured we would have to ask them how to get to the police station. I pulled a u-turn and managed to catch them at the pump… Turns out it was the same cop who stole my license.
I waited in the truck behind his car until he finally approached and just said "let's not waste any more of your time, or mine," "give me 200 pesos or something and we can take care of this now…"
After the game we just played, we quickly forked over the money (200 pesos) just to get the license back and be done with it.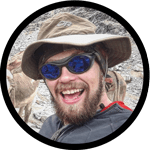 (Psst... Wanna know the "secret" to traveling forever or being free to do what you love? Here's how I did it, in five simple steps)
Welcome to Cabo San Lucas!
Hotel Santa Fe
We finally found the Santa Fe Hotel, situated right in the middle of a few closed one way streets that made it almost impossible to find. We parked the car and walked in to the reception.
As we walked back to the truck, I kid you not, Andrea looked down and found a 200 peso bill crumpled up on the ground!
God must have been smiling on us… We just forked over 200 pesos to that cop and got it right back! We were ecstatic.
The Hotel Santa Fe staff was kind enough to offer up a complimentary continental breakfast for all our trouble finding the place (and the run-in with the police), though we got a bunch of static trying to reclaim it the next morning from a different staff member who said they didn't make a note of the free breakfast.
Cabo San Lucas Nightlife
We spent two nights in Cabo San Lucas, including a night out at some of the famous bars and clubs—Cabo Wabo, Squid Roe, and La Vaquita.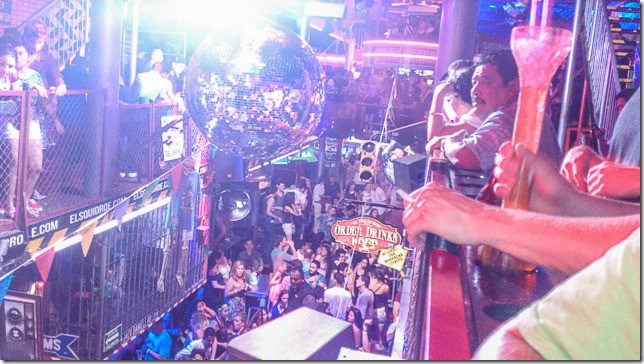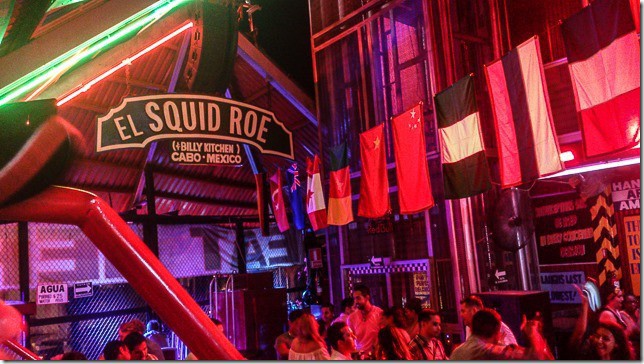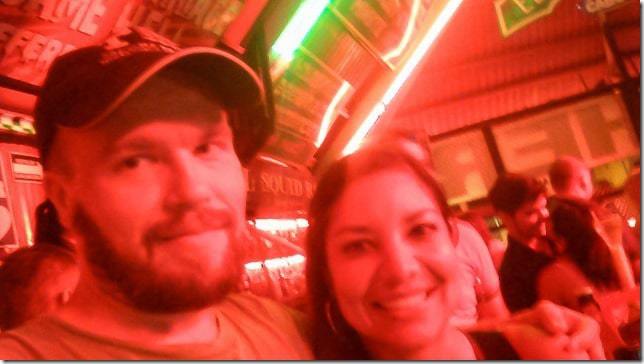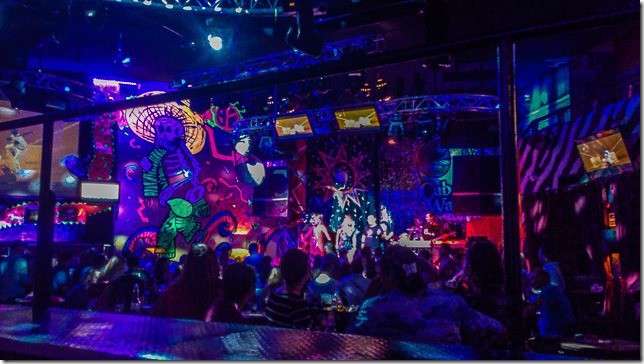 My one and only trip to Mexico was for a week-long trip in college, right here to Cabo.
Now I'm back… But this time we drove all the way to Cabo!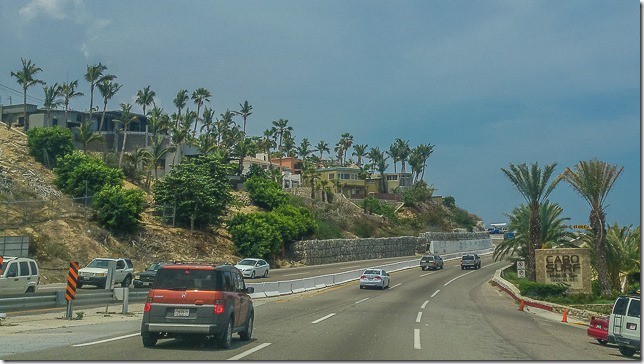 We finished off the cape by driving through to San Jose del Cabo and heading back up to La Paz via the gulf side.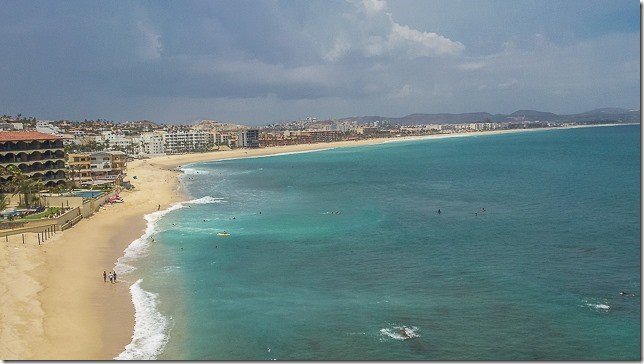 Be sure to stop in Los Barriles for another incredible beach in a sleepy little town.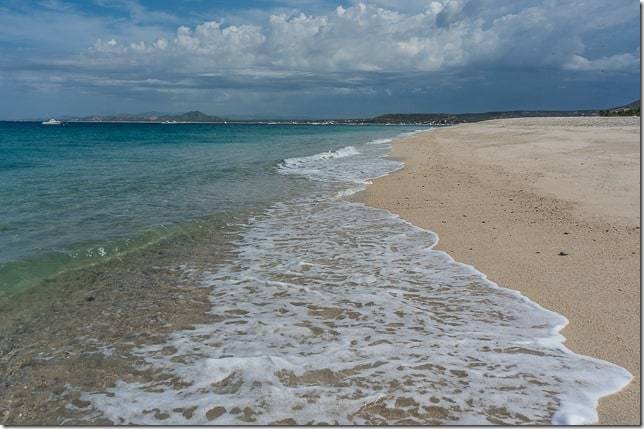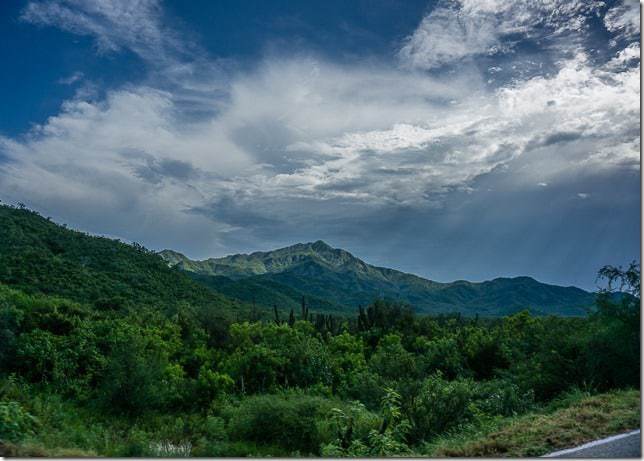 Traveling to Cabo San Lucas on your next trip? Book the perfect room on Booking.com today!
Mexico Travel Guide
Read Next: My Mexico Travel Guide, Tips, and Resources
The following two tabs change content below.