This article may contain
affiliate links
. If you make a purchase through these links, I will earn a commission at no extra cost to you. Thanks!
After leaving San Ignacio, Mexico you quickly return back to the coast for one of the most spectacular portions of the entire drive on the Baja Peninsula as you head toward Loreto, Mexico, which had to be one of our favorite parts of this Baja California road trip with beautiful roads and then capping off our stay by snorkeling in Loreto, Mexico!
The road to Loreto, Mexico is smack dab on the waterfront and winds around the rugged coastline.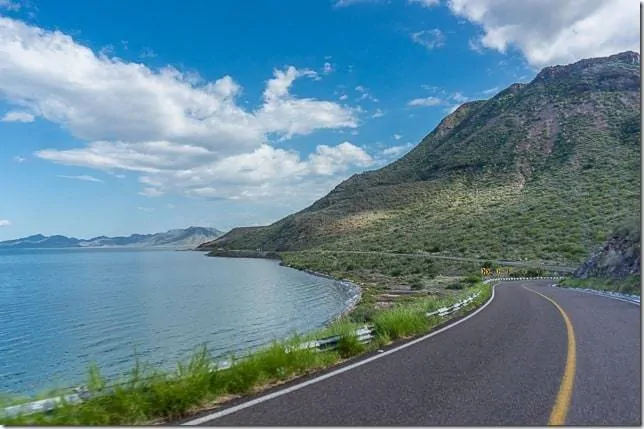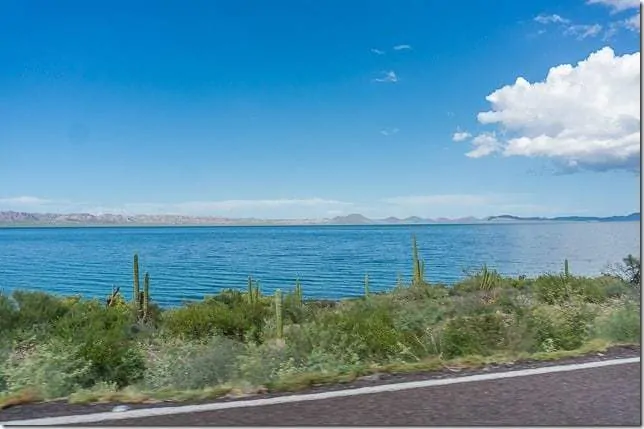 There are towering cactuses sitting right next to the sea—quite an impressive sight—and even vultures circling around.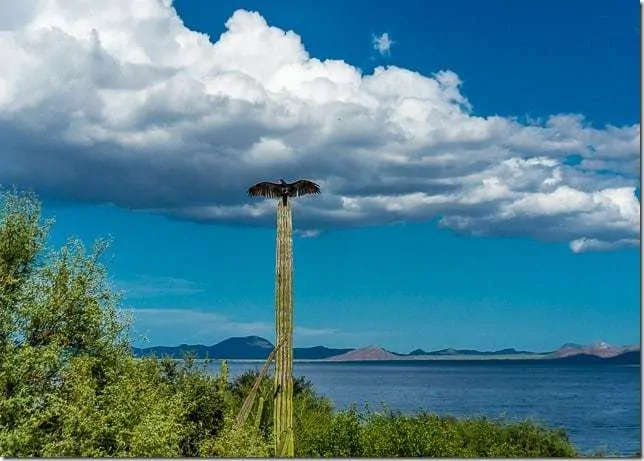 Arriving in Loreto, Mexico
After passing through Mulege there are a lot of beach-side palapas where you can camp. Unfortunately, we thought there would be more campsites closer to Loreto and we missed out on a really great place!
Instead, we arrived in Loreto somewhat late and began searching for the Riviera Del Mar RV Park… We did not have the GPS coordinates and also had no access to the internet at the time. We did loops around town and asked countless locals who had no clue where it was.
Thanks to a few signs we finally stumbled across the Loreto Shores RV Park which charges an exorbitant $26 per night to camp, and who were completely unwilling to negotiate on price. We left to continue searching for this other mystery RV park… With no luck.
As it was starting to get dark we switched to looking for a cheap hotel, but couldn't find one with parking. This was certainly one of the most frustrating nights of our road trip through Baja California.
We finally just opted to stay in the upscale Santa Fe Hotel for 998 pesos per night ($62). This was a splurge for us, for sure. But the Santa Fe Hotel turned out to be one of the nicest hotels we stayed at throughout the whole trip.
We splurged for two nights since it's no fun to arrive at 9 pm, pay for a nice hotel, and then leave at noon the next day.
The Santa Fe Loreto has kitchenettes included, so we were at least able to save a little money by cooking. They also have a lovely pool in the central courtyard.
We quite enjoyed the hotel and hanging out there, although it is a little far from the malecon in Loreto where you can go swimming in the crystal clear water, which is an absolute must-do in Loreto, Mexico!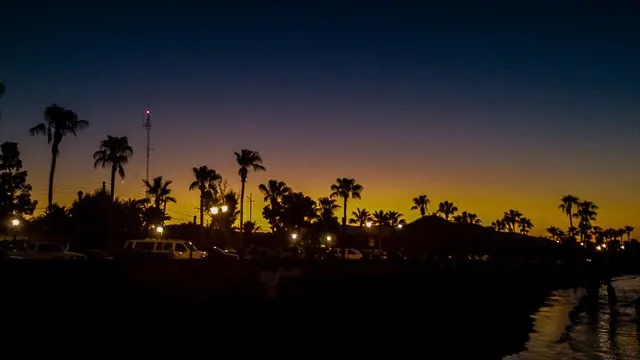 At the marina, you can also chat with the local tour operators and fishermen who offer activities like snorkeling and tours of Coronado Island.
We made arrangements with one friendly local to take a tour for 1,500 pesos for the both of us (about $100) for a four-hour tour. Snorkeling in Loreto, Mexico is definitely an amazing activity and something you should make time to do.
This guy was also kind enough to take us straight to Riviera Del Mar RV Park—which is somewhat hidden and hard to find—so we could save money on our third night in Loreto.
Snorkeling in Loreto, Mexico
The following morning we got up bright and early and walked down to the marina to meet up with our private guide Genaro. We boarded the little motorboat and set out directly for Coronado Island off the coast.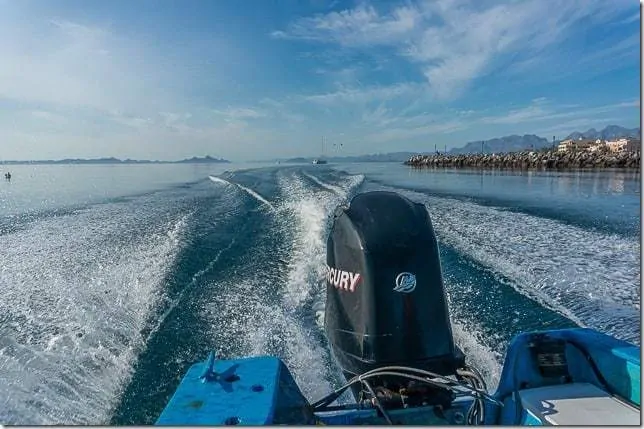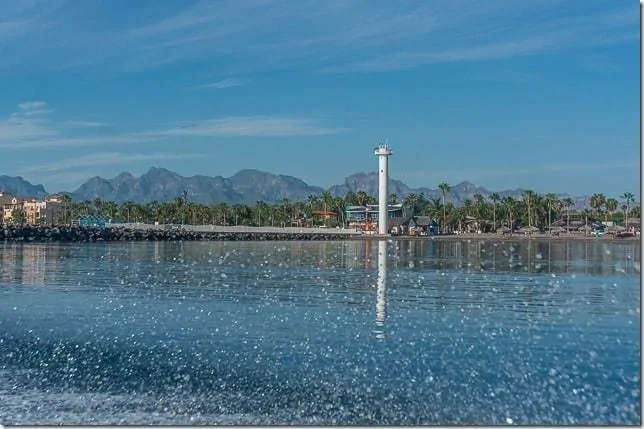 We started off motoring around the island looking at some of the wildlife like the blue-footed boobies (something like you'd see in the Galapagos) and seals.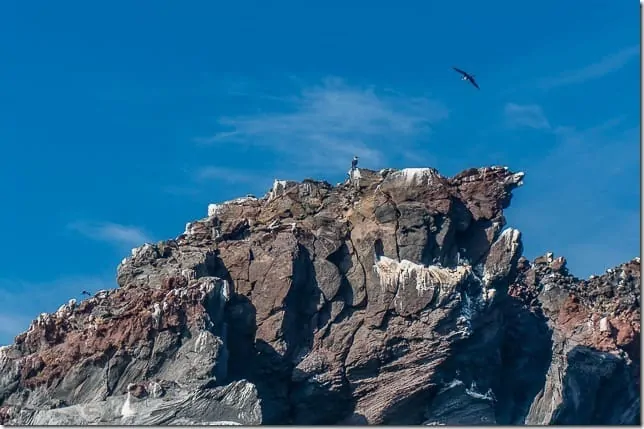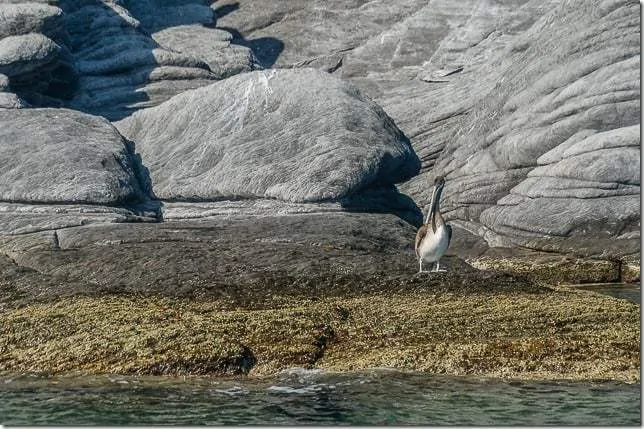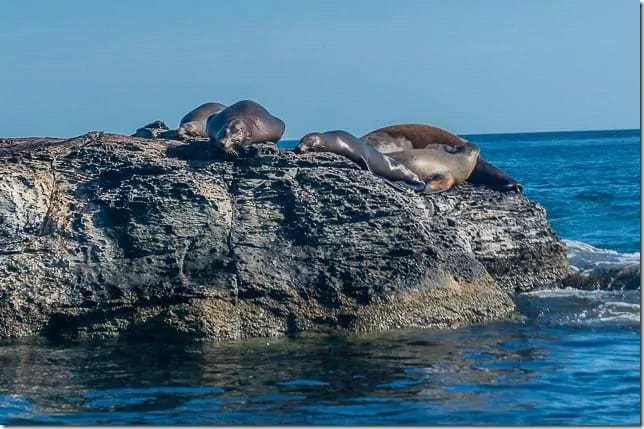 The main attraction, though never guaranteed, of course, is dolphins in the wild.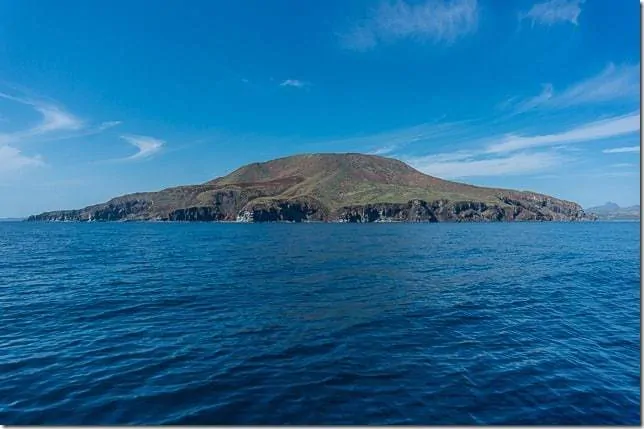 We circled around for quite some time, thinking that we wouldn't be lucky today, before we finally saw a pair of fins racing through the water.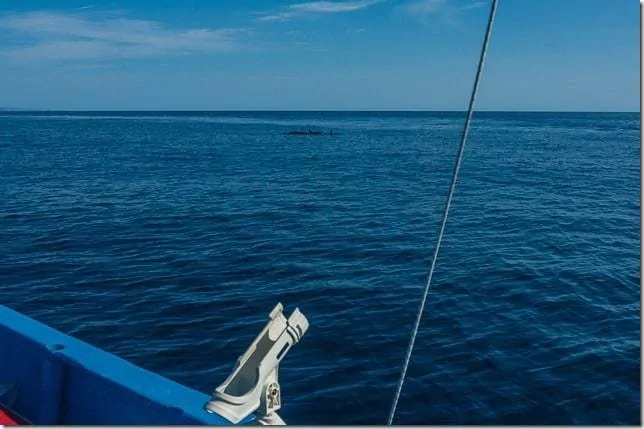 Genaro turned the boat and we followed behind the dolphins at a distance for some time, watching them surface as they hunted fish.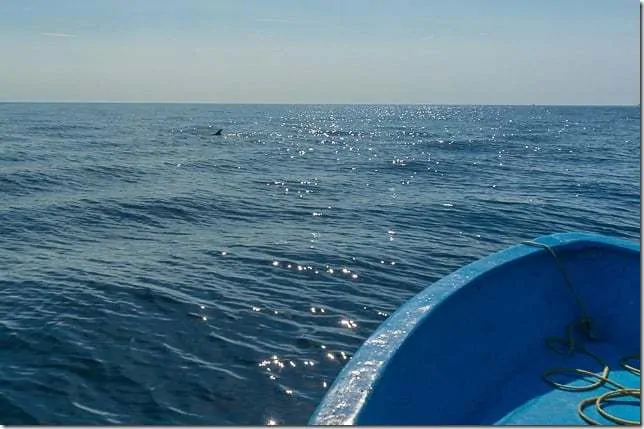 Pretty awesome to see dolphins in the wild!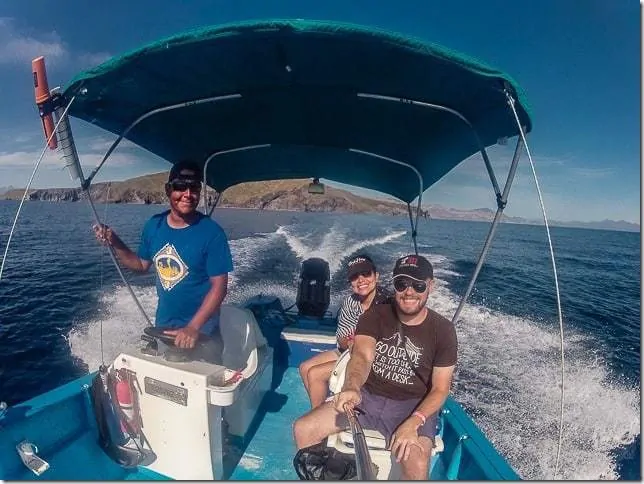 We then continued around Coronado Island to the opposite side where we saw a few small, sandy white beaches.
Genaro gave us the choice of the one with a little bit of shade and more of a crowd or one without shade and absolutely empty. We opted for a little bit of shade—it's scorching in July!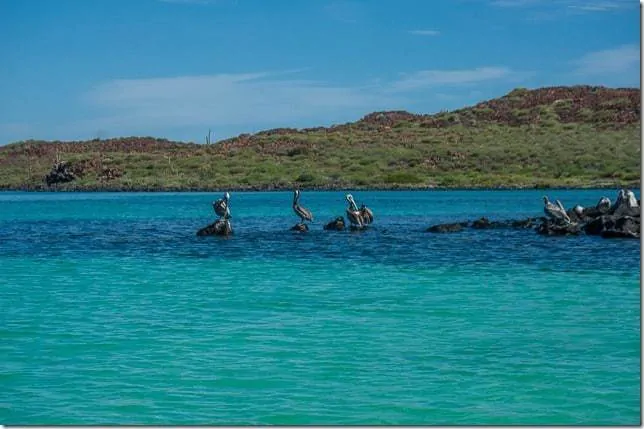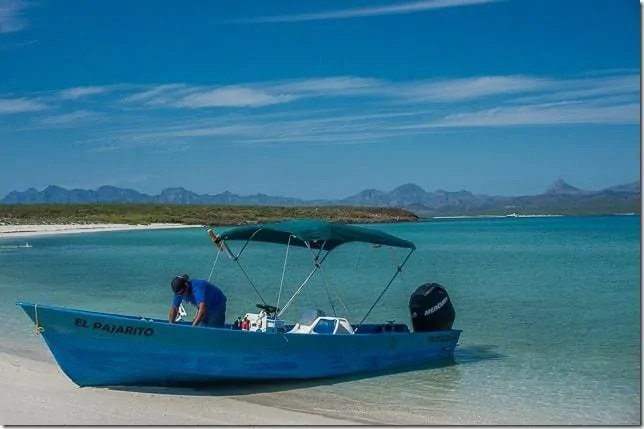 After parking the boat along the postcard-worthy beach, Genaro brought out the snorkel gear…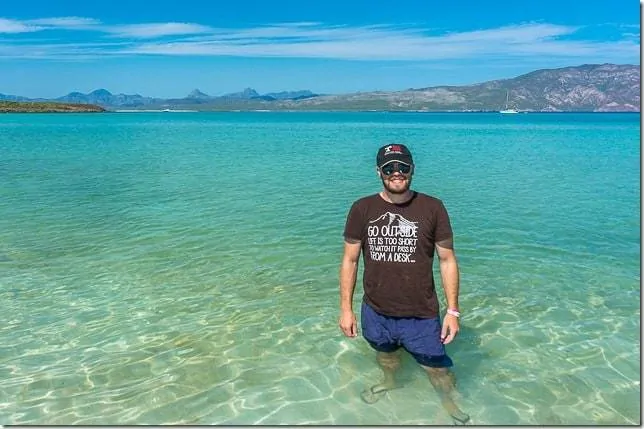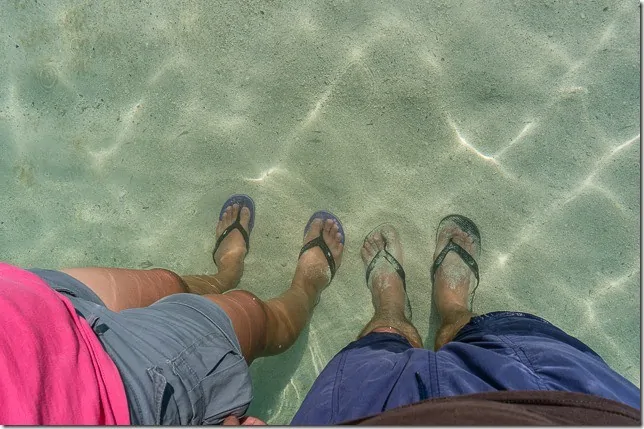 Neither Andrea or I had ever tried snorkeling before so it took some getting used to walking on the beach in those big ol' flippers and getting the mask situated just right so water wouldn't come in, and breathing through that tube.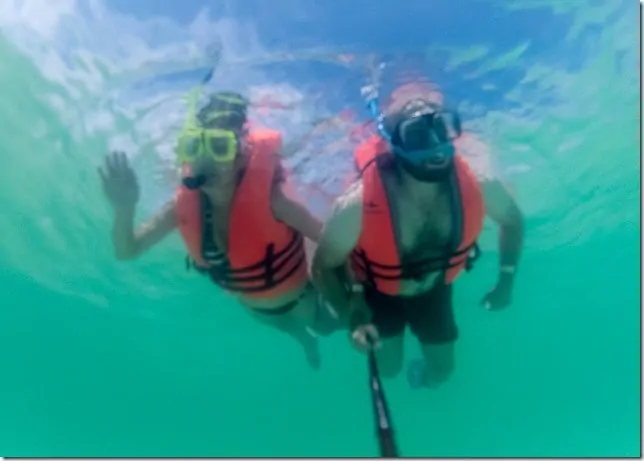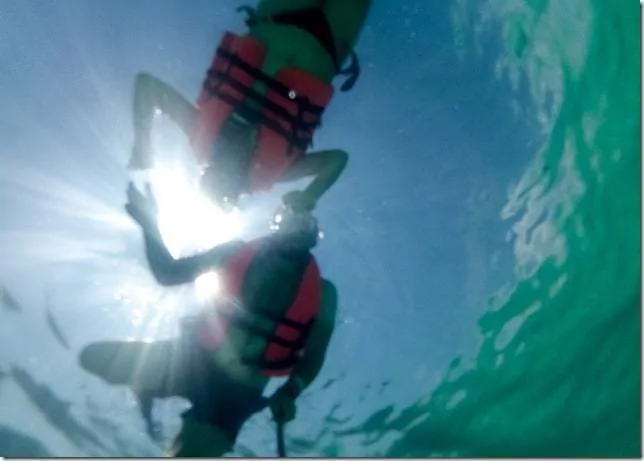 Snorkeling in Loreto, Mexico in the crystal blue water with all sorts of colorful fish surrounding you was one of the coolest experiences in Baja, without a doubt. We made a few laps in the shallow water looking at all the little fish (some of them nibble you) and enjoying the crystal clear water. I wish I had underwater photos that did it justice, but they all came out blurry.
After maxing out our time on the beach and snorkeling, our half-day tour had finally come to an end and it was time to head back to the mainland of Loreto. Concluding one of our most memorable and fun days during this early part of road tripping through Mexico.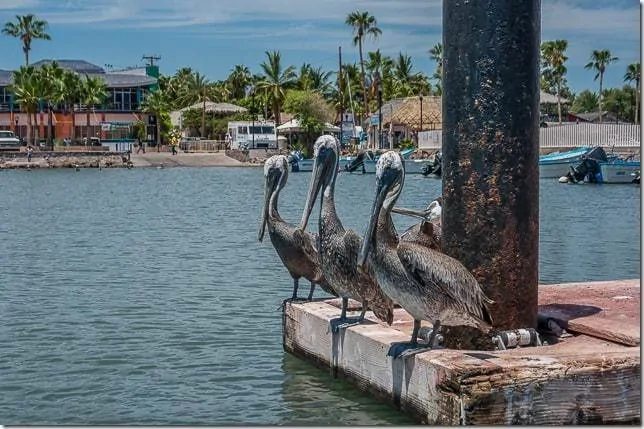 If you plan to travel through Baja California, you should make it a point to visit here because snorkeling in Loreto, Mexico and a tour to the lovely Coronado Island is an experience that you won't soon forget. While we went on to travel the length of Mexico and visit many more incredible places, our experiences here remain among the highlights of this amazing country.
Traveling to Loreto, Mexico on your next trip? Book your lodging on Booking.com now to save, or if you plan to stay longer, I highly recommend looking for a place on Airbnb. And don't forget to purchase travel insurance for Mexico that will help protect you against illness, injury, and theft. I use and recommend World Nomads for its combination of coverage and affordability.
Read Next: Guide to Traveling in Mexico
Share This
Did you enjoy this post about snorkeling in Loreto, Mexico? Please take a moment to share it on Facebook, Pinterest, or Twitter. Thanks!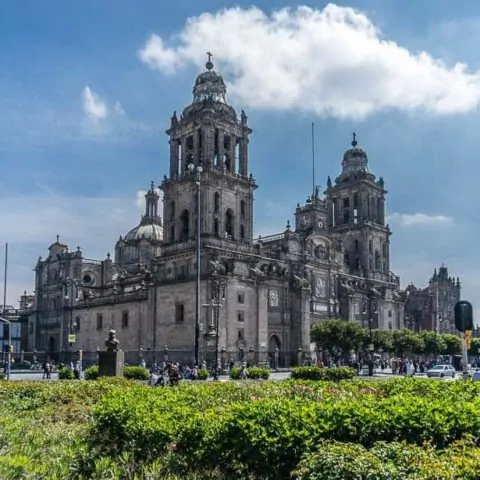 Mexico Travel Tips
Important tips and resources for planning an amazing trip to Mexico, based on my extensive experience traveling across the entire country.
Tools
Instructions
Book a cheap flight to Mexico with Momondo, or better yet, start travel hacking so you can fly for free.
Plan a rough itinerary and how long you will spend in each destination. Pick up Lonely Planet Mexico to help with this.
Work every day to teach yourself Spanish, you want to know as much as possible before you arrive.
Book your cheap accommodation in advance, at least for the first destinations -- For hostels use: Booking, for cheap hotels use: Hotels.com, for apartments use: Airbnb.
Reserve your on the ground tours and activities through Get Your Guide.
Purchase travel insurance for Mexico with World Nomads to protect yourself from illness, injury, and theft while in Mexico.
Check out my comprehensive guide about traveling to Mexico with information on cities, things to do, places to see, and more.
Learn more money saving tricks with my top budget travel tips if you want to get more bang for your buck.
Put together your Mexico packing list.
Enjoy this incredible country!
Notes
I hope this helped you plan your travels in Mexico! I know it can be a struggle to find accurate and on the ground information when traveling to a new place like Mexico, which is why I started writing so extensively about it!
If you have any questions about Mexico, budget travel, or anything else shoot me an email at ryan@desktodirtbag.com.
(I love getting questions! That is how I get ideas for my blog posts and what to write about!)
Recommended Products
As an Amazon Associate and member of other affiliate programs, I earn from qualifying purchases.
The following two tabs change content below.