Some articles on Desk to Dirtbag (and just what is a dirtbag, anyway?) contain affiliate links, meaning that if you make a purchase through these links, I may earn a small commission (at no extra cost to you!). Thank you for reading!
---
Following our three week house sit in the San Pedro Martir mountains, we set out once again heading south down the Baja Peninsula, more than 1,000 miles of awesome, winding roads.
San Quintin
Our first day on the road was just a quick jaunt down the road due to a late start, just south of San Quintin to camp on the beach in a palapa (a palm tree leaf shelter) at Fidel's Campground.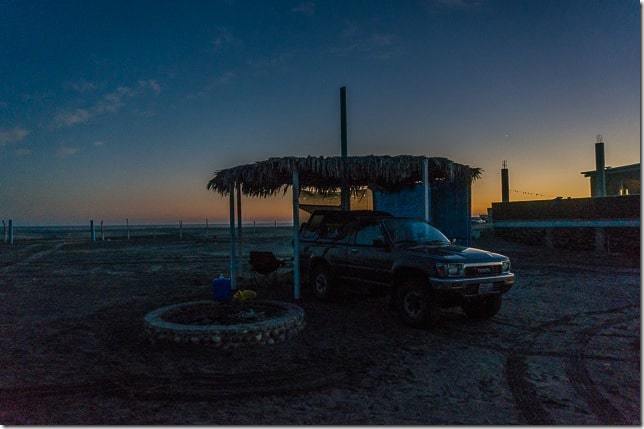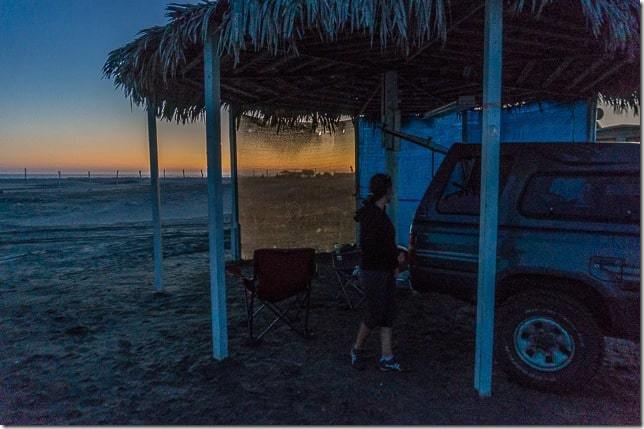 The palapa was large enough that we could back the truck right into the entrance. Very cool!
We lucked out with the weather in the northern portion of the peninsula… The days were relatively cool and overcast, with a nice breeze coming off the Pacific.
It felt more reminiscent of San Francisco than Los Angeles during our stay. Unfortunately that would soon be changing…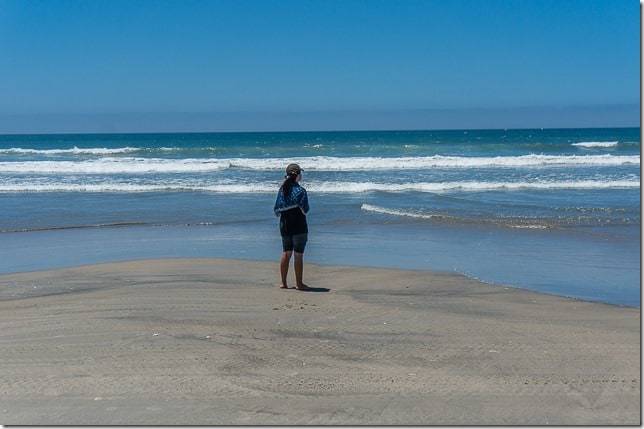 The Trans-Peninsula Highway weaves across the Baja Peninsula, from the Pacific side, to inland desert, to the gulf side, and then back again.
Valle de los Cirios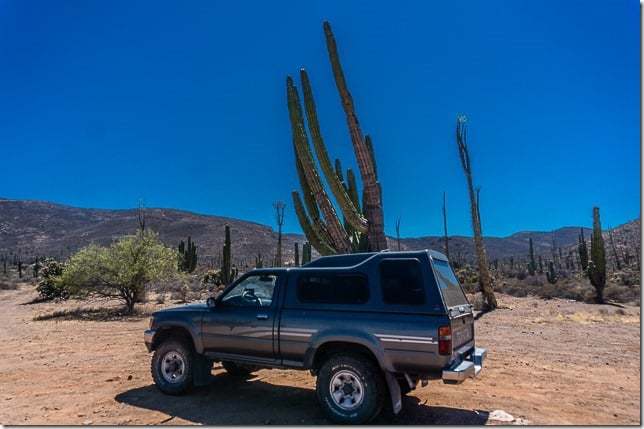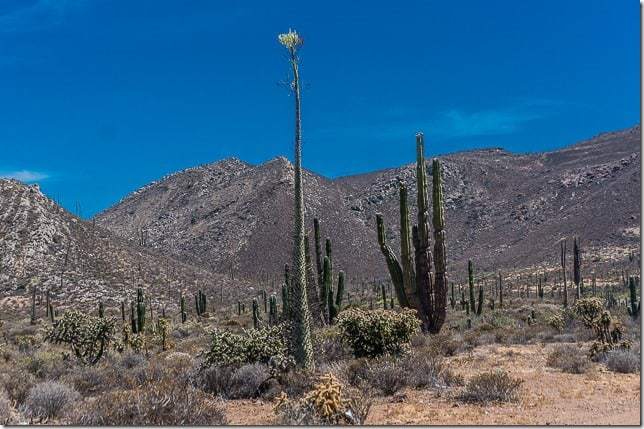 Following San Quintin, the route heads into the inland mountains, surrounded by cactuses and big boulders, in the protected area of Valle de los Cirios, a scene quite reminiscent of Joshua Tree.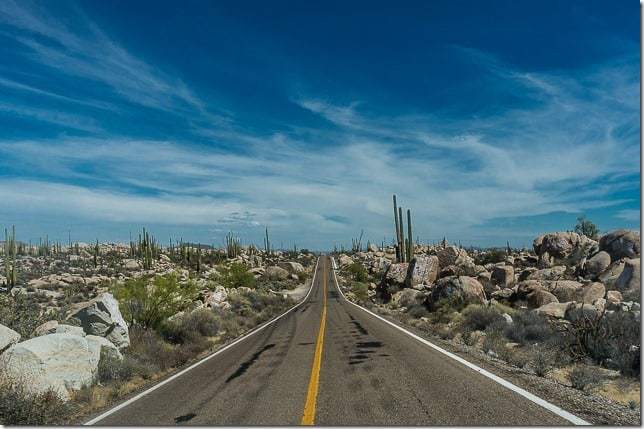 We were trying to limit our driving time to just a few hours per day and aimed for Bahia de los Angeles for the following night on the Gulf side.
We crossed from the scorching heat of the desert over a small hill where we caught our first glimpse of the Gulf and we were immediately slapped with the heavy humidity.
Baja basically has three micro climates—the Pacific side which tends to be fresher, cooler, windier; the Interior which is a dry, desert heat; and the Gulf side which is hot and really humid.
The Peninsula is quite narrow, but the differences can be quite dramatic from one part to the next.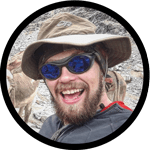 Wish you could travel more and more affordably? Click my face to grab a free guide and other resources that will show you can travel more affordably and find more freedom.
At the end of July this area is HOT.
We did the trip south basically in the reverse of what you should do… Starting in December or January. But what else could we do?
Just suffer through the heat and keep on keepin' on.
Bahia de los Angeles
Faced with the prospect of trying to sleep in the truck or tent in this heat and humidity we opted for out first night in a hotel. Daggett's Hotel is right on the water and cost 600 pesos ($40).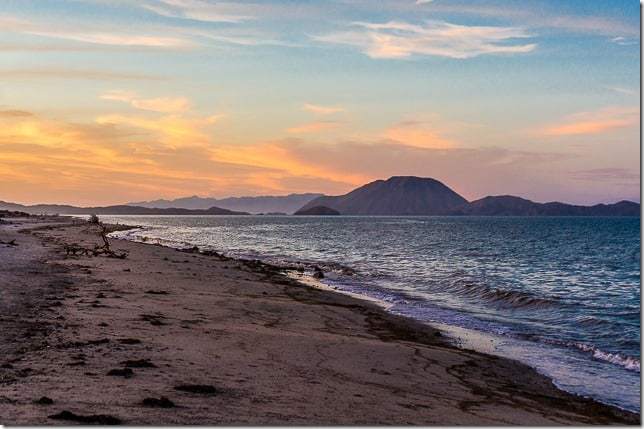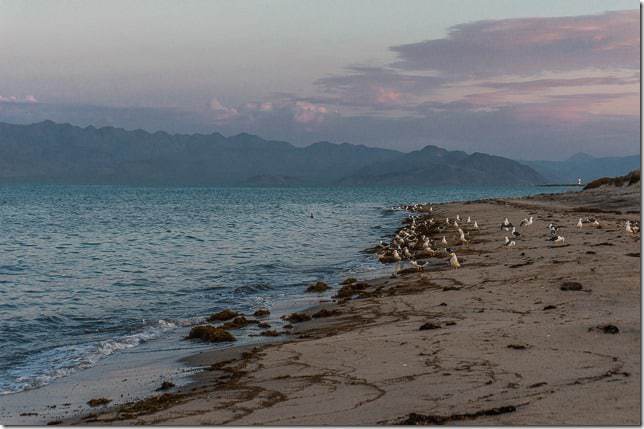 Bahia de los Angeles is a pretty quiet, dusty little pueblo with a rocky shore. There wasn't much to see in this area besides the bay and the beautiful islands that surround.
The following night we wound our way back inland and through the dusty town of Guerrero Negro. We hadn't had a good pizza in well over a month, so we decided to stop at a little cafe for a delicious slice.
They served up the pizza with some ranch sauce to dip it in, quite different.
We had heard there was good camping along Ojo de Liebre right outside of Guerrero Negro—unfortunately after heading down a long dirt road, we came across a small caseta and a gate across the road. We honked the horn and hung around for a minute but no one was around.
San Ignacio
We turned around and headed toward the town of San Ignacio, where I had seen other places to camp on iOverlander.com, to try and arrive before dark.
We found ourselves at the rustic, no frills Don Chon Campground with a few locals camped along the banks as well. We ran into a very friendly couple originally from Guadalajara, but now living in Tijuana who were here on vacation with their two girls. They would offer us delicious refresco and ice, and were regularly checking on us.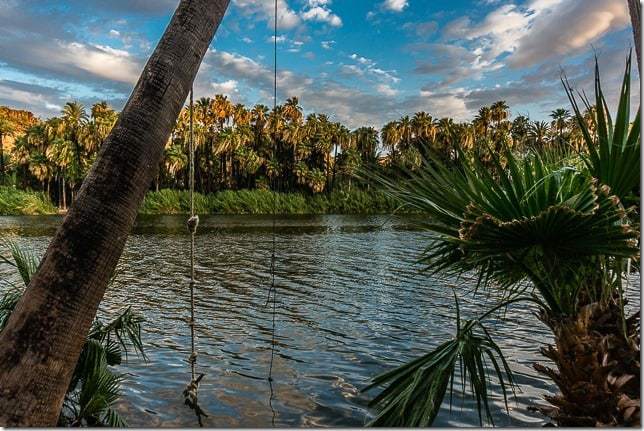 Traveling to Baja California on your next trip? Book the perfect room on Booking.com today!
Mexico Travel Guide
Read Next: My Mexico Travel Guide, Tips, and Resources
The following two tabs change content below.