This article may contain
affiliate links
. If you make a purchase through these links, I will earn a commission at no extra cost to you. Thanks!
After a long night with little sleep on the ferry across the Gulf of California, we had arrived in Los Mochis, Mexico, our first stop in Mainland Mexico after a few long, fun weeks exploring the incredible Baja California.
It was 9 am as we finally disembarked the ferry boat between Baja and Mainland Mexico. I was tired from having barely slept on the boat and it was already hot and humid at this early morning hour. We weren't in the best of moods after an arduous journey, and the local Mexican police were about to make things worse.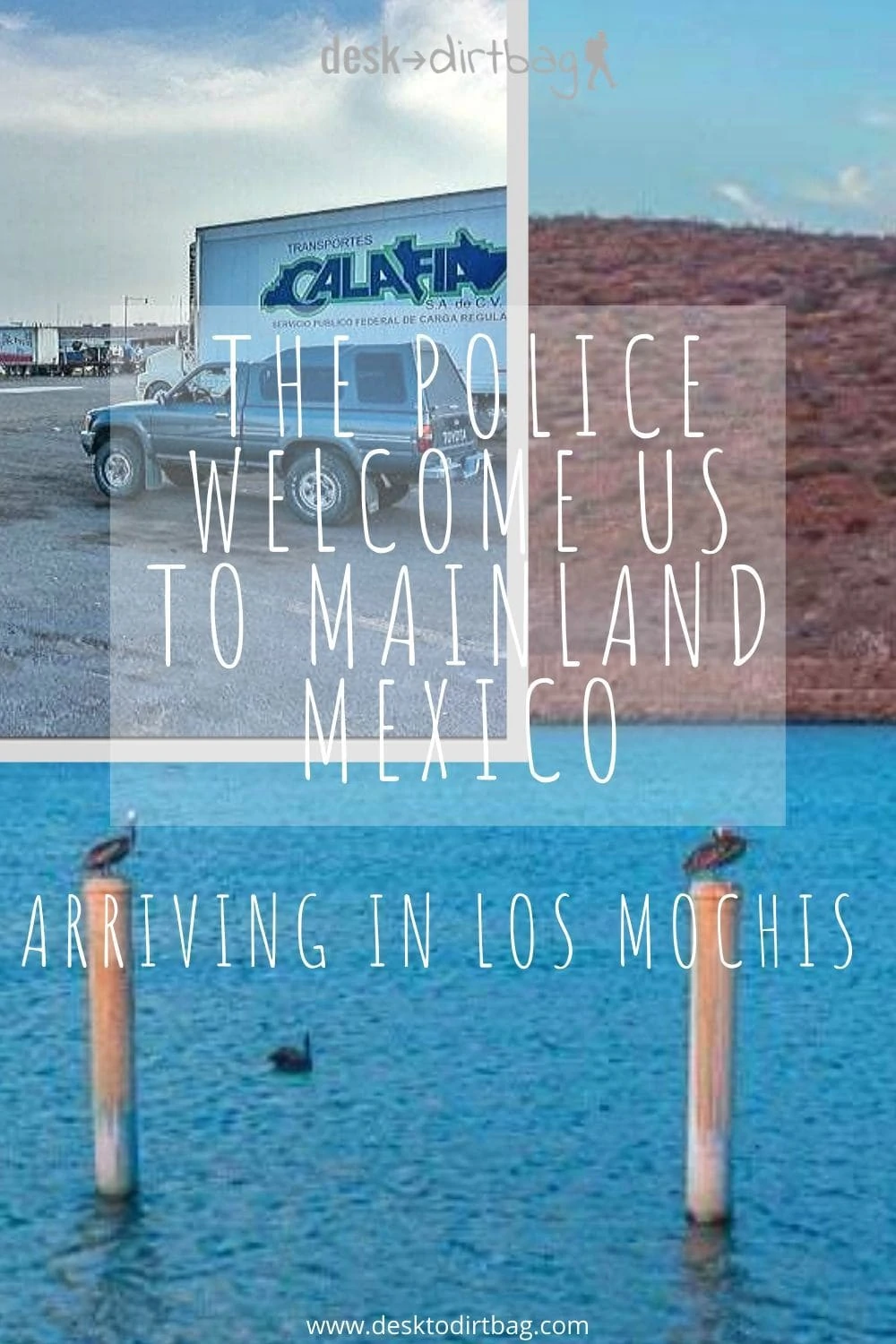 Los Mochis, Mexico
Here we were in Topolobampo, the port town just outside of Los Mochis in the state of Sinaloa, Mexico.
Sinaloa is perhaps most famous perhaps for the Sinaloa Cartel which is responsible for the bulk of the drug smuggling into the United States, untold violence throughout the region, and is considered "the most powerful drug trafficking organization in the world". Fun!
El Chapo, the Mexican Pablo Escobar, who had been in the news so much lately following his escape from prison, is the head of the Sinaloa Cartel… And here we were in Sinaloa.
Welcome to Mexico!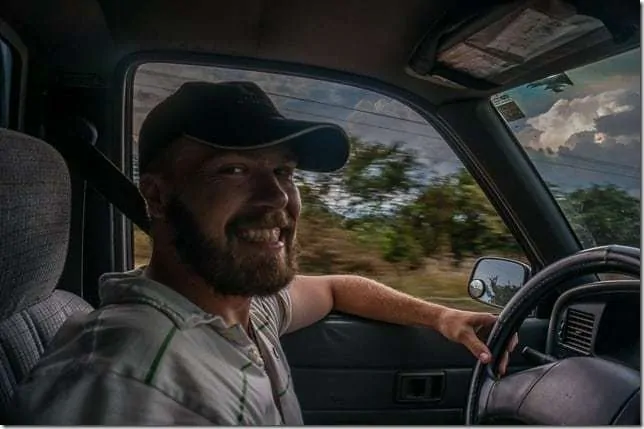 Despite the little sleep and overall tired feeling, we wanted to push on to Mazatlan that same day, both because there isn't much to do in Los Mochis, Mexico and because we wanted to get to a slightly more touristy area within the state of Sinaloa (there are definitely a ton of things to do in Mazatlan).
Yeah, Los Mochis, Mexico is mostly a bunch of urban sprawl in a hot and humid wasteland. Beyond the cartel, it is most famous for being the point of departure or arrival for El Chepe, the train that will take you into the heart of Mexico's Copper Canyon. That is actually one of the best things to do in Northern Mexico and perhaps the only real reason to visit Los Mochis, Mexico. But that wasn't on the agenda for us this time around. We had a timeline for arriving to Mexico City and we needed to push down the coast toward Mazatlan.
Unfortunately, Mazatlan was about another 4-hour drive down the road.
More Fun with Mexican Police in Los Mochis, Mexico
As we were rounding out of Los Mochis, Mexicos and about to hop on the freeway, we passed a cop car on the side of the road so I made sure to drive plenty slow and extra careful.
They pulled me over anyway, because what else is there to do here?
After our experience with the cops in Cabo San Lucas and a general crankiness from the ferry crossing, lack of sleep, and still without breakfast yet, I was immediately pretty evasive and combative with them.
I asked why they pulled me over before I would comply with any of their requests (for my license and paperwork), to which they said that they pullover all foreign plated vehicles, which I'm sure is true, to make sure they have the temporary import permit (that little decal sticker we had to get in Baja), which I doubt is true.
Nevermind the fact, that I wouldn't have been able to cross the Gulf of California and board the ferry without it, but nevertheless, I pointed out the sticker to them a few times and kept telling them that was all they needed to see.
They insisted on seeing my drivers license as well, that it was part of the normal process.
I really didn't want to (thanks to the cop that stole my license in Cabo) but finally relented when they wouldn't budge.
I still wouldn't hand the license over to them though and kept it in my hand as I held it out the window. The officer gave it a cursory look and glanced at his partner who gave him the nod.
We were free to go!
Another half an hour down the road we pulled off in the little town of Gausave to try and find something to eat. I was starving at this point.
As we entered the town, guess what, another set of lights flashing behind me… I was getting pulled over again! Twice within 30 minutes of one another.
This time it was Transit Police and not the Municipal Police as had been my last two experiences (and which are notoriously the most corrupt).
The young guy was very informal and relaxed. I followed the same procedure—insist on knowing the infraction first (none) and then complying with any document requests. He said he was pulling me over just to make sure everything was okay with our permit and everything was going fine for us.
He looked at my driver's license and asked me about Washington, and then said that we hate Mexicans up there…
"Como asi?" I was taken aback and told him no.
Later on, I came to the conclusion that he was confusing Washington (State) for Washington D.C. and the politicians, specifically Donald Trump who has been in the news so often lately taking bad about Mexico and the Mexican people.
Thanks, Trump! Your actions impact Americans south of the border as well.
The officer ended up giving us directions to a few restaurants where we could grab something to eat and let us on our way.
But after getting pulled over twice in less than an hour for literally doing nothing more than driving with a foreign plate, we were now on high alert for all the cop cars we passed. It became somewhat stressful. Perhaps I was overly cautious and serious in our interactions with these police today, but that's what happens when you have such a negative first experience and encounter corrupt police like what happened in Cabo San Lucas.
First Tacos in Mainland Mexico
By now it was almost noon and we could still find no place to eat breakfast. We ended up just sitting out at an open-air taco joint on the side of the road for our first tacos (delicious cabeza de res) in Mainland Mexico. Delicious!
It felt like we were a long way from home—even though we were actually just a short drive from the border with Arizona.
Nonetheless, we were committed to doing a house sit in Mexico City in a few weeks, so we were on our way.
We pushed on through the long morning though and made it to Mazatlan, where we could settle in, rest, and recover. And enjoy a few of the many things to do in Mazatlan — one of Mexico's top destinations on the Pacific Coast.
As I mentioned in my other article about the ferry crossing, there is really no reason to come to Los Mochis, unless you're doing the train journey, so your best bet would be to take the ferry straight to Mazatlan. The stretch between Los Mochis, Mexico and Culiacan is a notoriously lawless part of Sinoloa and not particularly safe. Be on high alert through this area and stick to the toll roads.
Traveling to Mazatlan on your next trip? Book the perfect room on Booking.com today! Also, be sure to read more about why you need travel insurance for Mexico. I recommend World Nomads to protect yourself against illness, injury, and theft thanks to its combination of coverage and affordability.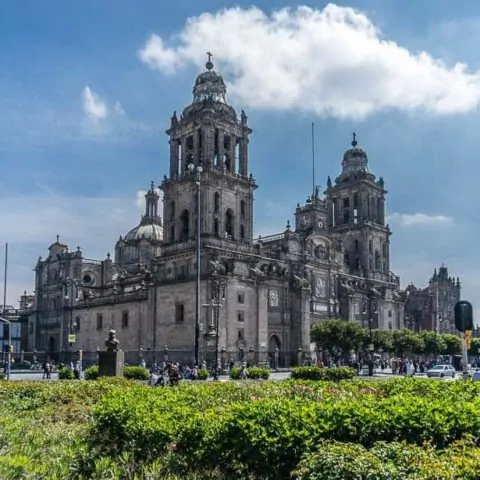 Mexico Travel Tips
Important tips and resources for planning an amazing trip to Mexico, based on my extensive experience traveling across the entire country.
Tools
Instructions
Book a cheap flight to Mexico with Momondo, or better yet, start travel hacking so you can fly for free.
Plan a rough itinerary and how long you will spend in each destination. Pick up Lonely Planet Mexico to help with this.
Work every day to teach yourself Spanish, you want to know as much as possible before you arrive.
Book your cheap accommodation in advance, at least for the first destinations -- For hostels use: Booking, for cheap hotels use: Hotels.com, for apartments use: Airbnb.
Reserve your on the ground tours and activities through Get Your Guide.
Purchase travel insurance for Mexico with World Nomads to protect yourself from illness, injury, and theft while in Mexico.
Check out my comprehensive guide about traveling to Mexico with information on cities, things to do, places to see, and more.
Learn more money saving tricks with my top budget travel tips if you want to get more bang for your buck.
Put together your Mexico packing list.
Enjoy this incredible country!
Notes
I hope this helped you plan your travels in Mexico! I know it can be a struggle to find accurate and on the ground information when traveling to a new place like Mexico, which is why I started writing so extensively about it!
If you have any questions about Mexico, budget travel, or anything else shoot me an email at ryan@desktodirtbag.com.
(I love getting questions! That is how I get ideas for my blog posts and what to write about!)
Recommended Products
As an Amazon Associate and member of other affiliate programs, I earn from qualifying purchases.
The following two tabs change content below.