This article may contain
affiliate links
. If you make a purchase through these links, I will earn a commission at no extra cost to you. Thanks!
If you're heading to La Paz, Bolivia, congratulations. You are about to embark on a trip to one of South America's most interesting cities. This underrated destination is among my absolute favorite destinations on the continent. To make the most of your time in this high altitude city, these are my thoughts on the best things to do in La Paz Bolivia.
La Paz was our next stop after Copacabana and Lake Titicaca on our road trip through South America, and we decided to spend a good deal of time here in La Paz after a few weeks of hectic go-go-go in Peru. We weren't really sure what to expect in La Paz or Bolivia in general. One tends to only hear about the Salar de Uyuni and nothing else, but we actually ended up loving our time in La Paz, so much so that we stayed in two different areas to get some more time here.
Facts About La Paz Bolivia
First, a few quick facts about La Paz Bolivia to help you better understand this sometimes chaotic, crazy, but entirely unique city in the high Antiplano.
La Paz isn't actually the capital city, though it is considered to be the de facto capital. The "real" capital is Sucre, Bolivia which is the official and judicial capital of the country, while La Paz is where the Executive and Legislative branches are held.
La Paz also isn't the largest city in the country, which belongs to Santa Cruz de la Sierra. El Alto (the city on the bluffs above La Paz) is actually larger than La Paz itself.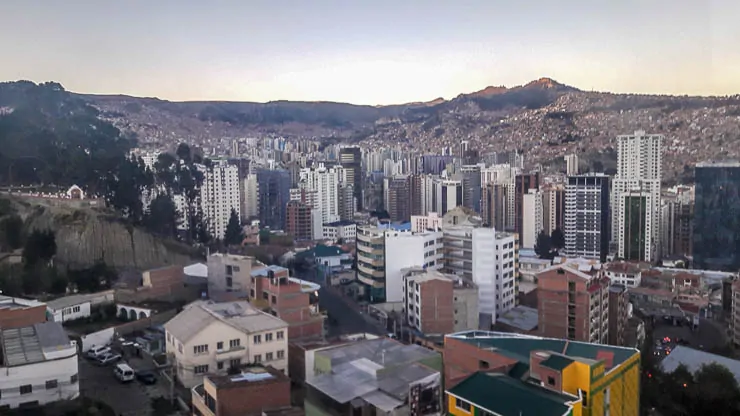 The city sits above 3,500 meters (11,482 feet) – with El Alto another 600 meters or 2,000 feet above THAT – so there is a serious risk of altitude sickness if you will be arriving from sea level directly to La Paz by plane. We had the fortune of being able to slowly acclimatize in the highlands of Peru before arriving here.
Anyway, those are just a few random facts about La Paz Bolivia which will give you some more context to this fascinating and fun city. Let's get on with the top things to do in La Paz Bolivia.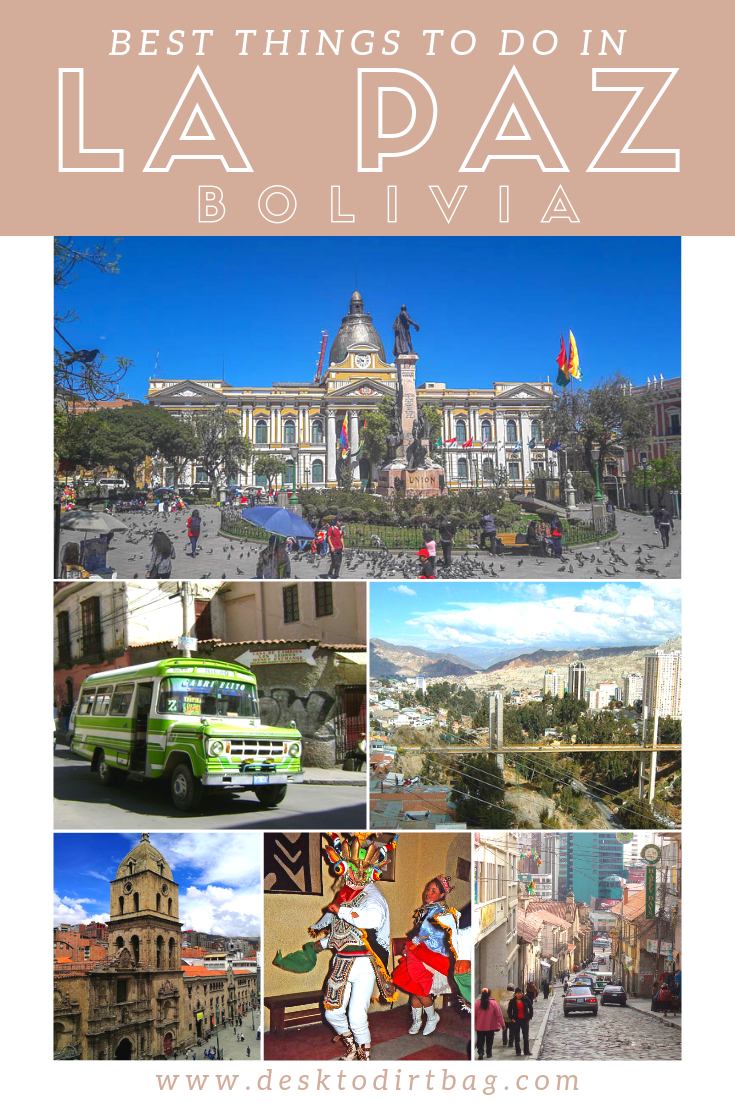 Investigate the Mercado de las Brujas
Are you looking get your witchcraft on? Check out Mercado de las Brujas aka the Witches Market. This marketplace takes up only a small portion of La Paz's tourist area, but it's an excellent place to visit if you want to explore the roots of Bolivian culture and see some super interesting stuff.
Here, you'll find ancient Aymaran beliefs still in practice. There are potions, spells, and plants for sale purporting to help you with myriad issues. You can even get spiritual advice from vendors and gurus. The mysticism and whimsy of this market is a must-see for anyone interested in the supernatural, even for the non-believers like me.
Bolivia is one country in South America that is most connected to its indigenous roots, even more so than Peru, so it can be a fascinating experience to learn about some of these practices and beliefs.
Visit the San Francisco Basilica
Those interested in the colonial era of Bolivia should spend time exploring the San Francisco Plaza, not too far from the Witches Market. Its namesake church features a blend of indigenous and European influences and offers a peek into the defining moments in Bolivia's history.
Take a tour of the monastery and church to learn more about the history of this 18th-Century church and the intersection of Catholic and indigenous cultures.
You can also get the chance to visit the rooftop, where you'll find panoramic views of the city, and get an up-close look at some of the buildings' finer details. History buffs will not want to miss this interesting landmark in La Paz Bolivia.
See Cholita Wrestling
Do you love wacky and irreverent entertainment? If so, then you can't miss Cholita Wrestling. This bizarre, Bolivian version of professional wrestling showcases strong Bolivian women dressed in traditional clothes as they duke it out for supremacy in the ring.
This celebration of the indigenous Aymaran culture features iconic fashion and feisty characters who fight against the scourge of racism and oppression. These staged battles are all about the entertainment factor. There's plenty of action, but quite a bit of humor, too. Between the vibrant costumes and bombastic tricks, it all makes for a captivating performance that you won't soon forget.
These shows happen up in El Alto, which you can get to by cable car, or you can book a tour to see the Cholita wrestling to help you get around with a guide.
Shop Calle Sagarnaga
Calle Sagarnaga is one of La Paz's most famous streets. This is the tourist capital of the city. It's a buzzing area located slightly south of San Francisco Church. Along these narrow cobblestone streets, you'll find cafes, souvenir stalls, and clothing vendors to help you spend your Bolivianos.
Want to learn a Bolivian musical instrument? You can pick up one here. Need some warmer clothes for these cold nights in the highlands of Bolivia? They've got alpaca sweaters and blankets. All sorts of stuff, truly.
There are also hostels where you can sleep for cheap, and tour companies to help you plan your day or excursions from La Paz (including cheap trips to the Salar de Uyuni). It can be kitschy, but it is the perfect place to embrace your tourist status and pick up a few tokens to remember your trip by.
My favorite kind of souvenir is something that is also useful in my normal life, like a warm sweater, maybe a hat, or just a cool t-shirt. You can find all of that and more here in Calle Sagarnaga.
The Real Downtown of La Paz
The area stretching along Sagarnaga and west of San Francisco can feel a bit too kitschy and touristy at times, so if you're looking to see a little more of the "real" La Paz, then turn around and head west. You'll run into the true downtown core of La Paz surrounding Plaza Murillo.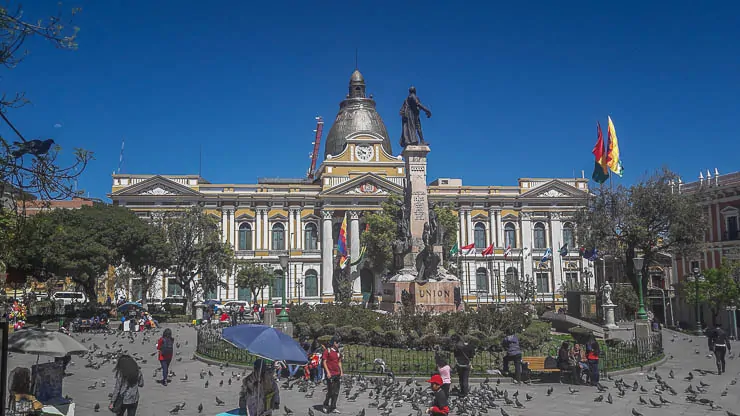 Here is where you'll find locals hanging out in the Plaza in front of the Cathedral, along with numerous government buildings, churches, museums, and more.
Don't miss on visiting Calle Jaen, which is one of La Paz's most beautifully preserved colonial streets with colorful houses tucked into a narrow passageway.
One of the best ways to experience downtown La Paz is through a walking tour where you can cover all these sites and more in just a few hours time. Along the way, you'll learn about the history of La Paz and Bolivia and gain lots of insight into the local culture. Plus they'll touch on some things we didn't discuss here like the infamous San Pedro Prison tours.
Check out HanaqPacha Walking Tours for a great tour.
Watch Futbol in Bolivia
South America has such a rich history when it comes to soccer or futbol. Scores of people live and die with their favorite team throughout the year, and that's no different in Bolivia. To get a real sense of what it's like to be a Bolivian soccer fan, grab tickets to see an El Clasico match at Estadio Hernando Siles just east of downtown.
An El Clasico match features two local rivals, The Strongest and Bolivar, which makes for a thrillingly intense atmosphere. If you're not a soccer fan after experiencing this, you need to check your pulse.
Take Time for Tea at Los Qnapes
Dinner time comes late in Bolivia. Most full-on restaurants don't open until after 6 pm at the very earliest. That makes afternoon tea an essential part of the Bolivian lifestyle. There's no better place to experience this for yourself than at Los Qnapes.
This cafe opens earlier and makes all manner of interesting Bolivian snacks. Here you can enjoy classic bites like sonzo (a sweet cheese and pastry), empanadas (meat pastries) and masaco, which combines mashed plantains with jerky. The one specialty here you must try is called cuñapes. It's a cheese pastry made with yucca dough. Talk about the ultimate gluten-free snack!
Los Qnapes is located in the heart of San Miguel, one of Zona Sur's coolest neighborhoods, for sure. While we were staying in Achumani, we frequently walked over to San Miguel to explore the lovely pedestrian streets filled with cafes and restaurants.
Escape to High Altitude in the Bolivian Andes
Bolivia is home to a number of incredible snow-capped peaks, the vast majority of which are within easy striking distance of La Paz. Indeed, seeing the gleaming white peaks of the majestic Cordillera Real above the city was part of what made me love this place.
Huayna Potosi is Bolivia's most frequently climbed peak and is also considered one of the easiest 6,000-meter peaks in the world. Just shy of 20,000 feet, it still isn't a peak that you want to underestimate and despite how locals advertise it, it probably isn't the best mountain for total beginners.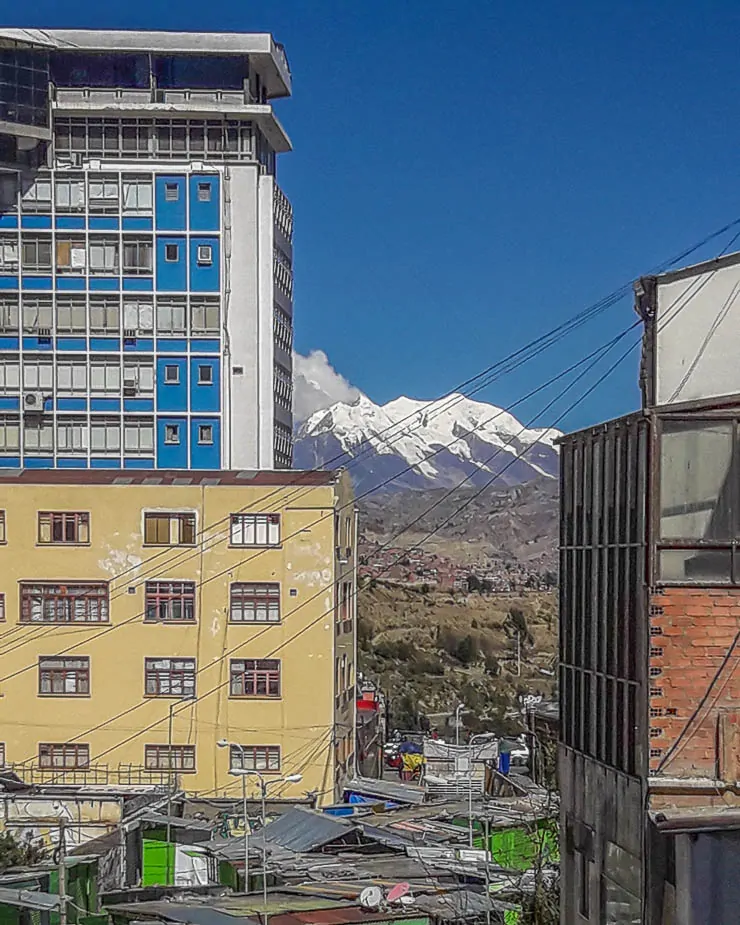 For something a little different, you could try riding the (new) highest ski slope on the planet. You can find it in the Bolivian Andes, which surround La Paz. Make the trek up to Charquini, which is a glacier with incredible views of the city and powder at 5400 meters. It's an amazing trip for any snow enthusiast– even beginners can enjoy parts of this massive slope.
Bolivia was home to the highest ski resort on earth, Chacaltaya Ski Resort, at nearly 17,785 feet (higher than Mount Everest Base Camp) which had both a lift and rope tow. Due to climate change, however, the glacier retreated with unprecedented speed. Now you can see the mostly abandoned ski resort and see firsthand how climate change is impacting the world.
Glaciers are retreating faster here than anywhere else on earth and that poses some serious complications for many communities in Bolivia who rely on snowmelt as their water source.
Ride the Teleférico
La Paz is home to one of the most interesting public transportation systems in the world. It's called the teleférico, a system of colorful cable cars that ride over and across the city. Not only is it an efficient way to get around, but it also provides spectacular views of La Paz and its surrounding area.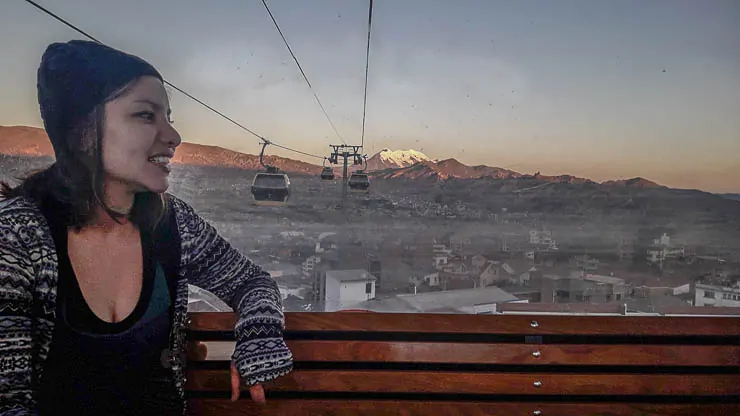 Teleférico Pro Tip: take the red line to the very top. There, you'll be able to check out mountains like Illimani, Huayna Potosi and the Cordillera Real at large in a whole new way. The view from the top of the yellow line, Qhana Pata Mirador, is also incredible, plus you could ride the new silver line which runs across the top of El Alto.
This transportation system has revolutionized travel for many local Bolivians, allowing them to get to places in 10 minutes that used to take an hour or longer. La Paz continues work on expanding the Mi Teleferico system and has plans to add more lines in the near future.
A one-way ride costs less than 50 cents and will get you around town and provide excellent views. Win-win!
Take Your Golf Game to New Heights
Those who fancy a round of 18 holes will want to check out what is billed as "the highest golf course in the world." La Paz Golf Club sits nearly 11,000 feet above sea level, which makes it totally unique.
Sixty American dollars can buy you a round of golf here on a weekday– a value you'd be hard-pressed to find elsewhere.
My only golf game is of the miniature variety, but as a mountain climber, I dig all of these "highest [insert activity here]" that La Paz has to offer, haha.
Cycle Bolivia's Death Road
True adrenaline junkies need to get on their bikes and take a trip on Yungas Road, more commonly known as Bolivia's Death Road. This is perhaps Bolivia's second most commonly known tourist attraction beyond the famous Salar de Uyuni.
This thrilling bike path runs alongside one of Earth's most "dangerous" roads. A bike tour here isn't really dangerous since the whole "death" road had more to do with the time when this narrow road was the main road for cars and trucks (which is no longer the case).
Cycling here allows you to see some of the most amazing sights the country has to offer and get some exercise, while also ensuring that the proper safety precautions are taken. A bike ride here climbs to over 15,000 feet before gradually descending into the humid rainforest town of Coroico.
Zip Lining in La Paz
Not far from the Death Road, you'll find another cool adrenaline-boosting activity. If you're ready to soar up among the trees, you have to make plans to go zip lining in La Paz. One of the country's biggest and best ziplines is called Zzip the Flying Fox.
This zipline operates every day, taking travelers speeding over the valleys and through the forests of the Yungas region of the Amazon. This 1,500-meter trip is certainly daring, but importantly, it is also safe.
This is a great activity to combine with the Death Road, but unless you're a zipline fanatic, you probably wouldn't want to go out of your way just for this.
Enjoy Incredible Dining in La Paz
South America is home to many cities with fantastic food like Lima, Buenos Aires, or Santiago, but La Paz isn't usually at the top of the list (or even on the list at all, for that matter). But here in La Paz, you can find all kinds of incredible cuisines, from Indian to German to Lebanese, or even a good ol' hamburger.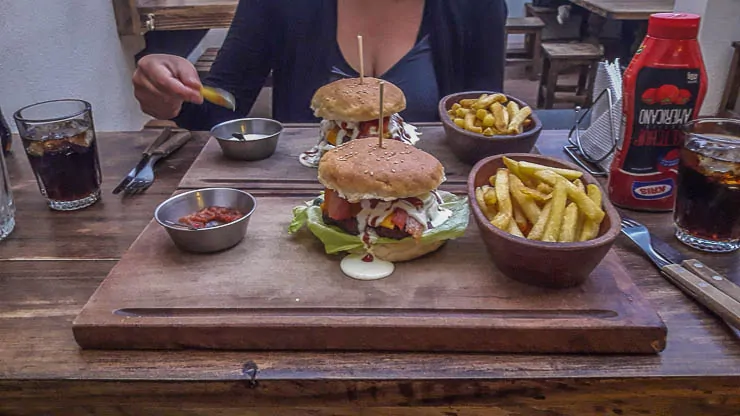 Local eats are equally awesome, with plenty of restaurants and food trucks offering a delicious bite of Bolivian culture, whether you're looking for delicious Saltenas, a hearty Pique Macho, or some Anticuchos.
But for a truly gourmet experience, make a reservation at Gustu. This modern, Bolivian-inspired restaurant features a tasty menu filled with small plates and unconventional flavors.
Each dish can be paired with a unique drink, which takes this dining experience to a whole new level. This upscale restaurant is a true bargain and can be found in the equally fancy Zona Sur.
Survey the Landscape at Mirador Killi Killi
Before your time in La Paz is through, make the trip up to the Killi Killi lookout point, known as el mirador. This is found just north of the center of the city, which makes it an ideal place to appreciate the grandeur of La Paz as a whole.
You can reach it with just a half-hour walk uphill from Plaza Murillo. Once you reach the top, you will see why the trek was worth it. This scenic viewpoint provides breathtaking views of this incredible city, and the photos you snap will help your memories from La Paz last a lifetime.
Walk on the Moon at Valle de la Luna
At the southern terminus of the city, past the Zona Sur, is an alien landscape known as the Valley of the Moon. This isn't really a valley at all, but more of a badlands, full of bizarre rock formations, unique colors, and wild geological formations.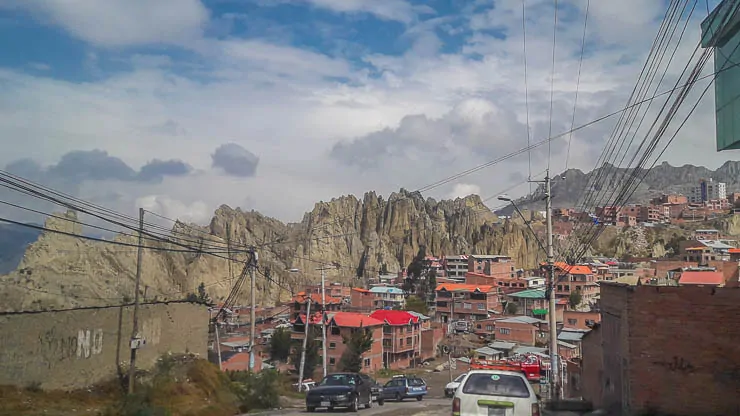 The place is definitely cool and can be explored relatively quickly. Be sure to hike out to Devil's Point at the end of the longer track where you'll find the "best" view. Entrance to the Moon Valley only costs a couple of bucks and you can reach it easily by bus or taxi.
Explore the Neighborhood of Sopocachi
Sopocachi was the second neighborhood we stayed in during our lengthy-time exploring La Paz, and it stands out as my personal favorite.
Sopocachi is basically the hip and bohemian neighborhood of La Paz, filled with tons of cool restaurants, bars, and cafes.
It was fun to just hang out in Plaza Avaroa or wander through the streets discovering some cool new restaurants to check out. For a decent coffee and pretty good food, don't miss out on Alexander Coffee right off of the main plaza.
Even More Things to Do in La Paz Bolivia
Honestly, La Paz is a city full of surprises, from delicious dining in upscale areas to incredible hole in the wall places, it is a city so unique in the geography, history, culture, and more. We found ourselves loving La Paz much more than we thought we would, which was a theme that we found play itself on repeat throughout Bolivia's cities.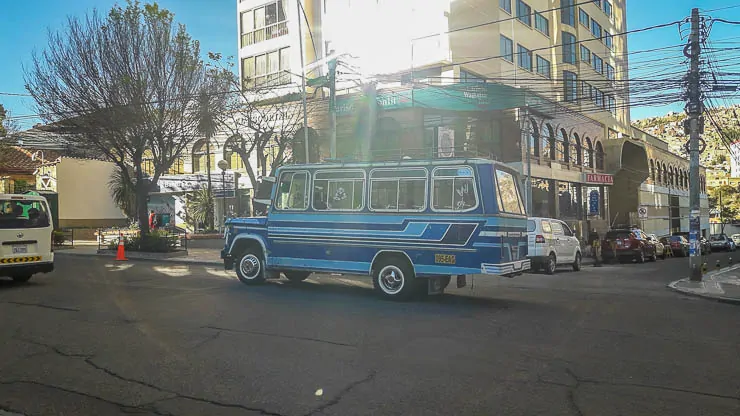 Of course, what we covered here is only scratching the surface of all the things to do in La Paz Bolivia, so you'll have plenty to fill a few days here or even a few weeks like we did.
Traveling to La Paz Bolivia soon? Book your lodging on Booking.com now to save, or if you plan to stay longer, I highly recommend looking for a place on Airbnb. And don't forget to purchase international travel insurance that will help protect you against illness, injury, and theft. I use and recommend World Nomads for its combination of coverage and affordability.
Read Next: Guide to Traveling to South America
Share This
Did you enjoy this post about the best things to do in La Paz Bolivia? Take a second to share it on Pinterest, Facebook, or Twitter. Thanks!
The following two tabs change content below.
Desk to Dirtbag is one of the leading budget adventure travel blogs online and is dedicated to helping its followers achieve their travel dreams through inspiration, information, and actionable steps. If you are new to the site, be sure to
Start Here
.
Latest posts by Desk to Dirtbag (see all)