This article may contain
affiliate links
. If you make a purchase through these links, I will earn a commission at no extra cost to you. Thanks!
Chile is one of the most unique and mesmerizing on the continent, and if you're coming here, you'll almost undoubtedly be passing through the capital of Santiago. While big cities aren't the main draw when traveling to Chile, I think you'll be pleasantly surprised here because there are a lot of fun and interesting things to do in Santiago, Chile.
Chile is one of my absolute favorite countries in South America and is a great introduction to the continent for those who haven't traveled much in Latin America, in my opinion, particularly for those who love nature. Spanning almost 4,000 miles along the coast of South America (and yet just averaging 110 miles wide), you better believe that there is a LOT to see here and so many amazing places to visit in Chile — and we haven't even mentioned the wine yet.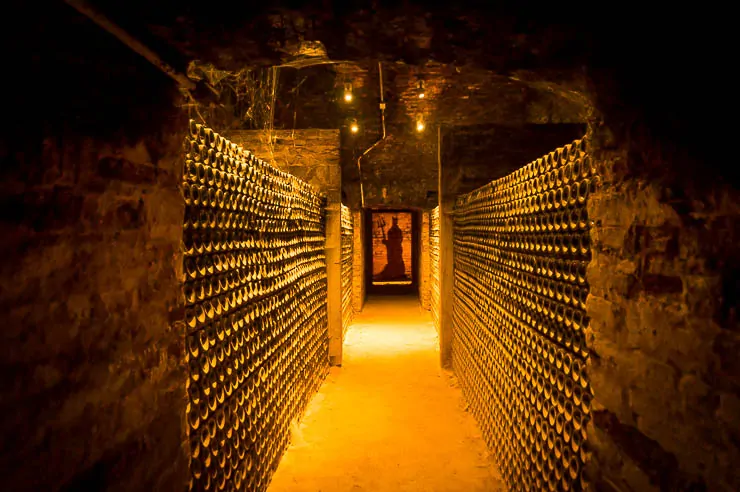 If you haven't been to Chile before, I'd highly recommend staying for at least a few days to explore its capital, Santiago. This is a city that offers the perfect blend of old-world traditions, modern amenities, and breathtaking scenery close by. Nestled right between the Andes mountains and the Pacific Ocean, Santiago is almost a country unto itself.
Santiago is also the natural jumping-off point if you want to visit gritty Valparaiso, the upscale Viña del Mar, or jaunt over the Andes to explore the incredible town of Mendoza, Argentina. It's a long trek, but most people coming here will probably be pulled down to the Lakes District or to Chilean Patagonia, which is probably the single best region of the country.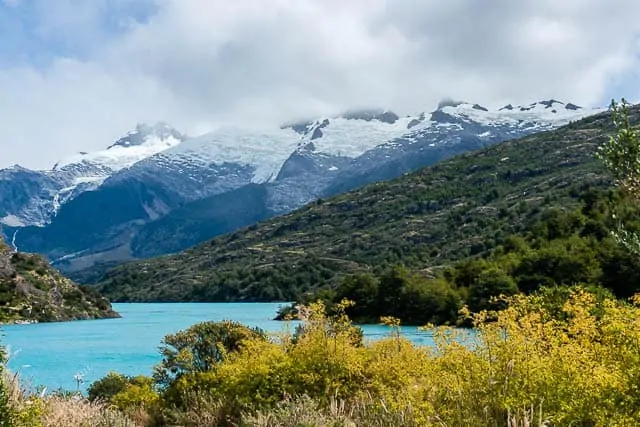 While Santiago isn't exactly as charming as Mexico City or Buenos Aires, there's still a lot to love here, so let's jump right in: first well discuss some of the top places to eat in Santiago, then the top sightseeing destinations, as well as a few cool day-trips near Santiago.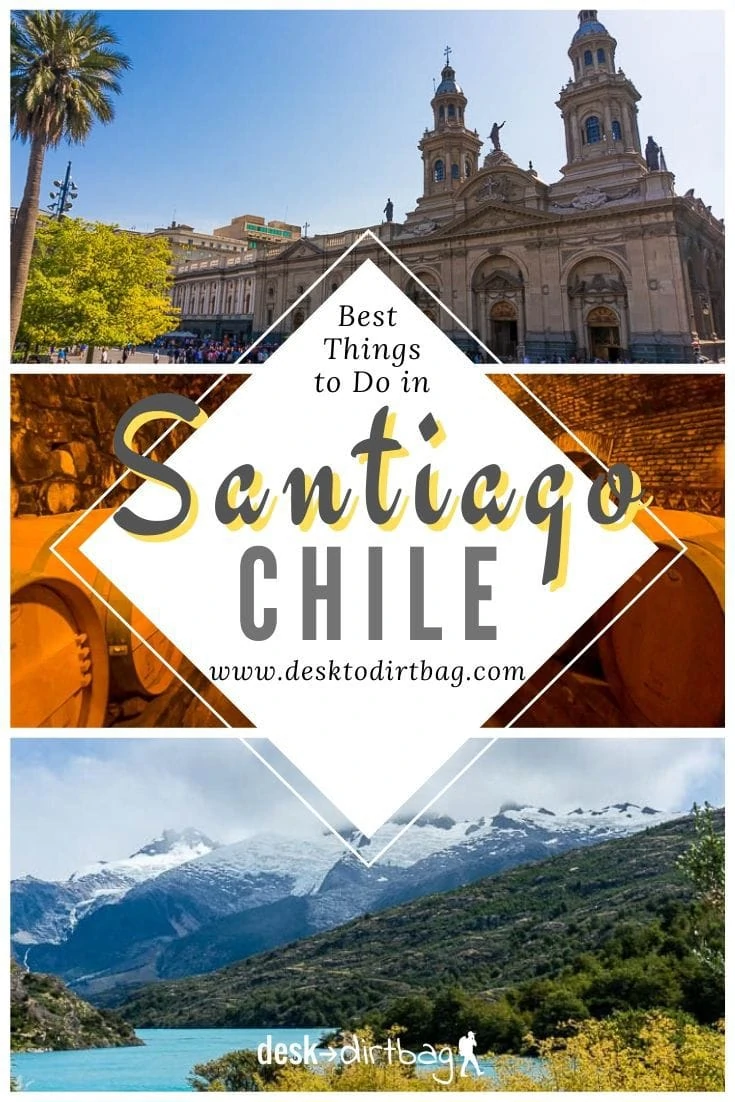 Food and Drink in Santiago
One of the best ways to experience any new destination is by tasting the various culinary delights that it has to offer. While you've likely heard about incredible Peruvian food or the asados of Argentina, Chilean food doesn't quite have the same international reputation…
But whether you're going low-key or searching for some fine dining, Chilean chefs have been able to come up with world-class versions of classic dishes that you're sure to enjoy, along with some great low-key dining spots as well. Come to Santiago with an appetite, and you won't be disappointed.
Central Market
Considering that Chile has so many miles of coastline, you shouldn't be surprised that this is one of the best seafood destinations on earth. For the best options in Santiago, the Central Market (Mercado Central) is the place to be.
Not only can you sample a wide array of fish delicacies, but the market is home to plenty of fun and intriguing vendors under a cool space, perhaps one of the coolest markets in South America.
For the more adventurous, you can get a taste of seafood you wouldn't usually find in North America. Urchin, barnacles, and squid are among the dishes waiting to delight your taste buds. However, if you prefer something a bit more pedestrian, you can find it here as well.
Ceviche is a typical regional dish, and Chileans know how to do a great version that is uniquely Chilean, and often using halibut or the strangely named Patagonian toothfish. Definitely give ceviche a try when you are in town.
In Santiago's Central Market, you can also find an assortment of fruits, vegetables, and other dishes native to the region. The atmosphere of the market is both electric and historic. Vendors sit beneath a cover built-in 1872, so you get a sense of the past and present.
Chipe Libre
While you're in Santiago, you have to try the local brandy, called pisco. The drink starts out much like wine, as distillers will ferment grape juice. However, from there, the mixture is run through a still until it becomes clear. It's a relatively high-proof spirit, and it has a distinct flavor you can't find anywhere else.
Pisco is proudly (and competitively) claimed by both Chile and Peru, but each country has its own style. You can sample both versions at Chipe Libre, which has a wide array of locally-made piscos to sample. Depending on who you ask, the history of pisco varies, but the process can be traced back to the Spanish colonists, who perfected the art of distillation in the 1600s.
Regardless of its origins, drinking pisco will make you feel like one of the locals, and Chipe Libre is one of the best places to indulge.
Boragó
Since Santiago is the cultural hotspot and cosmopolitan capital of Chile, you can find many trendy bars and restaurants. While finding a local place is more than suitable for most of your meals, you may want to splurge with an upgrade to your culinary experience every once in a while, particularly if you're celebrating a special occasion.
Boragó is one of those special occasion places and it also one of the best places to get a "taste of Chile." Most of the courses offer a variety of samples from across the country, so even if you can't make it from North to South across the entire country, your taste buds can.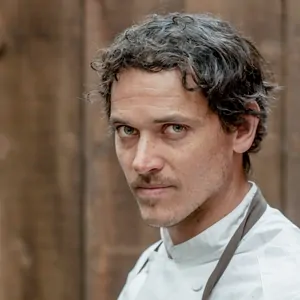 This restaurant by Rodolfo Guzmán is listed as one of the top 50 restaurants in the world, so I'd highly recommend a reservation. However, the minimalist decor and eclectic menu are well worth the wait (and the price).
While Santiago doesn't get the dining spotlight like other Latin American capitals, it actually has five restaurants on the Top 50 of Latin America list, only being beaten out by Buenos Aires, Lima, and Mexico City, in terms of the sheer number of restaurants represented.
Peumayén
Santiago is well-known for being a city with rich historical roots, but most of the time, those are relegated to the architecture of its buildings and foundations. However, if you want a culinary tour of the history of Chile, Peumayén should be on your itinerary.
Much of the food in Chile may seem familiar after a while, which means that you can start to yearn for something fresh and exciting. Fortunately, the chefs at Peumayén have done their homework, researching the local and traditional cooking methods of the indigenous people – the Mapuche, Rapa Nui, and Atacamenos.
As a sample of the menu, you can expect to find ingredients like nuts from the monkey puzzle tree, rooster meat, and even horse, which is sure to alarm most tourists. Even something as simple as the bread is locally sourced and baked according to the region from which it originated.
Overall, if you want a restaurant experience like no other and you're looking to connect with Chile's roots (sometimes, literally), then Peumayén is a must-visit destination in Santiago.
Completos
Alright, you don't have to go all high falutin in Santiago to enjoy good food, since there is plenty more to enjoy about Chilean food, particularly if you love meat and bread!
One of the most well-known local takes are the so-called completos which are hot dogs packed to the brim with chopped tomato, mayonnaise, and what would seem to be roughly half an avocado. Dominó is one of the most recognized places to enjoy one of the best completos in Santiago.
Those may not be the healthiest, but they are certainly delicious! Actually, what I preferred more than the hot dogs were the Chilean sandwiches like the Ave Palta… Ave means bird and palta means avocado. It's basically a grilled chicken sandwich served on a toasty bun and heaped with TONS of avocado.
Those sandwiches were a regular for us on our journey across the length of Chile.
Honestly, I think I ate more avocado in Chile than I ever had in my entire life… The portions are truly generous, and while I was never like a die-hard fan of avocado before, after Chile I truly grew to love avocado on my sandwich (and everything else).
Fuente Alemana
Speaking of sandwiches, the most famous and storied shop in all of Santiago is Fuente Alemana (German Fountain). This Chilean institution has been serving up their famous pork sandwiches known as lomitos for well over 60 years.
Like the completos mentioned above, it's a similar concept but with thinly sliced piles of pork, accompanied by generous amounts of mayo, heaps of avocado, and slices of tomato between two pieces of bread. Yum!
You'll find a large German influence here in Chile which isn't a bad thing, especially when it comes to their draft beer – by far the best in all of Latin America! Here they call draft beer schop, which you should order to accompany your delicious pork sandwich.
Top Attractions in Santiago
As we've mentioned, Santiago is known for being the cultural and historical center of Chile. Fortunately, there are plenty of ways to explore this history, through museums and antique architecture. Walking around downtown Santiago is almost like taking a trip through time by itself, but these are the highlights you should incorporate into your visit.
Plaza de Armas
Considering that the plaza doesn't have much in the way of attractions, you can get through it relatively quickly. However, the design and layout of this plaza, like so many others, it quite enjoyable, offering a place to marvel at the architecture or just enjoy hanging out on a nice day.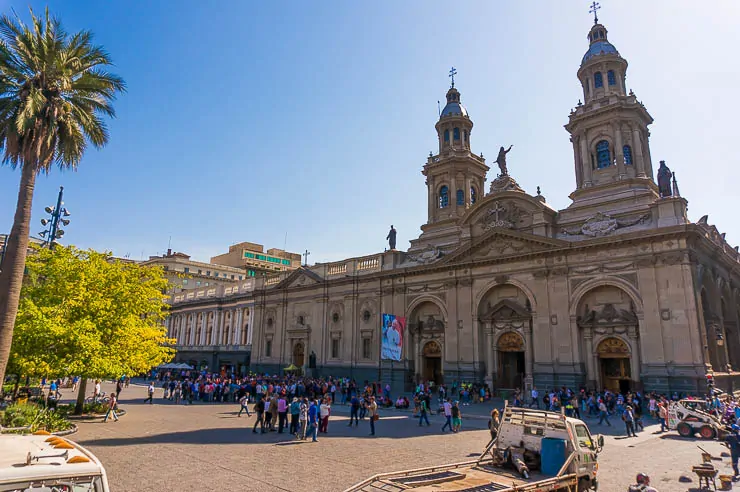 This spot was built when the city was founded in 1541, so there is a lot of history to unpack. Plaza de Armas was designed to be the center of Santiago, and it has been used for a variety of purposes, including those that were a bit macabre. For a time, gallows stood in the center for public executions, but fortunately, those days are long gone.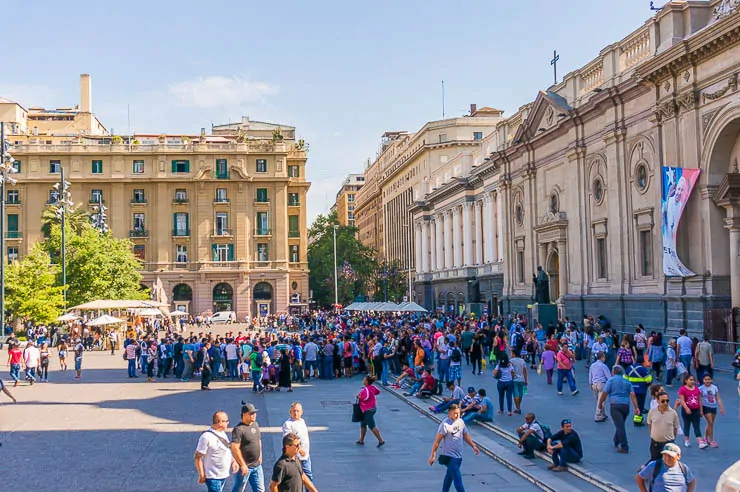 Today, you'll find a beautiful palm-tree lined plaza with plenty of places for sitting and people watching, or you can wander around gazing at the architecture.
Cerro Santa Lucia
There are a few hills in and surrounding Santiago (called Cerros in Spanish), and Santa Lucia is one of the most central for a good view. If you want great views of the historic downtown area, as well as the mountains and the surrounding countryside, Santa Lucia is the place to be. What is particularly cool is that this hill sits smack dab in the middle of the city too.
During the hotter months (remember the southern hemisphere's summer is opposite to the north), making the climb up the hill can be a bit treacherous, but once you've arrived, you'll be glad you made it.
There are a fountain and a plaza at the top, as well as art installations and manicured greenery. Although the park is relatively small, you'll still want to take a couple of hours to marvel at its beauty and appreciate the view.
Chilean Museum of Pre-Columbian Art
Although most of Santiago's history is tied to the Spanish colonization, the indigenous people of the region have also left their mark. The best place to better understand the history of the country before it became a colony is at the Chilean Museum of Pre-Columbian Art.
The museum may be named after Chile, but it has pieces from locals all over South America and the Caribbean.
Ancient empires like the Inca and Aztec are also featured heavily, and you can find a wide assortment of pottery, clothing, and other ancient artifacts here.
Cementerio General de Santiago
Visiting the graves of two million Chileans may not sound like a pleasant time, but the detailed architecture of this cemetery is worth a visit. As one of the largest in Latin America, you will wonder how so much space can be devoted to honoring the dead, and you'll be amazed at how gorgeous it looks, despite the gruesome elements.
Night tours are available throughout the year, and we highly recommend taking one, although you can wander through unattended during the day if you like.
It takes about two hours to move through the whole cemetery, and tours are strictly for those 18 or older.
Museo de la Memoria
Speaking of graves, you may want to take some time to learn about some of the atrocities under Augusto Pinochet that lead to the executions of thousands of people and the internment of 10s of thousands under his vicious military rule.
It wasn't that long ago that things were really quite bad in Chile, making their current status as Latin America's most successful and prosperous economy something all the more extraordinary.
This harrowing museum talks about these human rights violations and the dark days of Chile under a military dictatorship. The museum itself is free, and you can rent an audio guide for a modest price if your Spanish isn't so good.
La Moneda – Presidential Palace
La Moneda is the presidential palace here in Chile, basically the White House, which stands proudly in the downtown core of Santiago. Here is where you can see the changing of the guard if you're into those traditional military sorts of spectacles.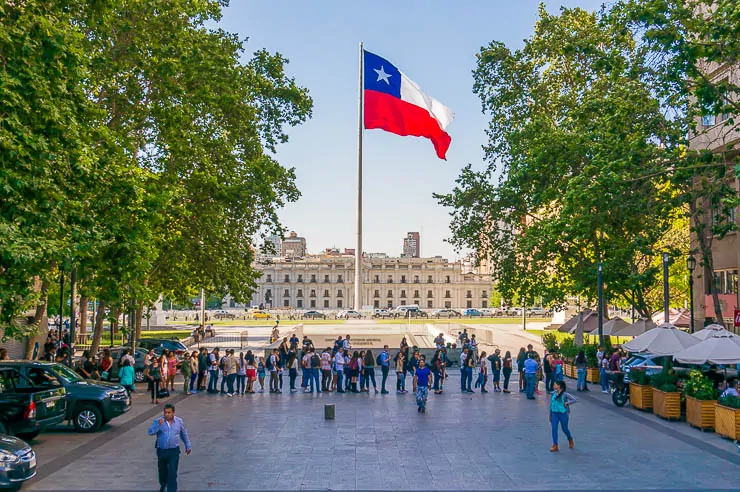 There are tours of La Moneda, although you'll need to have advance reservations and tickets can be pricey. We opted not to do this, but it may be your thing if you are really into Chilean history or want to learn.
The Presidential Palace has been the scene of some violent and pivotal moments in Chilean history, such as the 1973 bombing and the suicide of President Salvador Allende, who was overthrown in a military coup supported by the United States. The military junta and Augusto Pinochet ruled the country from that point until 1990.
Free Walking Tour Santiago
One of the best ways to experience the downtown core and learn more about the compelling and convoluted history of Chile is via the free Santiago walking tour by Tours4Tips. These types of free walking tours are one of my favorite ways to experience any new city, and they have the plus of being very affordable (just a modest tip!).
Their downtown tour lasts about three hours and will take you from the Museo de Bellas Artes through the Plaza de Armas and La Moneda before heading back to the hip Barrio Lastarria and the GAM Cultural Center (named for Gabriela Mistral).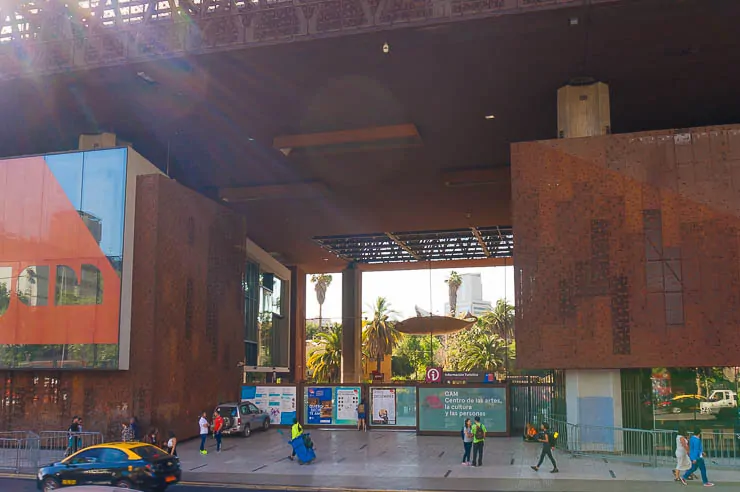 Tours leave daily at 10 am and 3 pm.
Reserve Your Free Santiago Walking Tour Now.
Hop-on Hop-off Bus Santiago
While walking tours are my favorite, sometimes for big sprawling cities one of the best ways to explore is via the hop-on-hop-off bus tours that make their way through town, and Santiago is certainly a good candidate.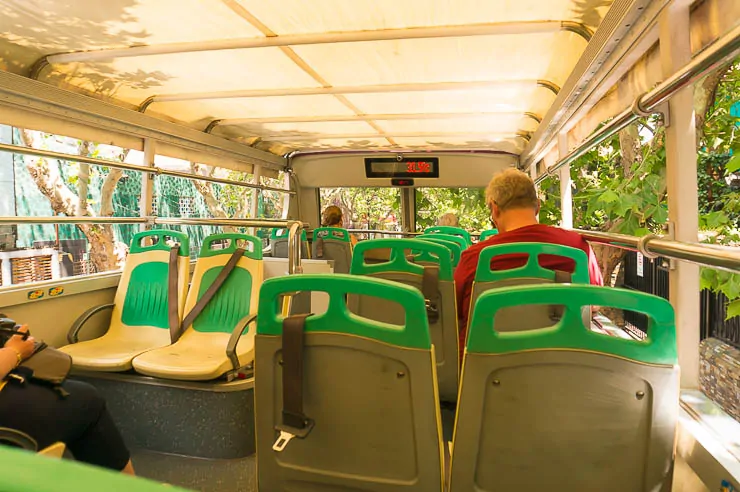 While my mom was in town, we did this bus tour which was a great way to cover a wide swath of the city between downtown and Sanhattan.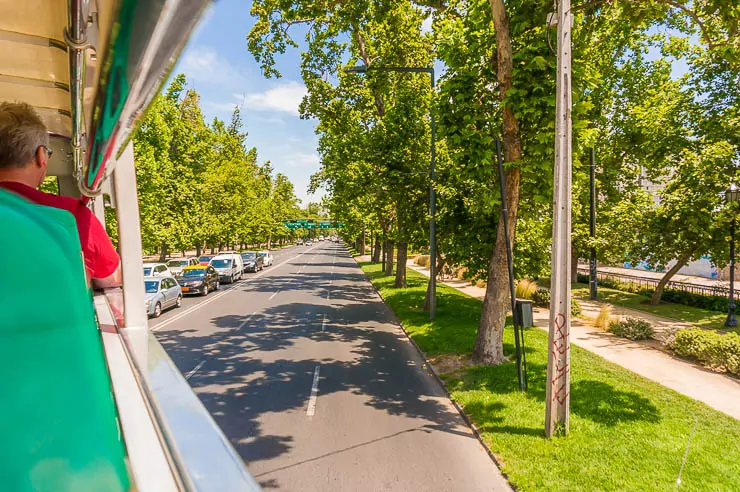 Obviously, this shouldn't be the exclusive way you explore the city, but it can provide a great baseline for figuring what and where you want to return to for a little more in-depth exploration. I also sometimes do the hop-on-hop-off bus tours when I need a more relaxed day of sightseeing. Check out more of the best Santiago tours and activities here.
Book Your Hop-on Hop-off Bus Tour Now.
Barrio Bellavista
Barrio Bellavista is one of the coolest neighborhoods in Santiago, offering up a mix of old and new, along with hip restaurants, bars, and shopping. This neighborhood lies just across the Mapocho River and is a favorite for both locals and foreigners.
This is where you'll find the aforementioned Peumayén restaurant for something totally different, along with a heap of other great places. One of the new, more modern centerpieces of the neighborhood is Patio Bellavista where you can find some interesting shops and lots of restaurants in a swanky sort of setting.
Or you could head out around the corner and visit one of the many lively bars on Pio Nono. While you'll always see activity here, it doesn't really come alive until after sunset.
For more to do in Barrio Bellavista, don't forget about visiting the fabled house of Pablo Neruda, La Chascona. Neruda is one of the most famous literary figures from Latin America, and who has been called the national poet of Chile. Even if you're not into Latin American poetry, it is still worth a stop.
Furthermore, Barrio Bellavista is the access point to the funicular that goes to the top of Cerro San Cristobal, a nearly 1,000 feet hill that rises above the city on the northern side.
The grounds and surrounding area are within the Metropolitan Park, Santiago's largest. Obviously there is an incredible view from here, and the top holds a giant statue of the Virgin Mary, basically Chile's answer to the Christ the Redeemer statue in Rio.
Barrio Italia
While Barrio Bellavista has its charms, I was much more captivated by Barrio Italia… This unassuming neighborhood was originally founded by Italians but today is a sort of bohemian, hipster paradise, filled with great coffee shops, quaint restaurants, and more to discover.
The best thing to do in Barrio Italia is to just wander around… There are countless relatively hidden shopping arcades, where you walk through a door and find it open up with dozens of individual storefronts with shopping, food, and drink, hidden inside. These are like the original shopping malls, just much smaller and way cooler.
Barrio Italia is also well known for its antique furniture street where you can wander around in a bygone era. Obviously, most travelers won't be buying furniture any time soon, but it is just a cool place to explore full of an eclectic collection of things.
For me, Barrio Italia held the most character and the most unexpected surprises. It's a place we would continually come back to wander through and never feel bored.
Sky Costanera – Gran Torre Santiago
Up in the northeast quadrant of the city is Santiago's high-end financial district which is sometimes referred to as Sanhattan, a melding of Santiago and Manhattan, for the many high rises that dot the landscape here.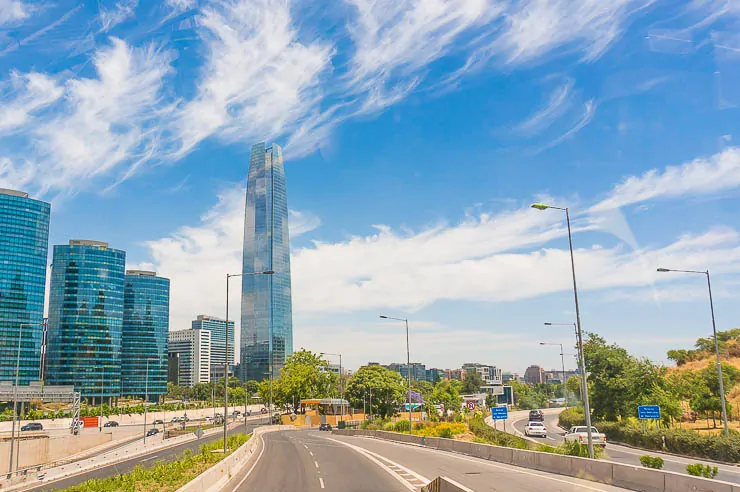 The most impressive of the big skyscrapers here is the Gran Torre Santiago which stands at 300 meters (just under 1,000 feet) and is made up of 64-stories. This tower is not only the tallest building in Chile but in all of Latin America. In the Americas, it is only eclipsed by about 25 buildings in the United States.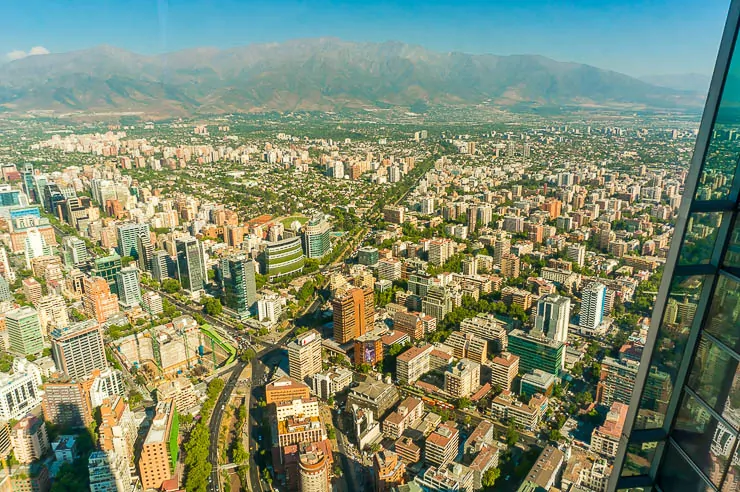 It is a big beautiful tower, and what's great for all of us, is the impressive Sky Costanera observation deck at the top. Here you'll be almost at eye-level with the Virgin Mary atop Cerro San Cristobal.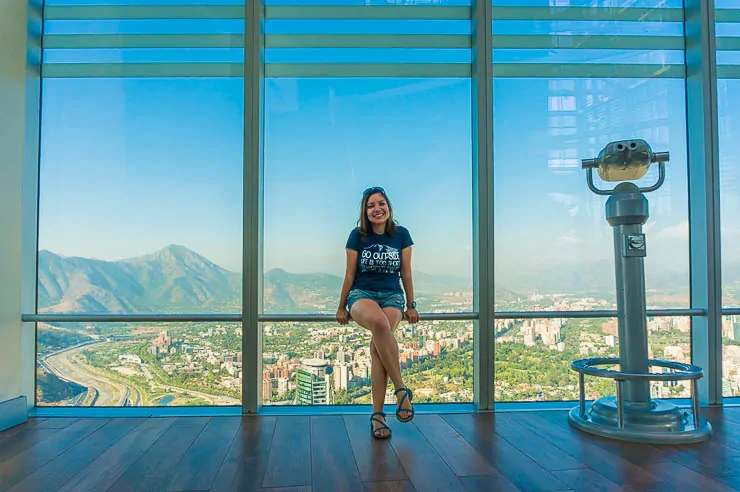 On a clear day, you'll have unparalleled 360-degree views of the city. Definitely worth checking out!
Day Trips from Santiago
As with most South American metropolises, Santiago is a mixture of modern society and natural beauty. The Andes are the perfect accent to the culture of the city, but there are several amazing places scattered throughout the area that make for great day trip opportunities.
Portillo
Skiing in the Andes is a once-in-a-lifetime opportunity, and one of the best places to do that is Portillo. There are a few high-class ski resorts outside of Santiago, but this one hosted the Alpine World Ski Championships in 1966. The resort was built in 1930, and since then, it has become one of the top skiing destinations – not only in Latin America but worldwide.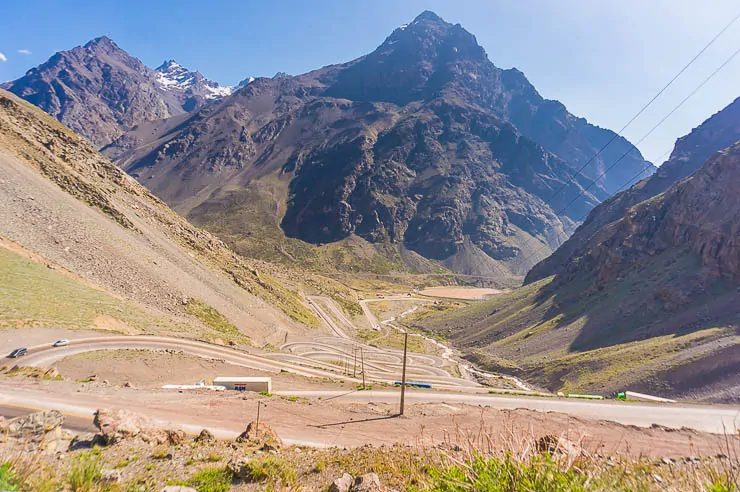 We drove through the mountain pass here in the middle of summer so there was no skiing to be had, but even so, the views up here are still quite spectacular, so I'd still recommend making the journey.
Not far from here, actually, is the famous Aconcagua — the tallest mountain outside of Asia — just along the road to Mendoza.
Wine Tour in Santiago
Chile is one of the top wine-producing countries in South America, and you'll see why when you sample some of the vintages in the area. There are numerous wineries in the vicinity of Santiago, and I totally think that taking a tour will be worth it.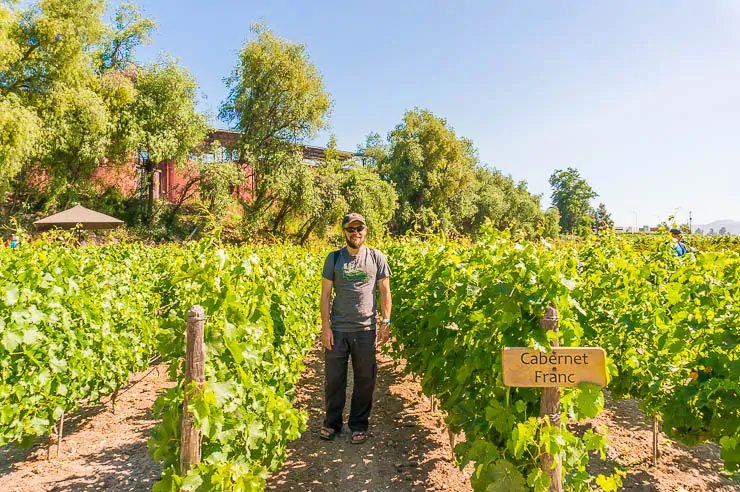 One of the best and most well-known wineries in the area is Concha y Toro which lays on the southern outskirts of the city near the Maipu River. Concha y Toro is actually the largest wine producer in all of Latin America and has vineyards throughout all of Chile's wine-producing regions, not just here in Santiago.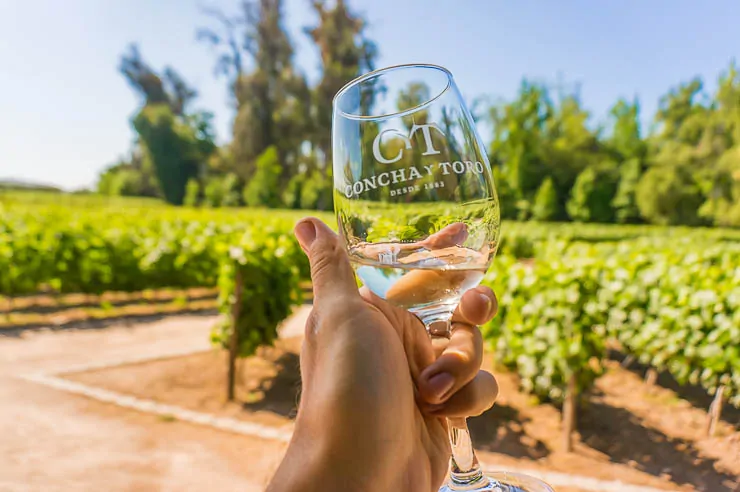 When my mom was visiting us in Santiago, we made a point to go on this not-to-miss winery tour and we had a most excellent time tasting all their delicious offerings. You'll find many of the grapes you know and love here, as well as some you may not be as familiar with, such as carmenère (which is to Chile what Malbec is to Argentina).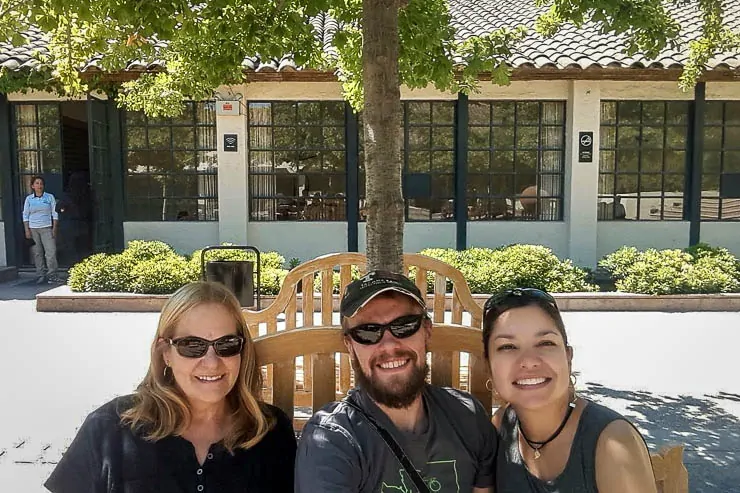 You'll even get to visit the supposedly haunted wine cellar where they house the Casillero del Diablo which is a wine you can probably find at home since it is exported all over the world.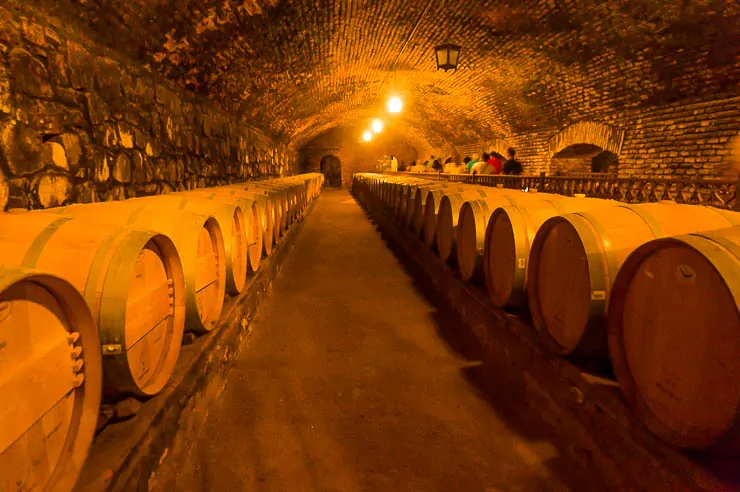 Even More Things to Do in Santiago Chile
Santiago is actually a pretty cool place, but for many tourists, it lacks that sort of "exotic" appeal that they crave when traveling. Santiago is a place that feels at once familiar and comfortable. Indeed, I'd say that traveling in Chile is about as close to feeling like you're traveling in the United States as you'll get in Latin America.
From the European heritage and German influences to the food, beer, and even the layout of the cities, highways, and infrastructure, it feels in many ways familiar. That's not necessarily a bad thing, it's just that many people come in expecting something else and feel disappointed.
Chile is amazing and I'd highly recommend taking the time to explore this vibrant and interesting country, including the capital by doing at least a few of these top things to do in Santiago. We had a lovely time in Santiago, and I wouldn't hesitate to return and explore the city in further depth.
Traveling to Santiago soon? Book your lodging on Booking.com now to save on hotels or hostels, or if you plan to stay longer, I highly recommend looking for a place on Airbnb. And don't forget to purchase international travel insurance that will help protect you against illness, injury, and theft. I use and recommend World Nomads for its combination of coverage and affordability.
Read Next: Best Santiago Tours and Activities
Share This
Did you enjoy this post about the best things to do in Santiago Chile? Take a second to share it on Pinterest, Facebook, or Twitter. Thanks!
The following two tabs change content below.
Desk to Dirtbag is one of the leading budget adventure travel blogs online and is dedicated to helping its followers achieve their travel dreams through inspiration, information, and actionable steps. If you are new to the site, be sure to
Start Here
.
Latest posts by Desk to Dirtbag (see all)