This article may contain
affiliate links
. If you make a purchase through these links, I will earn a commission at no extra cost to you. Thanks!
After having spent weeks road-tripping through Bolivia from north to south, we finally arrived in Sucre, Bolivia. This was a city that we didn't know much about or have many expectations for, but which turned out to be an incredible place — our favorite city in Bolivia. Indeed, the small city itself is quite agreeable and there are actually a lot of awesome things to do in Sucre, Bolivia.
While it was our favorite city, that doesn't mean that the cities of Copacabana, La Paz, Cochabamba and all the other cities that we passed through have been bad, not at all.
In fact, the whole country of Bolivia went surprisingly well and we found ourselves blown away by the nature and enjoying the cities as much or even more than towns in Peru. While we quite thoroughly explored Bolivia, we did not go to Santa Cruz de la Sierra, one of the most touristic cities and most populated, but also a place that had the greatest number of anecdotes about problems with corrupt police among overlanders.
For us, Sucre had its charm and magic… A certain aspect about it that was hard to pin down, but which has happened before in other cities like Mérida in Mexico, where we imagined living.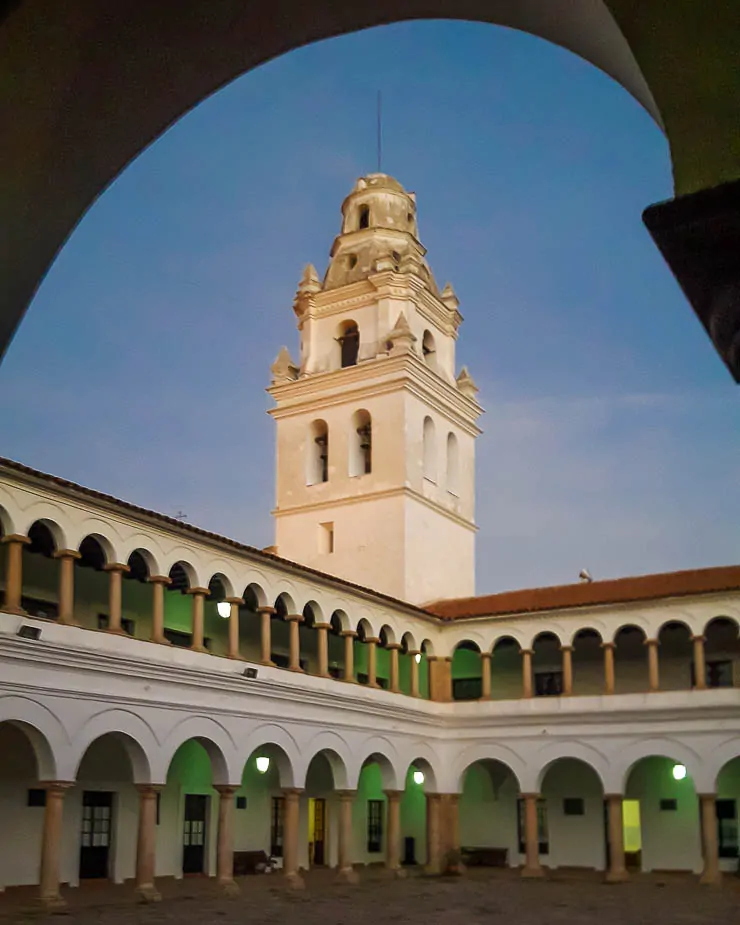 We arrived in Sucre initially by renting an Airbnb, but then after extending our time there, we got kicked out because of another booking. But fortunately, we found a hostel, quite good and very cheap on the other side of town, which gave us even more time to get to know the surrounding parks and squares, houses and colonial buildings, restaurants, museums, and cafes for almost all tastes and budgets.
We really love exploring cool new towns like Sucre, and after our extended stay here, exploring the city during the day and night (and feeling quite safe all the while) here were a few of our favorite things to do in Sucre, the white city of Bolivia.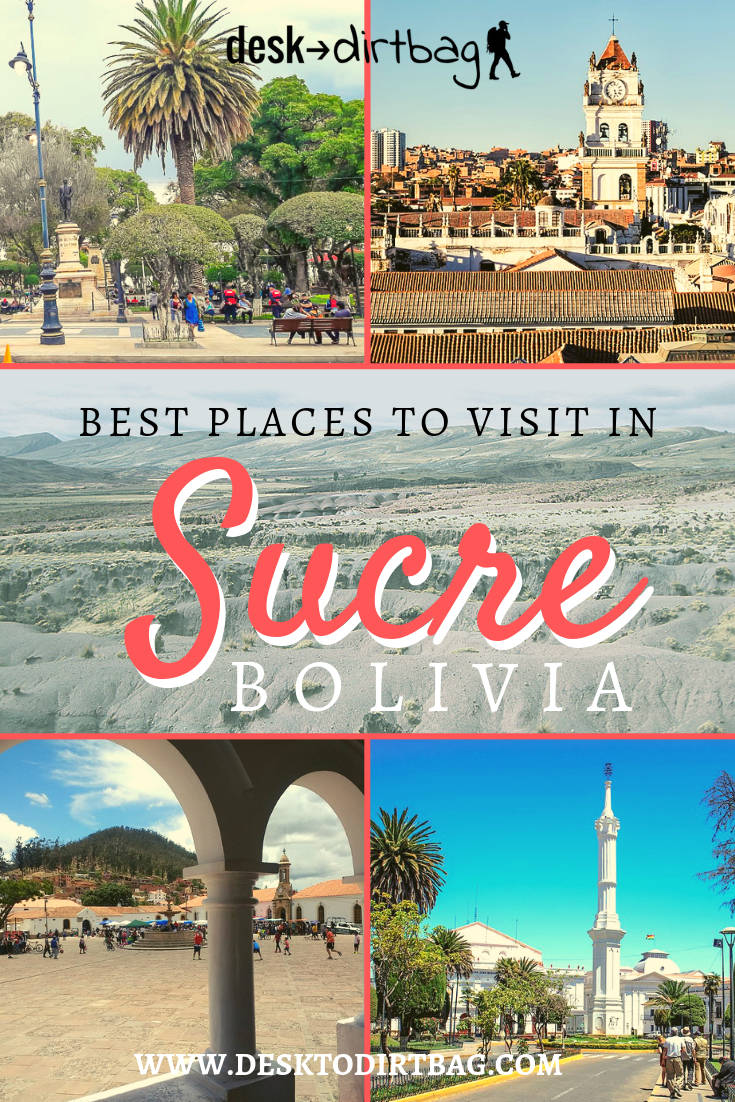 Visit the Dinosaur Park
Shortly before entering the city on the north side, you'll find the famous Cal Orcko Parque Cretácico (Cretaceous Park or often just called the Dinosaur Park) and for 30 Bolivianos (a little over $4) you can see one of the largest collections of real dinosaur footprints in the world!
You can actually get a pretty good glimpse of the dinosaur tracks and footprints right from the road, as they make their way up the cliffside (the ground rotated over the millennia).
The park also has lots of info about dinosaurs in general, along with bones and life-size reconstructions of the massive beasts that used to roam the earth.
Try the Chocolates
Heads up to all chocolate lovers because Sucre is the capital of sweets and handmade chocolates in Bolivia. You'll find numerous stores selling all manner of chocolates in all its presentations and combined with thousands of other flavors, it is something you cannot miss while in Sucre.
My favorite of the chocolate shops was definitely Chocolates Por Ti, located just off the main square of Sucre, Plaza 25 de Mayo. Don't expect super cheap prices for high-end chocolate, but the prices are good for the quality you are getting.
Plaza 25 de Mayo
Speaking of Plaza 25 de Mayo, the main square is the central point of tourist activity and daily life in Sucre. Around it is where you'll find the largest variety of restaurants and cafes in the city.
Radiating out from the center here is where you'll find all manner of stores, hostels, and hotels. It's a nice place to just hang out and people watch…
I loved the people dressed as zebras and stopping cars so people could cross in the crosswalks. Pretty hilarious as they danced about and a great way to educate drivers on pedestrian rights.
In terms of places to eat in Sucre, we can definitely recommend the food from Café Abis, which we visited on multiple opportunities and we really enjoyed their meal.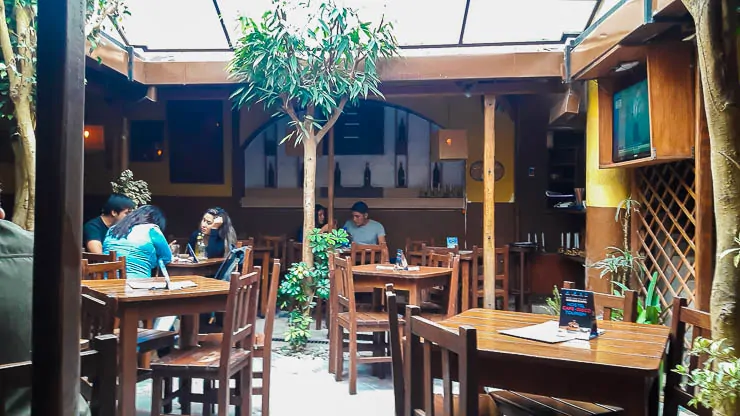 Café Joy Ride has a wide variety of desserts and meals, the attention was a little slow at time but the food and desserts were worth it. Metro Café is another great place nearby with good coffee and a variety of desserts and food.
Monteagudo Square
One block from Plaza 25 de Mayo, is the small Plaza Monteagudo, basically part of the main tourism sector. The plaza itself is not super noteworthy, but here is where you will find Condor Café. In my searching throughout the town, I'd wager that Condor Cafe had the best coffee in Sucre.
There are a few other options, but I'd recommend Condor Cafe. Outside in Monteagudo Square, you can usually find locals selling their artisan goods and handiworks if you're looking for any souvenirs.
Recoleta Monastery
The Recoleta Museum and Monastery are well known in the city, but not just for the pretty white church and the interesting history, but also for its location with an incredible view of the city. The monastery can be reached by walking uphill between 20 and 30 minutes.
Since Sucre is a colonial city, that means it is a town full of museums and churches loaded with history, which could keep you occupied for a good while.
Here in Sucre, you've got the Metropolitan Cathedral, Basilica of San Francisco, Museum of the Treasury, Museum of the Cathedral, Santa Clara, San Miguel, and even more. There are almost too many to visit them all in this city. But a visit to Recoleta is a must-do in Sucre, for sure, even if it is just to take in the view of the city (come at sunset).
Simón Bolívar Park
We'd been in Sucre for the better part of the week and had thoroughly explored the area at the heart of the city thanks to our Airbnb location on the southern part of the city but then after moving to the Pachamama Hostel we saw the big green park on the northwest side of the city and decided to explore.
After about 15 minutes of walking, we arrived at the expansive Simón Bolívar Park at sunset. Oh my God, my dear Sucre, what a pleasant surprise this was!
The park was totally charming, a place where locals hang out with their friends or their partners, take their dogs for a walk, and where locals head out to do a jog around the edge for exercise, surrounded by the greenery of nature that a city park can offer.
The park itself was a pleasure for the respite it offered from city life and the towering green trees, but one thing that blew us away was the deafening noise from the birds, chirping and hollering away.
The environment of the park could not be better with its squares and white colonial buildings that were all very well maintained and illuminated.
In addition, around the edges, you'll find other cafes and restaurants to spend evenings and evenings. We chose to go to Café Time & Coffee a few times, and while there were not many food options, they had very good coffee and some desserts and an excellent atmosphere and attention.
Definitely the coolest public space in all of Sucre, Bolivia and a place we returned to time and time again when we found ourselves wondering what to do in Sucre Bolivia.
San Felipe Neri Rooftop
Just 1.5 blocks southwest of the main plaza is the Temple of San Felipe Neri, another beautiful white church here in Sucre.
You may be churched out at this point, but the real draw of San Felipe Neri is having access to the rooftop where you can get a pretty great view of the town. The church dates back to the late 1700s and features artwork from the 18th century as well.
Access only costs 10 Bolivianos, so it's a steal, although you may need to ask for a key to the rooftop and bell tower as it is sometimes locked.
Berlin Bar
If you are looking for a beer in a bar with a fun and good atmosphere, then check out the Berlin Bar. The place is also a restaurant, but at night the party kicks off in the central courtyard, often time with some sort of theme.
There's actually a hostel on the upper floors for those who want to make friends and have a good time, if you don't mind the sound of a good party atmosphere thumping away below.
We were here for Oktoberfest in Sucre, Bolivia, and while there was no craziness like Germany, it was still some good fun at Berlin Bar.
Maragua Crater
This is perhaps the most famous short trek in all of Bolivia. It is usually done as a guided, two-day affair that takes you out to explore some of the spectacular mother nature west of Sucre. Bolivia had perhaps the most surprisingly stunning and beautiful landscapes in all of South America, a true kaleidoscope of colors, formations, and vistas.
We didn't end up doing this famous trek, unfortunately, but it is well regarded and you can read more details about it in this post. You can go on with a guided tour like those put on by Condor Trekkers, or you can even do the hike on your own if that's your thing.
On this hike, you can see even more dinosaur footprints at Ninu Mayu (much closer than those at the Cal Orck Dinosaur Park), and see numerous cave paintings and indigenous art dating back thousands of years, plus the spectacular natural landscapes. Day trips to Potolo and the Managua Crater are possible, but most people opt to make it an overnight experience so they don't have to rush.
Where to Stay in Sucre
In Sucre, you'll find many hostels and hotels that will fit basically anyone's budget, but if your budget is limited (like ours!), I can definitely recommend Hostal Pachamama.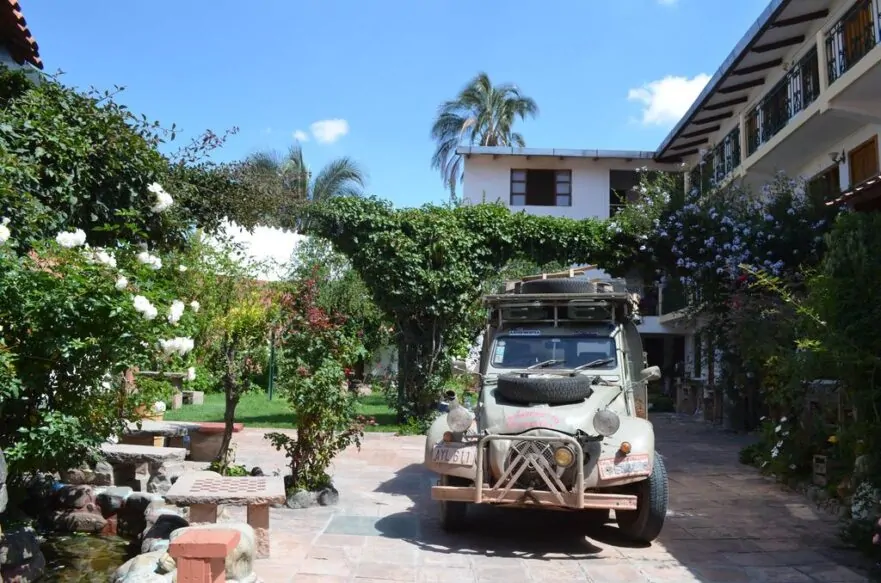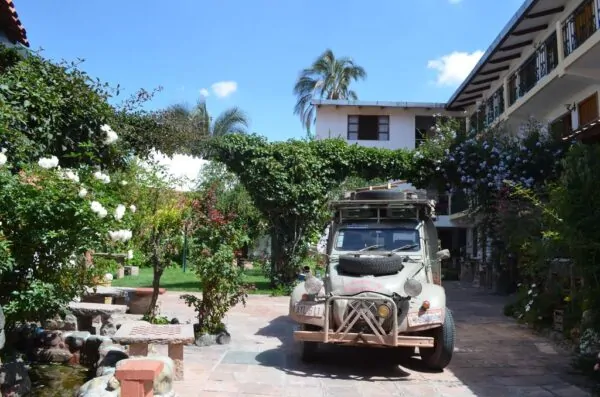 It is a pretty large hostel/hotel with a shared kitchen, nice gardens in the courtyard, and spacious rooms with private bathrooms.
The rooms were at a very good price, just 110 Bolivianos (around $16); the only bad thing (for us overlanders) is that there aren't many spaces for vehicles. But for the majority of travelers, that is no problem at all, and they've got lots of rooms on the property.
If you visit, check to see if the Desk to Dirtbag Sticker is still on the kitchen fridge! 😉
Reserve a Room at Hostal Pachamama via Booking.com.
More Things to Do in Sucre
That's at least a taste of the highlights or coolest things to do in Sucre, Bolivia, but there is plenty more to enjoy here during your time. Many travelers choose Sucre as a destination to settle down and learn Spanish thanks to the cheap prices and good education as the official capital of Bolivia.
Since we had some mechanical issues to take care of with the truck (before heading out to tackle the Salar de Uyuni and the Lagunas Route), we got the chance to be able to explore the normal city and live a little bit like the locals. For us, that meant wandering into the Mercado Central, eating at local restaurants, or just tasting the delicious and famous Salteñas (typical empanadas from Bolivia).
I feel like we got to know the various faces and facets of Sucre, Bolivia and none of them disappointed us. Honestly, we quite enjoyed just living our daily lives here with a variety of charming and interesting areas to explore in Sucre.
We liked this city so much that the initially planned stay of three days, ended up being 15 days… I think it was just a relaxed vibe, pleasant climate, and agreeable atmosphere that really sucked us in.
In the end, we felt like our lengthy stay in Sucre was used very well before we finally said a sad goodbye to leave to head towards the spectacular Uyuni Salt Flats.
Traveling to Sucre soon? Book your lodging on Booking.com now to save, or if you plan to stay longer, I highly recommend looking for a place on Airbnb. And don't forget to purchase international travel insurance that will help protect you against illness, injury, and theft. I use and recommend World Nomads for its combination of coverage and affordability.
Read Next: Guide to Traveling South America
Share This
Did you enjoy this post about the best things to do in Sucre, Bolivia? Take a second to share these travel tips on Pinterest, Facebook, or Twitter. Thanks!
The following two tabs change content below.
Desk to Dirtbag is one of the leading budget adventure travel blogs online and is dedicated to helping its followers achieve their travel dreams through inspiration, information, and actionable steps. If you are new to the site, be sure to
Start Here
.
Latest posts by Desk to Dirtbag (see all)