This article may contain
affiliate links
. If you make a purchase through these links, I will earn a commission at no extra cost to you. Thanks!
In an effort to help fellow overlanders with the sometimes complicated border crossing procedures, I wanted to share my notes and experiences regarding the Mexico Belize border crossing since we were driving to Belize (and beyond) on our Central America road trip.
This information pertains to the Chetumal border crossing, although the Mexican town where the border actually lies is called Subteniente Lopez. The Belize side just opposite the border isn't really a town, so much as a Belize duty-free shopping zone (which we did not visit).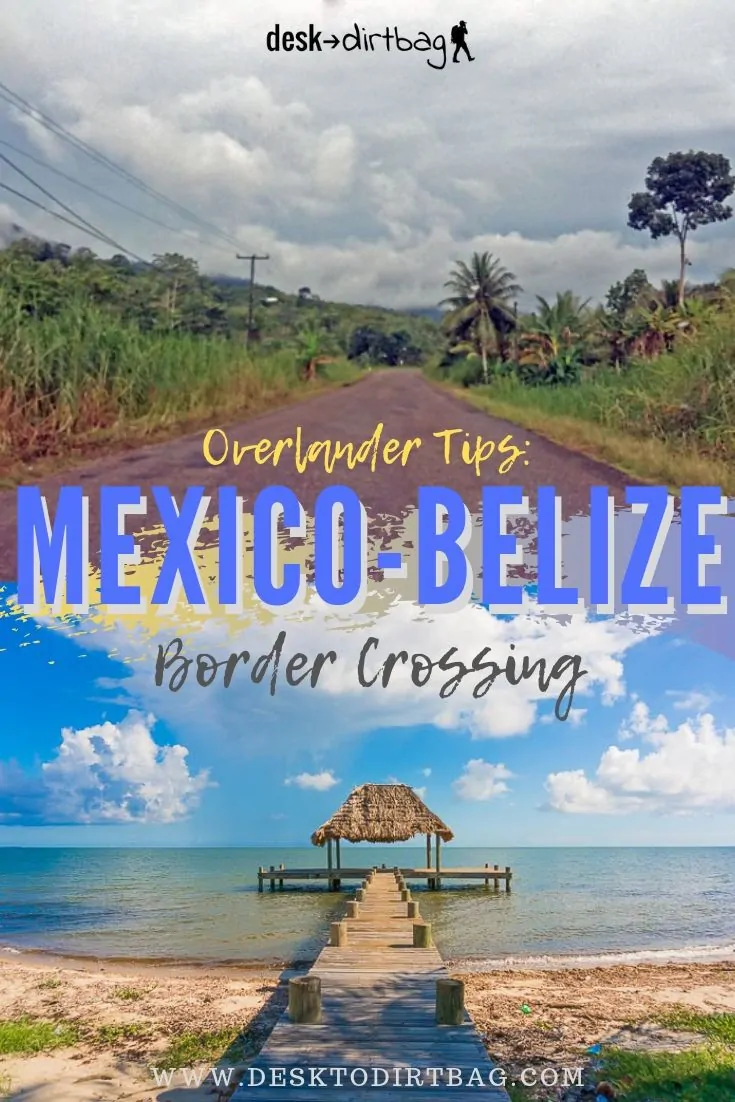 Leaving Mexico
We pulled up to the Mexican side of the border crossing and quickly ran into problems…
The official working the booth was saying that we had to pay for the FMM tourist card (Forma Migratoria Multiple) — the card which they give you upon entrance to Mexico and tell you not to lose. Of course, we had already paid the fee in order to receive the Mexico tourist card and the stamp.
But we didn't have the receipt…
We argued for a little bit that we obviously had already paid or they wouldn't have stamped it, but he said no, you must have the receipt to prove that you actually paid, or you gotta pay all over again.
Thankfully, there is a Banjercito right at the border crossing (just around the corner) and we were able to have them successfully look up a record of our payment which they printed out.
The same border official STILL gave us problems saying that we needed to pay and proceeded to call his boss over. After arguing with them for a while they relented and collected our tourist cards, and gave us both the passport stamp we needed to let us go on our way.
The Mexico "exit fee" scam is alive and well–just Google "Mexico Belize exit scam" for lots more stories about this unjust attempt to grab some more money and basically double charge tourists.
Entering Belize
The process for Belize was straight forward though a bit time-consuming.
We missed the quick detour to fumigation initially, but parked and entered the building for the passport stamp. The customs officials wanted us to bring all of our belongings inside the building (which is ridiculous since we have boxes of stuff in the truck).
Instead, we left to get the truck fumigated when we were then approached by a guy in the parking lot saying we needed to pay $15 USD for the truck entry… He was fiddling with paper receipts in his hand and did have a semi official-looking shirt… But it still seemed like a scam to me (why is he approaching us on the street rather when we were inside?).
I told him we were leaving to get the vehicle fumigated, and we'd pay later inside… I figured if it was real, it could be done inside and they wouldn't let us get through without paying, of course. But then we never saw him again during the crossing.
Side Note: At the Belize Guatemala border crossing, we were asked about some paper (probably this one) and said we never got it. The woman put up a fuss at first but then let us go without a problem.
We got the vehicle fumigated at the previous roundabout–they initially told us to continue into the cargo area, which is NOT where you should go if you are transiting through as a tourist. So that added some more confusion and time lost.
We went back to the initial customs building with a receipt from the fumigation ($5 USD) and this time we brought in a few backpacks to the customs lady (we weren't going to bring everything in).
She did the paperwork for the vehicle import, we got 1 month (as we requested), and like for Mexico, she said not to lose the paper for when we exit.
Then we drove through the crossing and they gave a quick and cursory look in the back of the truck and sent us on our way. Before leaving the area, we stopped at the insurance building to purchase the mandatory insurance (14 days for $23 USD) and they gave us a sticker for the windshield. We were on our way — welcome to Belize!
The Belize border crossing, despite the fact that they speak English, was quite disorganized and confusing, but with time and patience, we made it through fine.
The same day we proceeded on to Orange Walk Town (about one hour driving after the border crossing) where we stayed at the Orchid Palm Inn for 77/BZ per night (about $38.50 USD, pretty expensive). But it had decent internet in a fairly nice place with a secure parking lot. They even had purified water available in the reception.
Orange Walk Town, Belize
Just a few quick notes, the Western Union in town will change Mexican pesos for Belize dollars which is good to do when you first arrive. Plus the Sabor Restaurant south of town is pretty delicious! Besides that, there isn't really much to see and do specifically within Orange Walk Town, but there are plenty of other awesome places to visit in Belize.
Read Next: Is Belize Safe? Safety Tips and Advice
Traveling to Belize soon? Book your lodging on Booking.com now to save, or if you plan to stay longer, I highly recommend looking for a place on Airbnb. And don't forget to purchase international travel insurance that will help protect you against illness, injury, and theft. I use and recommend World Nomads for its combination of coverage and affordability.
Share This
Did you find this post about the Mexico Belize Border Crossing helpful? Take a second to share it on Pinterest, Facebook, or Twitter. Thanks!
The following two tabs change content below.