This article may contain
affiliate links
. If you make a purchase through these links, I will earn a commission at no extra cost to you. Thanks!
After almost two full months of living, climbing, and playing in Ouray, I've realized you can't sustain climbing day after day after day indefinitely. You'll need to incorporate periodic rest days (at least I do!). So are there any things to do in Ouray Colorado in the winter when you aren't ice climbing? Turns out there are quite a few options for Ouray rest day activities, particularly so if you have access to a vehicle.
What to Do in Ouray Colorado
Your options are definitely limited if you are confined to town. Ouray is a small town of 900 people, and despite being the mecca of ice climbing, winter is the quiet season here.
Mouse's Chocolates
If I decided to stick around in town I would usually head to Mouse's Chocolates for a few hours for coffee,WiFi, and one of their delicious scrap cookies–they take the leftovers of their chocolate dessert making and put it into a batch of cookies, so you never know exactly what you're going to get.
They are really amazing cookies, and a must try. They've also got good coffee with free refills, and some pretty fast WiFi to boot.
Ouray Hot Springs
I made at least one visit to the town's hot springs during the daylight hours instead of at night. It's pretty cool to see the snowy peaks surrounding you while soaking in the hot water. It's also a fun place to be when it is actively snowing–the snow collects on your head and starts to freeze, but you stay warm from the hot water.
The Ouray Hot Springs is located on the north end of town and features three different temperature pools (around 68 degrees, 98 degrees, and 105 degrees). The pools are absolutely huge–particularly the cold water one, which also features a lap pool.
Tips for the Hot Springs
Buy the punch cards if you can–a 10 pass card runs for $84, a savings of almost $4 per visit compared to single use. You can also share the pass with friends, so it can still be viable for a small group of friends with only a few days to use it.
Bring your own towel, or you'll have to pay extra.
Lockers run 50 cents per use.
Just Outside of Ouray Activities
More often than not my rest days involved a trip out to Montrose to do exciting things like laundry and grocery shopping. If you are here for any extended length of time, you'll certainly have to do some of those chores as well.
Montrose
There are numerous laundromats and grocery stores in Montrose, and prices are much more reasonable than in the mountain town of Ouray.
You can get groceries at Wal-Mart, Target, City Market, Safeway, or Natural Grocer's (which is where I did most of my shopping). They've also got a movie theater in Montrose, if you're in the market for whatever the latest hot flick is.
Guru's Restaurant – Lunch Buffett
One awesome find for me was stumbling across Guru's Restaurant in downtown Montrose. It's a Nepalese/Indian food restaurant…
I've gone to their lunch buffet a couple times, and the food is delicious, the selection is awesome, and at $9 for all you can eat, the price is hard to beat! If you enjoy that type of cuisine (I love it), and if you're on a budget / dirtbaggin' it, it's an excellent deal.
Black Canyon of the Gunnison National Park
Just 37-miles east of Montrose you can check out the Black Canyon, a spectacularly deep and narrow gorge (2,400 feet deep and only 1,100 feet across from rim-to-rim in some places), where the sun never reaches, giving the walls their black appearance and namesake.
There is free access to the park during the winter season. The roads are only maintained up to the visitors center and you can hike, snowshoe, cross country ski from there. I did a short loop hike through the snow and enjoyed the phenomenal views across the canyon. The trek out to view the iconic Painted Wall is a little further out, but one I wish I had done.
The Ghost Town of Ironton
Heading the other direction, 9-miles south of Ouray is the Ironton Park Cross Country Ski Area. There are a variety of groomed nordic ski trails, and some more challenging ungroomed "blue trails".
The town of Ironton is a relic of the silver mining era, and became a ghost in the 1960s when the last resident passed away. The groomed ski trails take you right through this area.
I'm not a skier, but I spent part of a day up there on snowshoes, exploring some of the buildings, as well as venturing up the hillsides on the blue trails. A fun and interesting way to spend a rest day in the area.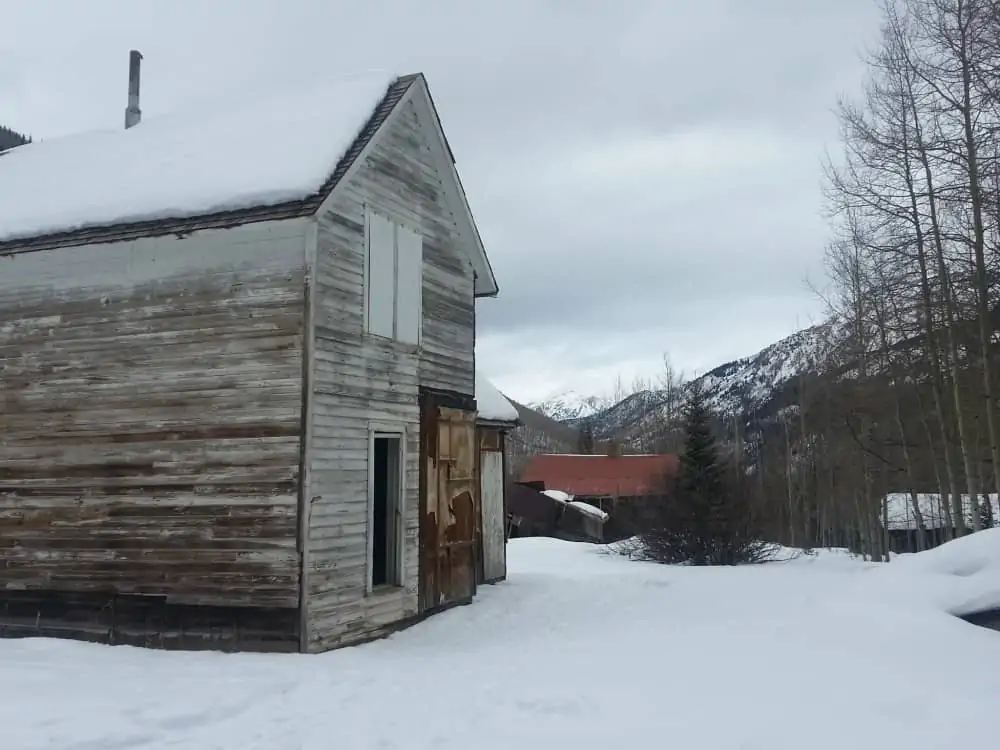 San Juan Powder Skiing
As I mentioned, I'm not a skier, so I never partook in it during my rest days, but it is probably the most popular rest day activity in the area. And when it is dumping snow it usually makes for a pretty poor day of ice climbing, but a killer powder day for skiing.
There is backcountry skiing nearby, up at Red Mountain Pass, off of Camp Bird Road, and beyond. Then there are of course more famous skiing destinations like Telluride and Silverton that are nearby.
The San Juan Mountains are renowned for the fluffy powder (and avalanche danger), so if you ice climb and ski, you'll have no shortage of things to do on any given day, regardless of the weather.
Heading Further from Ouray
At around the three hour drive mark, you can substantially expand your possible rest day activities. I know some folks who have even made climbing at Indian Creek a day trip activity!
Grand Junction
The city of Grand Junction is about two hours away from Ouray and is the nearest "big city" you'll find. Montrose has a pretty good amount of stores/shopping if you're in the market for that, but Grand Junction is bigger and has more options.
They've got a Best Buy for electronics, Sam's Club for bulk purchases, Barnes and Noble for books, Goodwill for thrift shop items (they've got free coffee there too), they've got a mall, a Cabela's for outdoor goods, and so forth.
So if you're in the market for something that can't be found in Montrose, then Grand Junction is your best bet. It's also a nice change of pace when you're just looking for something more to do with a rest day.
Moab and the Surrounding Area
Moab is an approximately three hour drive from Ouray, and is better done as at least an overnighter, in my opinion. There is obviously plenty to see and do and you could (and should) spend far more than just a night there. But if you're looking for a quick change of pace from ice climbing, it's a pretty good option.
I camped out below the Fisher Towers area–where the famous Ancient Art climb is located, which you may know from the credit card commercial that's been on TV for a few years now.
The Love Muffin Cafe in the city of Moab is a great place for a cup of coffee and a breakfast burrito. And if you're not in the mood for camping out, but still looking to save some money, be sure to check out the Lazy Lizard Hostel in town.
The following day I spent exploring the spectacular Arches National Park… Balancing Rock, Delicate Arch, Landscape Arch, Devil's Garden, and just oh so much to see in this stunning landscape.
There is still so much that I haven't yet explored in the Moab area, and my brief visit obviously couldn't do it justice, but I hope to return again for a longer stay at some point.
In Conclusion
It can be somewhat challenging to find things to do to occupy your downtime in a small mountain town like Ouray, but there are quite a few things to see and do in the surrounding area.
There is undoubtedly plenty more to see, do, and explore which I never made it out, or perhaps even knew about–but those are a few of my thoughts to get you started!
Got any good recommendations for things to do in Ouray or the surrounding area? Let us know by leaving a comment below! Thanks!
The following two tabs change content below.