This article may contain
affiliate links
. If you make a purchase through these links, I will earn a commission at no extra cost to you. Thanks!
Camping is a fun way to escape from the city and reconnect with nature, and it is also one of the most affordable ways to travel. But even so, the cost of camping, surprisingly, can often be a huge reality check, as paying to stay at a campsite every night on a road trip can eat away at your budget, especially for those of us traveling long-term. Thankfully, there is a solution. Yes, you can go camping without spending a fortune. In fact, you can find tons of free camping in the USA if you take the time to seek it out and know where to look.
I've spent well over a year of my life road tripping around the United States and Canada, and another two years of my life driving through all of Latin America. The cost in the USA to go camping can be as much as $20-30 per night, which if you add it up, amounts to $600-900 per month. That's astronomical! There's no way I could have afforded to travel for as long as I did if I was spending that much per night just to camp, let alone the costs of gas, food, fun, vehicle maintenance, etc.
Thanks to ubiquitous free camping areas on public lands, stealth camping, boondocking, and more, I was able to save that $20-30 per night and drastically reduce my cost of living while I was road tripping for months on end. That was money that I could instead put into my gas tank or splurge for a nice meal every once in a while. With these free camping opportunities, I would end up paying for a site once every couple of months — max.
Keep reading to discover the ultimate guide to free camping in the USA.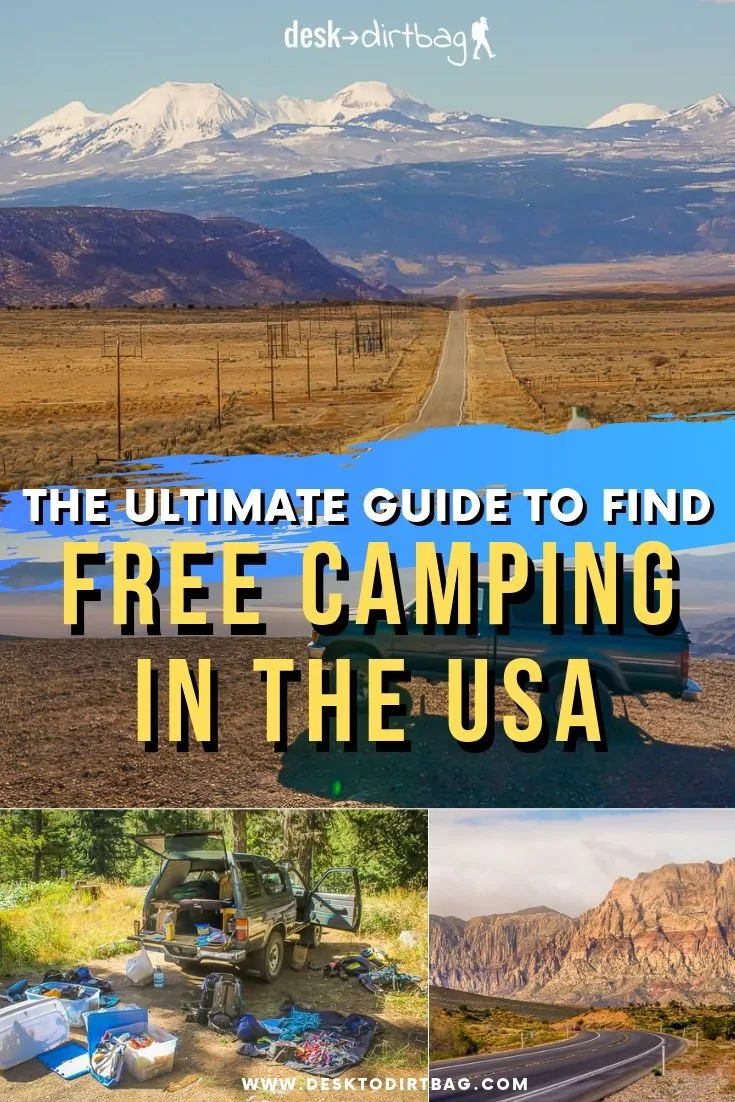 Dispersed and Free Camping in the USA
As I said, official campgrounds can cost up to $30 per night (sometimes even more in private campgrounds), which adds up quickly. But, there are a number of places where you can camp for an extended period of time or stop for a night in your vehicle and not have to pay a cent.
You simply need to know where to look without searching endlessly for free, public outdoor areas to camp. Plus, you do not have to worry that camping for free means you will miss out on the beautiful wonders of nature since many of these dispersed camping areas are in some pretty incredible areas.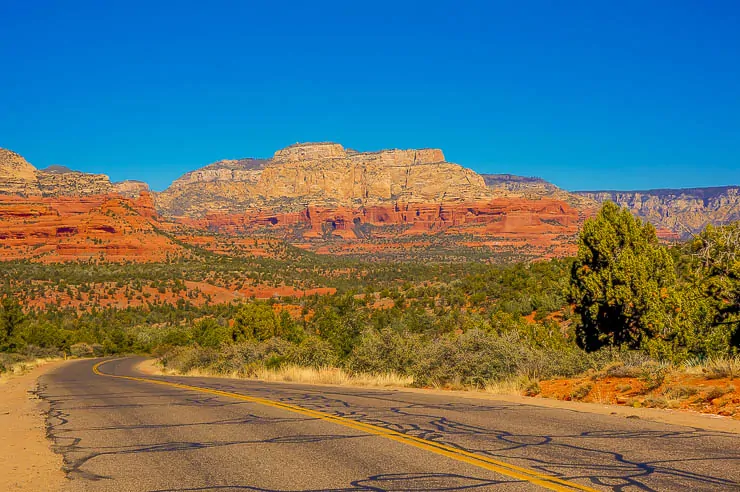 Indeed, some of my favorite free camping sites can be found in areas with awe-striking views of nature that you can experience up close. And better yet, these same places are often seldom trafficked, meaning there are times when you get it all to yourself, instead of sharing a crowded campground and listening to the neighboring site's screaming kids or their lousy taste in music.
You'll find free camping on Forest Service Land, wildlife management areas, miscellaneous other federal lands, and sometimes even State Parks. This article is written in a way that is focused on vehicle-based overland style camping, so basically, things like truck camping, van life, RVs, and so forth, rather than tent camping, although free opportunities for tent camping are often much easier to find, with the exception of cities and suburban areas.
What Do I Need to Camp for Free?
Although free camping spots do not charge for parking your vehicle or an RV or trailer, some may charge for amenities and services like access to restrooms and picnic areas. Or, more commonly in the case of free camping, there are no amenities whatsoever, meaning you'll need to come completely self-sufficient.
In all cases, you'll need to come prepared with several items so that you can camp comfortably, cleanly, and without leaving anything behind. Here is a list of things you should bring with you to be a responsible user of these lands, further defray any costs, and keep your camping trip as cost-effective as possible:
Water – I try to carry at least five gallons at a time.
Trash bags – I often reuse plastic shopping bags.
Food containers or bags.
Toilet paper – If you are digging catholes, please carry out all TP rather than burying.
Folding chairs.
A folding table.
A small shovel – For digging the catholes mentioned above.
Obviously, for camping, you'll also need a comfy sleeping pad or mattress, a suitable sleeping bag, pillow, and other accessories.
Check out my truck camping gear for an idea of everything that I carried through the American West and on to Latin America — it is basically all the same whether you are in a truck or van. RVs and trailers have slightly different considerations.
What to Know About Stealth Camping
Despite any temptations you might feel, you cannot usually just pick an empty spot wherever and set up camp. There is always the possibility that by taking this route as a boondocking camper to save money, it can ultimately backfire on you…
If the seemingly deserted spot you choose to set up your camp is private property, you can be charged with trespassing and other misdemeanors. Even if you are quiet, polite, and clean up after yourself, the person or people who own the private property can quickly discover your presence by finding tire tracks or other pieces of evidence you inadvertently and unknowingly leave behind.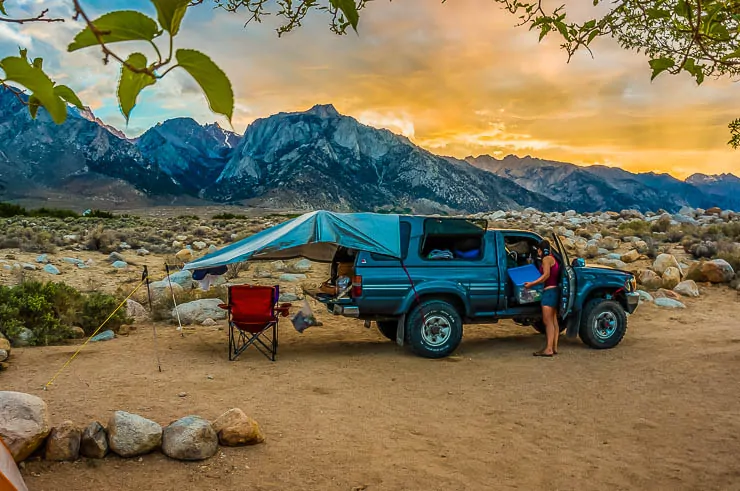 So, you should only try stealth camping on private or city-owned property if you have the experience and skills to get away with it. Camp on private property at your own risk, as you are the only person responsible if you get caught.
How's that for my little legal asterisk? Don't be dumb!
I certainly don't condone breaking the law, but I have bent the rules at times when I really needed somewhere to lay my head, and there weren't any officially allowed free campsites. A little later, we will be discussing stealth camping options.
There are, thankfully, many alternatives to paid campgrounds that are free and legal. So, you will not be guilty of trespassing if you camp on land where it is allowed and follow the rules. You should still do your due diligence online beforehand or try to contact the location at which you want to camp to inquire about whether free dispersed camping is allowed.
Beyond finding the legality of setting up a camp there, you'll also be able to find out if there are any particular guidelines in place that you would be required to follow (restrictions on fires, for example, though as a rule I almost never have a campfire when dispersed camping). It is always best to know this information ahead of time, so you are not caught by surprise when you arrive.
Here are three suggestions for locations where you can find free camping in the USA with your vehicle:
Free Camping in National Forests
Certified US National Forests and Grasslands typically allow people to camp free of charge, unless a particular site has rules that state otherwise. These are lands owned by the U.S. Forest Service or another similar managing government body, typically federal government lands.
Almost every state in the country has at least one national forest, but not all of them will allow you to camp as you please or wherever you please. So it is critical to contact the national forest you wish to visit before you hop into your camping vehicle of choice and head out there.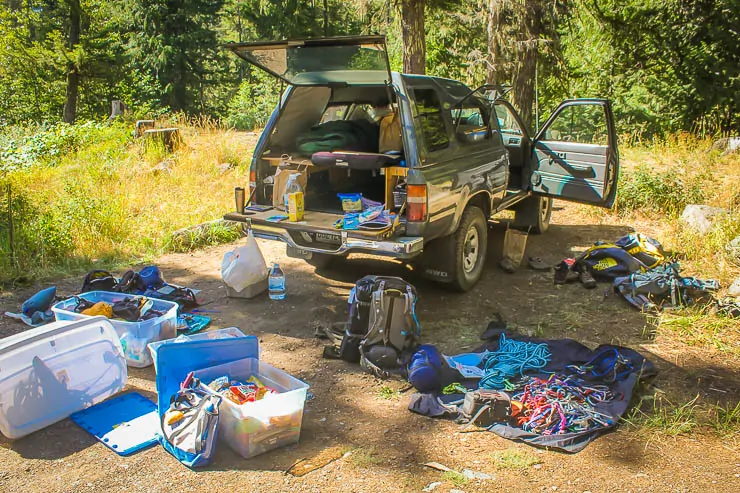 Each forest has its own rules, regulations, and guidelines for camping. So you need to check these rules in advance. In most cases, you should be able to camp at any of the recreational locales and unofficial campgrounds if you have an RV or trailer or come with a tent and other camping supplies.
If you decide to camp in a national forest, you have many choices on what to do. Most often you can drive down the meandering Forest Service roads and park at a pull-out or other open area to set up a camp there. If you're tent camping, you can go backpacking into the woods in a secluded area or look for a more attractive spot away from the road.
However, you are not allowed to camp within 200 feet of a stream or another body of water. You are free to sleep in a tent or vehicle, cook meals, and engage in other typical camping activities. In most cases, you can camp for up to 14 days at a time, although at certain times during the year this limit can be extended to 30 days.
Camping in a national forest is an excellent choice if you are searching for a place that will give you peace and solitude. You can often quite easily find a quiet and secluded spot to set your camp and not have to worry about being bothered by other campers.
Many of our US National Parks are bounded by national forests or grasslands, meaning that you should be able to find a wooded area that is isolated from urban areas or busy roadways, and these are often the best alternative when looking for free camping in the USA and its many national parks. All you need to do is drive a short while out of the park, find a place to settle in the forest and enjoy your time camping.
Camping in a national forest requires you to be self-sustaining, as you will not usually have access to restrooms, picnic tables, benches, trash cans, or other amenities. It will be only you and the great outdoors. Although I have been to several free campsites on Forest Service lands which are somewhat established with a pit toilet and designated sites as well. Indeed a welcome change from the pricey campgrounds in national parks.
Please note, if you want to make a fire (which is ordinarily allowable), then you may need to obtain a fire permit first, and you may only build a fire in areas where there are no fire restrictions. So, make sure you know where those spots are ahead of time. Forest Service land also often has some pretty excellent developed campgrounds that are quite cheap too.
To locate a national forest, visit the online National Forest Map Locator. After finding a national forest where you would like to camp, review the site's rules and regulations before you pack up and head out there.
Free Camping on BLM Lands
Land that is managed by the Bureau of Land Management (BLM) consists primarily of desert area or open lands and not so much forest area. Most of the property that is overseen by the BLM can be found in the western United States.
The BLM typically uses this land for mining and resource-gathering projects as well as grazing cattle. People who manage these lands for the BLM will usually allow campers, and these are some of the best free camping opportunities I've found.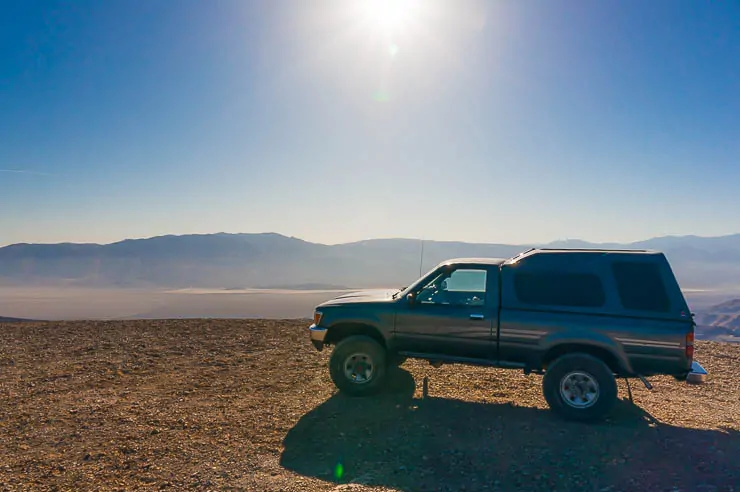 While there are many plots of land owned by the Bureau of Land Management, a majority of the parcels are in deserted settings, with plains and hills of sand and dirt, and few to no trees. If you decide to set up your campsite here, you can usually pull over on the side of the road to set up your site (whether in a tent or vehicle) or go backpacking to find an attractive place to camp.
Land managed by the BLM has guidelines similar to those of the national forests. There are often no amenities like restrooms, trash cans, or picnic tables, so you have to provide your own everything and clean up your mess.
You cannot stay on the land for more than two weeks at a time, and you cannot set up camp within 200 feet of any body of water. If you want to make a fire, there are no restrictions on where you can build it. But you may need a permit to do so.
Staying on land that is managed by the BLM is ideal for those who don't crave a lot of greenery in the scenery and love vast, wide-open spaces. Although there are not a lot of trees or plants, you may get to see your fair share of cattle and sheep who like to wander the land. You will also get to see vast amounts of desert beauty along with an occasional cactus or two, perhaps some desert flowers, and probably your fill of incredible sunsets.
I've had some excellent nights camping on BLM land as I watched thunderstorms sweep across the horizon or colorful sunsets over desert flowers. I quite love the freedom and openness of BLM free camping opportunities, to be honest. Far away from anything, even cell service, more often than not.
Walmart Camping
If you do not have time to reach a national forest or BLM site but still need a free camping place, there is another option for you that is perfect for those nights in between destinations while on a long road trip. This is best suited for RVs and trailers, but even in my little truck camping setup, I've spent plenty of nights here.
Believe it or not, you can camp in a Walmart parking lot. Although this option will not give you access to the beauty and peacefulness of the natural wilderness, it is a viable option that is ubiquitous across America.
Although most Walmarts allow camping vehicles and trailers to spend the night on their property, not all do. So, make sure you contact your local Walmart to see what their policy is before you head over there.
Also, if you choose to camp out in the Walmart parking lot, understand that you will have to sleep in your vehicle, as pitching a tent is not allowed. Further, you will not be allowed to use a barbecue or otherwise cook food outside. It is a place where you can lay your head so long as you remain discreet.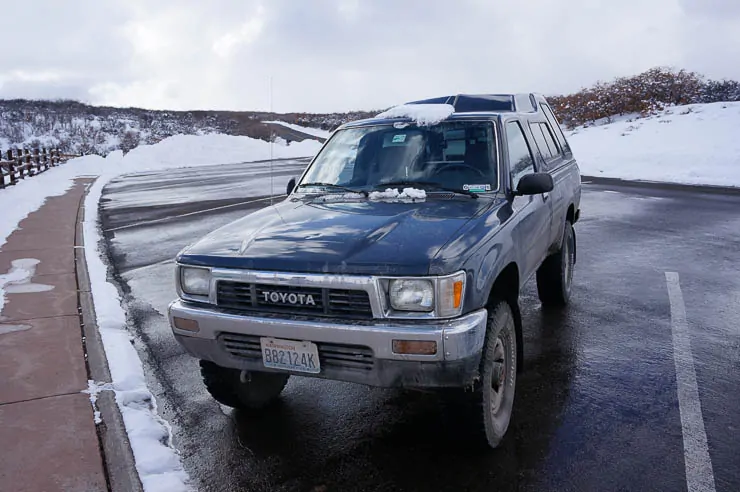 Don't be that guy firing up the Coleman stove and sitting out on your foldable chair as customers walk around you. You may ruin it for everyone else.
Despite its limitations, there are some excellent reasons to choose a Walmart parking lot as your free campsite for the night. If you are on the road and cannot find a place to camp, you can stay at a Walmart and avoid spending hours trying to find a free campsite near you.
Further, if you need to replenish your supplies like food, water, and toiletries, you can quickly and easily run into the store and get anything you need. Finally, if you have a pile of trash or waste that you need to dispose of, you can use the dumpster in the Walmart parking lot.
As a plus, many of these Walmarts are open 24/7, so you've also got access to a bathroom right inside the door and can purchase absolutely anything you may have forgotten, including camping gear.
If you opt to set up camp in a Walmart parking lot, be prepared to miss out on getting the experience of sleeping under the stars and taking in the wondrous beauty of nature. Instead, you will have bright street lamps and store signage. There will also likely be lots of cars and foot traffic going through the parking lot, as well as busy streets nearby.
I will admit to being a bit nervous the first time I tried it though, wondering if I was going to have some crazed meth-head trying to open my truck canopy door at 3 am. But I've spent quite a few nights in Walmart parking lots, perhaps more than I care to admit, and it has always gone well for me.
Check out this Walmart Overnight Camping locator map with some of the off-limits locations.
Even More Places for Stealth Camping
National forests, BLM-regulated lands, and select Walmart locations are three of the more commonly known means to camp or stay for free on a road trip. However, there are several more means of free stealth camping or overnight parking that are less common, but they are worth considering, as they may come in handy for you at some point a big cross country road trip and save you big money.
Casinos
Parking overnight at a casino is similar to camping at Walmart. Most casinos are independently owned, so the camping policies will vary depending on the casino's management. I've stayed in countless Native American owned casinos where it was permitted and even stayed stealth-camping in the parking garage of some big Vegas hotels right on the strip.
If you want to park your camping vehicle in a casino parking lot, you may need to call ahead to ask about the policies that are in place, particularly with regards to overnight parking.
Alternatively, you can visit CasinoCamper.com for a map of casinos that do and do not allow overnight parking. If you decide to set up camp in a casino parking lot, park as far away from the building as possible, keep all your activity inside the vehicle and do not get out of it unless you are entering the casino.
Just like at a Walmart, you should expect it to be kind of busy at night, with traffic coming and going and bright streetlamps and signage. While casinos are generally meant to be fun and entertaining places, you should treat it as a place to stay overnight rather than a place to relax and spend the entirety of your vacation.
People who end up staying overnight at independently owned casinos enjoy the (sometimes) scenic views (I've camped for free at the ocean more than once!), but mostly it's about the cheap food and free drinks and the chance to try their luck at games of chance now and then (you can usually get some free money with a player's card). Heck, they've even got free entertainment in the form of live music on some nights.
Casino camping is another good option for camping between destinations, and something that I've turned to quite frequently on the road in the United States and Canada.
Check out my more detailed article about casino camping.
Truck Stops
As you drive down the highway, you will encounter countless truck stops. Any of these locations can be used as a safe place to spend the night on your journey to the wilderness of your choice or while heading back home. However, they are not meant to be treated as campsites, where you can spend an extended period. Again, these are places to pass the night and move on in the morning.
The primary focus of a truck stop is providing gas, food, and other accommodations to truck drivers who have to haul goods over long distances, but they also can serve campers and their vehicles.
You can refuel, get a meal for yourself and buy supplies and toiletries. Many truck stops allow overnight parking, but if you plan on going this route, ask about it beforehand.
This isn't a form of free camping that I've done a lot of, but it has come in handy every once-in-a-while. Usually, I have ended up pulling up late at night and just park in between a couple of big trucks, so I'm not very easily noticed.
Rest Areas
Many state-designated rest areas are conveniently located along interstate freeways and highways. Drivers can use these areas to take a break from driving, regardless of the type of vehicle they are using.
Rest areas have welcome centers where amenities like picnic areas, restrooms, vending machines, and information hubs are available. Rest areas can be handy, especially if you are in a bind because there is nowhere else nearby for you to spend the night legally. They can also spare you the trouble of having to exit the freeway and wander around for a place to stay in an area that might not be familiar to you.
However, keep in mind that not every rest area allows overnight parking (or some may be limited to eight hours max), so you should check on the policies of rest stops you will encounter on the road during your travels.
Honestly, this is about the one form of road trip free camping that I haven't used, as I can almost always find a more suitable destination, even if that is just a casino parking lot or a Walmart. But it is another possibility in your free camping arsenal.
Even More Options
My #1 choice is always federal lands or something similar, then my second choice is usually casino camping, followed up by Walmart camping. If those don't work, then I may turn to a few even more creative ideas.
24 Hour Businesses: Places like Denny's or other restaurants that are open all night are another excellent option for discrete stealth camping when you need to pass a night. Similarly, I've used the parking lots for 24 Hour Fitness, as well, which also just so happens to be a great place to get a shower while on the road (membership is cheap).
Auto Repair Shops: Another possibility that I've used at times is simply pulling up to an already closed auto repair shop and parking among the vehicles that are waiting to be repaired. It isn't uncommon to see a line off older vehicles outside, and no one would bat an eyelash at another car parked there for the night. Only downside: You'll want to head out early before the shop opens or you might have employees wandering around outside. This was something I used a lot on my California coastal road trip.
In virtually all the cases with stealth camping, I make sure to set up my sleep area before arriving at the parking lot, that way I don't have to fumble around outside too much. Instead, I just park, wait until the coast is clear, and then crawl into the back. You'll also want to make sure your windows are fully blacked out (I have super dark tint, and put up internal window shades). These tips for free camping in stealth situations will help you avoid getting spotted. Plus, being discrete is just good safety sense.
Is Free Camping Safe?
One of the big questions about free camping or stealth camping is whether or not it is safe. Generally speaking, yes, this type of free camping is totally safe, just as safe as tent camping, at least.
I don't carry a gun with me (also something many ask) and have never felt in danger in my free camping adventures (literally hundreds of nights) in the United States, Canada, and across Latin America. If you think it is dangerous and need a gun, you are probably just paranoid.
I've only ever heard stories about someone "needing" a gun while free camping by gun owners. I'm not sure why that is, whether having a gun gives them a sense of security to camp in otherwise sketchy areas, or because a gun owner will quickly turn to a gun in a situation that doesn't actually warrant it.
In any case, there are a few times where I've not felt comfortable at a location, and I would recommend you follow your gut and just move on. Worst case, your gut is right about something, and it is unsafe, or best case, you're worried and can't really sleep well anyway. Best to just move on.
Generally speaking, you should be most cautious the closer you are to a big city or some towns. These are places where you more often run into what are basically homeless people that have spilled out into the outskirts. Oftentimes these are people with drug or alcohol problems. I run into a number of these places in the areas surrounding Las Vegas (where there are lots of free camping areas).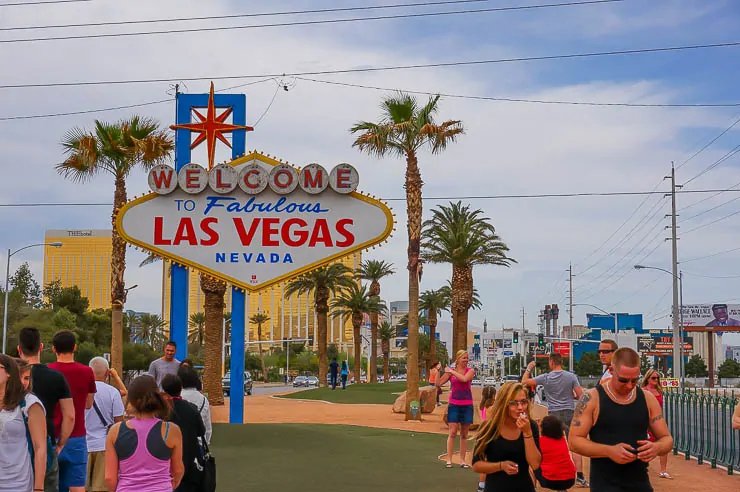 The more out into nature you are, the safer things are, but sometimes people feel more vulnerable here as opposed to being surrounded by people. I've camped in all these sorts of situations in more than a dozen countries… Honestly, things are safe and sane. It is extremely rare and extremely unlucky that anything should ever happen to you while out camping. Seriously.
How to Find Free Camping
So if you're wondering about where to find free camping near you, there are a number of websites that I turn to above all else.
FreeCampsites.net – This was my go-to resource while road tripping through the United States as it lists tons of options, primarily those on public lands, and even includes helpful photos, reviews, and opinions from other users. This is the most comprehensive resource.
iOverlander.com – This site is way better than FreeCampsites, but is still relatively limited in the United States. This was my go-to resource while driving throughout Latin America, and it hosts tons of useful information about free or cheap camping and other vital information to overlanders (basically people who road trip and can camp in their vehicles).
Conclusion About Free Camping
You have many options for places to stay when you are looking for a free place to camp. To ensure an enjoyable camping trip with no roadblocks, pitfalls or setbacks, research the places you want to visit before you arrive. Thanks to the internet that is super easy.
Once you have learned about all the options that are available for free camping and overnight parking, you will be able to formulate a plan for an enjoyable camping trip. Honestly, I mostly just winged things and figured it out on a daily basis as I went, which is totally possible too. When I say research, that just means trying to find the next best free camping near me on any given night; I'm not planning it out weeks or months in advance.
Before you hit the road, visit Leave No Trace and review their seven principles for responsible free camping.
Free camping is honestly a great way to hit the road and travel the world on a budget. In all the nights I've been out there, I've never had any significant problems or been spotted while stealth camping. The worst was when I got a knock on my window at 4 am by a Canadian security guard who told me to move on in the middle of a snowstorm. To be fair, I was camped in a place that had signs saying "No Overnight Parking."
If you're eager to hit the road, don't miss my ultimate road trip planning guide.
Read Next: Road Trip Planning
Share This
Did you enjoy this post about how to find free camping in the USA and beyond? Take a second to share it on Pinterest, Facebook, or Twitter. Thanks!
The following two tabs change content below.