This article may contain
affiliate links
. If you make a purchase through these links, I will earn a commission at no extra cost to you. Thanks!
I've been living in my awesome truck setup for a while now, and I'm definitely starting to get a clearer picture of which items I brought along that I truly like, use frequently, and have really proved their worth over time on the road. This article is about those particular road trip products that are surprisingly useful to have for life on the road.
Despite my imploring you to Stop Buying Things and Start Doing Things, I just wanted to call out a few pieces of truck camping gear or road trip products (not hiking gear or for climbing) that I think are pretty awesome…
If you're looking more for the absolute must-haves, check out What You Need to Start Truck Camping.
Some things can undoubtedly make your trip easier, more enjoyable, and comfortable. And unlike similar posts I've seen, this is not just some shout out back to the company for throwing some free gear my way. I wish! Haha!
I purchased all of the below with my own money, and genuinely believe they have been awesome to have on the road.
Pin it!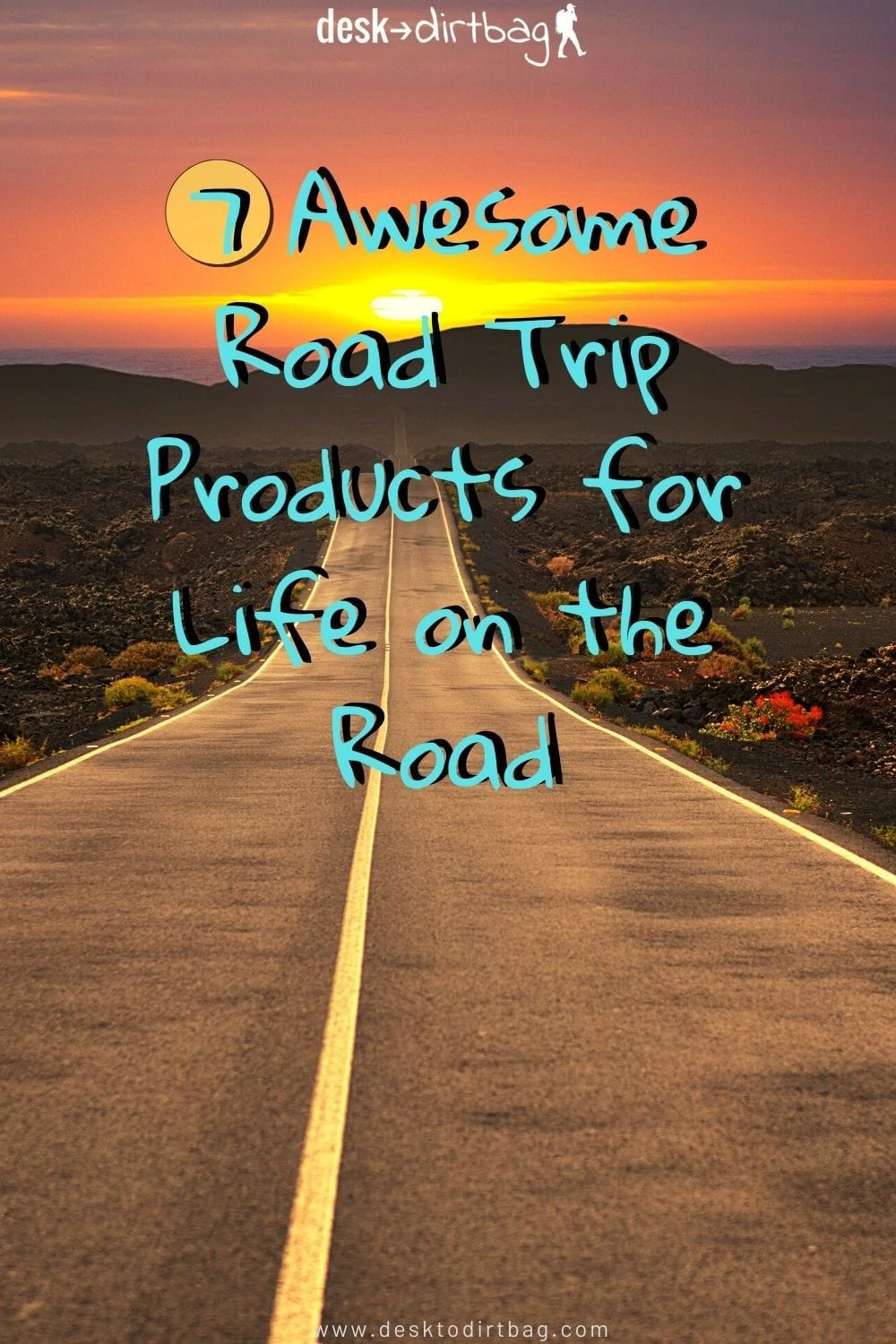 I picked up the Thermos 24oz Food Jar prior to departing with the intention of using it for cooking… and I wasn't sure if it would work as I had anticipated. Turns out it works amazingly! It definitely isn't one of those traditional road trip products, but it has a lot of uses on the road.
If you're going to be cooking, then anything that requires simmer time or extended boiling time to cook, like pasta, rice, etc, goes into the food jar. It basically keeps hot things hot and has a wide mouth for eating out of.
I quickly boil water and dump the contents in, seal it up, and then wait for approximately the specified simmer/boil time on the package, and it's done.
This saves me fuel consumption and time spent watching the stove. It also keeps the food hot while you eat out of it, which is great on chilly nights or mornings.
I've even hard-boiled eggs in it, and cooked tilapia sous vide style. Awesome! Tim Ferriss' book, the 4-Hour Body, gave me the initial idea to look at thermos cooking when I read about him cooking fish in a hotel bathroom sink…
I think the 24 oz container is the ideal size for most single-serving meal sizes… And it works particularly well for the quick and easy stuff I favor, like Knorr Sides with a tuna packet, or Annie's Mac and Cheese with a Tasty Bites Indian dish.
The website ThermosCooking.com has some additional recipe ideas and tips.
Check out the Thermos Food Jar on Amazon.com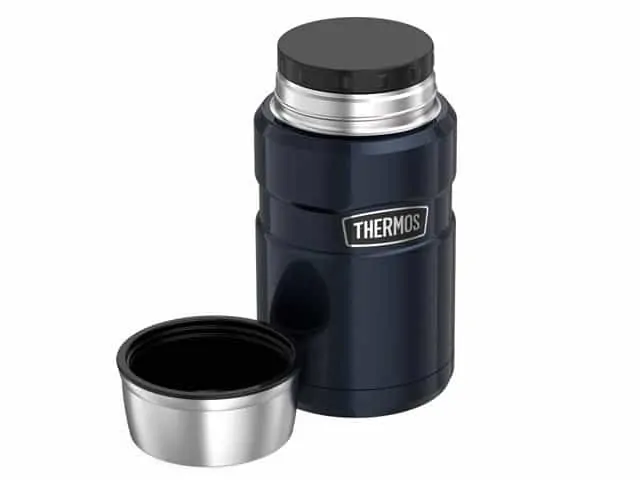 Similar concept here… This is a double walled, stainless steel, insulated bottle. Yeah, it's another item to keep hot things hot and cold things cold. But in this case, I've really loved having a Hydro Flask in the desert for COLD water. This is like a must-have while doing an Arizona road trip or road trips from Las Vegas, for sure!
Your water jugs (and everything else) are going to absolutely cook in the hot car (while driving or when you park somewhere). Drinking what feels to be nearly boiling water in the hot hot heat is no fun.
The Hydro Flask has been great to keep a bottle of cool water on hand for the day… Either fill up from your water jugs early in the morning before things heat up or visit some sort of water fountain where you can top off on the cold stuff.
I picked up the 24oz Hydro Flask. A good size, but maybe would have preferred a standard 32 oz size. The "sports cap" might be a good addition as well, but not sure if that affects the insulation.
Check out the Hydro Flask Insulated Bottle on Amazon.com
When I first hit the road and was living out of the back of my truck I was using my regular backpacking air mattress to sleep on (Neoair Xlite or All-Season), which was always more than comfy on my weekend or week-long trips.
In the first couple weeks on my narrow 20-inch backpacking, I quickly realized that it was less than ideal for car camping–the sticky plastic feel on bare skin, rolling off the edge of the small mat.
I tend to keep things simple, and pretty basic when it comes to creature comforts while backpacking… but come on, I don't have to be concerned with size or weight for the most part when it's in the back of my truck (though I didn't want the bulk of a full-on futon mattress or memory foam pad).
So when the REI Dividends were issued, I used mine to pick up the Neoair Dream. A cushy air mattress with a foam topper and a nice fabric covering. It is *so much* more comfortable than the skinny mattress.
I got the large 25″ wide model, which is ideal for my truck… The extra-large version is wider and longer yet–too long for my truck bed, actually. The thing also rolls up to about the size of a sleeping bag, so it isn't too bad to store.
But yeah, when you are spending every single night sleeping in the back of your truck, it is pretty important to try and maximize your comfort where possible, especially when it comes to sleep, so bring along a real pillow too!
On the downside, the first one I bought did spring a slow leak after about a month, I took it back to REI to be replaced and haven't had any problems in the time since. After I started truck camping with my partner, we upgraded to an even wider foam pad for both of us, so check out my guide to choosing a truck bed mattress for more info.
Check out the Thermarest Neoair Dream on Amazon.com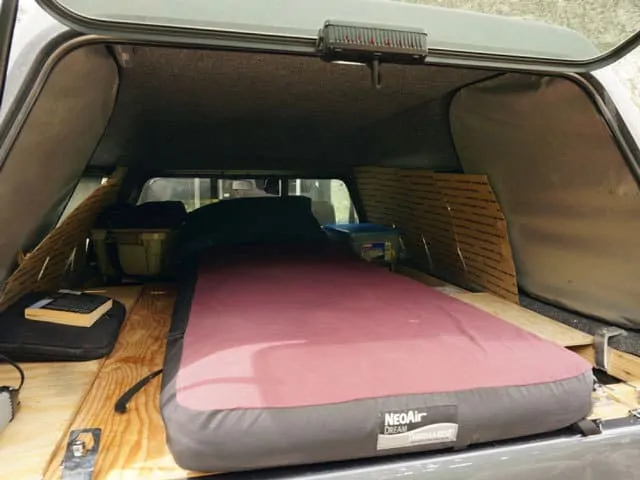 Cool idea… The Gomadic has an AC wall charger and a DC car charger–but better yet it has exchangeable tips to charge your variety of devices.
I've got the Micro USB, Mini USB, and Apple iPod tips that I've zip-tied together so I always have ready access.
This keeps all my possible charging needs accessible from one outlet (one device at a time). It's just been handy to keep fewer chargers in the cab and eliminated the fumbling and searching around for that one charger when you need to get some juice in your cellphone, GoPro, iPod, camera, etc.
Check out the Gomadic 2 in 1 Combo Charger on Amazon.com
This one might not be too surprising… Lots of people have jumped on the e-reader bandwagon. I love books, I love used book stores, I loved collecting books, and even struggled with getting rid of my books when downsizing for this trip.
But I don't really have room for a library in the back of my truck, so it's awesome to be able to have a whole collection and selection of books on hand in such a tiny device. It's great to be able to pick up a certain book I'm wanting to read while out in the middle of nowhere in the desert, thanks to the 3G access.
The lengthy battery life is great, there is a pretty good selection of free books available, and I also love the built-in light on the Paperwhite–you can read your books at night without any supplemental overhead lights or headlamps.
Only downsides I see: the new books can get a little expensive, you don't have the ability to go pick up a random used book for a couple of bucks, and unfortunately for the Paperwhite they have restricted 3G web access to only sites a few sites like Wikipedia (you used to be able to have basic free internet access–think email–over their 3G network).
But all in all, if you like to read on the road, the convenience of the Kindle is so worth it, in my opinion. You could just get the Kindle app on your cellphone, but the dedicated e-reader is so much better (and less distracting).
Check out the Amazon Kindle Paperwhite on Amazon.com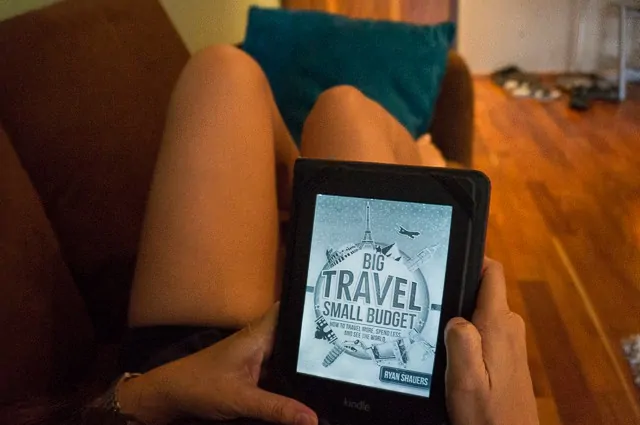 BONUS TIP:
As you may know, classic literature is offered up for free on the Amazon website, and you can just search for "0.00" (check out the results here) and then sift through the (mostly junk) selections.
If you don't have a Kindle, you can always download their free PC desktop application or mobile phone app to read your books on the go and reduce clutter.
Another thing you might want to consider is getting Amazon Prime. I love having the Prime Membership which offers free access to their online streaming media, free book borrowing for your Kindle (you can borrow my book Big Travel, Small Budget for FREE!), as well as fast two-day shipping.
A worthwhile exchange dropping your $ cable bill for an Amazon Prime membership (get started with a FREE 30-day trial here). You might even learn something with the book borrowing.
Delicious, fresh coffee made from my tailgate! This coffee is as good or better than most espresso stands (just make sure to get fresh beans and a hand grinder). You'll need a little stove to boil water too…
I've already written a full post and review about this one, see How to Make the World's Best Cup of Coffee While Camping.
Check out the Aeropress Coffee Maker on Amazon.com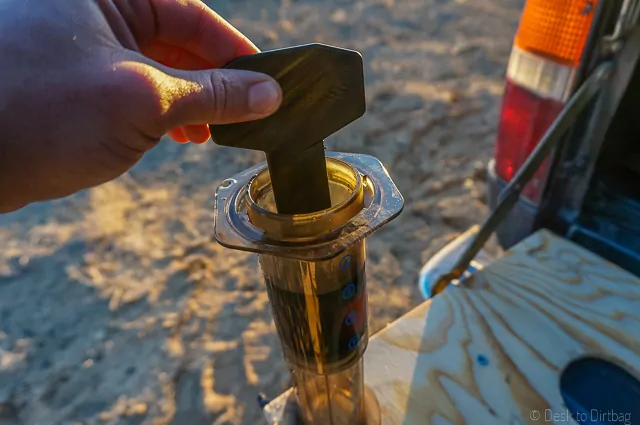 A mini, flat little flashlight that you can clip onto your key chain. I would call this one almost essential. I use it so much.
It is so very convenient to have a little light on hand–when you need to navigate dirt parking lot mud puddles in the dark, make your way to wherever you last put your headlamp or any other quick need for illumination.
The Inova Microlight is surprisingly bright for such a small little thing, it isn't noticeable in my pocket, and the battery lasted for more than six months before it had to be replaced.
UPDATE: It finally bit the bullet after about two years–the rubber button came loose and got pulled off and later the actual button contact disappeared as a result. I really miss the little flashlight, my cellphone just isn't the same. But I was finally able to replace it at an outdoor store in Panama… It was definitely missed it!
Check out the Inova Microlight on Amazon.com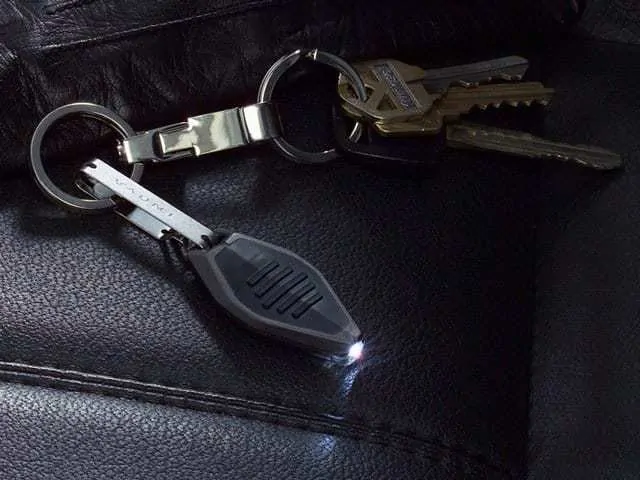 More Road Trip Products?
I will update my take on the above items as time goes on, and might possibly add other things as they jump out to me.
I've got plenty more gear recommendations to get started truck camping so be sure to check it the best truck camping accessories and what you need.
Read Next: Road Trip Planning & Tips
Share This!
Did you enjoy this post about some randomly awesome road trip products? Take a second to share it on Pinterest, Facebook, or Twitter. Thanks!
More truck camping stuff?
Join the private Facebook group Pickup Truck Camping to ask questions and share your insights.
Disclaimer: I paid for all of the above items with my own hard-earned money (or my REI Dividend), and the associated companies did not advocate for nor contribute to the above review. I have included affiliate links through Amazon, providing me with a small commission if you purchase after clicking through. This money goes toward my Amazon Kindle book fund, thanks!
The following two tabs change content below.