This article may contain
affiliate links
. If you make a purchase through these links, I will earn a commission at no extra cost to you. Thanks!
I don't know about you, but I need a great cup of coffee to get me going in the morning, it doesn't matter whether I'm camping or not. So what's a born and raised Pacific Northwesterner supposed to do when looking for the best camping coffee maker? Well, after much search and trial and error, here is my solution to making coffee while camping and what I've used for the past few years.
I love the smell, taste, and ritual of drinking a great cup of black coffee; the morning caffeine jolt is an obvious benefit, but so too perhaps are the other purported health benefits of coffee consumption.
How can YOU make the world's best cup of coffee while camping?
Well, you don't need a Kuerig coffee maker for camping, that's for sure. There are a non-electric coffee makers for camping on the market that enable you to brew in the frontcountry and/or backcountry. You've got French press coffee makers for camping, the Coleman camping coffee maker, to lightweight percolators, to various instant coffee variations, and many, many more options…
Some are super heavy, some are ultralight friendly, some are more convoluted to use, or a hassle to clean.
So how does one best make coffee while camping while not only considering the ease of use and cleanup, but also the simplicity that most of us seek while out in nature?
The most important factors to consider, beyond how good the coffee tastes, is whether it is a portable and lightweight coffee maker that is made to be used anywhere and how difficult it is to clean up.
I looked at many, many different camping coffee makers when I was getting ready to live in my truck and travel the country, and my considerations ranged from a sturdy stainless steel coffee press, the GSI Outdoors pour over, a self-contained French press coffee mug, or one of those coffee percolators…
Those are the most common options and are widely considered to be among the best camping coffee makers by many, and what I was primarily considering using, at least until I learned about a totally new device to make coffee that I'd never heard of before…
This post is specifically about the best camping coffee maker since this blog is outdoors focused. But after years of using it, I can honestly say that this is one of the best ways to make coffee while traveling, road tripping, or even in your home or apartment.
I truly believe that there is one device that fully delivers in all those environments and makes one of the best cups of coffee you will ever have.
I'm happy to say that I've found that coffee maker… And I used it while exploring the American West for a year, backpacking through Colombia, and during our entire trip driving through all of Central and South America.
I've been using it continuously since the beginning of 2013…
So what is it, you ask?
[clickToTweet tweet="Want to make the best cup of coffee while camping? Check this out…" quote="Click to Tweet"]
The Best Camping Coffee Maker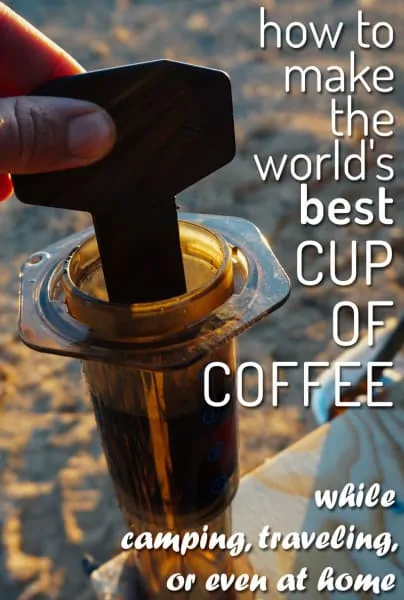 Aerobie Aeropress – The Best Camping Coffee Maker
I first heard of the Aeropress Coffee Maker while reading Tim Ferriss' book, the Four Hour Chef. He described it as a quick, simple, easy to use, and highly portable coffee maker that baristas frequently use while travelling.
So easy that you could make an exceptionally delicious cup of coffee right on the tray table of the middle seat of an airplane. Many boutique cafes and coffee shops even offer Aeropress brews at their stores, right alongside the pour overs, siphon coffee, and espressos.
This discovery was prior to departing on my massive road trip of the United States, but immediately the bells were going off in my head that, if true, this would be the ideal camping coffee maker especially while travelling or living in my pickup truck.
Fast forward, and I've been using the Aeropress now pretty much every day for many years now, and I'm more than convinced that this is the best camping coffee maker you can find.
It consistently delivers a delicious, fresh, clean, and flavorful cup of coffee with none of the bitterness that you often find with over-steeped and over-extracted coffee brewed by other means.
It is quick and easy to make, and thankfully, clean up takes all of ten to fifteen seconds. I cannot recommend the Aeropress enough as your #1 camp coffee maker.
There are thousands of glowing reviews on Amazon.com, many of which say something along the lines of "I own a French Press, drip coffee maker, and high end espresso machine, and they have all been retired and relegated to the basement thanks to the Aeropress."
No joke, read them here.
If it delivers coffee that good in a home environment with an ease of use and portability that enables the same coffee at your campsite or on the tailgate of your truck?
And the thing costs less than $30?
Count me in.
Share on Twitter:
How to make the world's best coffee while camping and traveling via @desktodirtbag
How is the Aeropress Different?
The Aeropress is a unique plunger type of device that utilizes air pressure and a paper microfilter (or third party metal filters) to produce a coffee that is lower in acidity and bitterness than other conventional methods of brewing.
It looks sort of reminiscent of a French Press, but combined with the paper filter of a drip coffee maker…
The Aeropress differs from other coffee makers in a few key areas: conventional drip coffee makers tend to over-extract the beans where the hottest water contacts (at the top and the center of the grounds) while under-extracting other areas (like the sides and bottom), it is the over-extraction that produces bitterness in the finished product.
The Aeropress uses full immersion of the grounds, similar to a French Press. However, the French Press requires a coarse grind to be filtered, and thus requires a longer steeping time.
Increasing the steeping time, or (if you don't decant it) allowing the grounds to continue steeping, produces bitterness.
Not only this, but an uneven grind also allows fine grounds to pass through into the finished product, producing the unpleasant grittiness that can be found in a French Press cup, and which will become over-extracted as you drink your cup.
Beyond the beans and grind, there are a few key variables that change the taste of the finished product.
Namely by changing the temperature of the water, the time that you allow the grounds to steep, or the coffee grounds to water ratio, you can produce a cup of coffee that exactly suits your tastes.
The Aeropress easily allows you to modify the above variables, where other conventional brewing methods do not.
By utilizing the ideal water temperature (175 degrees F), limiting steeping time so as to not over-extract the grounds, and using a paper filter to produce a pure and grit free product, you're left with a truly delicious cup of coffee.
Are there downsides?
The Aeropress is best used as a single cup coffee maker or for a couple (just double the grounds), and is not ideal for making coffee for large groups — but that makes it ideal as a camping coffee maker for a solo camper or a pair. The paper filter also removes the oils in the beans that you would find in a French Press or similar method.
So perhaps most accurately speaking, the Aeropress produces the best single serve, paper filtered cup of coffee you'll ever have.
I most often use it to make an Americano style cup of coffee (diluted with hot water), but it can be used to produce an espresso-like, concentrated brew
For the past few years I've been using the S Filter ultra fine stainless steel filter for my coffee rather than the paper filters, and I can definitely say that the coffee it produces is as good or better than the paper filters.
Obvious PROs of the metal disc: only one filter, no need for replacements, it is durable (no visible signs of problems or damage after three years of use), and it allows essential oils to pass through the filter.
Obvious CONs of the metal disc: only one filter, so if I lose it while traveling I'm in trouble; it is slightly more work to clean, you can't just pop it off into the trash, usually some coffee grounds stick to it that you have to brush off and wash.
But yes, I'm more than content with having added the metal filter and would certainly recommend it to others who have purchased or are going to purchase an Aeropress.
Buy the Aeropress on Amazon.com
How to Make Coffee While Camping with the Aeropress
What You'll Need:
Whole coffee beans – buy small amounts and buy freshly roasted.
What I Also Use:
Camping Coffee Maker Step-by-Step Directions
It may seem like a lot of steps, but I've really broken down the process here. Besides the boiling time and the steeping time (depending on taste), it's actually really quick and simple.
1) Get your hot water going. I start to boil about 16 oz of water (for an Americano) in my Jetboil Sol TI.
2) Grind your beans fresh–this is important. I use a hand cranked burr grinder to produce a single serving of grounds every morning. The Hario Mini Mill Slim Coffee Grinder is the one I've been using, and it's great.
3) Insert the plunger into the end of the Aeropress unit and flip it upside down–this is what is referred to as the 'inverted' brewing method, and is not the method described in the Aeropress instruction booklet.
4) Dump your serving of grounds into the top of the Aeropress.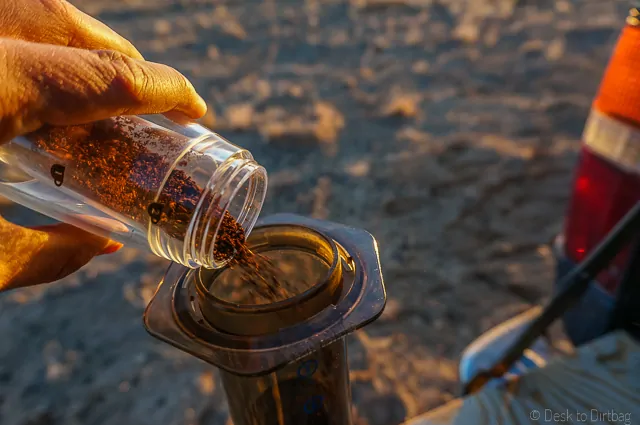 5) Once the water reaches 175 degrees F, turn off your stove and pour the water over the grounds up to the halfway mark of the Aeropress.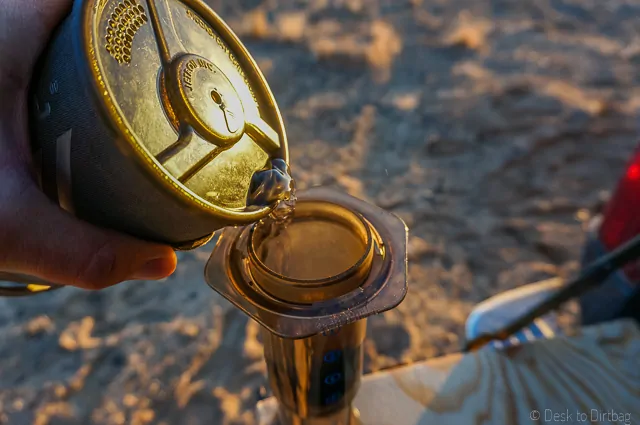 Side note: I use one of those thin espresso thermometers to determine optimal temperature. It fits nicely in the hole on the Jetboil's lid and ensures I'm not "overheating" my water too far past 175 degrees F (and thus also wasting fuel). With no thermometer, you can bring it to a boil and then let the water cool down for a couple minutes. The cooler brewing temperature reduces the bitterness extracted from the grounds.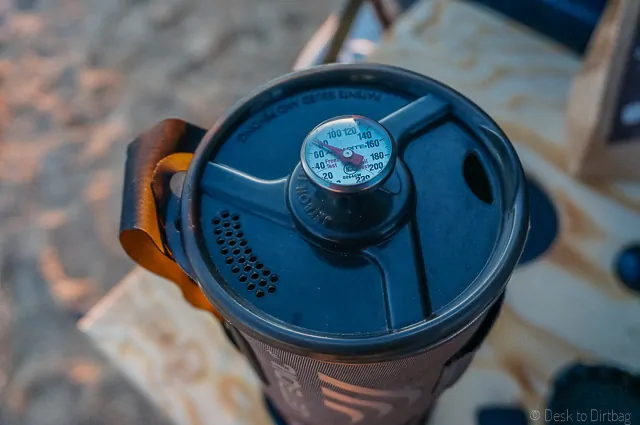 6) Stir the grounds and hot water for 10-seconds or so, then top off the remaining space with hot water. Allow to steep for the desired amount of time–this is dependent on taste, but I do about 2 minutes for an Americano. If you are drinking it espresso-style, you will probably want a short steep time (some people press immediately).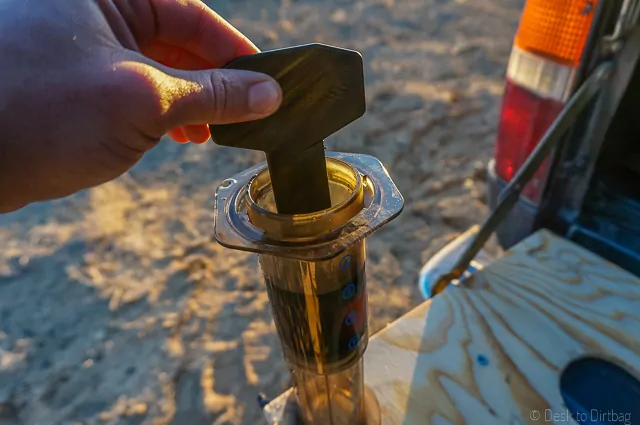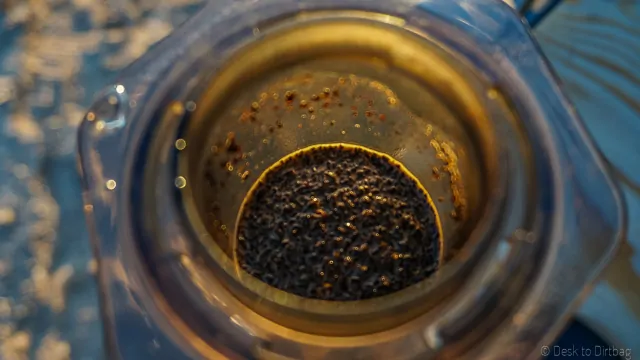 7) While the coffee steeps, insert a paper filter into the lid and wet it with a little water (this keeps the filter in place for the inverted brewing method).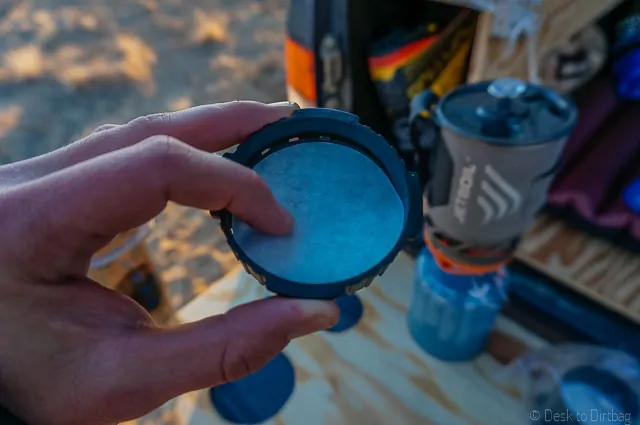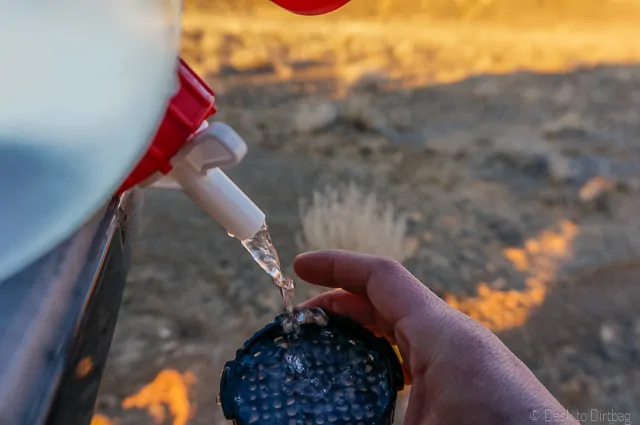 8) Secure the lid with filter on the Aeropress.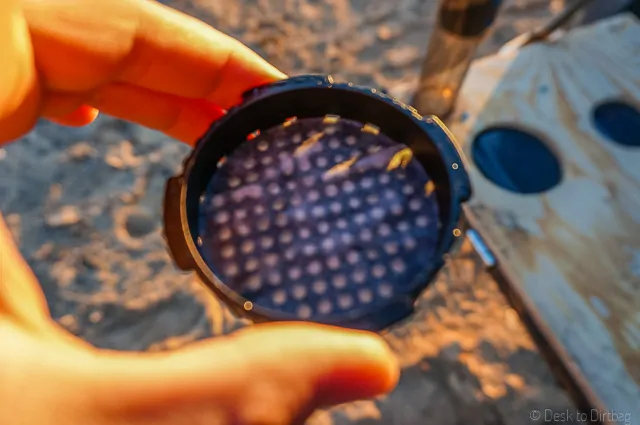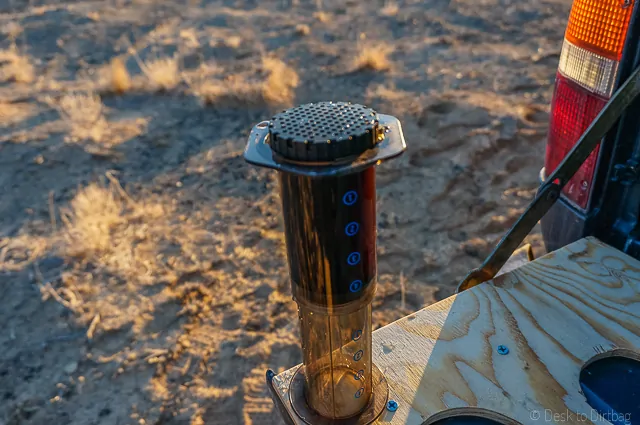 9) Using two hands, flip the Aeropress over on top of your coffee mug. Using just one hand, depress the plunger slowly and steadily over about 20-30 seconds. You will hear the remaining air escape at the end of the press.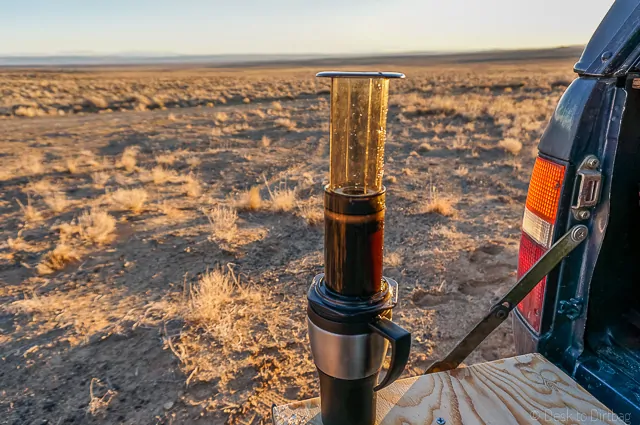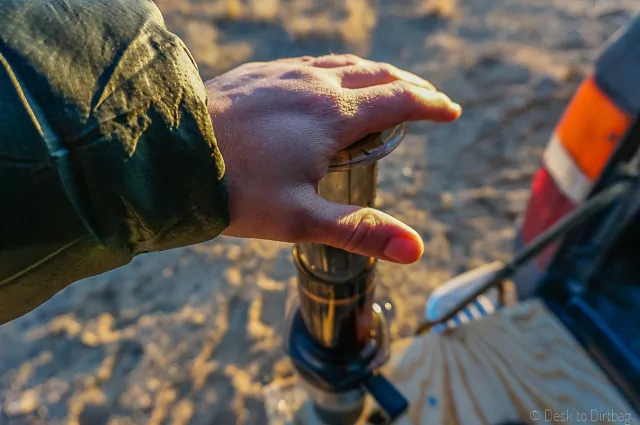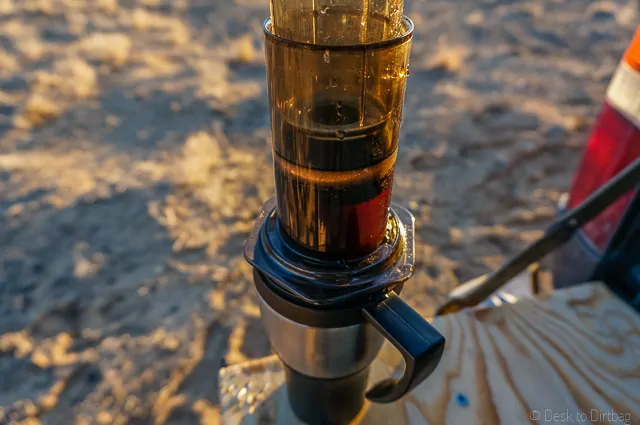 10) It's ready to drink espresso style or you can top it off with your remaining hot water for an Americano. If you want to get more elaborate you could use warm milk to make a latte.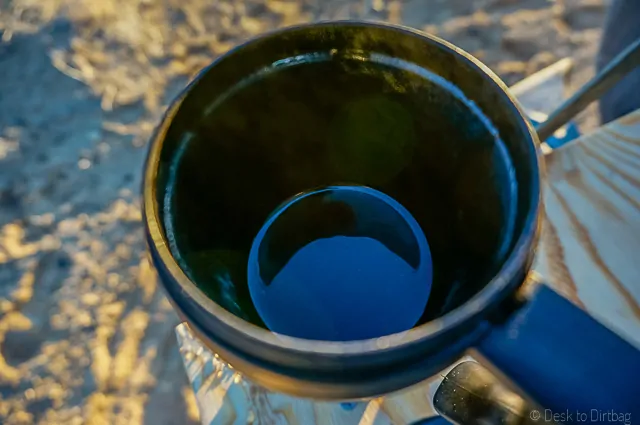 11) Twist off the cap and (over a garbage bag) fully depress the plunger to eject the filter and coffee 'puck'.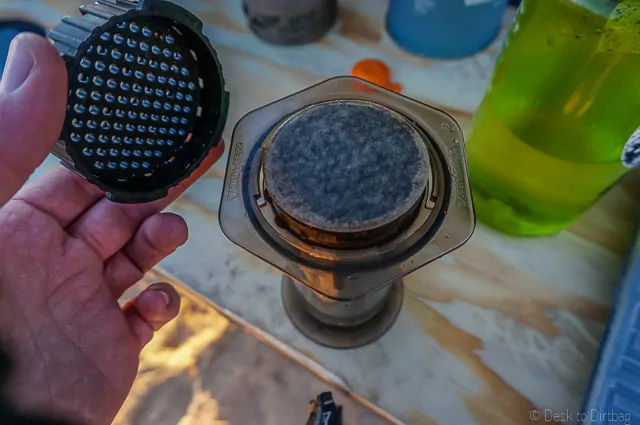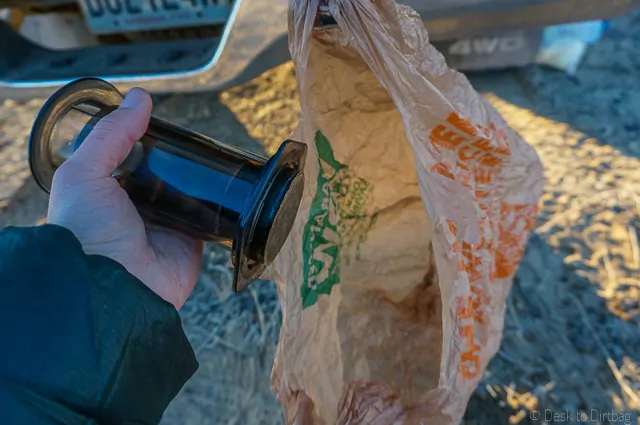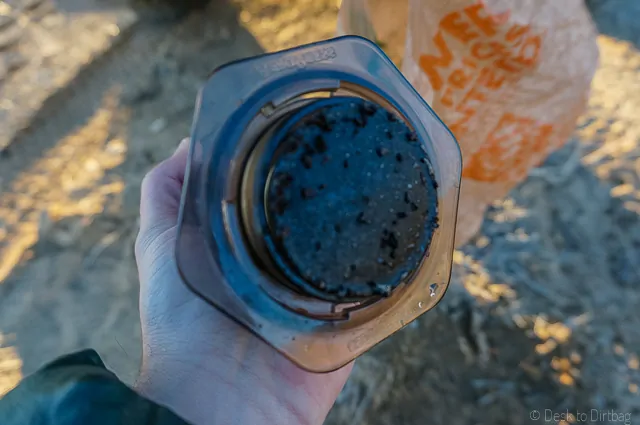 12) Give the end a quick rinse with water or wipe down with a cloth or paper towel. That's it, clean up is done. 10-15 seconds tops. The plunging action has already cleaned the coffee grounds from the rest of the device.
13) Enjoy a delicious cup of coffee, thanks to your awesome new camping coffee maker, and take in the morning glow of an awesome sunrise in a spectacular and wild setting. I couldn't think of a better combination 🙂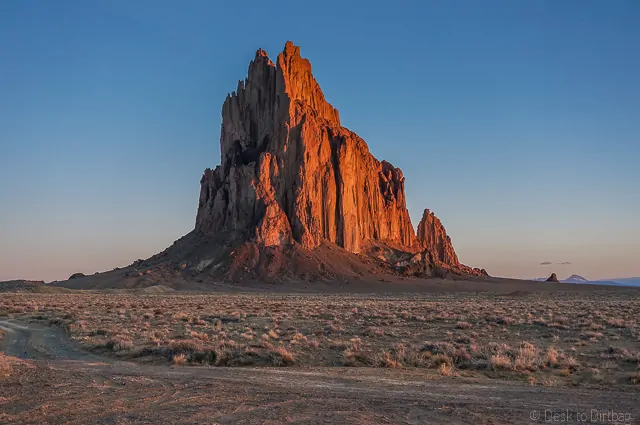 The process is pretty much exactly the same in your kitchen or your hotel room as it is above, but replace the Jetboil with an electric water kettle.
Video Guide to Making an Aeropress Cup
Your New Camping Coffee Maker
I've been using the Aeropress almost daily for the past few years and I really, really love it — it truly is the best camping coffee maker out there.
The Aeropress has allowed me to brew up a killer cup of coffee at highway rest areas, beside some of America's most beautiful natural wonders, in the middle of the desert, the freezing Canadian Rockies, and even at 13,000 feet in the Andes.
It is quick, convenient, and easy to use. the two biggest selling points in my eyes are:
The superior cup of coffee it produces
The super easy cleanup method.
I've definitely converted a few people to the Aeropress method of brewing during my travels.
It's an ideal car camping coffee maker and traveling set up, in my opinion, and meets almost all of my needs–although it's not as well suited as a backpacking or backcountry companion, at least not for the alpine or ultralight backpacking crowd.
The plunger unit and end cap weigh in at only 8 oz flat–so it's not too heavy, actually (a little more than a plastic Nalgene bottle). If I'm pushing the miles or elevation I would certainly ditch the Aeropress in favor of some ultralight Starbucks VIA packets in that scenario.
But if you are going to climb Denali or Everest expedition-style or you're doing a casual backpacking trip and dragging along the DSLR camera, then what's another 8+ oz in your pack for some truly world class coffee? 🙂
Buy the Aeropress on Amazon.com
---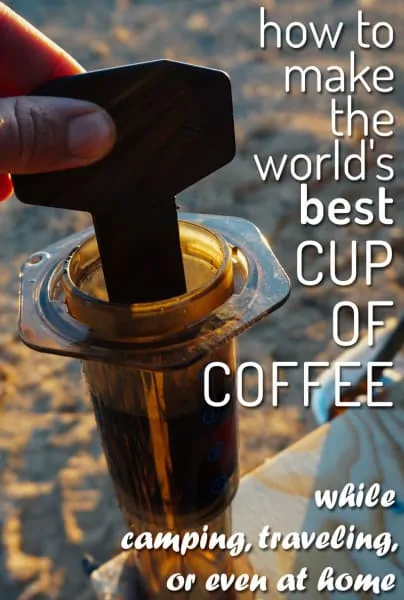 Relevant Coffee Resources
World Aeropress Championships – Yes, it's real. Get the preferred brews, methods, timing, and recipes from the connoisseurs.
Dropping the Drip: How to Get Started with Better Coffee – A good overview from Lifehacker about how to make better coffee at home, including different devices like the Aeropress, and some blind taste tastes. The Aeropress usually topped the taste tests, and was their overall preferred choice on the "Taste to Fuss Ratio".
Disclosure: I bought the Aeropress, grinder, and other associated items with my own hard earned money. None of the companies advocated for nor contributed to the above review. This post contains affiliate links, meaning that at no additional cost to you, I'll get a small commission if you purchase after clicking through my site–thank you for the support!
The following two tabs change content below.