This article may contain
affiliate links
. If you make a purchase through these links, I will earn a commission at no extra cost to you. Thanks!
I love getting away into the backcountry and deep into nature for a bit of communion with nature — and I also love taking along my camera so I can photograph some of the incredible nature that surrounds me. Problem is, if you're going into the woods for a few days on end, it can be tough to keep all your electronics charged during that time, which is where solar power comes in. Read my thoughts on the BioLite Solar Panel 5+ review here.
I was doing an inventory of the electronics that I usually bring while backpacking, and it includes:
– Sony NEX-6 Camera
– Cellphone – which serves for GPS maps, reading, photography, music, and more.
– SteriPen for water treatment
– Amazon Kindle on occasion, if it's more a relaxed trip.
If you couple that with a hiking partner, you've got double the gadgets to charge.
Solar panels are becoming more portable and lightweight than ever, and make for a compelling addition to the trekking packing list if you're trying to stay charged.
I've had my hands on the BioLite Solar Panel 5+ for well over a year now, and have found it to be a welcome addition to my pack when I'm heading out on the trail, particularly in the alpine where I'm likely to receive a lot of sunshine.
Tech Specs and Features
The BioLite Solar Panel 5+ features a small and rigid 5-watt panel (5 watts per hour in peak sun), and features a built-in 2200 mAh battery (approximately one full phone charge), meaning you can charge the device throughout the day and then plug-in your phone after dark.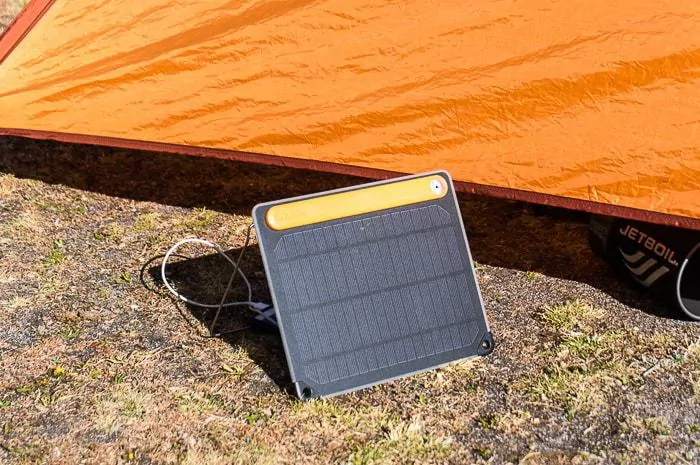 The panel features a built-in sundial which helps you best align the panel to receive the sun's rays (just align the shadow of the dot between the crosshairs) and it also features a kick-stand that fully rotates, helping you align it properly on uneven terrain.
In total, the Solar Panel 5+ weighs less than a pound, at only 14 oz, a modest addition to the pack.
What I Like About the BioLite Solar Panel 5+
All the tech mumbo-jumbo aside, what I really like is that the device simply works. I put the panel in the sun, adjust the angle a little bit to get the sundial placed correctly and my devices charge.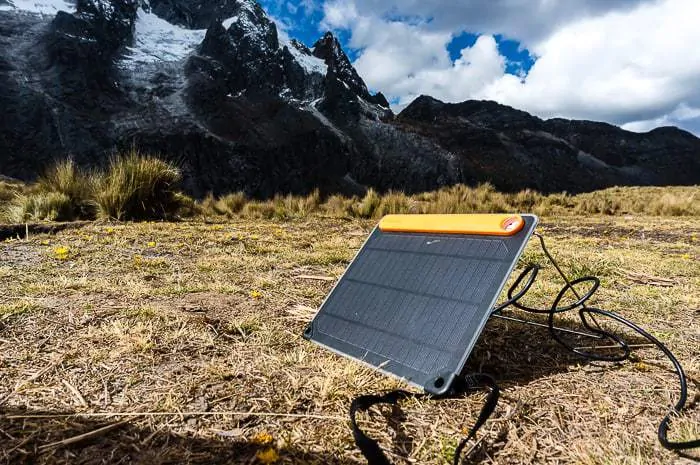 It is surprisingly thin, so it slips into an already stuffed pack, and even though every ounce counts when it's on your back, I appreciate how light and portable it is.
Recently Andrea and I did the Santa Cruz Trek in Peru's Cordillera Blanca, spending five days and four nights camping.
Between the two of us we had two cellphones, two cameras, and the SteriPen for water treatment — and we were able to keep everything charged up during the trip. I never even switched out for my second camera battery (which was fully charged and socked away).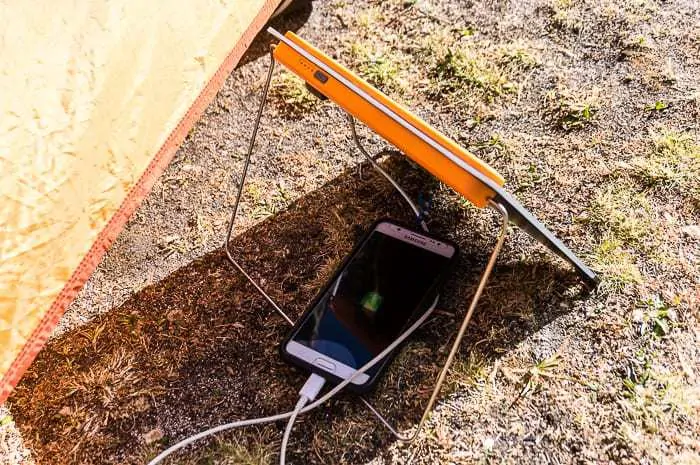 I used my cellphone constantly throughout the trek, taking tons of photos, using it to record our GPS track, and even watching various episodes of Dexter during the chilly evenings.
One night I forgot to charge my phone with the BioLite's built-in battery and woke up the next morning to a 10% battery.
I placed the BioLite Solar Panel 5+ on the roof of my tent and plugged in my phone as we made breakfast and went about our morning routine. As we packed up, I moved the panel to the ground so it could continue to charge, and by the time we were ready to leave (almost two hours later), my phone had charged up to 70% — plenty enough for the day's adventures ahead.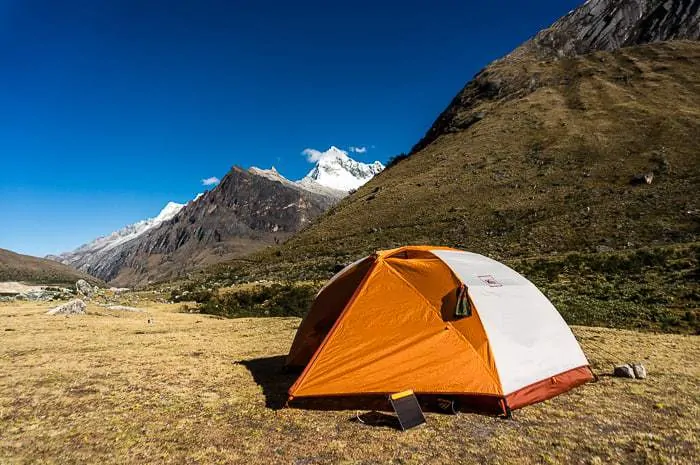 What I Don't Like
Thus far, the BioLite SolarPanel 5+ has proved to be reliable. There really isn't much that I can think of in terms of not liking it.
If I had to nitpick, I wish the holes along the panel edge were a bit bigger, that way I could more easily strap it to the outside of my pack.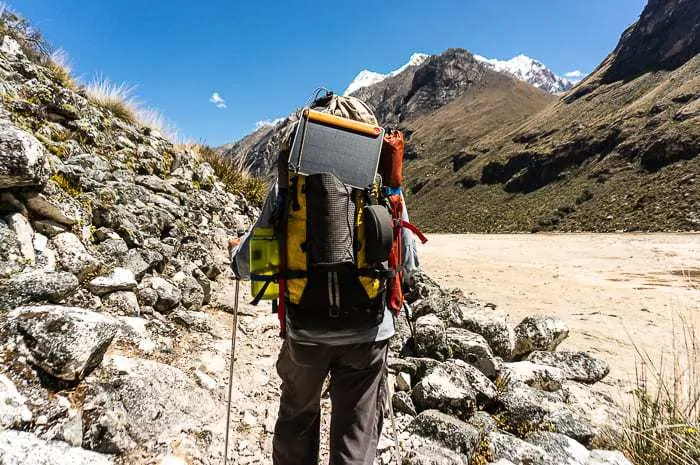 But I found it was easy enough to open the kickstand, loop that over the top of my pack, then run a strap around the body of the panel to hold it in place and keep it from wobbling around.
Who This Solar Panel is For
If you're someone who loves and relies on your electronics, even while out on the trail, this solar panel is a perfect fit, particularly if you mostly hike in sunny, open terrain, including desert or above treeline. I mean, it doesn't make a ton of sense on trips where you'll be spending most of your time under the thick cover of the forest.
You can usually make do with a full charge on your electronics if you're only going out an overnighter, but if it will be two or more nights, you'll need to start looking at other ways to keep your devices charged through the duration of the trip. A solar panel is a great choice and is actually lighter than my portable battery pack.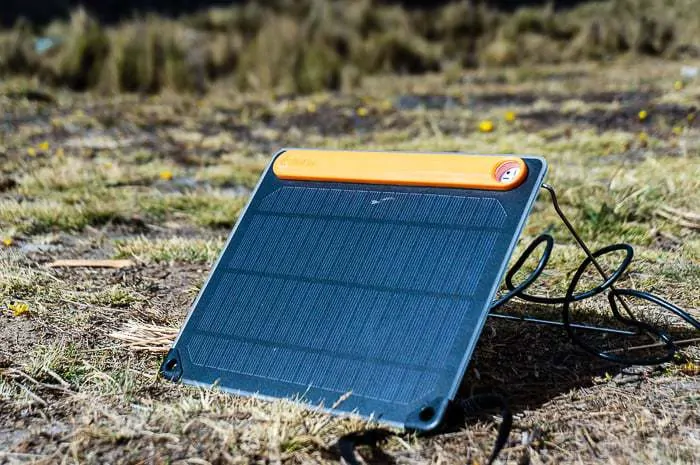 At only $80 retail, the BioLite Solar Panel 5+ is also quite affordable.
If you've been considering adding a solar panel to your backpacking or hiking kit, I'd strongly recommend taking a look at the BioLite Solar Panel 5+. I've owned a couple of portable solar panels over the years, but this is easily the most portable, reliable, and effective panel that I've gotten my hands on.
Purchase the BioLite Solar Panel 5+ from REI
Read Next: Day Hike Essentials
Share This
Did you enjoy this BioLite Solar Panel 5+ review? Please take a moment to share it on Facebook, Pinterest, or Twitter. Thanks!
The following two tabs change content below.