This article may contain
affiliate links
. If you make a purchase through these links, I will earn a commission at no extra cost to you. Thanks!
If you're new to the world of trekking or multi-day hikes, it can be a bit overwhelming trying to decide on what to buy or bring, and that's where the benefit of a trekking packing list comes in. You might also be asking yourself the following:
"Am I packing too much?"
"Will I be able to carry it all?"
"How do I know if the gear I'm purchasing is reliable?"
I've received a lot of emails or inquiries about what one might need when planning for a big trek, so I decided to put together a more comprehensive blog post on what gear you should bring — what is essential and what isn't (many online gear lists are just excuses for putting together lots of affiliate links for things that are NOT necessary).
Where relevant I also put in my personal recommendations for each gear item so you can see what I use and why I use it.
As background information, I have many, many years of hiking and backpacking experience. I used to lead and organize multi-night backpacking trips, and have covered thousands of miles and hundreds of nights camping.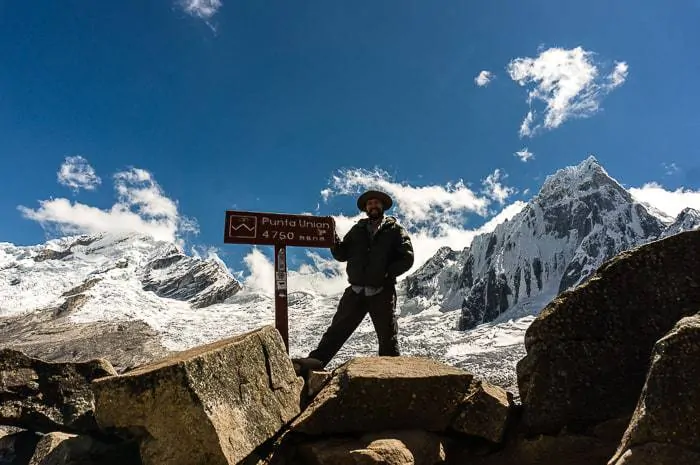 I stick to the Less is More mantra… Light is right. Too many people want to sell you a bunch of gear to make money, but you will be much happier on the trail if you count your ounces and keep your weight down. And keep in mind: mainstream gear isn't always the best answer to every problem.
NOTE: Every trek is different, but this list is focused on multi-night, self-sufficient backpacking or trekking trips. It is focused on cooler mountain climates and assumes you will need your own food, shelter, etc. If you will be sleeping in guest houses, you can eliminate some gear.
If you're not looking for info on what you need for an overnighter, check out my guide to the day hike essentials you should have, much of which should also be present in your trekking gear list.
Download the Packing Checklist
If you're looking for a simple, one-page check list — download my ultimate trekking packing list, save it for later or print it out.
Grab the PDF
The Ultimate Trekking Packing List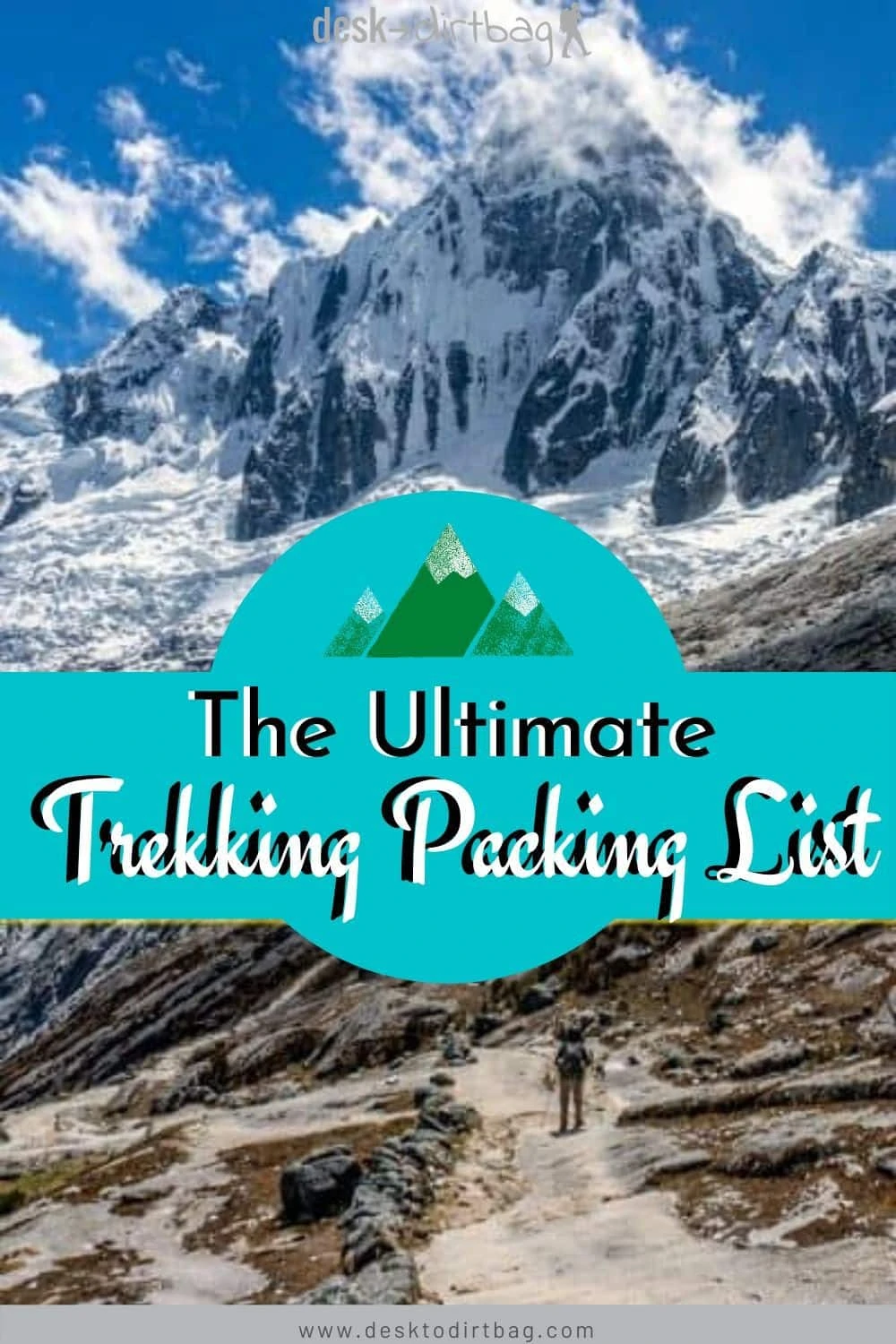 The Big Things for a Trek
Mid-Size Backpack
This is among the most important things you'll need — a comfortable and well-designed pack that will keep you happy on the trail. The size of your backpack depends on how many days you will be trekking, and whether you will be camping and cooking your own food.
It's important that your pack is neither too big nor too small. There is no real reason you need a pack of 60 or 70L for a few days of hiking. Bigger packs are built heavier — you are carrying more weight before you even fill it up. The difference in empty pack weights can be enormous. More space leads people to overpacking as well.
I'd say the sweet spot is a 45 or 50-liter pack, which should allow you to do 5-7 days of trekking. If you need to carry food for more than 7 days without the ability to resupply then you probably need a bigger pack.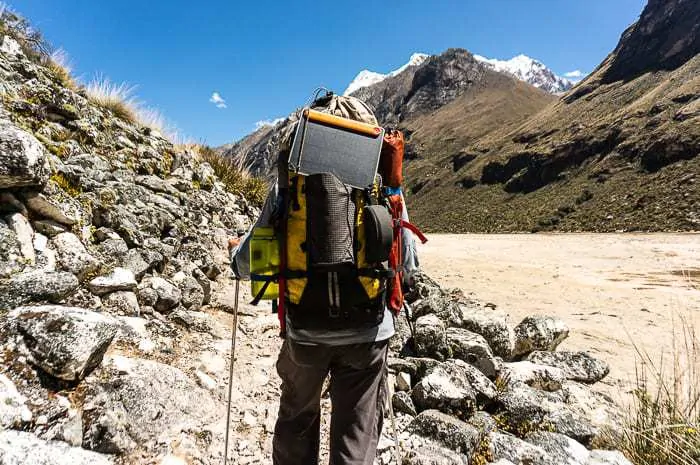 My Pick: CiloGear 45L WorkSack – This pack is my go-to for backpacking around the world, trekking, or mountaineering. It is a minimalist pack designed for alpine climbing (where weight really matters).
The pack is amply sized, comfortable (it has an adjustable frame sheet, which you can shape for your back). The bag has tons of straps and pockets to lash gear, and you can also strip down the weight to leave behind in your tent if you want to use it as a daypack. Mine has been used and abused for years and is still going strong.
Tent
This is another heavy item, but a solid shelter is a must to keep you warm and dry on the trail. Try to get something that is spacious and light — suitable for the number of people you need to accommodate.
My Pick: REI Half Dome 2 – This is an affordable and solidly built tent and what I use while traveling with my girlfriend. It isn't super light at 4lbs, but it's spacious with ample headroom, no problems with condensation, and it keeps the bugs out as a tent should.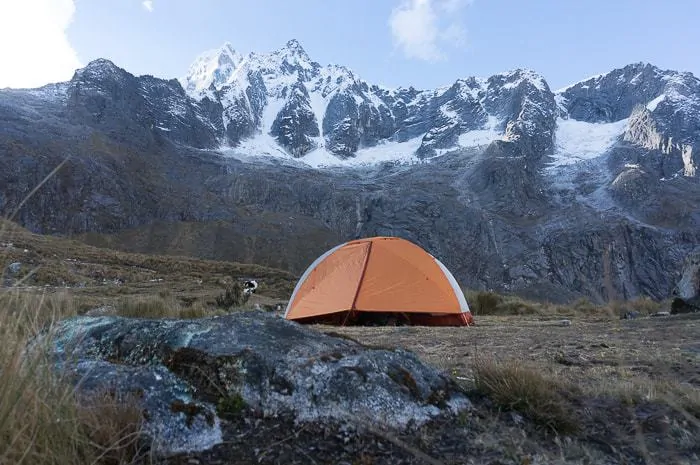 Worth Mentioning: Mountain Laurel Designs TrailStar – If you're up for it, a tarp is a much lighter option, and is perfect when you don't need to worry about bugs. The TrailStar is absolutely bomber and was my shelter of choice before traveling with my girlfriend (who is a little more squeamish about the openness of a tarp.
Sleeping Bag
Get a high quality down sleeping bag. Down is lighter, warmer, and more compressible than synthetic. It will cost a bit more upfront, but a high quality down sleeping bag will last a lifetime. I've found that a 15-degree sleeping bag is a sweet spot if you are buying just one bag for year-round, world-wise use — plenty of flexibility in terms of where you can sleep and how cold it can get.
Most people don't need anything colder than that, and if you go for warmer, you might find yourself cold on some travels. If space is an issue in your pack, don't forget a compression sack to squish your down bag into almost nothing.
My Pick: Marmot Plasma 15 – I own or have owned a few different bags, but this has been my absolute favorite, it is light, warm, and compressible. I've been out in nights that drop into the single digits and still felt comfy. If it's warmer, I just use the sleeping bag like a blanket.
Worth Mentioning: Feathered Friends Vireo – This is a minimalist sleeping bag that has no zipper or hood, meaning it is super light. It's meant to be combined with a down jacket in cold temps. If weight is a primary concern, this is the best sleeping bag out there, in my opinion.
Sleeping Pad
Do not underestimate the importance of a good night's sleep. I've used foam pads and blow up pads, but I prefer inflatable pads thanks to their weight savings, warmth, portability, and comfort. Pay attention to the R-rating when purchasing a pad: the higher the number the warmer it is.
My Pick: NeoAir XLite – This little guy is slim and light. It's kept my warm sleeping on snow or at high altitude. In many years of use, I've never had a problem with leaks or punctures.
Trekking Cooking Gear
Stove and Fuel
You'll need something to cook up food while you're out there. My preferred method is to stick to things that only require boiling water (think oatmeal, soups, pasta, etc) or minimal cooking. There are many options, but you should consider your ability to find fuel if you are trekking overseas. If you are visiting a popular trekking town, they will have most standard fuels available.
My Pick: The JetBoil has been my go-to stove for several years now. The fuel canisters last a surprisingly long time, it boils water in just a few minutes and can be used at virtually any altitude. It's a compact system as well, where the fuel canister sits right inside the pot. Fuel canisters are available in most of the world's most popular trekking locations.
Worth Mentioning: DIY Alcohol Stove – A simple alcohol stove made out of a pop can is a universal travel stove. Simple denatured alcohol can be found in virtually any supermarket or pharmacy around the world.
Bowls and Utensils
You'll also need a cup or mug and an insulated bowl (food or drinks get cold quickly in the mountains). My recommendation is a simple DIY Dirtbag Insulated bowl which will help keep your food hot or even continue to cook things like pasta inside the bowl. You'll also need a spoon (skip the fork, a spoon is good for everything).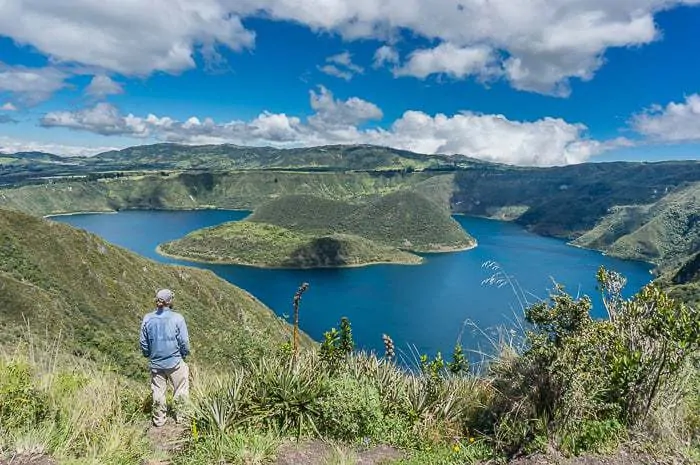 Trekking Packing List Essentials
Footwear: Bulky waterproof boots are the standard recommendation, but unless you have exceptionally weak ankles, that probably isn't necessary. Trail runners or climbing approach shoes are much more comfortable and will keep you walking happily for many more miles than big heavy boots. Generally speaking, I prefer trail runners like the Inov-8 Roc-Lite shoes, but if I'm traveling long-term and need something more durable, I use the La Sportiva Boulder X approach shoes. They are lightweight, durable, and feature a super sticky sole.
Sunglasses: Real, high-quality sunglasses.
Headlamp: It's nice to have hands free light while you are camping. My Pick has been the Petzl Tikka Headlamp – it's been a reliable headlamp. I also appreciate the red light for keeping my eyes adjusted at night — perfect for stargazing.
Pack Rain Cover: Keep your gear dry in an unexpected downpour. Rather than purchasing a rain cover (which often doesn't work that well) just place a high-quality black plastic garbage bag inside your pack as a pack liner, and pack your gear inside it each day.
Dry Sack: A separate, small dry sack is an important addition to protect your valuable electronics.
Trekking Poles: Some people don't believe in trekking poles, but I've seen the difference they make in terms of moving faster and more confidently over unsteady terrain. They also help buffer your knees against a heavy pack and keep you on your feet over hazardous terrain. I've been using the Black Diamond Z-Poles and prefer them over telescoping poles since they are lighter and also less likely to fail (when the clamps or gaskets no longer hold their position).
Water Bottles: I'd recommend at least two liters of carrying capacity. I've tired of Platypus bags with their punctures or freezing tubes. Nalgene bottles are tried and true, but Hunnersdorf makes even lighter bottles. You could also make some DIY Dirtbag Nalgene bottles, if that's your style.
Water Purification: Some form of water purification is an essential item for your trekking packing list, especially along popular routes which often feature lots of human and livestock waste. My go-to is the Steripen UV light and it has kept me healthy and happy for many, many miles. It also serves as a great travel companion to treat tap water.
Compass: Good to know which way you're going…
Trekking Clothes
Underwear: Self explanatory. You only need one pair. Think athletic underwear that prevents chafing and is fast drying. I prefer the Under Armour Original Boxer Jocks — they are excellent for traveling, hiking, running, and quick-drying in your hotel room.
Trekking Pants: I love my prAna Stretch Zion pants — they are khaki style and make great travel pants, and are comfy while hiking, climbing, or hanging out at home.
Long Sleeve Shirt: I'd advise a long sleeve rather than t-shirts, something you can roll up the sleeves with. The sun in most trekking destinations is strong, especially at altitude. Columbia Sportswear makes the PFG Bahama Long Sleeve button-up — it is fast drying, protects against the sun, and a nice button-up looks a little better than the scroungy backpacker look back in town.
Down Jacket: Stay warm! A high quality down jacket will keep you toasty warm. The Montbell Alpine Light Down Parka is my go-to jacket for all but the absolute coldest conditions (well below freezing).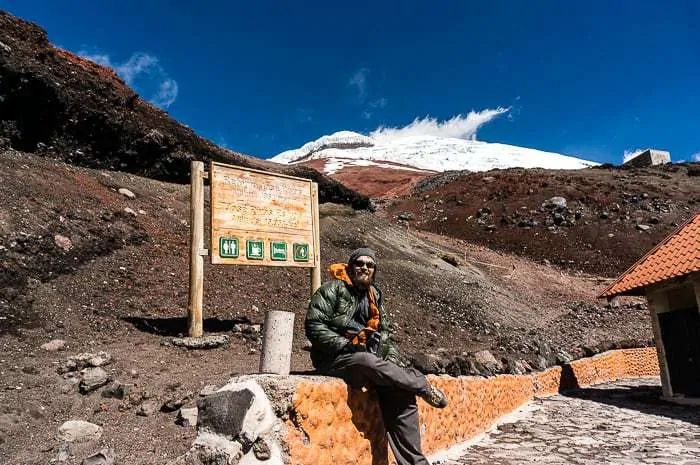 Mid-Weight Jacket: Add in a mid-weight fleece or merino wool jacket or pull-over for warmth during the day. I prefer my jacket to have thumb loops and a hoodie. I've been using the Icebreaker Quantum Long Sleeve Zip Hoodie and have found it to be indispensable.
Ultralight Wind Jacket: A super lightweight wind jacket is one of the most important layers you can have with you. The Feathered Friends Jackorack goes with me almost everywhere — read more about why you need a wind jacket.
Rain Gear: Honestly, I no longer use traditional rain gear. I've since traded in the expensive Gore-Tex for a simple plastic poncho. It does the job, and it's okay to get a little wet so long as you keep your other insulation layers and sleeping bag dry.
Light or Mid-Weight Hiking Socks: My go-to sock is a light or midweight wool sock from SmartWool — they are simply th best I've used. I always couple them with a Fox River X-Static Liner Sock below and haven't suffered a blister since.
Thick Sleeping Socks or Down Booties: Have a pair of socks for hiking and another pair of thicker socks for sleeping. Again I prefer the heavyweight SmartWool socks, or in truly cold conditions I bring along my Feathered Friends Down Booties for a bit of luxury.
Thermal Underwear: Another important layer for sleeping — typically I only use the thermal pants, and rely on my combination of a long-sleeve shirt, midweight hoodie, wind jacket and down jacket for my upper body. The Patagonia Capilene 2 or 3 (depending on cold) is my go-to thermal underwear.
Midweight Fleece Gloves: Lots of great options, but for today's tech conscious hikers, look for one where you can use your cellphone touch screen.
Beanie for the Cold
Sun Hat: Rather than a baseball cap, use one that offers 360-degree protection. They look dorky, but they work better. Be sure to get one with a drawcord below the chin so the wind doesn't blow it away. I use the Outdoor Research Seattle Sombrero.
Buff or Balaclava: A Buff has become indispensable in my pack — they are so multi-purpose, and not just for the cold, but for pre-filtering water, wiping up spills, or whatever.
Health, First Aid, and Emergency
Hand / Foot Warmers: Those chemical hand warmers just in case things are much colder than anticipated.
Normal Prescription Pills
Ibuprofen pills, Band-Aids, and Moleskin: The most essential of first aid treatment. But you should carry other items like Cipro, Immodium, etc.
Potable Aqua water treatment: I always keep a few pills on hand for emergency purposes.
Lighter / Matches: In case the igniter on your stove stops working, or for other emergencies.
Multitool: Something with scissors, a knife, pliers, etc. My Leatherman Squirt PS4 is always on hand and sees a lot of use.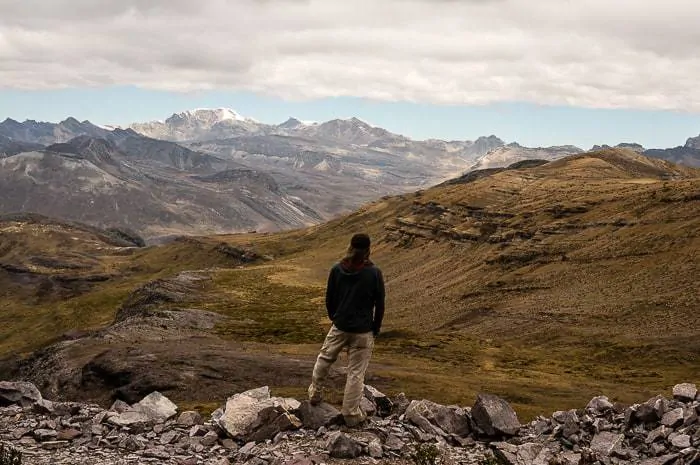 Toiletries
Toothbrush and Toothpaste
Ear Plugs: A snoring tentmate or roaring wind can keep you up all night.
Roll of Toilet Paper: Cut out the cardboard tube so it's more portable.
Face Cleaning Wipes: A few of those Clearasil pads are great to wash your face with.
Small Travel Towel: This is a maybe… My Buff usually serves this purpose.
Sunscreen: The highest SPF you can find — the sun is strong!
Bug Spray: I keep a tiny bottle of DEET in my pack.
Pee Bottle: Yes, a 48oz collapsible Nalgene is amazing to have on hand so you don't have to leave the tent at night when nature calls. If you're a girl, couple that with the GoGirl (but be sure to practice).
Lotion: I keep a little travel tin of Nivea lotion on hand for chapped faces, hands, etc.
Antibacterial Hand Gel: Prevent yourself from getting sick.
Chapstick with SPF Protection: Very important when hiking at altitude or in the alpine.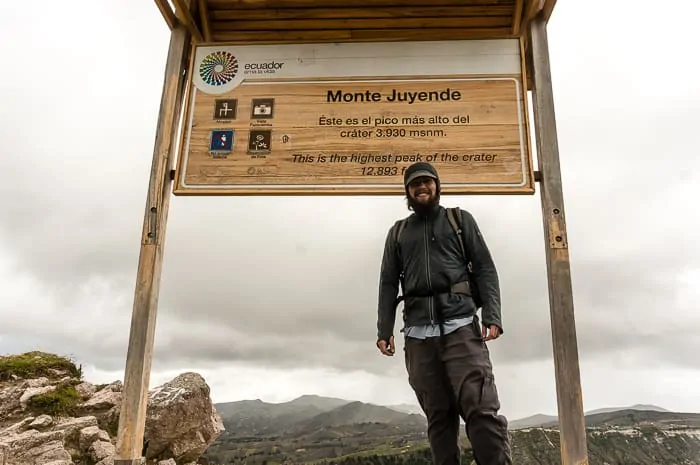 Electronics
Fully Charged Cellphone
Camera, spare batteries, and camera bag: Rather than a big DSLR, I prefer the SONY NEX-6 camera for its portability and its incredible photos. Be sure to bring at least one spare battery (cold drains them fast), memory card(s), and I prefer a small, separate camera bag to keep my gear organized and safe. A small lens cleaning pen is a great addition.
Solar Panel or Portable Battery Pack: If I'm hiking in an area that receives plenty of sunshine (ie not below the trees), then I bring along my BioLite SolarPanel 5+ (read more about that) to keep my gadgets charged. If I'm not expecting much sunlight, I will bring along a portable battery pack to keep my phone and camera topped off.
USB Cables: To connect those gadgets.
Spot GPS Messenger: Let your family and friends know that all is okay with a satellite message from SPOT GPS.
Trekking Snacks and Food
If you're bringing your own food, try to find the simplest meals you can manage. Every region is different, but I prefer to bring things like oatmeal, instant coffee and bread and jam for breakfast; lots of cookies, chocolates, trail mixes, etc for snacks throughout the day; tuna sandwiches for lunch; and instant soups or angel hair pasta and sauce for dinner.
Download the Packing Checklist
If you're looking for a simple, one-page check list — download my ultimate trekking packing list, save it for later or print it out.
Grab the PDF
Final Thoughts
So there you have it!
With this trekking packing list, you should be well equipped and informed about what to bring along on your next big hiking adventure.
Honestly, less is more, a trek is a perfect time to simplify and embrace nature. Even if you forget something, you can usually get by for a few days — but be sure to download my trekking packing list to help keep you on track.
What did I miss? What are your favorite pieces of gear to bring on a long hike or trek? Sound off in the comments below.
Share This
Did you enjoy this trekking packing list? Please take a moment to share it on Facebook, Pinterest, or Twitter.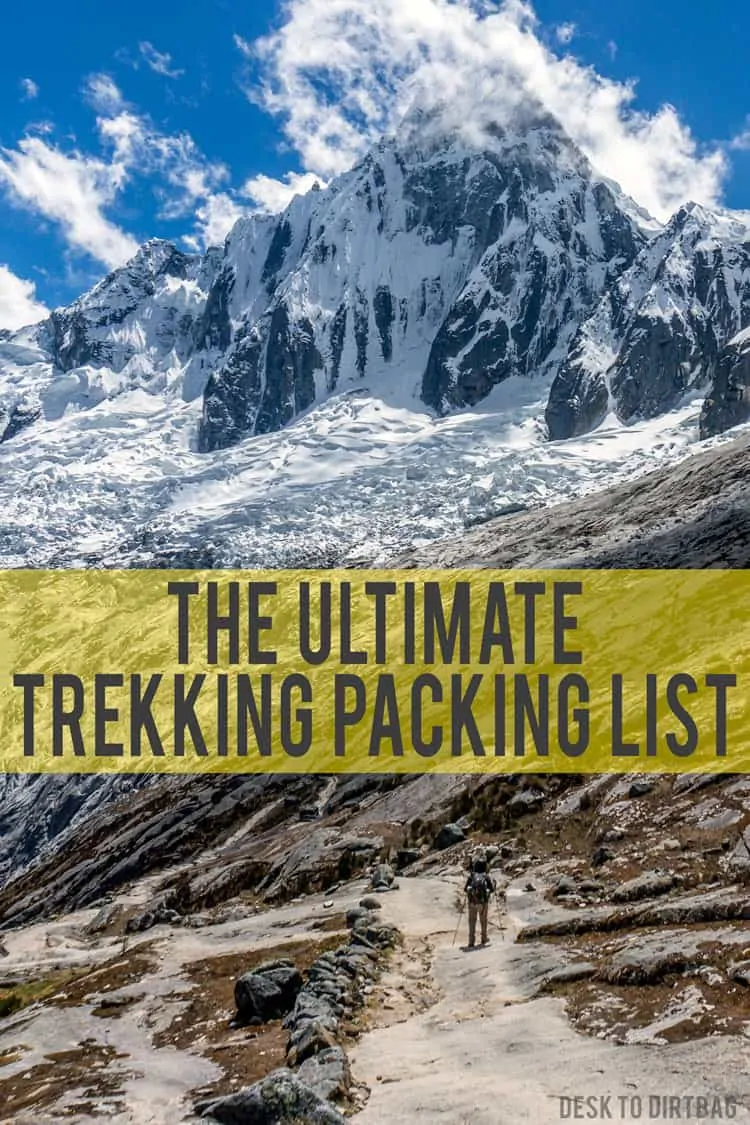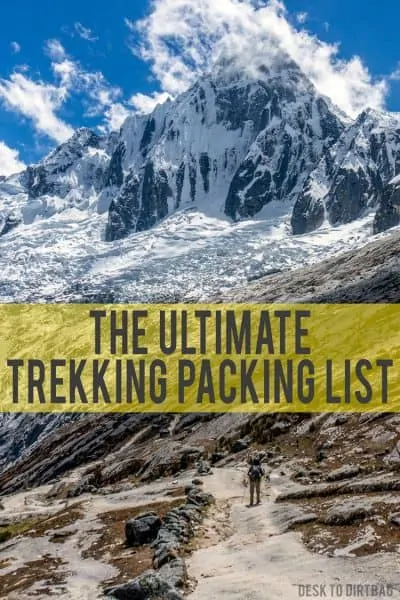 The following two tabs change content below.