This article may contain
affiliate links
. If you make a purchase through these links, I will earn a commission at no extra cost to you. Thanks!
Las Vegas, Nevada is among the most popular tourist destinations in the United States, attracting more than 40 million travelers from all over the country and the world. The vast majority never even leave the Las Vegas Strip, which is a shame because there is much more to see nearby. Indeed, it serves as a great jump-off point because you'll find some truly incredible road trips from Las Vegas.
I've spent a great deal of time in Vegas and exploring the surrounding areas, and while Las Vegas honestly isn't my favorite place, but many people love it and it is undeniable well-located for exploring some of the most beautiful and spectacular natural areas on earth, all within a few hours drive.
Whether you're on a road trip to Las Vegas or looking to head out from there, this guide will help you identify some of the coolest areas to explore. We will start with some shorter and easier day trips from Las Vegas and then dive into longer road trips from Las Vegas that are best done with at least one or two nights.
The idea is to include a range of different road trips in all different directions and accessible to you no matter which way you want or need to head and no matter if you're in your own vehicle or a car rental.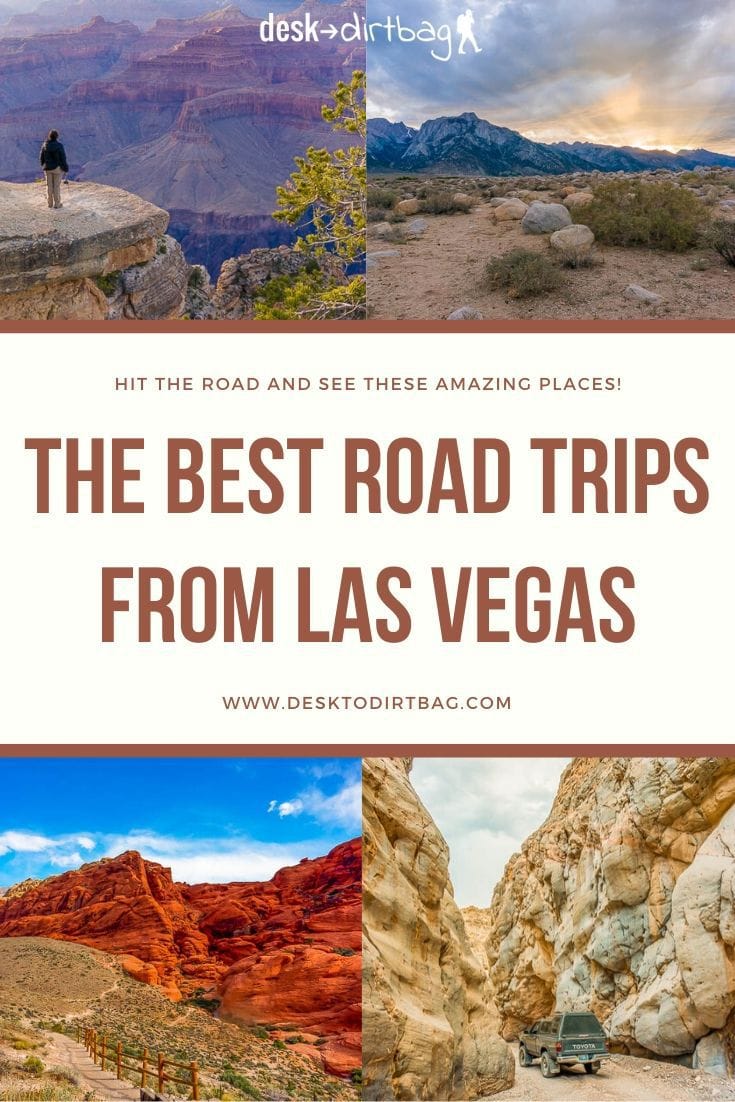 Day Trips from Las Vegas
If you plan to stay based in Las Vegas but want to get away for the day, there are a handful of great options for you in almost any direction. There is spectacular nature, man-made wonders, and so much more accessible to those who love a great American road trip.
Red Rock Canyon
The spectacular Red Rock Canyon National Conservation Area sits just 15 miles west of the Las Vegas Strip. Indeed, this is a place you can visit without really leaving Las Vegas (it sits on the western edge of the city limits).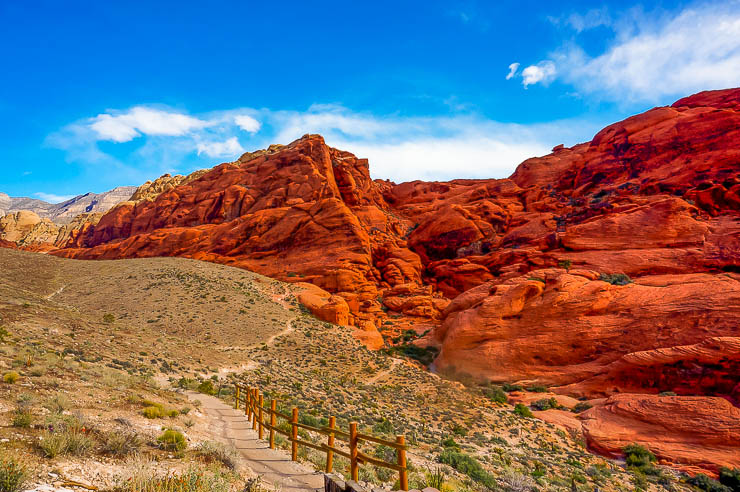 This conservation area features some of the most beautiful scenery you can imagine, with brightly colored rocks, striated mountains stretching up to 7,000 feet, along with great hiking, flora and fauna, and more.
There is a beautiful scenic loop drive that you can do or you can spend a little longer here, going hiking through canyons, along the multi-colored rocks, or roping up and climbing the sandstone.
You can do this as a relatively quick morning jaunt or take a full day exploring.
Read More: Visiting Red Rock Canyon
Hoover Dam and Lake Mead
Just east of Las Vegas, right on the Arizona-Nevada border less than 45 minutes away, sits the impressive engineering marvel that is the Hoover Dam. This dam was once the world's largest hydroelectric station and the tallest dam on earth. Today it has been surpassed, but it is nonetheless amazing.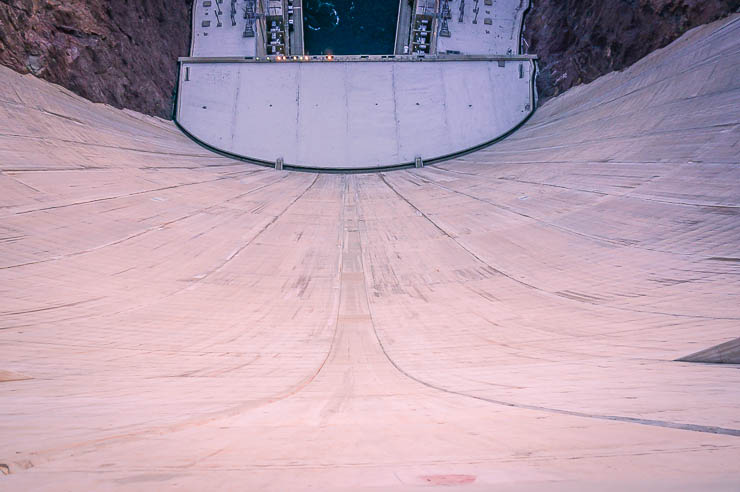 Boulder City was an entire town constructed nearby to house the massive workforce that congregated during the Great Depression to build something that was, at the time, unproven. It was a government stimulus to get Americans back to work and get the economy moving again, there are legacies of this effort all across our country and even in our national parks (the CCC).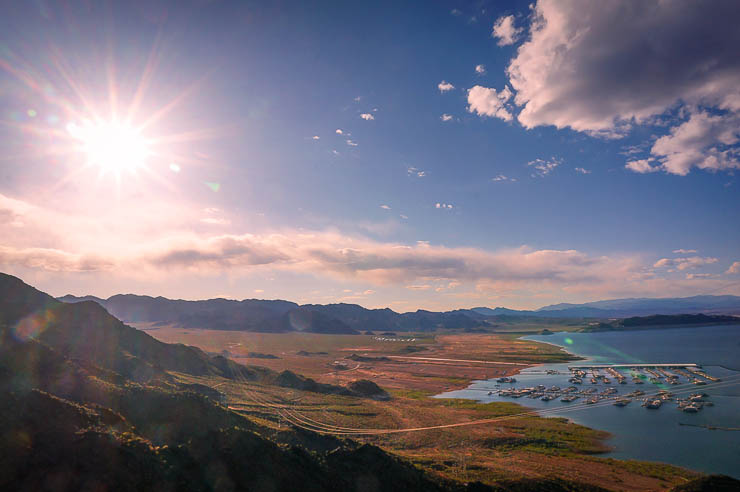 The dam also created America's largest reservoir (when full) in Lake Mead. If you do this road trip from Las Vegas, you can stop at the dam first to admire it and then continue around the northwest corner of Lake Mead before looping back to Vegas.
Valley of Fire State Park
Valley of Fire State Park sits just less than one hour east of Las Vegas and is a spectacular geologic wonder. This road trip could potentially be combined with the Hoover Dam and Lake Mead, but you may want more time to explore what is one of the country's coolest state parks.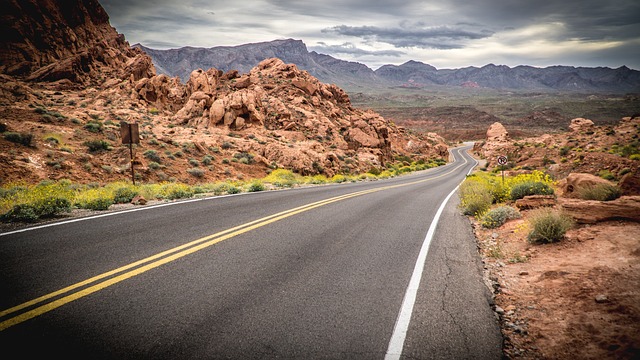 Here you will see some radical formations of rock striped in red and white colors, along with petrified wood, and maybe even a glimpse of bighorn sheep.
This is a special place and it only costs $10 to enter. Be sure to stop at the visitor center for a better understanding of how the Valley of Fire was formed and what you'll see. As always, be sure to bring plenty of water if you want to get out and enjoy the trails.
Mount Charleston
Sitting due northwest of Las Vegas are towering mountains that you can access in less than hour from Vegas and where temperatures are often about 20 degrees cooler than the valley below.
You can drive up above 8,400 feet on the scenic 158 Road and Charleston Peak itself stands at nearly 12,000 feet, among the highest in all of Nevada (eighth highest). There are numerous hiking trails, campsites, and picnic areas, making this a popular year-round getaway.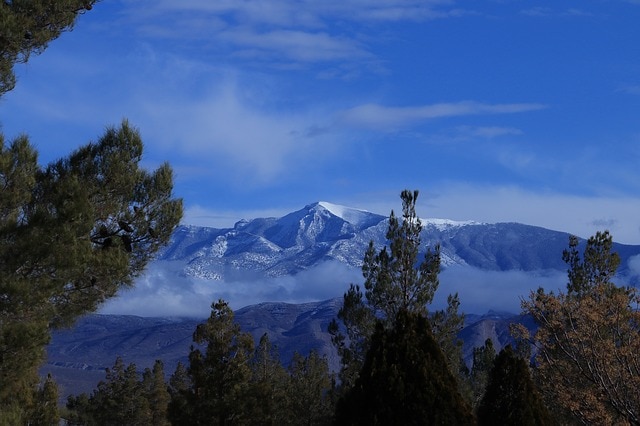 The changes in vegetation and climate are quite incredible and feel a world away from Vegas yet is so close. There is even a small ski area here during the winter! Yes, you can go skiing in Las Vegas.
This scenic road trip is worth doing in and of itself, but you'll probably want to make a day out of it to explore a bit. The climb to the top of Charleston Peak, however, is pretty epic, requiring 16 miles and 4,000 or so feet of elevation gain.
Grand Canyon West
I know the helicopter tours of the Grand Canyon from Las Vegas are a big deal, but you can save money and have a better experience by taking a road trip to the Grand Canyon from Las Vegas.
A day trip from Vegas to the Grand Canyon is not to Grand Canyon National Park itself but is most often to the Hualapai tribal lands that sit on the south side of the Colorado River closest to Vegas. This area is known as Grand Canyon West.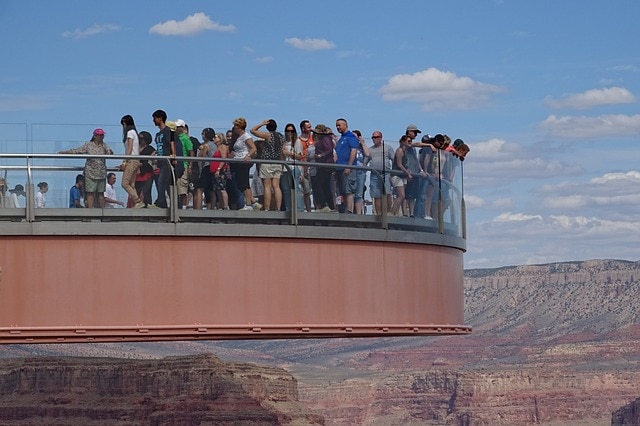 Grand Canyon West is just a little over two hours from Las Vegas, making it an easy day trip. A relatively recent attraction, especially for those coming from Vegas, is the newly famous Grand Canyon Skywalk which is a glass walkway that takes you out over the massive precipice of the canyon. It is a crazy expensive $56 per person but is a once in a lifetime type experience.
Longer Road Trips from Las Vegas
Some of these trips could be possible as a day trip, but because the destination is so amazing, it would be a shame to allow so little time. Therefore, all of these road trips from Las Vegas are best done as an overnighter with at least one night spent outside of Vegas, if not more.
Las Vegas is surprisingly close to a handful of national parks. You could take multiple road trips from Las Vegas to National Parks and visit as many 6-7 parks, all within a five-hour drive from the Strip. That's to say nothing of some of the other spectacular areas nearby.
All of the destinations below offer camping opportunities or nearby lodging.
Death Valley National Park
Thanks to Las Vegas' location at the pointy southern tip of Nevada, you are within very close proximity to California, Arizona, and Utah. One of best road trips from Las Vegas is to head west into California (fill up on gas before you go!) into Death Valley National Park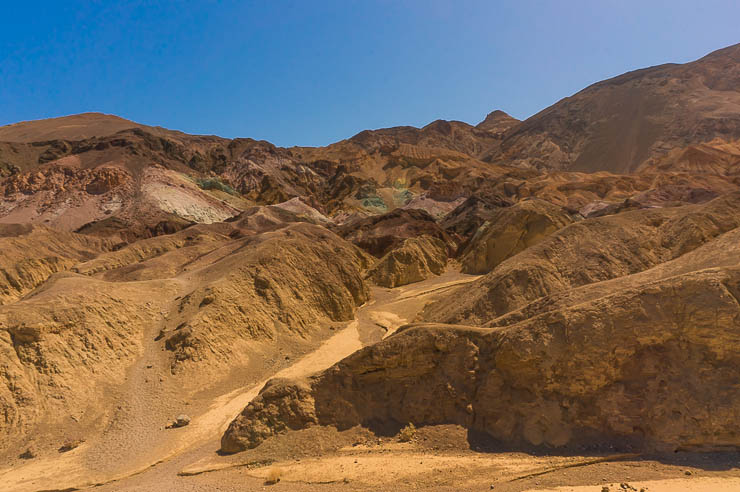 Badwater Basin, the lowest point in the United States, is only about 2.5 hours away from Vegas. Here you will find a sweltering valley that is the hottest place on earth. But you'll also find some beautiful terrain like Zabriskie Point or Artist's Drive loop where you'll find pastel-colored hills in all sorts of colors or the strangely fascinating Scotty's Castle.
If you want an interesting and alternative way to get to Death Valley, continue up to Beatty, Nevada and then do the Titus Canyon Drive into the park. This one-way, unpaved road will wind you down past ghost towns, awesome vistas, and through slot canyons (at least for a vehicle).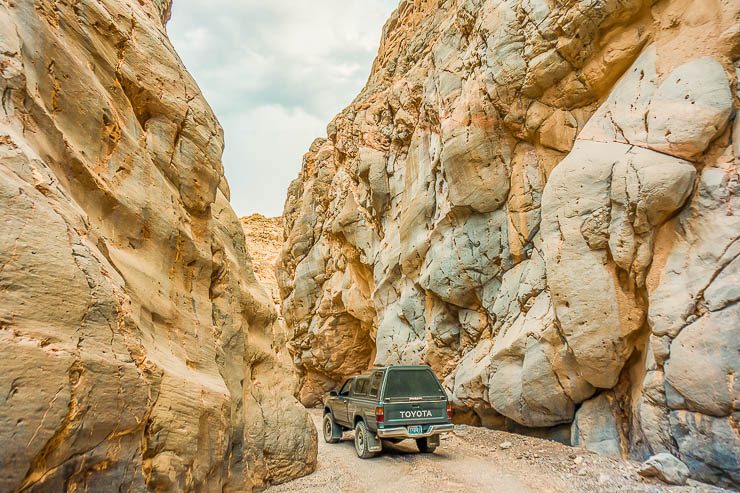 Four-wheel drive isn't required, but a high clearance vehicle is recommended. It is one of those that I consider among the most scenic drives in America.
Mount Whitney
If you want to go from the lowest point to the highest point on a road trip from Las Vegas, then you should extend your trip a little further and head to Lone Pine and Mount Whitney. If you are heading directly from Vegas, then Whitney Portal is just over 4 hours away.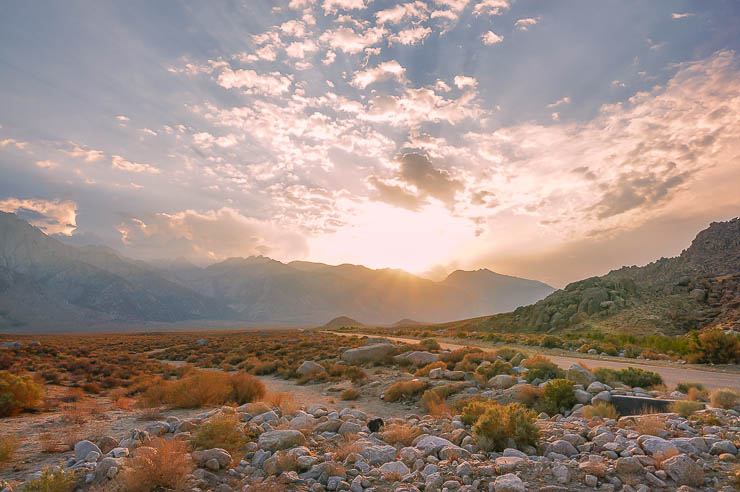 Lone Pine is a pleasant little town that sits below the Eastern Sierras and is a great place to base yourself in. Don't overlook the awesome Alabama Hills which has been the setting for countless Hollywood movies over the years.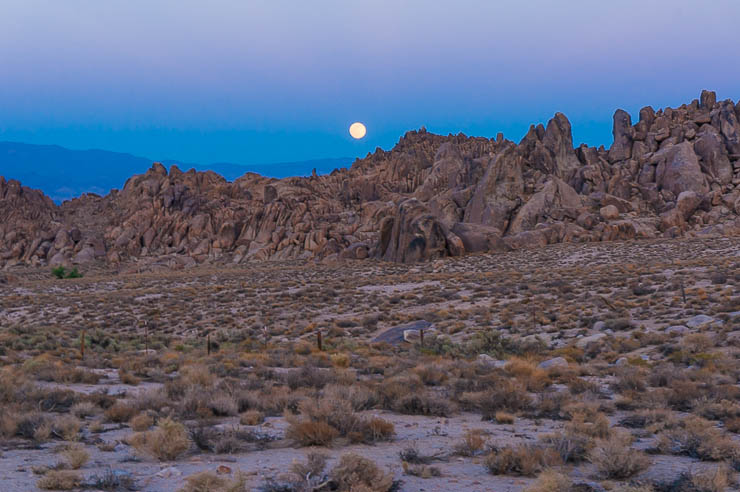 There are ample camping opportunities here, or you can drive up to the high country (up to 10,000 feet!) in a place like Cottonwood Lakes. Of course, the big draw in the area is Mount Whitney, the highest peak in the Lower 48 and which sits only 85 miles from the lowest point in the country! What a contrast. The mountain offers challenging hiking and climbing routes to the top.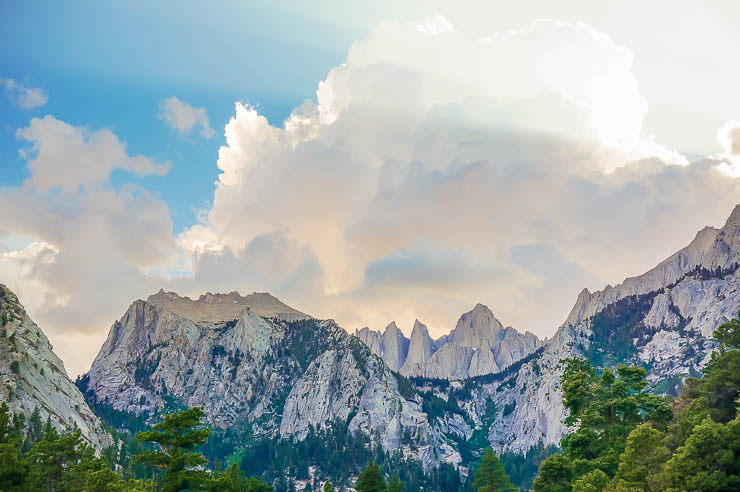 We stood on top via the amazing East Buttress route, one of the best climbs I've done. Mount Whitney sits on the edge of Sequoia National Park, so you could visit yet another one.
You could spend a lifetime exploring the Sierra Nevada mountains in California, but you can at least get a taste of them on a road trip from Las Vegas.
Mojave Preserve and Joshua Tree
Heading in a different direction into California, this time almost directly south, you will cross through the awesome Mojave Preserve, filled with Joshua Trees and big wide-open stretches of road. If you are adventurous, see if you can locate the iconic Mojave Mailbox on the way.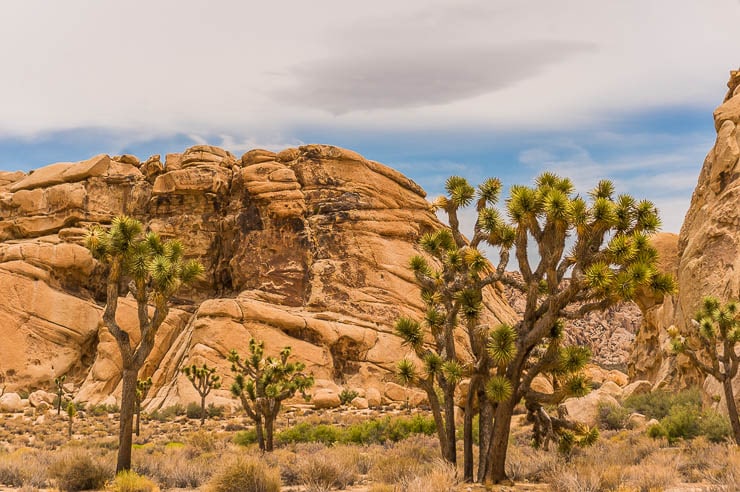 About 185 miles away and about three hours of driving, you'll arrive at Joshua Tree National Park, one of my favorite national parks. Joshua Tree is home to one of the best concentrations of Joshua Trees in the country, they are those spindly, odd-looking trees that grow in the desert.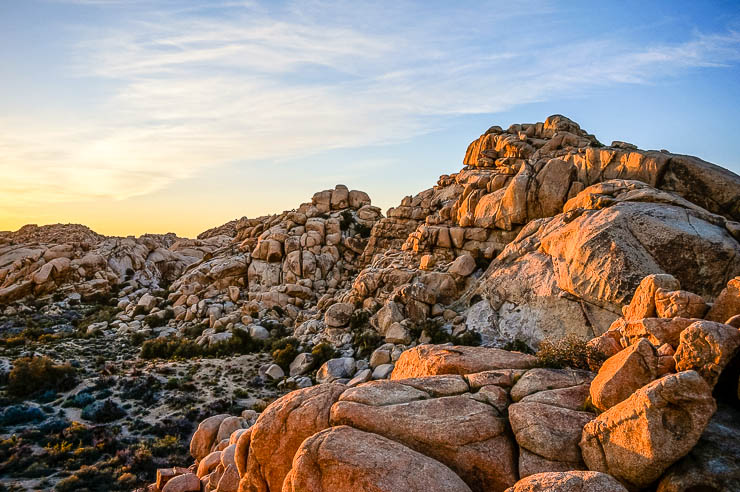 Joshua Tree is also home to hundreds of rock climbing opportunities among the scattered rocks and boulders, and ample hiking as well. This place feels quite remote, with no cellphone signal, and almost no light pollution. This is the place to be for staring up at the stars and sitting beside a campfire.
I adore Joshua Tree and spent nearly a whole month there one time, not to mention subsequent visits to the park.
Read More: Guide to Visiting Joshua Tree
Grand Canyon South Rim
If you want to visit the main part of the Grand Canyon, the famed South Rim, rather than Grand Canyon West, then you'll need to drive a bit further. At just over four hours' drive, you can reach what is one of America's most iconic and beautiful parks.
My recommendation is to head out the day before and stay the night either in a hotel or campground, then get up really early to catch the sunrise over this spectacular place. It is especially incredible to watch the terrain slowly be unveiled by the rising of the sun. Plus the early morning (or sunset light) provides the best lighting and shadows to take it all in.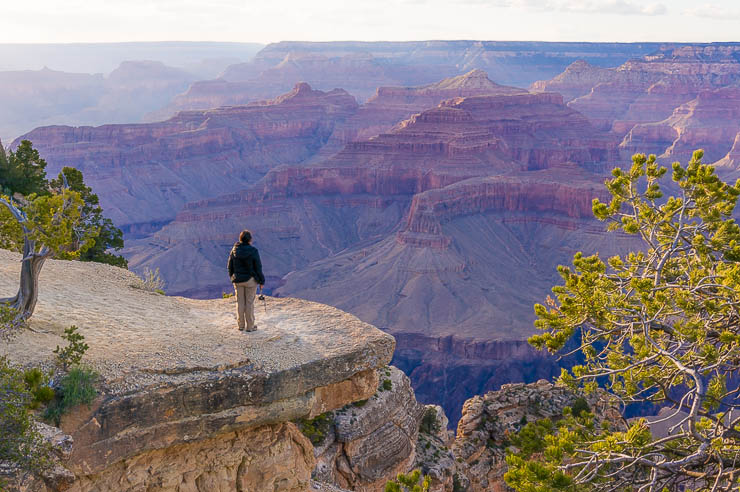 You're quite likely to see mule deer and maybe some other wildlife here. The South Rim of the Grand Canyon is the most accessible and popular spot, but it's still undeniably incredible. This is a true Grand Canyon road trip from Las Vegas.
Most people only ever stick to the rim of the canyon, but you can find a bit of solitude one a Grand Canyon day hike by hiking down just a little way. Just be sure to bring the day hike essentials if you do.
Great Basin National Park
Instead of visiting one of the most popular national parks, how about heading to one of the least visited? Great Basin National Park is certainly one of the most underrated national parks that almost no one talks about and which receives little love. That doesn't mean it isn't amazing though.
The big problem is that it is a park located in an isolated part of Nevada, at the end of Highway 50, the Loneliest Road in America, if that tells you anything. But you can get to Great Basin in only about 4.5 hours from Las Vegas (291 miles away).
Here at Great Basin, you can go on incredible hikes above 10,000 feet, marvel at ancient bristlecone pine trees, and explore the amazing Lehman Caves on a guided tour with knowledgable park rangers.
We quite enjoyed our visit to Nevada's only national park, and I'm sure you will too.
Zion National Park
Heading in the opposite direction, this time to the east, you'll quickly cross into Utah. The first park you'll come across is the spectacular Zion National Park at just about 2.5 hours away from Las Vegas.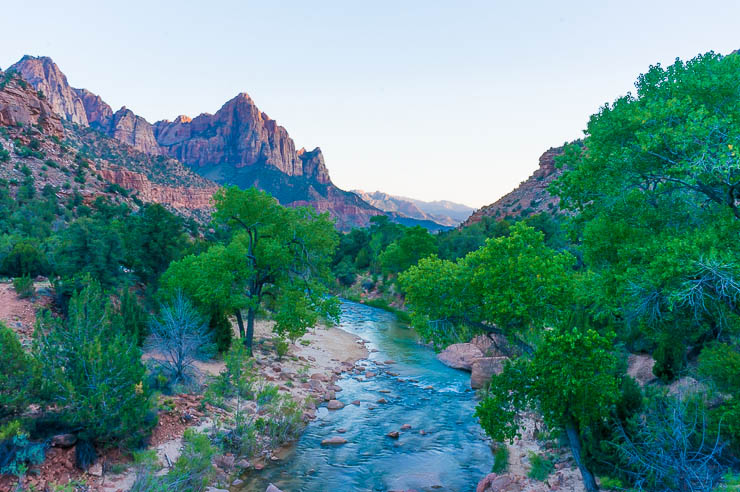 Zion is a unique and spectacular park, certainly among the most beautiful in the country. It is often said that Zion is like Yosemite but in color. There is stunning red rock formations, the white walls of the canyon, great hiking and canyoneering, and so much more to explore here.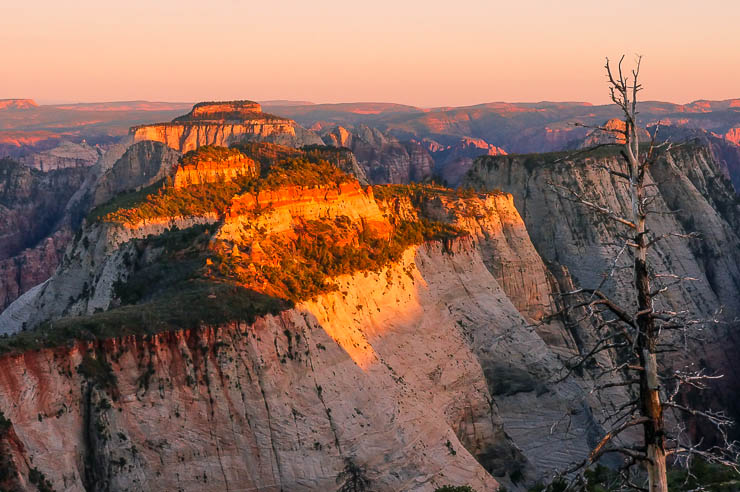 Among the most famous Zion National Park hikes is the route up to Angel's Landing, a fairly exposed scramble (with chains for support) up to a narrow precipice overlooking the valley below and the Virgin River.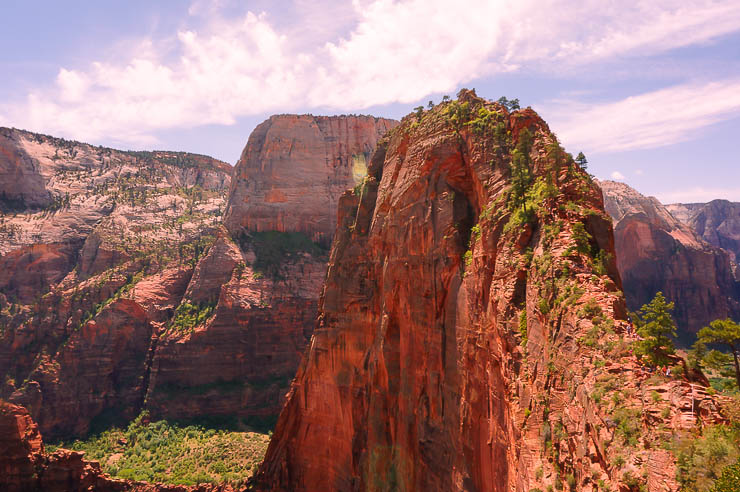 Even just driving through the park will have you turning your head and dropping your jaw at the spectacular vistas. Of course, the whole southern section of Utah is a playground for adventure, with five amazing national parks. You can (and should) do a dedicated Utah national park road trip to explore them all, but Bryce Canyon National Park is the easiest one to add on a road trip from Las Vegas.
Read More: Best Zion National Park Hikes
Sedona, Arizona
Like Utah, an Arizona road trip holds a million wonders and things to do, but one of the most accessible places on a road trip from Las Vegas is to head to Sedona, Arizona via Flagstaff. Along the most direct route, Sedona is about 280 miles from Vegas, or about 4.5 hours driving.
I love Sedona and have long contended that this place would have made an obvious contender to become Sedona National Park if it weren't for the town. But that's okay, this little hippie, new age vortex is surrounded by some of the most spectacular red rock formations you will see anywhere on earth. We are talking giant monolithic rock formations jutting up from the earth all around you.
If you've got the time while coming or going from Sedona, I'd highly recommend driving along Highway 89A through Jerome. This drive is another that I consider the most beautiful in America, running basically between Prescott and Flagstaff, with Sedona almost in the middle.
Page, Arizona
This is another classic destination in Arizona and one that can easily be visited on a road trip from Las Vegas, perhaps even combined with some of the other destinations we've already discussed.
Page, Arizona sits just south of the Utah border, about 4 hours and 15 minutes away from Las Vegas, where you're surrounded by some truly amazing places. Even the drive over here features one of the most scenic stretches of Interstate driving that I've seen, along I-15 and the Virgin River Gorge (which also happens to be one of the most expensive Interstate sections ever built).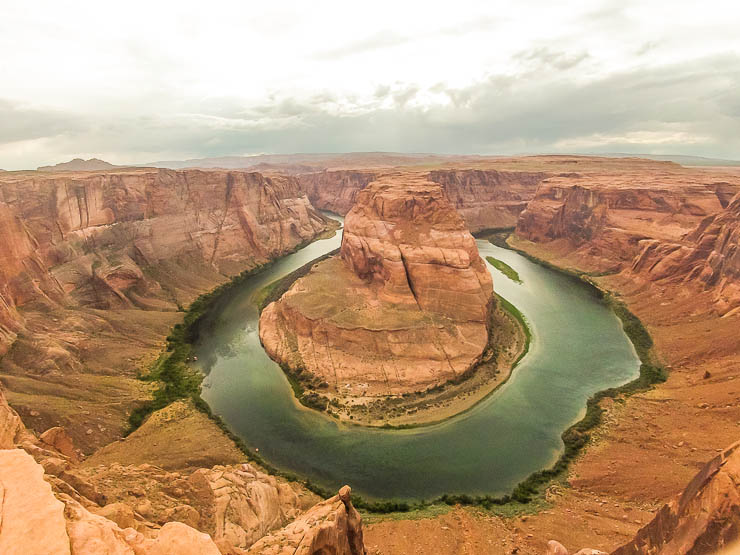 Near Page, you'll find the iconic Horseshoe Bend (somehow often shown for photos of the Grand Canyon), Antelope Canyon, and The Wave (a psychedelic landscape if there ever was one).
You can even check out another spectacular man-made construction here with the Glen Canyon Dam and the massive Lake Powell which it creates.
Combining the Best Road Trips from Las Vegas
Any and all of these trips are spectacular and worthwhile destinations for a Las Vegas road trip, but perhaps the most spectacular way would be to combine them into one epic road trip of the American southwest, home to some of the country's most amazing landscapes.
If you've got the time, it is definitely feasible to make a big loop that includes part of California, southern Utah, and northern Arizona. Check out my guide to one epic national park road trip for an idea of how to link these all up, this area is also home to some of the best national parks to visit in Spring because they get too hot in the summer.
I hope that this guide to the best road trips from Las Vegas was helpful to you. There is a few lifetimes worth of stuff to explore, so at least you'll keep busy! 🙂
Traveling to Las Vegas soon? Book your lodging on Booking.com now to save, or if you plan to stay longer, I highly recommend looking for a place on Airbnb. And don't forget to purchase travel insurance that will help protect you against illness, injury, and theft. I use and recommend World Nomads for its combination of coverage and affordability.
Read Next: Road Trip Planning Tips & Tricks
Share This
Did you enjoy this post about the best Las Vegas road trips? Take a second to share it on Pinterest, Facebook, or Twitter. Thanks!
The following two tabs change content below.