This article may contain
affiliate links
. If you make a purchase through these links, I will earn a commission at no extra cost to you. Thanks!
The hustle and bustle of the Las Vegas Strip are at the top of many traveler's lists, and while it can be captivating for a while, I think there are far more incredible things to explore beyond the sprawl of Las Vegas. If you love nature and wild spaces, then you should definitely plan on visiting Red Rock Canyon, located just 15 miles west of Las Vegas and easily seen from the Las Vegas Strip.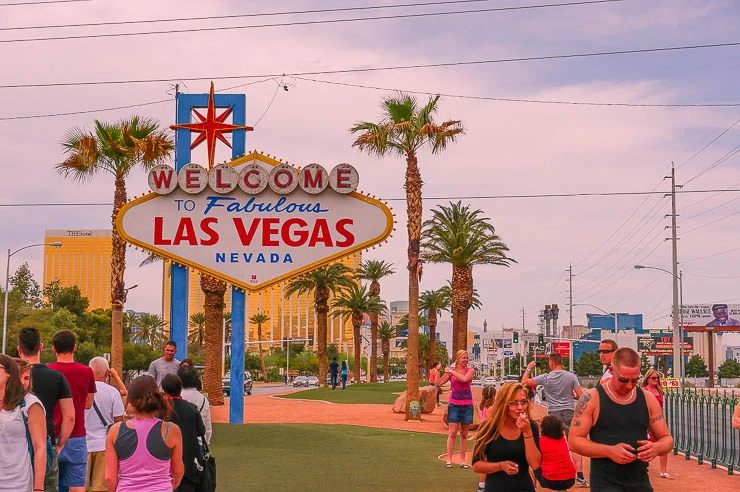 The Red Rock Canyon is Federal land, managed by the Bureau of Land Management (BLM), and protected as a National Conservation Area. The highlight of the conservation area is a large set of sandstone peaks and walls known as the Keystone Thrust.
This sandstone rock is striated in all shades of red — thus the name — and is truly a captivating area to explore if you enjoy hiking, rock climbing, or just the simple beauty of mother nature. Or maybe you're just looking for a break from the madness of the Strip and want to explore a bit of Las Vegas nature? Then a visit to Red Rocks Canyon is definitely in order.
It is also one of the quickest and easiest road trips from Las Vegas, making for an ideal day trip if you've got wheels.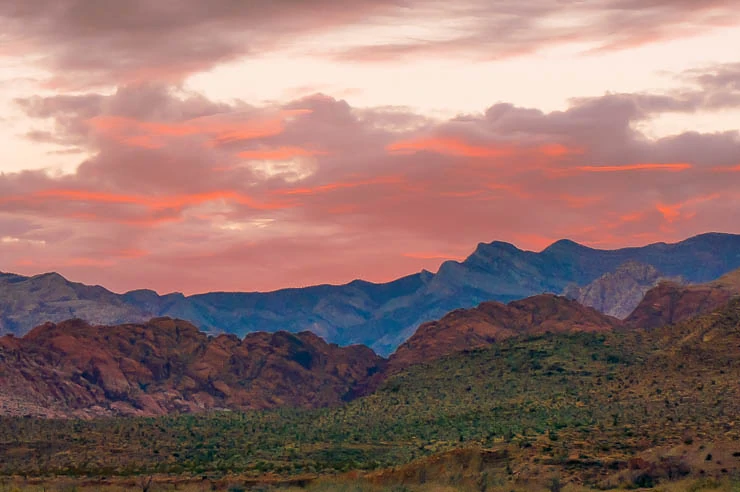 I spent many weeks in and around the Las Vegas area while I was living in my truck following my attendance at the Red Rock Rendezvous, an annual climbing festival that takes place in Red Rock Canyon. And I've also been back to the area on subsequent visits, so I've gotten pretty familiar with Red Rock Canyon and what it has to offer.
For the first time visitor, here's what you should be sure to do while visiting Red Rock Canyon.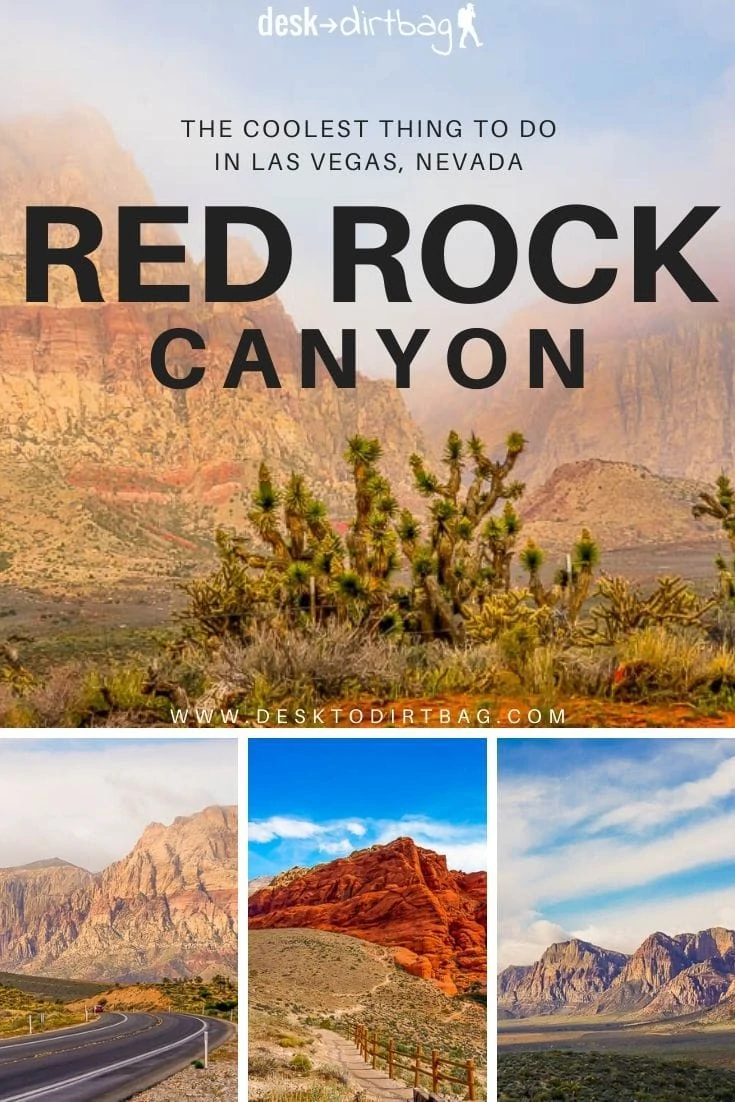 Red Rock Canyon Scenic Loop Drive
The simplest and most accessible way to take in the beauty of Red Rock Canyon, even if you've only got a few hours on your Las Vegas Vacation, is to hop in a rental car and head west.
Within the Red Rock Canyon National Conservation Area, you will encounter a one-way loop road that is 13 miles long. This road provides access to many of the most popular features and attractions of the reserve, but it's also great to just drive the loop and take photos.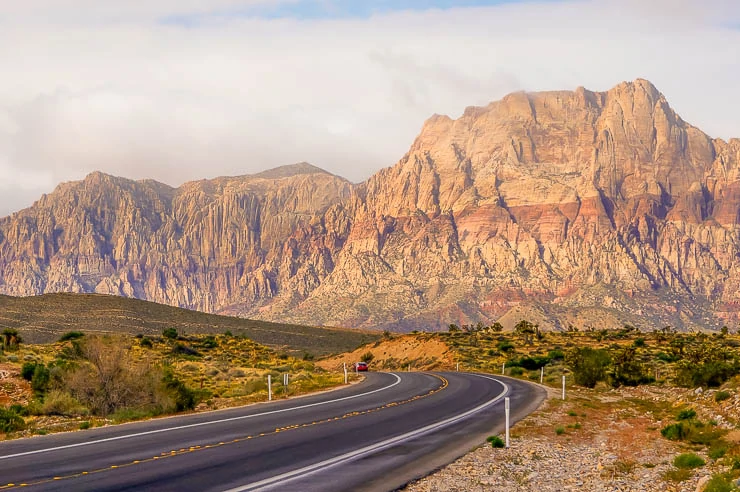 You'll find pullouts for numerous hiking trails of various lengths and difficulties and plenty of photo ops of the stunning terrain. Be sure to visit early in the morning or before sunset, that way you'll get the best light and avoid the hottest part of the day. The best time to visit Red Rock Canyon is definitely during those hours unless you're visiting in winter when temperatures are more moderate and you can enjoy the area throughout the day.
The Red Rock Canyon Scenic Loop Drive is also popular among bicyclists so be sure to watch the road. Not just for humans but also for little animals crossing the road, like desert tortoises.
Read More: Most Scenic Drives in America
Check Out Mount Wilson
Mount Wilson is the highest sandstone peak in the Spring Mountains, and it is a striking peak that you can enjoy from afar while visiting Red Rock Canyon.
This peak towers to an altitude of 7,071 feet, approximately 5,000 feet above the city of Las Vegas, where you can enjoy more moderate temperatures compared to the valley floor.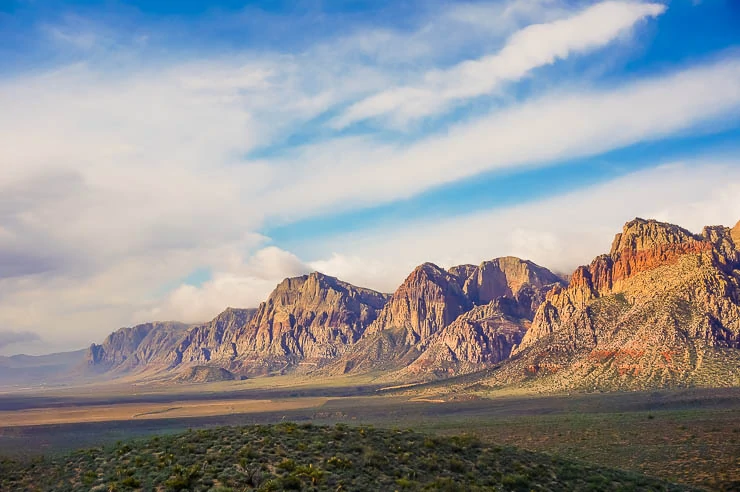 But if you want to get a whole other perspective on Vegas and the surrounding area, you can scramble up to the top of Mount Wilson on a number of less technical routes that range from Class 3 to Class 4, or a few technically challenging rock climbing routes.
You can access the most common routes from First Creek Trailhead, which is along Blue Diamond Road, just beyond the Scenic Loop Drive.
Ice Box Canyon Hike
Ice Box Canyon is the perfect place for a great Las Vegas hike on those hot days. The canyon gets its name because the deep canyon receives almost no sunlight, so the area stays refreshing and cool despite the blazing heat outside, particularly with the nice breeze funneling down the canyon walls.
You will need to hike about an hour across the open desert in order to reach the cooler area, so be sure to plan accordingly and still bring plenty of water, sunscreen, and protection from the sun. Also, pay attention to the gradual changes in flora and fauna.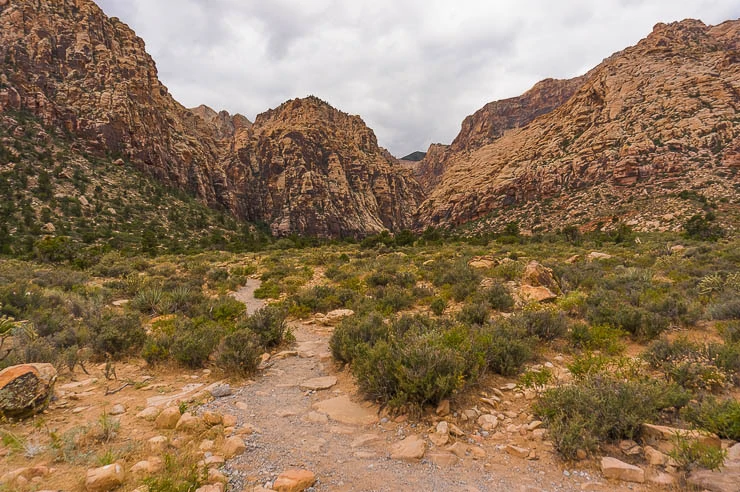 Conversely, if you do this hike during winter, you may be surprised just how cold it gets here and may even come across snow as you progress into the canyon.
This hike starts easy but gets gradually tougher with some steep ups and downs. Since it is an out and back hike, you can proceed as far as you wish or time allows. Don't forget to bring the day hike essentials on this enjoyable outing.
Calico Hills in Red Rock Canyon
The Calico Hills may the most singularly spectacular places in all of the Red Rock Canyon National Conservation Area.
They are a series of rolling sandstone hills, splashed with all sorts of colors. They were once ancient dunes that were compressed and turned into solid stone.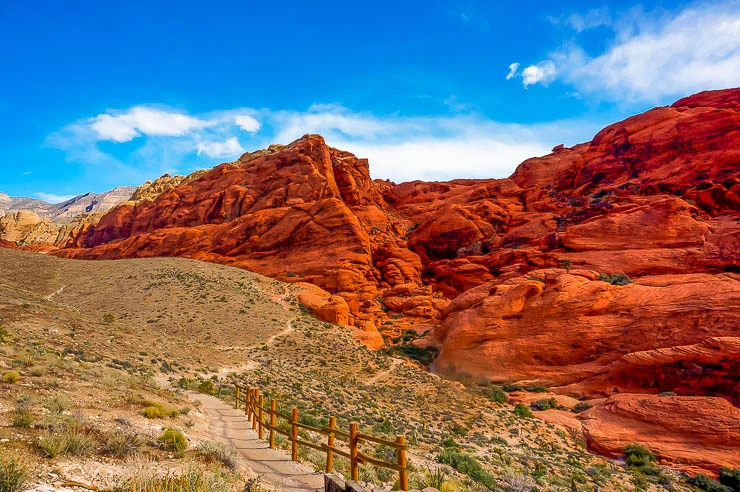 Geology rocks, doesn't it?
There are two Calico Hills parking lots soon after entering the Scenic Loop Drive and you can park at either one and make some short hikes of different lengths, ranging from 2-6 miles. It's a beautiful place to explore and one you shouldn't miss when visiting Red Rock Canyon, especially for the first time.
Go Climbing in Red Rock Canyon
There are hundreds of sport climbing routes and countless multi-pitch climbing routes up some epic sandstone (like the classic Epinephrine!). The grades of the climbs ranging from 5.4 to 5.14, but there are only a few hundred routes below 5.9 in Red Rocks.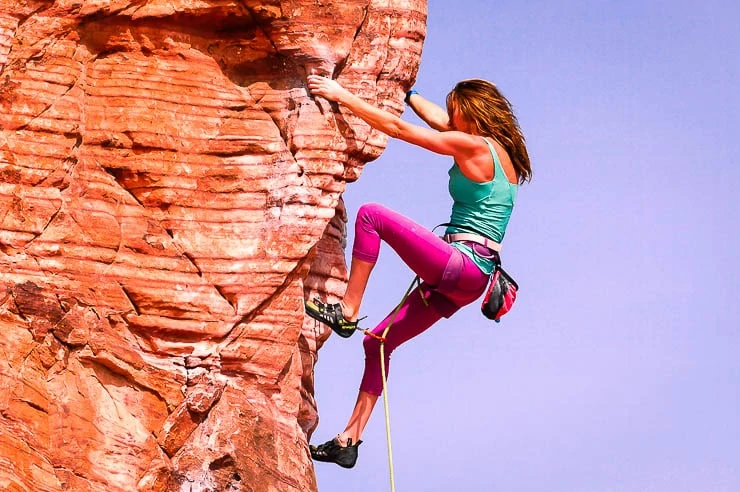 Climbing on sandstone is a different sort of climbing, which can be tricky if you aren't used to it, but it is certainly a lot of fun. There are guides and outfits that can take you on your first laps of climbing if you want to give it a try for the first time.
If you're looking for a good introduction to Red Rock climbing, be sure to visit during the annual Red Rock Rendezvous.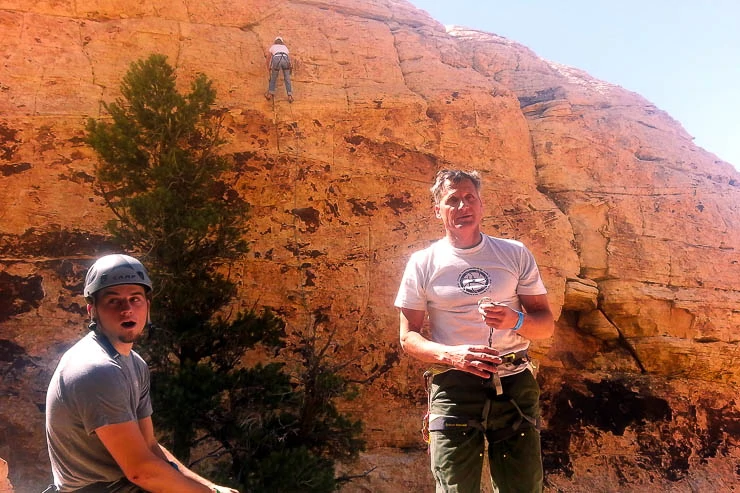 Sandstone Quarry, Calico Basin, and First Pullout are some of the more accessible climbing destinations in Red Rock Canyon. Approaches here are short and you can find sunny or shaded climbs all year round.
Visit the Red Rock Canyon Visitor Center
Speaking of geology, don't skip out on a visit to the Red Rock Canyon Visitor Center as first enter the area. It will teach you about not only the geography of the area, but also the history, nature, wildlife, and plant life that call the area home.
It will give you a deeper understanding and appreciation for everything you are about to see.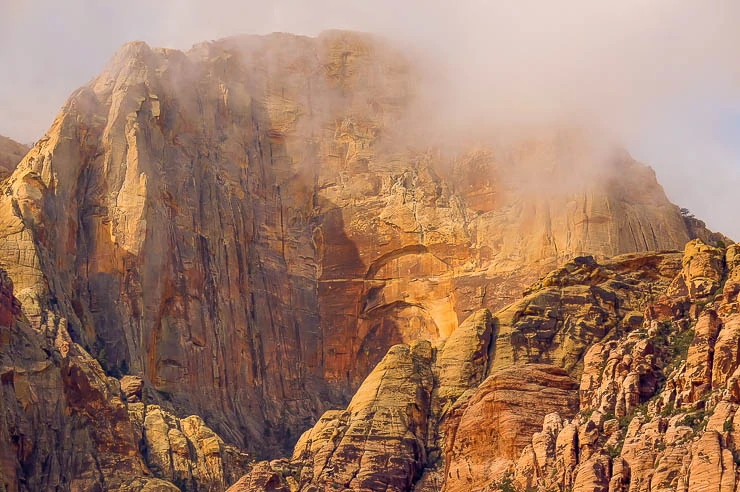 I personally love to learn more about our natural world and the visitor center is a great place to do so (I make sure to always stop and get more info and at least use a bathroom!).
Enjoy Desert Plants and Wildlife
Not only can you see the famous Joshua Trees here, but it's a place where you can spot wild burros (donkeys), coyotes, tortoises (be careful while driving!), bighorn sheep, and much more.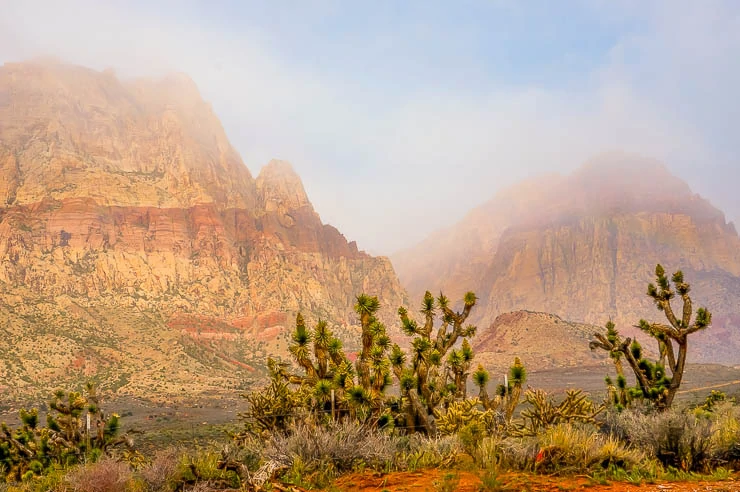 The desert is usually thought of as a desolate wasteland, but it is actually a spectacular and beautiful place. Sometimes the best thing to do in a place like this is nothing at all. Maybe it is time to slow down, sit out, and quietly enjoy the landscape, so you can hopefully spot some animals, and watch as the light changes and new colors emerge in an already colorful place.
Perhaps this is the most powerful aspect of nature, a chance to disconnect from our frenetic, chaotic world. In that sense, nothing could be further from Las Vegas than Red Rock Canyon, which is, ironically, just a short distance away.
Red Rocks Nevada Camping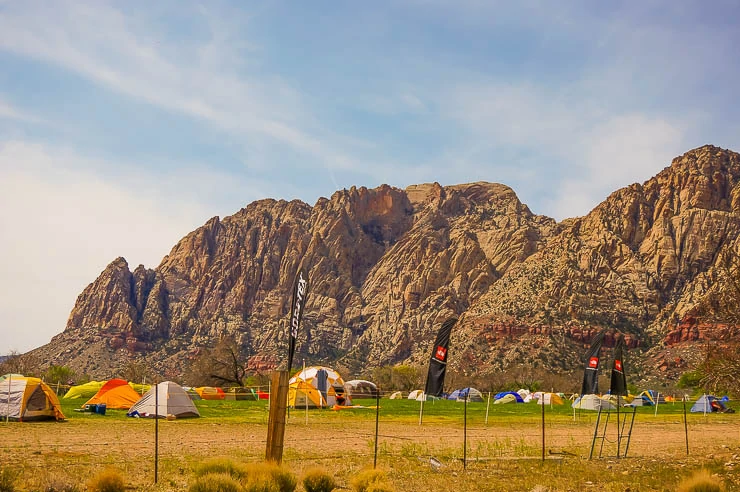 Unfortunately, there are no campgrounds within Red Rock Canyon, but there is one small campground just outside of the conservation area called Red Rock Campground. The campsites here are relatively open and exposed, with the exception of a shaded awning.
Honestly, it's not the best desert camping type of environment, say, like those you'll find in Joshua Tree National Park.
While camping in the area, I much preferred to wild camp elsewhere, either along the south side of the conservation area off of Route 160, or a bit further off along the shores of Lake Mead on Federal land that offers free, dispersed camping.
Read More: How to Find Free Camping in the USA
Red Rock Canyon Map
Here's a nice little map of Red Rock Canyon to help you get your bearings and plan a better trip to Red Rock Canyon while in Las Vegas.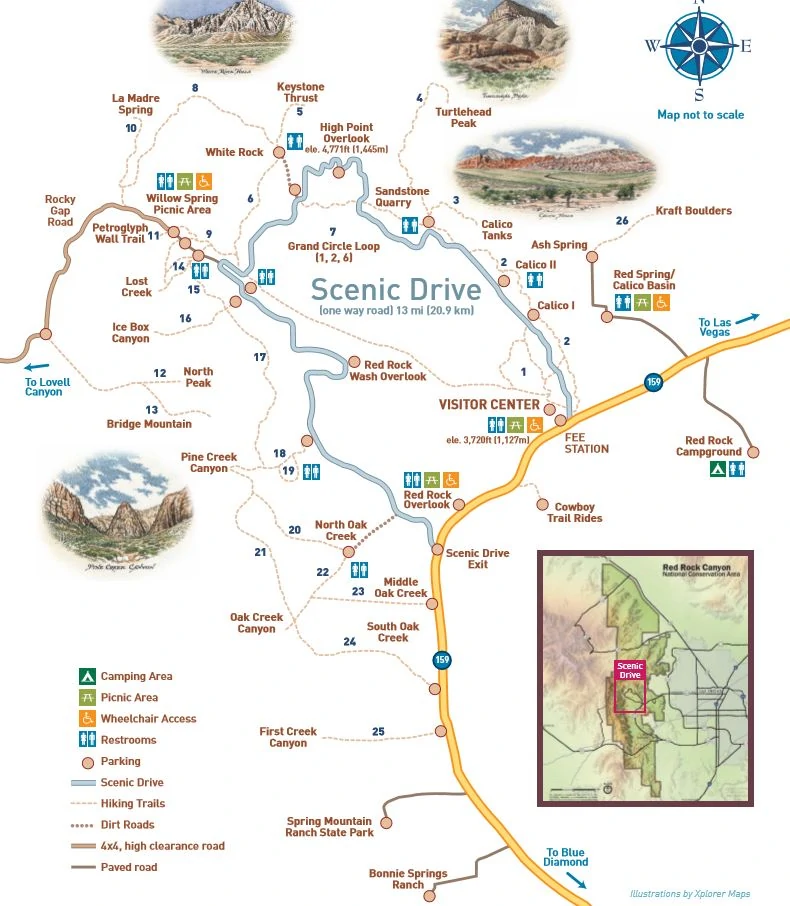 Visiting Red Rock Canyon
Red Rocks Nevada itself is a pretty amazing place that you can visit in a day, but also spend a lifetime exploring. Even though I spent a few weeks there, I felt like I only scratched the surface of what it has to offer, but that's what made me come back again a few years later.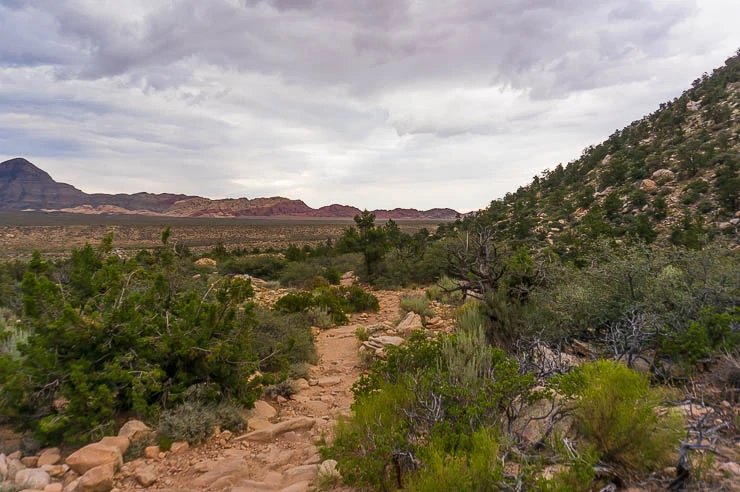 If I'm going to be totally honest, I'm not a huge fan of Las Vegas, but there are certainly some hidden gems to be discovered. If you're going for the Vegas experience, I'm a much bigger fan of the old school, downtown Las Vegas rather than the Strip. Be sure to visit Red Rock Canyon during your trip, and spend a bit of time at Lake Mead as well.
One amazing place to eat in Vegas (off the strip) is Phat Phrank's Mexican Restaurant. That guy is awesome and makes some of the most delicious Mexican food I've ever had.
So there you have it, a brief guide of the best things to do in Red Rock Canyon. That's but a taste of everything it has to offer, but it should get you off to a good start. Enjoy it!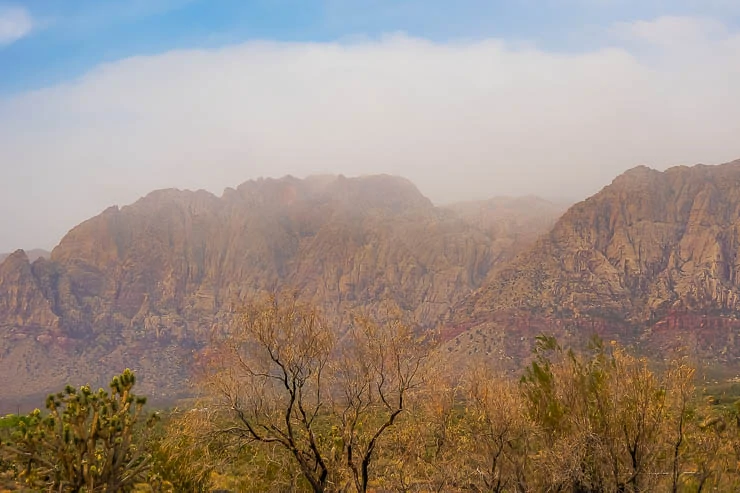 Traveling to Las Vegas soon? Book your lodging on Booking.com now to save, or if you plan to stay off the strip, I highly recommend looking for a place on Airbnb. And don't forget to purchase travel insurance that will help protect you against illness, injury, and theft. I use and recommend World Nomads for its combination of coverage and affordability.
Read Next: One Epic National Park Trip
Share This
Did you enjoy this post about visiting Red Rock Canyon? Take a second to share it on Pinterest, Facebook, or Twitter. Thanks!
The following two tabs change content below.