This article may contain
affiliate links
. If you make a purchase through these links, I will earn a commission at no extra cost to you. Thanks!
If you love the outdoors and taking advantage of some of the top hiking experiences the continental US has to offer, Zion National Park hikes are truly among the best and leave little to be desired. Zion National Park is renowned for its breathtaking, mountainous views, unique wildlife, mini biomes, and more, and to hike here is nothing short of fantastic.
People like to say that Zion is like Yosemite National Park but in color, which I can totally see. This is an epic park that is a feast for the eyes at almost every turn, a place dripping with color and incredible vistas whether you're just doing the Riverside Walk or looking out over the epic East Rim.
While it is tough to pick a favorite park in Southern Utah, I'd probably have to give the nod to Zion National Park, it is an amazing place that you'll love exploring. Of course, the best way to explore any national park is on foot and on the trails, so, for the scoop on this park's top hiking opportunities today, read on.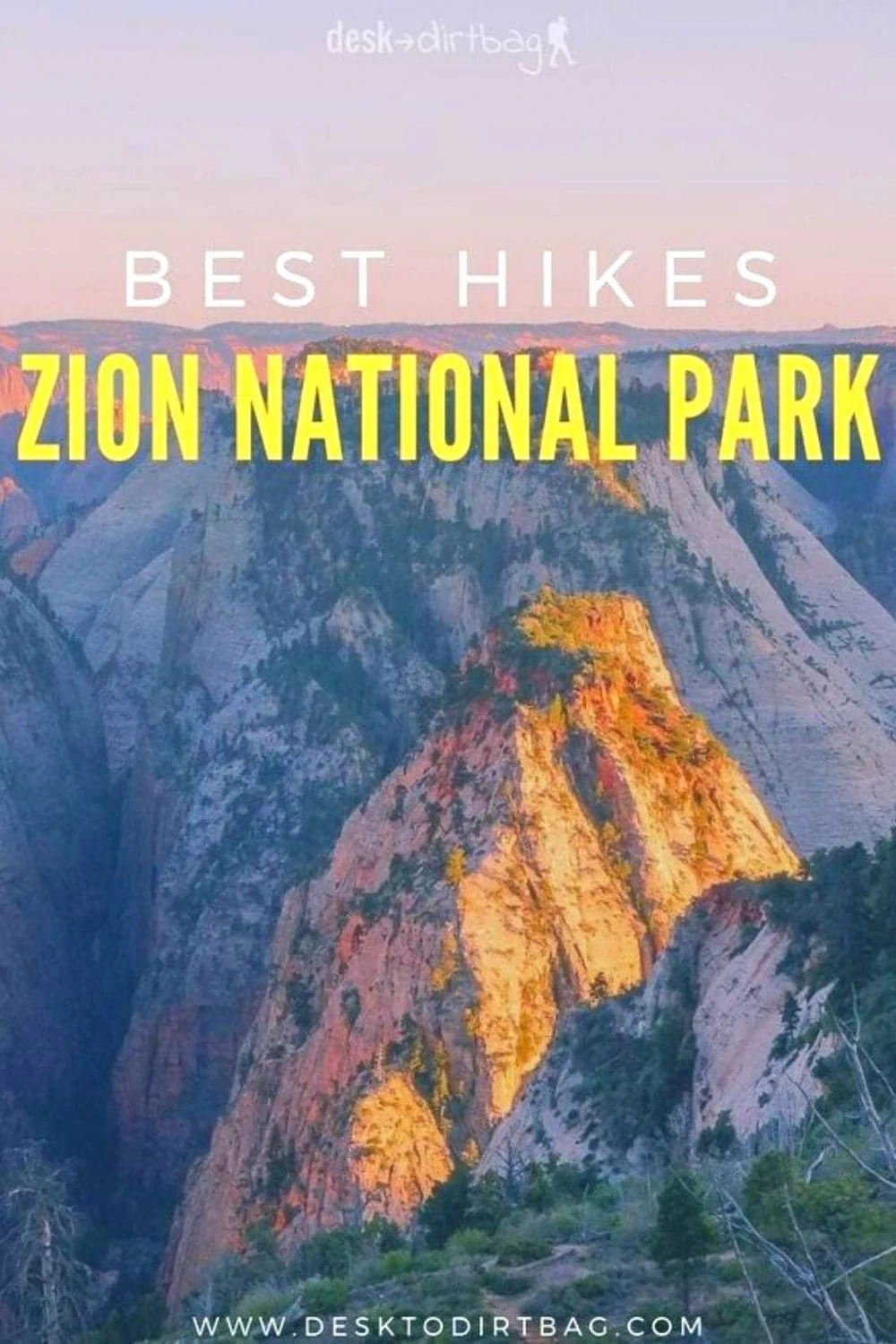 Canyon Overlook Trail
As its name suggests, Canyon Overlook Trail offers an excellent hiking experience that culminates at a breathtaking overlook point over Zion Canyon. Great for virtually any hiker of any experience level, this essential trail of the park only runs for about a mile and features a surprising portion of flat or near-flat ground to cover along the way.
To reach the trailhead, however, the park's shuttle service must be left behind, as the trail actually begins near the park's tunnel ranger station right on Highway 9. This one is a great little viewpoint as you drive through Zion National Park.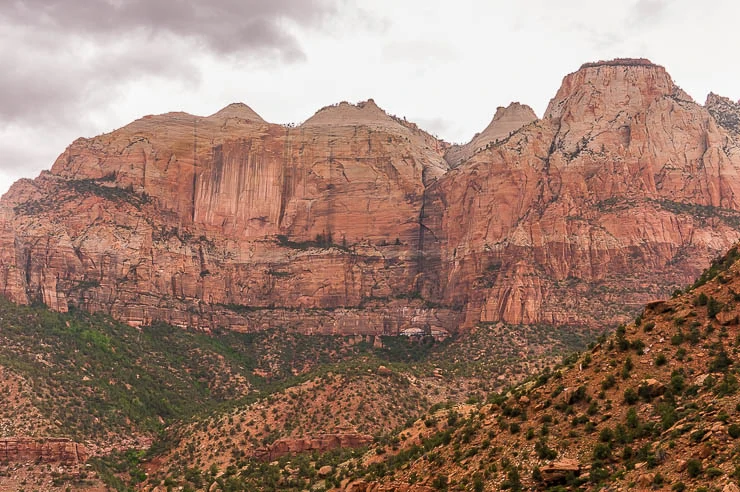 This particular hike gives you an awesome, up-close look at the park's renowned sandstone formations with some of the trail systems actually being cut right through them. Along the way, stop and take a break at the trail's hidden cave area or enjoy the views of the nearby Pine Creek Narrows. In any case, a steady and typical trek will get most visitors through this great one in roughly one, quick hour.
Emerald Pools Trail
Next in our list of the best Zion National Park hikes is the famous Emerald Pools Trail. Arguably the most popular hiking trail in the park, this one takes visitors on a truly memorable tour of some of the park's signature pools, waterfalls, and waterside monolith systems. Another big draw to this hike is its low level of difficulty that allows for a family-friendly hike all the way through.
The Lower Emerald Pools is a very quick and easy hike but you can continue on to the Middle and Upper Emerald Pools which will make the hike slightly more strenuous. This is a relatively quick but scenic day hike in Zion National Park.
To find either end of this trail, look for Zion Lodge just at its southern point, or at the northern end, its beginning at the intersection of the Kayenta Trail should be clearly marked throughout the vicinity. Hikers should also note that this trail offers very few shade points directly on the trail, so while summer visits are always fun, doing it in the middle of the day may not be the best idea. Round-trip, expect this fun excursion to run for approximately three miles.
Hidden Canyon Trail
For a hike that's incredibly fun and a healthy, moderate-level on the difficulty scale, we have to strongly recommend Hidden Canyon Trail. Get ready for an awesome canyon to explore and some spine-tingling trails tightly clung to the sides of the area cliff walls among other unforgettable features along the way. Another plus to this hike is a less crowded trail, as the higher park's larger crowds tend to stick to the very easiest and family-friendly hikes.
Expect to spend at least three hours on this very cool journey with it covering about three miles total distance. From start to finish, an elevation change of 940′ will also give the legs a great working for the day. Be sure to bring plenty of water too, as little shade is to be found along the paths of this hike. Don't forget to bring along the normal day hike essentials on this trip.
This one can be combined with a quick visit to the Weeping Rock Trail (more on that later).
Angels Landing Trail
Depending on who you ask, Zion National Park's Angels Landing Trail is arguably the most strenuous (and iconic) of hikes in the entire park. Rock scrambles, cliffs, impressive elevation changes, and more await the adventurer as they come to the head of this trail. The final prize hikers look forward to here is their grand arrival atop Angels Landing, high above the surrounding landscape and looking over the beautiful Virgin River.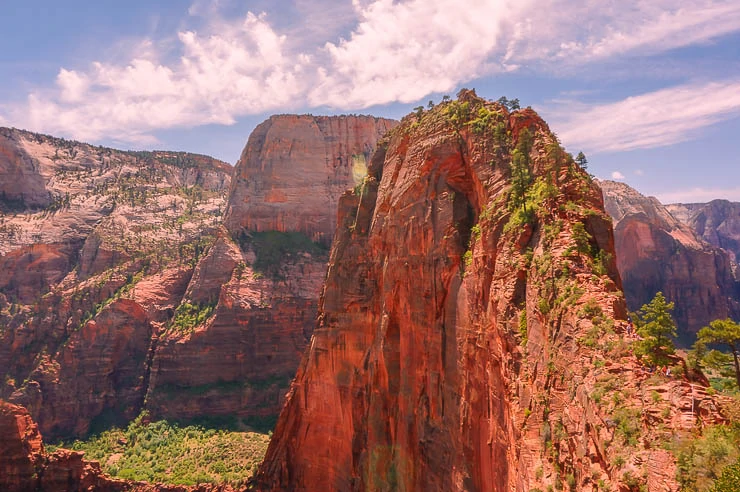 Note, Angel's Landing requires some fairly exposed scrambling and heavy chains have been installed in parts to help hikers. Sadly, numerous folks have died on this trail, so do be careful.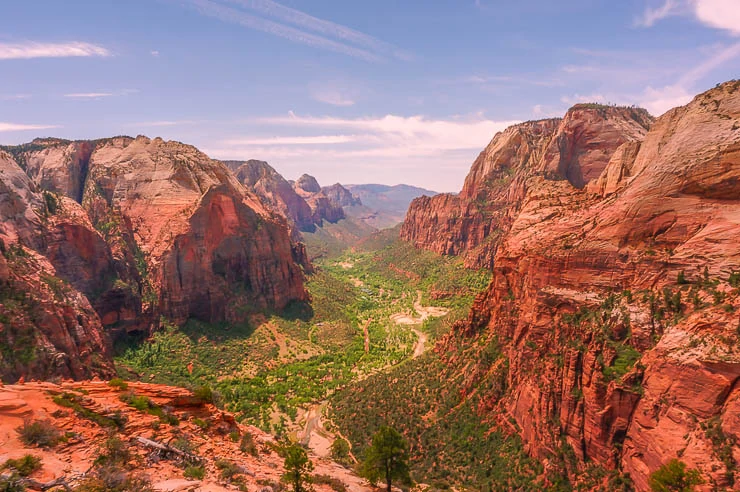 For beginners, this isn't necessarily the best recommendation for getting started into hiking, but for anyone with some basic experience, this is an exercise-laden thrill you'll likely not forget. Five hours is about how much time the average hiker takes to complete this course with it running a total length of 5.4 miles. To find this one, hit the park shuttle service until you get to the head of the trail at shuttle stop #6, The Grotto.
Observation Point Trail
Often, a lot can be gleaned from a name, and Zion National Park's Observation Point Trail really is named appropriately. Be sure to bring your best camera on this stunningly beautiful hike, because the trail itself, as well as the culminating stand 2,300′ above your original starting point, will leave you beauty-stricken and speechless. This more difficult and strenuous hike among the park's many offerings runs for an eight-mile stretch and is easily an all-day, 6-hour adventure.
While open all year long, the best experiences here come in the spring and fall when the weather is not too extreme in either direction. In these ideal conditions, you can really take your time and take in all of the varying colors of sandstone rock formations, the wide-reaching views of the canyon walls, and the intriguing wildlife and flora and fauna of the area. Reaching the trailhead is as simple as taking the park's shuttle to Stop #7, Weeping Rock.
The Narrows
For those unfamiliar, slot canyon hiking is a particular kind of hiking that takes place through towering, slot canyons where the hiker finds themselves often awe-struck, deep between two, opposing cliff faces.
If this awesome type of hiking experience is your gig, the Zion Narrows is an area and trail in Zion National Park that simply should not be missed. While closed in the spring when the canyon trails are busy with ice-melt flow water, all other times of the year offer the hiker an incredible slot canyon hiking experience rivaled by few other landscapes.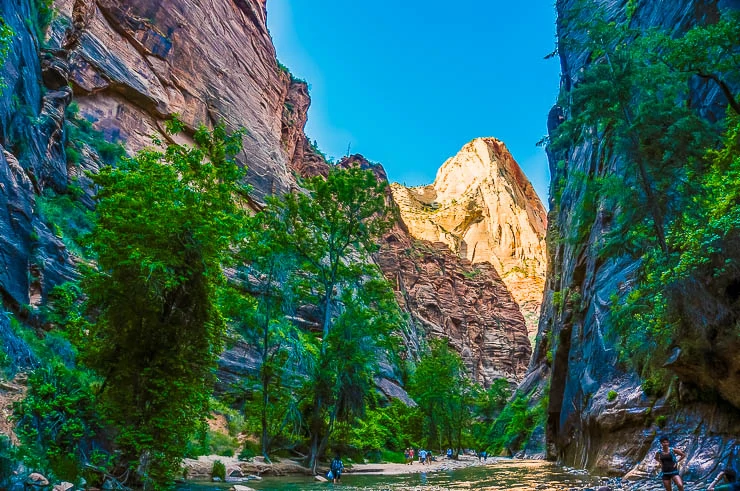 In its entirety, The Narrows Trail is an impressive 16+ miles long. This gives hikers the additional benefit of choosing whether or not they'd like to simply make this hike a day-trip or an overnight, multi-day excursion. For a challenging hike that features incredible glimpses into the park's geography and lasts just as long as you'd like, The Narrows is a must-do and among the most iconic in this national park.
The Subway Trail
The Subway Trail is a very fun but experience-required hiking experience that runs through the park's gorgeous North Creek, in the Left Fork area. On this exciting trek, you'll experience route-finding, canyoneering, some rock scrambling, and even some cold water contact along the way. This trail actually gets its unique name courtesy of its incredible, cut-away tunnel that paths through the surrounding cliffs and water-side rock structures.
If you plan to take on this awesome experience, it must be done during the day and does require a permit to access via the National Park Service. From the top-down, also plan on about 10 miles of total distance covered. This route does, however, require rappelling skills and about 60′ of rope, whereas the bottom-up route requires no rappelling at all.
Echo Canyon is another classic technical canyoneering route located in the East Rim section of the park.
Read More about the Subway Trail
Weeping Rock Trail
Weeping Rock Trail is aptly named for its signature rock formations that regularly "weep", or emit water drain-off from the surrounding rock and landscape. As such, hikers on this particular excursion should be sure to wear hiking shoes with good tread and be aware of plenty of possibility of running into slippery, wet rocks along the way.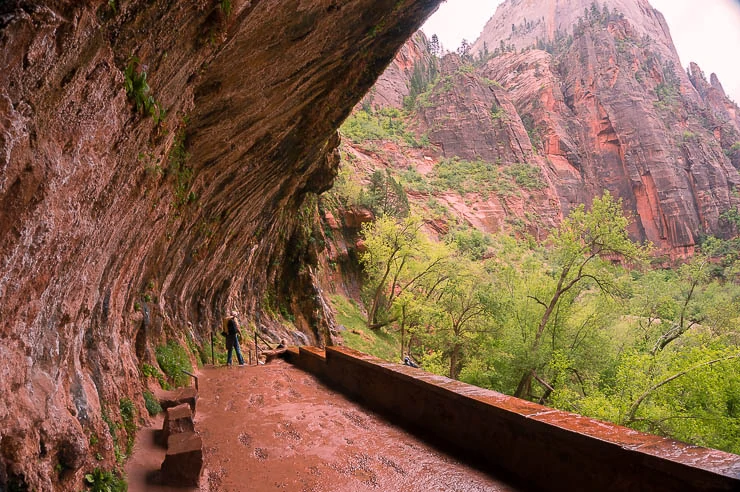 Beyond this consideration, this hike is a real beauty that provides the hiker with a great look at the park's Great White Throne cliff formation and its very cool, hanging gardens.
This hike offers some quite steep hiking at times but takes place mostly along a paved or solid rock surface. It is also the shortest in the park at only .4 miles of total length and is relatively easy to complete otherwise. You may run into more crowds on this one, but it's well worth it when you see what all this quick hike has to offer.
West Rim Trail (Overnight Hike)
Switching gears now to overnight hiking opportunities in Zion National Park, West Rim Trail is one of the coolest adventures you can ask for. Here, the hiker gets to experience a vast view of all of the park's amazing offerings in an 18-mile trip that is sure to leave you with a lifetime of memories. Beginners beware, though, while doable and mostly downhill if done from the top-down (start from Lava Point), this trek is definitely a bit on the strenuous side.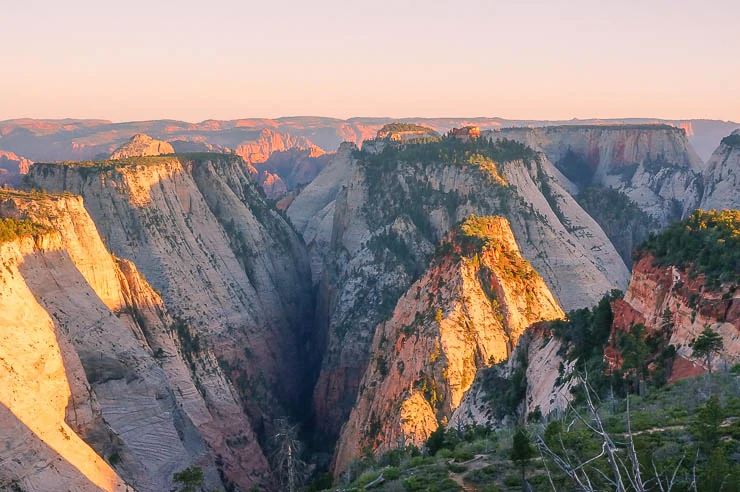 As you progress on this journey, you'll notice the scenery just gets better and better, and near the end, this becomes resoundingly true with a brief intersection along the above-mentioned Angels Landing Trail and a hike up to its sky-bound landing area.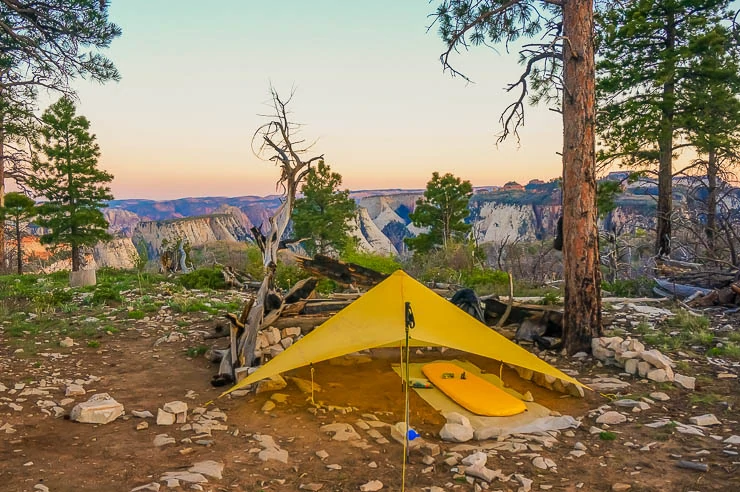 As mentioned, Lava Point marks the head of the trail if taken from the easier top-down route, but you'll need to either stage vehicles or make arrangements in advance with a local driver or someone else for transportation, as this end of the trail is roughly 19 miles from town (Springdale).
La Verkin Creek Trail (Overnight Hike)
Another great overnight opportunity can be found at La Verkin Creek Trail in the seldom visited Kolob Canyons section of the park. While many hikers on this trail don't choose to do the full, overnight experience, doing so allows for a full opportunity to truly see all of the amazing sights along this amazing journey, one of which includes the famed Kolob Arch.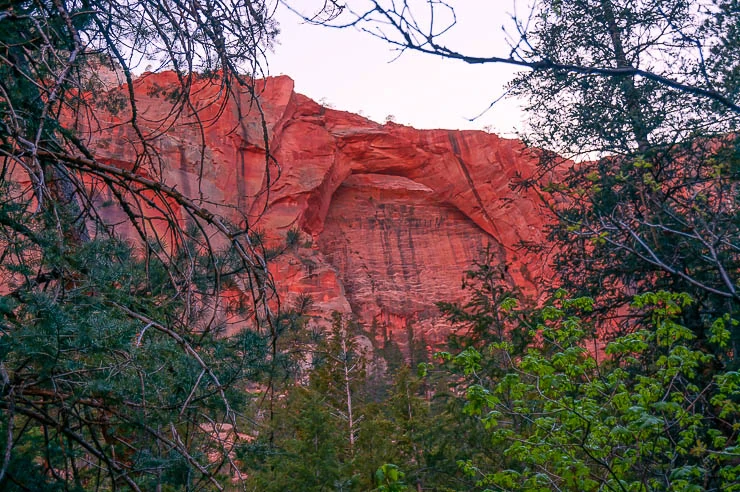 Follow along dry and wet creek beds through the park's meandering and gorgeous Willis Creek and Kolob Canyon area, but remember to bring some extra shoes and socks in case you do get a bit wet. La Verkin Creek Trail offers a fairly strenuous hiking experience and runs a total of about 14 miles if taken round-trip.
Compared to other overnight hiking opportunities out there, this one is a shorter experience, taking an average of about 11 actual hours of hiking to complete. Regardless, it is remarkably fun and memorable to say the least. It's also worth noting that this hike offers some great slot canyon experiences for those fans of the subtype.
If you're looking for a great day hike opportunity in the Kolob Canyons section of the park, don't miss out on the seldom-visited Taylor Creek Trail which will take you to Double Arch Alcove and some cool old log cabins from the 1930s. It is only a 5-mile round trip hike.
Trans-Zion Trek (Multi-Day Hike)
Perhaps the most epic overnight trek in the park is the incredible Trans-Zion Trek (also known as the Zion Traverse) which will take you from one end of the park to the other across multiple days of trekking (read my trekking packing list here). This trail will take you to/from the remote Kolob Canyon all the way to the east entrance of the park.
In total, you can expect to hike about 48 miles over the course of 4-5 days. This hike involves a lot of elevation change and is most definitely strenuous as you will hike into an out of Zion Canyon.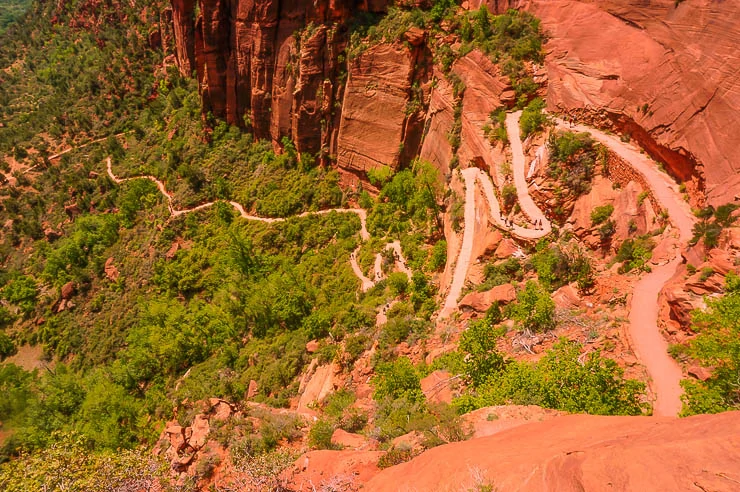 Another great option is the Truncated Trans-Zion Trek whereby you hike from Kolob Canyon through the incredible scenery, down the West Rim Trail and past Angel's Landing (include it, it is a great way to cap the trek) and into Zion Valley. From here you can catch a shuttle back to the entrance of the park. This was the route that I did, and it removes the strenuous ascent of the canyon plus keeps you in a more transited area (more on that in a minute).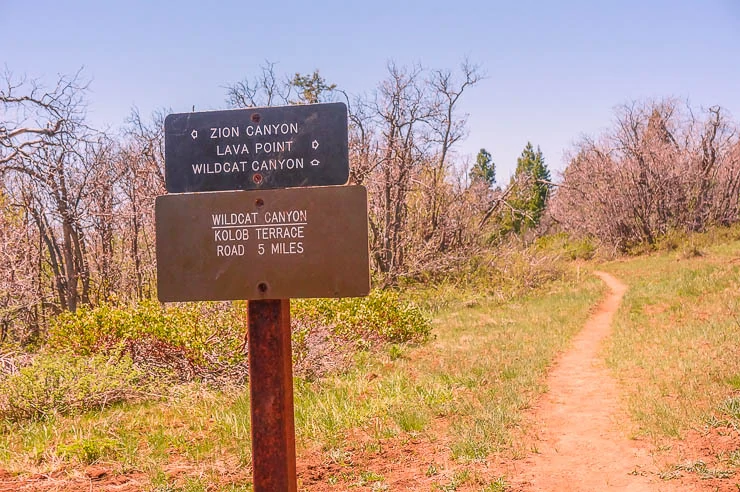 Logistically you will need to organize a vehicle shuttle or use the transport services in Springdale in order to get back to town. Don't do what I did, and think that you can easily hitchhike back to Kolob Canyon. I ended my trek in the more populated area thinking it would be easier, but then spent HOURS trying to return to my vehicle in Kolob Canyons and almost had to spend the night out again on the side of the road.
The Best Zion National Park Hikes
So there you have it, a taste of some of the most incredible hikes in Zion National Park, one of the most beautiful and iconic national parks in the entire country. I know I was blown away by this beautiful place and all it has to offer, and I'm sure you will be too. From Kolob Canyon to Angels Landing and the beautiful Checkerboard Mesa, there is so much to love and explore in this iconic national park.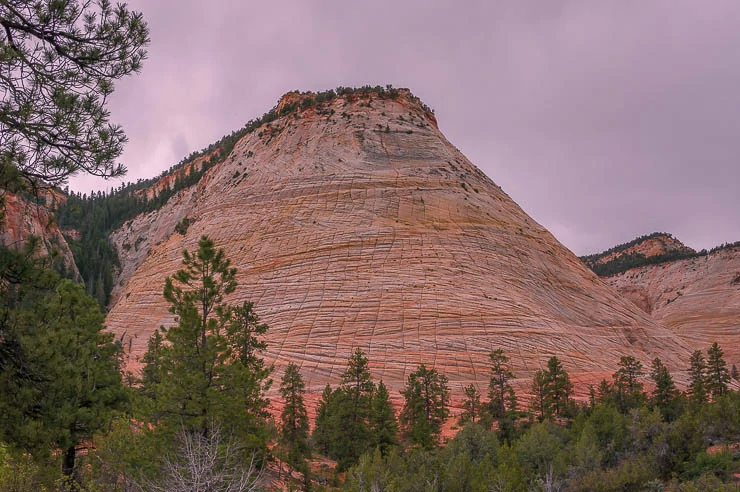 If you're going to travel to southern Utah, then don't miss out on my epic guide to planning a Utah National Park Road Trip. And don't forget your America the Beautiful Pass for free access to all the parks, including some of the awesome but underrated national parks.
Read Next: Utah National Park Road Trip
Traveling to Utah soon? Book your lodging on Booking.com now to save, or if you plan to stay longer, I highly recommend looking for a place on Airbnb. And don't forget to purchase travel insurance that will help protect you against illness, injury, and theft. I use and recommend World Nomads for its combination of coverage and affordability.
Share This
Did you enjoy this post about the best Zion National Park hikes? Take a second to share it on Pinterest, Facebook, or Twitter. Thanks!
The following two tabs change content below.