This article may contain
affiliate links
. If you make a purchase through these links, I will earn a commission at no extra cost to you. Thanks!
When we think of the West, we think of broad, majestic vistas full of stunning scenery. Huge mountains, deep canyons, and vast prairies dominate the landscape in our minds, and in many places, dominate the landscape for real. Fortunately, or unfortunately, the West is a vast place that could take a lifetime to explore, especially when it comes to our national parks. BUT not a lot of people realize that a Utah national park road trip allows them to squeeze in five parks (and some other amazing areas).
Not only that but all these parks, the so-called Mighty Five, are all relatively close to each other in the southern part of the state (yes, there's much more to this state than Salt Lake City).
This means that if you want to see these five national parks (and you should, because they are all amazing) you can do so without having to block weeks off of your schedule to get between parks – indeed, Utah offers the biggest bang for your buck when it comes to incredible national parks, including a few underrated national parks. And of course, once you're there, you're going to wish you had weeks (or months) anyways because there are so many amazing things to see in southern Utah!
A Utah road trip is often near the top of many people's dream travel list, and this post will help make it happen with a suggested road trip itinerary, campground recommendations, highlights, hikes, and top things to see on the way… This is based upon my numerous road trips through the southern state of Utah.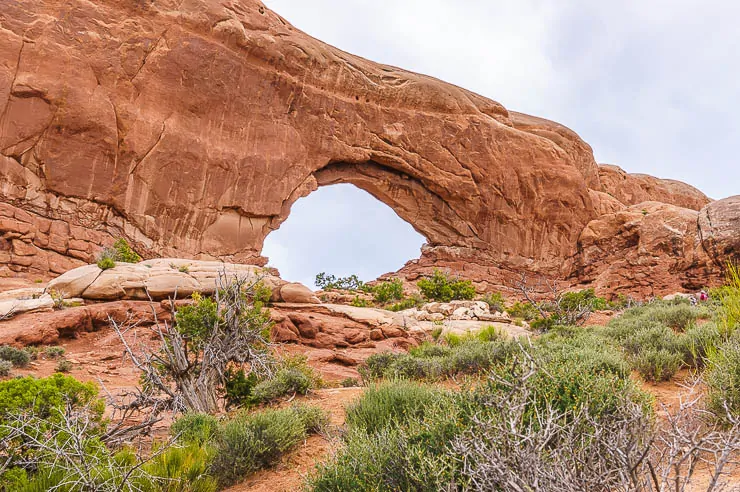 If you're interested in seeing these five Utah national parks — Arches, Bryce Canyon, Capitol Reef, Canyonlands, and Zion — I've put together a little travel guide that will help you make the most out of your trip. Don't miss the interactive map at the end of this article.
In this case, I've arranged them in order from east-to-west, so if you're coming from the east, this is the order you would want to hit them to spend the least amount if you're your vehicle. Of course, if you're coming from the west, just go in the opposite direction – either way, you'll have an incredible time exploring one of the most beautiful and picturesque parts of the country.
Quick Tip: The ideal Utah national parks road trip itinerary would also include a visit to Monument Valley (even though it is not a national park) which sits near the border with Arizona in the southeast corner of the state (near the Four Corners), so be sure to work that in during your trip, either before or after.
Important: If you're going to be visiting all five of these parks, don't forget to pick up an America the Beautiful park pass, which will save you a considerable amount of money on entrance fees, especially since it is good for a full year.
Alright, let's get on with our guide to an unforgettable Utah national park road trip…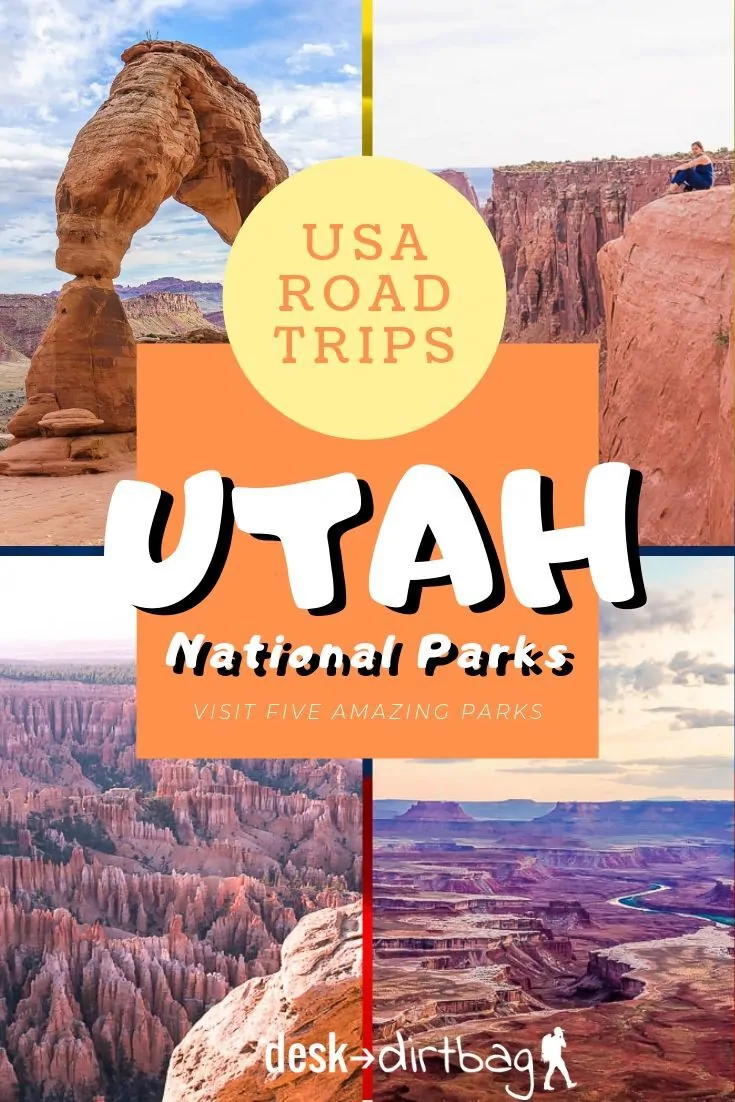 Arches National Park
Arches National Park is perhaps the most famous of these five parks. As the name implies, it is full of natural arches that have been carved out of the rock through millions of years of erosion and weathering. The park boasts over 2,000 different arches, many of which are very large and appear to be very delicate (in fact, the most famous of all of the arches in the park is named Delicate Arch because it honestly looks like it could collapse at any moment).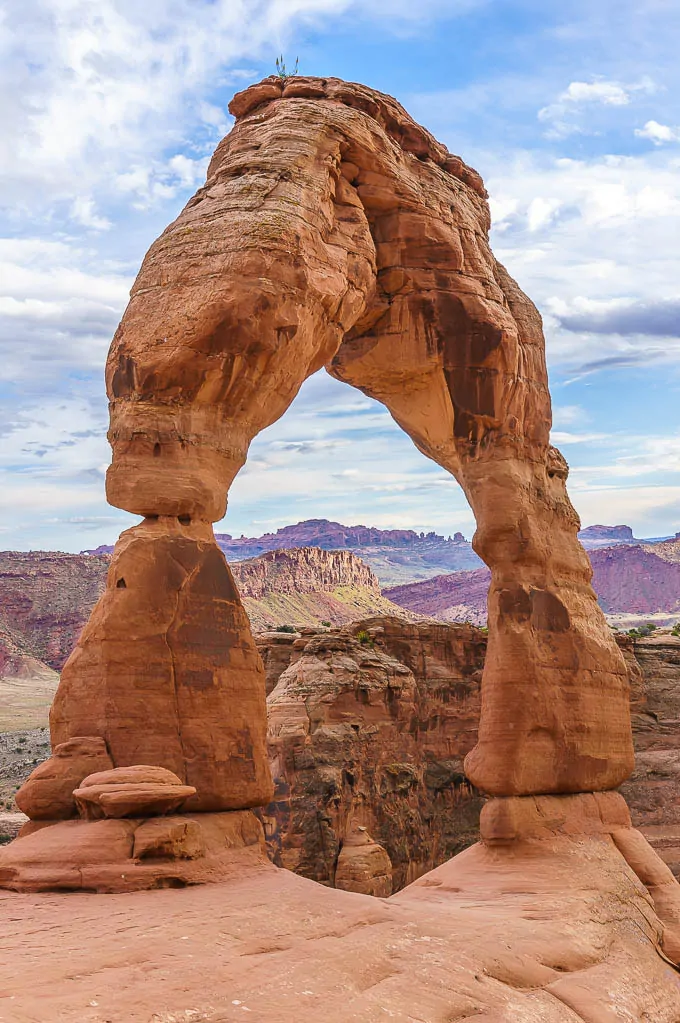 If you're a fan of photography, then Arches is a perfect destination. Each arch is like a photographic moment waiting to happen, and it's easy to find plenty of advice online about when to snap a shot of each arch at precisely what angle to get the most picturesque take. Many of these arches are so iconic and beautiful that they show up in films that take place in the area (the beginning of Indiana Jones and the Last Crusade being one of the most famous examples).
Of course, there are other features to explore in this park besides the eponymous arches. One of the most visited landmarks in Arches isn't an arch at all — it's called "Balanced Rock" and it's exactly what it sounds like: a huge rock perched precariously atop a thin column of stone that looks like it could topple at any moment.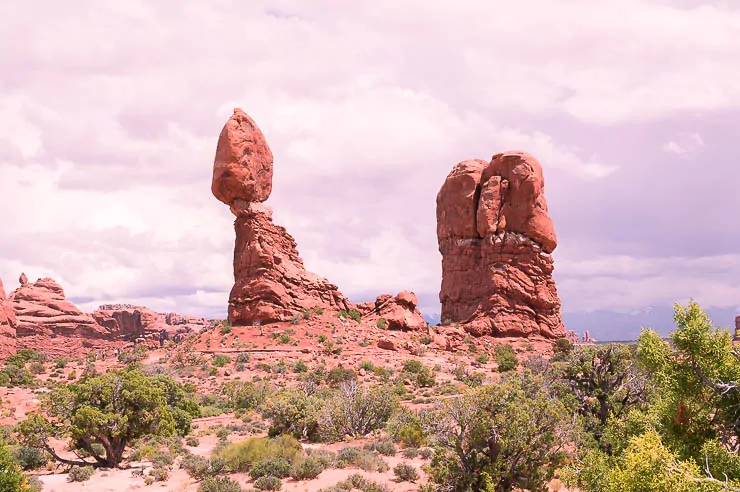 Arches National Park is close to the town of Moab, which is on the smaller side, but I absolutely adore this little town… Here you'll find relaxed little coffee shops, awesome breweries, and hip restaurants, along with plenty of hotels to cater to the tourist trade (with prices to match).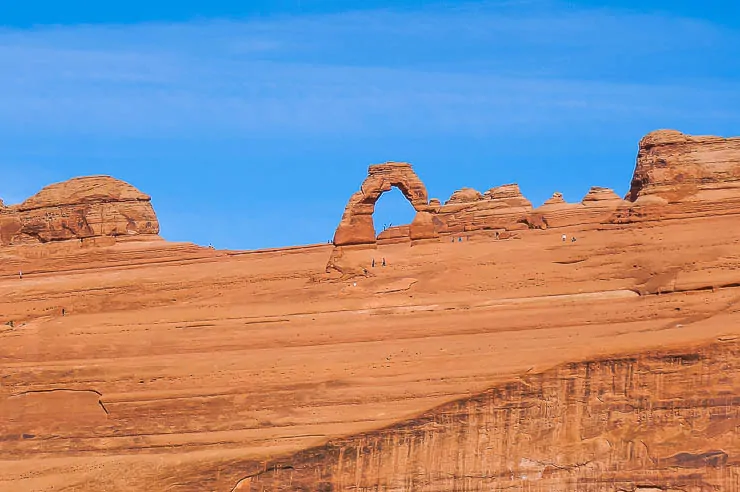 If you're looking to save a little bit of money, however, you'll find one hostel, the famous Lazy Lizard Hostel, along with plenty of camping in the area. I'd recommend the Devil's Garden Campground, which is the only campground in the park itself. Plan ahead, though, because, without reservations, you most likely won't get a spot.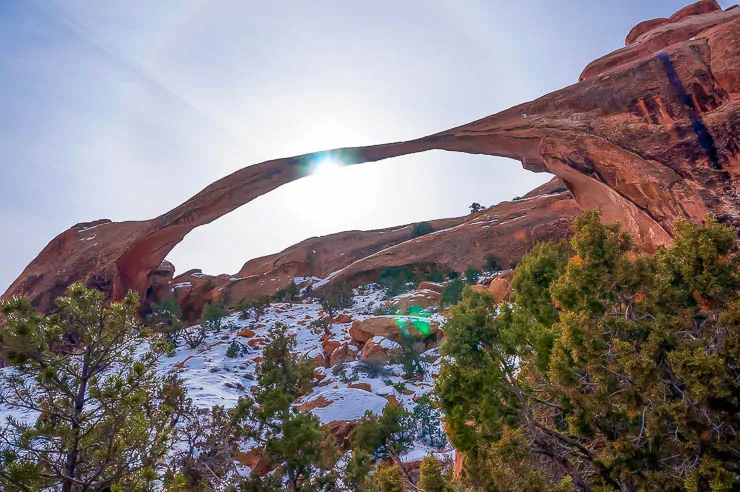 You'll find a lot of great options along the Colorado River just outside of town, or alternatives like the Fisher Towers area. In any case, you can't really go wrong anywhere around here, so long as you can find a spot!
Read More: Best Arches National Park Hikes
Canyonlands National Park
Less than thirty miles away from Arches sits our second destination, Canyonlands National Park. This is a large park that's divided into three principal areas: Island in the Sky, The Needles, and The Maze.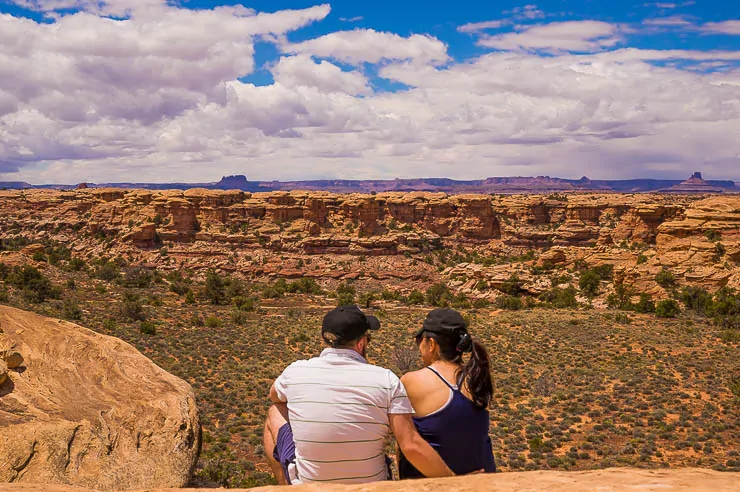 The Maze is a very remote area that is only for experienced adventurers and hikers, so if you're just looking for a casual trip, this is probably an area to avoid (think: Aron Ralston cutting his own arm off in 127 Hours, which wasn't too far from here).
Thankfully, there's still plenty to see and do in the other two parts of the park. And while both are easily accessible, you will want to plan ahead, as they are a two-hour drive from each other!
Logistically, if you're coming from the Monument Valley area, you'll want to stop at the Needles first, then hit Moab and Arches National Park, and then visit the Island in the Sky area. Be sure to also explore non-national park attractions like the Colorado River, Corona Arch, and Dead Horse Point State Park, adjacent to the Island entrance.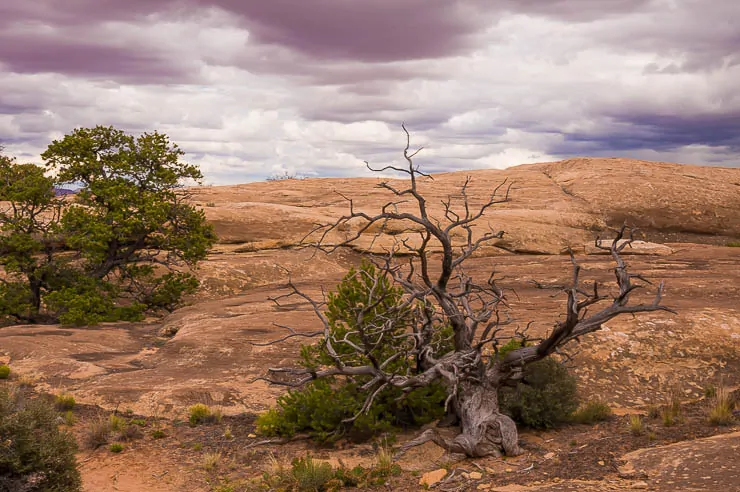 The biggest thing to do in Canyonlands — and all of these parks, really, is hiking. Due to the sheer amount of natural formations to see, getting out of the car and trekking it is the only way you're going to really appreciate what this fantastic park has to offer.
Read More: Day Hiking Essentials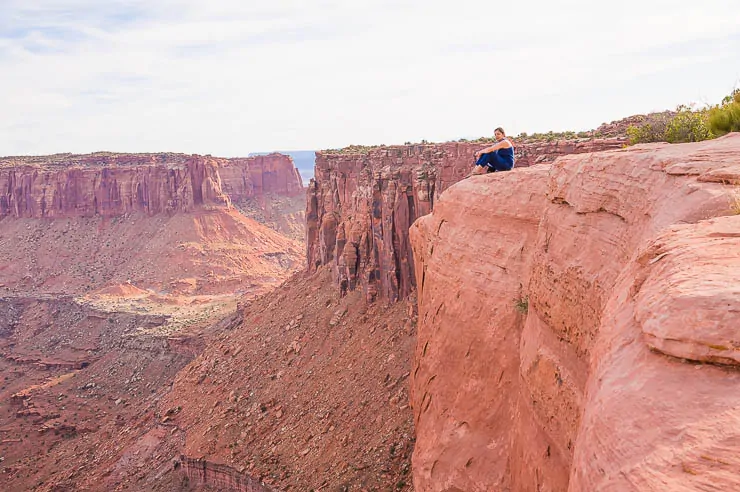 Island in the Sky, the first area of the park we'll discuss, is named that way because it is literally an area of higher elevation that overlooks the surrounding canyons. Driving or walking up here gives you spectacular views for miles in all directions, but especially so at the southern tip along Grand View Point which offers a birds-eye view of the White Rim winding along the canyon far below you — quite spectacular and unique.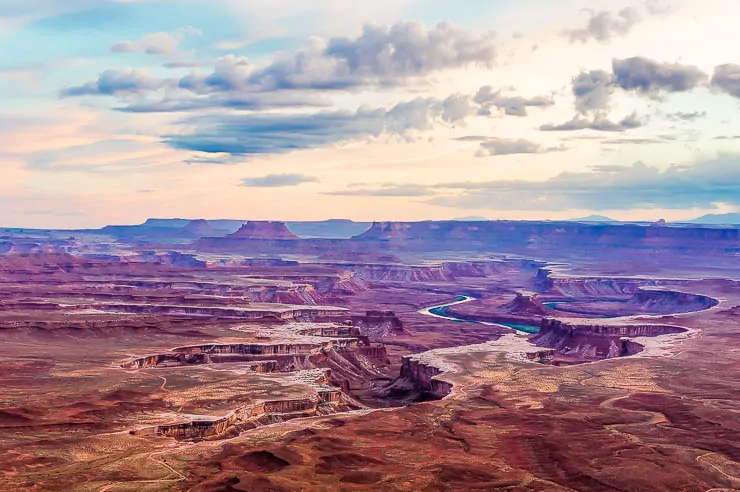 The Needles boasts miles of hiking and driving trails and contains stunning natural formations such as the Cave Spring, the Granary (an old ruin dating back 800 years) and the Needles themselves, which are rock formations that look like dozens of spires reaching towards the sky.
Tip: As you drive to the Needles, but before you get to the park, make sure to stop at Newspaper Rock, which contains ancient petroglyphs (rock pictures carved by indigenous inhabitants) dating back almost 2,000 years. This destination isn't far from Monticello, Utah.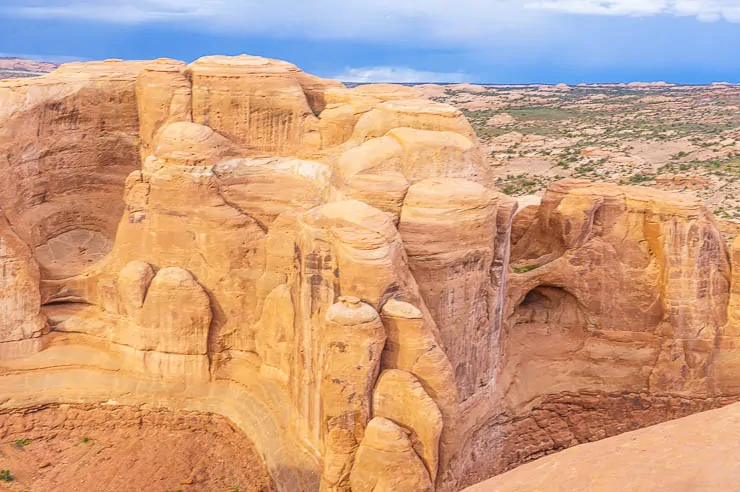 Itinerary Consideration: If you were coming from Monument Valley in the south, you'd visit that first, then consider a detour to Bear's Ears National Monument, before arriving to the Needles. Then you'd continue on to Arches National Park before finally arriving at the Island in the Sky section.
Canyonlands National Park is close enough to Moab to base yourself there as previously discussed, but there are also several campgrounds to choose from, including three in the park itself as well as Kayenta Campgrounds at nearby Dead Horse Point State Park.
Capitol Reef National Park
About two and a half hours away from Canyonlands, due west, we come to our third park, Capitol Reef. Again, this park offers majestic scenery that exists due to the unique geological processes that occurred in this area over millions of years. The result is an area full of breathtaking canyons, ridges, arches, domes, and bridges that make up a hiker's dream. The park centers on a long wrinkle in the earth's crust, known as the Waterpocket Fold, which you can appreciate on several scenic drives through the area.
Side Note: On your between Canyonlands and Capitol Reef, don't forget to stop at the impressive Goblin Valley State Park!
One of the park's claims to fame is that it has been designated as a "Gold Tier" International Dark Sky Park. This means that this park has some of the darkest areas at night, well away from man-made light pollution. For amateur astronomers who love looking up, destinations like this are few and far between and should definitely be treasured.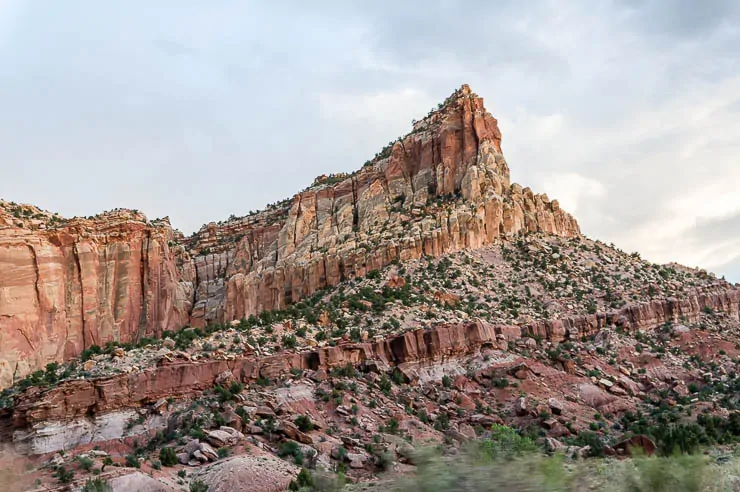 The park itself is named after an area known as the Capitol Reef — "Capitol" because the rock formations resemble the domes you might find in a statehouse building, and "reef" due to the natural barrier caused by these domes.
The park contains several campgrounds, including one developed campground that offers plenty of amenities, as well as two primitive campsites that give you the chance to rough it. If hotels are more your speed, there are several hotels and resorts in the area that range in price from moderate to downright expensive.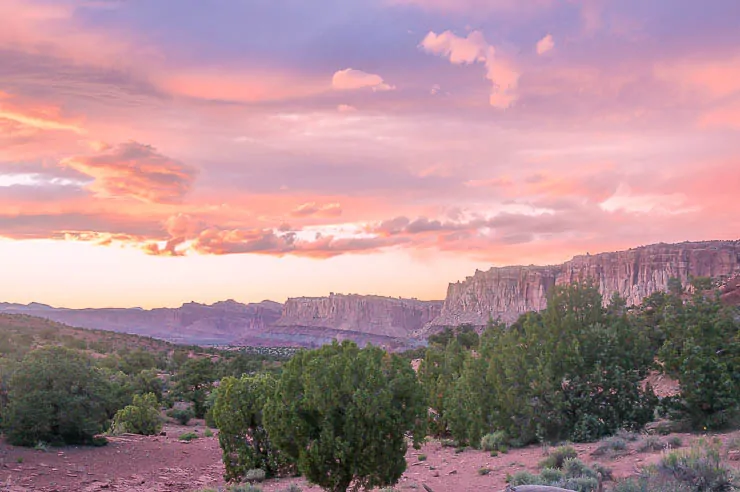 The Fruita area of the park is the most accessible area where you will find the popular Fruita Campground and a pleasant scenic drive to the south. At first blush, Capitol Reef National Park is probably the least impressive of Utah's five national parks, but that is only because the others set such a huge bar. Let's face it, most states would kill to have a park as stunningly beautiful as Capitol Reef.
Park Intermission
Just west of Capitol Reef is the town of Torrey, Utah where you will break off to the south along Highway 12 to reach the last two parks in Utah. This highway is easily one of the most beautiful drives in America, particularly the stretch between Boulder and Escalante.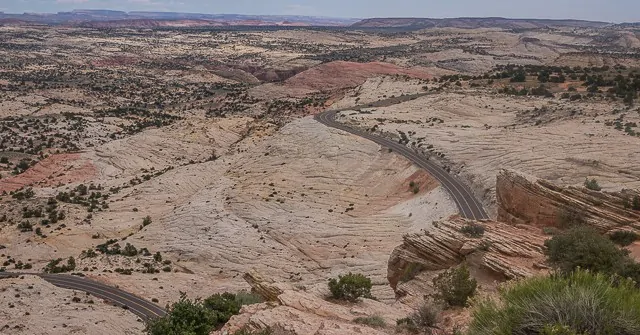 Here you will see the road drop below on both sides, making you feel like you're flying through the air over the spectacular slick rock and canyon walls. I've driven a LOT all over the United States and through all of Latin America, and this section of road still stands out firmly in my mind as one of the most beautiful.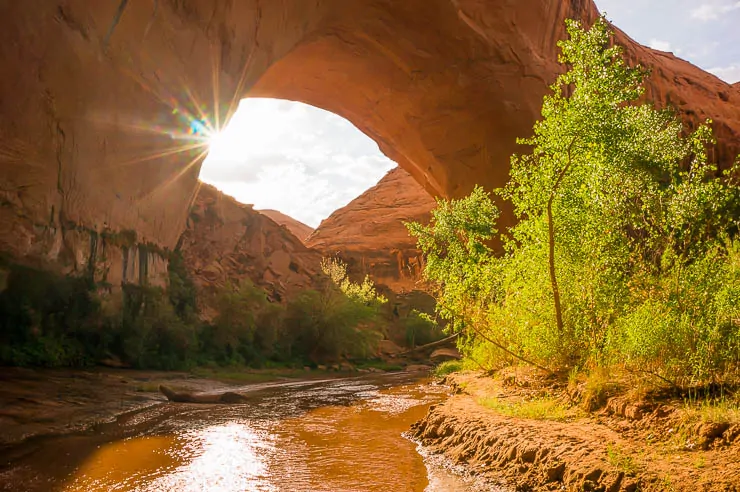 Not only that, but I've also got to mention a detour to the wonderful Grand Staircase Escalante National Monument, which should honestly be Utah's sixth national park. Just before the town of Escalante, head south on the Hole-in-the-Rock Road where you will find some truly amazing places to discover ranging from slot canyons to arches to great multi-day hikes.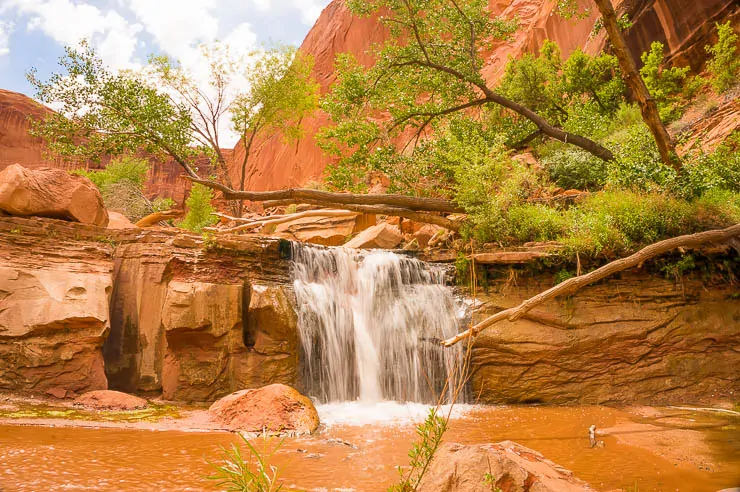 Of course, don't miss out on the chance to hike the stunning Coyote Gulch, if you're in the area.
Alright, back to our Utah national park road trip, as the article is supposed to be about…
Bryce Canyon National Park
A few hours drive to the west we come across our fourth spot, Bryce Canyon. Contrary to the name, this park isn't really a single canyon at all, but rather a series of bowls carved into the earth, the biggest and most famous being the Bryce Amphitheater. But that's not all you can find here…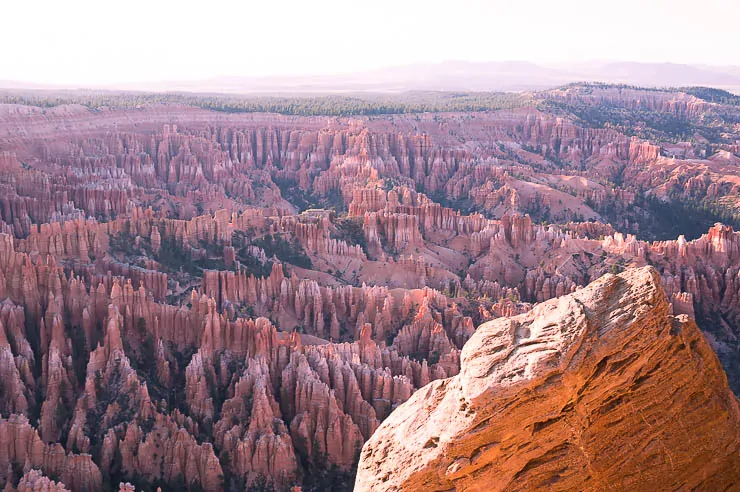 Bryce Canyon also features the largest concentration of hoodoos (irregular columns of rock) in the entire world. This allows for some of the most exciting and majestic vistas in all of southern Utah, as you wind your way along the park's scenic highway (you can also take the convenient shuttle). Hiking is another favorite activity at Bryce Canyon, the most famous and essential trail being the Navajo Loop Trail, which is actually made up of several different trails together.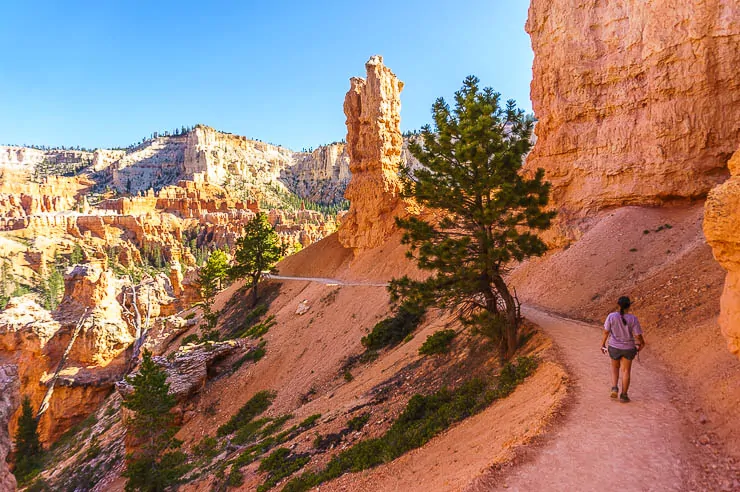 This park is also another excellent place to go for dark sky viewing, and there are actually hikes designed to take place at night so you can capture the stars at their best and brightest. This park has two campgrounds as well as an on-site lodge, so there are plenty of places to stay while visiting.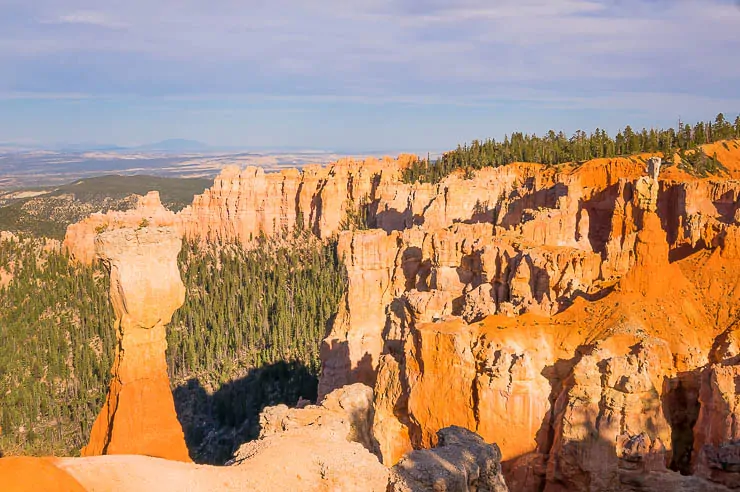 Honestly, I think Bryce Canyon is one of the most spectacular national parks out there, unlike almost any other, and perhaps even rivaling places like the Grand Canyon or Yosemite. There's also nothing quite like this park after a fresh snowfall when the mystical hoodoos are covered in a light coat of white.
Read More: Best Hikes in Bryce Canyon National Park
Zion National Park
Utah's first national park is also one of its most iconic and is a great way to finish up your tour of Utah's five national parks. You should be aware before you go, however, that traffic has become a real problem in this park. With over four million visitors a year, parking fills up quick, and the roads become heavily congested.
To combat this, the park has a shuttle system in place. Still, depending on when you visit, you might be looking at long wait times and lines. The best times to go to avoid the crowds are in the winter.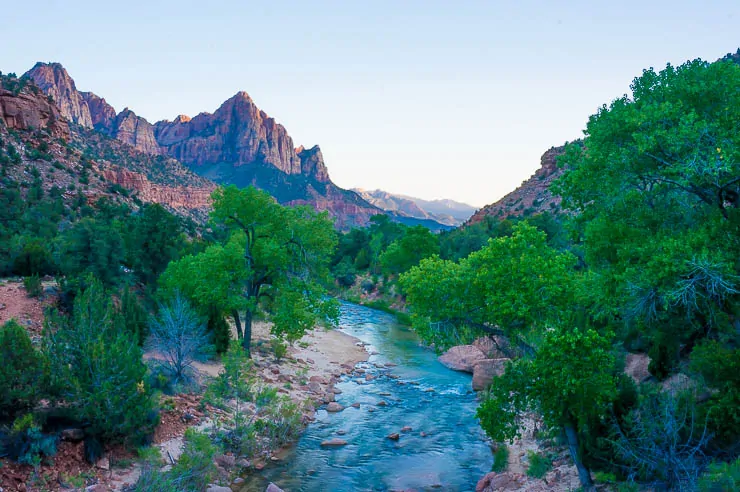 Again, hiking is a major activity here, with many guided trails for you to follow, from the easy to the very challenging. There's the ever-popular hiking the Narrows, which is a section of Zion Canyon that can be as narrow as thirty feet while trudging through the water surrounded by walls a thousand feet high. You can also climb, backpack and go canyoneering in this park (with permission and a permit). There's even guided horseback riding here.
Of course, there's also the incredible Angel's Landing hike which leads you on a narrow precipice high above the valley floor. There are sections with chains secured to the rockface because a fall here would most definitely be fatal. This isn't for those who are afraid of heights, let's just say that.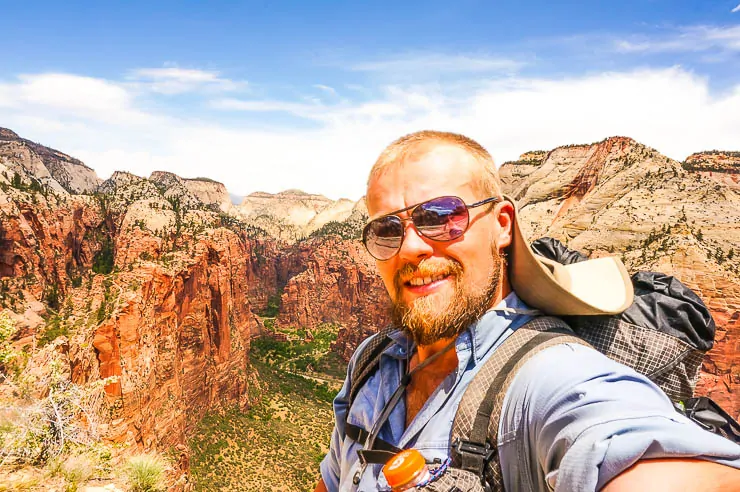 Another way to spend a few days and break away from the crowds is by doing the Trans-Zion Hike, starting out in Kolob Canyon in the northwest and then hiking across the length of the park. I actually did this trek on my first visit here, even before visiting the heart of Zion Canyon, so having that all waiting for me to discover along the hike was even better!
Honestly, Zion is one of the most spectacular national parks in the country and features one heading turning view after another. You'll be hard-pressed not to find something that you love here, even despite the crowds.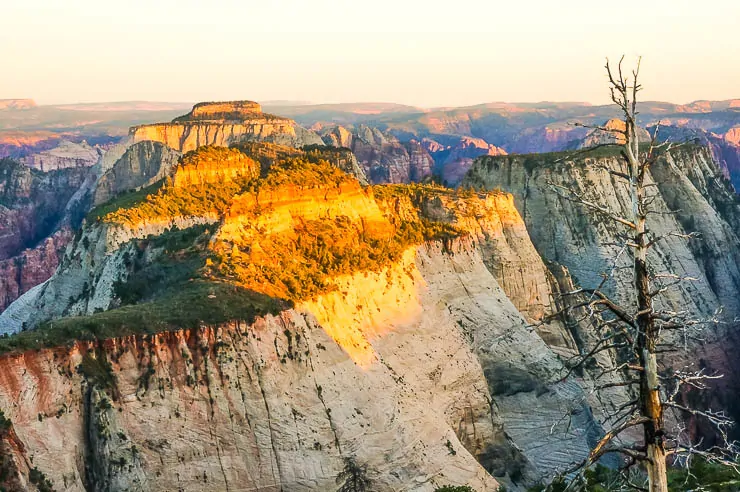 There are three campgrounds on-site in Zion National Park, but they fill up far in advance during peak season, and of course, there are plenty of hotels nearby if you don't mind paying a little bit more (okay, a LOT more). But thanks to my truck camping setup, I always just look for free boondock camping nearby, which has always worked out well on my multiple visits to this fantastic park.
Read More: Best Zion National Park Hikes
Utah National Park Road Trip Map
Here is an interactive map with the suggested route for an amazing road trip through Utah's national parks. I've also included a potential extension through the northern part of Arizona in order to make this a nice loop. You'll pass by a few points of interest like the incredible Horseshoe Bend. The Utah section includes at least 630 miles and adding the loop through Arizona will bring it up to 900.
Get Ready for Your Utah National Park Road Trip
Now that you know some of what awaits you in southern Utah, what are you waiting for? Pack up your car and hit the open road — and make sure to take this handy guide along with you! The great American road trip is a time-honored tradition and exploring even just a few of the national parks on the way is what really makes the experience, in my opinion. That experience is heightened even more when you can pack in five incredible national parks in such a short distance.
That being said, I'd still recommend you plan on taking your time on this journey, devoting at least a few days in each park. Otherwise, you might just blast by and miss some of the most impressive areas.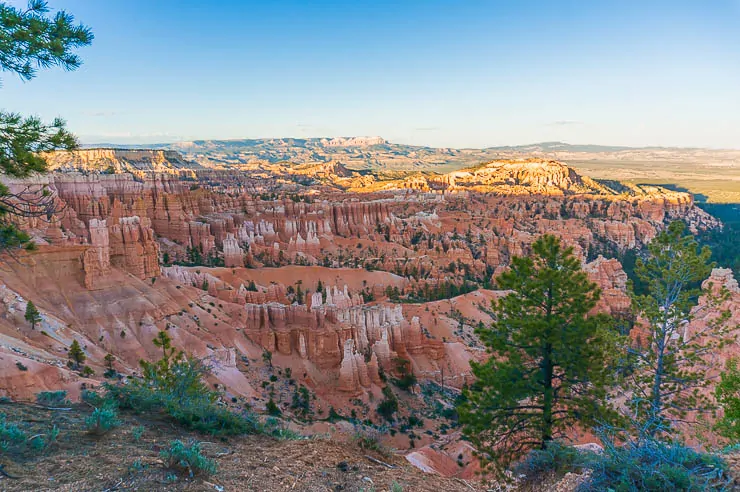 Pro Tip: Be sure to pick up an America the Beautiful pass if you plan on making this trip. The year-long pass will be paid off instantly if you do this one trip, providing you free entrance to any and all national parks during the year, instead of having to pay the often-steep entrance fees at the gate. It's a no-brainer if you're heading this way.
Of course, you don't have to stop at the Utah border, there are ultimately tons of amazing things to see in the region like the famous Antelope Canyon and Horseshoe Bend just over the border, along with the Grand Canyon, for an excellent start on an Arizona road trip. Also, some of my favorite parts of Colorado are in the San Juan Mountains, and there are a few more national parks just over the border.
Finally, don't miss out on my comprehensive road trip planning tips and tricks to make everything go a little smoother, or check out my guide to the ultimate national park road trip, where you can hit every park in the Lower 48 in an ideal route.
Read Next: Road Trip Planning Tips and Tricks
Share This
Did you enjoy this article about a Utah national park road trip? Please take a second to share it on Pinterest, Facebook, or Twitter. Thanks!
The following two tabs change content below.
Desk to Dirtbag is one of the leading budget adventure travel blogs online and is dedicated to helping its followers achieve their travel dreams through inspiration, information, and actionable steps. If you are new to the site, be sure to
Start Here
.
Latest posts by Desk to Dirtbag (see all)